If you're heading out on a hunt the last thing you want is your meat getting spoiled because your cooler couldn't keep it cold long enough and it spoiled, or because you couldn't fit it all in.
You also don't want to fill up your cooler with all your game meat only to have the handles break or the lid hinges snap and be unable to carry it or keep it closed.
If you're looking for the best hunting cooler then you'll want something that is tough and durable, but also something that can keep ice cold for days or maybe even up to a week depending on the length of your hunt.
The wide range of sizes and colors as well as their strength and performance makes the Yeti Tundra series of coolers the best hunting coolers. They are expensive but they've got sizes large enough for Elk, deer or whatever you're hunting and they'll go the distance without breaking.
Best Premium Hunting Cooler – Yeti Tundra Coolers
Runner Up – ORCA Coolers
Best Value-For-Money Hunting Cooler – Lifetime Coolers
Best Budget Hunting Cooler – Coleman Xtreme Coolers
Best Soft Hunting Cooler – Engel HD30 Cooler
Check the table of contents below to read about the best hunting coolers or read on.
What Makes a Good Hunting Cooler?
While there are no coolers out there specifically designed for hunting (all coolers are multi-purpose) the best coolers for hunting will have a combination of the below attributes that make it the right cooler for the job.
Durability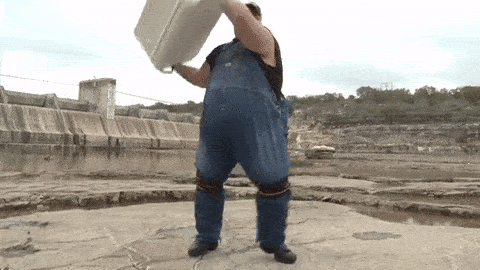 If you're only going on a single hunt that lasts a day or two then sure you don't have to worry too much about durability.
But if you're a serious hunter and you're going on multiple hunting trips you want to have gear that can handle the conditions you'll put it in.
For a cooler to be a good hunting cooler you'll want it to be tough and durable enough to handle whatever you throw at it and keep on going. The hunting coolers on this list are extremely tough and durable and will last you years.
Ice Retention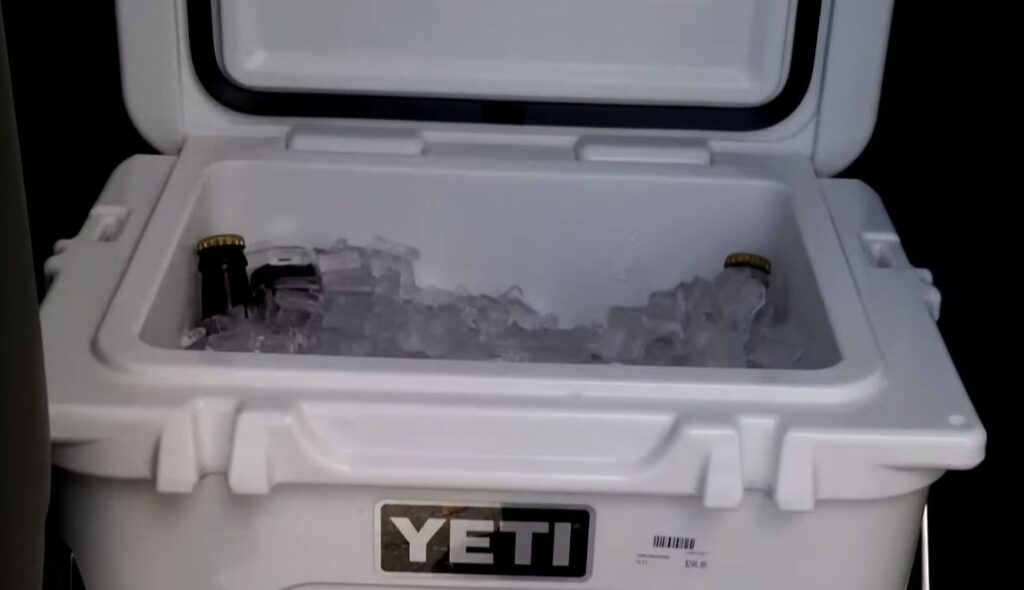 Depending on how long your hunt is and how far you are from home it's often days before you'll get your meat home to the freezer.
If the ice thaws out early and your meat warms up then bacteria can grow ruining your meat and making you sick if you eat it.
So you'll want a cooler that can be used to cool down the meat if required and to keep it cold for multiple days at a time.
Size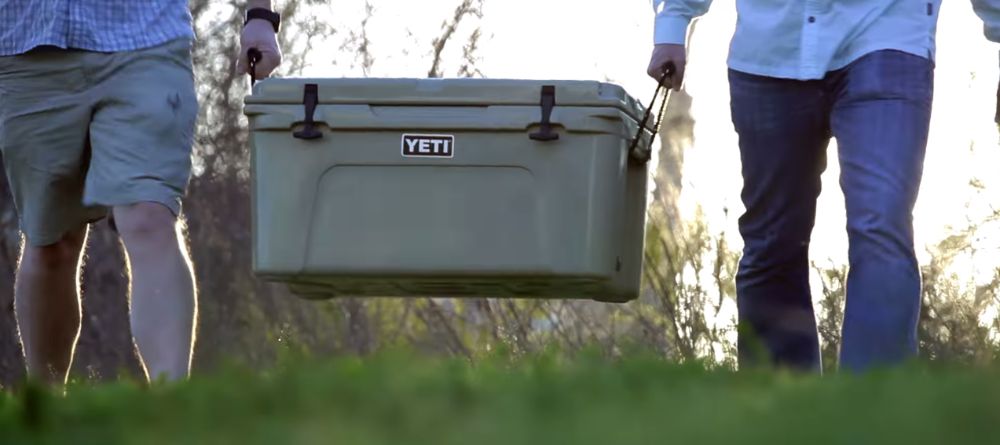 Depending on what you're hunting will depend on what size cooler you need. If you're hunting smaller animals like ducks then maybe a small soft cooler will suffice but if you're hunting deer or elk you'll need something a lot biggger.
The best size cooler for deer is generally around the 65-quart mark, according to multiple reputable sources and other hunter.
The best size cooler for elk is generally a big bigger than that. You'll likely need a 120-150 Quart for boned out Elk and you'll want to make sure it's at least 32-34 inches in length if you're going to be storing quartered elk.
The brands in this list of my top hunting coolers generally feature coolers big enough for deer and elk (unless otherwise stated).
Relevant Color Options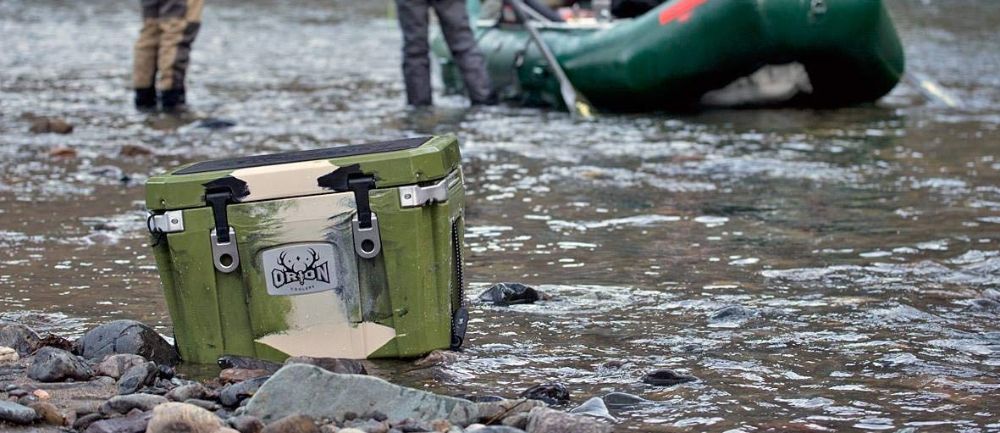 Chance are you're not going to want a bright pink cooler when you're going out hunting with your buddies.
White, tan, green and camo colors are all popular hunting cooler colors. So you'll want to make sure your brand of choice has one of these color options.
Carry Heavy Loads
Once full of your catch your cooler is going to be extremely heavy. You need a cooler with handles that can handle a full load without breaking.
Impressive

No one wants to be the guy with the crappy cooler. So ideally you'll want something that is impressive, even if you're on a budget.
Lockable and Bear Proof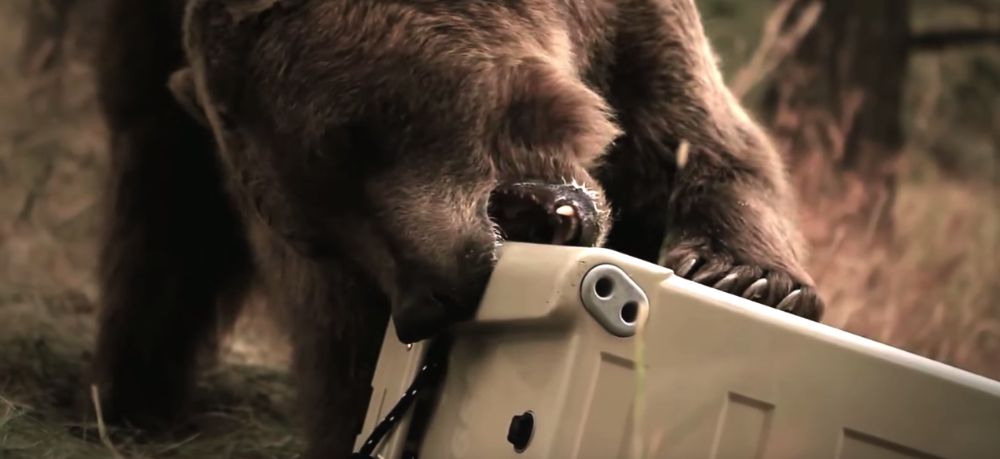 You may also want a cooler that is completely lockable. This will help to keep out wild animals like bears and can also help with keeping friends from drinking your beers.
Cleanliness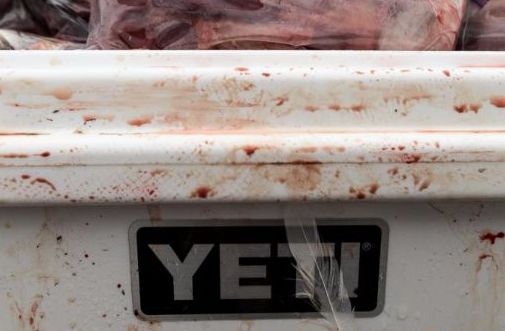 When hunting your cooler is likely going to get covered in dirt, mud and even blood. You want something that is easy to clean and isn't going to smell.
Price
You've also got to stick to a budget. Some of these high-end roto-molded coolers are expensive. In this list I'll share hunting coolers that cost a lot (but are worth it) as well as hunting coolers that are more affordable (but still pretty good).
The Best Hunting Coolers
Below is my list of the best hunting coolers. These coolers are all high quality, durable and can hold ice for a long period of time.
They vary in price and features so ultimately you need to choose the cooler that's going to be the best suited for your particular hunting needs.
Best Premium Hunting Coolers
I'm going to start with the premium hunting coolers. These ones are going to be much better than the budget coolers but obviously come at a higher price point.
If you want the best of the best hunting cooler then these are the brands you want to consider.
I've focused here on the biggest brand names that are well known and have a high quality standard. I've also featured a couple of lesser known brands that offer something unique.
1. Yeti Tundra Coolers

Yeti Coolers are the biggest brand of high-end roto-molded coolers and for good reason. They make an amazing product that keeps ice for days at a time with the larger sizes keeping ice for weeks at a time.
Yeti coolers have everything you would want in a hunting cooler:
Thick insulation for great ice retention
Extremely durable roto-molded construction
Non-slip feet so your cooler won't move around
Tie down points to strap it to your truck
Lockable and bear proof
Strong nylon rope handles for carrying heavy loads
5-year warranty
Lots of different color options
Yeti also have one thing that no other cooler brand on this list has:
Yeti has the most available sizes and has extra large sizes for hunting big game
Whether you're hunting small game and only need a Yeti Roadie or you're hunting medium sized game there's the Yeti Tundra 75 and for big game there's the Yeti Tundra 125, Yeti Tundra 160 or Yeti Tundra 250.
Whatever size you need Yeti has it.
Yeti are also the biggest and most well known brand, they have thousands of positive reviews and while the cooler isn't perfect it's pretty great and there is no brand quite as good.
See the latest sizes and prices of Yeti coolers at Amazon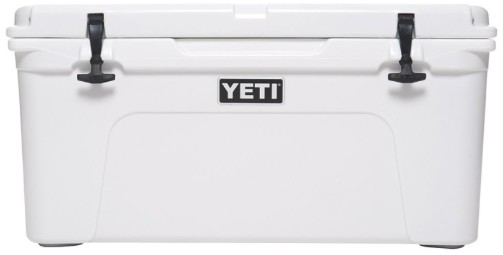 PROS:
Most well known and reputable brand
Huge size selection
Lots of different color options
Extremely durable
CONS:
Expensive
Ice retention is good but not the best
No camo options
2. ORCA Coolers
Made In USA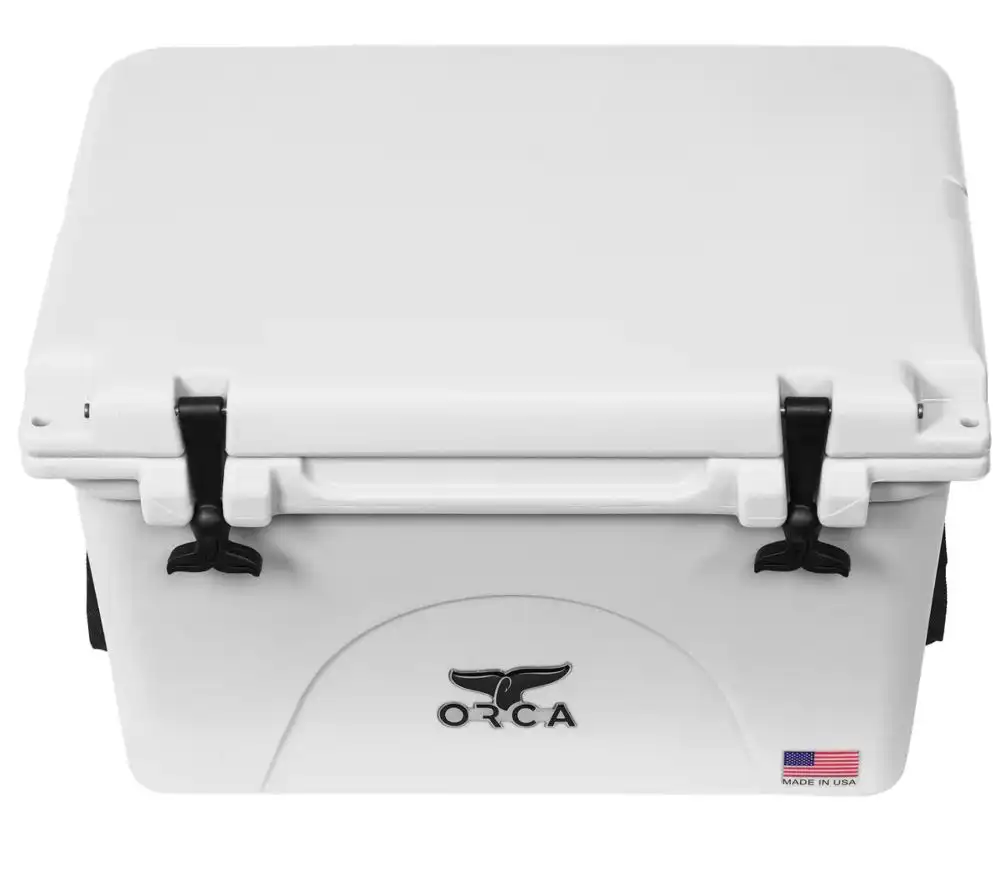 ORCA Coolers are one of Yeti's biggest competitors. These coolers have even better ice retention than Yeti and have a lifetime warranty (Yeti only offers a 5-year warranty).
ORCA coolers can hold ice for 7-10+ days depending on the size and they have a variety of size options good for hunting. The Orion 75-Quart is good for deer and the 140-Quart is a great size for Elk.
Their coolers are made in the USA, which is important to some patriotic hunters. ORCA is also a firm NRA supporter and love the hunting community.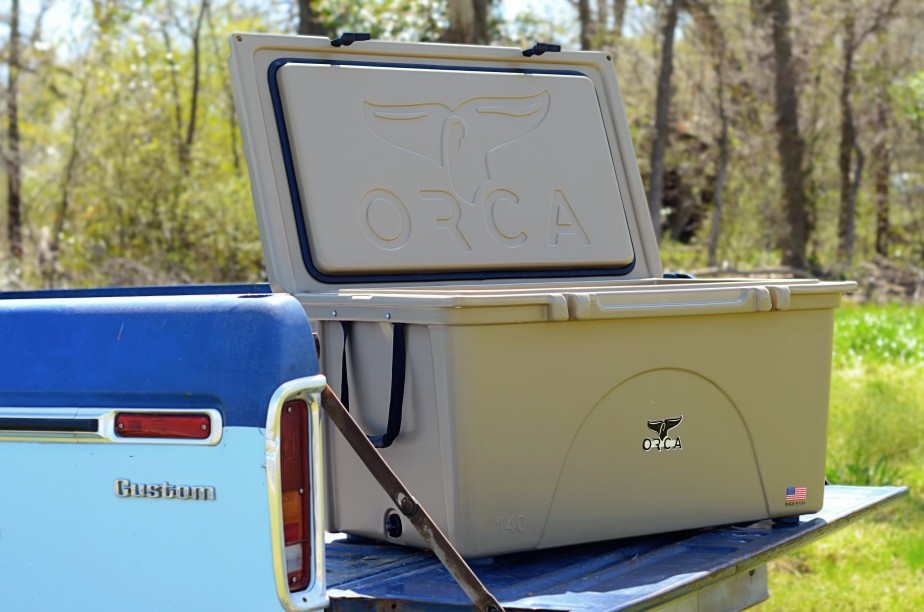 Each ORCA cooler comes with a cargo net attachment for adding external storage which is a feature no other cooler on this list has.
Their coolers are tough, durable and completely bear proof. They come in a variety of different color options to suit your style and you can even get them with the logos of your favorite sports teams on them.
See the latest price of the ORCA 75-Quart cooler at OrcaCoolers.com
See the latest price of the Orion 140-Quart cooler at OrcaCoolers.com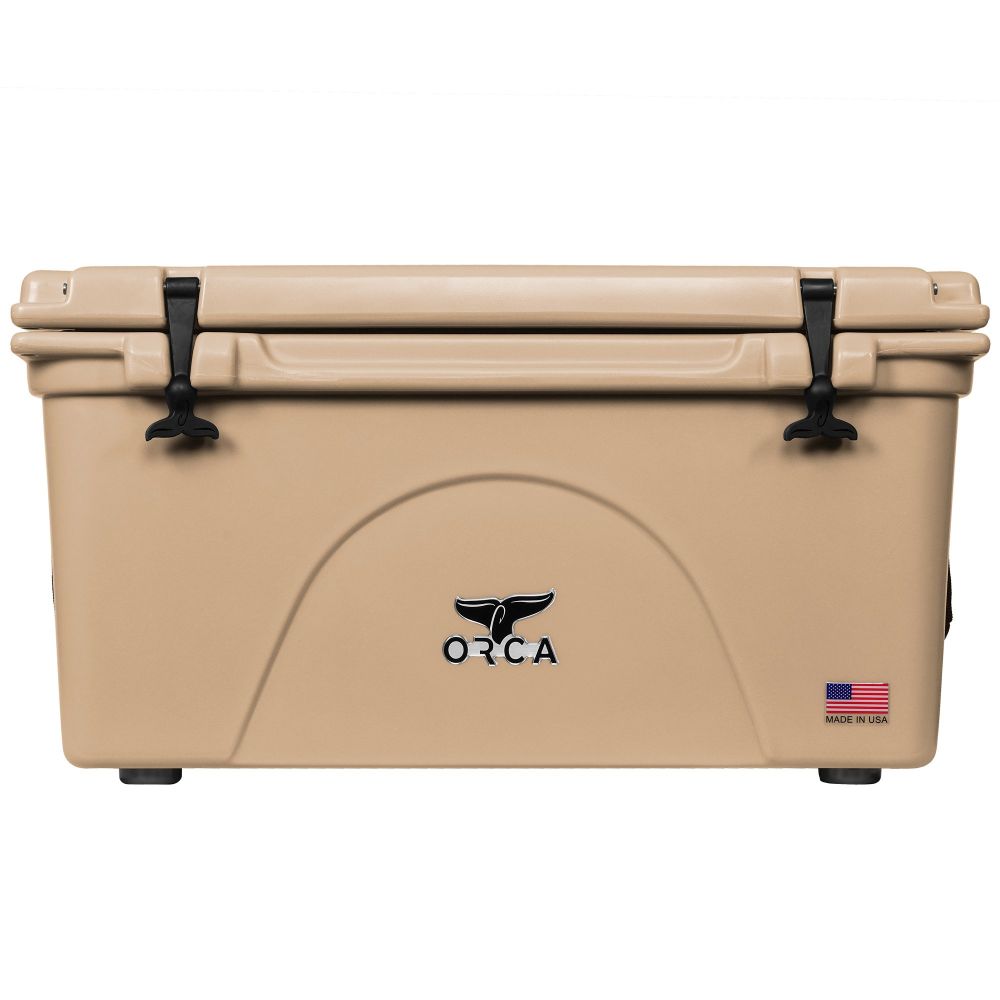 PROS:
Some of the best ice retention out of any cooler
Exceptional build quality
Made in the USA
Lifetime warranty
CONS:
Expensive
Not many other cons…these coolers are great
3. RTIC Coolers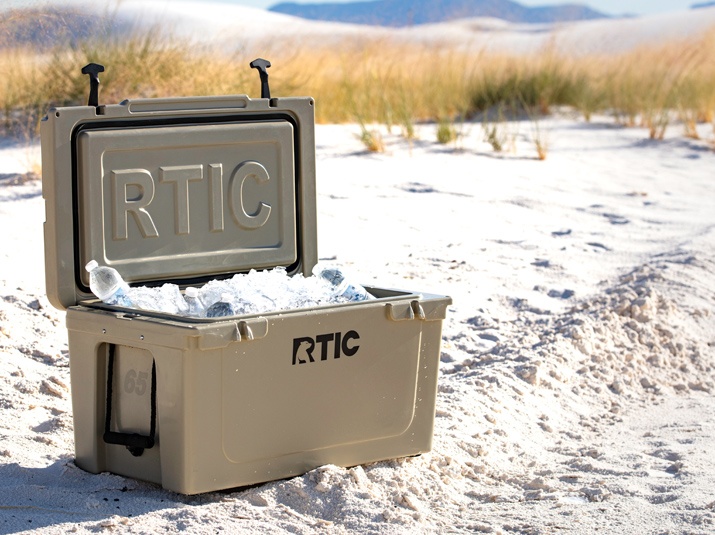 RTIC Coolers are extremely similar to Yeti coolers but sell for a more affordable price.
They have almost identical features and ice retention to the Yeti and are bear proof, lockable and extremely durable. A great all around cooler for hunting and storing meat.
They start at the small and portable 20-Quart and go up in size the the large 145-Quart cooler. So whatever you're hunting there's a perfect size for you.
PROS:
Similar ice retention to Yeti
Similar style to Yeti
Lots of different size options available
CONS:
Limited color options available – no camo color
4. Canyon Coolers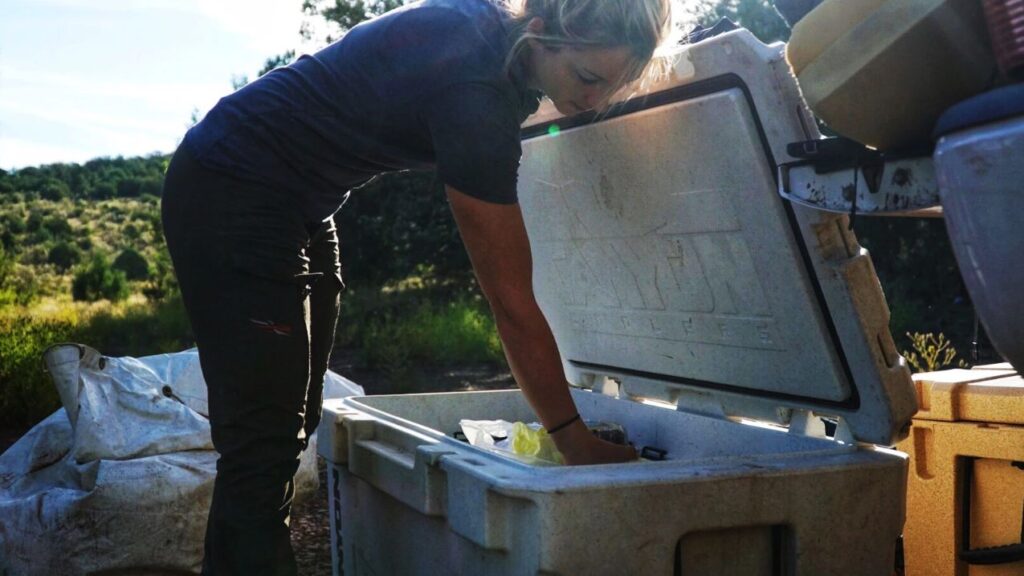 Canyon coolers sell a cooler that is comparable to Yeti and the other brands mentioned above but their coolers are much more affordable and they come with the best lifetime warranty of any cooler.
Their coolers start at 22-Quart and go up to 125-Quart so you should be able to fit a size that suits you.
Canyon coolers have good ice retention and the large coolers can keep ice 7-10+ days. They have a few different types of coolers as well with some of them having bungee straps on the lid for extra storage.
You can save yourself a lot of money by getting a Canyon cooler and you can have the piece of mind knowing that whatever happens to it you're covered by their lifetime warranty.
See the latest price of Canyon Coolers at Amazon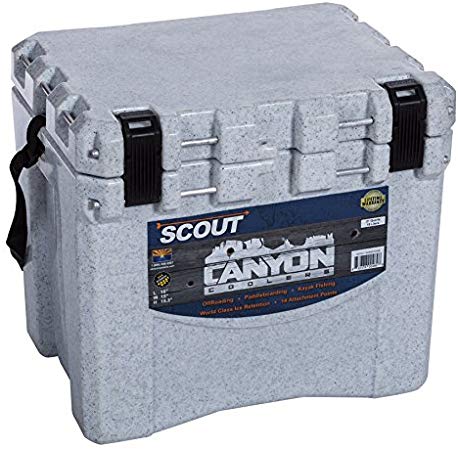 PROS:
More affordable than other brands
Good range of sizes
Best lifetime warranty of any cooler
Great customer service
CONS:
Expensive
Limited color options
Handles protrude out the side taking up extra space
5. Kong Coolers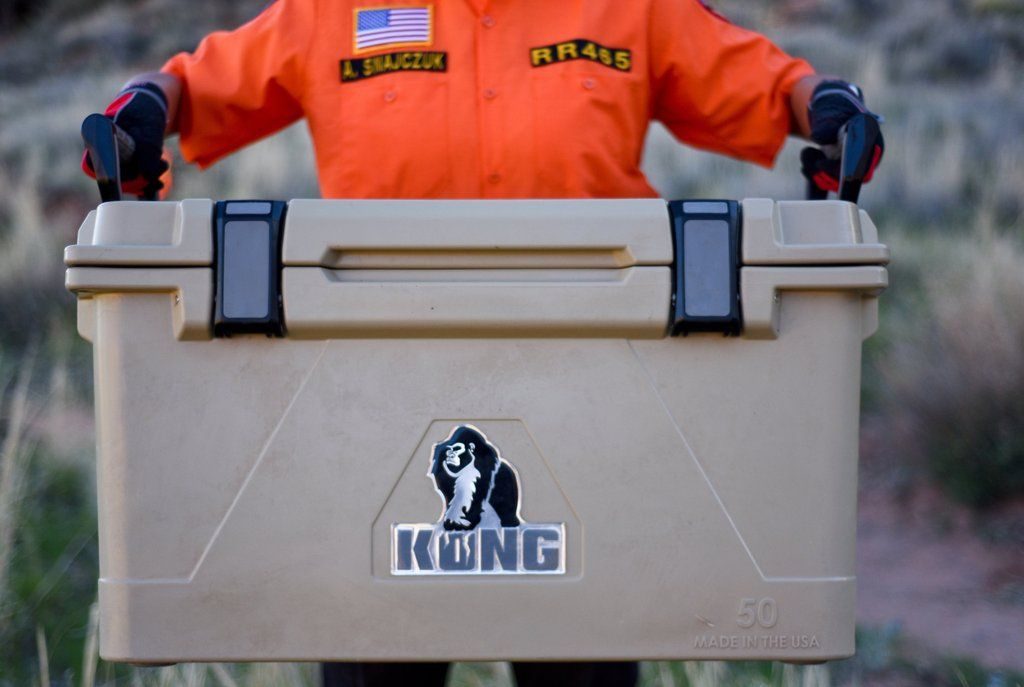 Kong Coolers are a newer brand of cooler that ha shown some of the best ice retention of any cooler in the market, being able to hold ice for days longer than Yeti, Orca and RTIC.
They are made in the USA and come with big bulky plastic handles that are designed to support a cutting board and create a unique side table which is great for cutting food.
They also have big bulky plastic latches to hold the lid down tight and are backed by a lifetime warranty.
If you want your cooler to hold ice longer than you buddy's Yeti cooler then Kong is the brand to get.
See the latest prices of Kong Coolers at Amazon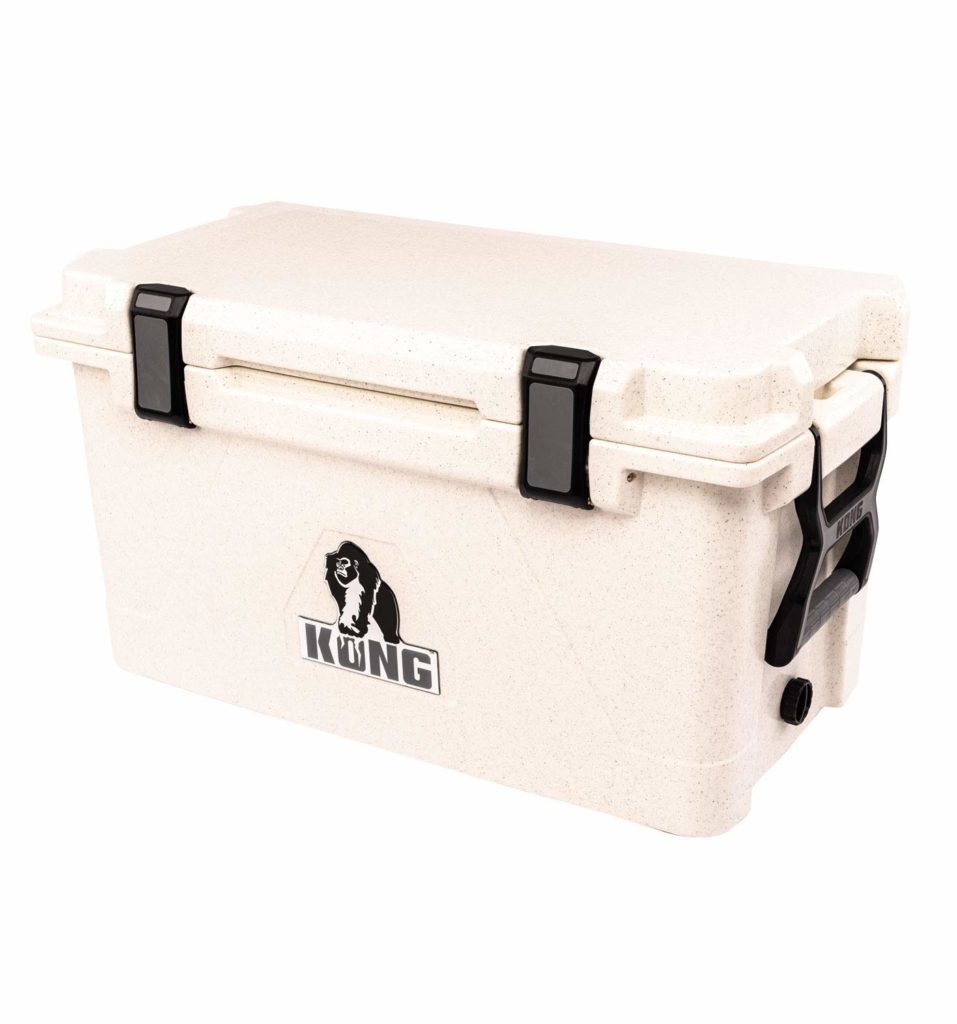 PROS:
Best ice retention of any cooler on this list
Exceptional build quality
Made in the USA
Lifetime warranty
CONS:
Newer brand, so not as tried and tested like Yeti
Only 4 sizes available
Not sold in many places
6. Orion Coolers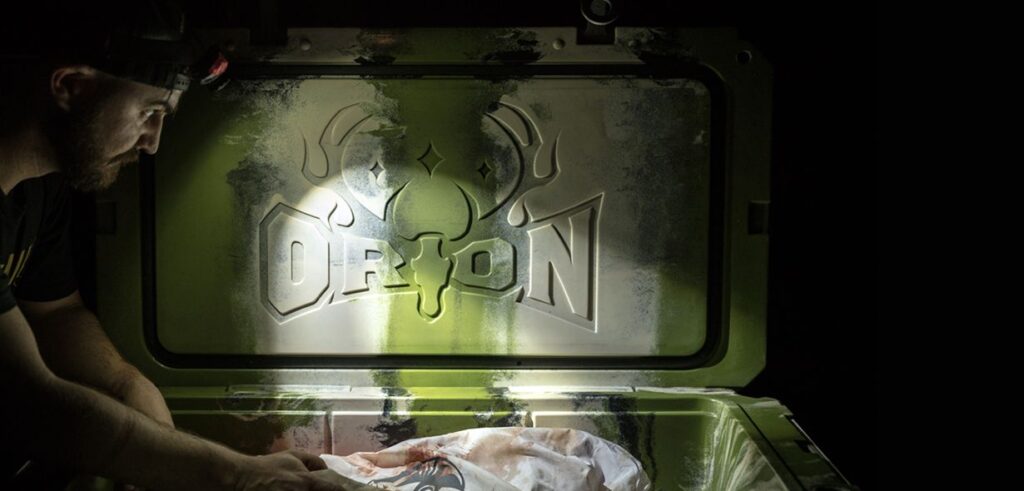 Orion Coolers are like the BMW of coolers. They have taken the basic form factor from Yeti but added in lots of cool features to make their cooler one of the best hunting coolers on the market.
Firstly their camo colors are great for hunters and the way the roto-molding works no Orion cooler looks exactly the same as another, making them completely unique. I rate these cooler as the most masculine cooler.
The have a rubber non-slip lid, pull down rubber and metal latches, built in bottle openers and metal tracks on the side for attachments. Their side handles are motor bike style handles and they are all around a super feature rich cooler.
Orion coolers are made in the USA and their variety of camo colors are perfect for any hunter.
PROS:
Feature rich
Made in the USA
Awesome camo colors
Extremely high-quality build
CONS:
More expensive than Yeti
Ice retention isn't the best
No sizes over 85-Quart
7. Siberian Alpha Coolers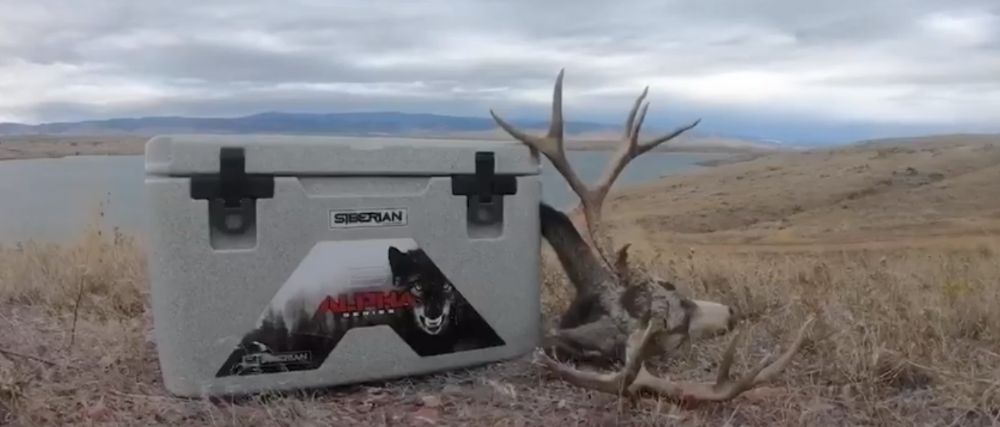 Siberian Alpha coolers are another high-performance cooler that is able to hold ice longer than Yeti coolers.
They have great ice retention, rubber and metal cam latches and they are bear proof and roto-molded for strength.
Sizes range from 22-Quart up to 85-Quart and the speckled granite and sahara tan colors look great.
See the latest prices for Siberian Alpha coolers at Amazon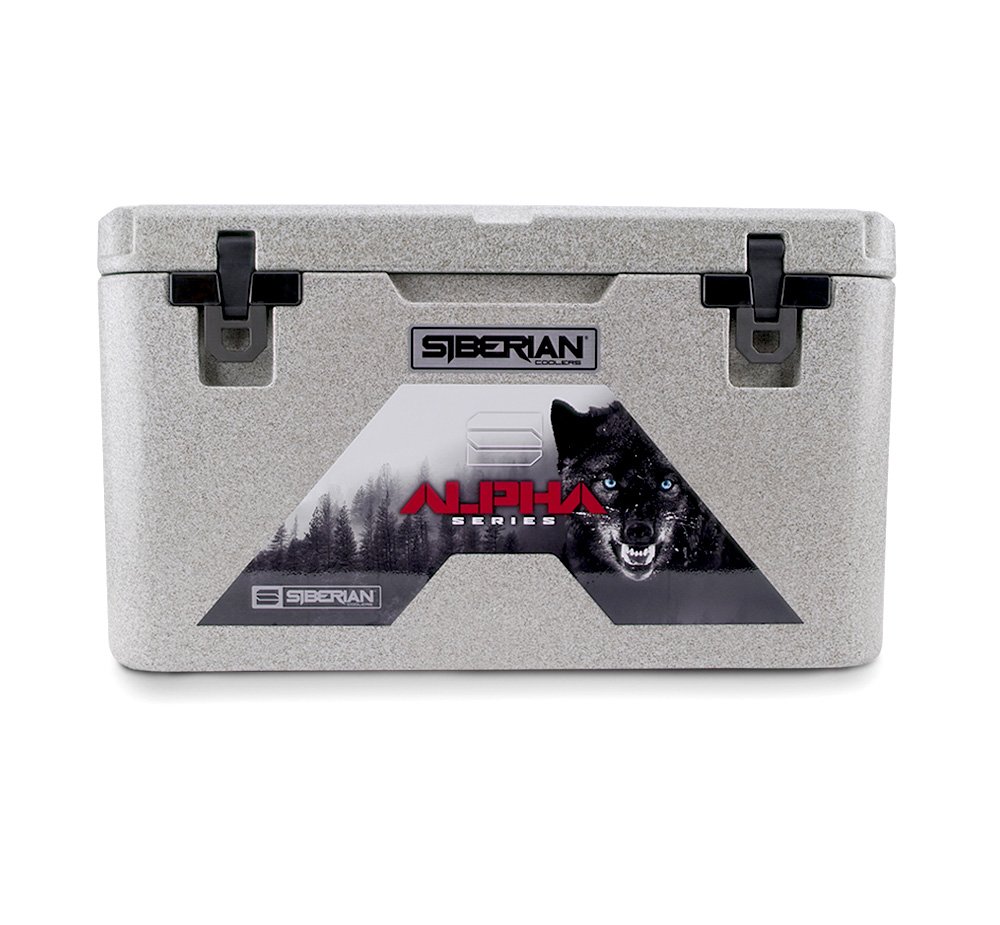 PROS:
High-performance ice retention
Easy to use cam latches
Roto-molded durability
CONS:
Not a well known brand
Only goes up to 85-Quart
Not many color options
8. Grizzly Coolers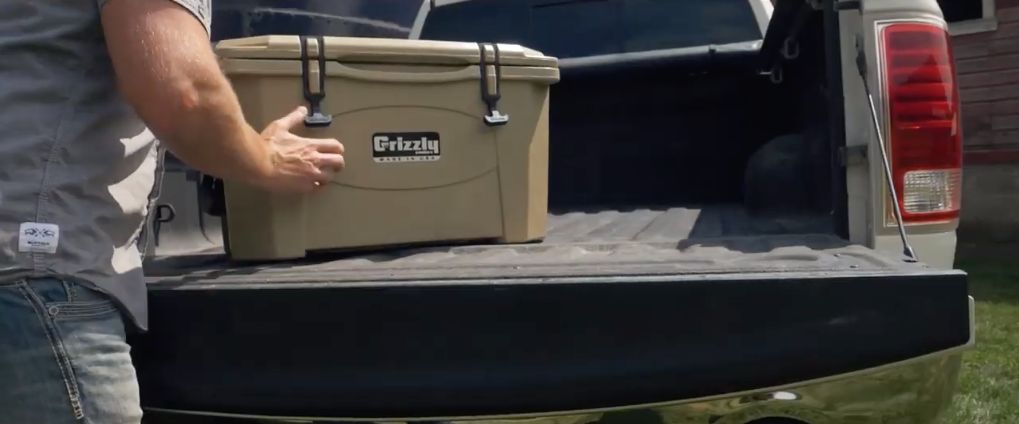 Grizzly coolers are made in the USA and come with a lifetime warranty and their coolers range in size from the small 15-Quart personal cooler up to the massive 165-Quart cooler and the GIANT 400-Quart mammoth cooler.
No other cooler I have see is as big as Grizzly's 400-Quart monster! See the best giant coolers.
It's likely you won't need a cooler that big but if you are a commercial hunter or talking out groups it may suit you. But if not the other sizes are great.
See the latest price of Grizzly Coolers at Amazon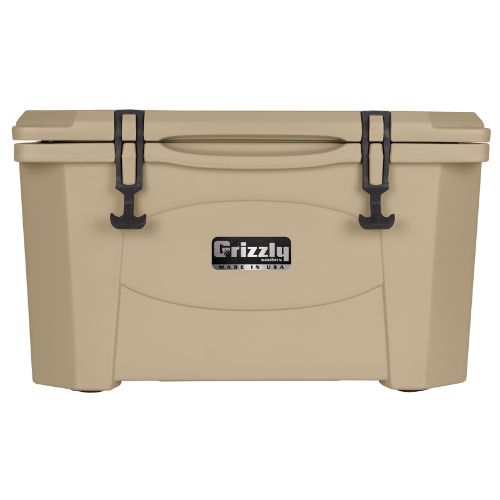 PROS:
Made in the USA
Lifetime warranty
Huge selection of sizes
CONS:
Not the best ice retention
9. Pelican ProGear Coolers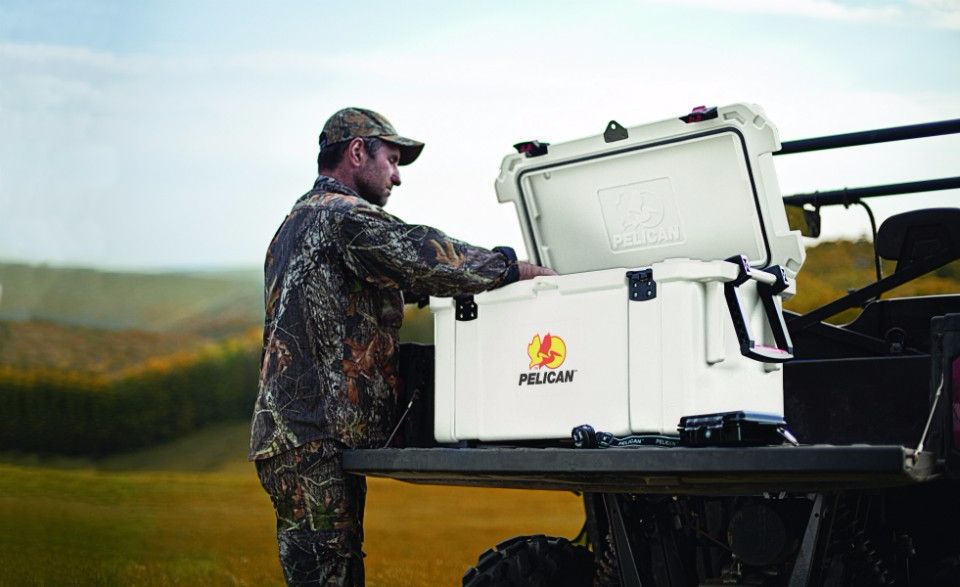 Last on our list of the best hard-sided coolers for hunting is the Pelican ProGear coolers.
These coolers are also made in the USA and they feature a big bulky design and tough thick plastic handles as well as metal pull/pull latches.
They are bear proof, lockable and build to an extremely high standard. The lid has a built in rule and molded in cup holders which are handy to have.
These coolers range from 20-Quart up to 250-Quart in capacity and are backed by a lifetime warranty.
See the latest prices of Pelican coolers at Amazon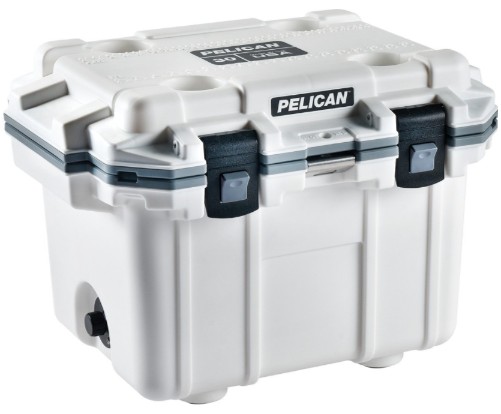 PROS:
Exceptional build quality
Made in the USA
Lifetime warranty
Large coolers up to 250-Quart for big game
CONS:
Bulky design takes up extra space
Other Brands Of Premium Hunting Coolers
There are a bunch of other brands of cooler that are basically just as good as the coolers mentioned above but are a little bit different with different price points:
Grizzly coolers
Kenai Coolers
Bison Coolers
Cordova Coolers
Best Budget Hunting Coolers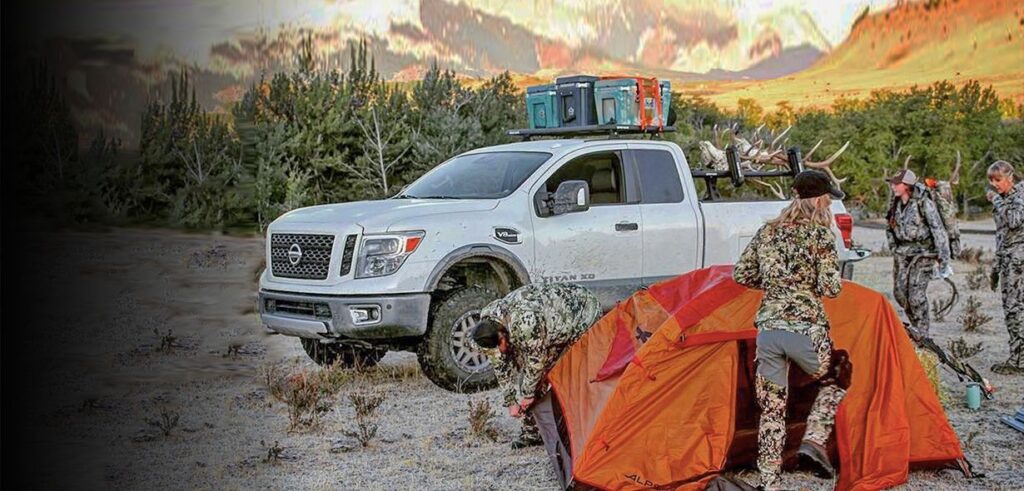 If you're on a budget and aren't able to spend the hundreds of dollar it might cost you to buy one of the coolers mentioned above then don't worry.
There are a lot of great budget coolers that are great for hunting.
These coolers can save you a lot of money and they still perform really well and will keep your catch or kill cold and frozen until you get home and have time to process it.
10. Lifetime Coolers: BEST VALUE FOR MONEY HUNTING COOLER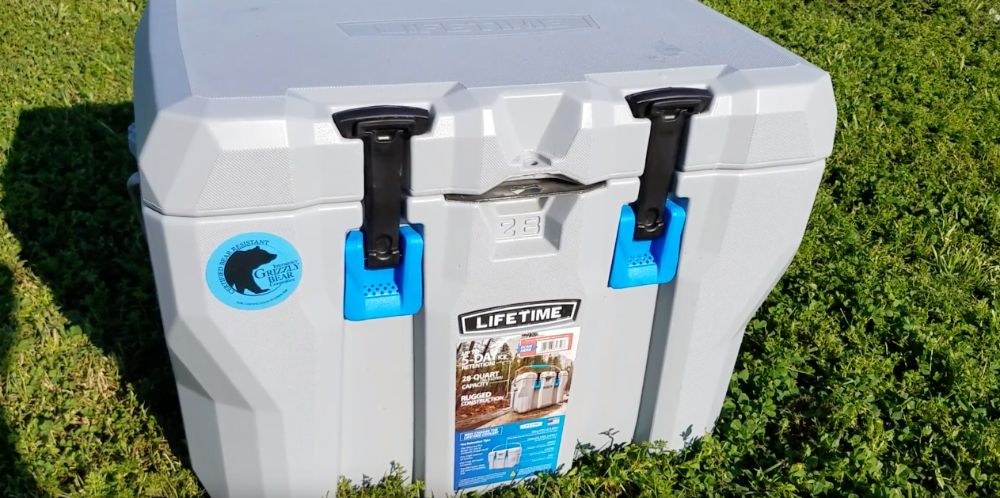 Lifetime coolers are (in my opinion) the best value for money cooler out there. Super affordable, made in the USA and can hold ice for days – read the full review.
They have a lot of the same features at the high-end hunting coolers like Yeti, ORCA and RTIC but they sell for a tiny fraction of the price. Most of their smaller sizes being under $100 and even their largest size being just over that price.
They come in 3 sizes:
28-Quart
55-Quart
77-Quart
The 55-Quart and 77-Quart will be suitable for most hunters however if you need a larger cooler you'll need to go with another brand.
They can keep ice for up to 7+ days and they have easy to use cam latches. They are made in the USA, they are bear proof and basically have anything you'd want in a cooler for a really low price.
See just how cheap Lifetime coolers are at Amazon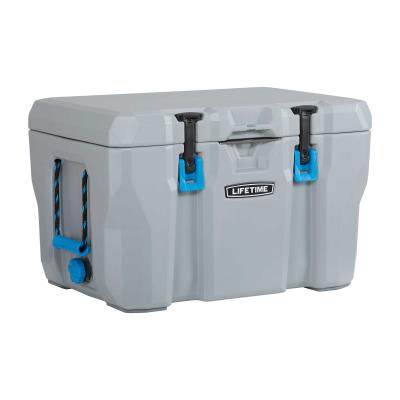 PROS:
Best value-for-money
Made in the USA
Bear proof
Great ice retention
11. Coleman Xtreme Coolers: BEST BUDGET HUNTING COOLER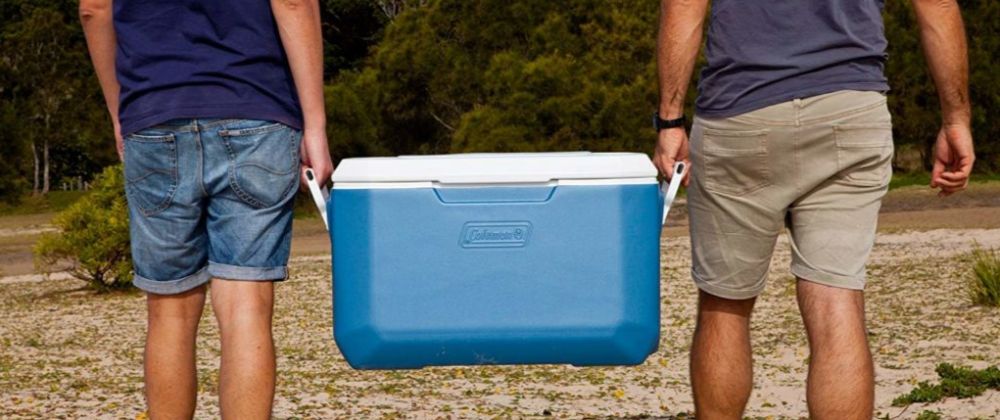 The Coleman Xtreme is hands-down the best budget hunting cooler. If you don't want to spend a lot or don't have a lot to spend on a roto-molded cooler then you can't go wrong with the Coleman Xtreme.
It's a lot like a regular cheap cooler you'd pick up from your local Walmart only much better.
It's got thicker insulation which means it can hold ice for up to 5 days, and even longer in the larger coolers. My own Coleman Xtreme ice test saw it hold ice for over 10 days!
It's got cup holders in the lid which can be useful and it comes in a variety of sizes starting at 50-Quart and going all the way up to the massive 150-Quart Coleman Xtreme Marine.
I personally own one of these coolers and absolutely love it and I think you'll love it to. Plus most of their sizes are under $50 so they won't break the bank.
See the latest cheap prices of Coleman Xtreme coolers at Amazon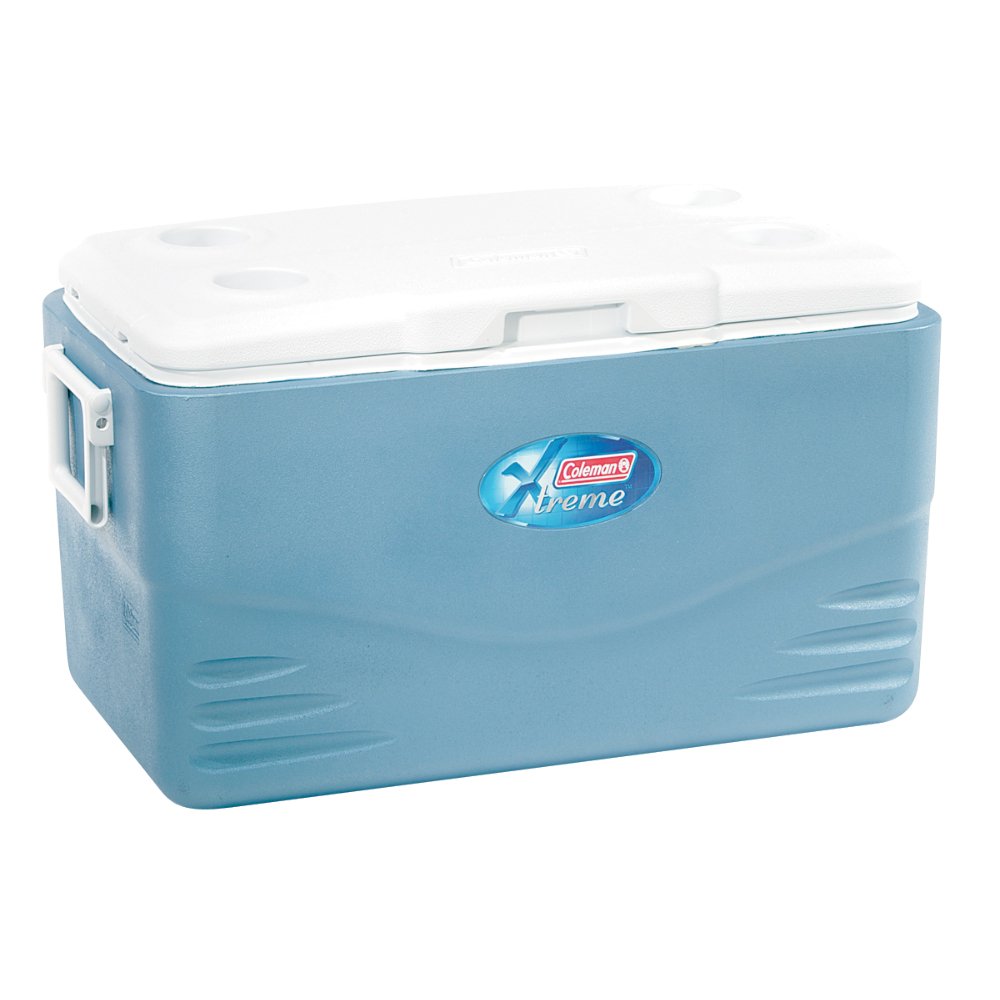 PROS:
Super cheap and affordable
5 days ice retention
Wide range of sizes
CONS:
Not roto-molded
Not as durable as Yeti
Lacks high-end features
12. Igloo Quick and Cooler 150-Quart
If you're looking for something absolutely huge to be able to fit your Elk or if you're hunting with a group and need to store all the meat then the Igloo 150-Quart cooler might be the cooler for you.
It's got lid latches to keep the lid down and has a foam insulated lid allowing it to hold ice for up to 7 days at a time, even in warmer weather.
See the latest price of the Igloo 150-Quart cooler at Amazon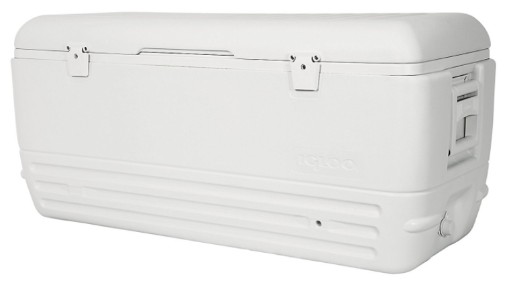 PROS:
Massive 150-Quart size
Made in the USA
Affordable price
CONS:
Not the best ice retention
Not as durable as other coolers
Best Soft Coolers For Hunting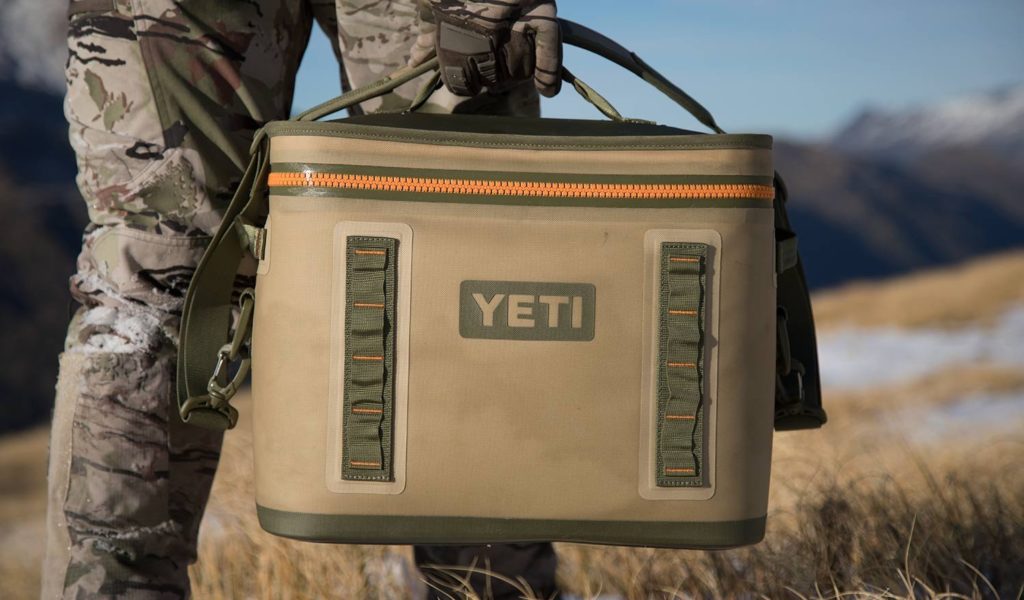 If you're looking for a more portable and lightweight cooler for your hunt then a soft cooler might be they way to go.
These obviously aren't big enough to fit an Elk or Deer in but they are suitable for smaller game.
They are lighter than hard-sided coolers and usually much more portable with shoulder straps, backpack straps or other easy ways to carry it.
In the last few years soft-sided coolers have gotten really good too. They have great ice retention of 2-4 days and are made to be durable. They have also become easier to clean than those old lunchbag style coolers.
13. Yeti Hopper Coolers

Yeti are known for their quality and their Hopper series of soft-sided coolers is no exception to this.
They feature thick insulation and 2-3 days of ice retention and a thick and tough waterproof zipper and a waterproof exterior will keep water in or out.
These coolers are made tough with 84-denier nylon that is TPU laminated to make the tear resistant, puncture resistant and water proof. The reinforced base means the bottom of your cooler won't get holes and it's backed by a 3-year warranty.
There are the smaller flip coolers which are rectangular in shape with a wide open lid or there's the M30 which is a larger tote style bag. They also have backpack coolers for easier carrying.
In my opinion the Yeti Hopper series of coolers are the best soft coolers for hunting.
See the latest prices of Yeti Hopper soft coolers at Amazon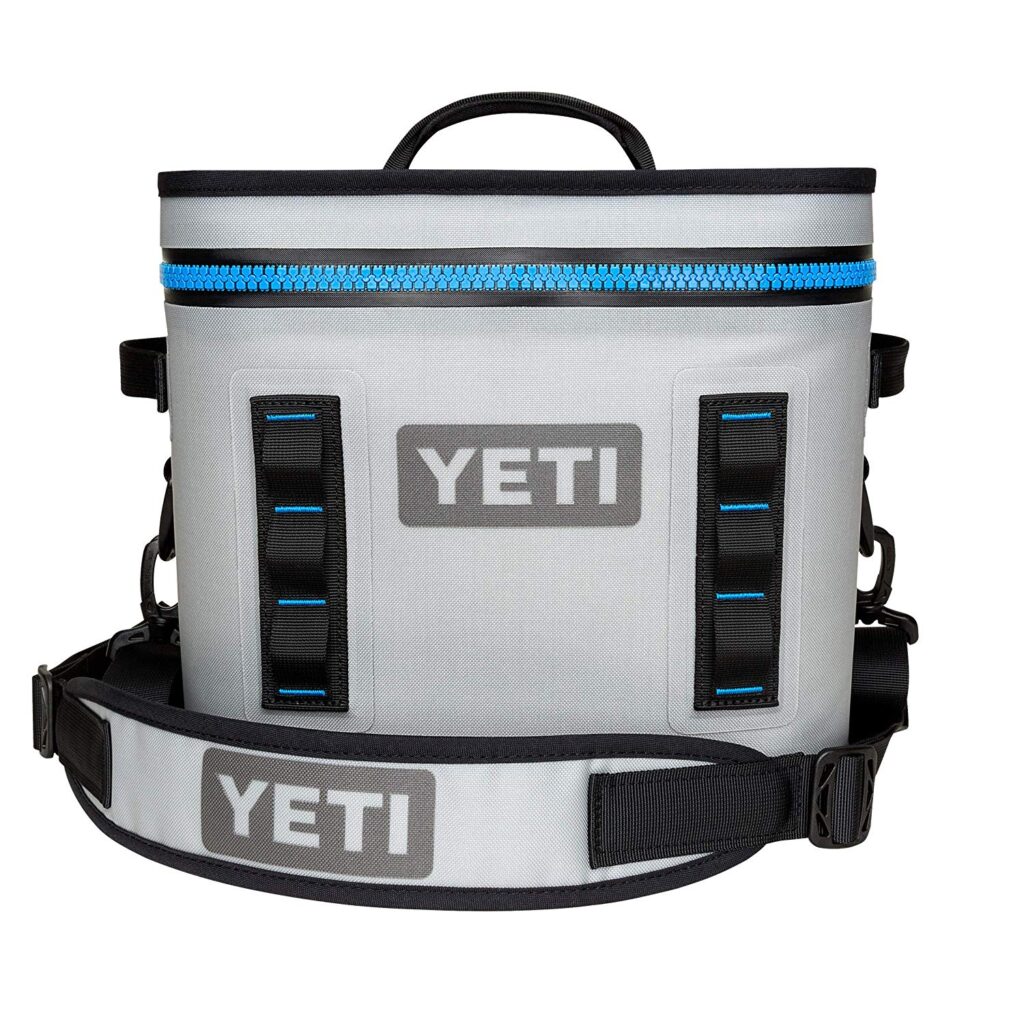 14. Engel HD30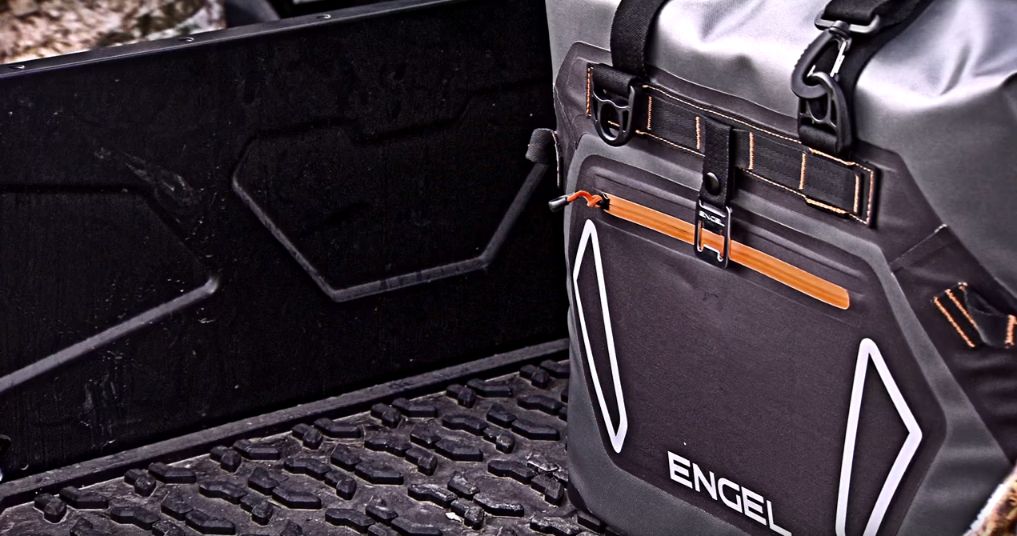 The Engel HD30 had the best ice retention of any soft sided cooler and can hold ice for 4+ days. This is great performance from a soft sided cooler.
The 30-Quart size is a good capacity for hunting and the waterproof zipper will ensure no mess gets in your car or the back of your truck.
Made with ballistic nylon this is a durable soft sided cooler that can handle anything you throw at it.
See the latest price of the Engel HD30 at Amazon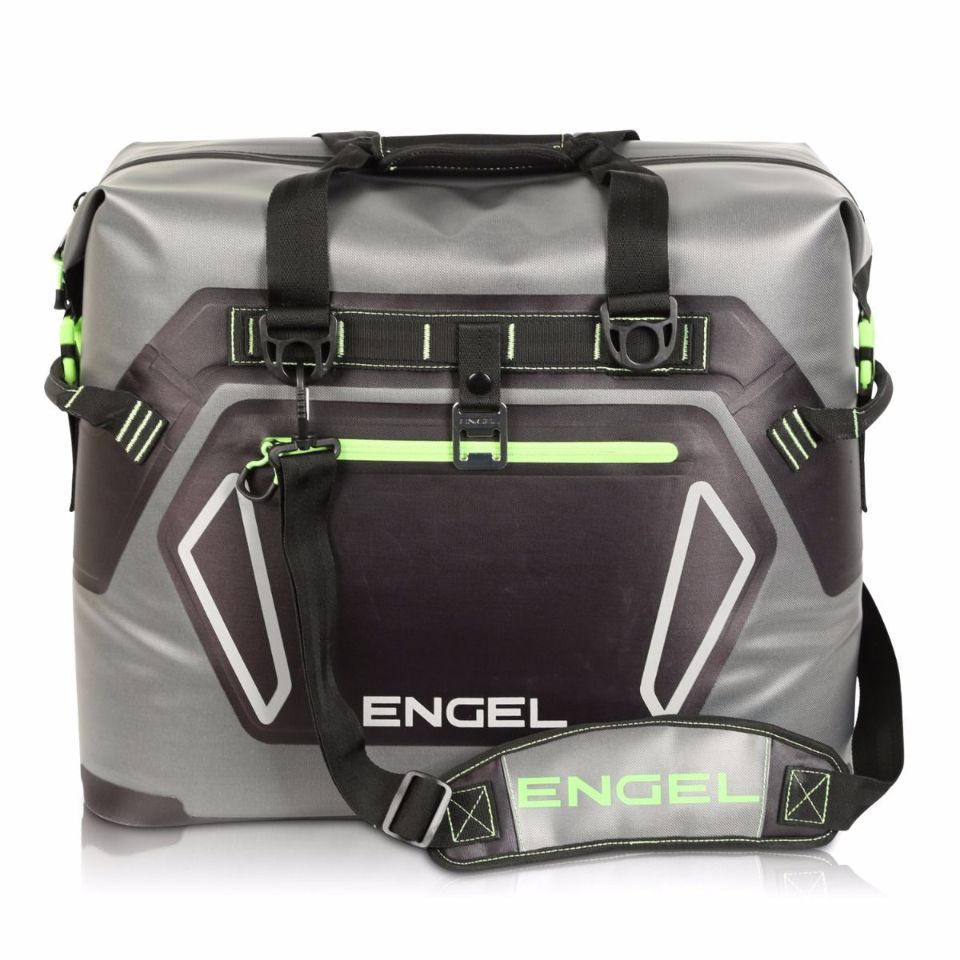 15. RTIC Coolers

If you're looking for a high-quality budget soft sided cooler then the RTIC is the brand I recommend.
It has thick insulation that gives it better ice retention than the Yeti as well as a waterproof zipper to make it completely leak proof.
The exterior is made from tough vinyl and it has a reinforced base to handle the rough terrain that comes with hunting.
With a shoulder strap for easy carrying and multiple different size options this is the best budget soft-sided hunting cooler.
See just how cheap RTIC Soft Pak coolers are at Amazon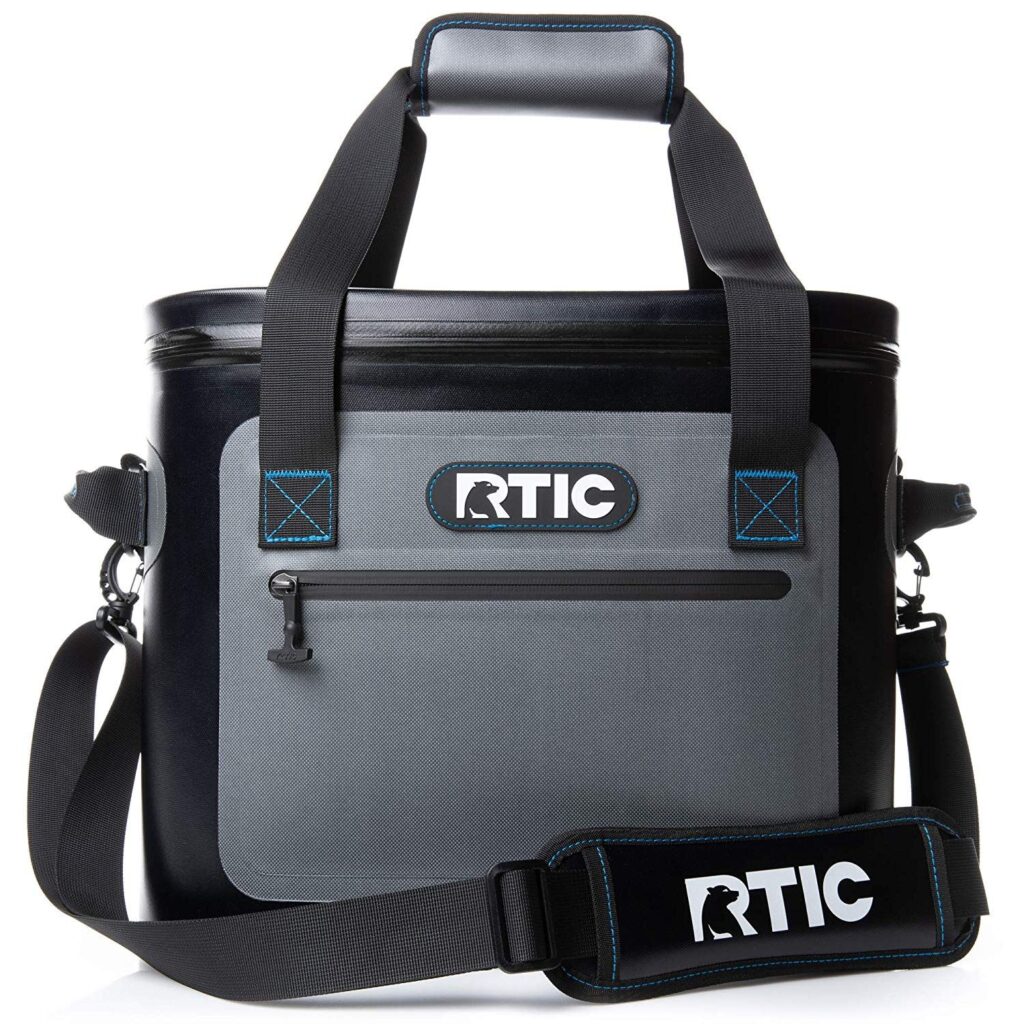 Tips For Storing Game Meat in a Cooler
There are people out there way more qualified than me to advise on how to cool and store your game meat. This article is a great resource on cooling down your meat quickly even in warmer weather and this article shares some golden rules on caring for wild game.
Cool Your Kill Quickly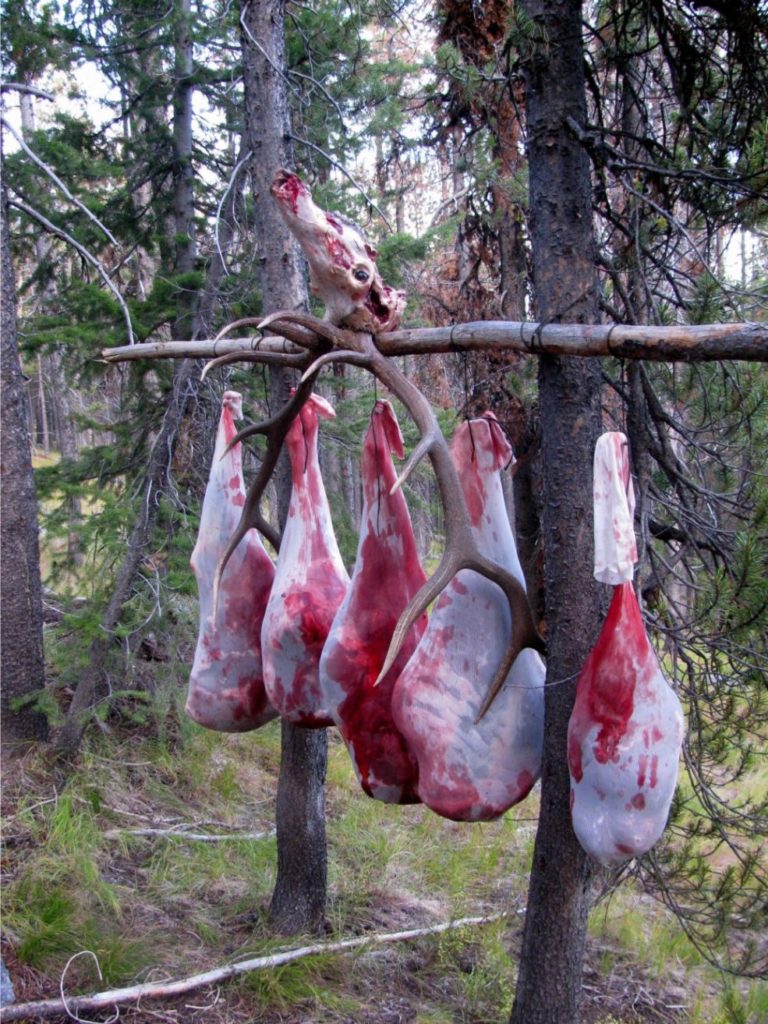 Cool your meat down as quickly as possible to minimize bacteria growth. Don't let it stay warm and rot.
Cool Your Meat Evenly On All Sides
By cooling it down evenly on all sides you're ensuring it doesn't stay hot in one area allowing bacteria to grow.
Don't Have Your Meat Sitting In Water
Having your meat sitting in water for long periods of time can ruin the taste and texture of your meat.
Use Leak Proof Containers Of Frozen Water
Use frozen like jugs and other leak proof containers to keep your meat away from moisture or use waterproof game bags to store your meat.