Lifetime coolers are a budget friendly option to Yeti coolers and have many of the same features but cost a fraction of the cost.
For under $100 at Walmart you can get a cooler that can hold ice for up to 5 days and is strong, durable and bear proof. It's also made locally in the USA.
This is a great option for the budget shopper who wants something better than a standard cooler, but doesn't want to pay the hefty price tag of a high-end cooler.
In this review we are going to look closely at the performance, build quality, pricing and features of the Lifetime cooler. We'll also compare it to other popular coolers like the Yeti Tundra and the Ozark Trail (which is also sold at Walmart).
At the end of this review you'll have a good idea as to whether or not you want to spend your hard earned money on a lifetime cooler.
If you do then links in this article will be affiliate links linking through to Walmart (where they are currently sold for the cheapest price).
You can click the links below to see the current pricing on Walmart, or continue reading for the full review.
Lifetime Cooler 28-Quart (at Walmart.com)
Lifetime Cooler 55-Quart (at Walmart.com)
Lifetime Cooler 77-Quart (at Walmart.com)
Ice Retention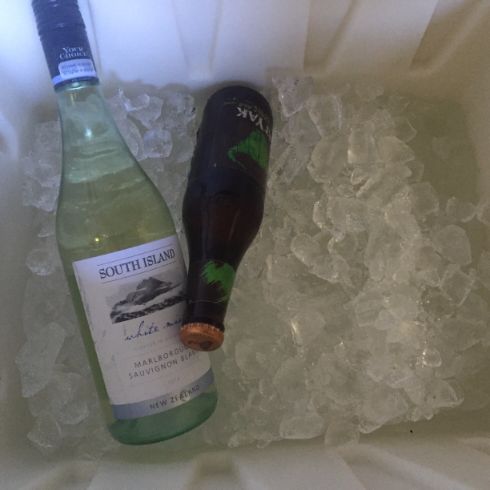 Lifetime claim ice retention of over 7+ days with their 55-Quart sized cooler, but this is optimistic and only occurs in ideal conditions when the cooler is completely filled with ice.
You're more likely to get around 4-5 days ice retention with everyday use, which for the price is still pretty amazing. That's up there with roto-molded coolers like the Yeti and Pelican for a fraction on the price.
There are no head-to-head comparisons between Yeti and Lifetime that I could find online. This is something I plan to do myself next summer and I would love to see how the Lifetime 55-Quart compares to something like the Yeti 65 (which is actually 57.2-Quart).
The below ice retention comparison done by Lifetime shows that it has similar ice retention to the Yeti. They used a smaller Yeti in this test which skews the results in Lifetime's favor.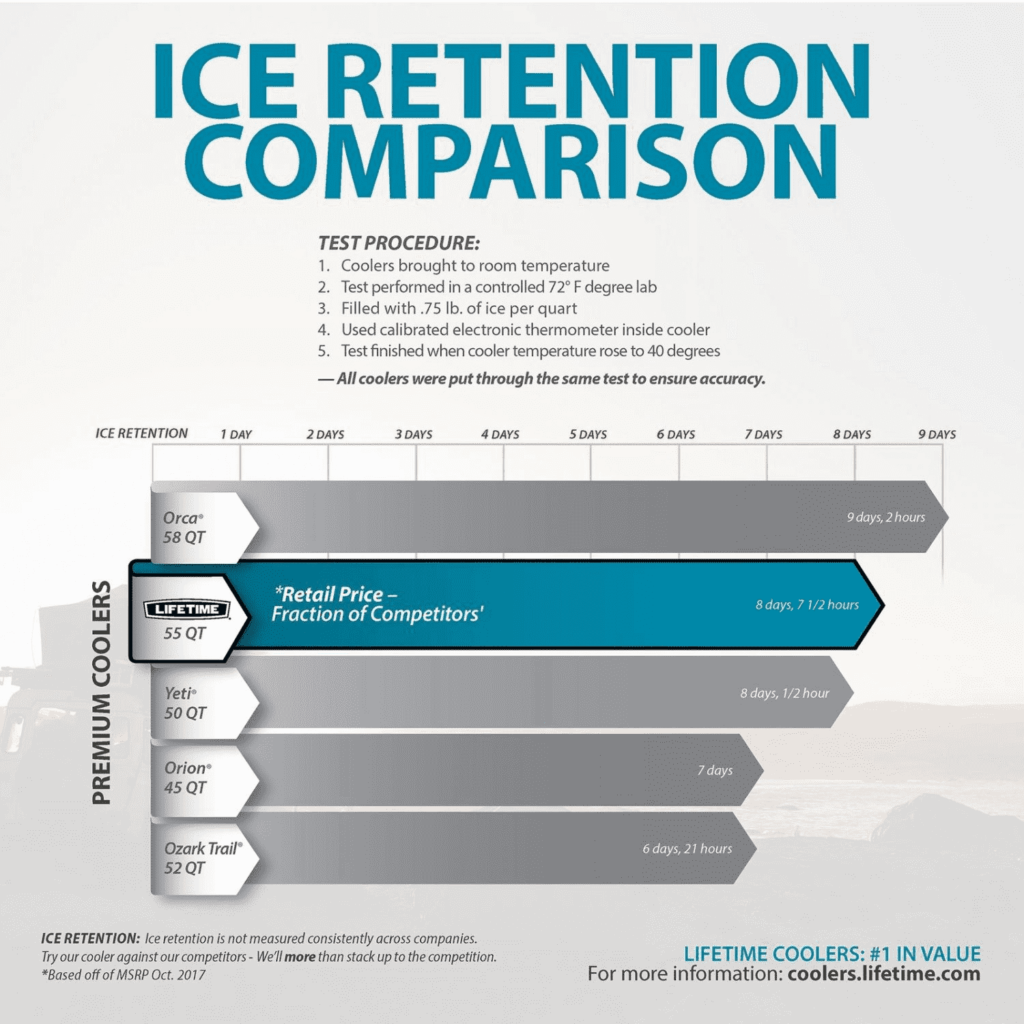 You can see however, that the Lifetime cooler kept ice nearly 2 days longer (or about 20%) longer than the similar sized Ozark Trail.
Ozark Trail is another popular cooler sold at Walmart and the Lifetime cooler is actually cheaper than the Ozark, yet it outperforms it in terms of ice retention. Read my Ozark Trail cooler review here.
Price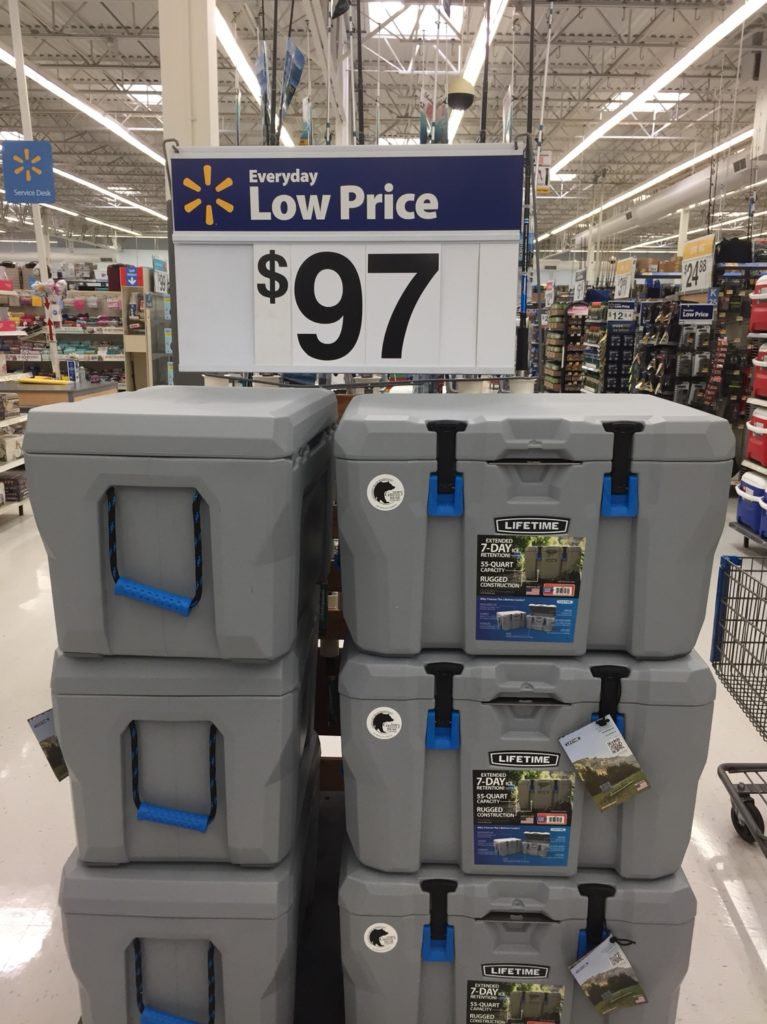 For what you get, and the fact that these coolers are made in the USA, I'm really surprised at how affordable they are.
The RRP for these coolers is $99.99 for the 28-Quart, $129.99 for the 55-Quart and $179.99 for the largest 77-Quart cooler. But they are generally sold for a discount at Walmart.
At the time of writing this you could get the coolers for around $30 cheaper from Walmart than you can buy them directly from the manufacturer. This makes both the 55-Quart and 28-Quart under $100!
I'll link up to Walmart below using my affiliate link if you want to grab a Lifetime cooler for yourself:
Lifetime Cooler 28-Quart (at Walmart.com)
Lifetime Cooler 55-Quart (at Walmart.com)
Lifetime Cooler 77-Quart (at Walmart.com)
There aren't really any coolers of this build quality around this price mark, everything is more expensive.
The Only Other Cooler This Affordable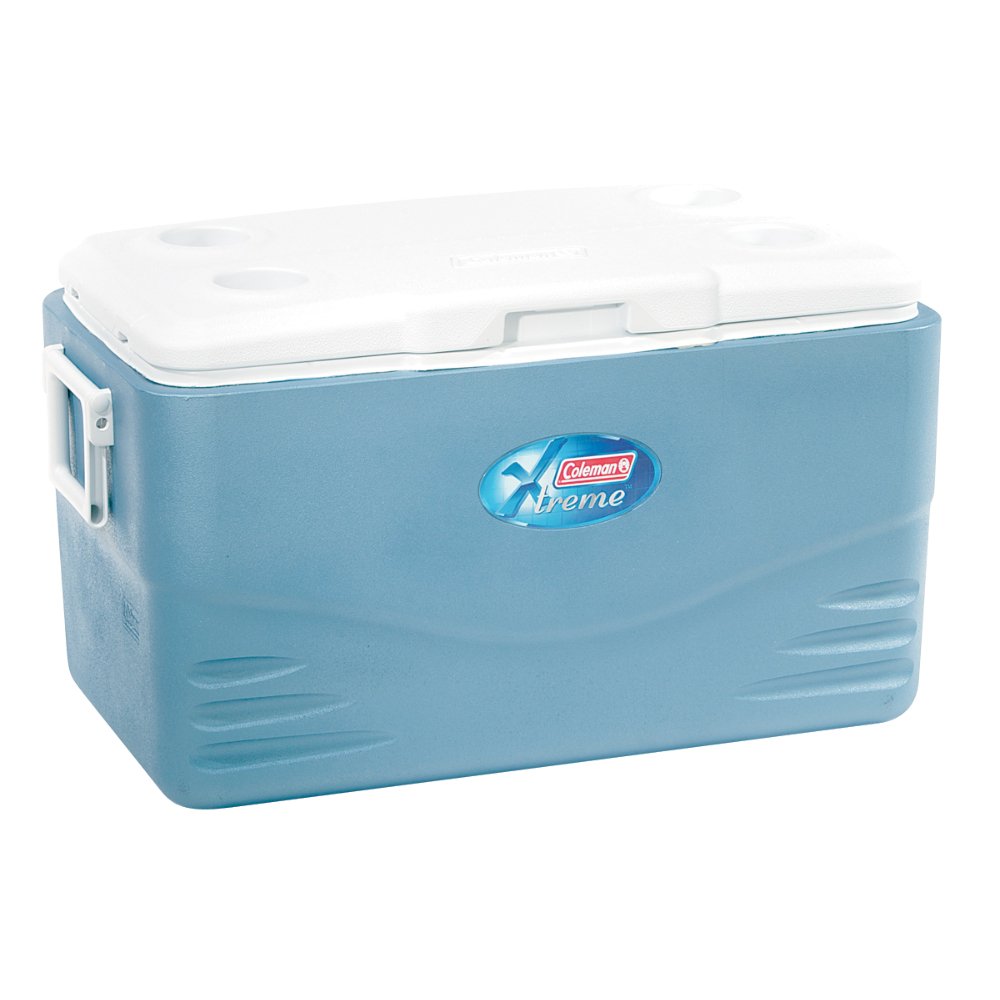 The only other cooler are this price point is the Coleman Xtreme 5-Day cooler for around $50.
But that is nowhere near as strong and lacks a lot of the features that the Lifetime has. It isn't bear proof, has no latches, no non-slip feet, no built in bottle opener.
The Lifetime cooler has a lot more going for it but in saying that I do love my Coleman Xtreme. If you're just looking for a basic cooler that does the job then you can't go wrong.
If you want to grab a Coleman Xtreme you can click on the Amazon price link below or read my Coleman Xtreme review.
Coleman Xtreme 50-Quart –
Durability and Build Quality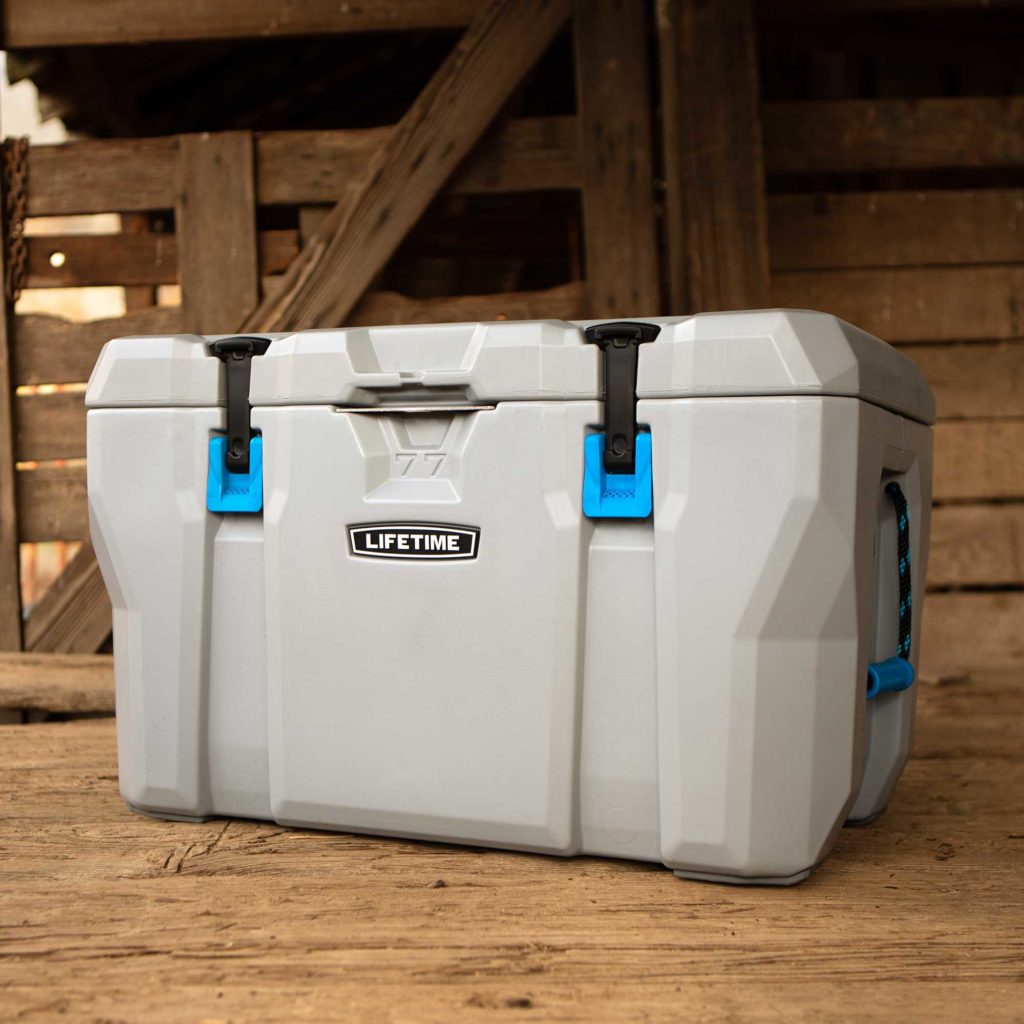 While Lifetime coolers look like other roto-molded coolers they are actually made with blow moulded plastic.
This uses the same plastic as coolers like Yeti (polyethylene) but gives them a thinner outer shell. This means the Lifetime, while strong, isn't as strong and durable as a roto-molded cooler like Yeti, Orca etc.
In a video review from Coolers On Sale they state:
"the lid of this cooler and the overall design is not as sturdy as some of the other roto-moulded coolers that we're testing. When I sit on this you can just feel the lid kind of caves in. It's not that hard surface and when I get up you might be able to see…that indentation"

CoolersOnSale's YouTube
This cooler is going to be strong enough for almost any situation and it's highly unlikely to break.
It's the accidents (eg. dropping it when fully loaded) that are more likely to break it , not everyday use.
Bear Proof
Even though it is blow moulded it is still certified bear proof, which means bears have attacked this cooler for over an hour and we're unable to get in.
You can see in the above video that while the bear has a really good go at getting into the cooler it wasn't able to open it up.
The cooler needs to be locked for it to be considered bear proof. If it isn't locked then they bears can remove the rubber latches and open the cooler that way.
In the below image you can see that the bear has actually chewed a large chunk off the lid of the cooler. This is something I have not seen a bear been able to achieve with any toto-moulded cooler.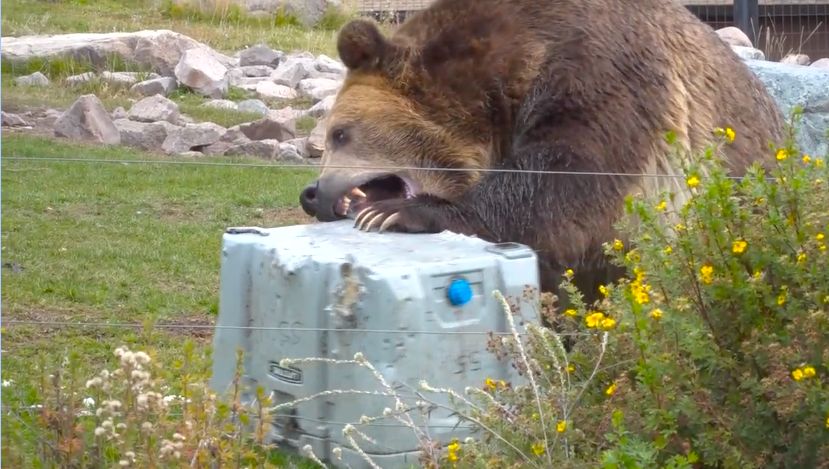 Usually they will make bite marks and claw marks but rarely will they actually rip off a big chunk. This again shows that while Lifetime coolers are tough, they aren't as tough as roto-molded coolers.
Sizes and Colors
Lifetime coolers come in 3 sizes and just one color option (the grey/blue option).
28-Quart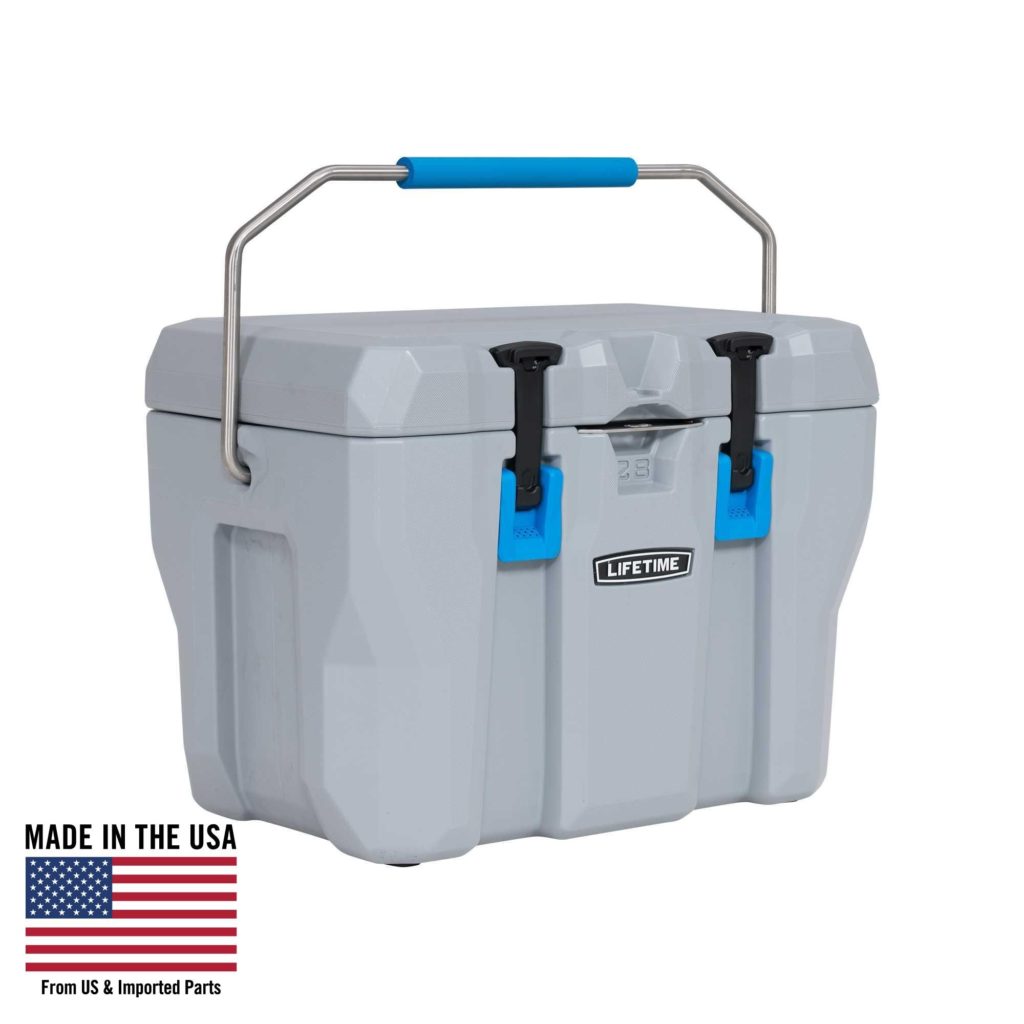 This smaller sized cooler is perfect for a single person or for shorter trips for a couple of people. It has a handy metal pull up handle, which makes it different from the larger coolers that have the rope handles on the side.
This is rated to keep ice for up to 5 days but I would expect 2-3 days of ice retention during everyday usage.
See 28-Quart Lifetime Cooler (at Walmart.com)
55-Quart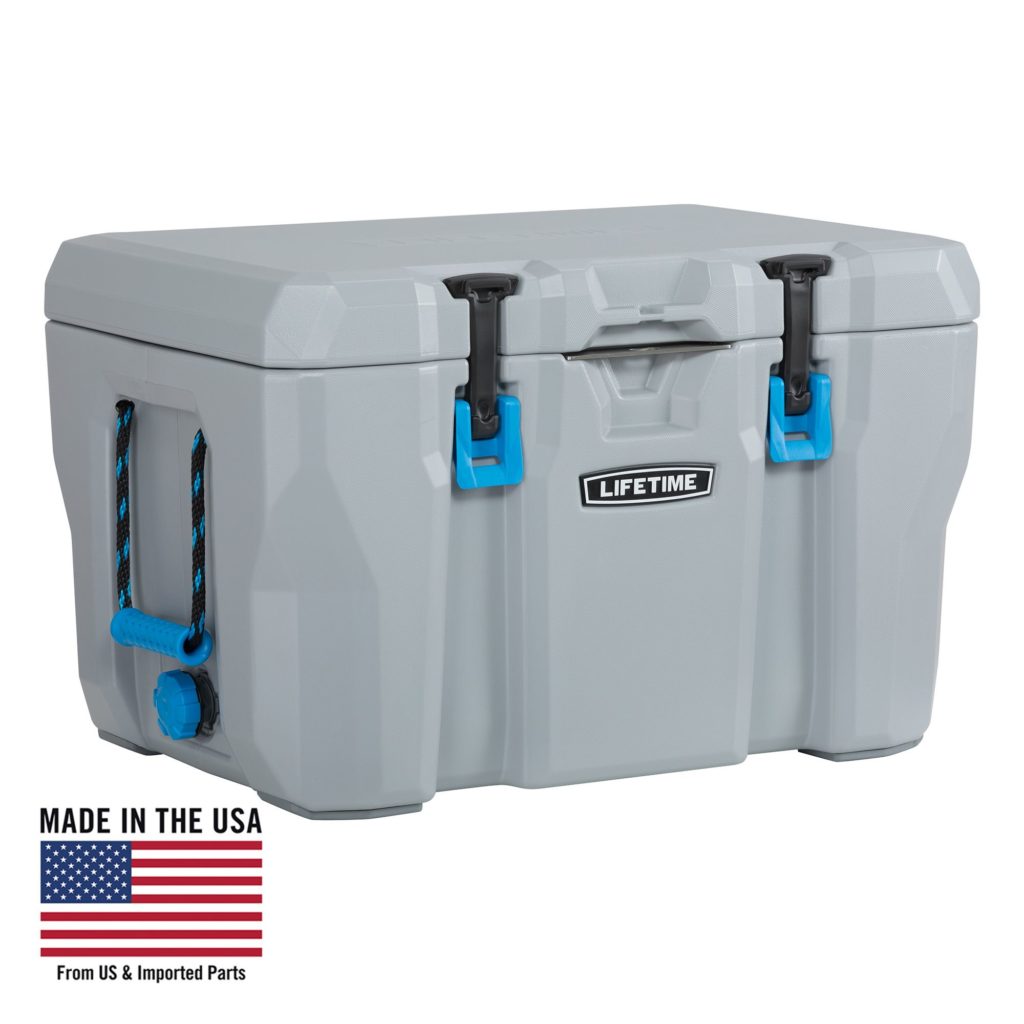 This cooler is the most popular size and actually has a capacity of over 60-quart. It can hold up to 60 cans and the drainage spout is threaded so you can attach a hose to it.
The front padlock connector doubles as a stainless steel bottle opener and has 2-3 inches of insulation throughout giving it up to 7 days ice retention in great conditions.
See 55-Quart Lifetime Cooler (at Walmart.com)
77-Quart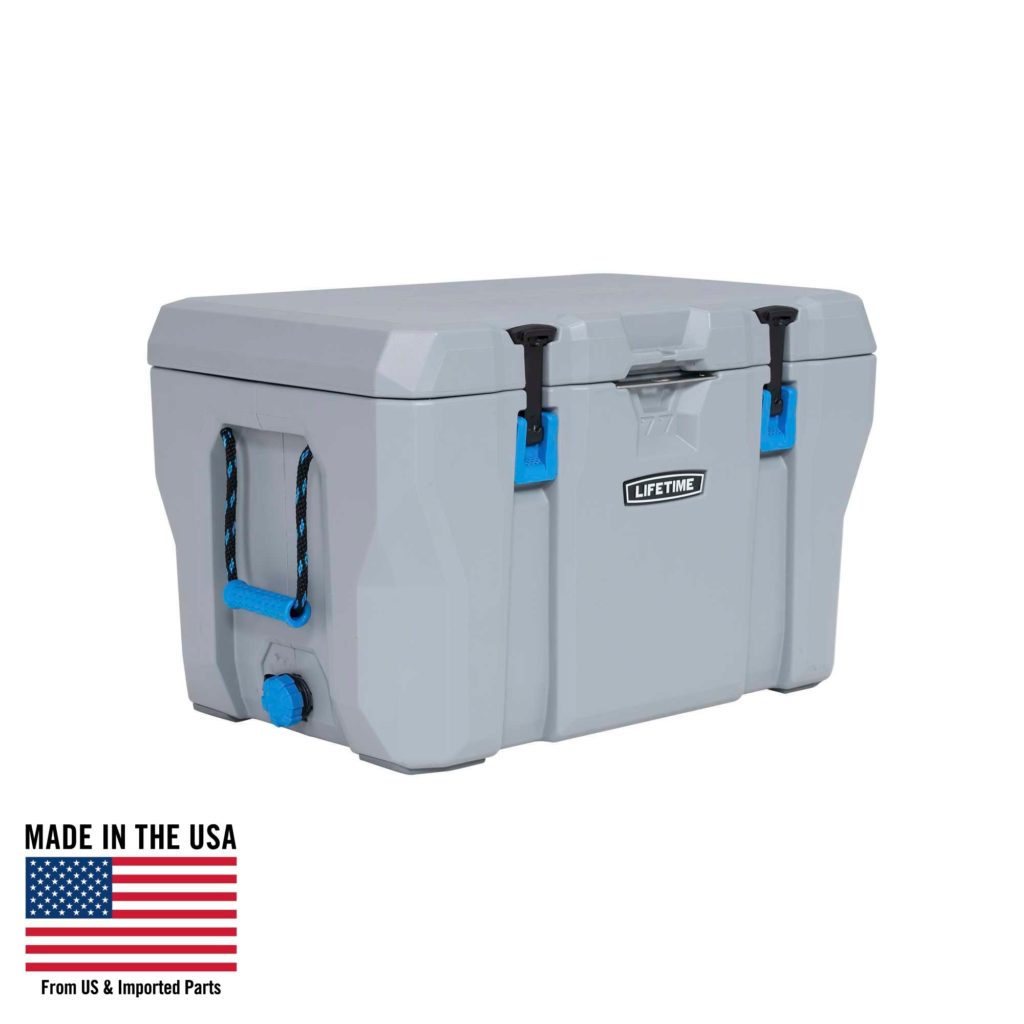 This is the biggest cooler in Lifetime's lineup and offers everything that the 55-Quart sized cooler offers plus more capacity.
They claim up to 9 days ice retention but I am yet to see that tested. However, given the performance of the smaller sized coolers I would fully expect this cooler to keep ice 5-7 days without issue.
See 77-Quart Lifetime Cooler (at Walmart.com)
Features
Lifetime coolers have some really nice features that other coolers around this price point don't have.
Multifunctional Feet – Grip and Slide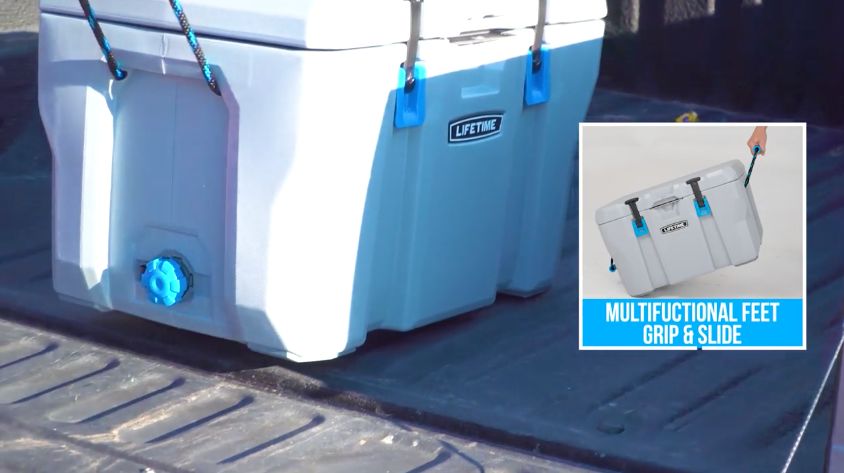 I love this feature about the cooler. It has non-slip rubber feet when stood upright. These non-slip feet are great for putting it in the back of your car or truck and it won't slide around.
But sometimes you want to be able to slide your cooler and non-slip feet making this really hard.
Lifetime solves this issue by having feet that grip when the cool is upright but when the cooler is tilted it leans of the part of the feet that are easy to slide.
To slide your cooler easily simply lift one side using the rope handle and then pull it along.
Nylon Rope Handles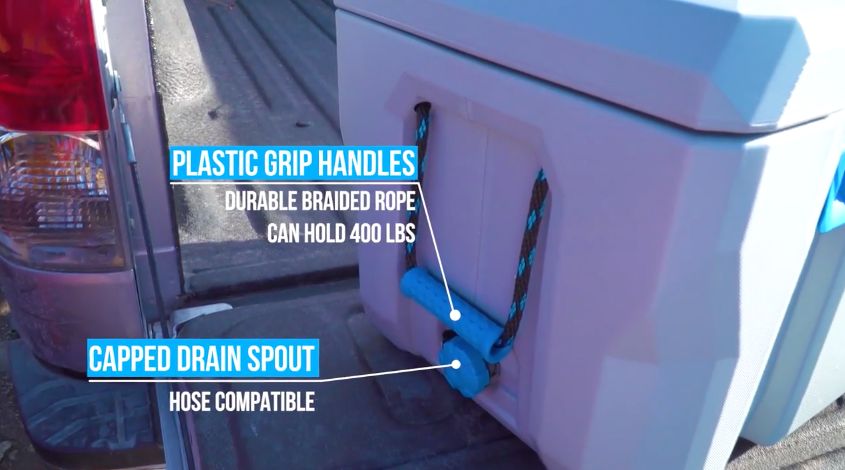 The 55 and 77-Quart coolers have nylon rope handles on the side with a plastic grip for easy carrying. These rope handles can hold up to 400 lbs so you can be certain they aren't going to break.
There are also handles moulded into the side of the cooler if you prefer to carry your cooler using those instead of the rope handles.
Rubber Gasket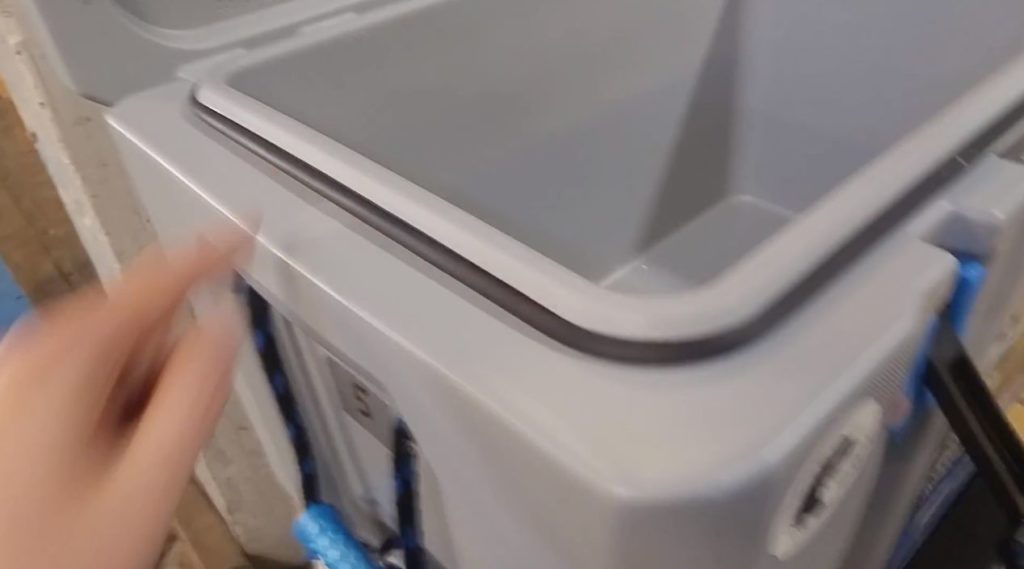 Lifetime coolers have a rubber gasket on the inside of the lid that help to keep the cool air in and the warm air out.
Older models had this gasket on the body of the cooler rather than on the lid. This was not fixed in place and caused a lot of issues for customers.
Newer models of the cooler have fixed this problem. On their website they tell you to reference the model number to make sure you get the right cooler with the new gasket type.
"You will want to reference the new model number. The redesigned cooler is model #90949. The old one is 90820."
Cam Latches For Easy Opening/Closing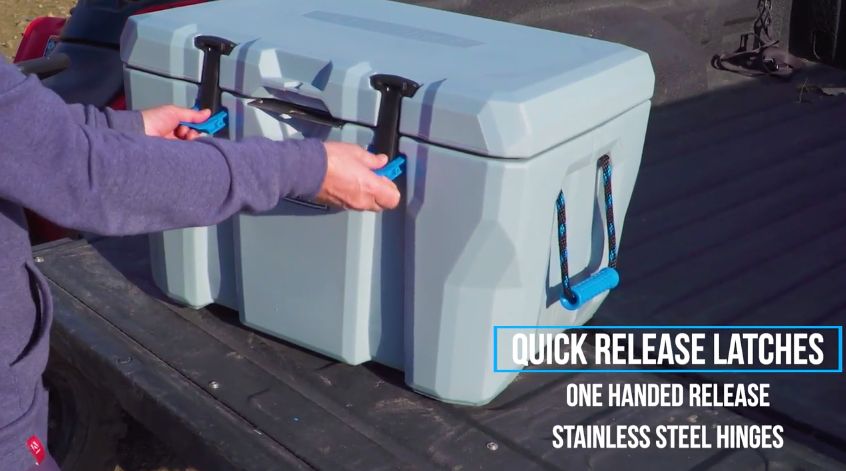 Rather than using pull down rubber latches like many cooler the Lifetime uses a cam latch system.
I really like these latches as it makes it very simple to open and close the cooler with just one hand. It is fairly intuitive to use and even children can open and close the cooler easily, which I can't say for me Yeti cooler.
Built In Bottle Opener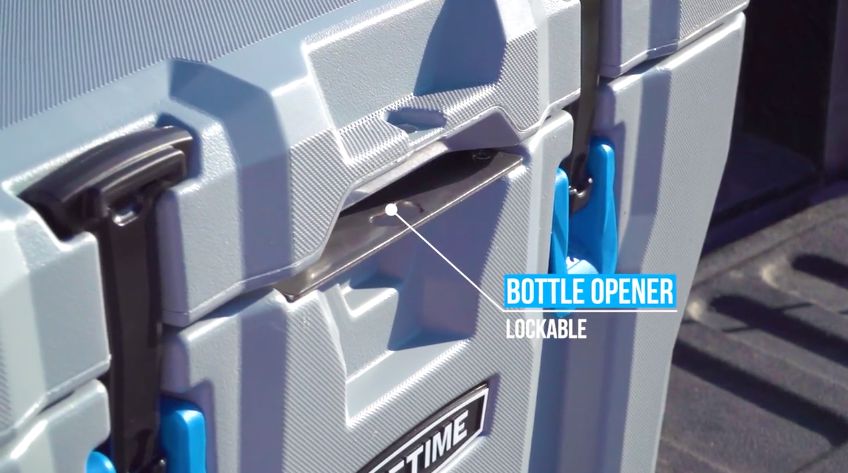 The front locking mechanism that is used to make the cooler bear proof is made out of stainless steel and has a built in bottle opener in it.
I love this feature and I think every cooler should have a built in bottle opener. They aren't hard to add and you are almost always using your cooler for keeping beverages cold.
It's great that Lifetime have added this is in. It's a really cool feature.
Easy Drain Drainage Plug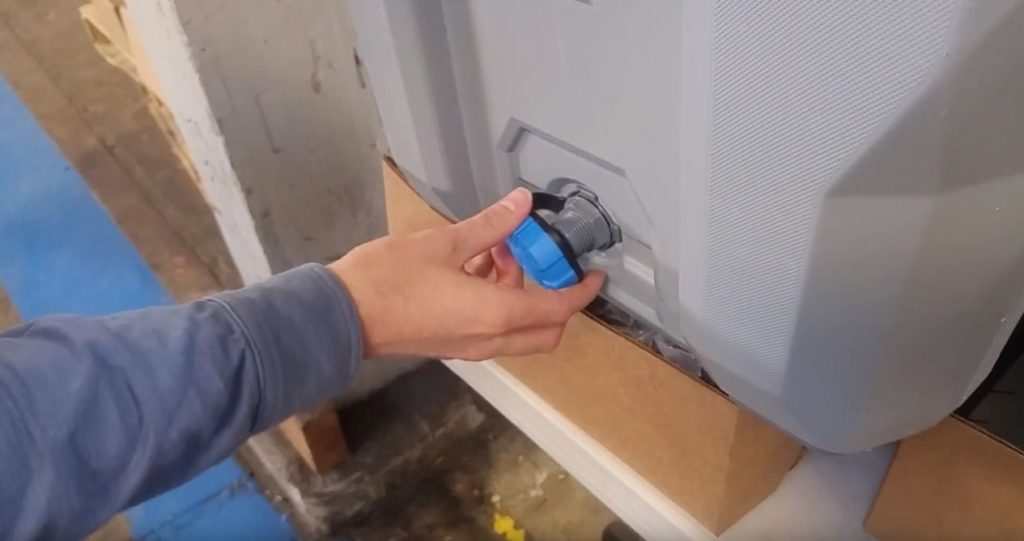 The drain plug is easy to use and is large enough that you can easily untwist it.
It's attached to the cooler body, meaning you won't loose the drainage plug when you're emptying your cooler and it is threaded and compatible with garden hoses.
If you want to drain the water away from your cooler simply connect a garden hose and drain it off onto your garden.
This Cooler Doesn't Have Accessories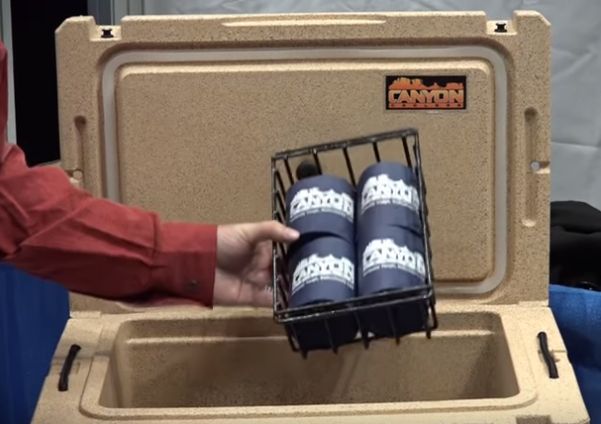 While some coolers come with accessories like dry baskets, bottle openers, cup holder etc the Lifetime cooler just comes as is.
At the time of writing there aren't any Lifetime branded accessories to purchase for the cooler, so how you buy it is how it'll stay unless you add some custom accessories to the cooler yourself.
I would love to see them add some simple accessories like a dry basket or cutting board just to give us some more options to make our cooler even better.
Especially because we are saving so much on the cooler, many people would like to spent that extra money making their cooler even more amazing.
Warranty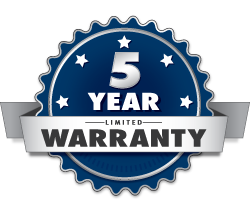 Lifetime coolers come with a 5-year limited warranty.
This is the same length warranty that most cooler companies offer, including Yeti.
What this means is that your cooler is covered from manufacturing defects for 5-years. If it breaks or has issues then Lifetime will replace it for you.
This doesn't cover wear and tear or the cooler being broken by accident (or by a bear attack).
Who is Lifetime and Can You Trust Their Products?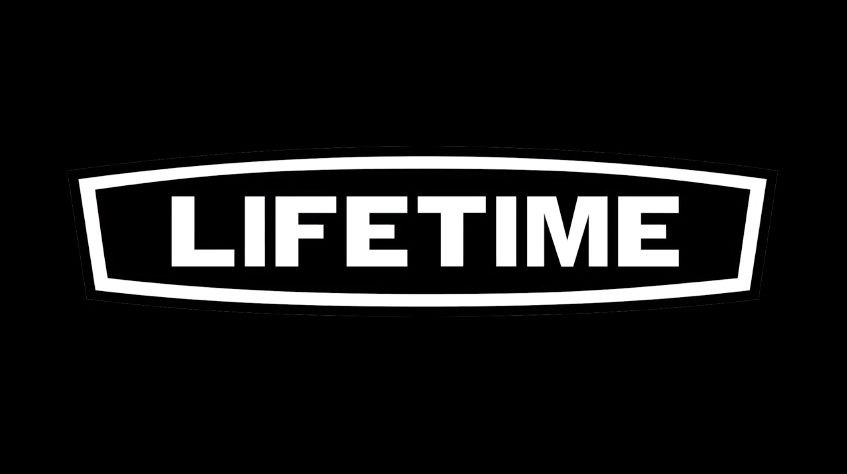 Most people haven't heard of Lifetime until they hear about "this cooler that is like Yeti but under $100."
Lifetime aren't a well known "brand" in any particular product category but they make a lot of plastic and steel products.
They sell everything from kayaks to kid's play equipment to chairs and paddle boards, generally for a much more affordable price than other competitors products.
Lifetime actually started back in 1986 and grew in the basketball industry making basketball rings. It has since grown to quite a large company employing over 3,000 people all around the world.
They started in Utah and now have a factory in Tennessee and make a lot of their products (including the Lifetime cooler) in the USA and employing hundreds of Americans.
While they don't make the absolute best products in the market they do have a reputation for creating high-quality products that you can trust and their customer service seems to be good if you run into an issue with any product they will replace it for you if it's within warranty.
You can learn more about Lifetime at their website.
Problems with Lifetime Coolers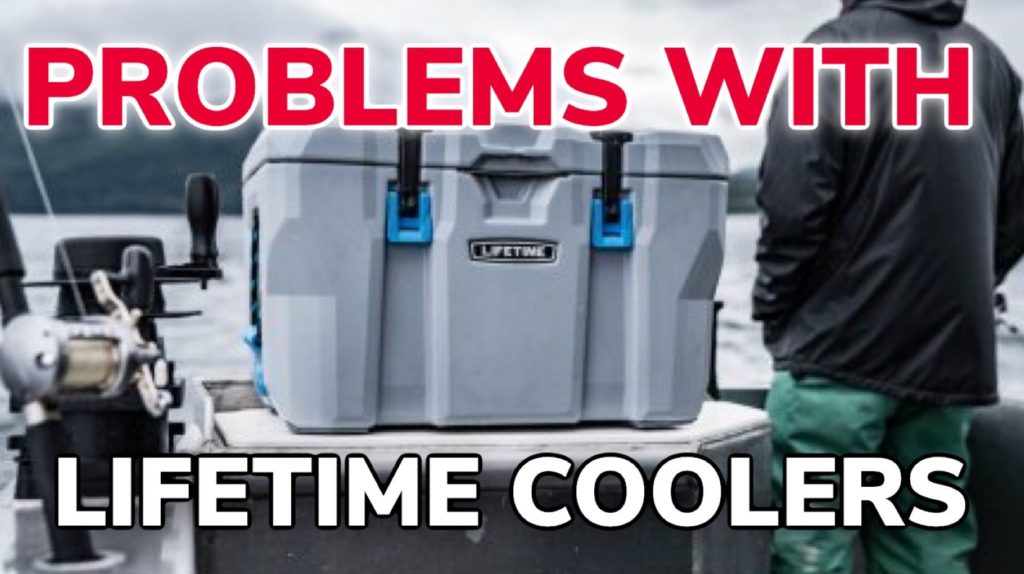 As you would expect from a $100 cooler there are a few problems with the Lifetime cooler that you should be aware of before purchasing it.
Given the price, none of these problems are deal breakers in my opinion, but I thought you should be aware of them.
1. Not-Watertight

This cooler is absolutely not watertight and moving it around while it has water in it will cause it to leak.
Water splashes out the sides of this cooler even when the lid is completely closed and the latches are pulled tight.
I'm not sure if they fixed this with the new gasket on the newer models of coolers but if you're looking for a watertight or airtight cooler this isn't the cooler for you.
2. Gasket Is Often Loose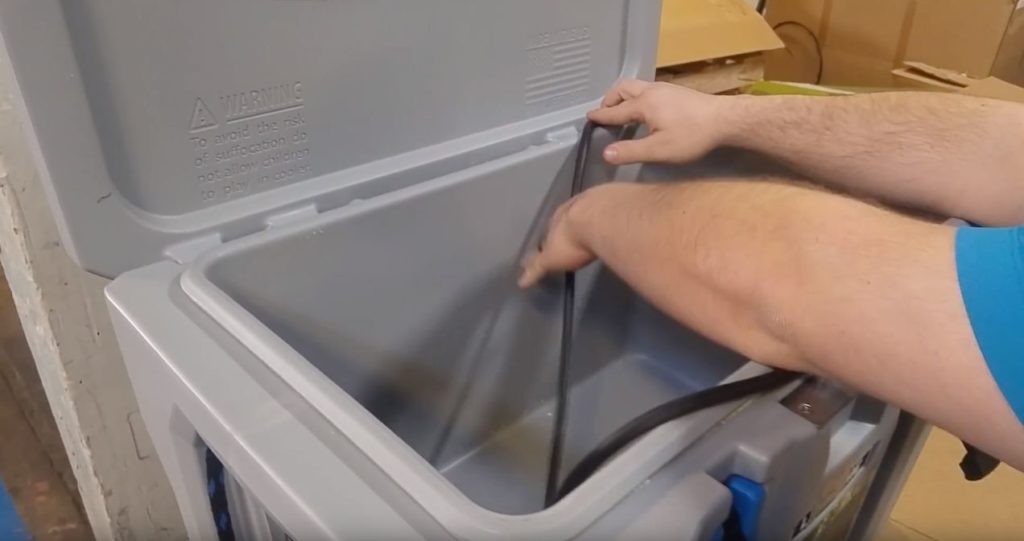 This problem mainly exists on older models of Lifetime coolers and is something they are fixing. But if you're buying a cooler from a local store then check the gasket before purchasing.
Not As Strong As Roto-Molded Coolers
We talked about this in the section on durability and build quality but it's important to note that this is NOT a roto-molded cooler.
It is blow moulded which means the exterior and interior plastic are not as strong as roto-moulded coolers.
So while this cooler is still bear proof and still extremely tough it isn't going to be as tough or long lasting as something like a Yeti and you will need to treat it with more care.
Where To Buy Lifetime Coolers

Lifetime coolers can be purchased through their website but the cheapest place to purchase Lifetime coolers is actually through Walmart.
You can purchase in store (if they have stock) or you can purchase one through Walmarts online store.
I'll link up to each sized Lifetime cooler on Walmart below so you can see the current price. That's my affiliate link so if you use it thanks a lot:
Lifetime Cooler 28-Quart (at Walmart.com)
Lifetime Cooler 55-Quart (at Walmart.com)
Lifetime Cooler 77-Quart (at Walmart.com)
My Personal Opinion: I LOVE This Cooler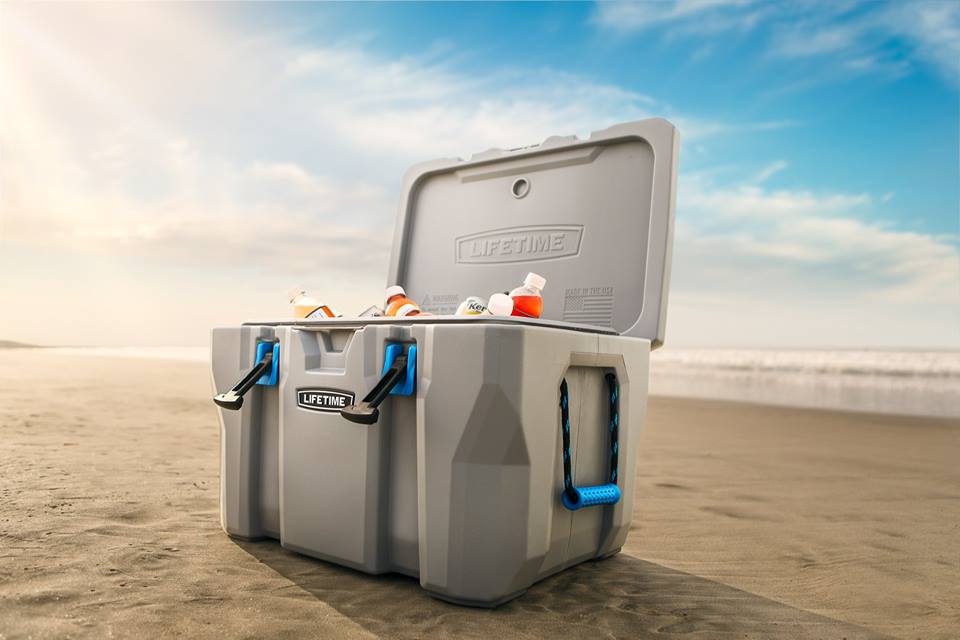 Personally I love this cooler. Do I think it's the absolute best quality cooler on the market? No it's not there are more expensive coolers that are better than this cooler in build quality, design and ice retention.
However, I do believe that this cooler gives you some of the best bang for buck out of any other cooler on the market.
Where else can you find a cooler that is bear proof, made in the USA and can keep ice for over 5 days for under $100?
The answer: You can't
The quality of this cooler for the low price it sell at makes this cooler an obvious purchase in my opinion.
If you have more money and want to buy a Yeti, Orca or Kong cooler then spend the money and get those and you will love them.
But if you're a budget conscious shopper and want something that does most of what a Yeti cooler does for a tiny fraction of the price then grab a Lifetime. You won't regret it.
Lifetime Cooler 28-Quart (at Walmart.com)
Lifetime Cooler 55-Quart (at Walmart.com)
Lifetime Cooler 77-Quart (at Walmart.com)
Coolers Similar to BRAND
I highly encourage you to do your research before just buying a cooler. They are a big financial commitment and you want to make sure you are buying the right one.
I've reviewed a lot of coolers and while I think Lifetime is a standout cooler there are some other coolers that are similar that you may wish to explore.
Ozark Trail Cooler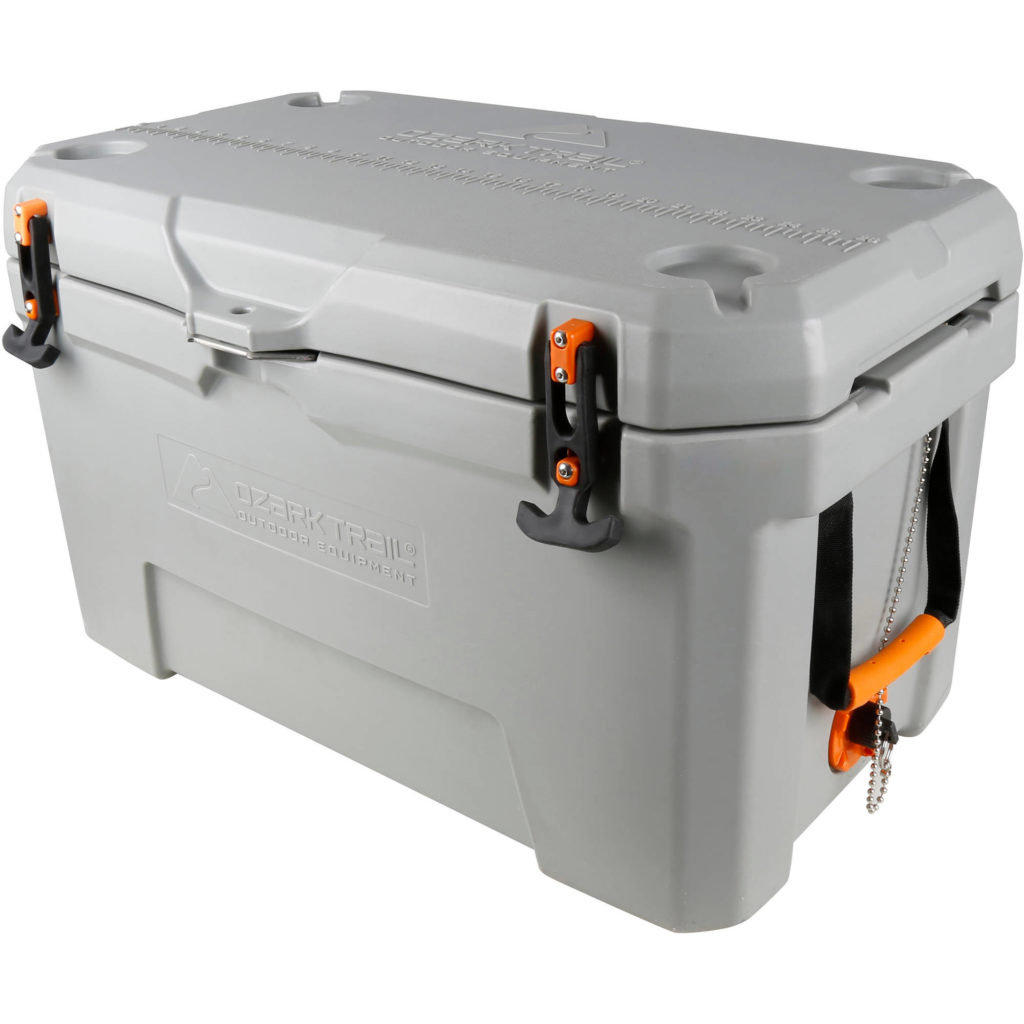 The Ozark Trail range of coolers is Walmart's own brand of roto-molded cooler.
It is extremely similar to the Lifetime cooler and has similar ice retention (maybe a little worse).
The Ozark Trail coolers are actually roto-molded though, so you will get a bit of extra strength and durability with these compared to the Lifetime.
Read my Ozark Trail Cooler Review
See Ozark Trail Coolers For Sale (at Walmart.com)
RTIC Coolers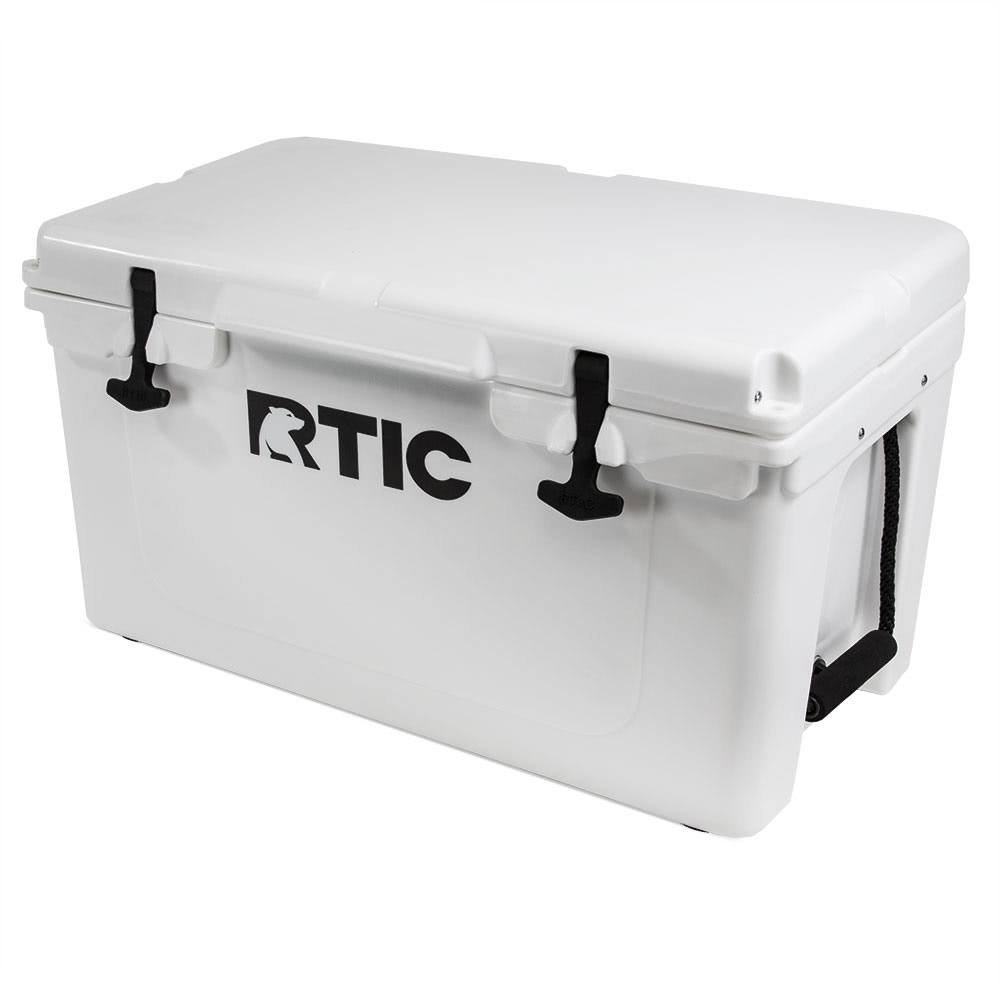 RTIC Coolers are the closest you're going to come to a Yeti cooler at a cheaper price point.
They were actually sued by Yeti (and lost) due to the fact they copied Yeti so heavily.
So if you want something almost identical to a Yeti, but for a cheaper price then you definitely need to look at RTIC.
See RTIC Coolers on Amazon (my affiliate link)
Kong Cooler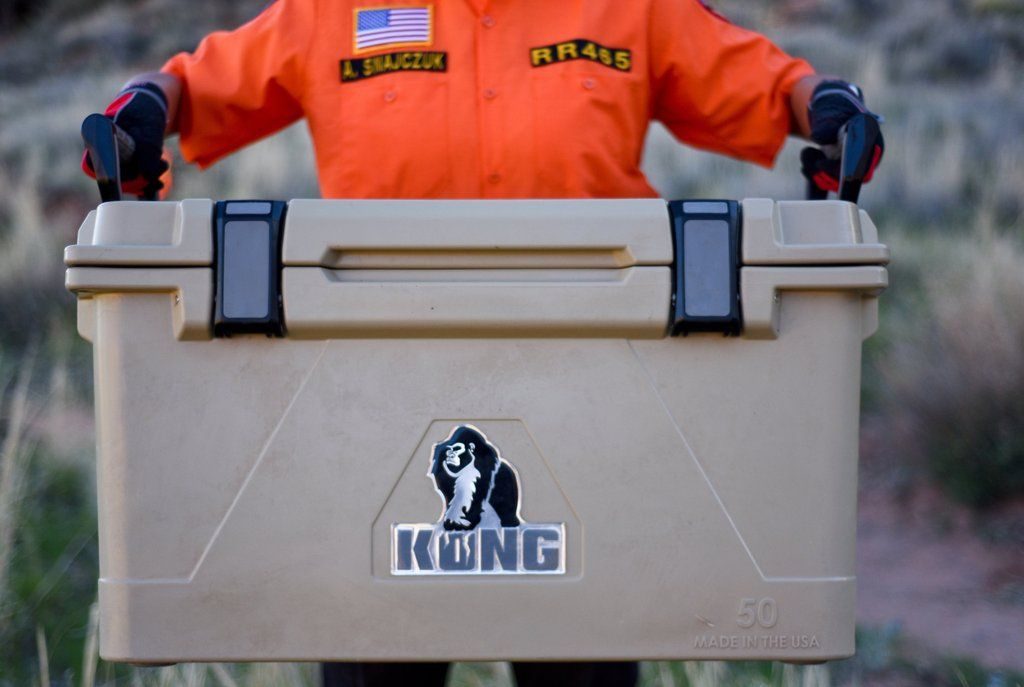 This is currently one of my favourite roto-molded coolers. It's more expensive than the Ozark Trail and the RTIC but it is made in the USA and has some of the best ice retention of any cooler on the market.
It also has a cooler feature where the cutting boards can double as side tables giving you much more prep area for food.
This is something I wish I had when I was living in the van.
See Kong Coolers For Sale (on Amazon)