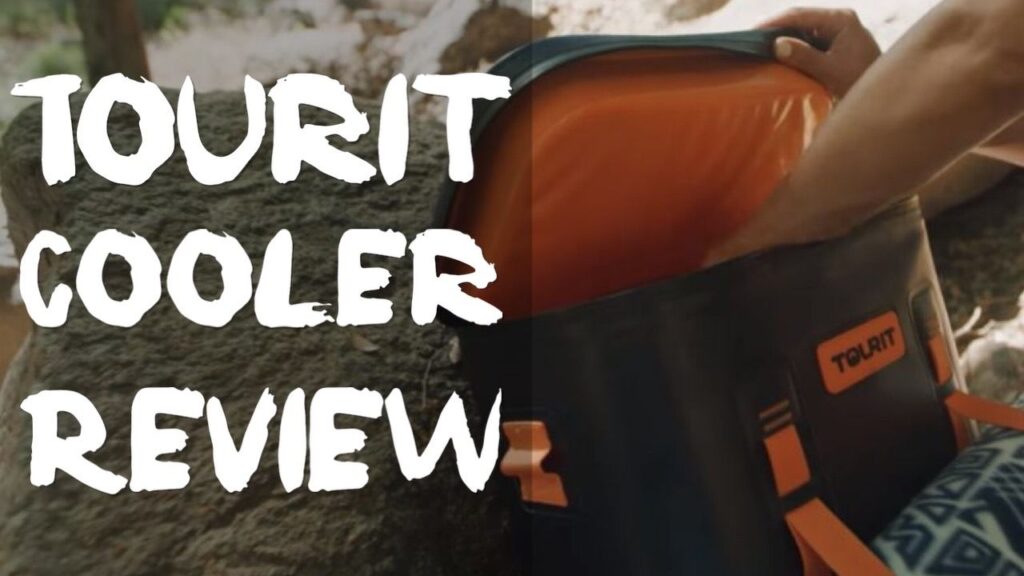 TOURIT soft sided coolers are premium coolers that sell for a fraction of the cost of major competitors like Yeti. But are TOURIT coolers any good? Do they offer value for money or should you avoid buying them and spend your money somewhere else?
In this TOURIT soft sided cooler review we'll be looking in detail at the TOURIT coolers, how they perform, their build quality and how they compare to the competition. We'll even look at some of the issues with this cooler brand so you know exactly what you'll be getting.
At the end of this review you'll have a pretty good idea as to whether or not the TOURIT cooler is the right cooler for you.
See the latest price of TOURIT soft coolers at Amazon
Why Listen To My Opinion About The TOURIT Coolers?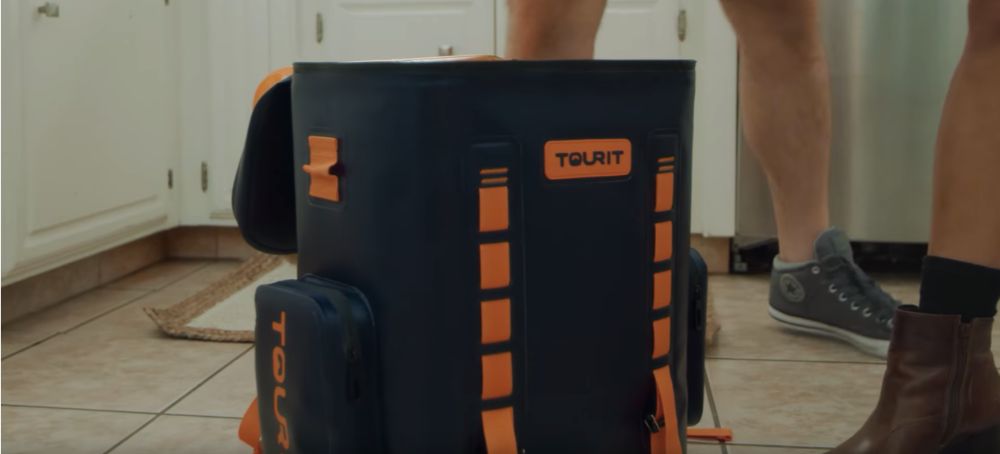 I'll be upfront and let you know I don't personally own a TOURIT cooler. I review hundreds of coolers per year so can't own all of them.
However, I have done thorough research on the TOURIT as well as written reviews on almost every major soft-sided cooler on the market. Everything from Yeti Hopper coolers to Engel to RTIC to Polar Bear…you name it I've probably reviewed it.
So I know a lot about the different options out there. The pros and the cons of each and I also read through the customer reviews to uncover hidden problems of benefits of each cooler.
I've even did what felt like spy work to find out where TOURIT coolers are made because the company basically supplies no information about itself. You can see my detective work into where TOURIT coolers are made here.
Anyway, I don't care about any brand in particular (I'm an Amazon affiliate for almost all the brands). What I am passionate about is helping you make a good buying decision.
I'm not a perfect expert, but I know a lot about coolers and through my research learned a lot about TOURIT coolers compared to the competition. This article is designed to help you answer the question "Is the TOURIT soft sided coolers right for me?"
So if you're ready lets jump into it.
A Cheaper Alternative To Premium Brands Like Yeti
TOURIT offers a high-end soft sided cooler with similar specs to premium cooler brands like Yeti but at a fraction of the cost.
It's clear that TOURIT are directly competing with the Yeti Hopper Flip and the Yeti BackFlip coolers and I don't blame them. There are a lot of people out there who want a cooler like Yeti but can't quite afford the Yeti and would like to save some money.
When you compare the TOURIT to Yeti in terms of price you'll find that the TOURIT is nearly half the price of the Yeti, which is a really good saving. However, when you compare it to other brands like RTIC or Grizzly you'll find that the TOURIT is actually a middle ranged cooler.
It's not the most expensive cooler, but it's not the most affordable one either. Below you can see a comparison between the TOURIT soft sided coolers and some of the competitor brands, including Yeti.
You can also click any of the price links (which are my affiliate links) to see the products on Amazon and see the latest price and reviews over there:
TOURIT Coolers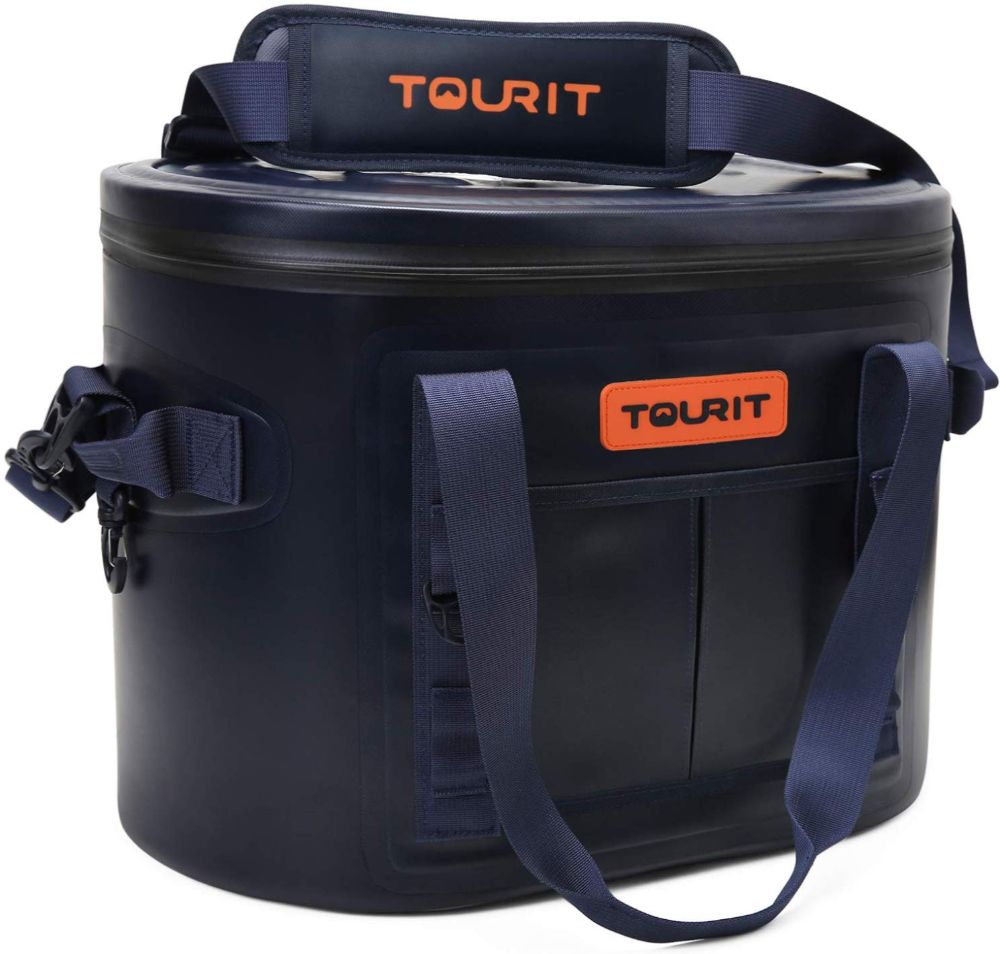 TOURIT Voyager 20:
---
TOURIT Voyager 30:
---
TOURIT Voyager Backpack:
Other Coolers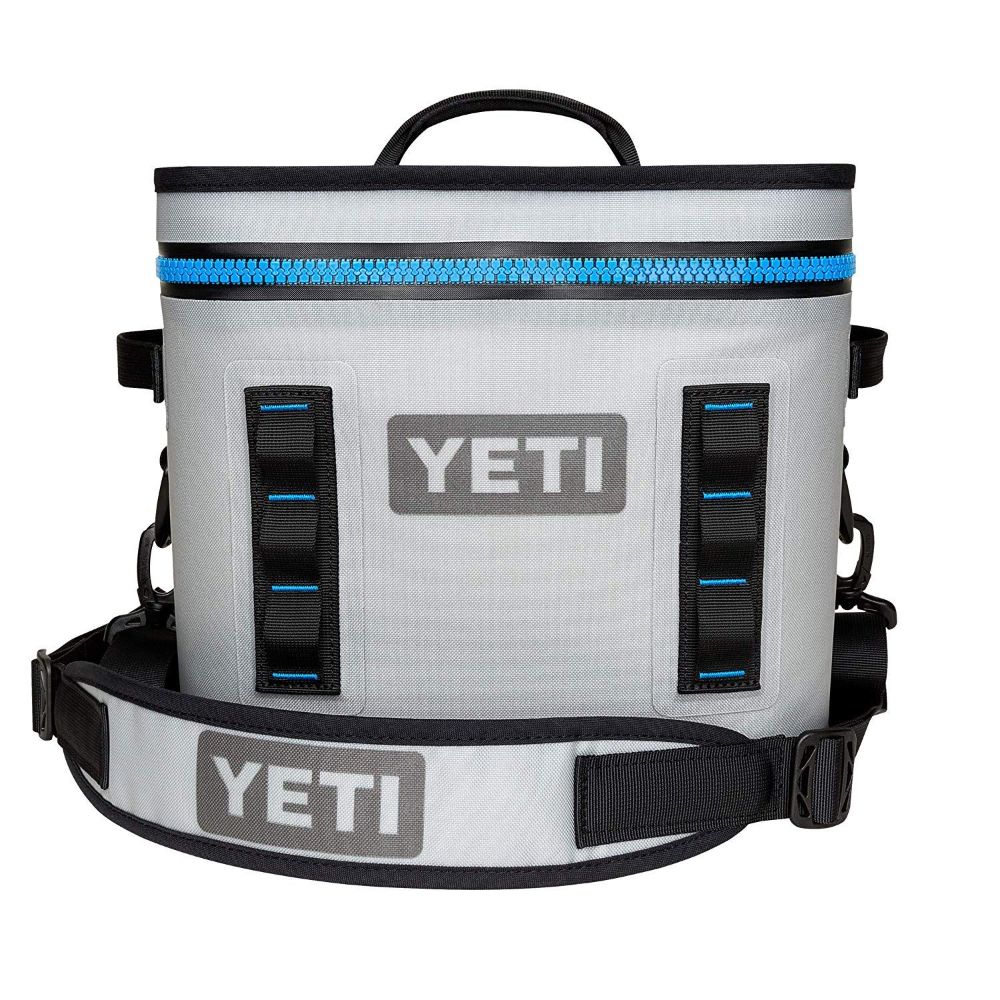 RTIC Soft Pack 8:
---
Grizzly Drifter 12:
---
HydroFlask 18L Tote:
---
Engel HD30:
---
Yeti Hopper Flip 18:
2 Form Factors, 3 Different Sizes
TOURIT coolers come in 2 different form factors and 3 different sizes.
There is the oval shaped soft cooler box with shoulder strap as well as side handles which comes in the 20-can and 30-can sizes and then there is the backpack version which comes in just a single size.
Each cooler's name refers to how many cans it can hold WITHOUT ice. Below you can see the actual quart capacity of each of the coolers
TOURIT Voyager 20: 17.1 Quart
TOURIT Voyager 30: 24.2 Quart
See the latest price on TOURIT soft coolers at Amazon
TOURIT Voyager Backpack: 22.1 Quart
See the latest price for TOURIT backpack cooler at Amazon
Really Good Ice Retention – Keeps Ice 2-3+ Days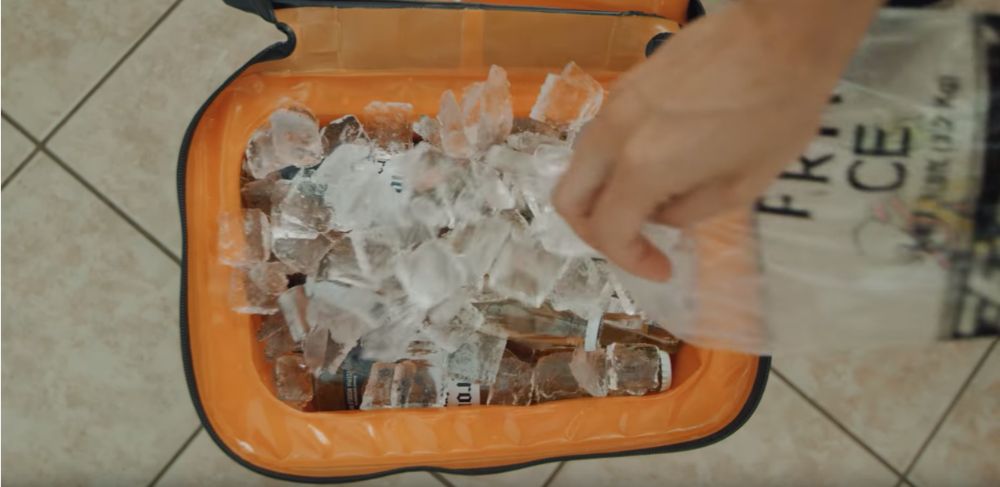 The TOURIT actually surprised me with how well it keeps ice. It actually outperforms Yeti in ice retention tests – only by a little bit but that's still impressive given these coolers are nearly half the price of a Yeti.
The TOURIT soft sided coolers can keep ice for approximately 2-3.5 days depending on how much ice you use and how hot it is outside.
This means it would also likely outperform other major brands like Pelican, Hydro Flask and Ozark Trail. All of which I've done previous reviews on.
The reason for such good ice retention is the amount of insulation this cooler has when compared to other brands.
There is 2 inches of insulation in the lid of the cooler and 1.2 inches of insulation in the walls.
Compare this to the Yeti Hopper Flip which has 1.5 inches in the lid and only 0.75 inches of insulation in the walls and you can see why the TOURIT keeps ice longer.
It'll only keep ice an extra few hours to maybe an extra half a day, and while this isn't a huge difference it's still impressive to see.
Below is a video review where the YouTuber does an ice test on his new TOURIT. Skip towards the end to see how long it kept ice.
Tough Build Quality: But Could Be Longer Lasting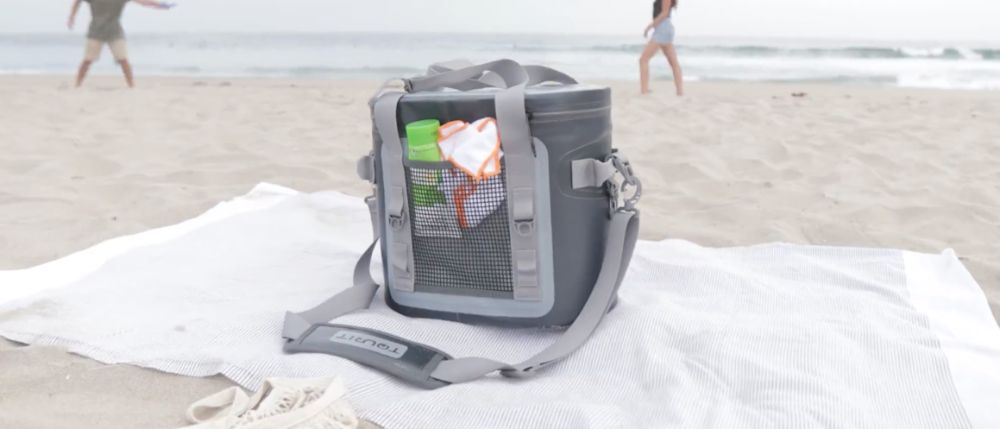 The build quality of the TOURIT coolers is pretty good. I was really worried they would be as bad at the Ozark Trail coolers (Walmart's brand) as the design does look similar however looking at all the customer reviews it obvious that TOURIT coolers are a definite step up from Ozark Trail.
The exterior is made from a heavy-duty nylon or vinyl fabric that is TPU laminated which gives it additional strength as well as making it waterproof.
It also appears that the seams are RF welded together as opposed to being sewn together. This makes the seams stronger and less likely to break.
To zipper quality is also decent but probably the most susceptible part of the cooler to break with the major of customer complaints centering around the zipper either breaking off or the rubber on the zipper splitting or breaking and thus the cooler no longer being waterproof.
The build quality isn't quite as good as something like a Yeti, Pelican or Engel – all of which have extremely high quality standards. So it likely won't last as long as those brands, but you should get a few years out of it.
Warranty Is Unclear
TOURIT don't really mention what warranty they offer on their coolers. I had to do some digging and found customer support reps giving mixed messages with one saying it was a lifetime warranty and other saying it was a 3 year warranty.
Then I went to the seller's Amazon profile and it said they offer a 2-year warranty. So really I'm not sure how long the warranty last on this thing but I personally wouldn't expect any greater than a 2-year warranty.
Yeti offers a 3-year warranty, Hydro Flask offers a 5 year and Engel offer a 1 year warranty to give you a comparison.
Leak Proof Zipper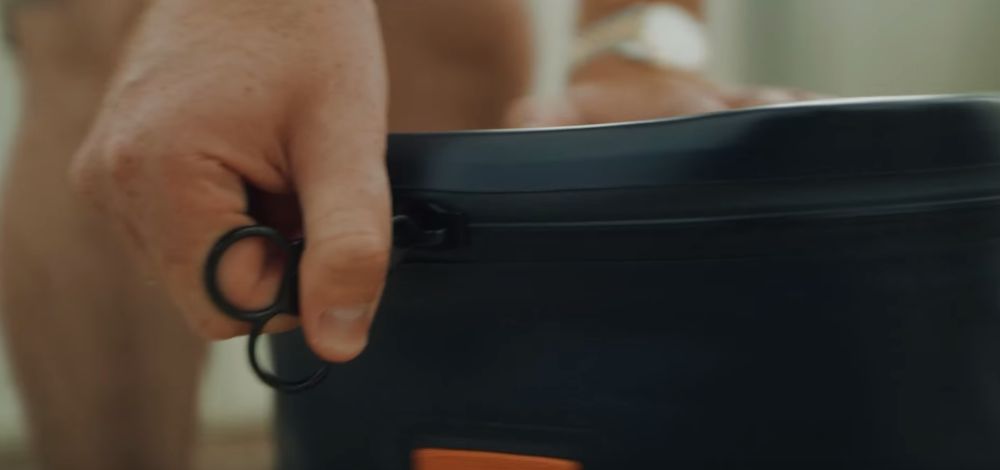 The zipper of the TOURIT is 100% leak proof. When closed it forms a complete seal and no water can get in or out.
The rubber that creates the waterproof seal does make the zipper harder to open and closed compared to a regular zipper and the zipper does need to be lubricated regularly to ensure it doesn't break.
This is one of the downsides of the waterproof zippers but this occurs across all of these coolers.
Who Is TOURIT?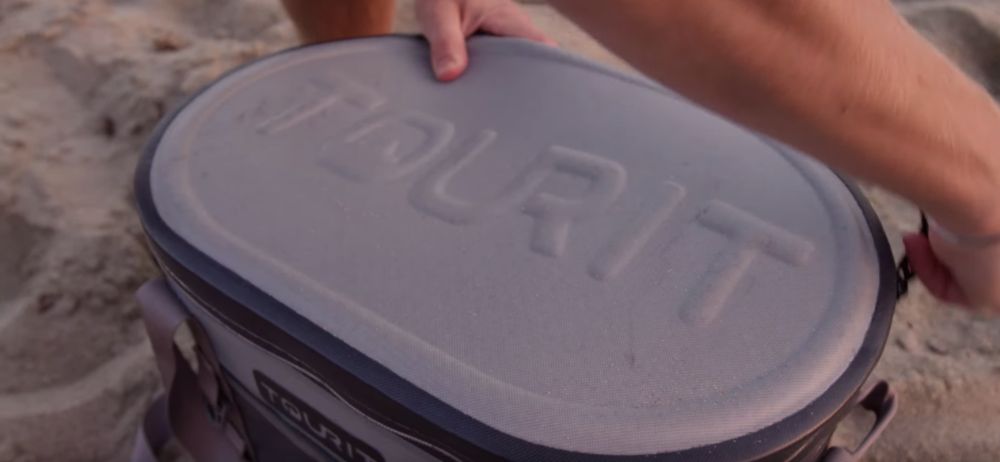 One of the really bizarre things about TOURIT coolers is that I could find out hardly anything on the brand. Their website basically says nothing about them, nor does their facebook page or their Amazon sellers page.
They also seem to almost exclusively sell their products on Amazon and don't have any presence in brick and mortar stores across the USA.
I did some digging and it appears TOURIT is run by a Chinese company called DIAMOND STAR INDUSTRIAL which is based out of Hong Kong. Click here to read more about the TOURIT company and where they manufacture their products.
But basically, this is a no-name brand that is simply selling a cheaper alternative to Yeti cooler through Amazon.
High-End Cooler Features
Despite being a no-name brand the TOURIT still is a premium cooler with some premium features.
Waterproof Exterior
As mentioned earlier the exterior of the cooler is TPU laminated which makes it both puncture resistant as well as water proof.
You can leave your cooler out in the rain or throw it in the river and it will keep the water out.
Food Grade Inner Lining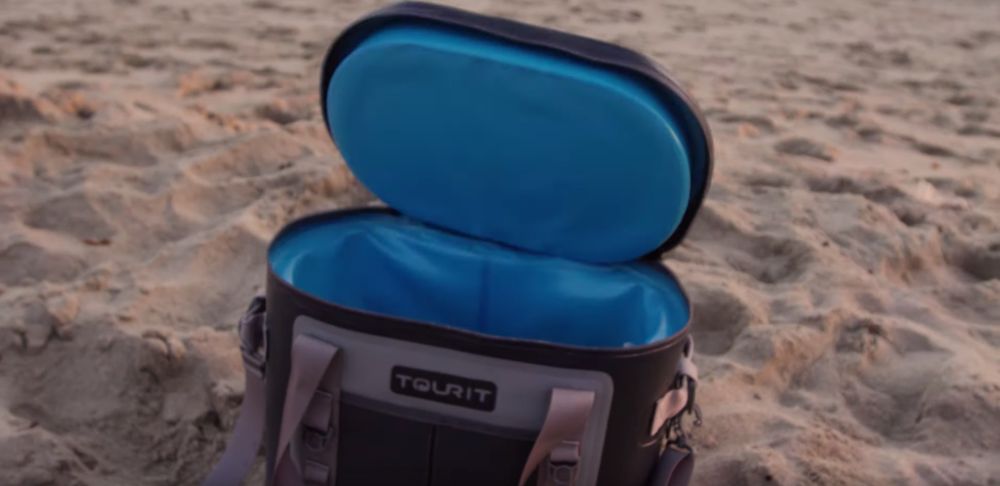 The inner lining of the cooler is FDA-approved BPA-free food safe material so it won't leech any nasty chemicals into your food, drinks or ice.
The inner lining does have a plasticky smell when you first buy it, but most soft sided coolers have this issue it isn't just TOURIT.
Reinforced Base
The base of the cooler is thicker and reinforced to handle everything you throw at it.
This is the area of the cooler that gets the biggest beating so it's nice to know that it'll be protected and won't tear on puncture even if you place it down on rocks or sticks.
Removable Shoulder Strap (or Backpack Straps)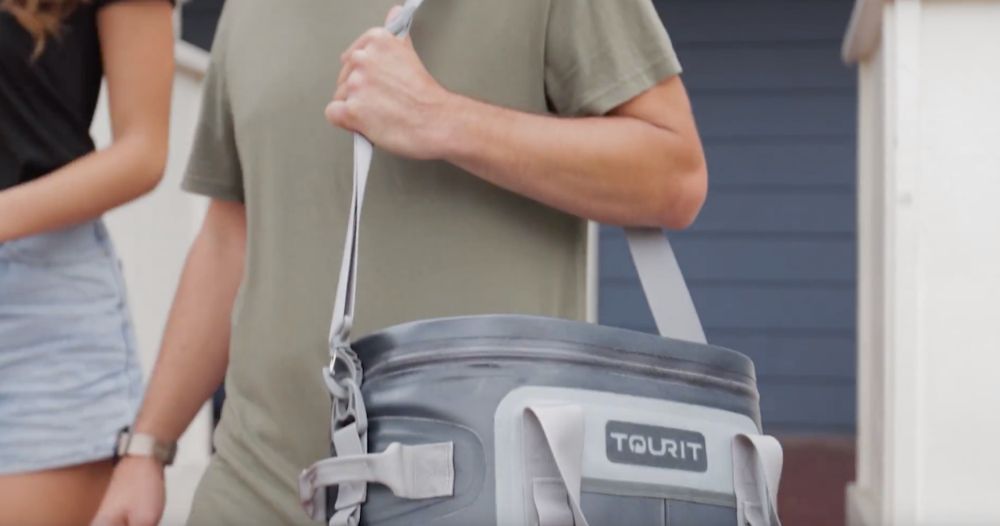 The TOURIT coolers come with removable should straps for handsfree carrying with the backpack version coming with wide padded backpack straps.
It's personal preference which type you prefer. I like the shoulder strap for shorter distances as it's easier to throw on and take off but the backpack is more comfortable if you're taking your cooler longer distances.
External Pockets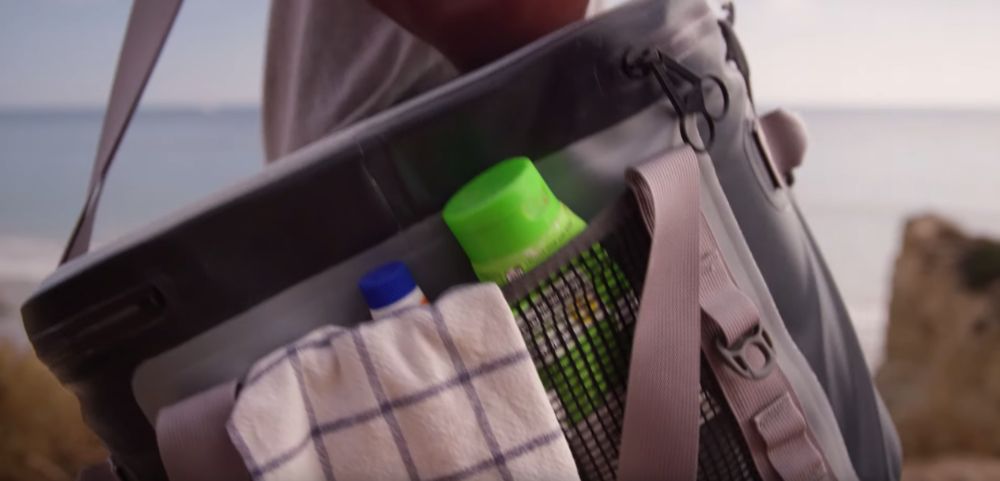 The 20-can and 30-can coolers come with 2 external pockets. One small tight pocket on the front that doesn't have a zipper and then a more flexible mesh pocket on the back.
These pockets aren't huge but they are big enough to fit a phone, or some sunscreen or to keep the lubricant that you need to keep the zipper working.
Built In Bottle Opener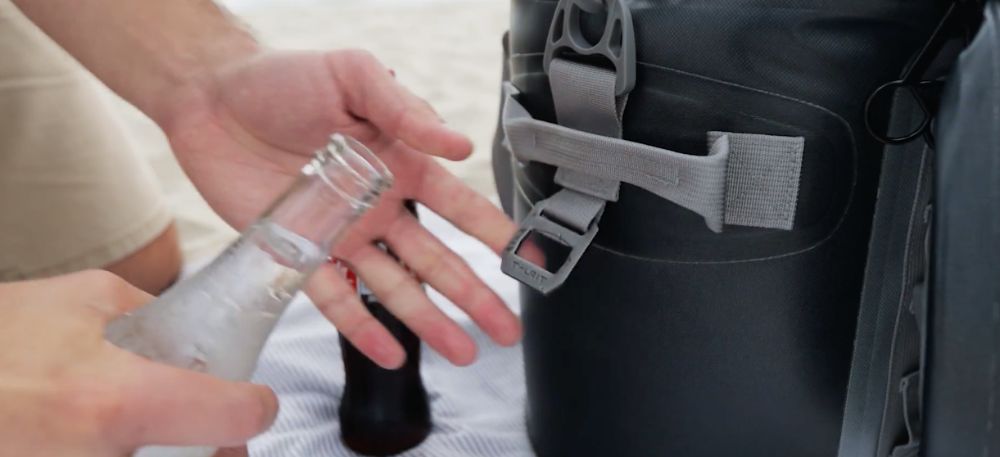 All TOURIT coolers come with attached bottle openers on the exterior of the cooler. These bottle openers are made from stainless steel and are a nice little add on so you can always open your drinks no matter where you are.
Carry Handles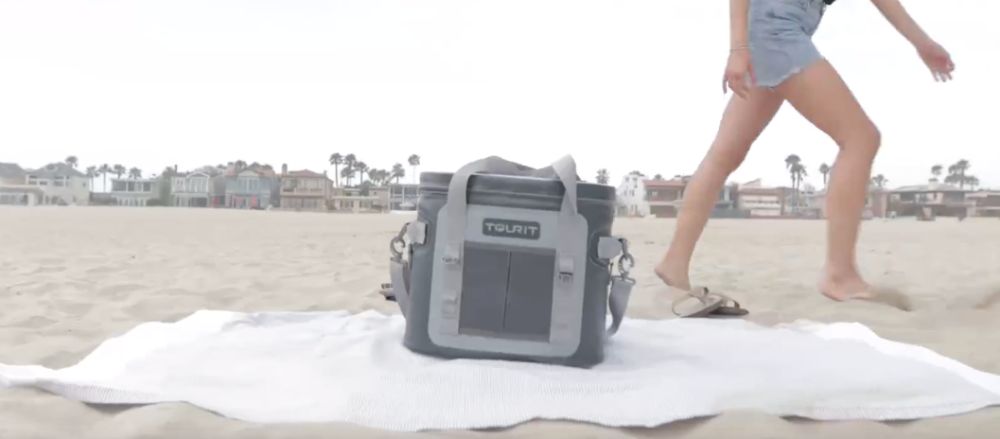 The 20-can and 30-can coolers come with carry straps that meet in the middle above the lid for single hand carrying as well as two side handles if you need that extra grip when the cooler is full.
The backpack cooler has a carry handle in between the backpack straps.
Tie Down Straps
Each of the coolers features tie down straps so you can strap you cooler to your car, van, truck, boat, kayak or wherever you want.
This will ensure your cooler doesn't fall over or slide around or fall out of your boat into the river or ocean.
Problems With TOURIT Coolers
No cooler is made perfect and the TOURIT certainly isn't the exception to this rule. There are some sacrifices that have been made to be able to sell a cooler that is like Yeti for nearly half the price of the Yeti.
Zipper Can Break Easily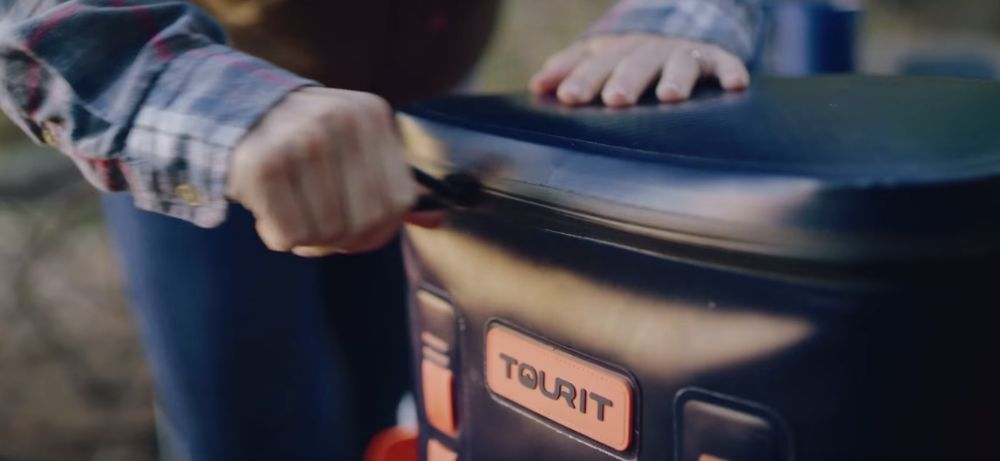 We mentioned this earlier but the biggest complaint that customers seem to have is that the zipper can break easily.
This generally happened in one of two ways. Either the zipper itself breaks off it's track and can't be put back on rendering it useless.
Alternatively the rubber that makes the zipper watertight can tear or deteriorate or get stuck on the zipper itself and break. Once this breaks the cooler will no longer be leak proof.
Some customers said these issues occurred within a few months from buying it, other said it was more around a year until they had issues.
It doesn't seem to happen with everyone but definitely something to be aware of.
Not As Durable As Some Competitors
The exterior fabric of this cooler is not as tough as some competitors like Yeti, Pelican and Engel which seem to have the toughest exteriors out of the soft sided coolers.
The exterior is still very tough and durable and you would have to give it a serious beating to break it, so this is unlikely to happen.
Model Number Does Not Equal Cooler Size
Just something to be careful if you decide to buy a TOURIT cooler. The model number does not equate to Quart or Liter capacity but rather how many cans the cooler can hold without ice.
So the TOURIT Voyager 20 can hold 20 cans without ice but it's actually only 17.1 Quart.
Not really a problem, but something to be careful of.
Alternatives To TOURIT Coolers
You may have read this TOURIT cooler review and decided that these coolers aren't for you. Or maybe you just want to explore the competition before you spend your money on the TOURIT.
Whatever your reason there are a bunch of other soft sided coolers on the market
Yeti Hopper Coolers: Biggest Brand, Best Durability

Yeti is the biggest and most well known brand in the cooler industry and for good reason. They pioneered both the high-end hard sided cooler as well as the soft sided ones.
TOURIT basically only exist to copy Yeti and sell their products as a cheaper alternative. You can see my full review of how TOURIT compares to Yeti soft coolers here.
Yeti coolers come in more sizes (and smaller sizes) than TOURIT and are more durable and will last longer. I also personally like the design better but that comes down to personal preference.
These ARE one of the best soft-sided coolers on the market, but they do come with a price premium.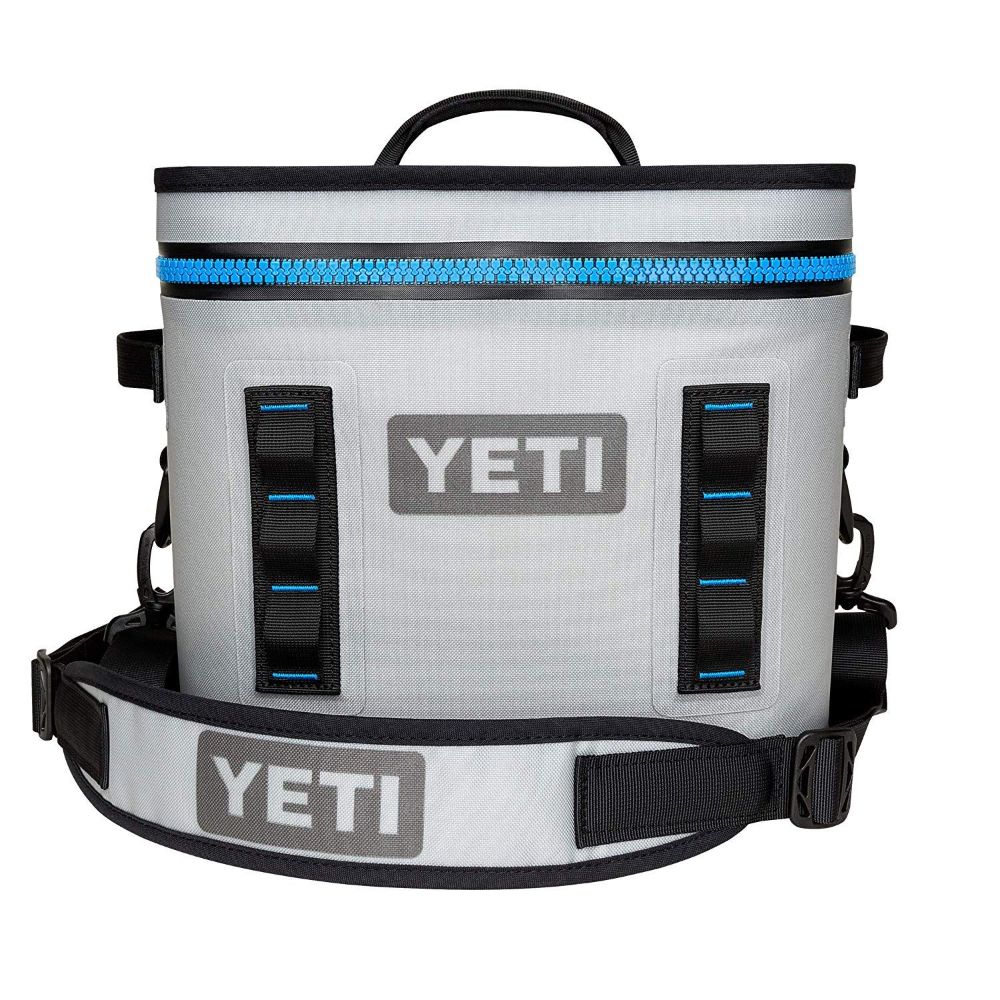 See the latest prices of all Yeti soft sided coolers
Grizzly Drifter Coolers: Best Value For Money

After reviewing almost every soft sided cooler Grizzly comes in as my pick for the best value for money cooler.
These coolers are high-quality and made of durable fabric with a reinforced base. The exterior has lots of different pockets, some of which are expandable which is super handy, and it can keep ice just as long as the Yeti. Click here to see my full writeup on Grizzly vs Yeti soft coolers.
However, the Grizzly Drifter coolers are missing one major feature compared to most of the other high-end soft coolers. The zipper is NOT waterproof.
They use a heavy duty zipper but there is no seal on the zipper so water does leak out.
If the zipper thing isn't a deal breaker for you then I can't recommend this cooler enough as you save so much money and still get a great cooler.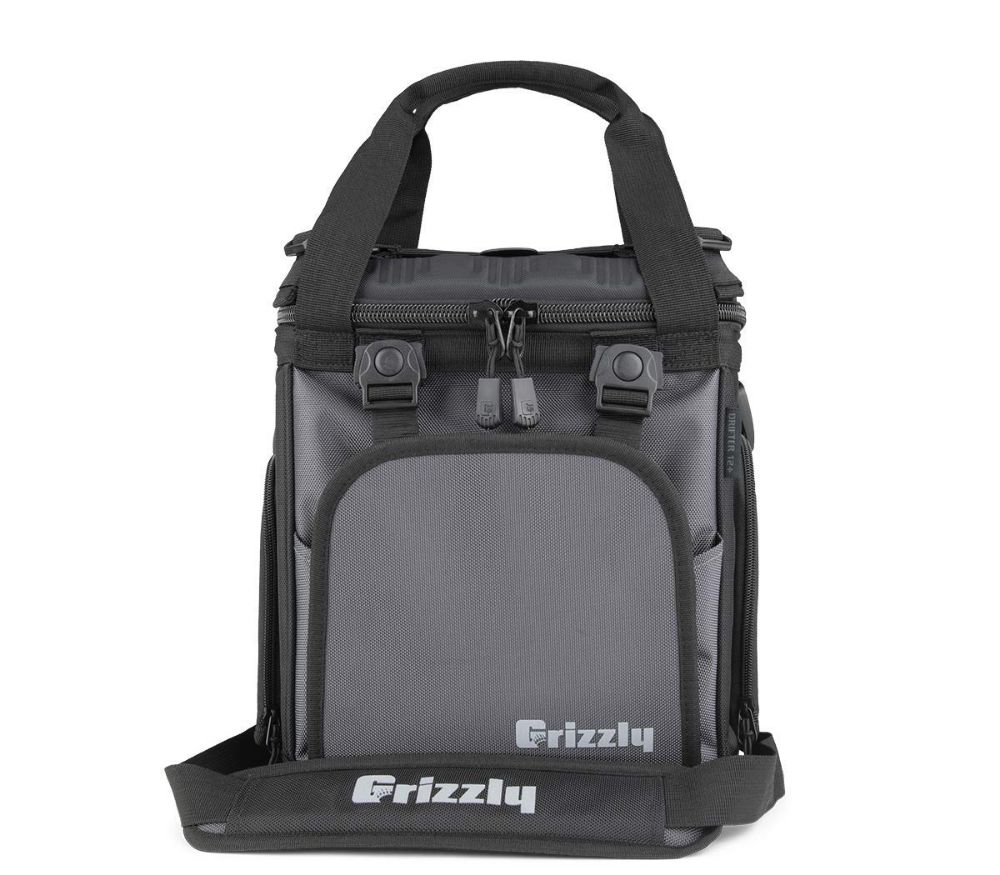 See just how cheap Grizzly soft coolers are at Amazon. So cheap.
Engel HD30: Best Ice Retention
If you're looking for the soft sided cooler that keeps ice the longest then you'll want to get the Engel HD30.
It can keep ice longer than any other soft sided cooler on the market and has such good ice retention it can even rival the ice retention of some hard sided coolers. Click here to see just how long the Engel HD30 can hold ice, you'll be shocked.
This cooler is also extremely high-quality and build with the best materials so it's going to last you a long time. Plus it'll save you about $100 compared to a Yeti of a similar size.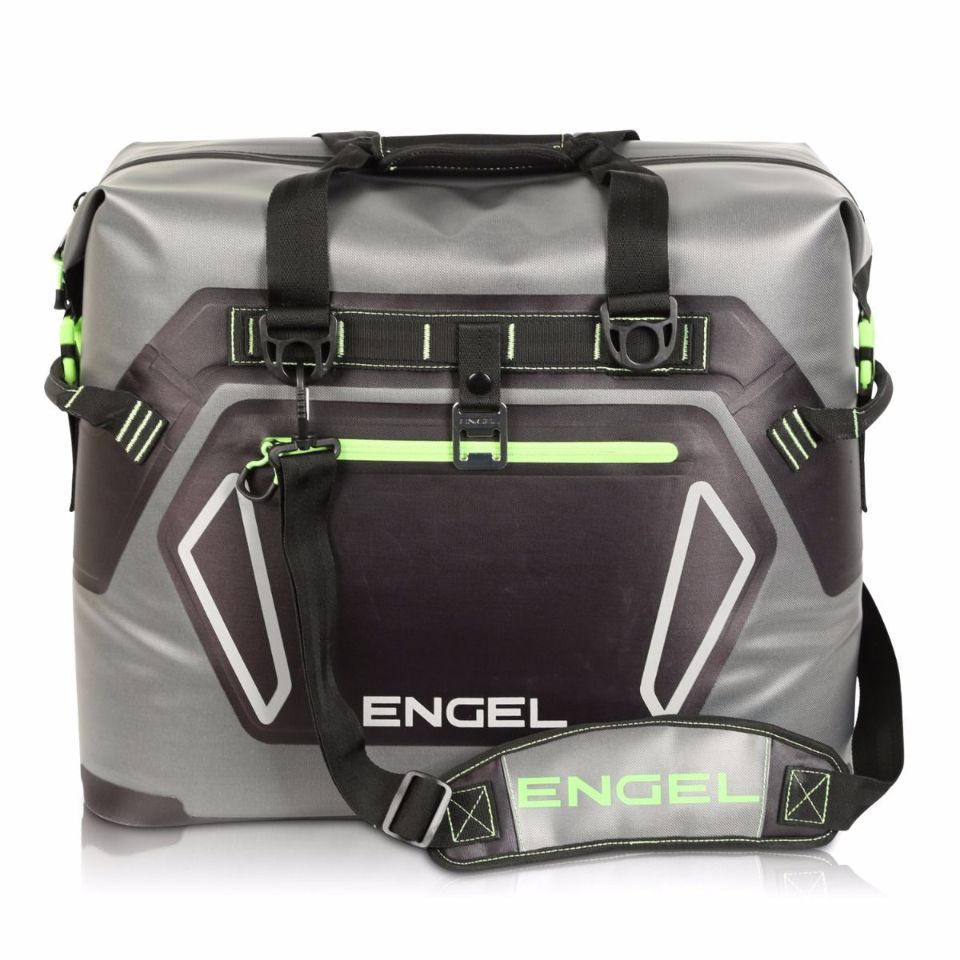 See the latest price of the Engel HD30 at Amazon
Should You Buy a TOURIT Soft Sided Cooler?
When I started my research into TOURIT I honestly thought it would be a cheap and crappy version of Yeti but I was surprised to learn that it has better ice retention than Yeti, so extra features like pockets and that the build quality is much better than other cheaper alternatives.
I'm pleasantly surprised with the TOURIT and I can see why so many people have decided to buy this cooler.
Ultimately whether or not this cooler is right for you will come down to what you want from your cooler as well as your budget. Does this have all the things you want from a cooler and can you afford it?
If you want to buy a TOURIT cooler, see the latest prices or read more customer reviews then click my Amazon affiliate link below to see more details: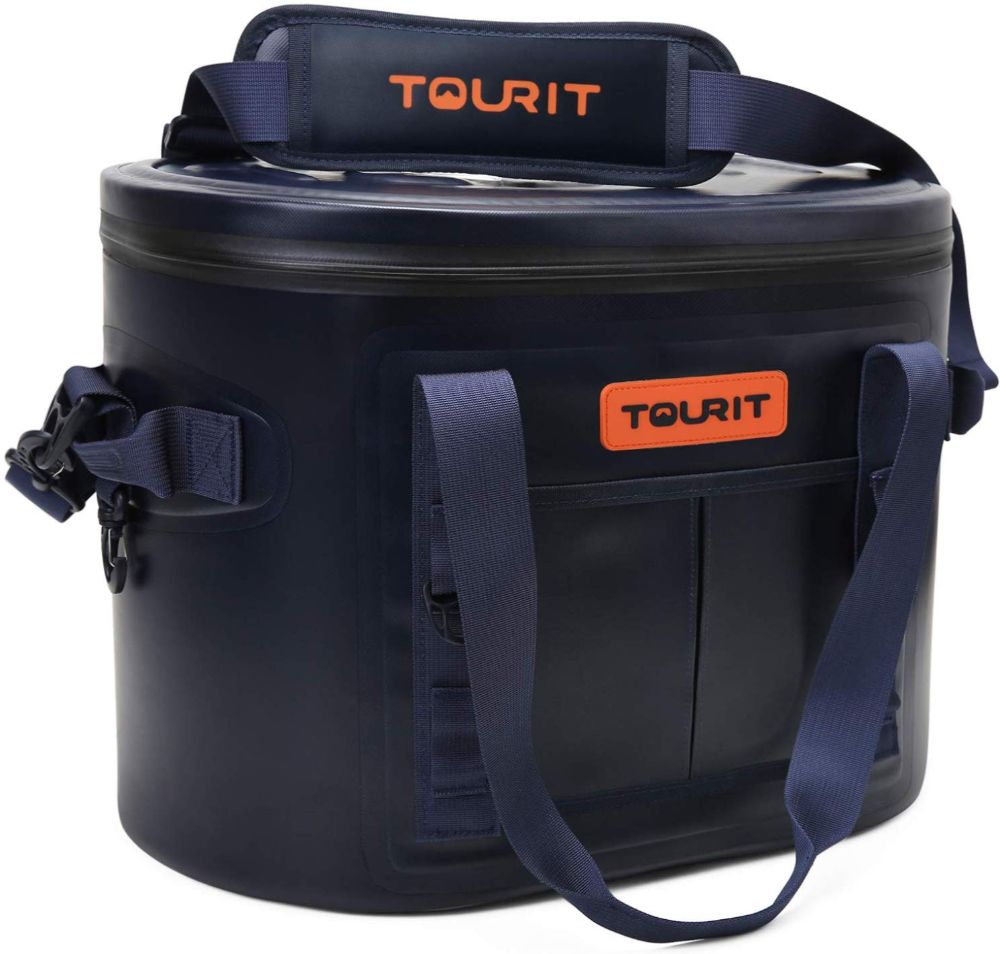 See the latest prices and reviews of TOURIT soft coolers at Amazon
See the latest prices and reviews of TOURIT backpack coolers at Amazon