The Arctic Zone Titan Deep Freeze soft sided cooler is a very affordable and portable soft sided cooler. It features an easy to access zipperless lid and a hard plastic leak proof interior container. The ice retention is mediocre but it does have external pockets and other features that make it a very practical cooler.
In this Titan Deep Freeze cooler review we'll look in detail at this cooler. We'll look into it's performance, it's build quality and durability as well as the different features it has. We'll look at the good things about this cooler as well as some of it's short comings and even share some alternative options if you decide this cooler isn't for you.
Overall this is a decent cooler for this price, but as with any cooler that is this affordable it does have some ice retention and durability issues. It's great for short adventures like picnics or lunch at the beach but falls short when it comes to full day trips or multi-day adventures as it struggles to hold ice that long.
Still it's a very cheap cooler and it'll do the job for a lot of people without breaking the bank.
Click here to see just how affordable Titan Deep Freeze coolers are at Amazon…they are shockingly cheap
One Of The Most Popular and Affordable Soft Sided Coolers
The Titan Deep Freeze cooler is one of the most popular coolers on Amazon and it's highly likely that it has something to do with the price.
This cooler has thousands of reviews (mostly positive) and it is consistently a top selling soft sided cooler.
The price of this cooler is ridiculously cheap compared to other soft-sided coolers I have reviewed. Generally I spend my time looking at high-end coolers like Yeti, Engel and RTIC but for those on a budget sometimes these coolers are a bit out of reach.
Below you can see the prices of Titan Deep Freeze coolers compared to a bunch of other soft sided coolers.
You can also click the price links (my affiliate links) to see the products on Amazon and confirm the pricing, as I found different colors have different prices and some are cheaper than other.
Titan Deep Freeze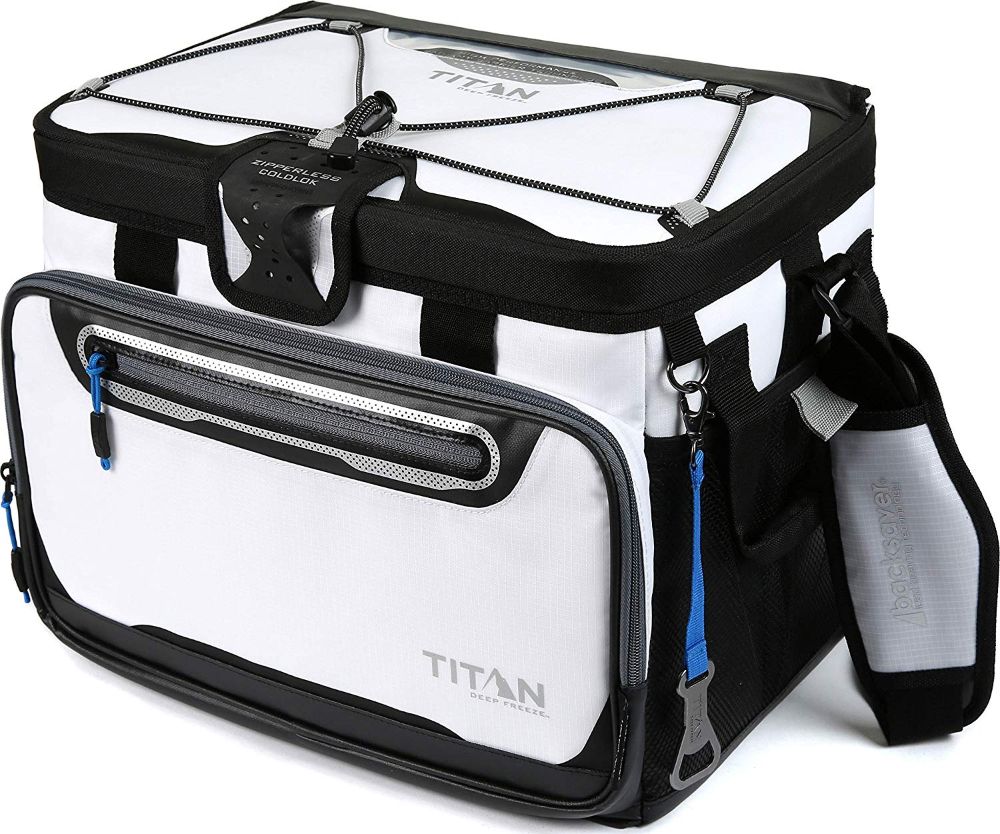 Titan Deep Freeze 9-can:
---
Titan Deep Freeze 16-can:
---
Titan Deep Freeze 30-can:
---
Titan Deep Freeze 48-can:
Yeti Hopper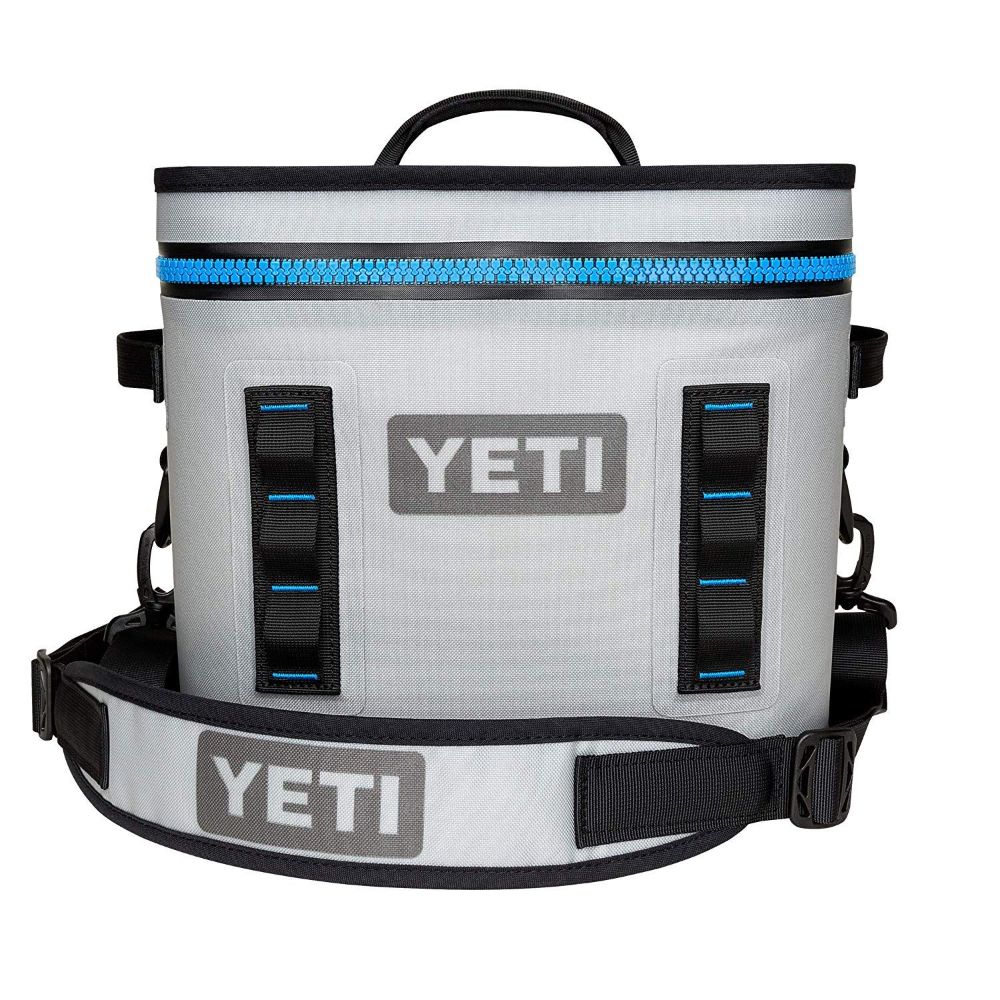 RTIC Soft Pack 8:
---
Grizzly Drifter 12:
---
Polar Bear Deluxe 24-Pack:
---
Engel HD30:
---
Yeti Hopper M30:
As you can see these coolers are much much cheaper than other brands I have reviewed. RTIC and Grizzly are usually my top picks for affordable value-for-money coolers and the Titan Deep Freeze is about half the price of the RTIC.
The question is…are Titan Deep Freeze coolers any good?
Keeps Ice For 6-12 Hours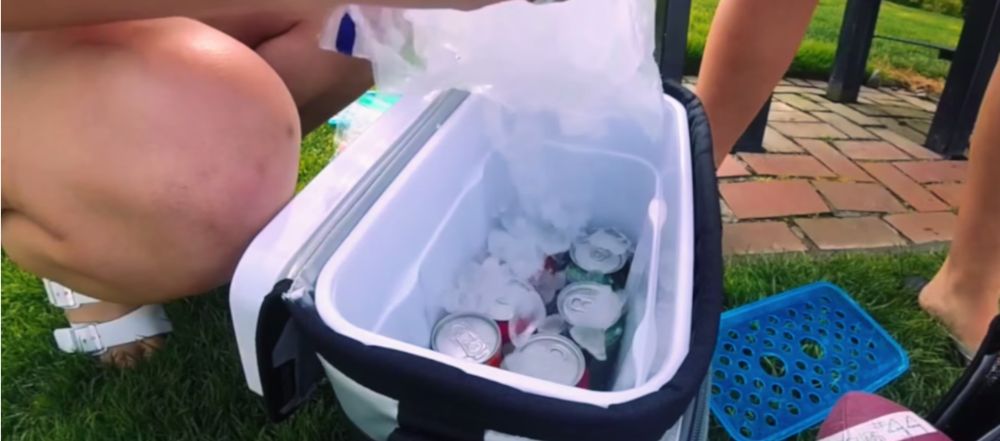 Arctic Zone claim that these coolers can hold ice for 2-3 days. 2 days for the smaller 9-can and 16-can sizes and 3 days for the larger 30-can and 48-can sizes.
However, in reality you're highly unlikely to get this performance with regular usage and are more likely to get 3-6 hours of ice retention or maybe up to 12 hours of ice retention if you're lucky.
Coolers that can hold ice for 2-3 days are generally packed with super thick insulation. For example Yeti Hopper coolers have 0.75 inches on insulation in the walls and up to 1.5 inches of insulation in the lid. Click here for the full list of the best soft coolers for ice retention.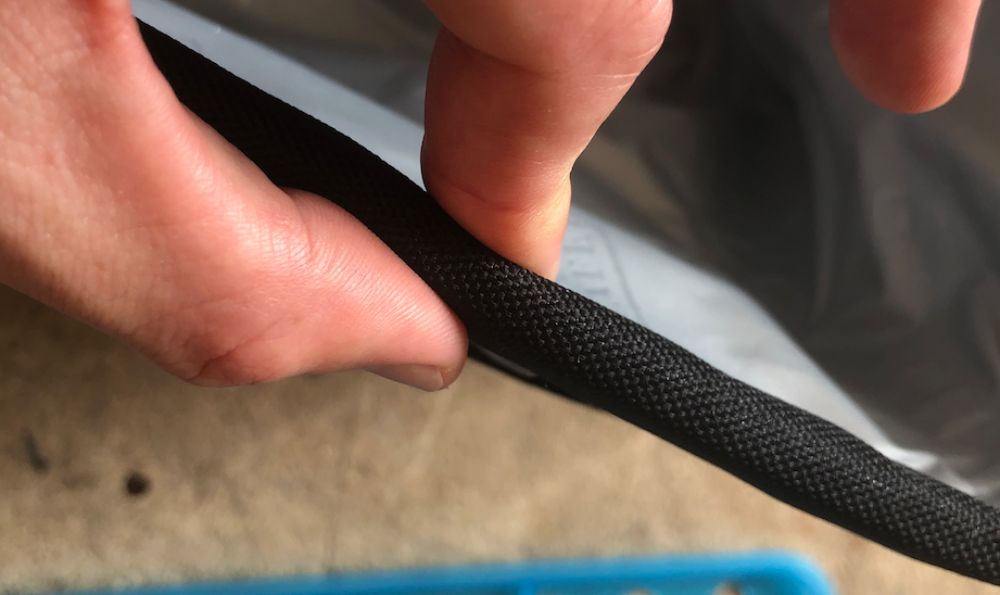 Compare that to the Titan cooler are you can see that Titan coolers have WAY LESS insulation than that. Maybe 0.25 inches of insulation in the walls and similar in the lid. Titan coolers do have an internal plastic container that would add a small level of insulation but nothing compared to the thick insulation of Yeti and other brands. Click here to read my full Titan Deep Freeze vs Yeti Hopper comparison and see the differences in how long they can hold ice.
Customers on Amazon have stated that the ice in their Titan Deep Freeze coolers melted after a few hours, some customers said it lasted about 6 hours while other said they still had some ice at around the 12 hour mark.
However, the 2-3 day claim from Arctic Zone does seem overly optimistic and I wouldn't expect this kind of ice retention in real world usage.
If you're after maximum ice retention then the Engel HD30 can hold ice for up to 4+ days and comes highly recommended.
Leak Proof Interior Shell With Dry Rack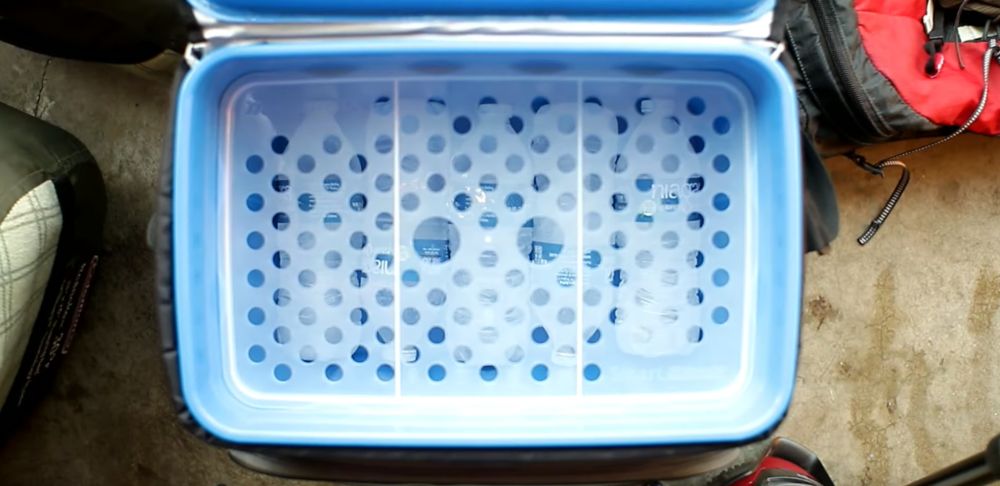 Titan Deep Freeze coolers have an interior plastic container to keep all your ice, food and beverages in. This container is made out of a thin plastic and makes the cooler leak proof when standing up.
This container can be removed from the cooler to make it easier to clean and dry the container and the cooler.
The cooler also comes with a dry rack that sits towards the top of the cooler. This allows you to keep items raised up out of the ice/water so they can stay cool insider the cooler but not get wet. This is a really nice feature that not many other soft sided coolers have.
Zipperless Lid (Not Waterproof)

One of the big features of this soft sided cooler is that it has a zipperless opener. The lid of the cooler is held closed with velcro as well as the friction of the plastic lid against the main body of the cooler.
This holds it firmly shut and it also makes it really easy to open and close the cooler when you want to access something. It actually works better than I expected and it is so much easier than a zipper top.
The downside of this is that the cooler is not waterproof. When carrying the cooler or transporting it water can splosh around inside and will splash out of the lid wetting you or your car.
If the cooler gets knocked over or tipped on it's side then water will leak out.
Decent Build Quality

The Titan Deep Freeze cooler has a decent build quality for it's price. It uses a mixture of nylon and canvas external materials that are triple stitched in many places for extra strength.
The base of the cooler is thicker and reinforced to better handle the wear and tear that comes from placing the cooler on the rough ground multiple times a day.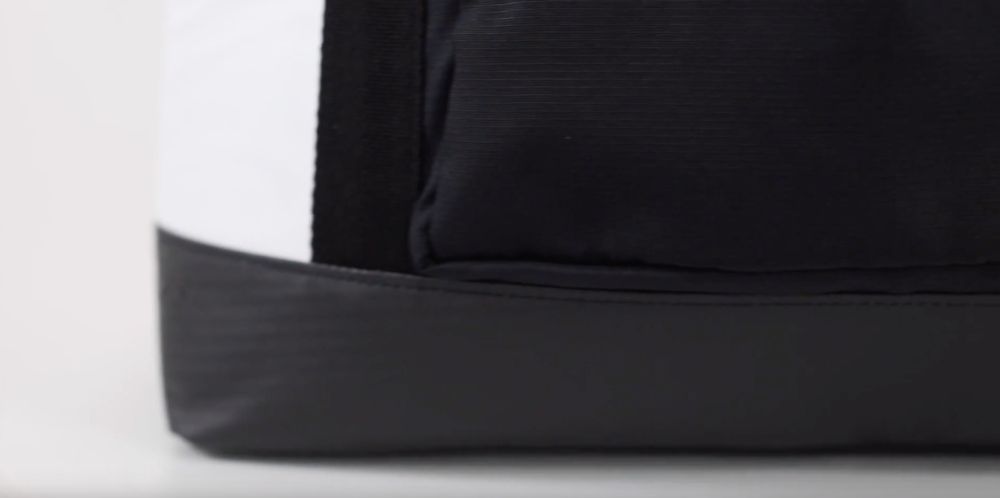 It's nowhere near as durable as something like the Pelican Soft Coolers which are one of the most durable soft coolers out there and are designed to handle almost anything.
The Titan Deep Freeze feels like it will last a decent amount of usage but over time I can definitely see it wearing out and some of the stitching breaking or parts of the fabric tearing just through regular use.
For coolers that can handle almost anything and last years read my list of the best soft coolers on the market today.
To me this feels like a cooler that would last maybe 1-3 years of decent usage before starting to wear out.
But it is backed by a limited lifetime warranty so maybe my predictions are way off.
Large External Pockets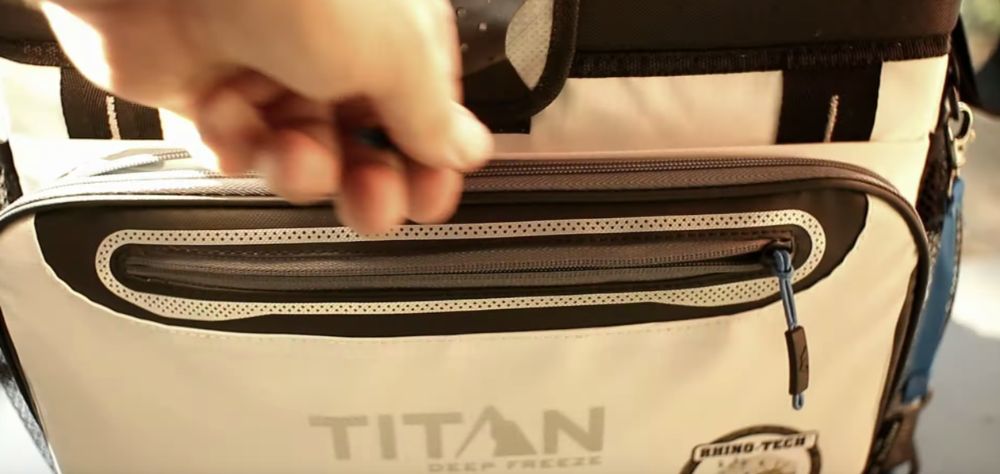 One of the things I really like about this cooler is that fact that it has large external pockets for carrying items you want to keep dry.
It features a large extended side pocket which actually has a smaller and larger pocket. Plus it has mesh pockets on the sides with elastic tops for holding even more items.
None of the pockets are waterproof so it won't keep items dry in the rain or when dropped in the river but some soft sided coolers, like Yeti, have no external pockets at all.
Shoulder Straps and Carry Handles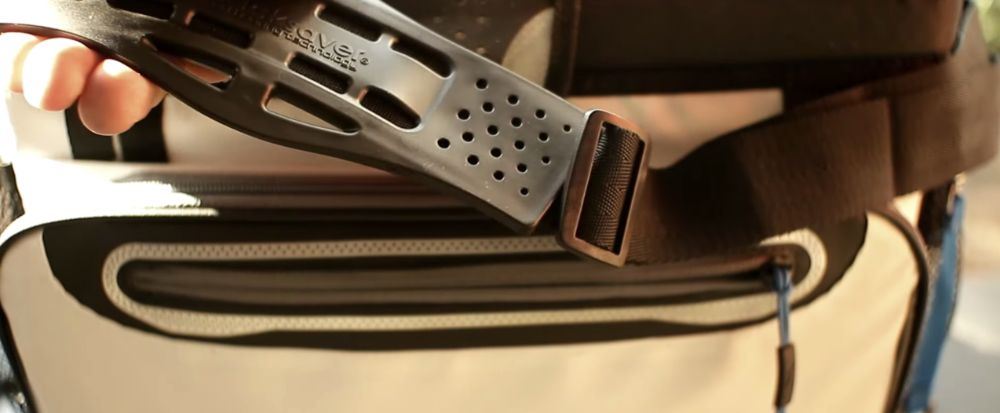 The Titan Deep Freeze coolers come with a comfortable padded shoulder strap for hands free carrying.
The larger 30-can and 48-can sizes also come with canvas padded side handles for dual hand carrying if you prefer that.
Bungee Gear Straps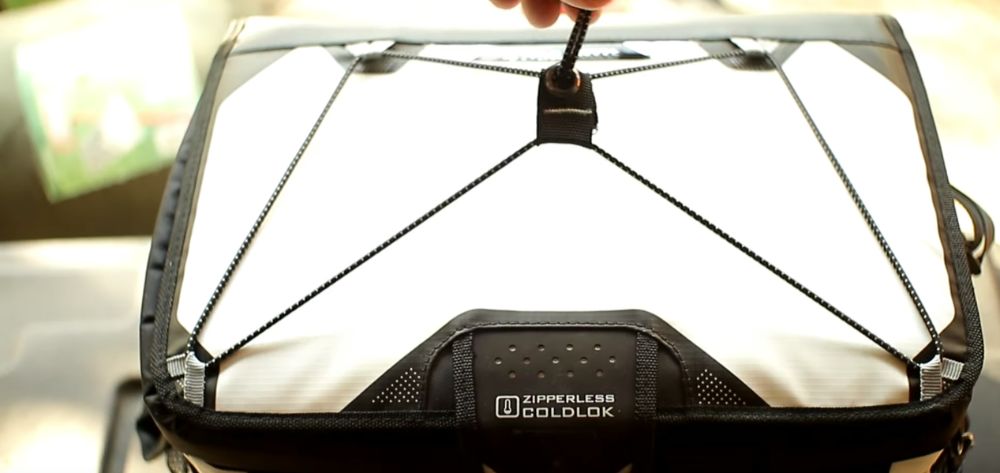 The larger 30-can and 48-can coolers come with a bungee chord on the lid of the cooler. This is designed so you can carry extra gear like towels, hats or other loose items and it can be adjusted and tightened to securely fasten your items.
Lifetime Warranty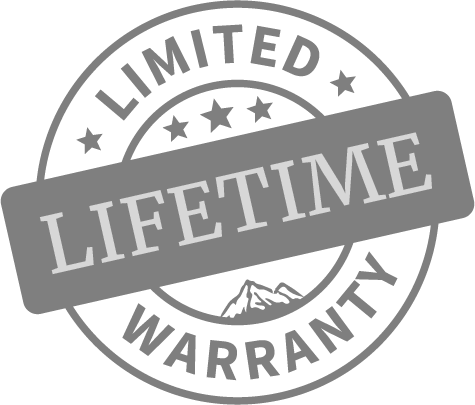 Surprisingly these coolers come with a 30-day guarantee plus a limited lifetime warranty.
If you are unhappy with the cooler for whatever reason then you can return it within 30-days and get a full refund.
If you decide to keep it then your cooler is backed by a limited lifetime warranty which covers you against manufacturing defects.
I am unsure if this will cover general wear and tear over the years and to me it doesn't feel like this cooler is actually designed to be durable enough to last a lifetime. Still it's great they offer this.
Where To Buy Titan Deep Freeze Coolers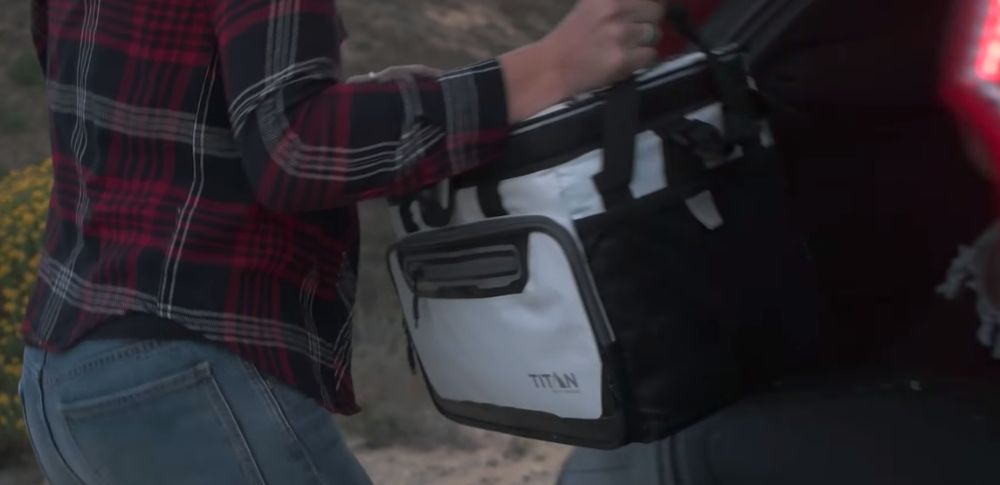 Titan Deep Freeze coolers are sold all over the world and can be found it multiple department stores as well as some specialty stores.
They are also sold to businesses through custom branding sites and you can buy them through their website.
One of the most popular places to buy this cooler is through Amazon. They offer competitive pricing and thousands of people have left reviews. To see the latest prices of these coolers plus read customer reviews at Amazon simply click here.
Alternative Soft Coolers Worth Considering
You may decide that the Titan Deep Freeze cooler isn't for you and you're looking for something that can keep ice longer or that is more durable.
Or maybe you just want to do a bit more research into what the best soft-sided coolers are before you make your decision.
I've personally reviewed almost all the high-end soft sided coolers out there and below is a small selection of coolers I would be happy to recommend.
AO Coolers: A Great Budget Cooler
If you're specially after a budget cooler then the AO Cooler is a really great option.
It is made tough and durable and can handle a lot of abuse. The inner lining and zipper is covered by a lifetime warranty and the company has been making soft sided coolers for over 25 years.
They also have better ice retention that you would expect. Easily beating Titan Deep Freeze coolers and being able to hold ice for 1-2 days. Click here to read my full AO Cooler review and see exactly what you get with this cooler.
They are also really affordable so they won't break the bank. If you're after a good quality budget cooler then I would definitely recommend looking into these.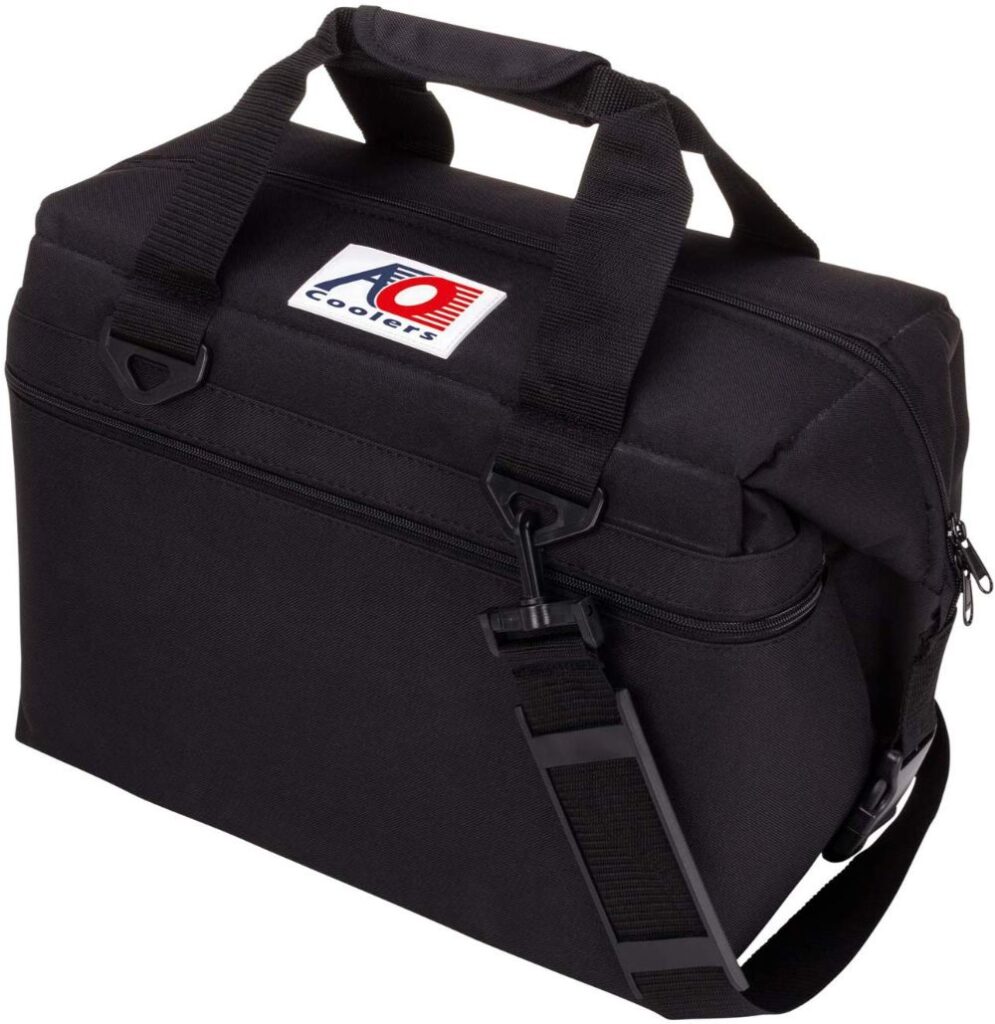 See how affordable AO Coolers are at Amazon
Yeti Hopper: Biggest Brand, Great Cooler
Yeti Hopper coolers are some of the best made soft-sided coolers out there.
They are ultra durable and will last you years. They are made from a heavy duty nylon that is TPU laminated to make it waterproof as well as tear resistant. The reinforced base is super thick and will handle years of wear and tear. See how the Yeti Hopper compares to the Titan Deep Freeze cooler here.
They are also heavily insulated and can hold ice for 2-3 days with ease. They are expensive but if you have the money they are a great cooler.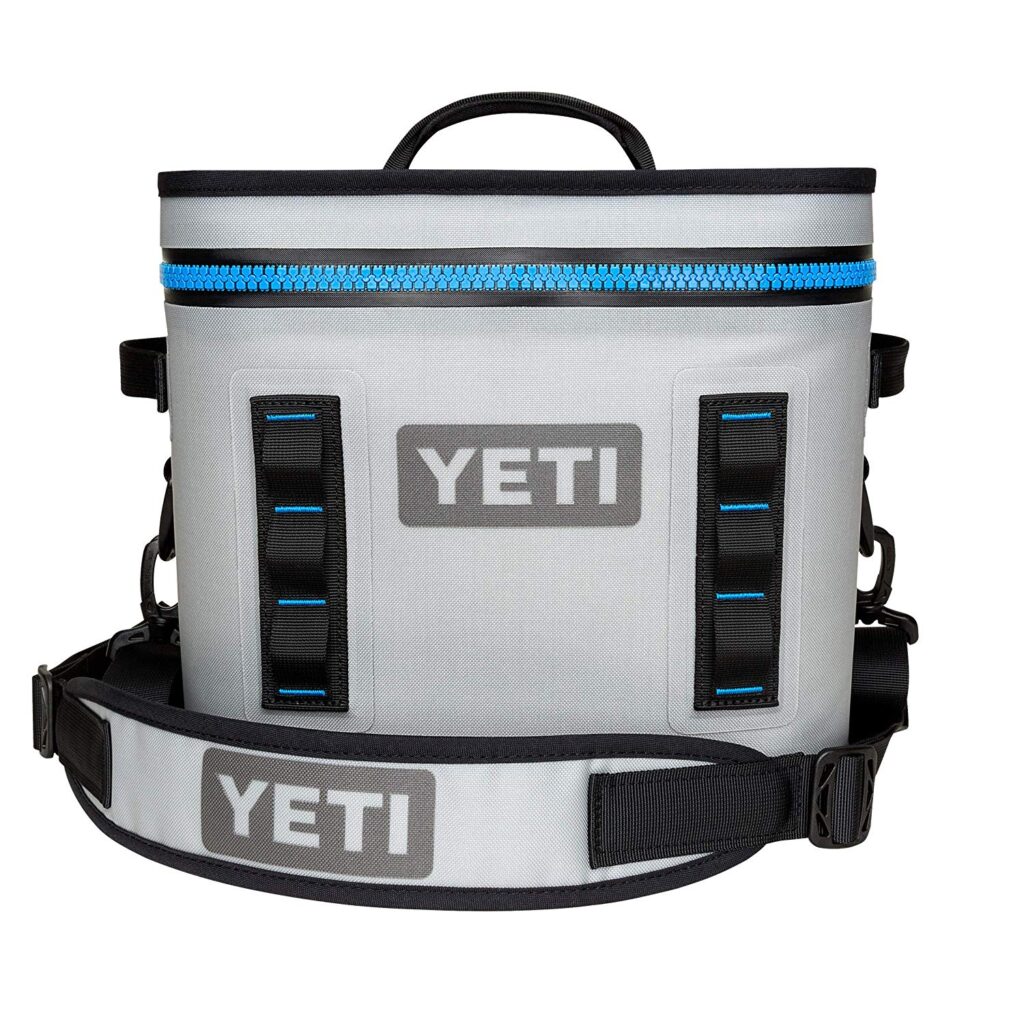 See the latest prices of Yeti soft coolers at Amazon
RTIC Soft Pak: Cheap Cooler, High Performance
RTIC Soft Pak coolers offer similar features to Yeti Hopper coolers but sell for a fraction of the price. They are a bit more expensive that the Titan Deep Freeze coolers but they are more durable and have better ice retention.
RTIC actually have even better ice retention that Yeti Hopper coolers because they have even more insulation. Click here to read my RTIC Soft Pak vs Yeti Hopper comparison.
They aren't as durable as Yeti but they are more durable than the Titan and are a great alternative option worth considering.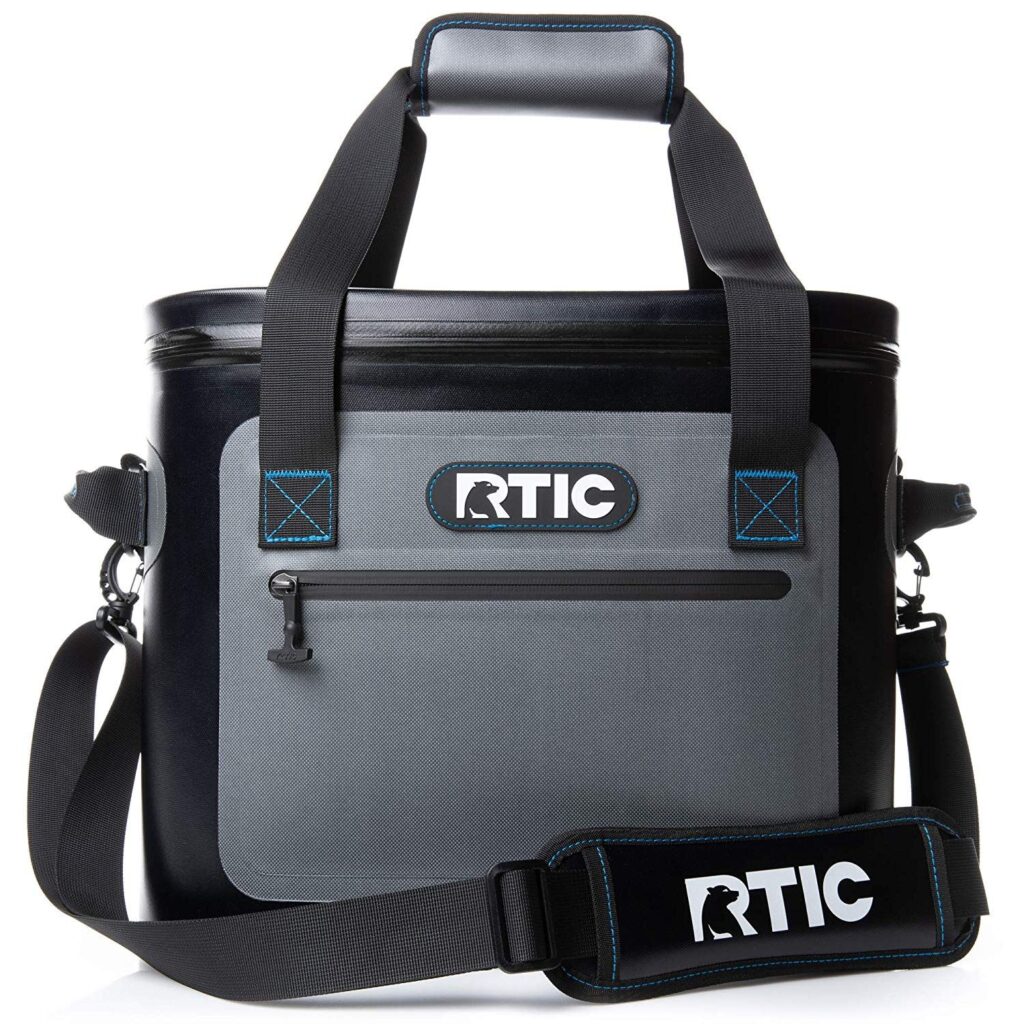 See the latest prices of RTIC Soft coolers on Amazon…so much cheaper than Yeti
Should You Buy a Titan Deep Freeze Cooler?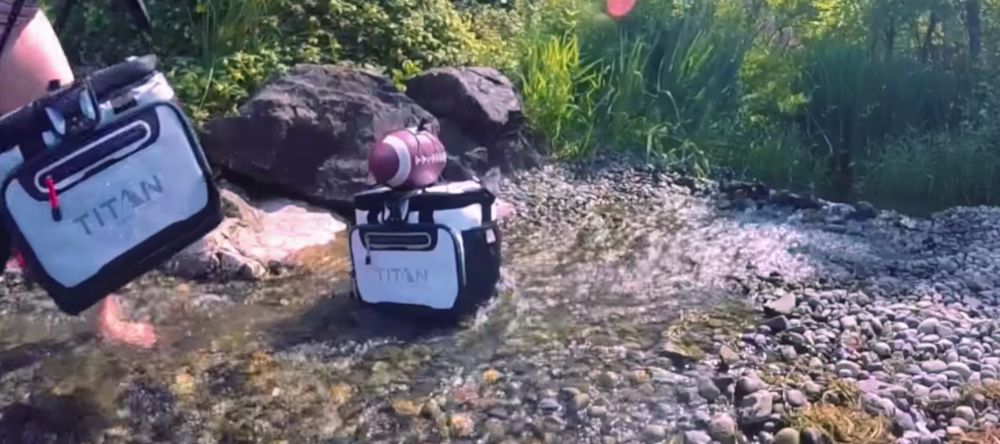 That depends…
This cooler isn't a high performance soft cooler and it isn't ultra durable. It's good for short day trips and mini-adventures and can keep your drinks cold for a few hours.
It's portable and durable enough to last you a few years.
The question you have to ask is whether or not this cooler is good enough for you. Will it do what you need it to do and are you ok with how long (or how short) it can keep ice for.
If the answer is yes then this cooler will save you a lot of money compared to other coolers so it's worth getting.
If you want to buy a Titan Deep Freeze cooler or just see the latest prices of the different sizes and colors then click my affiliate links below to see the product on Amazon.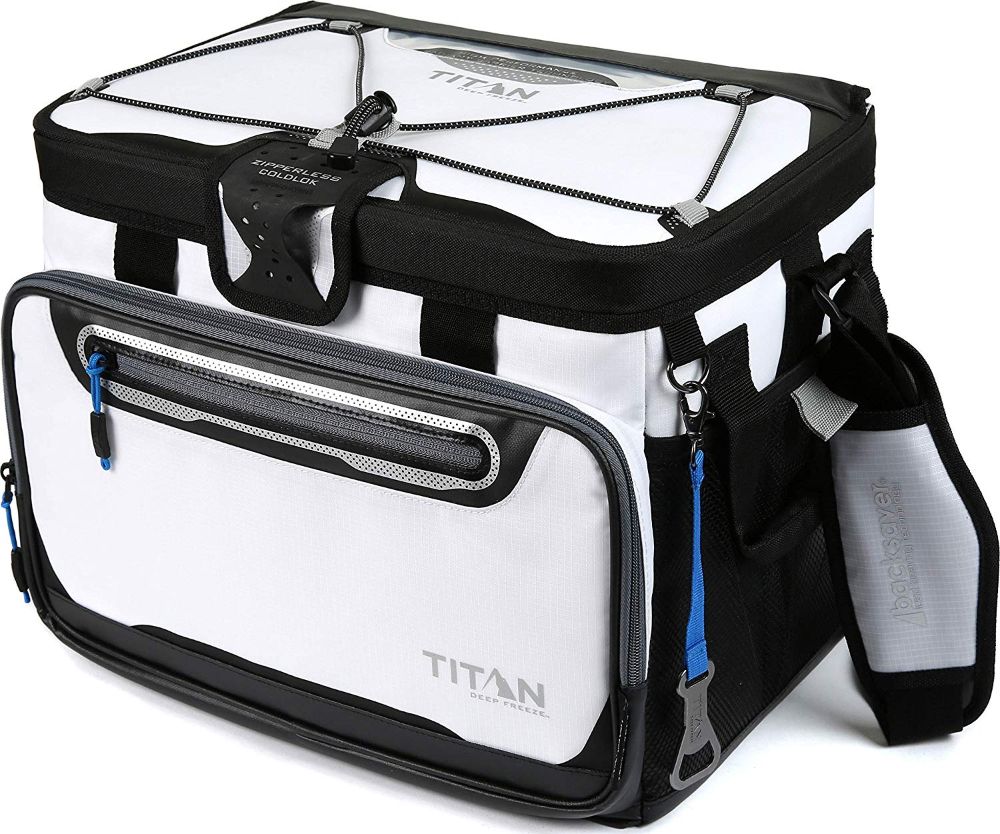 See the latest prices of Titan Deep Freeze coolers at Amazon