Arctic Zone Titan Deep Freeze coolers are one of the most popular coolers on Amazon, racking up thousands of reviews (mostly positive). This cooler is an extremely affordable cooler and claims ice retention of 2-3 days.
But how does the Titan Deep Freeze Zipperless coolers compare to the Yeti Hopper soft coolers? Can this cheap cooler hold it's own again one of the best soft sided coolers out there or is it just a poor quality imitation?
Titan Deep Freeze coolers don't even come close to Yeti Hopper coolers in performance or durability. Yeti coolers can hold ice for 2-3+ days while Titan Deep Freeze coolers struggle to hold ice for more than 12 hours. Yeti soft coolers are super durable and waterproof while Titan Deep Freeze coolers aren't waterproof and are way more likely to break.
Still Titan Deep Freeze coolers sell for a tiny fraction of the price. So for someone just wanting a cheap cooler to take to the game or to a picnic then this could be a good alternative that could save you hundreds of dollars.
See just how cheap Titan Deep Freeze coolers are at Amazon…they are super affordable
These Coolers Are NOT Similar In Performance/Quality
While I'll be comparing the Titan Deep Freeze vs the Yeti Hopper in this article I want to make clear that these two coolers are not at all similar in performance or quality.
The Yeti Hopper is far superior quality, is way more durable and can hold ice significantly longer. It's also WAAAAAY more expensive.
This article is not to compare two coolers that are similar in quality to see which is better. If you want that read my Yeti Hopper vs Pelican soft cooler comparison.
What we are going to do is compare these two coolers in quality and feature and be honest about the pros and cons of each so you can make an educated decision as to whether you want to spend more for the high-quality Yeti or if you want to save money and buy the Titan Deep Freeze because it's good enough.
Click here if you want to see the list of the absolute best soft sided coolers on the market today.
Price: You Can Save Hundreds
The price of these two coolers are leagues apart.
Yeti Hopper coolers are one of, if not THE, most expensive soft sided coolers on the market at the moment. They are aimed at outdoor enthusiasts who are willing to pay for performance and quality.
The Titan Deep Freeze coolers on the other hand sell extremely affordable and cheap coolers that are aimed at the general population who just wants a decent cooler for a picnic, outdoor adventure or day trip.
Below you can see a comparison between the price of the Titan Deep Freeze coolers and the Yeti Hopper coolers and you can see the stark difference between the two brands.
You can also click the price links (my affiliate links) to see the products on Amazon and confirm the pricing, as I found different colors have different prices and some are cheaper than other.
Titan Deep Freeze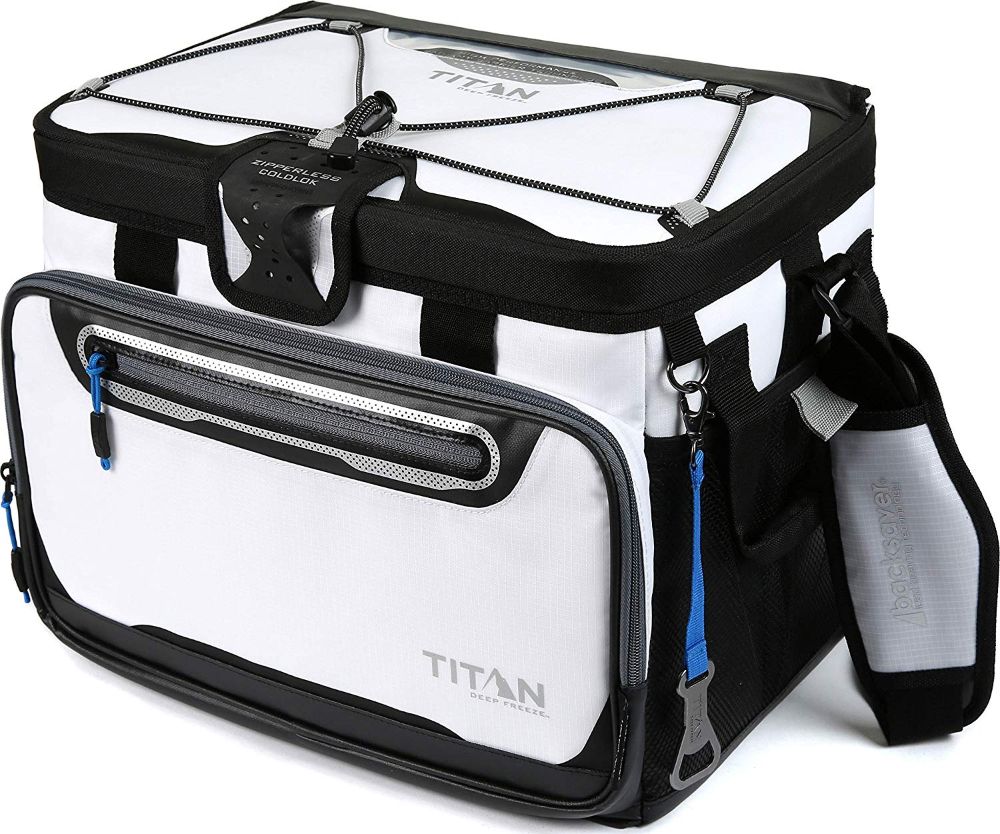 Titan Deep Freeze 9-can:
---
Titan Deep Freeze 16-can:
---
Titan Deep Freeze 30-can:
---
Titan Deep Freeze 48-can:
Yeti Hopper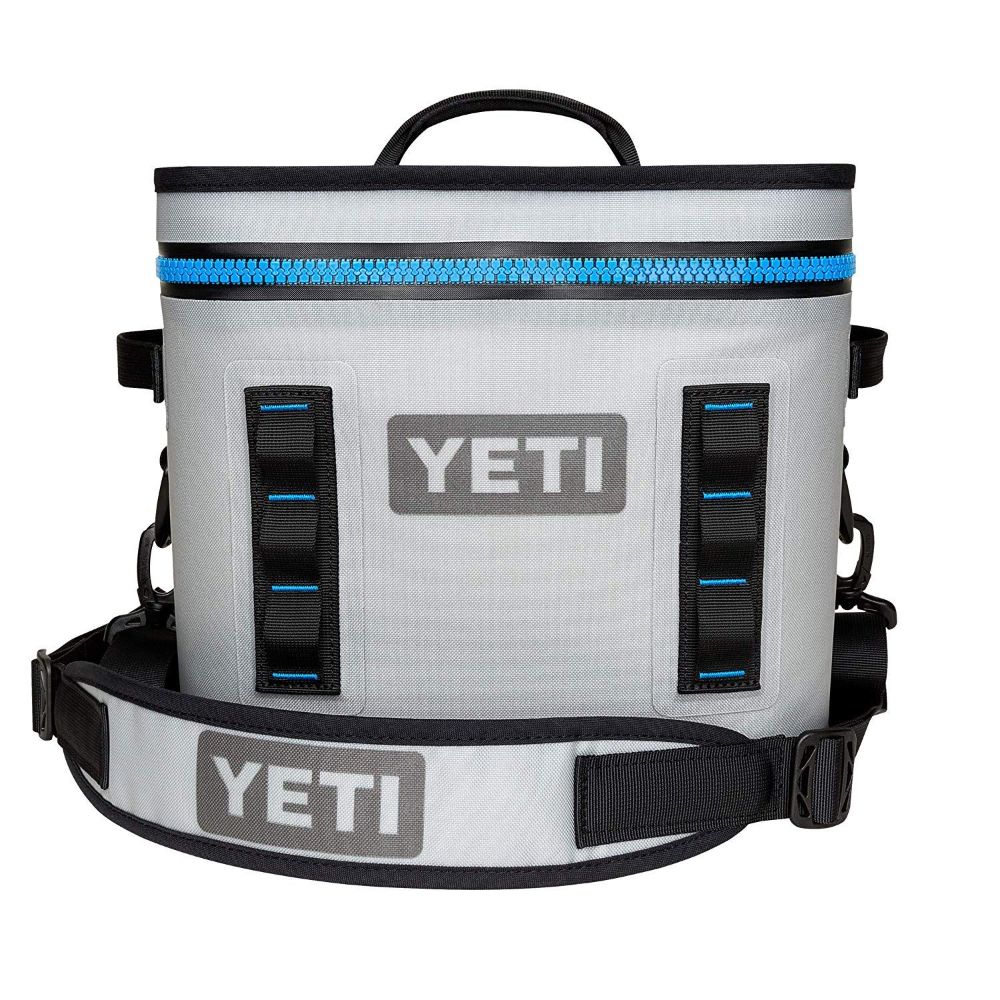 Yeti Hopper Flip 8:
---
Yeti Hopper Flip 12:
---
Yeti Hopper Flip 18:
---
Yeti Hopper M30:
---
Yeti BackFlip 24:
As you can see the Titan Deep Freeze coolers are about a fifth of the price of Yeti coolers offering a huge saving.
You can save hundreds of dollars by buying the Titan Deep Freeze instead of the Yeti. So you need to ask yourself if the Yeti is worth the extra money to you or if the Titan cooler is good enough.
Performance: Yeti Can Hold Ice Much Longer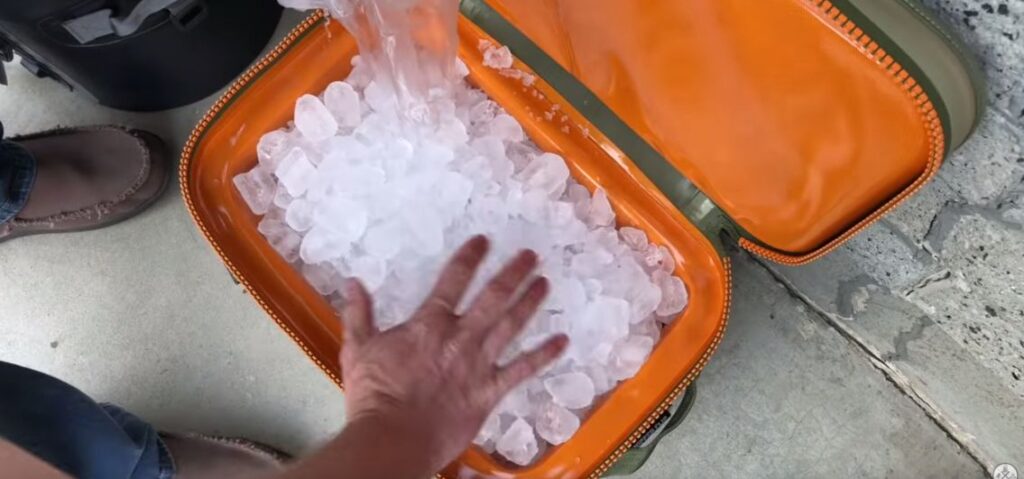 Arctic Zone claim that their coolers can hold ice for 2-3 days, similar to how long Yeti coolers can hold ice, however in reality and everyday use this is NOT the case.
Yeti Hopper coolers have 0.75 inches of closed cell insulation in the walls and base and 1.5 inches of insulation in the lid of their coolers. This gives them real world ice retention of 2-3+ days depending on usage and external weather conditions. But 2 days of ice retention is realistic even in 100 degree heat.
Titan Deep Freeze coolers have maybe 0.25 inches of insulation (unsure what type of insulation) in the walls of the cooler and similar in the lid. It also has a thin plastic inner container which would add some further insulation. However, this is NOTHING compared to what Yeti coolers have.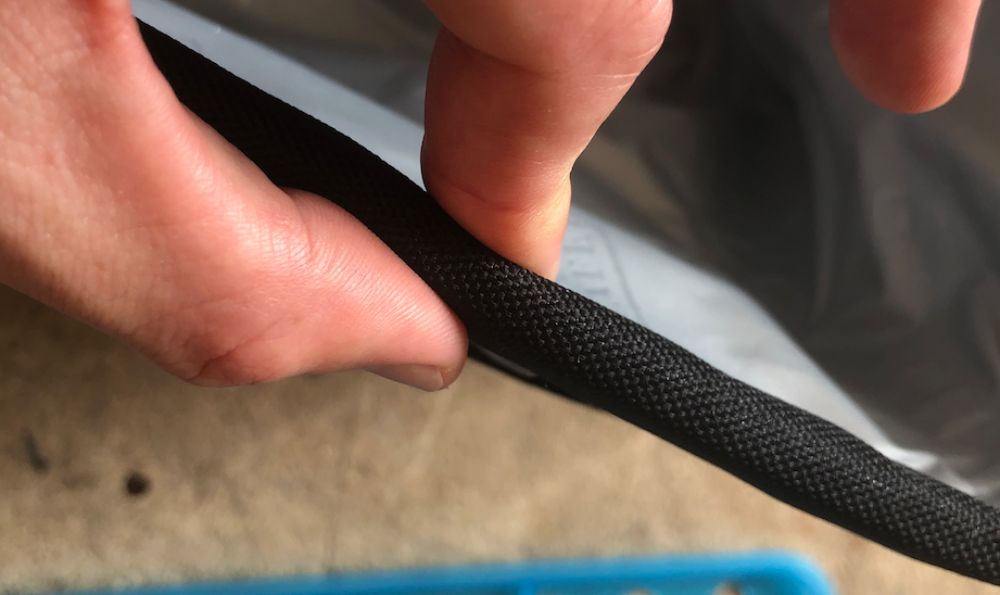 I'm yet to do an ice test on my Titan Deep Freeze but from Amazon reviews and from having reviewed almost every high-end soft sided cooler out there I can already tell that these coolers won't hold ice that long.
Some customers say it struggles to hold ice even a few hours, others say 6 hours or up to 12 hours of ice retention. I am yet to find a review that states it can hold ice for 2 or 3 days.
It is technically possible that these coolers could keep ice 2 or 3 days if they were 100% filled with really cold ice and kept in cooler temperatures out of directly sunlight. But in real world usage I would expect just a few hours of ice retention, possibly up to 12 hours if you're lucky.
On the other hand, I would be shocked if your Yeti Hopper cooler didn't have ice in it after 24 hours.
You do have to take the extra step of pre-chilling Yeti coolers otherwise ice can melt quickly in a Yeti. But if you take this step then you should easily get 1-3 days ice retention from your soft sided cooler.
Durability: Titan Is Decent, But Nowhere Close To Yeti

Yeti coolers are one of the best built soft-sided coolers on the market. They are tough and durable and designed to last you years and years.
Yeti coolers are made from a heavy-duty 840 denier nylon that is TPU laminated to make it both waterproof and tear resistant. Yeti also uses RF welding on the seams which give the cooler extra strength and make it highly unlikely to tear at the seams.
Titan Deep Freeze coolers don't clearly state what materials they are made out of or how high quality it is. It appears to have a vinyl exterior on some parts, which would offer some weather proofing and a canvas exterior on other parts – which is definitely not waterproof.
Titan Deep Freeze coolers also use stitching to attach the different sections of material together. These seams are a point of weakness and can break or come apart over time.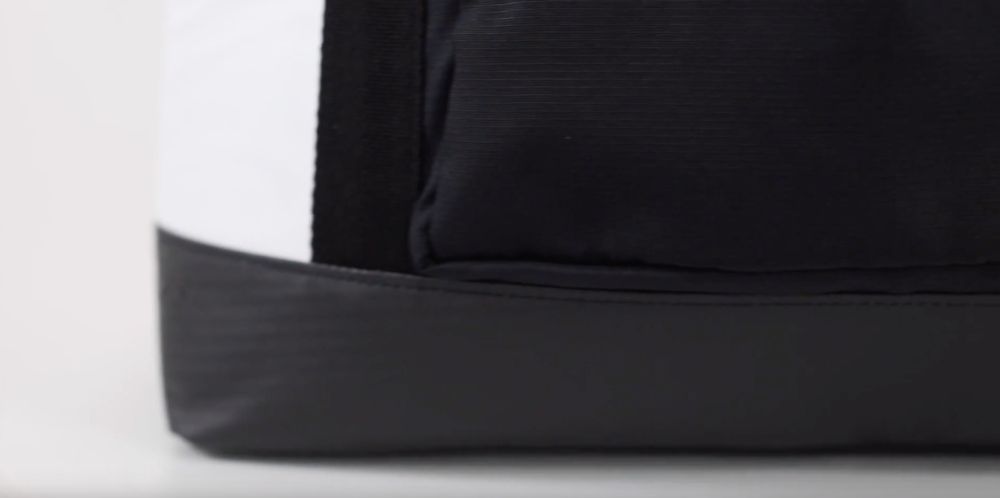 Both coolers feature a reinforced base for extra protection from the wear and tear of the cooler being placed or dropped on the ground and the friction that comes with that. Yeti coolers have a thicker and more durable base than Titan coolers are are likely to last a lot longer.
Yeti coolers feel so tough that you can throw them around and not have to worry about them ever breaking. Titan Deep Freeze coolers on the other hand look like they will wear out over 1-2 years of regular use even being reasonably careful with them.
Feature Comparision
These coolers have a bunch of interesting features. They share some features in common and some features one cooler has while the other doesn't.
Zippers vs Zipperless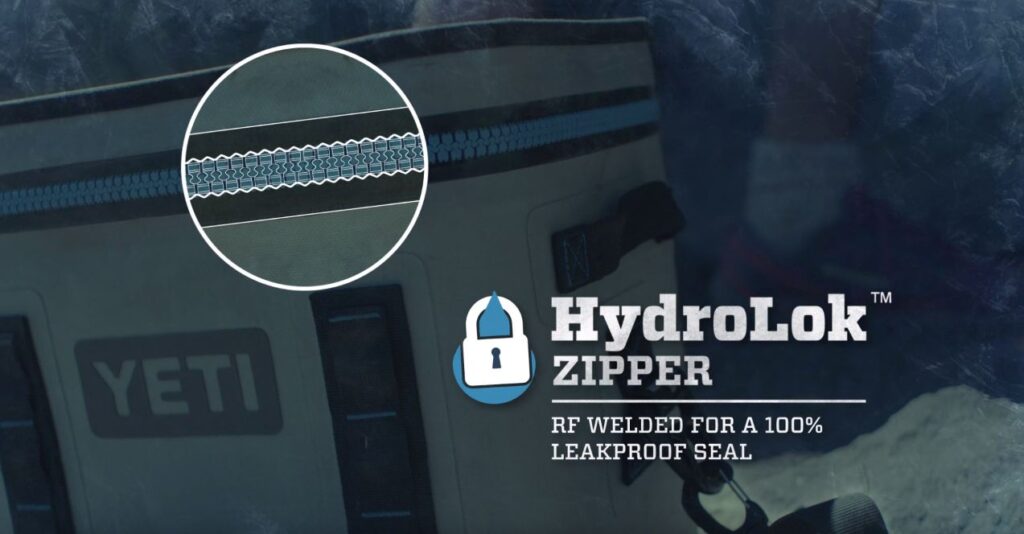 The Yeti Hopper coolers have waterproof zippers while the Titan Deep Freeze uses a zipperless system where the lid is held in place by velcro and the friction of the plastic lid sitting inside the main plastic body of the cooler.
The benefit of Yeti coolers is that the zippers are 100% waterproof. No water is getting in or out even when you shake the cooler around or tip it upside down.
So you never have to worry about your Yeti cooler wetting your body as you walk or wetting your car or your floor if it happens to get knocked over.
The downside of the Yeti zippers is that they are difficult to open and close. They require a decent amount of force and they need to be regularly lubricated to ensure they don't seize up and break. This can be a point of failure of these coolers.

The benefit of Titan Deep Freeze coolers is that the zipperless system is super practical. The cooler is really easy to open and close and you don't have to both with any zippers.
The downside is that the cooler isn't waterproof at all. Water can splash out when carrying it and water pours out when the cooler is tipped over.
Shoulder Straps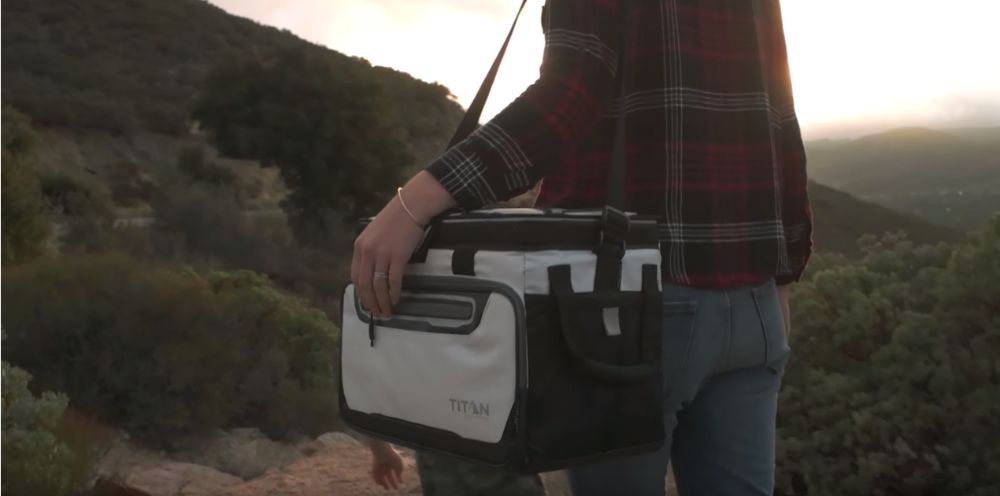 Both coolers come with shoulder straps for hands free carrying of the cooler.
Yeti's shoulder strap is thicker, has more padding and overall feels higher quality. It is also detachable.
The Titan's shoulder strap is thinner and not as padded but it does the job and makes carrying the cooler easy. It is also stitched onto the cooler and cannot be detached.
Handles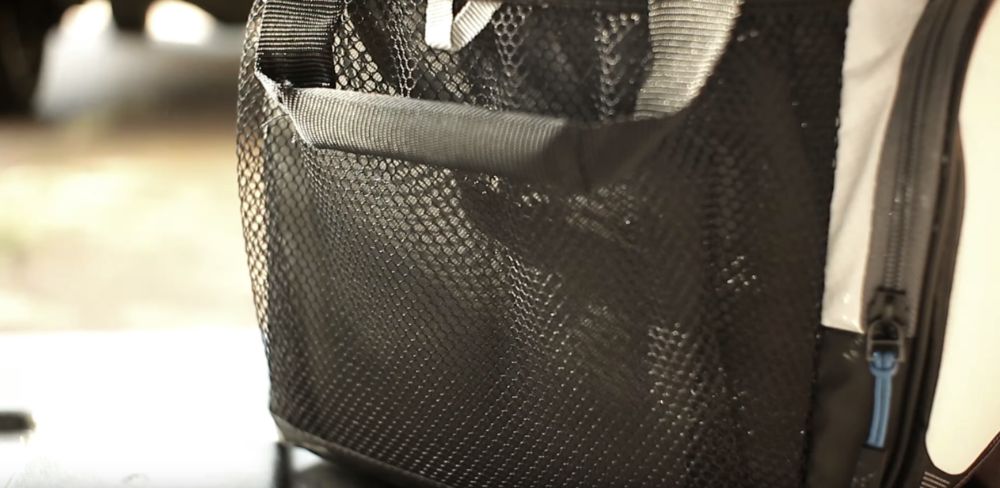 All Yeti Hopper coolers come with a handle on the lid or near the top of the cooler for single hand carrying. They also come with two or more side handles for dual hand carrying or carrying with a friend.
Titan Deep Freeze coolers have side handles on the 30-can and 48-can size but have no side handles on the smaller 9-can and 16-can coolers. None of their coolers have a single hand handle on the lid or near the top.
Yeti handles are also thicker and more durable and seem like they can handle a lot more force placed on them.
Exterior Pockets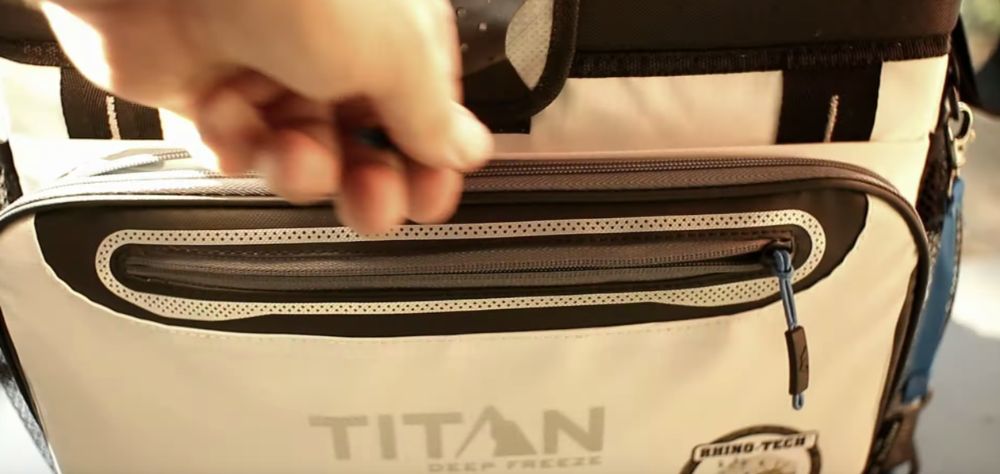 Something that Titan Deep Freeze coolers do have that Yeti coolers don't is exterior pockets.
They feature a wide front pocket for storing items you want to keep safe and dry and don't want in the main cooler compartment. The front pocket has 2 different compartments, one small and one large.
Titan coolers also have mesh pockets on the sides for keeping extra small items. Perfect for things like sunscreen or water bottles.
HitchPoint Grid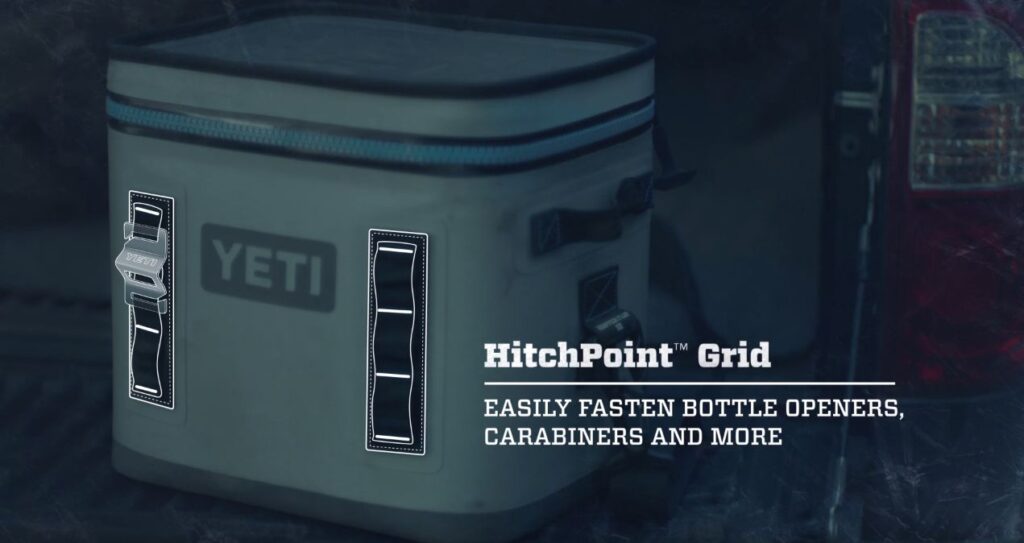 Yeti coolers don't have any exterior pockets but they do have the Hitchpoint Grid system which allows you to connect carabiners as well as Yeti accessories like the SideKick Dry waterproof pouch.
This pouch adds a pocket to your cooler but costs around $50, which is basically the cost of an entire Titan Deep Freeze cooler.
Waterproof Exterior

Yeti Hopper soft coolers have a completely waterproof exterior. It is TPU laminated so no water can get through the fabric. Even if you throw it in the river not water is getting in.
Titan Deep Freeze coolers have some fabric that appears water resistant but other parts that are made from a non-waterproof canvas. The zippers and zipperless lid are also not waterproof.
Hard Plastic Inner Shell vs Plastic Lining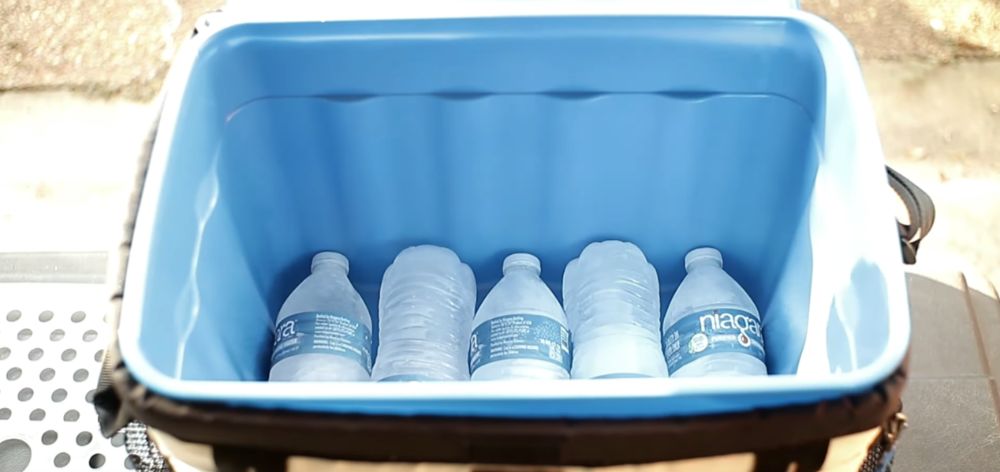 Titan Deep Freeze coolers have a hard interior plastic container where you place your ice and beverages/food. This can be removed and then you have a loose plastic liner on the inside so it can be used without the plastic container if you want to but the insulation and ice retention won't be as good.
Click here to see a full list of the best soft sided cooler with hard inner liners.
Yeti coolers have a fixed inner liner that is firm and easy to clean. The liner of the Yeti does not pull out for cleaning.
Both coolers use FDA-approved food-safe materials.
Dry Shelf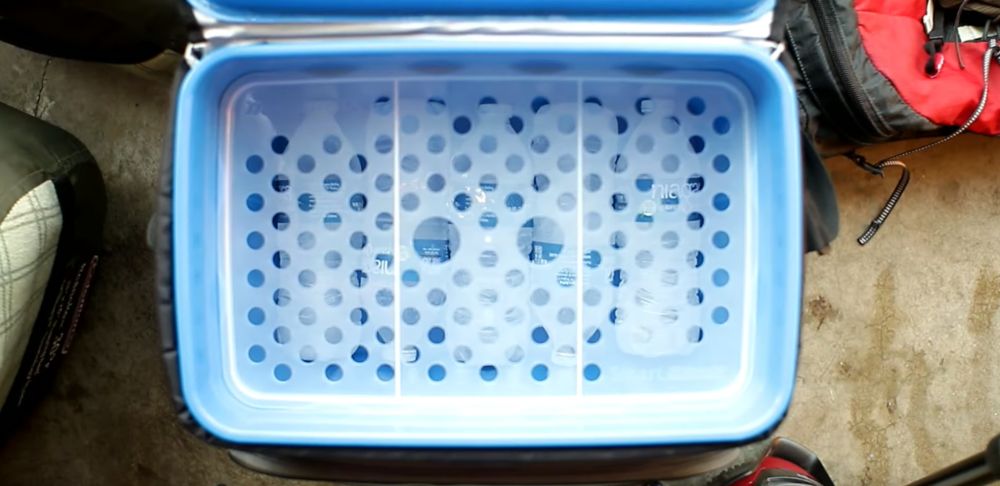 The Titan Deep Freeze comes with a plastic dry shelf that sits towards the top of the cooler.
This allows you to put items in the cooler that you want to keep cold but that you don't want getting wet. The dry shelf keeps them up out of the water and away from the ice.
Bungee Gear Straps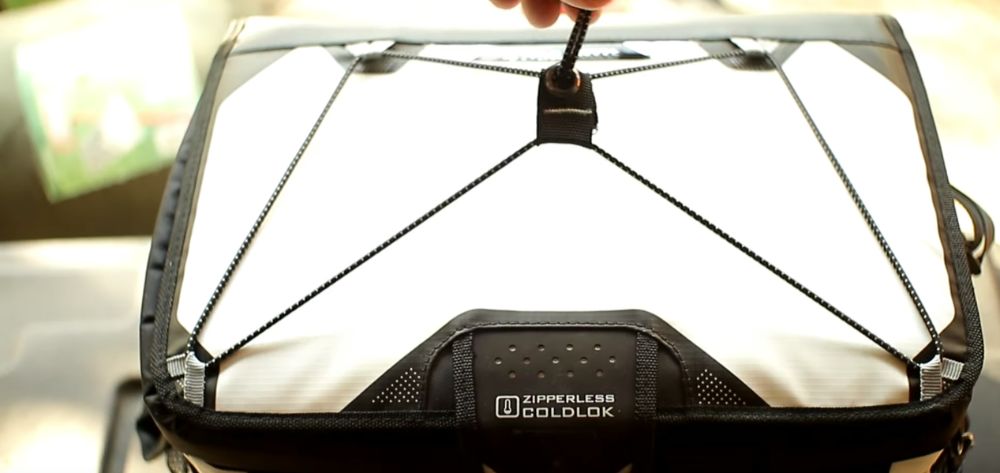 The larger 30-can and 48-can Titan Deep Freeze coolers come with adjustable bungee straps on the lip of the cooler so you can strap down extra items like hats, towels or anything else you can think of for easy carrying.
Detachable Bottle Opener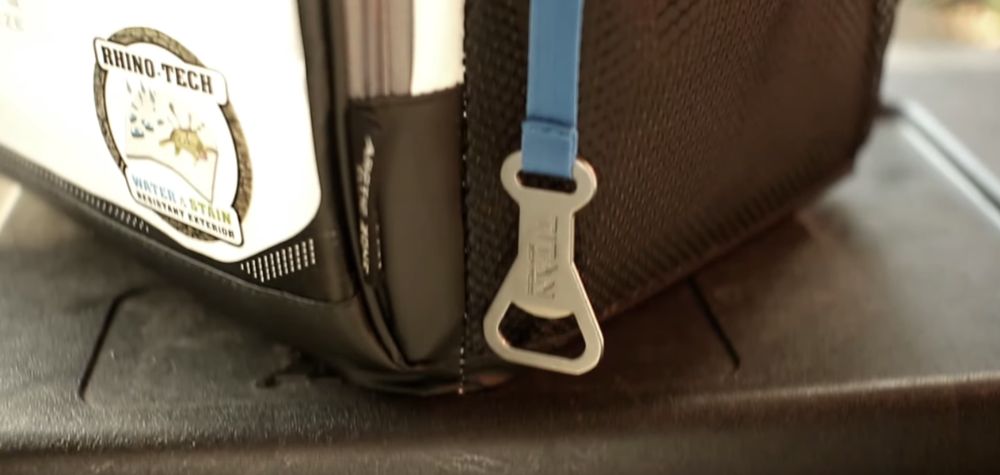 The larger 30-can and 48-can Titan coolers come with a free detachable bottle opener. Yeti doesn't come with a bottle opener and the ones that attach to the Hitchpoint grid need to be purchased separately and don't come cheap.
Made in China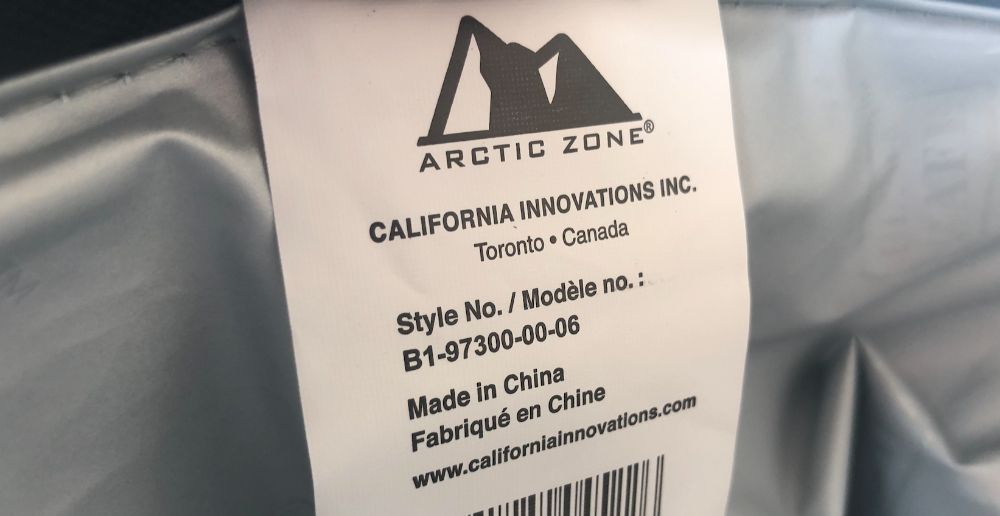 Both of these coolers are made overseas in China, so neither of them is made in the USA.
Arctic Zone coolers don't state where their coolers are made but as you can see I own one and on the tag it says "Made in China". Yeti coolers have reported that their soft sided coolers are made in China while their hard sided coolers are made in the Philippines.
Click here to learn where Yeti coolers are made
Alternative Soft Coolers Worth Considering
Yeti coolers are great, but expensive. Titan Deep Freeze coolers are super affordable but don't offer the performance of a Yeti.
If you're thinking you might want something inbetween these two coolers or just want to do more research then I have reviewed almost every decent soft-sided cooler. Below are some of my top recommendations for other soft sided coolers worth considering.
Grizzly Drifter: Great Value For Money
Grizzly Drifter coolers are much more affordable than Yeti but can hold ice just as long or maybe even a tiny bit longer. Click here to read the full Grizzly vs Yeti soft cooler comparison.
They are made from durable fabric and have multiple external pockets which are even more practical than the Titan Deep Freeze.
The Grizzly is leak proof when standing up but the heavy-duty zippers it uses are NOT waterproof.
They sell for a bit more than the Titan coolers but they are way cheaper than Yeti coolers and in my opinion these are one of the best value for money soft coolers out there.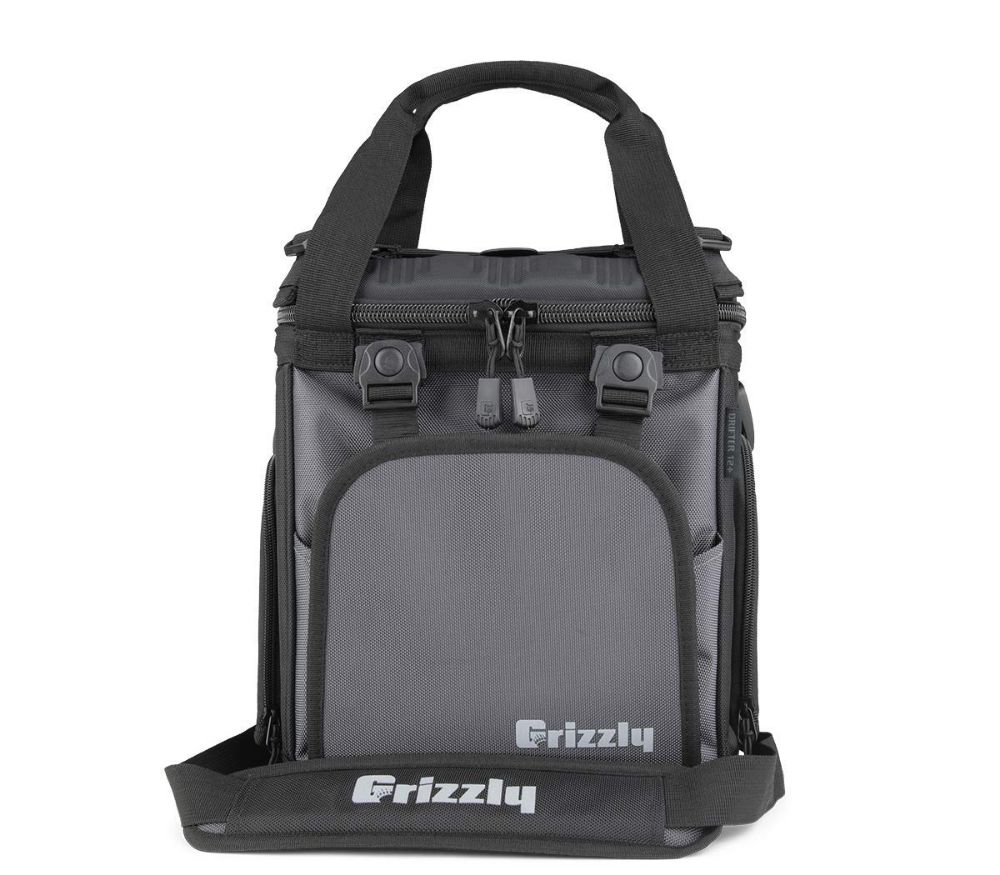 Click here to see just how affordable Grizzly Drifter coolers are at Amazon
RTIC Soft Pak: Cheap Cooler, High Performance
RTIC Soft Paks are a cheap cooler with high performance ice retention. RTIC soft coolers actually keep ice longer than Yeti Hopper soft coolers, which is insane given how much cheaper they are.
They have more insulation which is what gives them better ice retention and they also feature a waterproof zipper. Click here to read my full RTIC soft cooler review.
This is the cooler to buy if you want to high performance of a Yeti without the high price tag. They aren't quite as durable as Yeti but they are much more durable than Titan Deep Freeze coolers.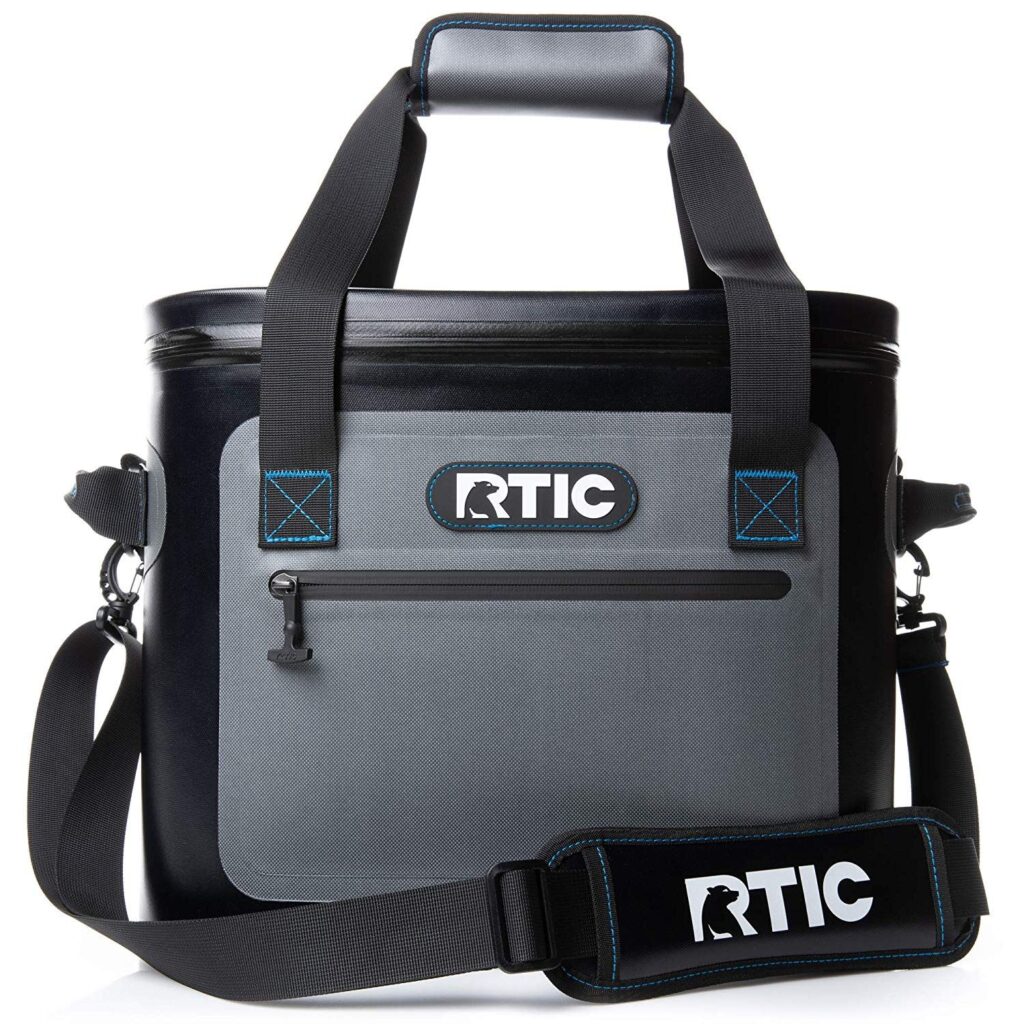 Click here to see how cheap RTIC Soft Pak coolers are at Amazon
Engel HD30: Ultimate Ice Retention
If you're looking for THE soft sided cooler that can keep ice the longest then the Engel HD30 is the cooler with the highest ice retention performance.
It will outlast the Yeti as well as the RTIC. In fact it holds ice so long it even competes with similar hard sided coolers. Click here to see how much longer Engel HD30 coolers hold ice compared to Yeti.
This cooler is also made form the same tough material as Yeti, is waterproof with a waterproof heavy-duty zipper and Engel have a good reputation for quality so you can trust the brand. Hands down the best cooler for the longest ice retention.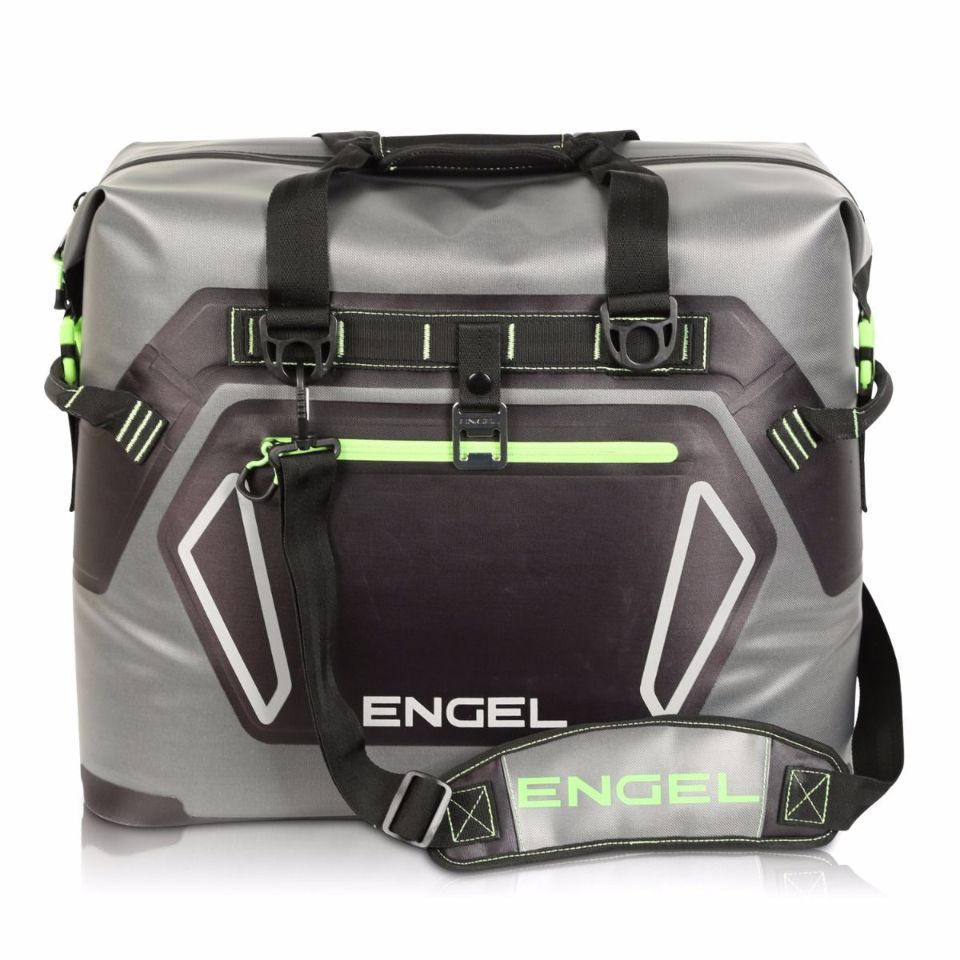 See the latest price of Engel HD30 coolers at Amazon
Titan Deep Freeze vs Yeti Hopper Soft Cooler: Which Should You Buy?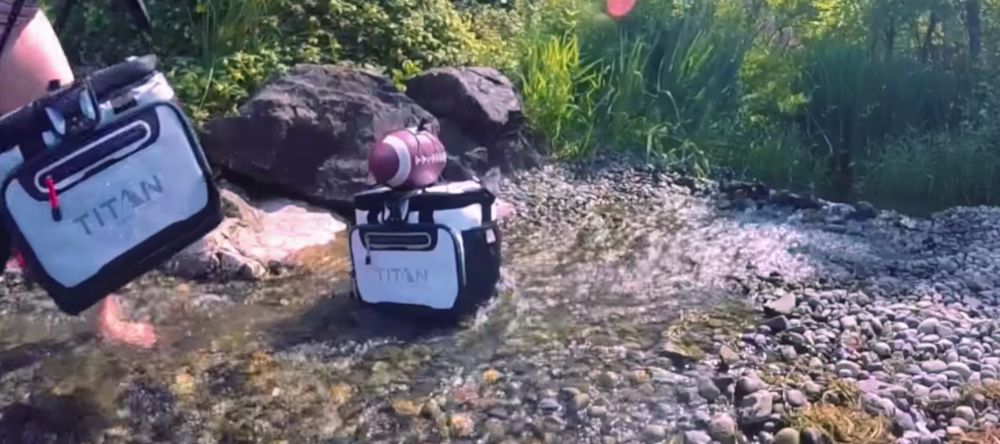 So should you buy the Arctic Zone Titan Deep Freeze cooler or the Yeti Hopper soft cooler? Which cooler is better value and which one should you buy?
Well obviously these coolers are extremely different to each other with the Yeti being a high-end cooler with a high-end price and Titan coolers being a lower cost cooler with a lower quality build.
You need to have a look at exactly what you'll be using this cooler for and whether or not it will suit your needs.
If you're hoping to keep ice all day long in a hot car so you can have freezing cold drinks at the end of a long hot work day then chances are Titan Deep Freeze coolers won't perform that well.
If you want your cooler to hold ice over the weekend or multiple days on your adventure then again Titan coolers won't do the trick and you'll need the higher performing Yeti.
If however you are just looking for a portable cooler that can keep ice for a few hours while you're at a picnic or at the beach or you just need to keep your food cold using ice packs until lunch time and not much longer then the Titan Deep Freeze cooler will be fine and save you a lot of money.
Ultimately it comes down to what you'll be using the cooler for as well as what your budget is. Both coolers are good coolers but they each target a different need.
Which one suits you best?
If you want to buy a Titan Deep Freeze cooler or a Yeti cooler or if you just want to see the latest price and more reviews then simply click my affiliate links below to see the products on Amazon.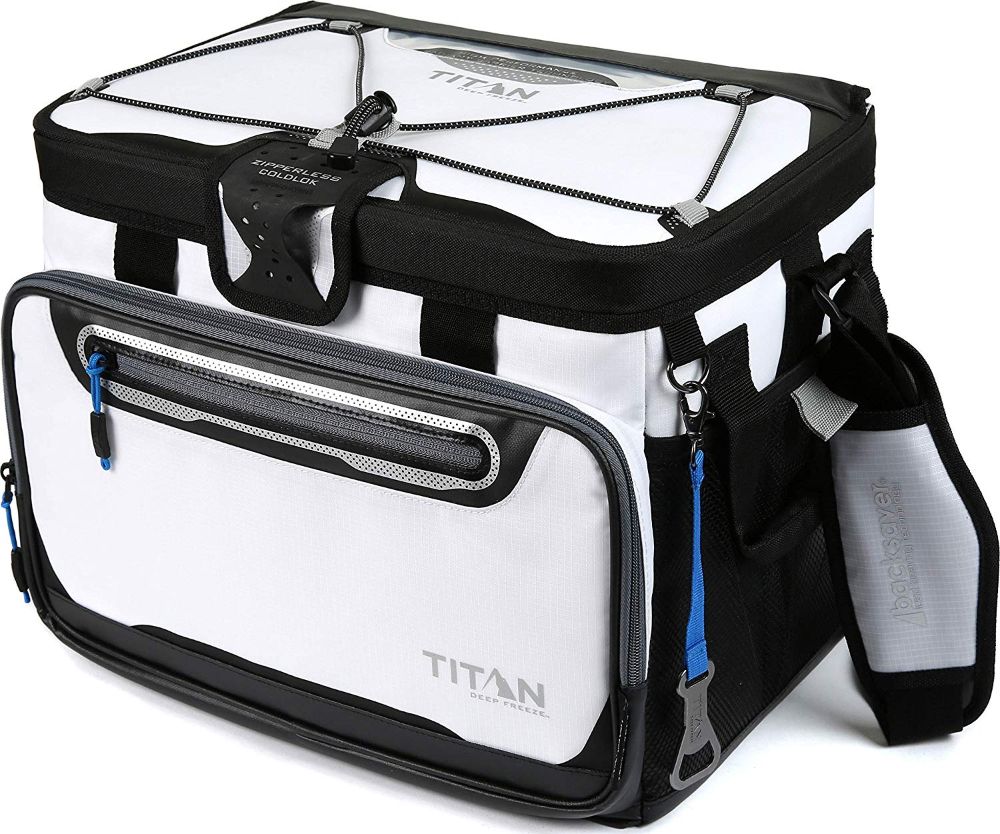 See the latest price of Titan Deep Freeze coolers at Amazon