How do you compare two soft-sided coolers that have basically identical performance and identical durability? That's kind of what we are doing when comparing the Pelican soft coolers vs the Yeti Hopper soft sided coolers.
Both the Yeti and the Pelican perform similar in ice retention tests. They are both made out of heavy duty 840D nylon that is TPU laminated. Both have a waterproof zipper and shoulder strap. The only difference is Pelican has extra buckles, a front pocket and built in bottle openers. Pelican sizes are also larger than Yeti and Yeti has more color options but otherwise you can basically take your pick.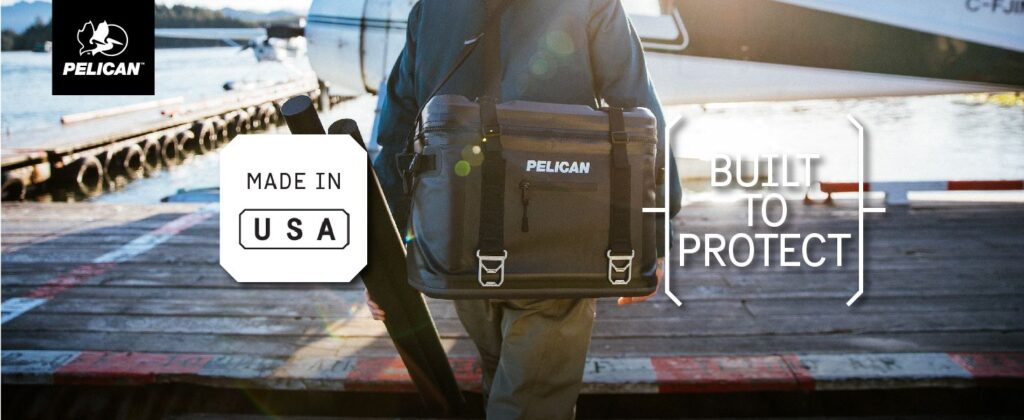 See the latest prices of Pelican soft coolers at Amazon
It's rare that I find coolers so close in ice retention, quality, price and design that I can't pick a winner.
In my Ozark Trail vs Yeti Hopper soft sided cooler review it was clear that Yeti was the winner. You'll be shocked at how poor quality the Ozark Trail coolers seem to be.
However, in this comparison between Pelican and Yeti soft coolers we can start by knowing both coolers are high-quality and have similar performance. Ultimately it'll come down to the different features, branding and design. All of this we will look at in more detail.
Let's Start With Pricing
So let's start with pricing just so you can see how similar these coolers are to each other.
Yeti released their Hopper Flip soft sided coolers about a year before Pelican came out with theirs. So it's likely that Pelican just decided to match Yeti in terms of their pricing but try to offer a slightly better product.
Below you can see a comparison between the Pelican soft sided coolers price and the Yeti price at Amazon. Interestingly at the time of writing this Amazon has the Pelican coolers on sale and they are selling cheaper than through Pelican's own website.
You can click the price links below to see the listings on Amazon. They are my affiliate links so if you buy through that I get a small commission.
Pelican Soft Coolers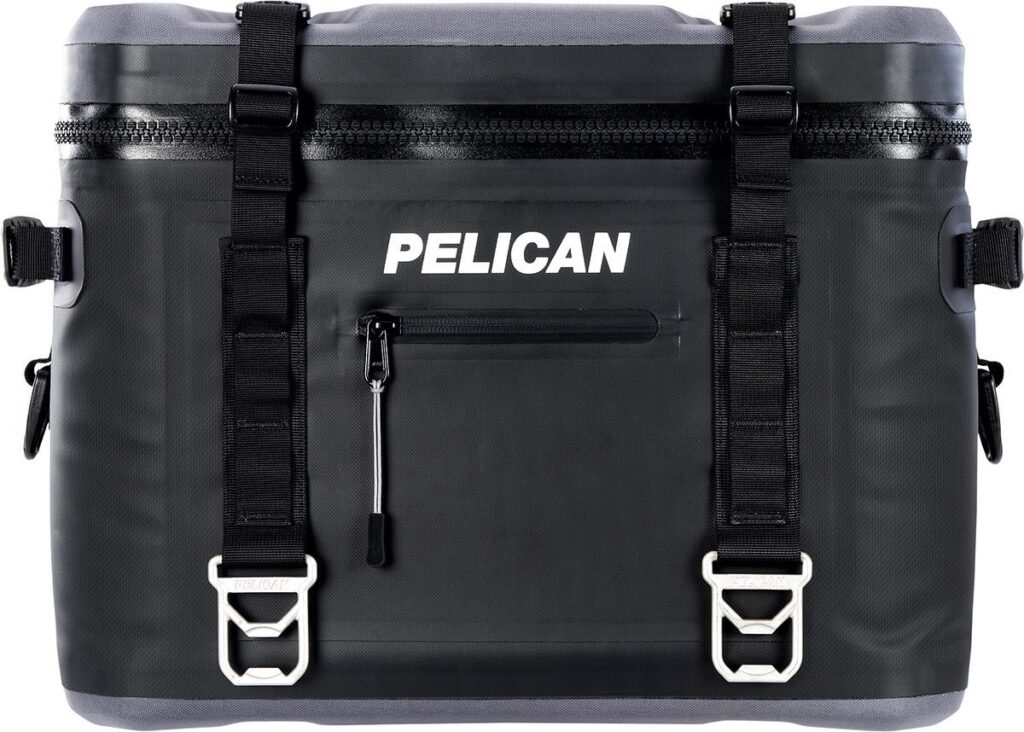 Pelican Sling:
---
Pelican SC12:
---
Pelican SC24:
---
Pelican SC48:
---
Pelican Backpack Cooler:
Yeti Hopper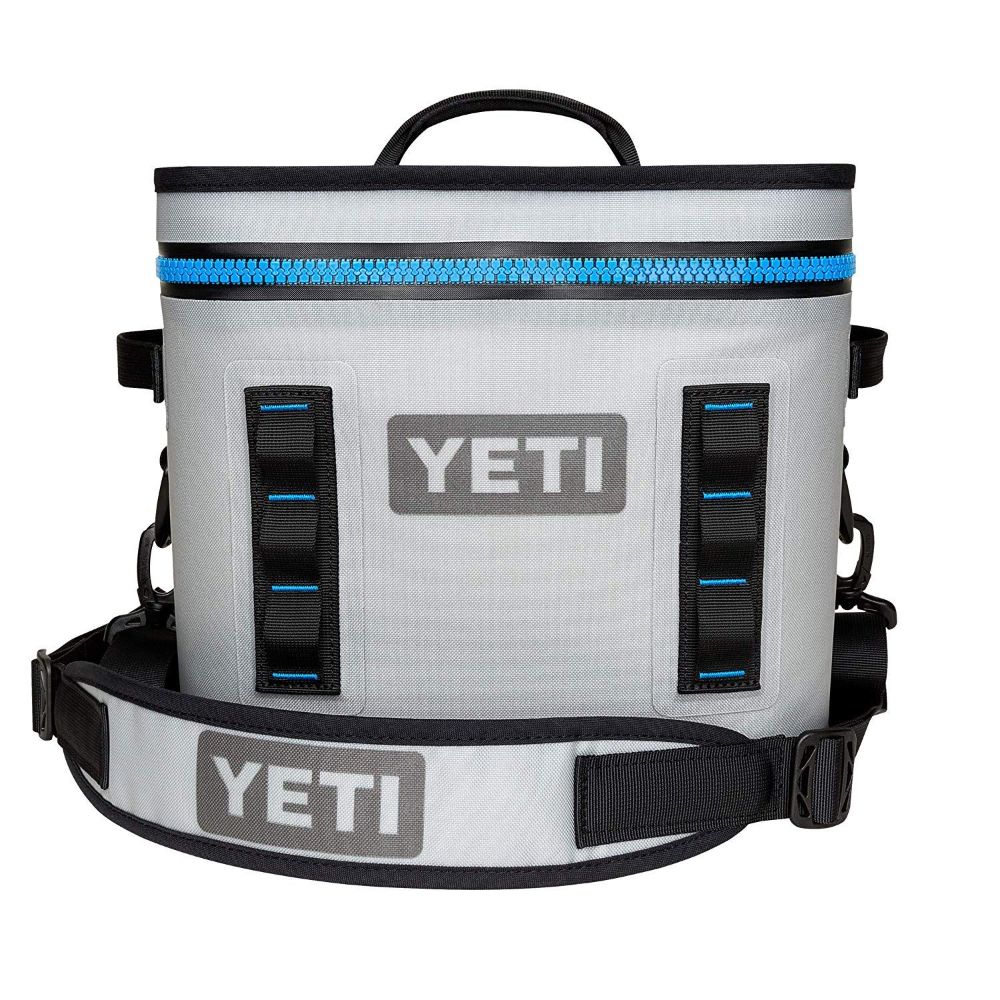 Yeti Hopper Flip 8:
---
Yeti Hopper Flip 12:
---
Yeti Hopper Flip 18:
---
Yeti Hopper M30:
---
Yeti BackFlip 24:
As you can see the pricing is very similar between the two brands with Pelican perhaps being a little bit cheaper due to the fact that Amazon sells it as a discount and you rarely if ever find Yeti products on sale.
The Pelican Sling and the Pelican Backpack both have an RRP that is approximately $50 cheaper than Yeti, but the SC12, SC24 and SC48 have recommended retail prices identical to the similar sized Yeti coolers
Pricing gives a slight edge to Pelican, but it's really the extra features that sets Pelican apart. We'll get to the features in a second but first lets look at durability and ice retention.
Build Quality: Equally Durable And Backed By The Same 3-Year Warranty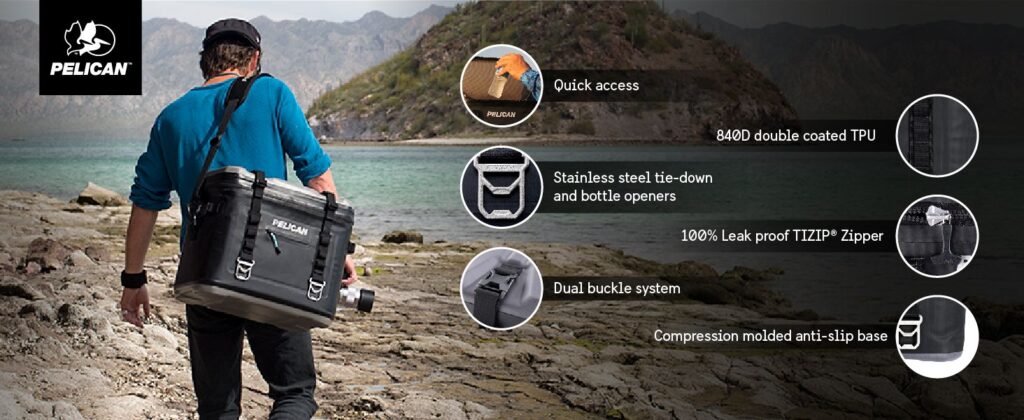 Both Pelican and Yeti are known for creating high-quality ultra-durable products and they haven't compromised on quality when it comes to their soft sided coolers.
Both coolers are made out of heavy duty 840-denier nylon that is TPU laminated for strength and water resistance and is RF welded for durability at the seams.
When it comes to durability and build quality these coolers are basically indistinguishable from each other with both expected to perform just as well.
Both coolers are backed by a limited 3-year warranty which covers you against manufacturing defects and any issues you may have with the cooler.
Other comparable soft-sided coolers like Engel and RTIC only offer a 1 year warranty so this sets Pelican and Yeti apart in this category.
Ice Retention: Similar Performance
Both of these coolers perform similar on ice retention tests holding ice for approximately 1-3 days.
This video from Rizknows compared the ice retention of the Pelican Sling (9-can) with the Yeti Hopper (12-can) and partially filled them with ice indoors and outdoors and showed that both coolers performed similar to each other.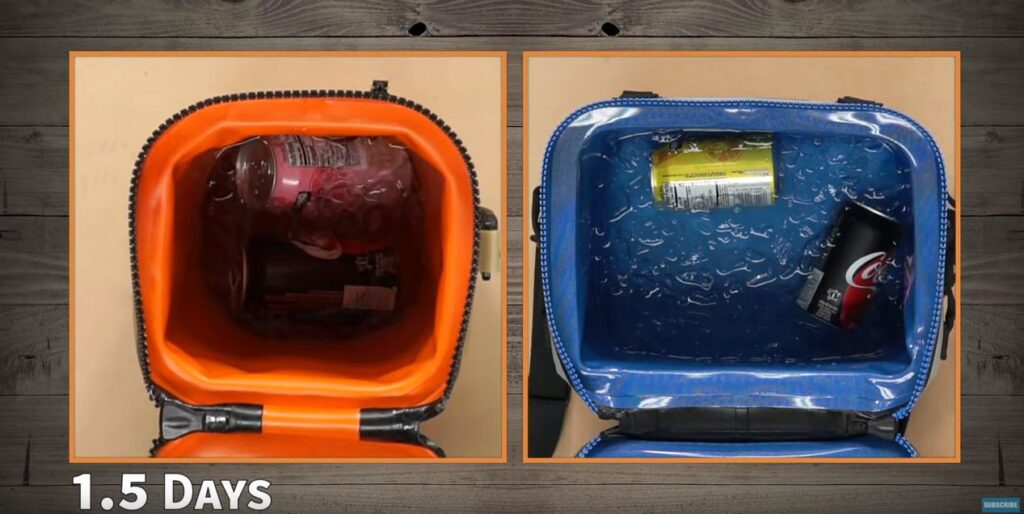 You can expect 1-2 days of ice retention when partially filled with ice and up to 3+ days ice retention in colder climates with more ice.
Both coolers perform well for lightweight soft sided coolers. If you want something that keeps ice even longer then you have to check out my Engel HD30 review because that baby kept ice for 4.5 days!
To maximise the performance of this cooler you're going to want to prechill it and keep it out of direct sunlight.
One issue with the Pelican SC12, SC24 and SC48 is that they only come in black. Darker colors heat up more so that may affect the ice retention.
Both coolers also have some 1-star complaint reviews on Amazon talking about how poor the ice retention was on them. Ice retention definitely works best on these when there isn't a lot of empty space in the cooler and when you prechill everything ahead of time.
Features: The Pelican Has More and Better Features
This is where the coolers start to differentiate themselves. They have a lot of features that are similar but then Pelican has a few extra features that Yeti doesn't have.
Let's start by looking at the high-end features they have in common and then we'll look at how Pelican has taken that and improved upon it.
Leak Proof Zipper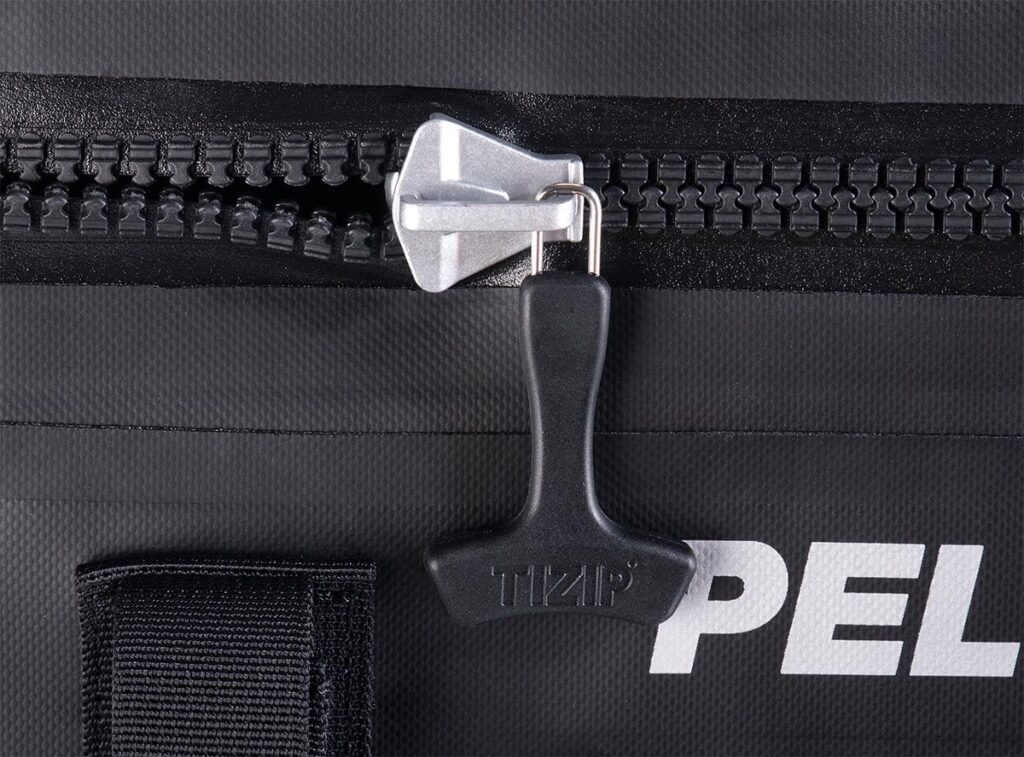 Both coolers have a sturdy leak proof zipper that is 100% watertight. When closed these zippers aren't letting any water in or out.
The zippers are very similar in their design and both zippers require lubricant in order to work smoothly and ensure they don't break. The coolers come with a little tube of the stuff, just make sure you use it.
The zippers are so good that even if you cooler gets knocked upside down in your car while your driving and water is sloshing around everywhere in your cooler no water will leak out
Shoulder Straps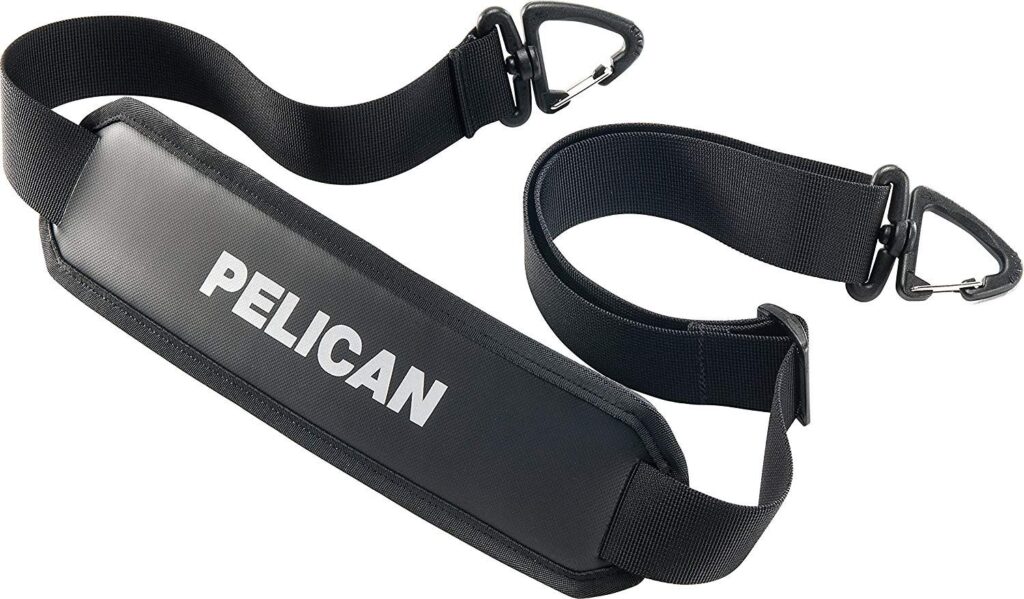 Both coolers have a detachable shoulder strap that makes it easy to carry your cooler whilst keeping your hands free.
The Pelican shoulder strap is slightly smaller than the Yeti but it contains more padding whereas the Yeti is has a larger surface area but isn't as padded.
Both are comfortable though so it's really a personal preference thing which on your prefer.
Handles

Each Yeti soft sided cooler has a top handle on the lid for easy carrying with the larger M30 having both a top handle as well as handle straps that fold up to meet in the middle.
The larger Flip 12 and Flip 18 yeti coolers also have side handle straps for two handed carrying when the cooler is full.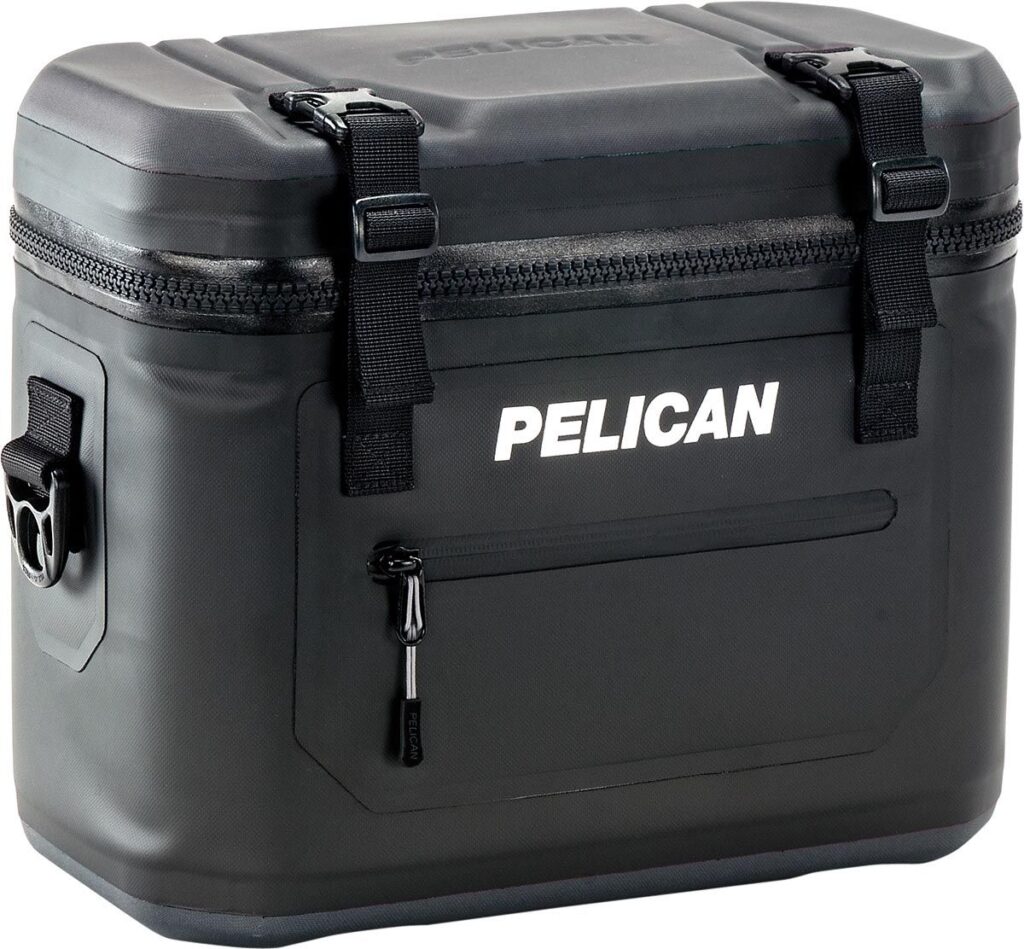 The smaller Pelican Sling has a single handle on the side and the Pelican SC12 doesn't have any handles at all and relies purely on the shoulder strap for carrying.
The larger Pelican SC24 and SC48 features 2 side handles but no handle on the lid like Yeti
Exterior Loops For Attachments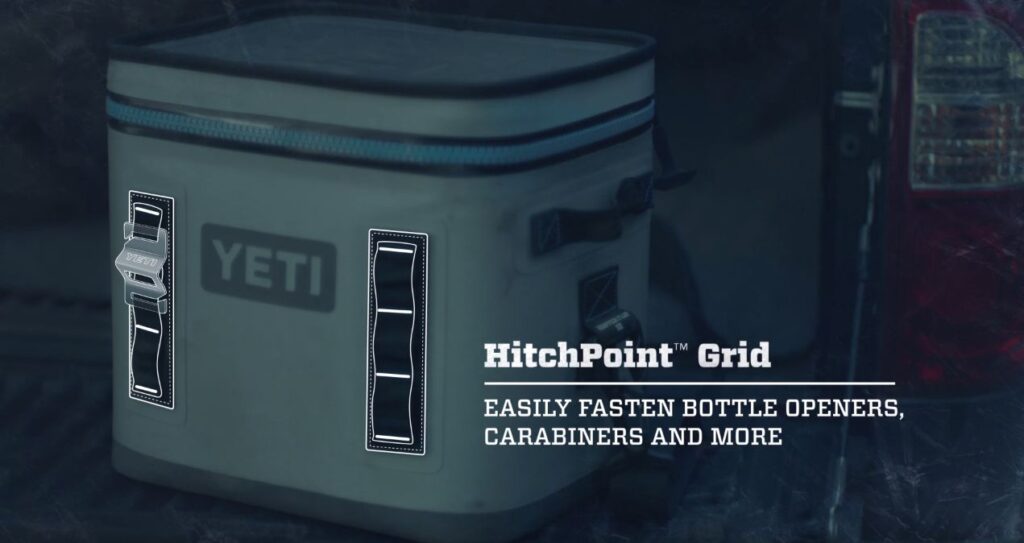 Both the Pelican and the Yeti have exterior loops on the outside of the cooler for adding attachments or clipping things onto
Tie Down Points

Both brands of cooler have tie down points so you secure your cooler into place in your car, van, truck or boat so it won't slide around or flip over.
Lid Buckles: Pelican Only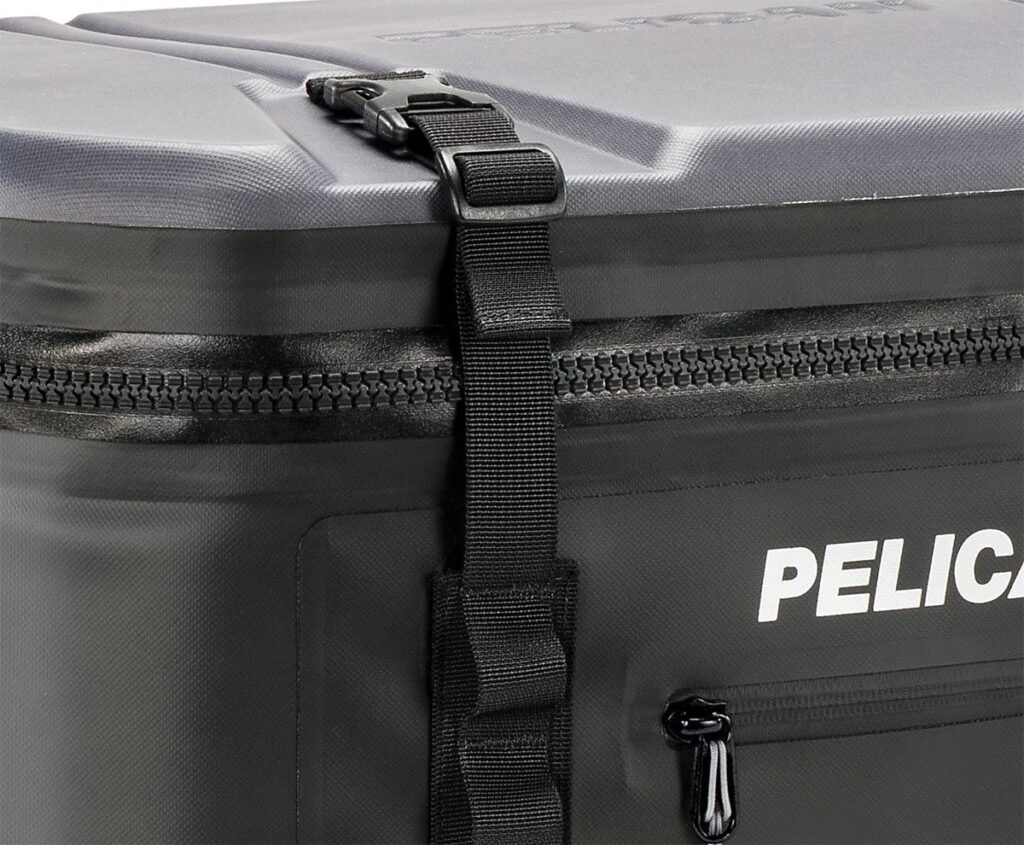 The Pelican has the addition of 2 buckles on the lid.
The idea behind these buckles is that when you've reached your destination if you want to avoid using the difficult to open/close and cumbersome zipper then you can simply rely on the buckles to keep the lid closed.
However, looking at it in action I don't see how it adds much value or ice retention when compared to just leaving the lid shut and not doing up the zipper or buckles.
Bottle Opener: Pelican Only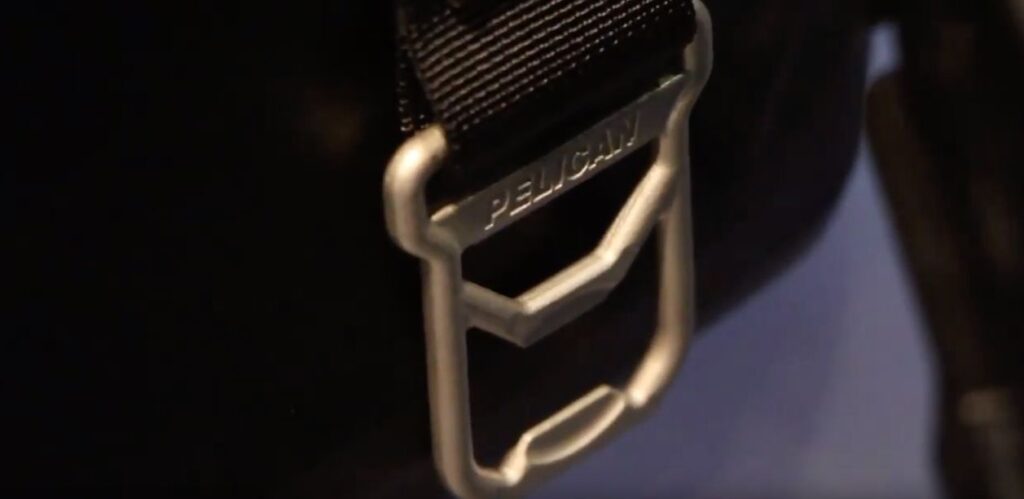 The two front tie down straps of the Pelican cool SC range of coolers also double as bottle openers.
If you want a bottle opener for your Yeti then you'd have to buy one separately which would cost around $20.
Front Zipper Pocket: Pelican Only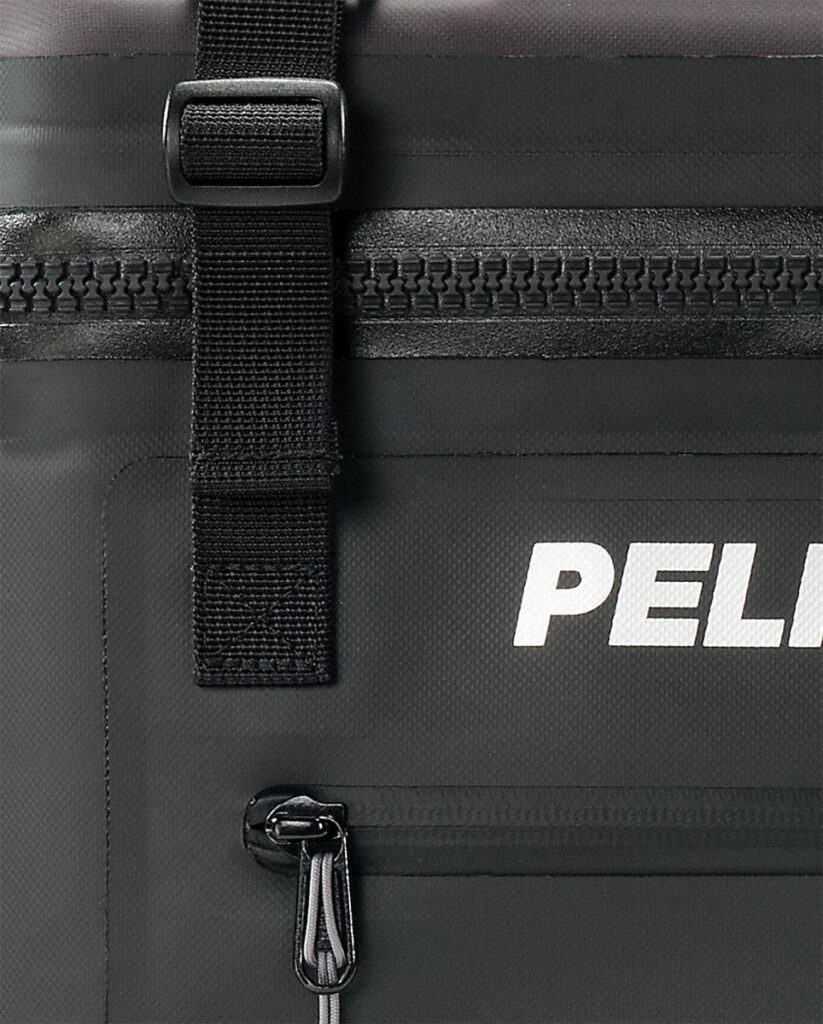 The Pelican coolers also have an external zipper pocket.
This pocket is weather resistant but not completely waterproof. It's a small pocket and is quite tight so you can't fit a great deal in there, but it's still a nice to have.
Yeti Has More Color Options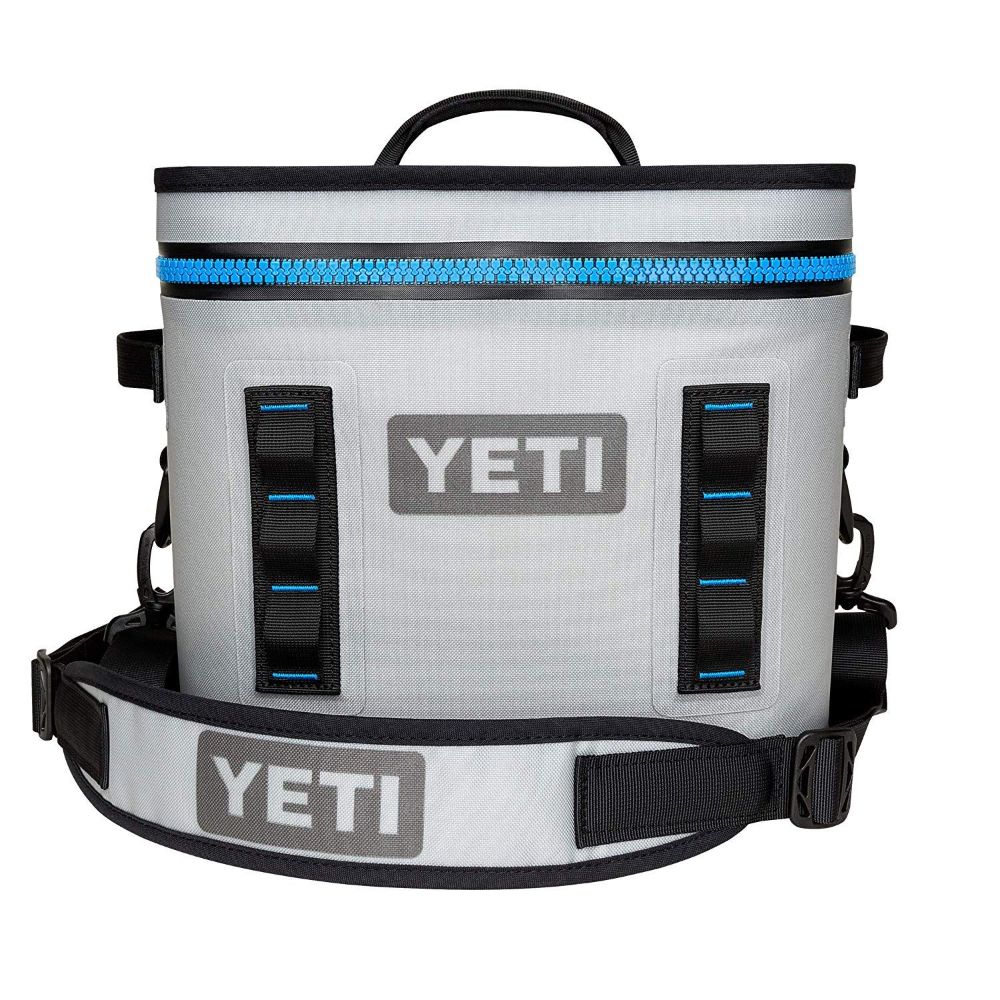 One of the downsides of the Pelican coolers is that they only come in one color – black.
The Pelican Sling and Backpack does come in two colors – a tan and a grey but you don't have much choice.
Yeti on the other hand has a wider range of color options. Usually they have 2-3 standard color options and then seasonal color options that they release for a limited time only.
This gives you more choice in terms of style and design.
Click here to see all Yeti color options at Amazon
Design: I Love Both These Designs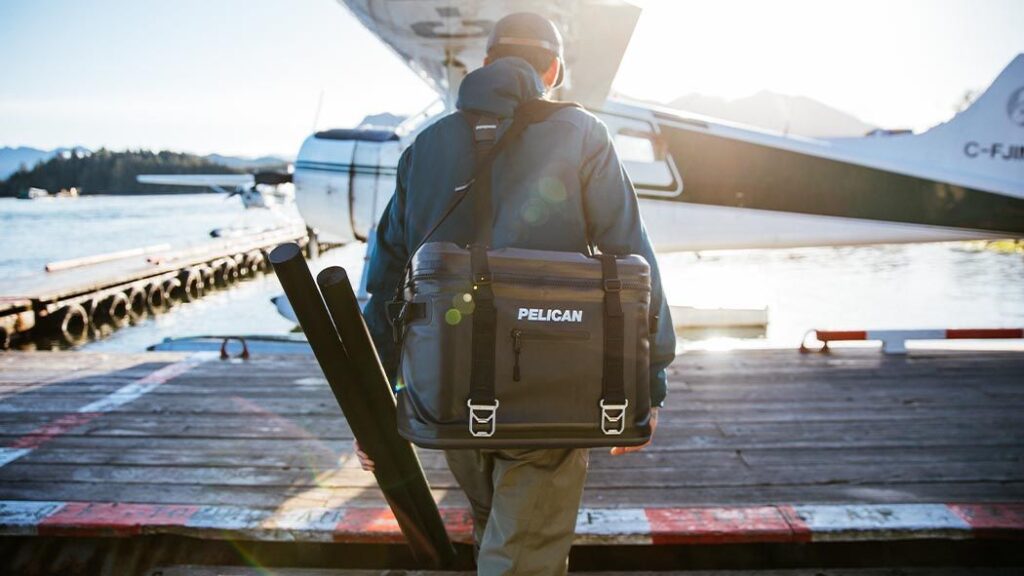 It's no secret that I love the design of Yeti coolers. Their simplistic and sleek designs always look great whereas sometimes other cheaper coolers just look a bit clunky.
Yeti coolers feel premium and part of that is due to the quality of the build but part of it is also due to the design.
I'm not a huge fan of the bulky design of Pelican hard sided coolers, but I think Pelican absolutely hit the nail on the head with the design of their soft sided coolers.
They still have that robust feel like all Pelican products have but they have done it in a way that is also sleek and has a similar premium feel to the Yeti
Which Soft Cooler Is Better Pelican Or Yeti? Both Are Basically Equal

I can't really go out there are say "this cooler is hands down better than the other" because really these coolers are so similar that we are just talking minor differences.
The prices are similar, the durability is similar, the performance is similar.
Yeti is a more popular brand so you may want to go with a Yeti for that reason and I totally understand and respect that. But Pelican is also a respected brand too (just not as well known).
Yeti has some more color options so you may make your choice based on that or you might want a smaller cooler or like the form factor of Yeti's soft coolers better.
Or on the other hand Pelican coolers have more features than Yeti and include the clips, bottle openers and front pocket. So you may want to go with Pelican because you get those extra features free of charge.
Both of these coolers are great, I'd be happy to recommend either to my family and friends maybe with a slight edge to Yeti just because of branding.
But whichever you decide I'm sure you'll be happy with it.
If you want to pick up one of these coolers then I'll leave links to them on Amazon below. These are my affiliate links so if you go through them I appreciate it.
Also at the time of writing Amazon did have discounts on the Pelican soft sided coolers so it's worth checking out the pricing on those to see if they are still just as cheap.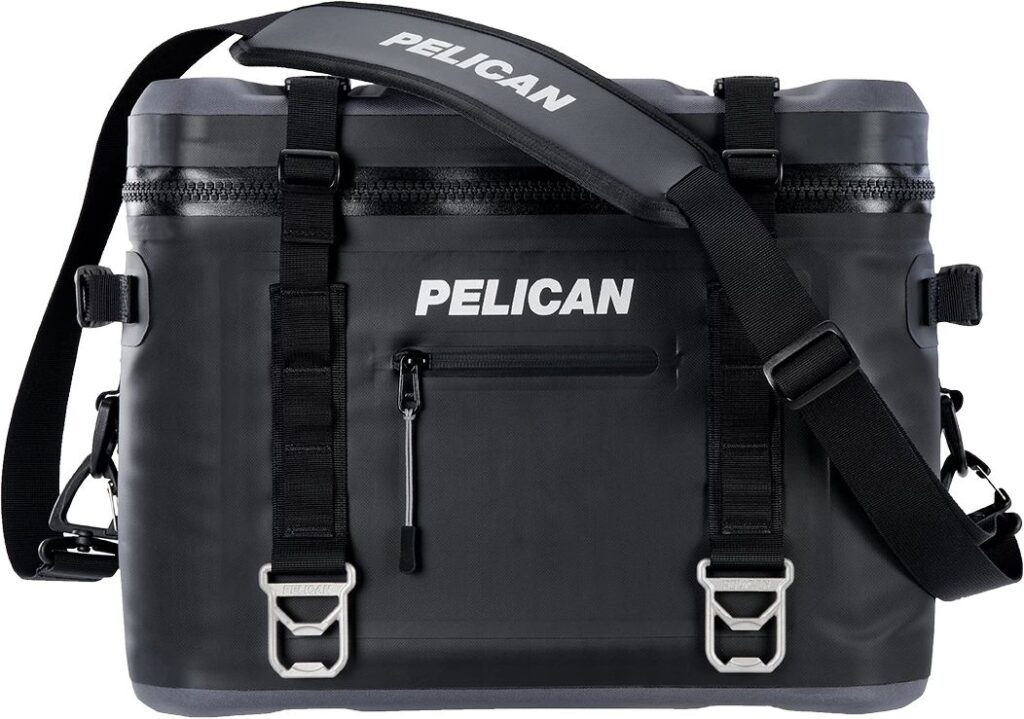 See latest price of Pelican soft coolers at Amazon