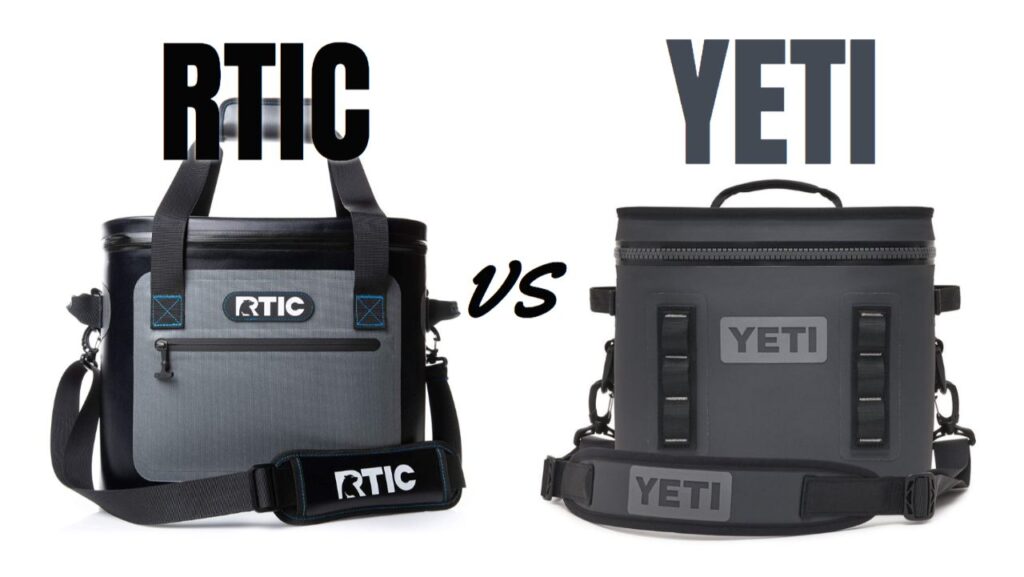 When looking at soft sided coolers the RTIC Soft Pack and the Yeti Hopper Flip are two of the best soft sided coolers on the market.
But when putting these two soft sided coolers head to head which cooler is better and which cooler offers the better value for money?
Both coolers are similar but RTIC Soft Packs are cheaper and hold ice longer than Yeti Hopper Flip coolers due to having more insulation. However, Yeti coolers seem to be more durable and you pay a premium for the Yeti brand.
In this RTIC Soft Pack vs Yeti Hopper Flip review we'll look in more detail at the differences between these two coolers to help you decide which cooler you want to spend your hard earned money on.
Sizes

Starting with the sizes of the coolers you'll notice that while there is some overlap Yeti generally has smaller soft sided coolers compared to RTIC.
Both brands start with an 8-can (or about 8-Quart) and move up from there. Yeti has a 12 and 18 can size and RTIC jumps straight to 20, 30 and 40 can sizes.
However, strangely enough both coolers are very similar in size so they must be using a different system for calculating how many "cans" the cooler can hold.
Looking at the chart below you can see that the Yeti 18 is actually very similar in capacity to the RTIC Soft Pack 30.
RTIC Soft Pack
8 can – 5.5 Quart
20 can – 15 Quart
30 can – 22 Quart
40 can – 35 Quart
Yeti Hopper Flip
8 can – 7.9 Quart
12 can – 13.7 Quart
18 can – 21.5 Quart
M30 – 30 Quart
The RTIC coolers tend to be slimmer and taller while the Yeti coolers seem to be longer and deeper than the RTIC coolers but not as tall.
It's much of a muchness in regards to short vs tall, wide vs thin and the difference isn't huge. Personal preference may come into play here though if you prefer one over the other.
Price: RTIC is much cheaper
When it comes to price you start to see a big difference between the RTIC Soft Pack and the Yeti Hopper Flip with RTIC being much cheaper.
You can see below a comparison between the RTIC coolers and Yeti coolers with those prices being pulled directly from Amazon (via my affiliate links).
RTIC Soft Pack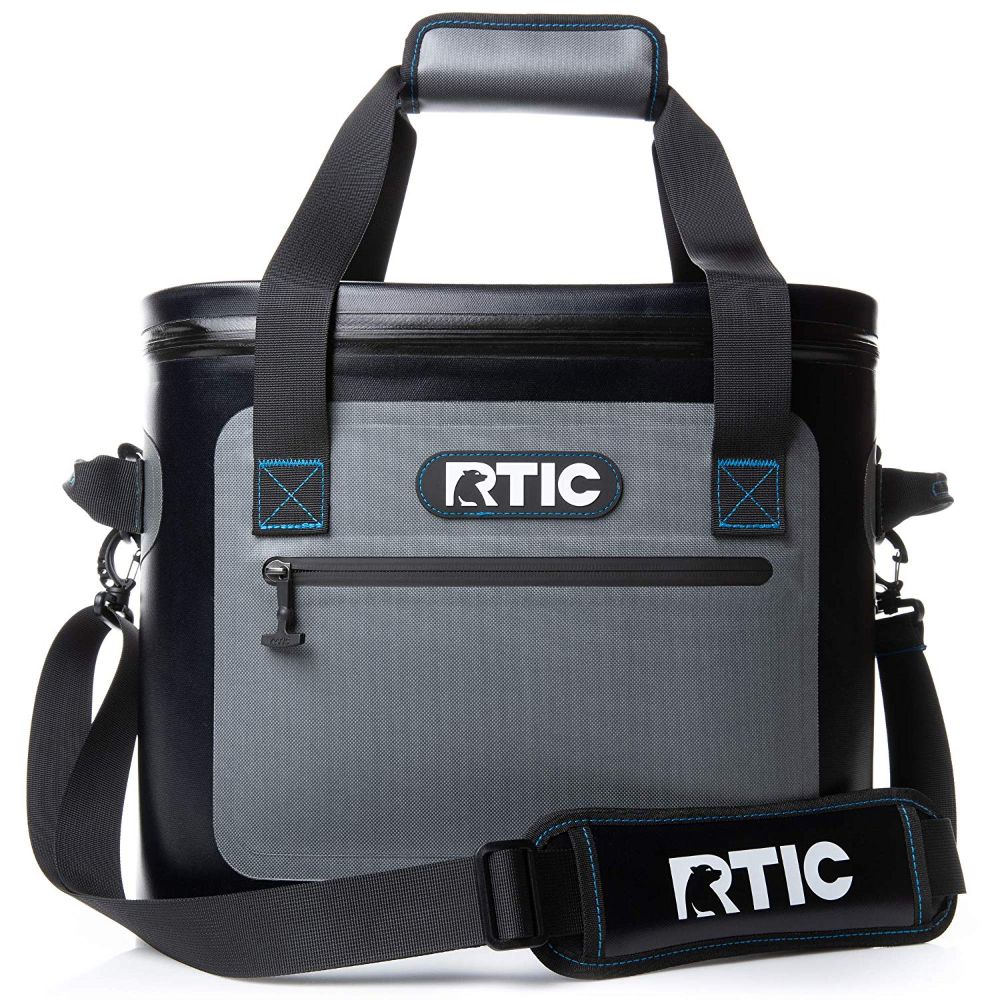 RTIC Soft Pack 8:
---
RTIC Soft Pack 20:
---
RTIC Soft Pack 30:
---
RTIC Soft Pack 40:
---
RTIC BackPack Cooler: See latest price at Amazon
YETI Hopper Flip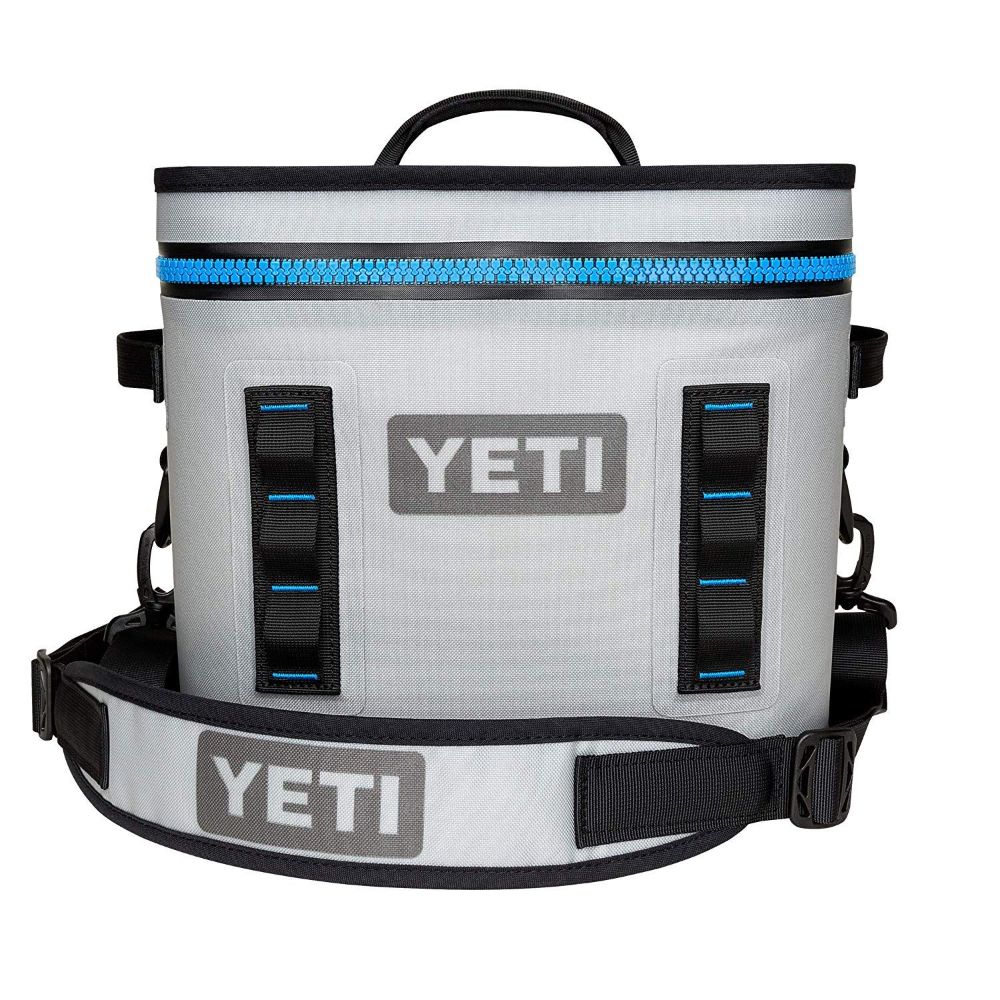 Yeti Hopper Flip 8:
---
Yeti Hopper Flip 12:
---
Yeti Hopper Flip 18:
---
Yeti Hopper M30:
---
Yeti BackFlip 24:
As you can see from the prices above RTIC Soft Pack coolers are way way cheaper than Yeti Hopper Flip coolers and getting an RTIC can save you $100-$200 which is a lot of money.
But the question is – is RTIC a good quality cooler and offers good value for money? Or is it just a cheap crappy cooler and Yeti is actually much better?
Ice Retention: RTIC Actually Outperforms Yeti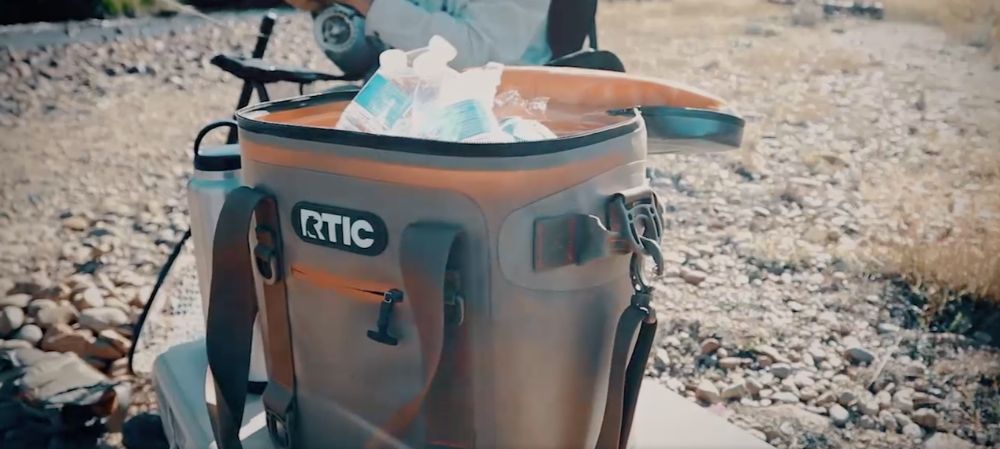 Ok this is a result that I did not expect at all! RTIC Soft Pack coolers actually outperform Yeti Hopper Flip coolers of a similar capacity.
There are a few different ice test videos out there showing the performance of each of these coolers against each other and time and time again it seems that RTIC is just that little bit better than Yeti at keeping ice.
RTIC Has More Insulation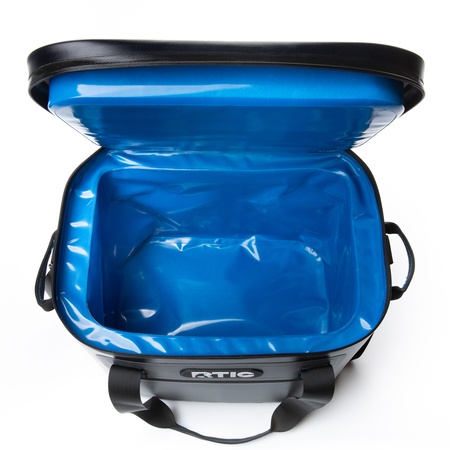 This is likely due to the fact that RTIC coolers have more insulation than Yeti coolers, especially in the lid.
The RTIC lid has approximately 2.25 inches of insulation whereas the Yeti has only approximately 1.5 inches of insulation in the lid.
RTIC also have slightly more insulation in the sides too. They have 1 inch of insulation in the walls and base whereas Yeti has just 0.75 inches of insulation in the walls and base.
This extra insulation improves the performance of the RTIC and means it can keep ice longer than the Yeti. Click here to see which soft sided coolers keep ice the longest…RTIC isn't even #1 or #2!
RTIC Soft Pack
2-4 days ice retention
1 inch wall insulation
2.25 inches lid insulation
Yeti Hopper Flip
2-3 days ice retention
0.75 inches wall insulation
1.5 inches lid insulation
Durability

When it comes to durability the Yeti cooler has a slight edge over the RTIC cooler with it's zipper appearing to be more robust and long lasting and the external materials feel higher quality on the Yeti.
The RTIC is made out of heavy duty vinyl while the Yeti is made out of heavy duty nylon that is TPU laminated. Both coolers are tough and are scratch/tear resistant as well as waterproof.
Features
Both the RTIC and the Yeti have similar features to each other they are just designed a little differently and look a little different from brand to brand.
Waterproof Zippers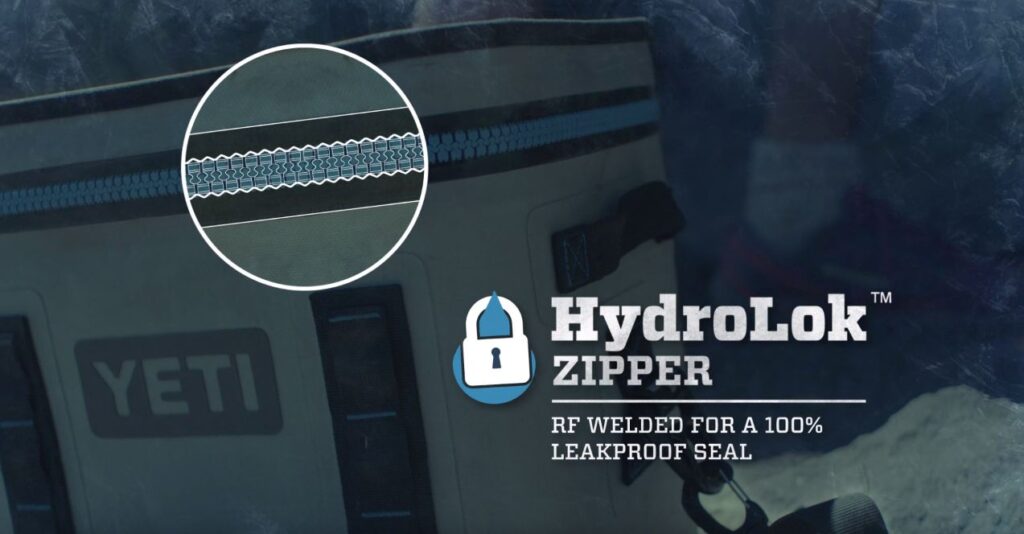 Both coolers have a completely waterproof zipper at the top of the cooler which means that even if you tip your cooler upside down and shake it no water is going to come out.
This keeps your items secure and makes it so you cooler won't spill in your car or anywhere else.
The Yeti zipper is slightly easier to open and seems a little bit more robust.
Shoulder Strap

Both brands come with a shoulder strap for easy carrying.
The Yeti shoulder strap is slightly larger and more padded than the RTIC shoulder strap. Again being slightly higher quality and more durable in nature.
Carry Handles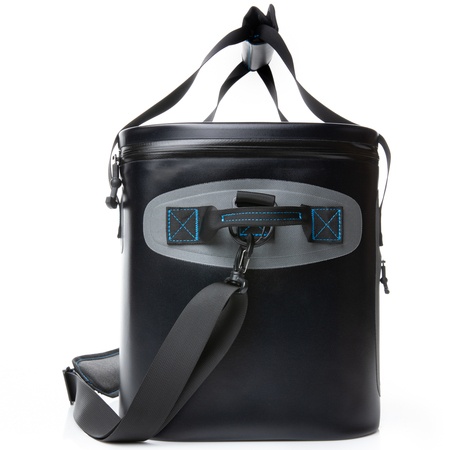 Both coolers have two carry handles on the side if you need to carry it with two hands when it's full.
The Yeti has a single handle on the lid if you want to carry it with one hand and RTIC has two handles that come up to meet in the center for carrying the cooler one handed
Anti-Microbial Food-Safe Liner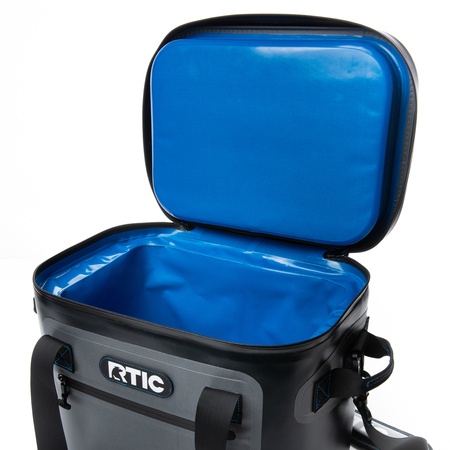 Both coolers have an anti-microbial internal liner that is FDA approved food safe material.
This means you can put food straight in there and not have to worry about the food touching the plastic inside the cooler.
RTIC Has Pockets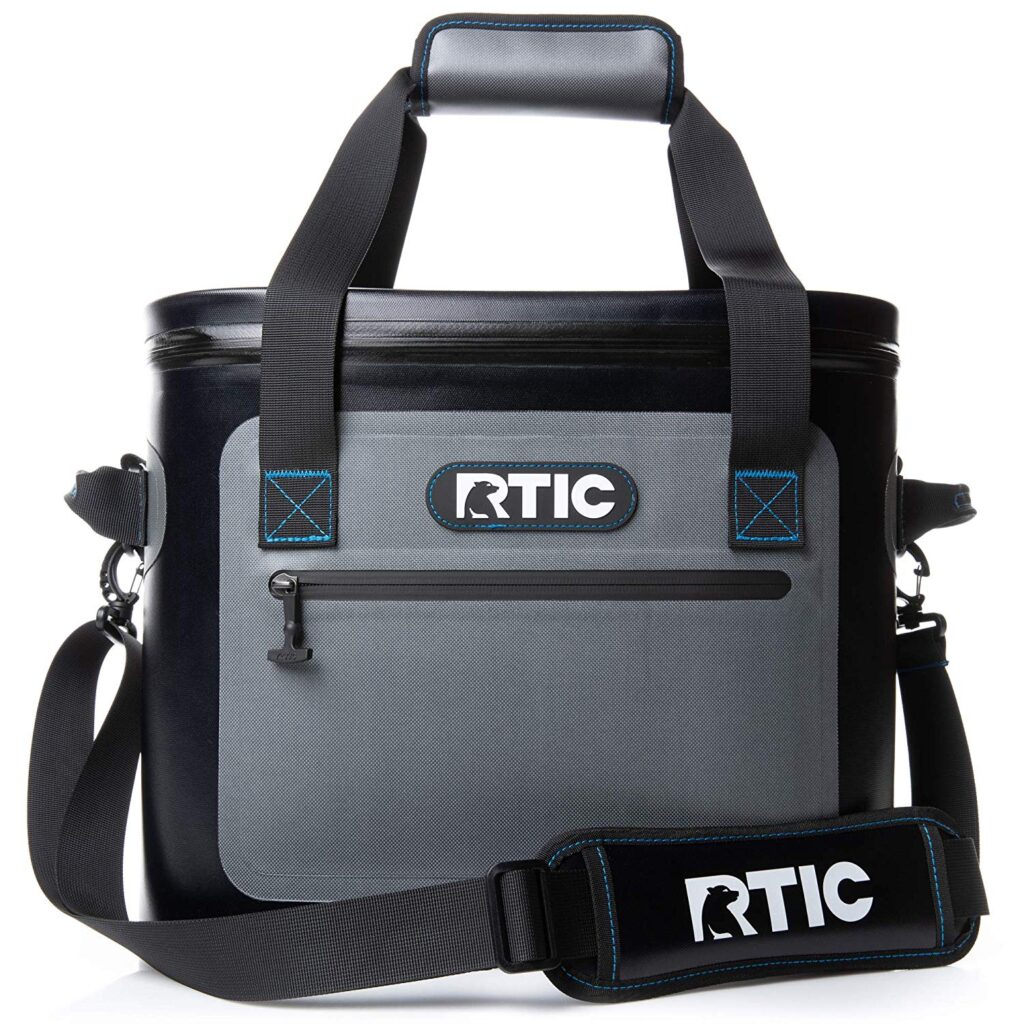 The RTIC Soft Pack has 2 pockets on the outside.
One zipper pocket at the front and one plasticised mesh pocket at the back for keeping smaller items you don't want to get cold or wet in the main compartment of the cooler.
The Yeti doesn't have any external pockets at all. If you want an external pocket then you would need to buy the SideKick Dry which retails for around $50.
MOLLE Grid
Both coolers have a Molle webbing on the outside that allows you to attach accessories to your cooler.
The SideKick Dry we mentioned above attaches onto the Yeti coolers through this system.
Tie Down Points
Both coolers have tie down points which allows you to fix the cooler down in your car, truck, van or on your boat and it won't go anywhere.
Warranty: Yeti Has A Longer Warranty
RTIC offers a 1-year warranty on their soft sided coolers whereas Yeti offers a 3-year warranty on their soft sided coolers.
RTIC Soft Pack vs Yeti Hopper Flip: Which Will You Buy?

As you can see from this side-by-side comparison these two coolers are extremely similar in nature.
This is normal because what seems to happen is that Yeti will release a product and not long after RTIC will come out with their own version of that product which is very similar but sold for a cheaper price.
The RTIC Soft Pack is cheaper and has better ice retention than the Yeti, but the Yeti is more durable and comes with the more premium branding and (in my opinion) a slightly nicer design.
If money is not an issue then I would go with Yeti but otherwise I don't know if I could personally justify spending $100-$200 more for a Yeti when an RTIC does basically the same thing and is still really high quality. Click here to read my full RTIC Soft Pack cooler review.
Ultimately it's up to you. I've leave links below so you can see the latest and best price of both coolers at Amazon
See latest price of Yeti Hopper Flip coolers at Amazon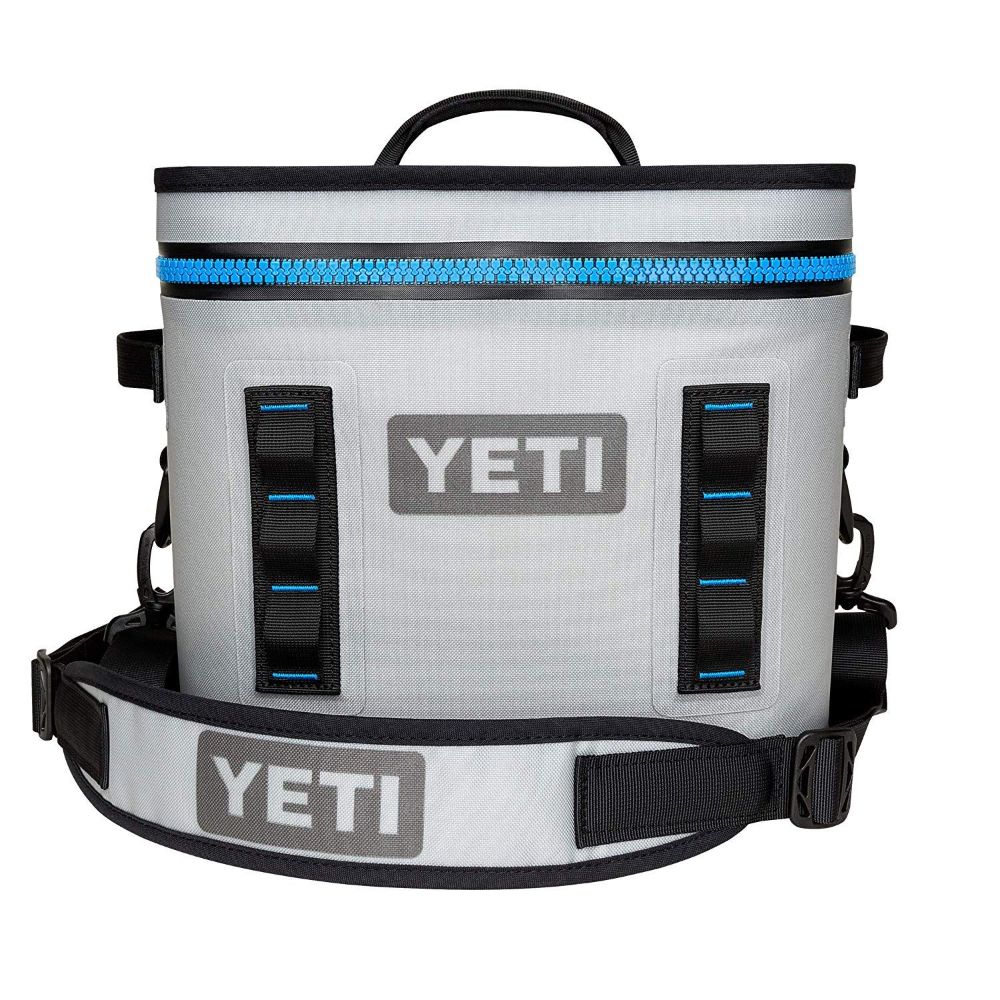 See HOW MUCH CHEAPER RTIC Soft Pack coolers are at Amazon