When comparing Engel coolers vs Yeti I discovered that Yeti coolers perform slightly better, but Engel coolers give you better value for money.
In this head-to-head review we'll look indepth at what makes these coolers different and which cooler is the better one to buy.
After this comparison you'll know exactly which cooler is going to be best for you.
Will it be the Engel or the Yeti? Read on the find out.
Brief Overview of Engel Coolers vs Yeti
First up (before we get into the nitty-gritty) I want to provide a brief summary of the key points in the Engel vs Yeti battle for those of you who are short on time.
Engel and Yeti both make extremely durable roto-moulded coolers that keep ice 5+ days (8+ days in my personal ice test).
I found that Yeti coolers hold ice 20% longer than Engel coolers (10 days vs 8 days), but this was in one ice test and other tests have shown the opposite to be true.
Engel coolers are significantly cheaper than Yeti coolers, being around a whole $100-$200 cheaper once discounts are taken into account (more on that in the pricing section).
The design is similar but Yeti's high gloss premium plastic makes it feel like a more expensive cooler and it has a more 'designer' feel to it.
The Engel's latches are easier to use than the Yeti's and the Engel has a built in bottle opener while the Yeti doesn't…but the Yeti does come with a free dry basket.
I'll leave my final opinion for once we have looked at both coolers in details, but basically when it comes to Engel vs Yeti, both coolers are great. The Yeti performs better and feels more premium and the Engel is a fair amount cheaper giving you better value for money.
Quick Comparison
Pelican Cooler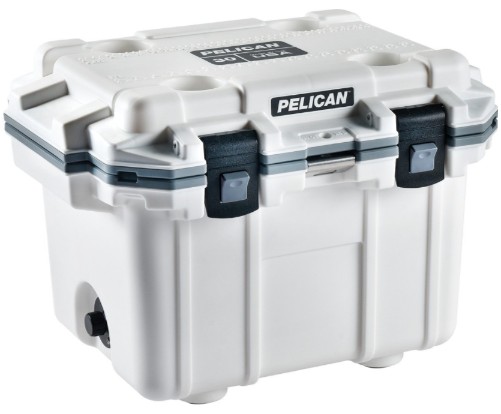 Price: See latest price at Amazon
Sizes: 21 Quart – 317 Quart
Ice Retention: 3-8+ Days
Durability: Extremely durable
Colors: Just a few color choices
Features:
Nylon Rope Handles
with Moulded Plastic Grip
Rubber Non Slip Feet
Commercial Grade Gasket
Cam latch system
1 Inch Drain Plug
Single Pin Hinge
3-Year Limited Warranty
Bear Proof (with locks)
Textured non-slip lid for casting
Yeti Cooler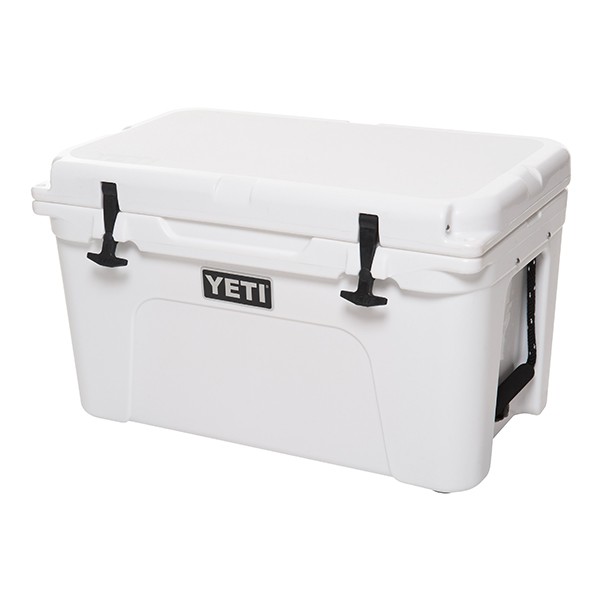 Price: See latest price at Yeti.com
(or compare to price at Amazon)
Capacity: 24-300+ Quart
Ice Retention: 4-10+ Days
Durability: Extremely durable
Colors: Lots of color choices
Features:
Nylon Rope Handles
Rubber Non Slip Feet
Commercial Grade Gasket
Pull Down Rubber Latches
1 Inch Drain Plug
Single Pin Hinge
5-Year Warranty
Bear Proof (with locks)
Ice Retention and Performance
Both Engel and Yeti have amazing ice retention compared to a regular cooler that only keeps ice 1-2 days, but which cooler keeps ice the longest?
I recently ran this ice test which proved that the Yeti 45 (37-Quarts) held ice over 20% longer (almost 2 full days) when compared to the Engel 35 (35-Quart).
The Ice Test
I really wanted to test which cooler holds ice longer so I did my own ice test.
I pre-chilled both these coolers and then filled them to the brim with ice and 6 of my favorite beers (also pre-chilled). I then opened each cooler 5 times per day and monitored ice retention.
Daily temperatures were around 60-70 degrees and the coolers were kept in the shade for the entire test.
The Engel ran out of ice after 8 days and 7 hours (199 hours) while the Yeti lasted 10 days and 4 hours (244 hours).
This is only one test, but I am fairly confident in saying the Yeti holds ice longer than the Engel and I will be repeating this test in summer where temperatures around around 90 degrees each day to see if that makes a difference.
Other Ice Tests
There are a variety of ice tests out there and some even show the Engel outperforming the Yeti. However, in these the Engel has had a significantly larger capacity than the Yeti, which I believe plays a huge role.
Insulation
The insulation on these coolers is comparable to each other.
Both coolers have approximately 2 inches of insulation in the walls and floor and about 2.5 inches of insulation in the lid.
When I compared the Pelican vs Yeti the Pelican had more insulation and thus I could explain the better ice retention, but with the Engel and Yeti having very similar insulation I am unsure why one keeps ice longer than the other.
Price
The price difference between these two coolers is significant, with the Engel being around $50-$200 cheaper than the Yeti and in the 320 size it's a whopping $300+ cheaper.
The Engel offers an incredible saving over the Yeti, making (in my opinion) the Engel a better value-for-money cooler than the Yeti.
See the latest price of Engel coolers at Amazon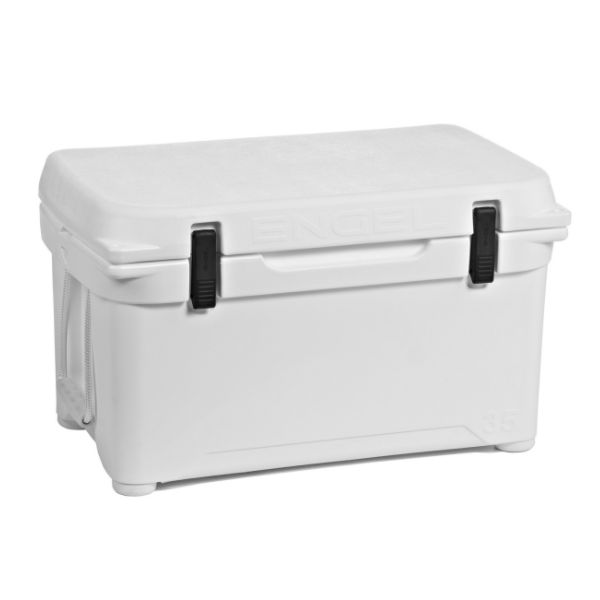 See the latest price of Yeti coolers at Yeti.com
(or compare to prices of Yeti coolers at Amazon)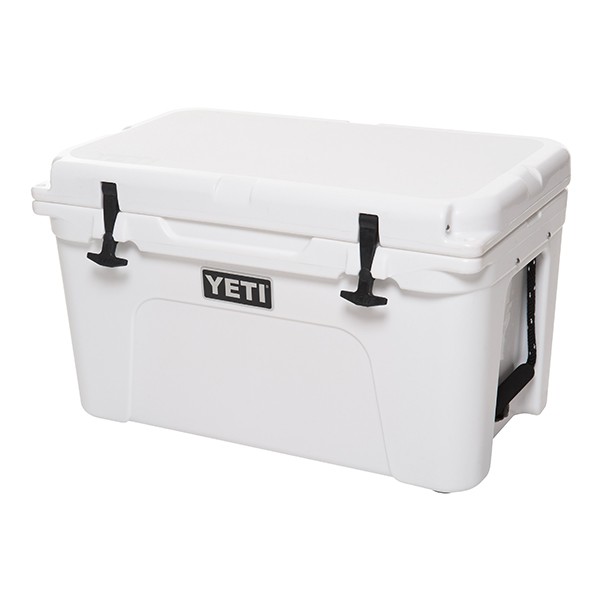 Looking at the price chart you can see that Engel coolers are generally around $40-80 cheaper than the Yeti when you compare the recommended retail price (RRP).
Adding to that, if you aren't super picky on color, you can almost always pick up an Engel for a significant discount.
As I am writing this I found an Engel 35 on sale on Amazon for $189 with free shipping. That's $80 below Engel's RRP, making it a huge $160 cheaper than the Yeti 45 which has a similar capacity. You can basically buy 2 Engel's for the price of 1 Yeti.
Prices change all the time so check the links to Amazon in the pricing table to see what discounts are on offer today.
Looking To Save Some Money?
If you are looking for a Yeti-like cooler but you are also budget conscious then the Engel is a great pick.
It will still keep ice way longer than a regular cooler and is built from the same roto-moulded plastic as the Yeti, making it bear proof and super tough.
The Engel is a great cooler, for a fraction of the price of the Yeti. See the latest discounted prices by choosing your favorite size in the pricing table above.
Design and Feel
I want to talk quickly about the design and feel of these coolers.
We can spend all day talking about specs – insulation thickness, ice retention, color options etc – but a much harder thing to get across is what the design of these coolers feels like.
Yeti Design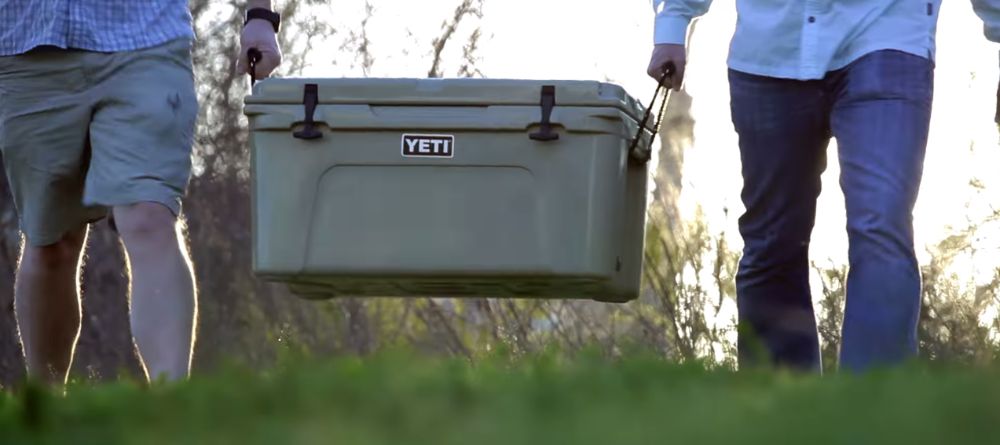 I own all the major brands of coolers (I wouldn't be able to write a good review for you if I didn't) and without a doubt I feel that Yeti 'feels' like the most expensive cooler.
It uses a glossy plastic that looks much nicer than the Engel's textured surface, or any other cooler for that matter.
The Yeti is like the iPhone of roto-moulded coolers. You pull it out of the box and you feel like "wow, this is a really premium cooler and a lot of effort has gone into the design".
Little things, like the handles fitting perfectly into the indent in the sides to a huge logo on the bottom of the cooler that no one will ever see (it makes a cool imprint in the sand though).
When I show off my coolers to my friends, no cooler looks quite as nice as the Yeti.
Engel Design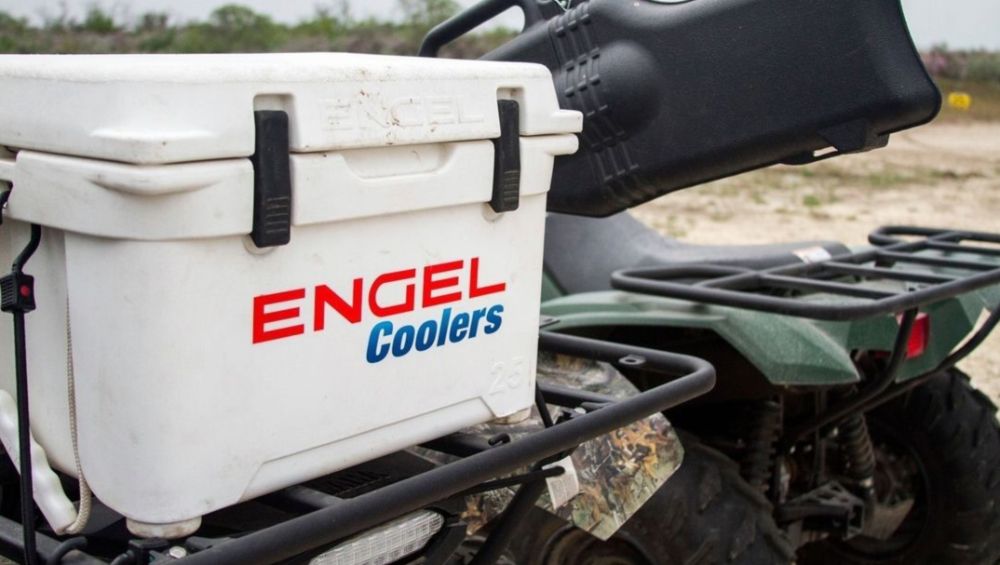 The Engel is a well designed cooler but lacks pizazz and doesn't really stand out.
The textured plastic, while great for casting off, doesn't make the cooler look premium. The logo on the inside of the lid is just a little sticker and you don't know the nice black/white contrast of the logo and handles like you do with the Yeti.
When you pull this out of the box it's a nice cooler but it doesn't jump out at you and I was left feeling a little underwhelmed by it's appearance.
The latches that double as bottle openers are a great design (we will get into all the features in a second) but otherwise it's just a rather plain white box.
Don't get me wrong, it's a nice cooler that is obviously built well and will last ages, but it just lacks the beautiful design that the Yeti has.
Sizes and Capacities
Both the Engel and the Yeti have names that DO NOT directly relate to the quart capacity of their coolers.
The names are just a model number and as you'll see in the tables below the quart capacity actually varies a fair amount, so be careful when purchasing.
Yeti Range and Capacities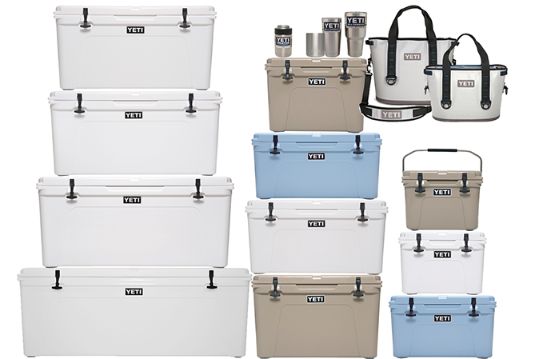 The Yeti has the largest range, in terms of sizes, of all the coolers on the market with 14 different sizes to choose from. Their range also extends slightly larger than Engel with a 402-quart cooler vs Engel's 317-quart size.
They also have soft coolers (called the Hopper) that come in 4 different sizes and a round cooler (called the Tank) that comes in 2 different sizes.
Engel Range and Capacities
Engel has just 9 sizes, compared to Yeti's 14, but these cover most of the key sizes customers are after.
The Yeti does go slightly larger, but that is really only for commercial uses.
Engel also has a range of soft coolers as well as cheaper coolers and electric coolers.
Features
On the surface the Yeti and the Engel look quite similar, but as look at each of the features you realize they are quite different.
I'll go into these features now so you can understand the exact differences between these two coolers and you can choose which one is the best for you.
Roto-Moulded Construction and Durability
The main body of both of these coolers is made from a single piece of roto-moulded plastic that is then packed with pressurized insulation.
This means the coolers are ridiculously strong and almost unbreakable.
You can stand on them, jump on them, throw them around and even give bears a go at them and they'll still hold up.
These coolers are made to last so you can buy knowing that it isn't going to break like those cheap coolers from your local hardware store.
Latches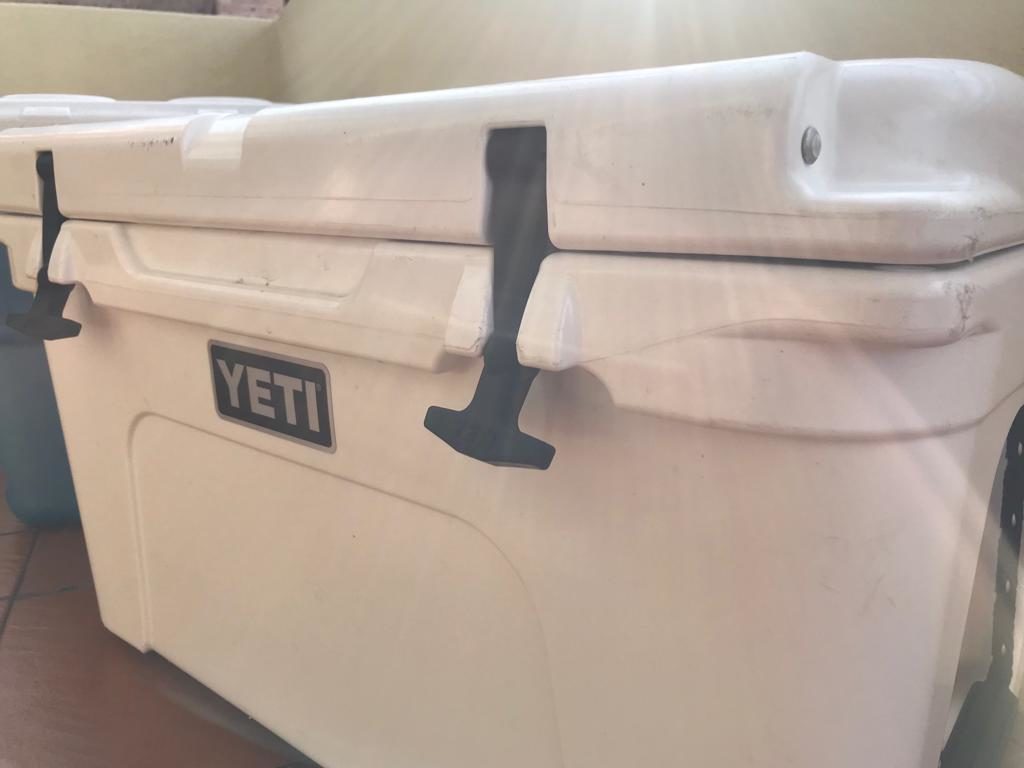 The Engel uses a cam latch system where you put the latch over a pin and push it in to create a downward hold on the lid.
To release the latches simply pull up and out from the bottom and they easily release.
I prefer these latches to the Yeti pull down rubber latches as they are easier to use and there is something strangely satisfying about hearing the click as the latch is pushed into place.
The Yeti rubber latches are easy enough to use. Simply pull the ball part of the latch down and the tension of the rubber holds the lid in place.
Both latches work fine and give a good tight hold on the lid, but the Engel latch comes with something a little extra
Bottle Opener
The metal pin on the Engel latches doubles as a bottle opener.
This seems like a menial thing to get excited about but it's actually really convenient.
Fill your cooler up with ice and beers and never think twice about where you packed your bottle opener or where it's gotten to after you mate used it last. It's just always there, built right into the cooler.
This is a really nice feature that I wished the Yeti had. Granted you can buy a bottle opener that attaches to your Yeti for just $10…but it's great to have it already built in with the Engel.
Handles

When it comes to the Engel handles vs the Yeti handles they are very similar on the surface, but I find the Yeti handles to work much better.
They are both nylon rope handles with a grip but the Yeti uses a round rubber grip while the Engel has a moulded plastic grip.
The finger moulding on the Engel grips mean you have to take the time to place your hand in the exact right position before lifting and you can't move your hands into different positions if carry for an extended period of time.
The Yeti grip on the other hand is round and thus you can just quickly grab anywhere on the grip and you can move your hand around when it starts getting sore.
The Yeti handles also fit perfectly into the indent in the side of the cooler, meaning they don't stick out at all. The Engel's handles don't fit and thus stick out from the cooler. It's a small thing, but details matter people!
I also prefer the color and the texture (it's softer) of the rope on the Yeti, it just feels much nicer to me.
Both coolers have recessed handles that are half filled with rope knots so you can only fit a few fingers in there.
Both handles are absolutely fine, but the Yeti's handle is slightly better and nicer to use.
Weight
Both the Engel 35 (35-Quart) and the Yeti 45 (37.8-Quart) have a stated weight of 23 lbs. So I assumed they both weighed the same.
But after using both, and carrying them around I started noticing the Yeti felt lighter than the Engel for some reason.
Turns out I was right. The Engel weighed in at 22.7 lbs while the Yeti weighed in 20.9 lbs – almost 2 lbs lighter.
2 lbs may not sound like much but these coolers are pretty heavy to carry, and that's when they are empty.
The lighter weight of the Yeti makes it just that little bit easier to throw in the back of your truck or carry to your neighbors BBQ. It's a little thing you won't notice unless you own both coolers though.
Bear Proofing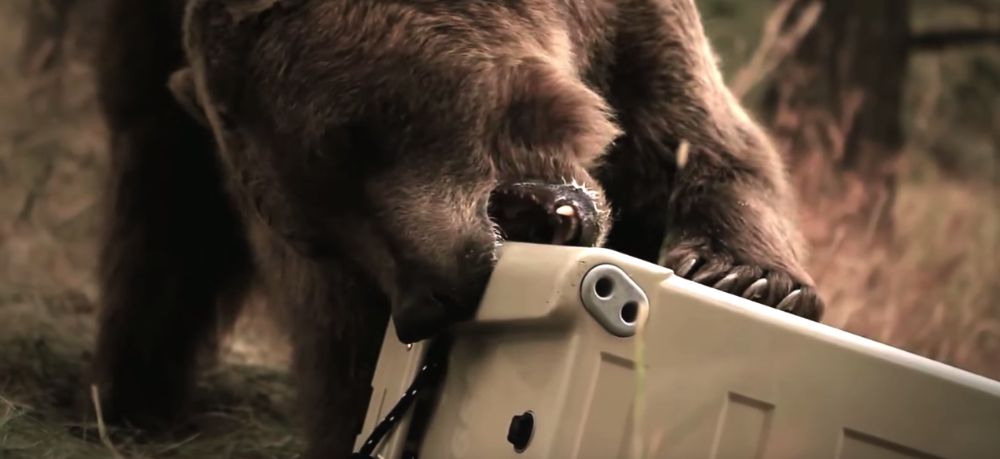 Both of these coolers are on ICBC's certified product list, meaning they are certified bear resistant.
The Yeti is only considered bear resistant when locked on both corners.
I am not 100% sure about whether or not the Engel is required to be locked.
It does have two secure locking points but the videos I have seen show bears and lions going at these coolers without locks on the corners.
Regardless, it's great to know both coolers are bear proof and if you are going into bear country then I would always suggest locking up your cooler just in case.
Drainage Plug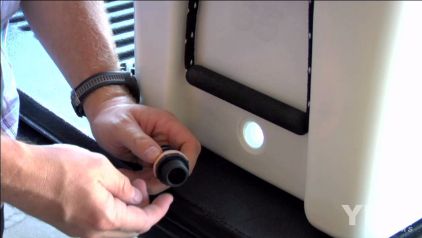 The drainage plug on these two ice chests are quite similar.
They both have a 1 inch drain plug that isn't attached to the cooler in any way.
A partial turn on either drain plug allows you to drain the cooler without taking the plug completely off, or for faster draining you can remove it completely.
The Engel has a larger turning handle (2 inches) making it slightly easier to get unscrew the plug.
Color Options
Both of these coolers have fairly limited color options. Unlike the Pelican, which has 20+ color options (see Pelican vs Yeti), the Engel has 4 different colors and the Yeti has only 3.
The Yeti comes in – White, Desert Tan and Ice Blue.
All of the Yeti colors come in a glossy plastic that looks really nice. The finish on these coolers really makes them look like a premium cooler and I absolutely love it.
I ended up purchasing the white though as it's my wife's favorite color and happy wife = happy life.
Yeti usually has 3 main colors that are available all year round but they also have limited release colors which they are constantly changing. So there are always a lot of Yeti colors to choose from.
The Engel comes in – White, Tan, Haze Grey and Camo.
As you can see from the pictures the white and grey look similar and the camo color is just a tan cooler with a camo lid.
The Engel cooler has a textured plastic all the way around it and there are no exciting colors for the individual who really wants to stand out.
White is always going to be best for ice retention as it reflects the most sunlight and heat.
Lid
Both coolers have a textured lid surface which means if you are standing on this cooler while it is wet you are less likely to slip. This is great for fishing when you want to cast off your cooler.
Both of these coolers lack the inbuilt measuring tape that is often a part of many other coolers similar to Yeti. I personally don't need or care for this measuring tape, but it is a nice thing to have.
Other Features
The following features are worth noting but don't really vary from brand to brand:
Gasket – Both the Engel and the Yeti have a commercial grade rubber gasket that runs around the rim of the lid. This acts to keep the cold air in and the warm air out. Both coolers have a slight gap where the ends of the gaskets meet, this means neither cooler is 100% airtight.
Non-slip feet – Both coolers have hard rubber non-slip feet in the bottom. These feet are great for keeping the cooler in place and stopping it from sliding around. Whether you're casting your line whilst standing on your cooler, or throwing your cooler in the back of your truck you can know it's not going to slide around easily.
Single Pin Hinge – One of the problems with cheaper coolers is the hinges always break. The Engel and Yeti both have a single pin (or bolt) hinge that runs the full length of the cooler. This makes the hinge super strong and durable and extremely unlikely to break.
Locks – Both coolers have locking points on the front 2 corners of the cooler. This is primarily used for making them bear proof but can also be used to keep the interior contents of your cooler safe.
Tie Down Points – Both coolers have 2 tie down points on the shorter sides of the cooler. This allow you to secure your cooler in place so it doesn't move around and can also protect your cooler against theft.
Accessories

I think accessories are an important aspect of which cooler you buy. Because when you're spending hundreds of dollars on a cooler sometimes it's worth spending a little bit more to make it even better.
Both brands have a respectable range of accessories. Padded seats, non-slip lid pads, dividers, tie down kits, dry baskets etc.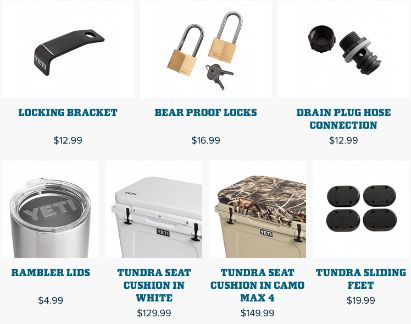 Their ranges vary slightly, with Engel having things like bait trays and a sliding stand to keep your cooler secure, while Yeti have bottle openers and different drain plugs.
Neither range is better than the other and the prices are fairly comparable. You can be comfortable knowing both of the coolers have a good range of accessories.
Manufacturing Locations
If you want a cooler that is "made in the USA" then neither Yeti nor Engel are going to satisfy you.
Yeti are primarily made in the Philippines with some coolers made locally in order to keep up with demand (see full details).
Engel coolers are made Thailand.
For me manufacturing location isn't as important as the quality of the product and both Engel and Yeti make quality products.
If you are 100% after a product made in the USA then check out my full list of the best coolers that are made in the USA.
Warranty
When spending hundreds of dollars on a cooler you're going to want a good warranty that covers you in case you cooler is defective.
Yeti have a 5-Year warranty on their coolers. This covers everything from the main body and construction of the cooler through to items more likely to break like the rubber latches, the non-slip feet and the rubber gasket.
Engel have a 3-Year limited warranty on their coolers but for the life of me I couldn't work out what exactly this covers. Engel's warranty page isn't exactly clear.
Their warranty page is filled with text that make you (the customer) sound like some criminal trying to rip them off. They clearly don't expect the best from their customers.
Here's an excerpt.
This warranty applies to the original owner only and only if bought from an authorised Engel retailer. This warranty is void if the item is … subjected to stress beyond the physical limits of the materials used in body or components, or is damaged as a result of abnormal use.
Oh and I love this bit:
Cooler performance – or the ability to 'keep ice' is not covered by any warranty.
The customer is responsible for all shipping costs, including shipping defective item to Engel service center and the replacement/repaired part. We recommend that you use a trackable service.
The very thing you're paying for with your Engel (the ability to keep ice 5+days) isn't covered under warranty and to top it all of if the product is defective YOU as the customer have to pay for shipping the product to Engel and back from Engel.
So if they send you a defective product YOU need to pay shipping to send that defective product back to them and then YOU need to pay shipping for them to send you a new one.
Not happy Engel!
So when it comes to warranty, Yeti wins hands down.
Ok, I need to stop writing about warranties now as Engel are making me angry!!!
Engel Coolers vs Yeti Conclusion
Wow, both of these coolers are really great coolers and it's hard to choose which one is the best.
Each cooler has positive and negatives that depending on who you are will likely make the decision for you. I'm going to share which cooler I think is the better buy, but remember you may have different priorities to me so your choice might be different.
My Preferred Cooler: Engel DeepBlue
When comparing Engel vs Yeti my preferred cooler is the Engel.
The main reason for this is the price. When a Yeti 45 is $349.99 and you can get an Engel 35, which is almost the same capacity, off Amazon for just $214.45 (at time of writing, click here to see latest price) I can't see myself buying a Yeti.
In my opinion the Yeti is a better cooler. It looks nicer and more premium, it has what I can only describe as a designer brand and it keep ice up to 20% longer than the Engel (10 days vs 8 days).
However, the Engel is still an amazing cooler. It's built like a tank, it keep ices way longer than a regular cooler, has easy to use latches and that awesome built in bottle opener that I ABSOLUTELY LOVE.
Seeing as the Engel is often $100+ cheaper than the Yeti I am going to have to go with the Engel as my preferred cooler.
Why You Should Buy A Yeti Instead
It's possible that the money isn't an issue for you and that you can afford to purchase a Yeti without worrying about the price difference.
Or maybe you're after the Yeti because it performs better than the Engel and you want that little bit extra ice retention.
Or maybe all your friends have Yetis, or your spouse is familiar with the brand and thus it gives them the confidence to let you buy it.
Or maybe you're buying this cooler as a gift for someone who wants a Yeti and won't be 100% satisfied with a different brand of cooler.
If any of the above situations apply to you then you should 100% buy the Yeti. It's an amazing cooler with a great design and it has really good ice retention.
The warranty is longer than the Engel and it's easy to get parts if things do break.
The Yeti is an all round good cooler that you should feel completely confident buying.
In Summary
To summarize this Engel vs Yeti battle I would say that the Yeti is overall a slightly better cooler than the Engel.
However, given the price difference between these two coolers I would say that the Engel offers you better value for money when compared to the Yeti.
Both coolers are great, now it's up to you to decide which cooler you are going to buy.
Click the links below to choose for yourself (my affiliate link, thanks). Engel vs Yeti…which cooler will you choose?
See the latest price of Engel coolers at Amazon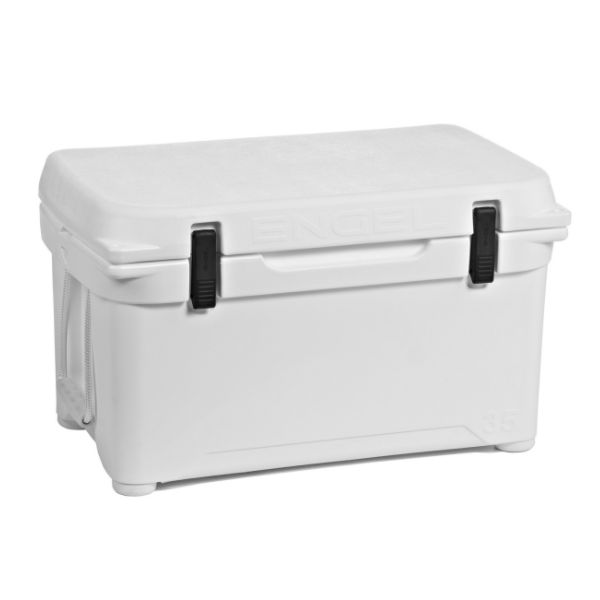 See the latest price of Yeti coolers at Yeti.com
(or compare to prices of Yeti coolers at Amazon)