There are some really great soft coolers on the market today but only a few of these coolers are made in the USA.
Most soft sided coolers are made overseas but the below coolers are the best coolers that are made in the USA. These coolers all have a great build quality as well as good ice retention and they're durable enough that they should last you years.
Why Are So Few Soft Sided Coolers Made In The USA?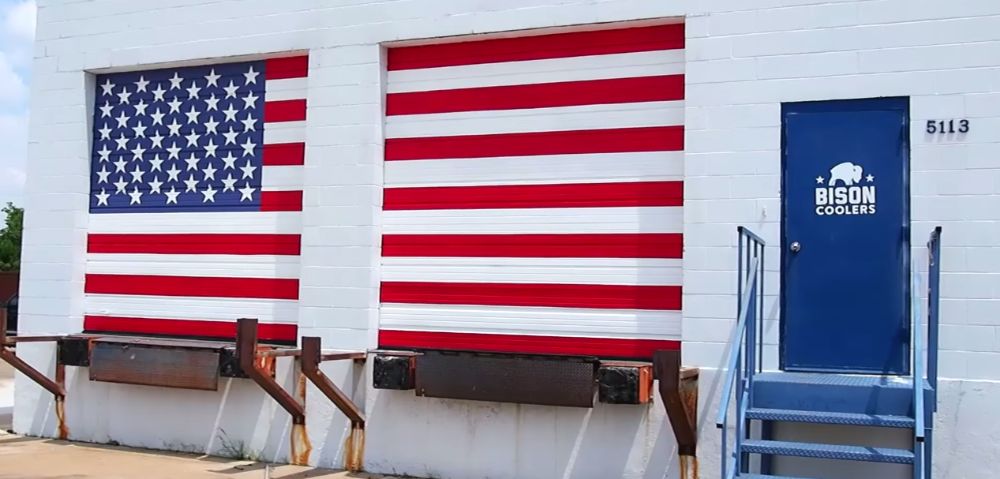 With so many cooler companies making hard sided coolers in the USA you might ask why are so few soft sided coolers made in the USA?
While none of these companies actually state why they make their coolers overseas instead of locally I think it comes down to manufacturing and the requirement of trained manual labor in order to make soft sided coolers.
Hard sided coolers are primarily made by either roto-molding or blow molding the plastic and can be made in large factories with relatively untrained workers.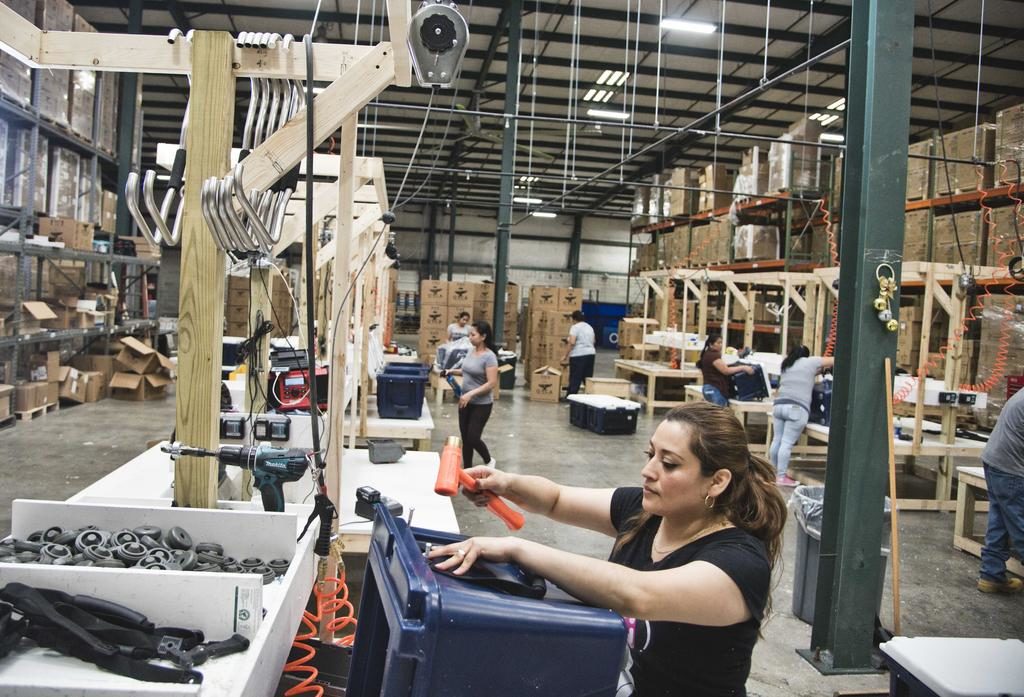 Soft-sided coolers, on the other hand, require a lot of detailed handwork. That may be sewing the seams of the coolers together or RF-welding the coolers together.
America just doesn't have a large enough population of seamstresses to create the volume of soft coolers required to meet market demand. Labor would also be much more expensive in the USA, likely making the coolers more costly to buy.
While not 100% confirmed this seems like the logically reason why most soft sided coolers are made overseas instead of in the USA.
The 4 Best Soft Sided Coolers Made In The USA
I could only find 4 brands that actually manufacture their soft sided coolers locally in the USA. All the major brands seemed to make their coolers overseas and then import them into the USA.
I would like to be able to provide you with a larger list of soft coolers made in the USA but unfortunately the top 4 coolers are the only 4 callers made in the USA.
If you know of any other brands please let me know in the comments section down below and I will add them to this article and later date.
1. Pelican Soft Coolers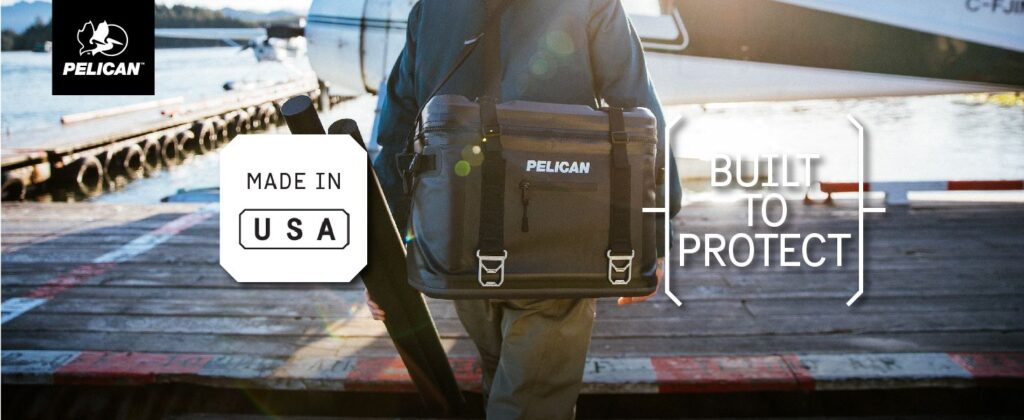 Pelican are known for making extremely high-quality hard cases as well as high-quality hard sided coolers and they also have a range of soft sided coolers that are very similar to the Yeti Hopper Flip coolers.
The exterior of these coolers is made from a heavy duty 840 denier nylon that is TPU laminated to make it puncture resistant as well as to make it completely waterproof.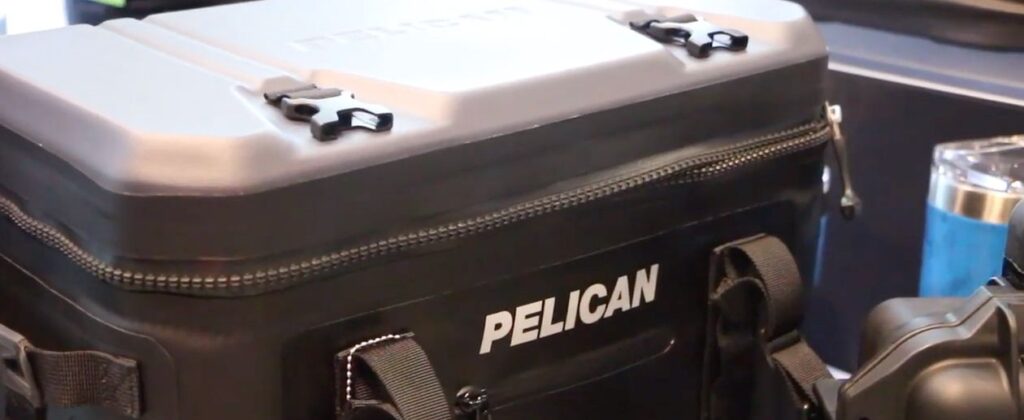 It has a big and durable waterproof zipper that when closed is 100% leakproof and won't let any water out or in.
It is packed with 0.75 inches of close cell installation in the walls and over 1.5 inches of insulation in the lid. This gives the Pelican soft coolers ice retention of about 2 to 3 days which is extremely good performance considering it's a lightweight soft sided cooler.
This is one of the most durable soft coolers on the market and it performs similar to Yeti soft coolers but sell for a slight discount of about $50 or so depending on the size. Click here to read my full Pelican vs Yeti soft cooler comparison.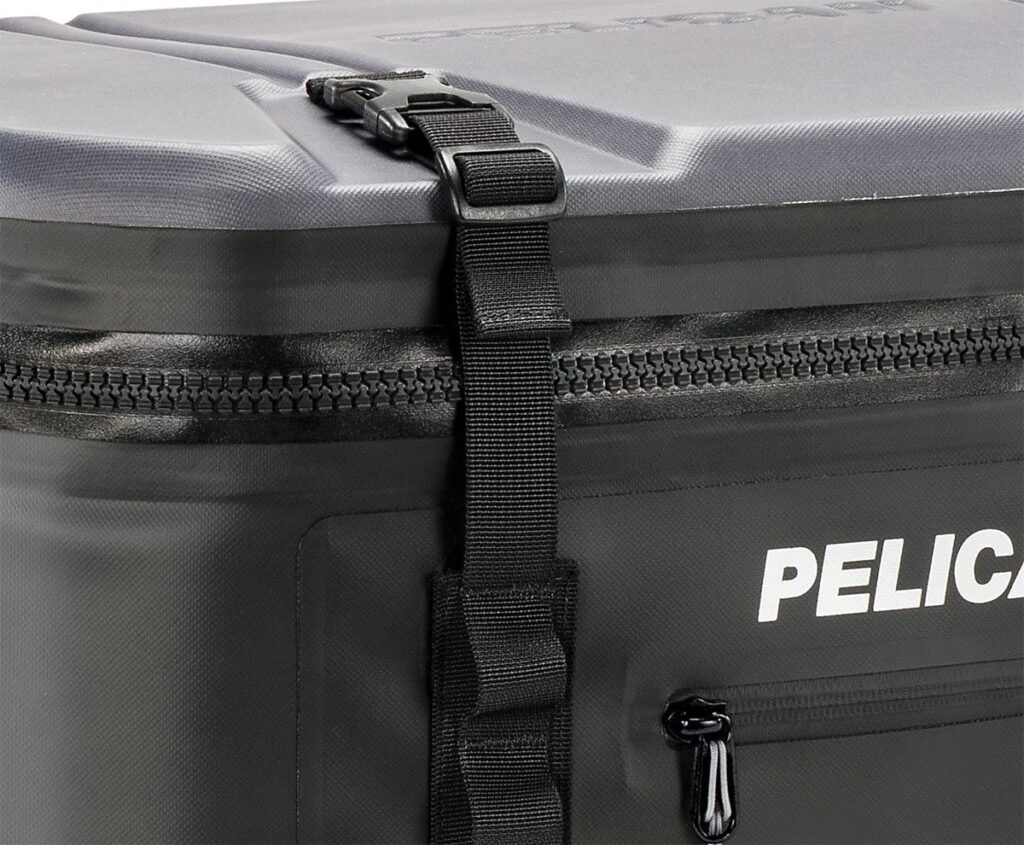 Pelican coolers also have extra features that Yeti coolers (which are made overseas) don't have such as easy release buckles on the lid so you can quickly open and close the lid without having to use the zipper.
Pelican soft coolers also come with an external pocket for storing items you wish to keep dry. There are also tie down points on the cooler so you can strap it into place and these tie down points double as built-in bottle openers.
This cooler is one of the most durable coolers on the market. It is made from high-quality materials, has a thick reinforced base to handle the wear and tear of all your adventures and it also comes with a limited three year warranty against any defects. Click here to read my full detailed Pelican soft cooler review.
I definitely rate these coolers as one of the best soft sided coolers on the market today and I highly recommend them.
If you want to own the highest quality cooler possible that is also made in the USA then there is no other choice apart from Pelican. No USA made cool quite comes close in terms of quality and performance.
To see the latest prices and sizes of Pelicans soft sided coolers click my affiliate link below to see them on Amazon: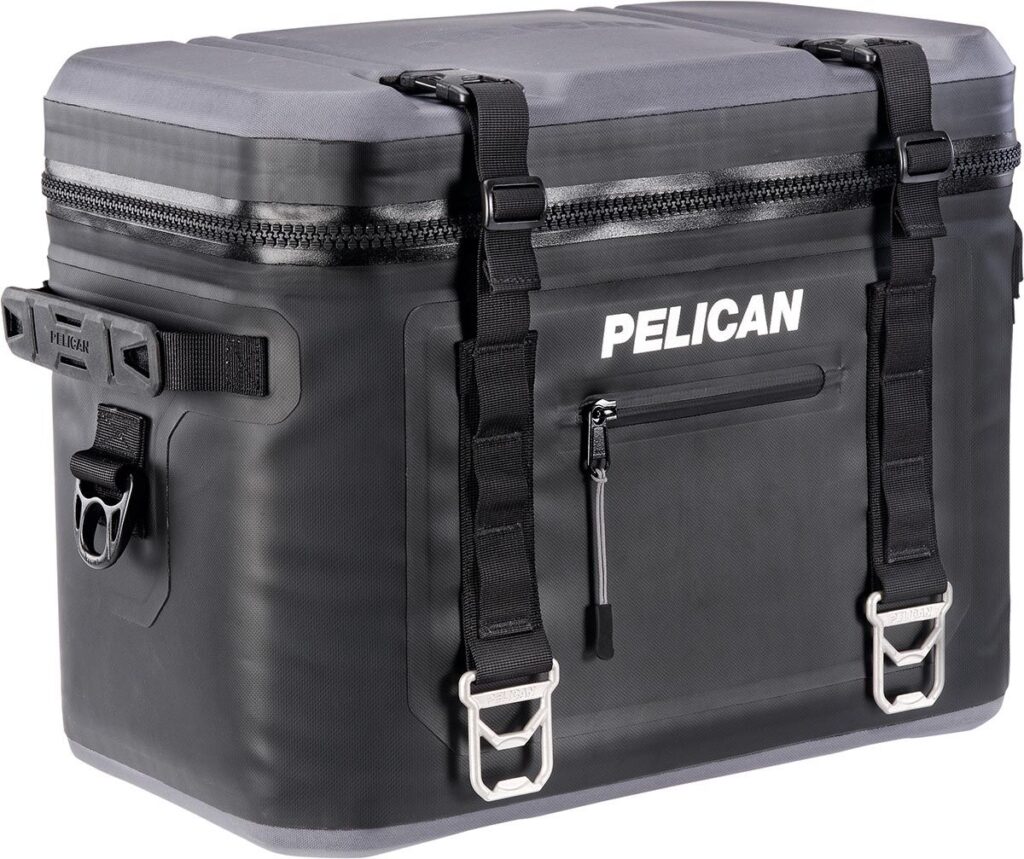 See the latest price of Pelican soft coolers at Amazon
2. Bison SoftPak Coolers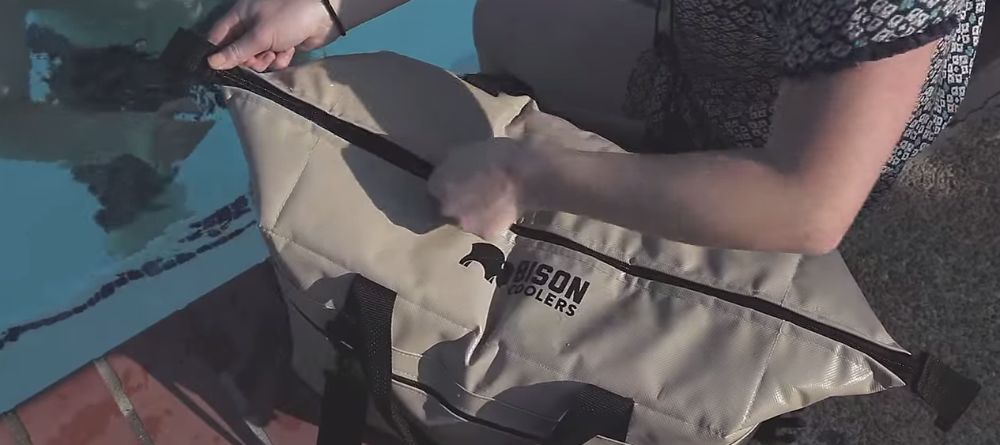 Bison coolers are a small family owned operation that prides themselves on making all of their products locally in the USA.
Bison coolers have a thick vinyl exterior that is waterproof and puncture/tear resistant and they can hold ice for up to 24-hours in 120°F heat.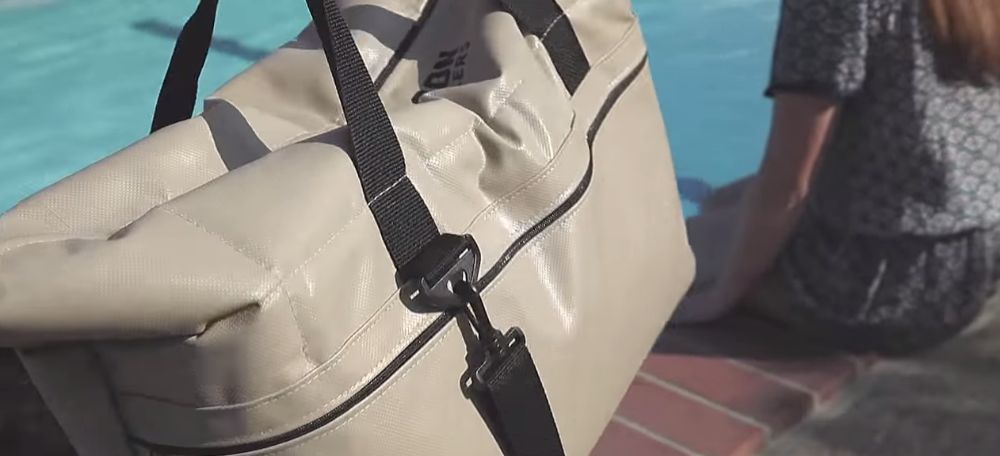 While the zipper of this cool isn't waterproof like the Pelican cooler it is a YKK zipper, which means is very heavy duty and unlikely to break. The zipper extends over the edge of the cooler allowing the mouth of the cooler to open wide for easy access and easy loading.
Bison coolers come in 4 interesting colours and they also have a wide exterior pocket for storing dry items. They also come with a free bottle opener as well as molle webbing on the exterior for attaching accessories. Click here to read my full Bison Soft Pak cooler review and see all the details.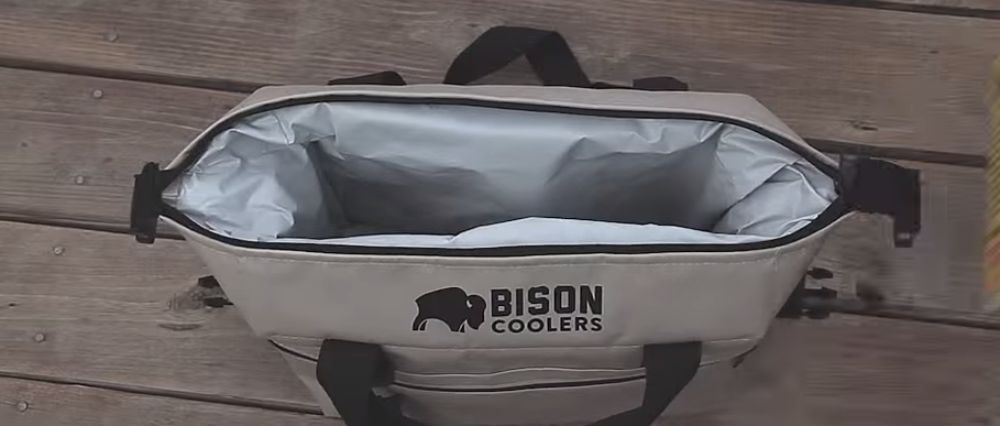 The downside is on this cooler that they don't hold ice as long as some other soft sided coolers on the market and the base of the cooler is not reinforced – which makes it more susceptible to the wear and tear of being placed on the ground over and over again.
Still this cooler sells for a great price and is much cheaper than brands like Pelican or Yeti so if you don't need it to hold ice for multiple days at a time and this is good American made cooler for an affordable price.
To see the latest prices of Bison coolers simply click the links below: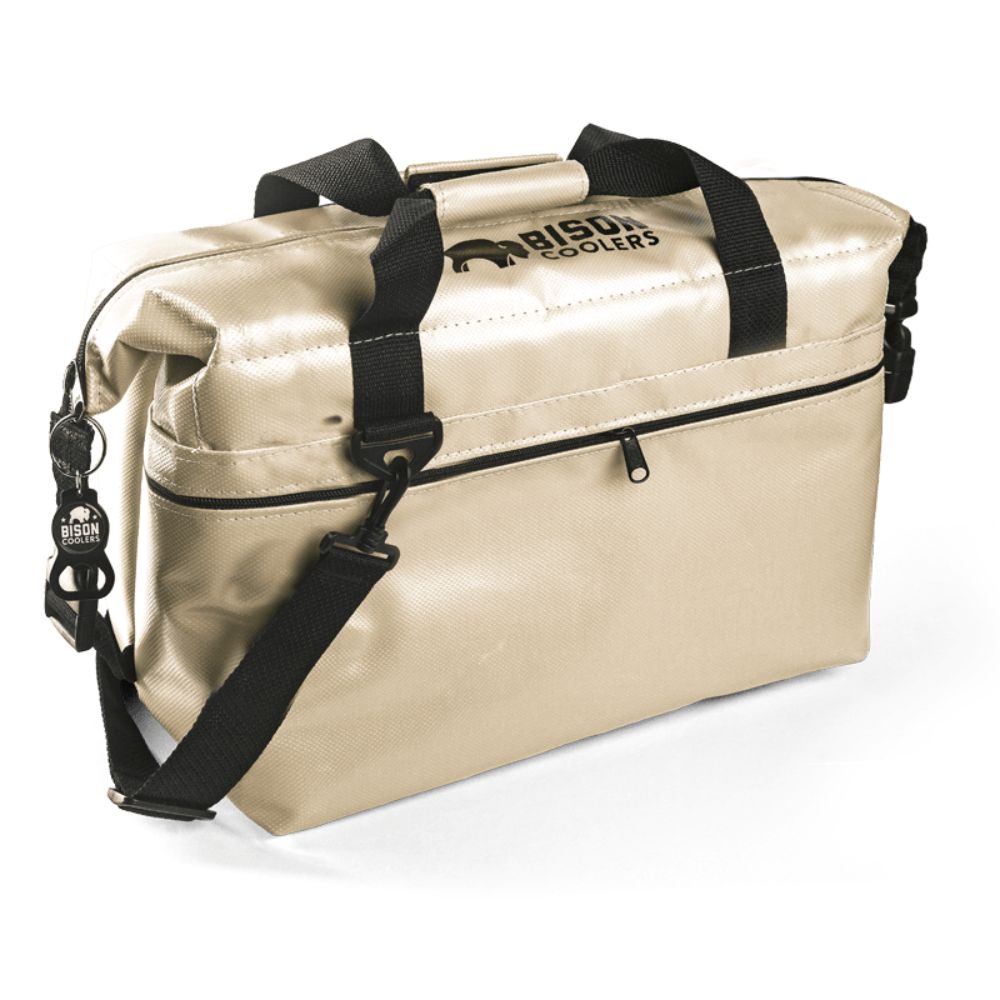 See the latest prices of Bison Softpak Coolers at Amazon
3. Frio Coolers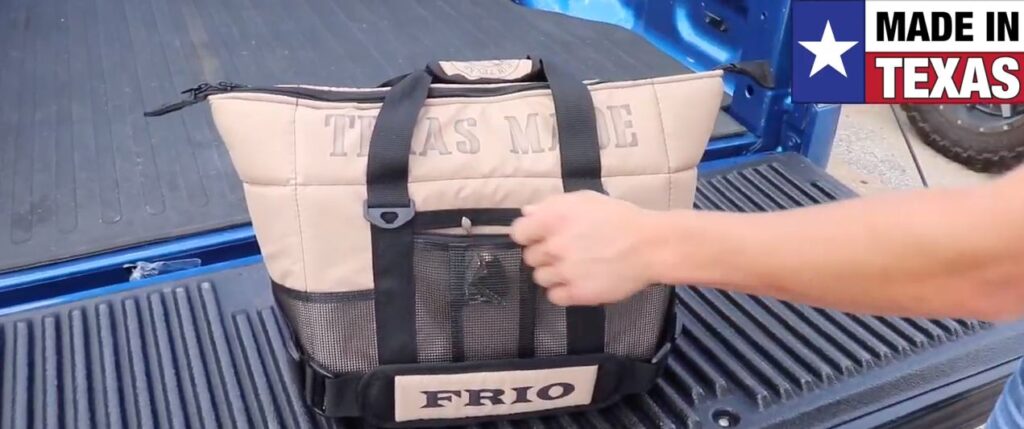 I only learnt about Frio coolers recently when I was creating my complete list of the best coolers made in the USA.
These coolers don't sell on Amazon and they're available primarily in Texas which is where these callers are made.
Frio make retro style callers, Cedar wooden coolers as well as soft sided tote coolers all which is proudly display a "TEXAS MADE" logo on them.
Frio design and manufacture all their products locally in Texas and they also have the ability to customise your cooler with custom logos.
These coolers come with an external mesh pocket for storing dry items and they also have a detachable shoulder strap and carry handles.
The zippers on these coolers are not waterproof and ice retention is ok. They are likely to hold ice for up to 1 to 1.5 days.
To check out Frio coolers you can visit their website by clicking the link below: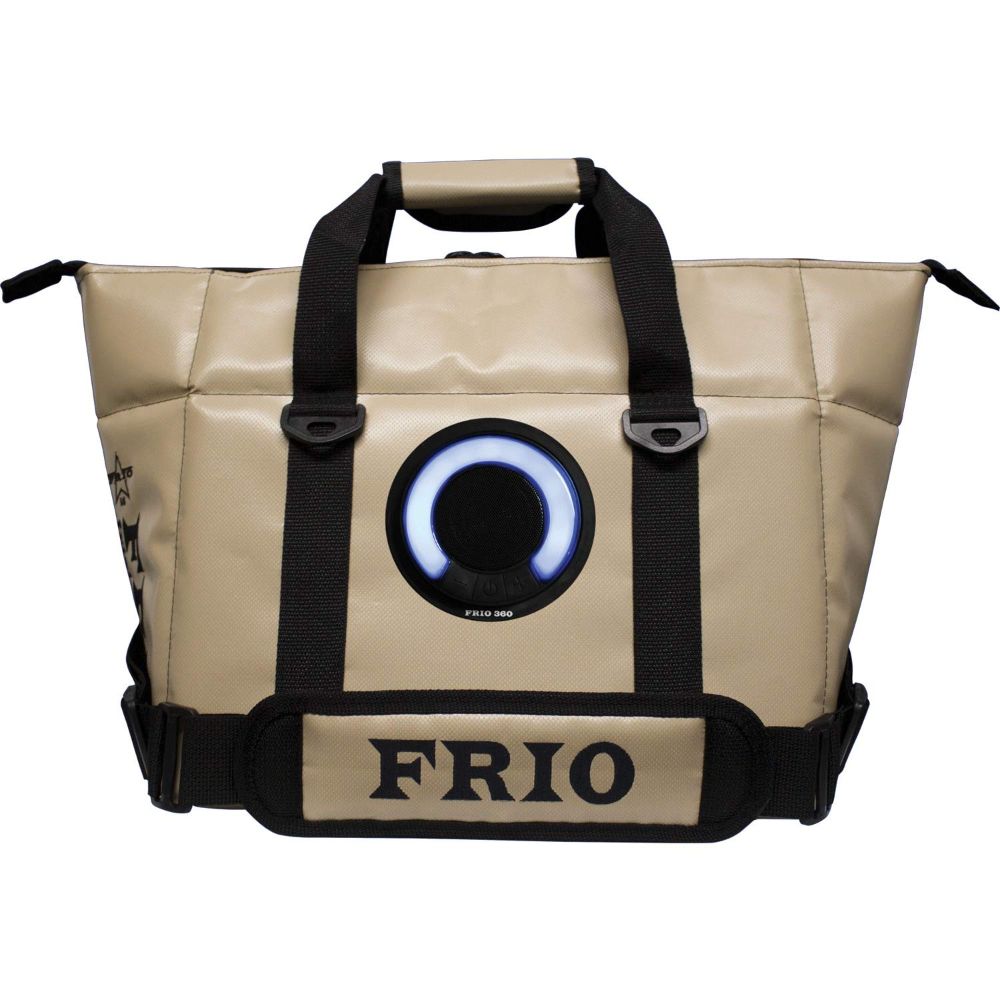 Learn more about Frio coolers on their website
4. AO Coolers (Only Some)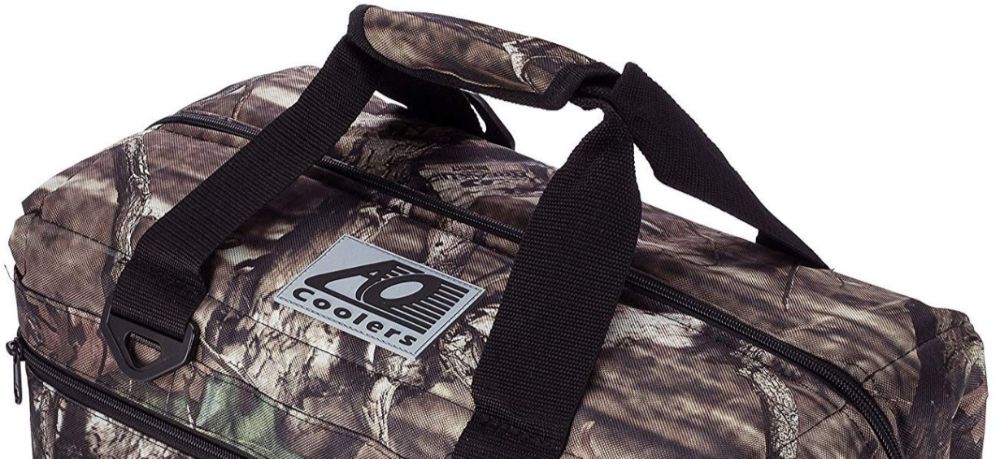 AO (American Outdoors) coolers have been making soft sided coolers for over 25 years.
Their coolers are rugged, durable and sell for a very affordable price. These are great coolers if you're looking for something that is made in the USA as well as something that is high quality but sells for a reasonable price. Perfect for the budget conscious shopper.
The inner lining as well as the zipper of these coolers come with a limited lifetime warranty so if they break at any point then AO Coolers will fix or replace them free of charge. Learn more about AO Coolers and their warranty in my full review.

The majority of AO Coolers are actually manufactured overseas however they do make a limited supply of cool is locally in the USA.
You can't find these versions on Amazon the only way to get USA mate coolersIs to buy them through their website.
They have a limited selection available, If you want to see the types of cool as they sell that are made in America then click here. Otherwise click the link below to see the latest prices of AO Coolers at Amazon: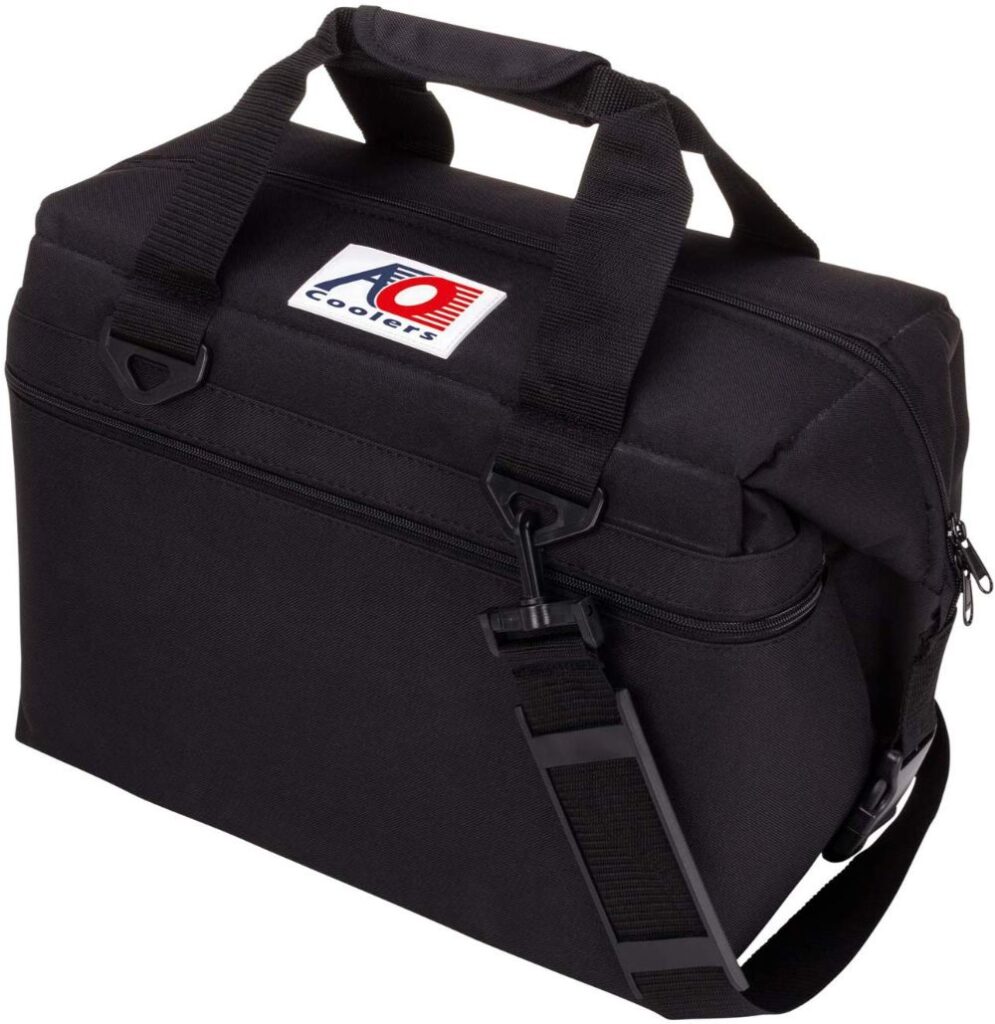 See the super affordable prices of AO Coolers at Amazon
Soft Coolers NOT Made In The USA (Mostly Made In China)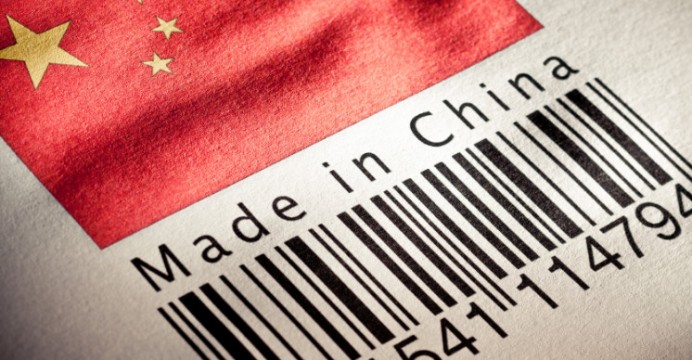 There are a lot of different brands of coolers that are made overseas. Most of these brands manufacture their soft coolers in China.
It seems like China is the best place to manufacture soft coolers. Brands like Yeti (who make their hard sided coolers in the Philippines) have opted to make their soft coolers in China instead of any other country.
While the coolers below aren't made in the USA they are still really good quality. If price is extremely important to you then they are well worth considering.
Some of the coolers made overseas are more durable than the ones made in America and some of them hold ice and longer than coolers made in the USA. Click here to see which soft coolers hold ice the longest, you will be surprised how long some of these soft sided coolers can keep ice…it's insane!

You also have more choice of brands and types of coolers if you're happy to look at the brands that are manufactured overseas.
Below are the major brands that make coolers overseas and then import them into the USA.
Most of these coolers I have individually reviewed so you want to learn more about them click the links below or read my article on the best soft sided coolers on the market today.
What USA-Made Cooler Will You Buy?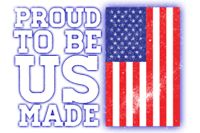 When it comes to picking a cooler ultimately comes down to which cooler suits you your needs and fits into your budget.
While Pelican may be the best USA made soft sided cooler on this list is also the most expensive one on this list and your budget may not stretch to that.
You may want to purchase a more affordable cooler like a Bison cooler or AO coolers, or maybe even decide a cooler made overseas is best for you.
Whatever cooler you decide on I wish you the absolute best in your purchase and in your next outdoor adventure.