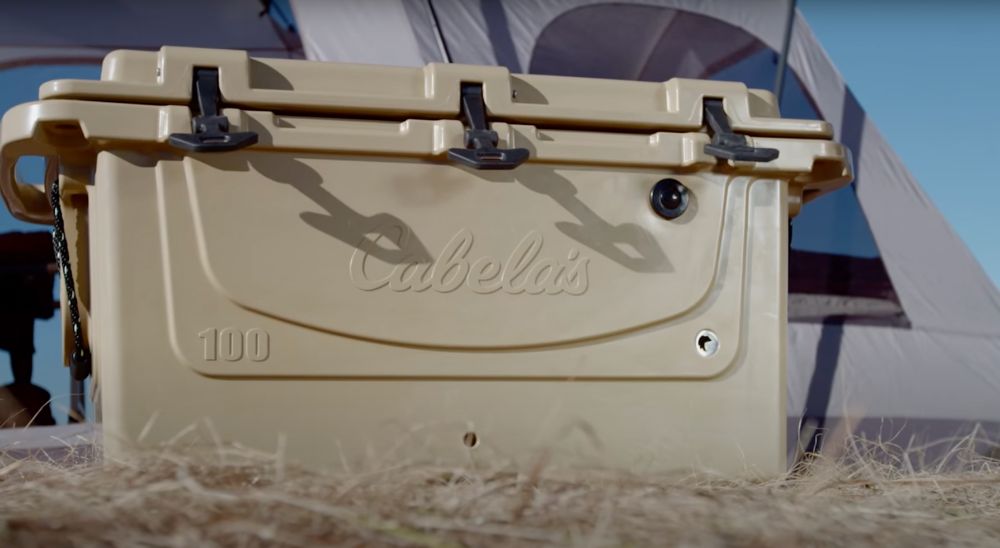 Cabela's Inc. is a well-known outdoor recreation merchandise retailer based in the USA. They also offer a range of roto-molded coolers that are both affordable and provide very good ice retention.
However, they come with their own set of pros and cons as any other cooler brand. If you are planning to buy a Cabela's cooler, this article will list some common problems related to these coolers. 
This way you can make a better and more informed decision according to what you need out of your cooler.
Although Cabela's Coolers are not expensive there are other brands like Lifetime and Ozark Trail that perform similarly for a lower price. Cabela's Coolers come in limited colors and sizes and take up more space due to their protruding handles. There isn't a wheeled version of Cabela's Coolers and their availability is limited to the US.
It's not that Cabela's Coolers are a bad option by any means, they are actually really great coolers that are super durable and hold ice for days at a time.
However, no product is perfect. I personally think it's important to be aware of the problems that you may face after getting a Cabela's cooler so you know exactly what you're buying and will be happy with your purchase.
1. Limited Sizes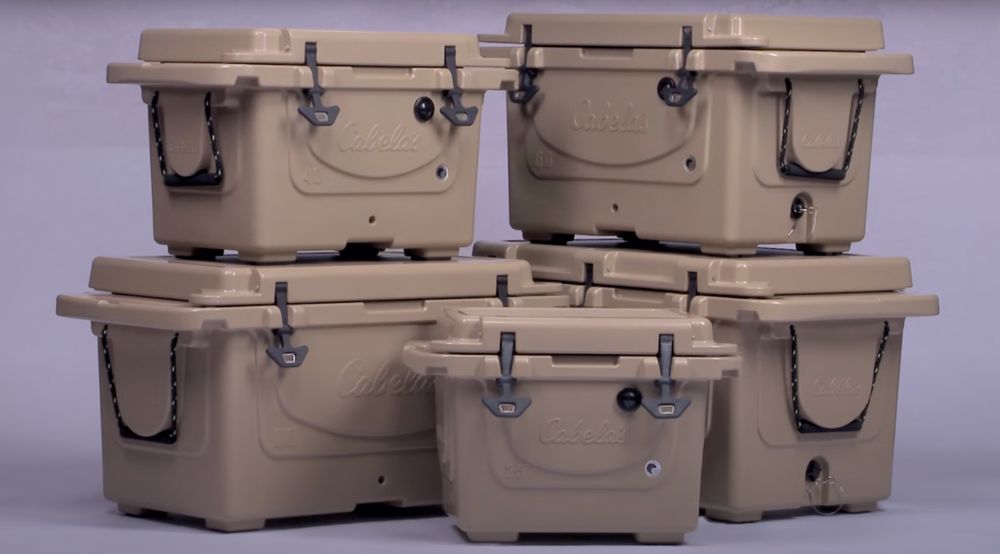 Unlike other popular brands, Cabela's Coolers come in limited sizes. These limited sizes are the most common cooler sizes so it's not a deal breaker. 
However, famous brands like Yeti have a wide range of sizes (19 sizes at the moment and growing) to choose from and you buy the size that fits your usage best.
Currently, Cabela's hard coolers are available in six different sizes.
22-Quart
25-Quart
40-Quart
60-Quart
80-Quart
100-Quart
2. Limited Colors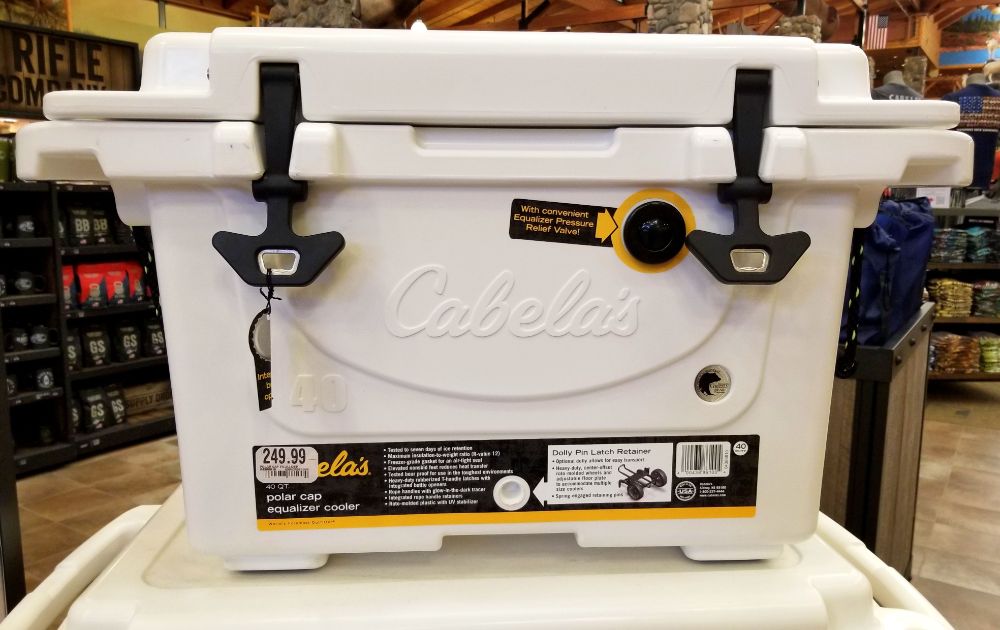 Cabela's Coolers also come in very limited color options. Most commonly you will get to see a tan or white Cabela's cooler.
Olive green and Quarry Grey colors are also present but they are rarely available in every size and you'll be lucky to get one.
All these colors are very basic and boring. Some people want their product colors to reflect their personality so these limited color variants can cause them to look towards other alternatives. 
Coolers like RTIC and Yeti release bright colors or limited edition colors so they are a lots of options. You can get pink coolers, yellow coolers and just about any color you want.
3. There Are Similar Performing Coolers Out There For Cheaper
Cabela's Coolers are not very expensive but they are also not the cheapest ones out there. They have a sturdy build and 4-day+ ice retention but these traits are not unique by any means.
See the latest price of Cabela's coolers at Cabelas.com
Other brands like Lifetime Coolers, RTIC Coolers, and Walmart's brand Ozark Trail offer very similar features to Cabela's Coolers for less price. You might find a better cooler deal with these brands having the specific features you require. 
Check out the list of the cheapest high-end coolers on the market. All these coolers come in at under $150 and are great value for money.
4. Handle Sticks Out Giving It A Larger Profile
Cabela's Coolers look and feel bulkier than their alternatives if we compare the same-sized products. It's because their handles stick out too much unlike Yeti Coolers that come with rope handles. Otterbox has this same problem.
It makes them easier to carry but gives a larger profile, taking up more space than other coolers and might look odd to some people as well.
5. It's Heavy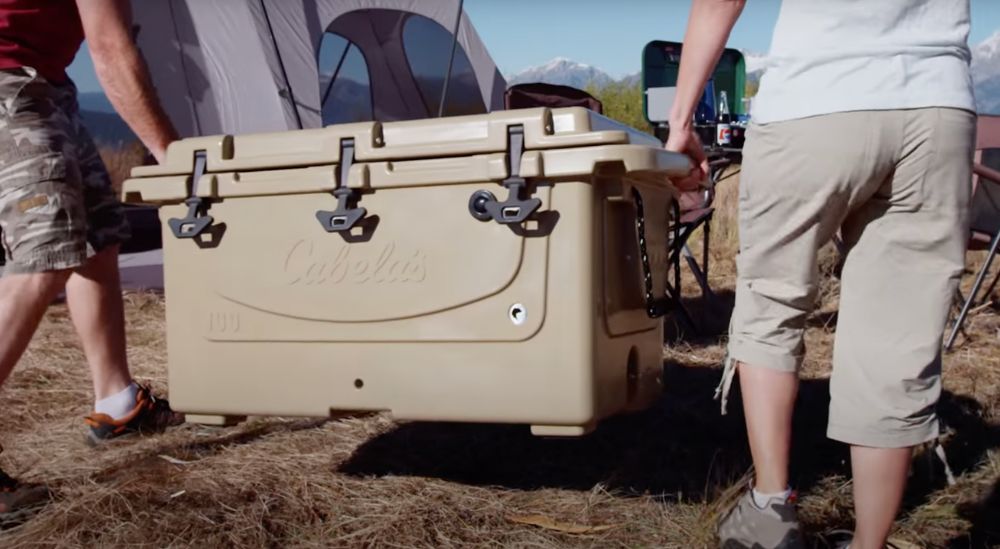 Cabela's Coolers are also very heavy but this is a given with all roto-molded coolers and isn't unique to Cabela's. Even when empty it's not an easy task to move them around.
It's because they are constructed with very strong roto-molded plastic material and the inner walls are filled with compressed insulation that makes them so good at holding ice. 
Add to that the weight of the lid and you get a heavy cooler that will get even heavier when you fill it up with all that ice and food.
6. Their Soft Coolers Aren't Great Quality
Cabela's isn't that well known when comes to soft coolers. Cabela's soft coolers are some of the cheapest ones in the market so there isn't a lot they offer.
Their ice retention is sub-par and they aren't as durable as Yeti's soft coolers. Actually the Yeti cooler is simply better in almost every aspect but there's a huge difference in the pricing of both these Coolers. Check out some of the best soft coolers on the market.
Cabela's coolers should be your choice only if you're looking for a very budget-friendly soft cooler.
7. No Wheeled Version
A lot of other Coolers in the market offer a wheeled version but there isn't a wheeled version for Cabela's Cooler. When carrying the bigger-sized cooler, having wheels at the bottom makes it very convenient to move the cooler around.
Although Cabela's Cooler size maxes out at 100 quarts the cooler can become really heavy if you fill it up all the way. Without wheels at the bottom, it will not be an easy task to carry the cooler outdoors.
Though, you can actually purchase a wheel kit for this cooler and it isn't too expensive. See the Cabela's cooler wheel kit at Cabelas.com.
8. Only Sold In The USA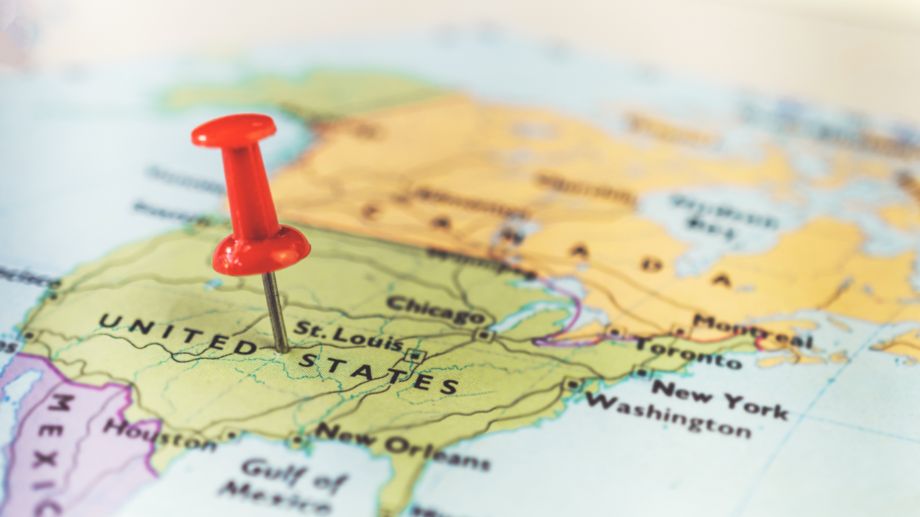 Cabela's Inc. is an outdoor merchandise retailer and its products are made and sold only in the USA. Cabela's Coolers are specifically sold only in the US so they aren't a great option for international buyers.
It will not be worth it to purchase a Cabela's Cooler in another country and pay those extra shipping charges. You can find a much better option in your own market.
9. Very Few Cooler Accessories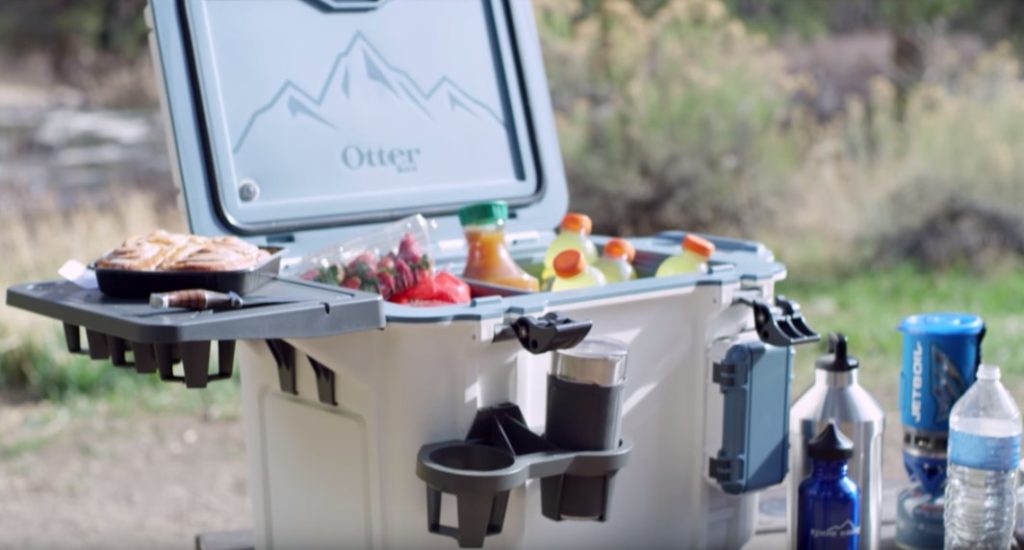 You can enhance the functionality of your cooler by attaching different accessories. However, there are very few accessories that are compatible with Cabela's Coolers. 
Other brands like Otterbox (pictured above) come with a wide variety of cooler accessories and Yeti is so popular there are a large variety of Yeti accessories and modifications you can make to improve your cooler.
There are accessories like cooler wheels that are made by Cabela's Inc. itself and even they do not work with all cooler models.
10. Doesn't Look As Good As Yeti or Some Other Brands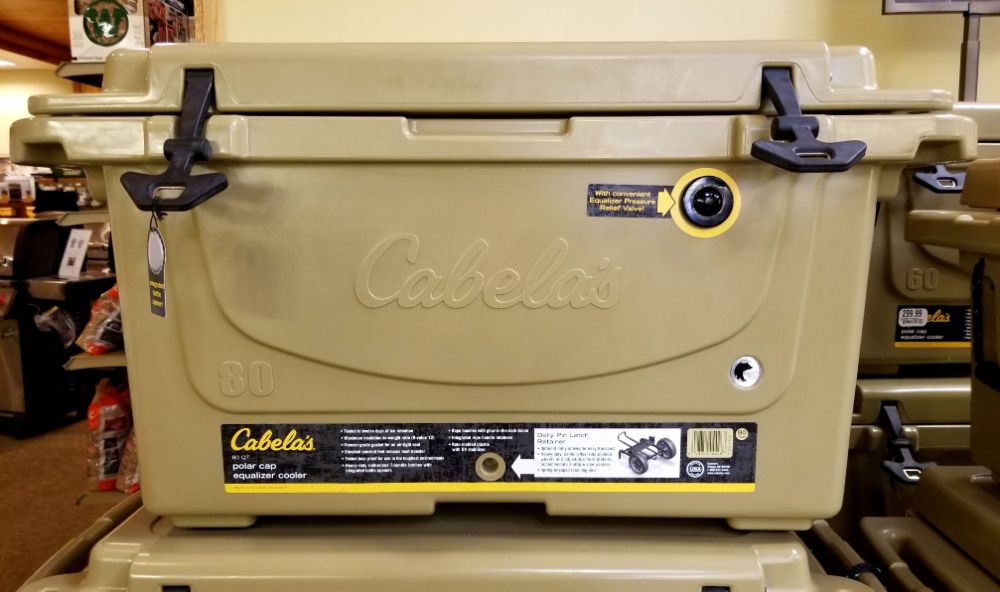 Whether a product looks good or not depends upon the personal preference of the user. Sleek and simple designs of Yeti Coolers have become a staple for the cooler market.
But the rugged look of Cabela's Coolers with their bulky exterior and protruding handles might not look very appealing to a large number of consumers.
Great Things About Cabelas Coolers
It might seem like there are a lot of cons with Cabela's Coolers but no product can be flawless.
There are also a lot of good things about Cabela's Coolers like their lifetime warranty, great price to performance ratio or bottle opener in the latches.
Amazing Ice Retention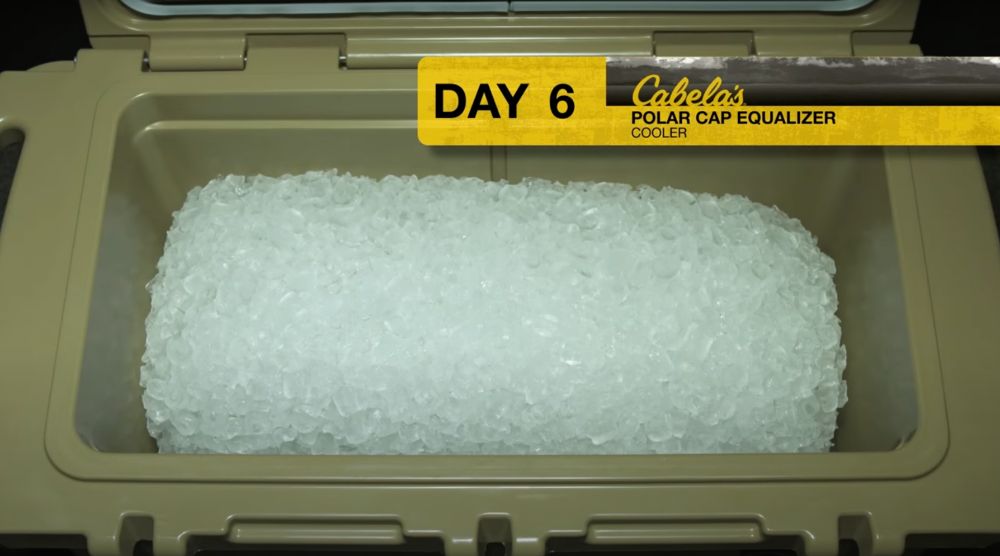 Although Cabela's Coolers cannot directly compete with premium Coolers like Kong or Orca having incredible ice retention of up to 2 weeks, they still deliver amazing ice retention for their price. 
In many comparisons, Cabela's Coolers have actually beaten similarly priced Coolers like the Yeti 75 and can easily go beyond 5 days during normal weather. 
You can see this in the video below:
Lifetime Warranty
Cabela's Coolers also come with a lifetime warranty which is a huge plus. You can always get a replacement for broken or damaged coolers very easily.
On the other hand, cooler brands like Ozark Trail and Yeti only have 5 years of warranty for their coolers.
Click here to see the list of the best coolers with a lifetime warranty.
Made In The USA

Cabela's Inc. has been around the USA since the '60s and its products are manufactured and sold in the USA as well.
Cabela's is one of those few brands that take pride in this thing as manufacturing in the USA supports local workers and helps enhance the country's economy as well.
Bottle Opener Attachment In The Latches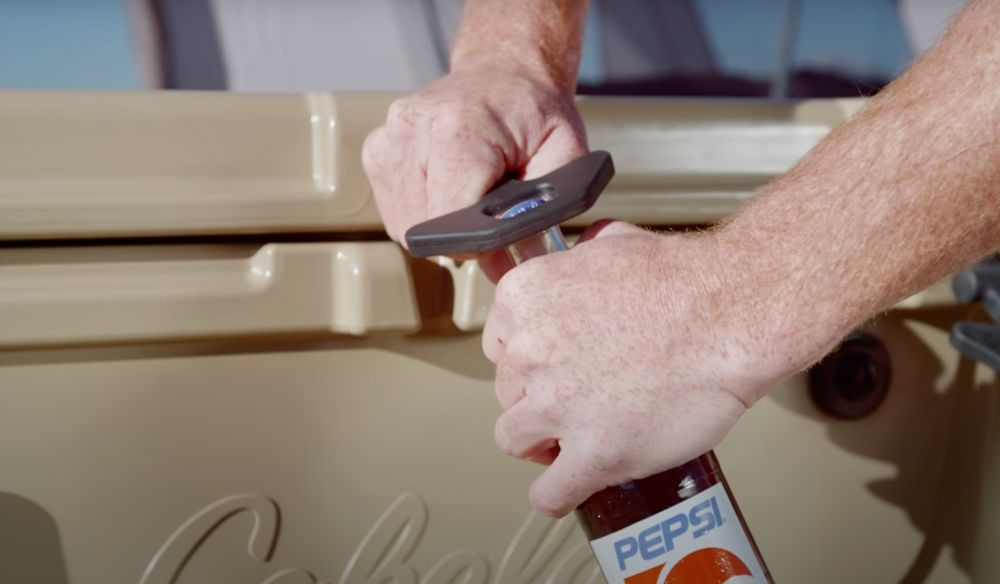 The T-Latches in Cabelas Coolers provide a tight and secure seal. But the best feature is the integration of a bottle opener in these latches.
This is a very thoughtful and beneficial feature as it can be troublesome opening those battles when you forget to bring an opener on your trip.
Are These Problems Deal Breakers?
As mentioned earlier, there isn't any cooler in the market that is perfect by all means. There are always some advantages and disadvantages of a product.
Cabela's Coolers perform really well overall for their price. 
All these problems do exist in Cabela's Coolers but they aren't exactly deal breakers. Many of these problems are the result of nit-picking and most people are very satisfied with their Cabela's Coolers.
Coolers Similar To Cabela's
If you still think that Cabela's Coolers are not your cup of tea there are a lot of different coolers in the market to choose from.
RTIC Coolers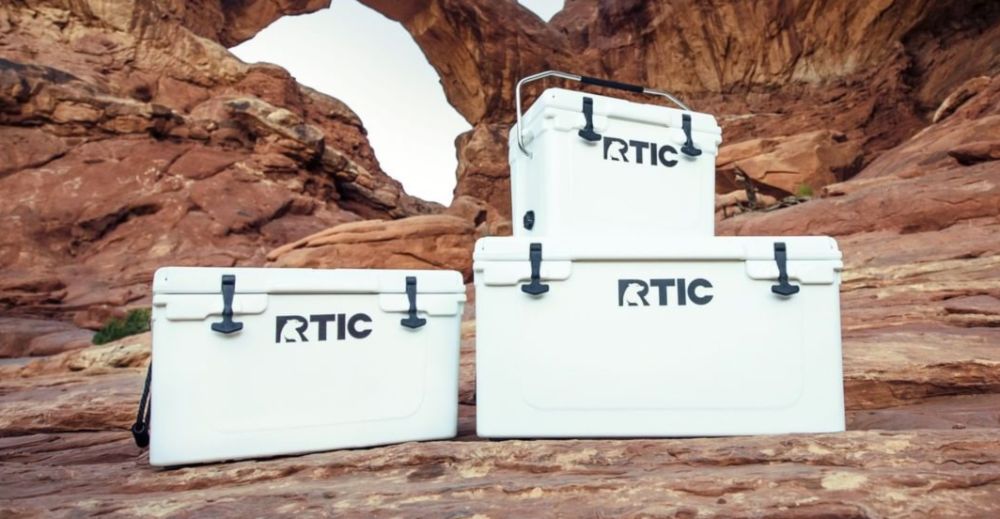 RTIC Coolers are marketed with the slogan, "Overbuilt. Not Overpriced." They still aren't the cheapest option but their coolers are built to last. They come in all different sizes and colors and deliver an amazing overall performance. 
They give a hard time even to the premium cooler brands like Yeti in every aspect be it build quality, design, or ice retention.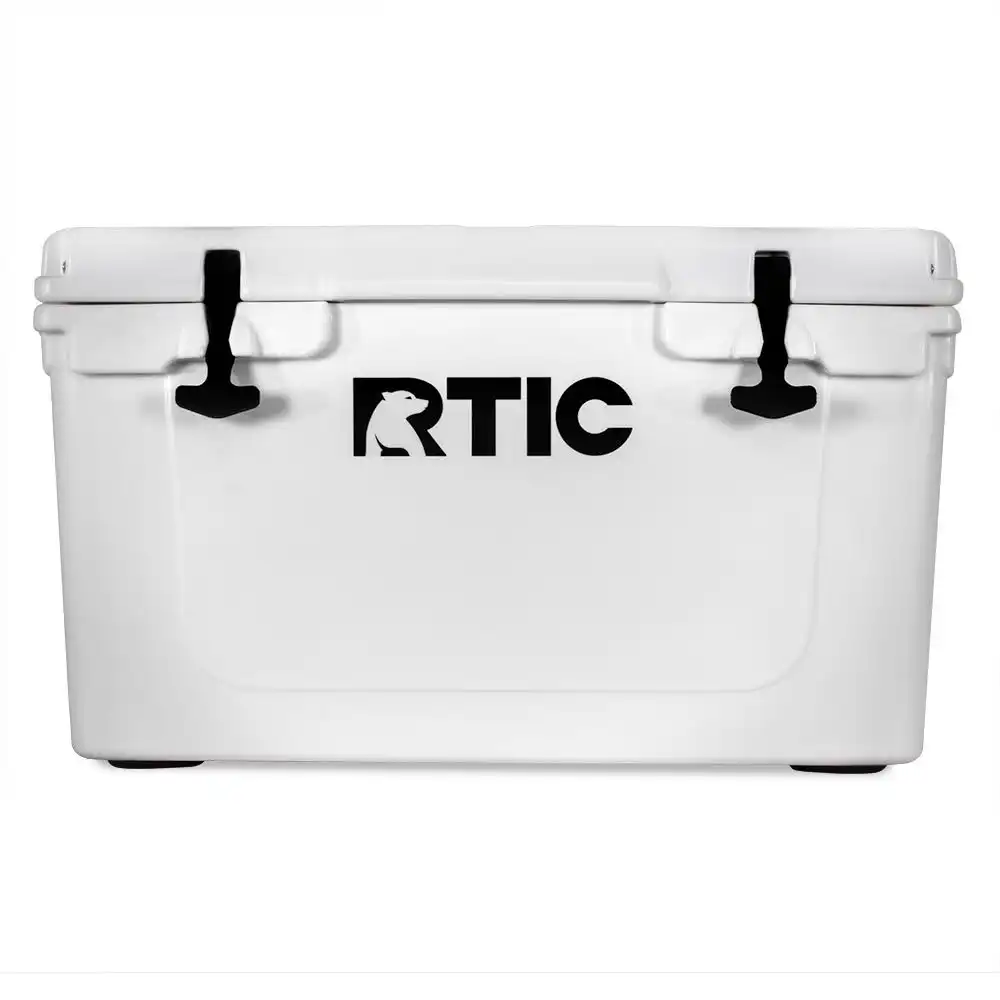 Lifetime Coolers
If you have a really restricted budget Lifetime Coolers should be your choice. These coolers are easily some of the lowest-priced coolers on the market. However, they still deliver great ice retention and sturdy build quality.
You can get this cooler for under $100 and the quality they offer at this price is comparable to Yeti 65 and Yeti 75 of the Tundra series costing above $300.
Best Value For Money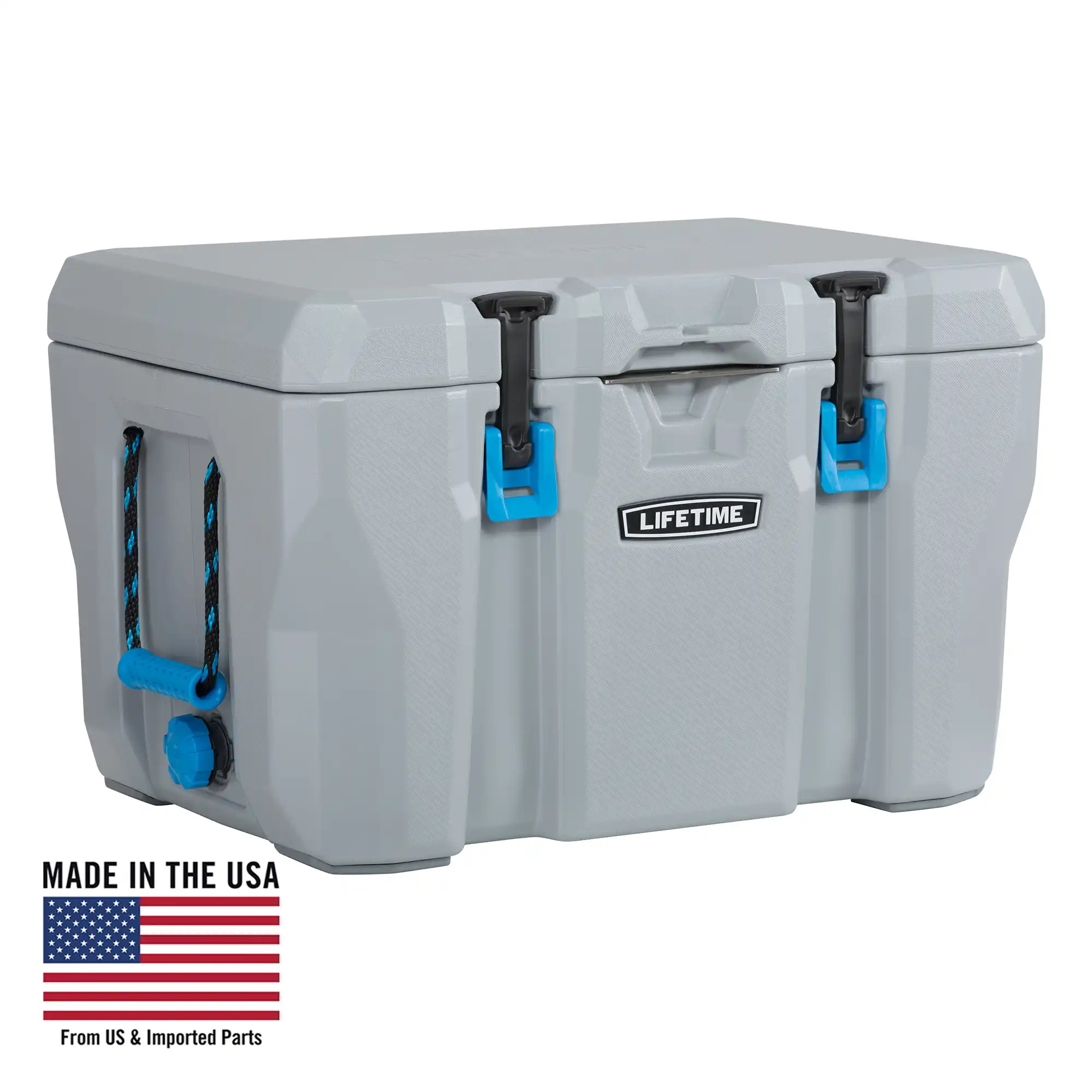 Summary
Cabela's Coolers are very popular among outdoor enthusiasts. However, there are some problems with these Coolers that you should know before buying.
Limited colors and sizes
Similar and cheaper alternatives are available
Protruding handles
It's heavy
Low-quality soft coolers
No wheeled version
Sold in the USA only
Fewer accessories
Design is not good enough
All these problems are not deal breakers as Cabela's Coolers perform really well for their price and are made in the USA. Other alternatives to Cabela's Coolers are RTIC and Lifetime Coolers.