Yeti coolers are amazing and with some modifications your cooler can become even more amazing.
Whether it be adding wheels to make it easier to move around or creating comfortable seats or improving the cooler with modifications for fishing, hunting or even vanlife there are lots of different things you can do to make your Yeti even better than it already is.
I've had my Yeti for over 6 years now and it's still going as strong as day 1. They're nearly indestructible, have fantastic build quality, are bear-proof, and hold ice for up to 10 days. It's still my favorite cooler (and I own A LOT of coolers as I review them as a job).
You'd think Yetis were already perfect. But I have scoured the web to find the coolest ideas (pun intended) for modifying your Yeti and taking it to new heights.
1. Move Your Cooler Easier With Aftermarket Wheels
If you have a Yeti, especially one of the larger ones, you probably find it challenging to move around. It's back breaking work trying to carry a full Yeti cooler any sort of distance.
I remember in my van even moving it around the van or campsite was difficult and usually you need another person to help you. Wouldn't it be great if they had wheels?
The Yeti Tundra Haul has large, sturdy wheels, but it's the only cooler in the lineup that does.
Meanwhile, coolers like the Pelican and the Igloo Trailmate come standard with wheels to help you move them.
However, you can add wheels to your Yeti with wheel kits like Camco's Cooler Cart – which fits hard coolers up to 17.5 inches wide. It has 12-inch wheels for easy maneuverability over rugged terrain and has a 200-pound weight capacity. It is made of steel, and polyester straps let you haul your Yeti.
That'll add 2 wheels to your cooler or for a 4 wheel option you can check out the Sherpa Wheel Kit. These wheel kids aren't cheap however they are high quality and can be used on multiple different coolers.
2. Turn Your Cooler Into A Bench Seat
If you haven't already discovered that it's safe to sit on your Yeti, or you have concerns about how much weight they can take don't stress. The Yeti cooler lid will take at least 300 pounds, and the Tundra coolers will take at least 500 pounds.
A Texas fisherman found sitting on a Yeti all day while fishing made his back ache and discovered that it is possible to slot a backrest into the side mount holes under the lid and developed the Cooler Rest.
It is detachable, so you can pack it up when you want to move, it can face front or back, and the cooler remains accessible. And your back will thank you for it.
3. Get A Back Rest For Your Cooler
Another backrest solution for your Yeti, the Cooler Leaning Post, is specifically designed for the Yeti Tundra 35, but the company may expand the range.
This can be used as a back rest or can also be used as a stability handle when casting off your cooler. Just don't rely on it too heavily or your cooler might tip over.
4. Add A Padded Seat To Your Cooler Lid
While you can sit on your Yeti lid without breaking it, it isn't the most comfortable seat. For someone with a bony ass like me it can get sore pretty quickly sitting on the cooler.
Add a padded seat to increase the comfort of your Yeti as a place to sit.
Yeti themselves provide this particular modification. Their Tundra hard cooler seat cushion has 2 or 3 layers of dense foam depending on the model and is made of hard-wearing white UV-resistant marine vinyl sewn with Gore thread.
You install it by screwing stainless steel studs into the lid and snapping the cushion into place.
See the latest price of the Yeti Seat Cushion at Yeti.com
(or compare to the latest price of the Yeti Seat Cushion at Amazon)
5. Fun For Everyone With The Yeti Slick Horns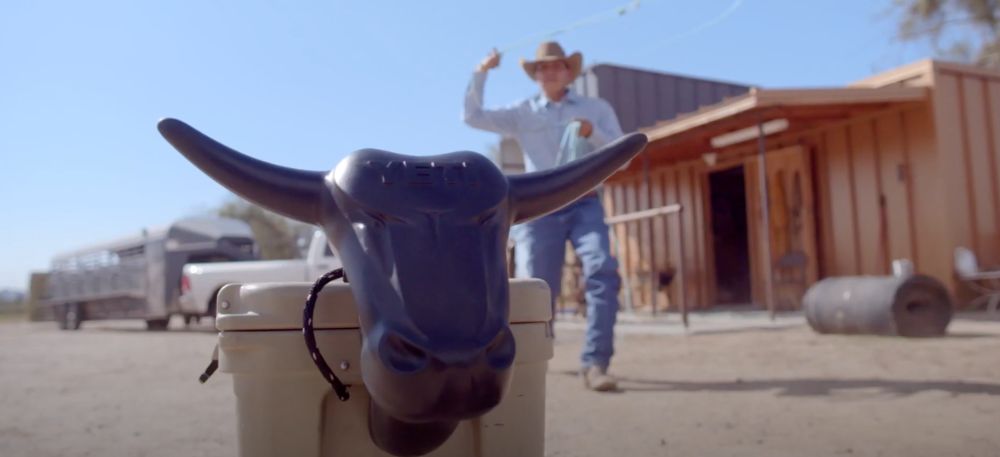 If you'd like to turn your Yeti into a roping dummy complete with a small rope, you can do so for about the same price it would cost to buy one from anywhere else. The Yeti Slick Horns make a great addition to your Yeti for fun times at BBQs and tailgating parties.
The Yeti Slick Horns are made of high-quality black powder-coated carbon steel and clip into a side mount hole with a bracket. It is a sturdy attachment that will make for hours of fun.
Click here to read my full Yeti Slick Horns review (spoiler…while it may seem like a gimmick it's actually a decent purchase for the right people).
6. Make Ice Last Longer With A Cooler Cover
Yeti coolers already keep your stuff cool for a long time.
But like other coolers, while they are fantastic at keeping warm air out, they are vulnerable to being heated by radiation, especially if you leave them in direct sunlight.
Use reflectix to make a reflectix cooler cover that fits snugly onto the outside of your Yeti and protects it against solar radiation.
7. Add A Mini-Thermometer To Check How Cold Things Are
Add a mini-thermometer to the outside of your Yeti, with the probe inside.
With a range from -50ºC (-58ºF) to 70ºC (158ºF) and an accuracy of 1 degree, you will know at a glance how cold it is inside your cooler.
8. Add A Second Lid With A Layer Of Foam Or Reflective Insulation
There are various hacks that people have developed to get their cheap coolers to perform a bit closer to a Yeti.
While you won't want to use most of them on your Yeti, we recommend using a layer of insulating foam, such as a cut-down yoga mat to act as a second lid inside the cooler and reduce dead space.
9. Add Color To Your Handles And Latches
An excellent way to add pizzazz to your Yeti is to change the color of the latches from black to orange or burnt orange.
These replacement latches are durable and ergonomically designed to give outstanding performance.
They are also really easy to change out. You can remove the regular Yeti latches and replace them with these without much effort.
This is also a great idea if your Yeti latches get worn out or break over time.
10. Mix and Match Colors With a Friend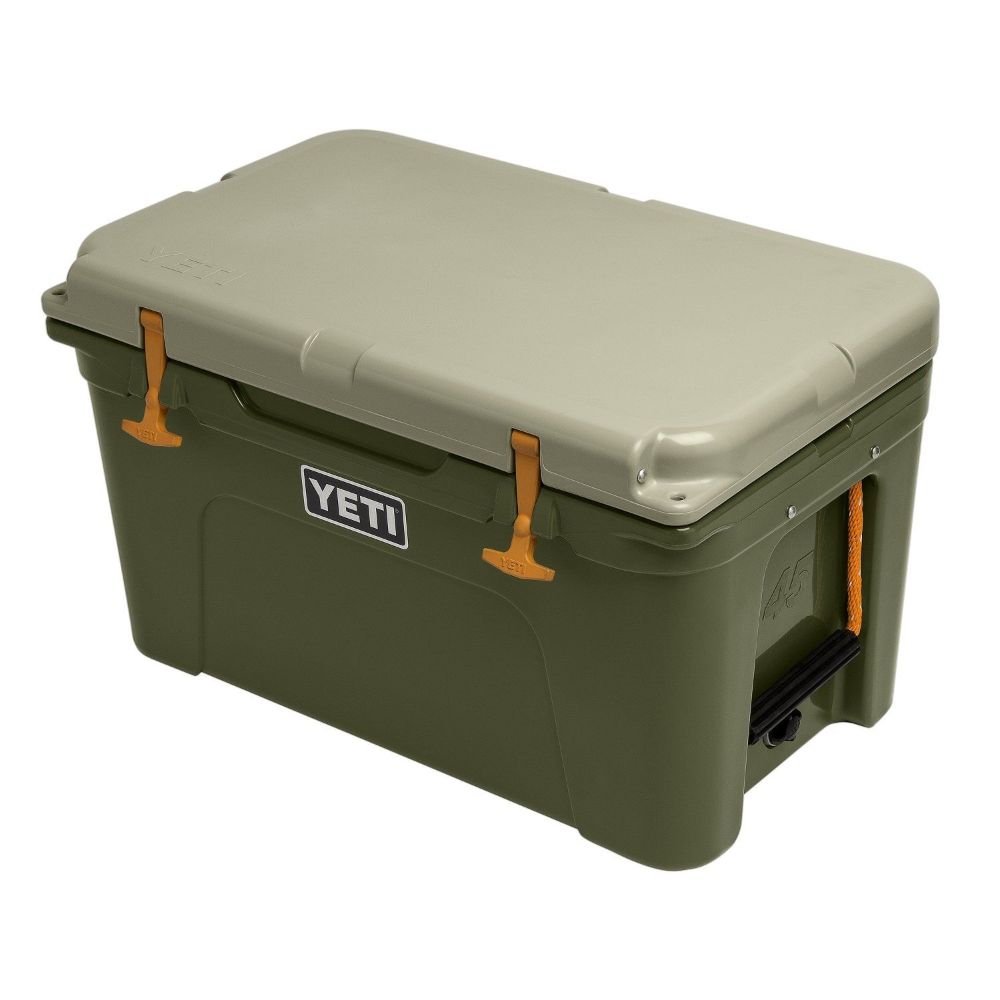 Yeti has released its coolers in various custom colors. However, most of these are a single color, rather than the lid and the cooler's body being two different colors.
You could swap lids with a friend (for example, swap white with the new Alpine Yellow) for a custom look.
11. Add Internal Dry Goods Tray
Suppose you find that the OEM wired basket inside the Yeti cooler results in things falling through. You may want a rigid plastic container to store dry food and accessories such as knives.
Get the highly rugged Beast dry goods tray made for Yeti Tundra 50 or 65 coolers.
12. Add External Dry Goods Bag
If you have a Yeti, you can get a bag for dry goods and accessories that attaches to the pull arm of the cooler with Velcro straps.
Made by Beast, this durable bag is waterproof and features 2 interior mesh pockets. It can be attached to Yeti Haul coolers but can also be fixed onto the rope handles of regular Yeti coolers (it just won't be as sturdy).
This is the best Yeti Sidekick alternative out there and it's a great way to store loose items on your cooler.
13. Keep Things Bright With A Cooler Light Or Glow Sticks
Beast makes a lot of excellent accessories for the Yeti, and this is one of the best. You've probably found yourself fishing for a beer in your Yeti after dark and wishing that you didn't have to hold the light. Well, now you don't have to.
Get the Teal Plum Cooler Light, a waterproof and rechargeable light for your Yeti. It features a rechargeable battery and can produce both green or white light.
It can stay on for up to 30 hours in energy saving mode or 3 hours on the brightest setting. Producing 115 lumens it'll brighten up any cooler allowing you to find exactly what you're looking for even at the darkest campsite.
14. Add A Stick-On Light To The Lid
Alternatively, use Coglan's Inside Cooler Lid Light, which sticks on inside your Yeti's lid, runs on 3 LR44 1.5-volt batteries, and comes on automatically when you open your cooler's lid like your fridge light at home.
15. Make A DIY Cheap Divider
Yeti makes their coolers with grooves on the sides for inserting a divider to separate the cooler into sections. You could buy one of their OEM dividers, but it's pretty easy to DIY a cheap divider from a plastic cutting board.
Make a cardboard template with the correct taper and length to fit into the grooves, and then use an electric saw to slice off the edges of the cutting board to the proper shape. File the edges smooth, and feather them, so they slide into the grooves in the cooler.
16. Add A Cheap Cup Holder
Yeti makes a high-quality, powder-coated stainless steel cup holder that hangs off the cooler's side and slots into the side mount hole. However, if you're not using this feature all that often, you can make your own cup holder and save a few bucks.
Start with a plastic cup holder that you would hang on a car door. Snap off any fingers to hold smaller drinks so you can put a large beverage in. Break off the hook, heat the shank it sat on, and bend it while hot to become the new hook.
You can also purchase affordable cup holder from Amazon if you don't want to make your own. The AIEVE Beverage Holder is made to fit into Yeti and RTIC cooler tie down slots. It's made of powder coated stainless steel and is extremely durable just like the brand name alternative.
17. Drain Your Cooler With A Hose (Drain Plug Host Connector)
You can avoid a mess while draining your heavy cooler of water with a hose connected to the drain plug.
But to do that, you will need a leak-proof and durable drain plug host connector with an open and close valve.
This allows you to connect a hose and drain your Yeti cooler away from where it is. This saves you from having to lug a heavy cooler long distances just so it doesn't make a mess on your boat, truck or campsite.
18. Add Molle Webbing To The Outside Of Your Cooler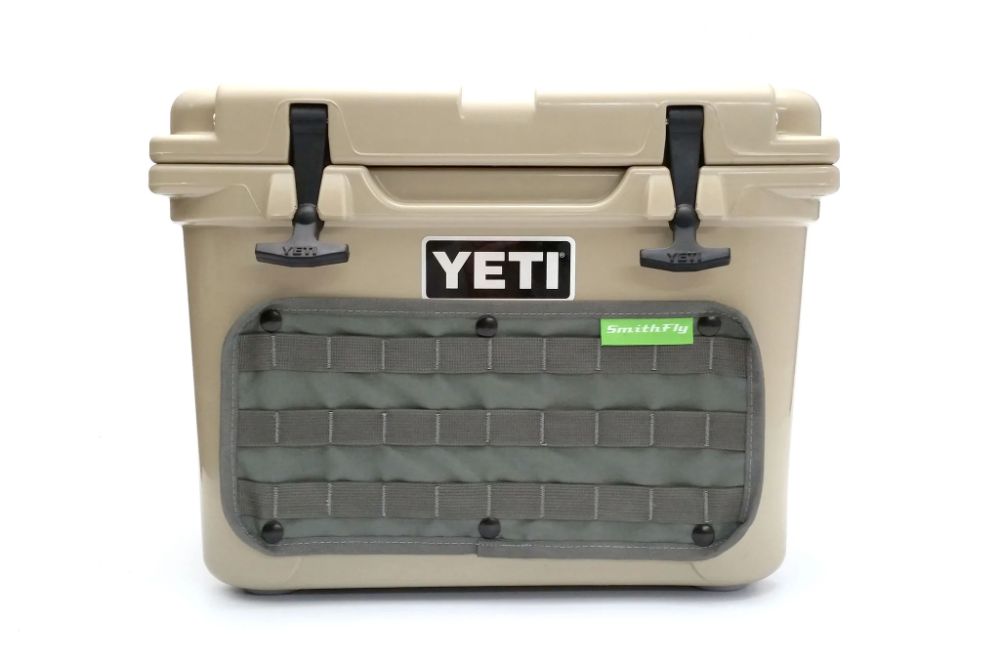 If you have used Molle webbing before, you know how advantageous it is for organizing your gear. Now you can add it to the outside of your Yeti with mithfly's Cooler Kilt.
If fishing in skinny water from a paddleboard, you needn't wear something extra like a sling pack to carry your gear. Instead, you can attach anything from a sandwich to a shotgun shell to the webbing.
19. Get More Grip With A SeaDeck
Just because you can stand on a Yeti's lid without breaking your cooler doesn't mean it's a good idea. The lid is still pretty slick, and you could take a nasty tumble. This is especially true when the cooler gets wet.
But Yeti has come up with a way of fixing that problem: the SeaDeck traction pad.
The SeaDeck sticks onto the lid of your Yeti with an adhesive backing to provide better traction when using it as a casting platform.
It is made of 6 mm EVA foam, so the top of your Yeti immediately becomes a more comfortable seat and is gentle on your feet when standing on it. It's also much more slip resistant so you'll get a good grip when casting off your cooler, even when it's wet.
See the latest price of the Yeti SeaDek at Yeti.com
(or compare to the latest price of the Yeti SeaDek at Amazon)
20. Move Your Yeti Easily With Sliding Feet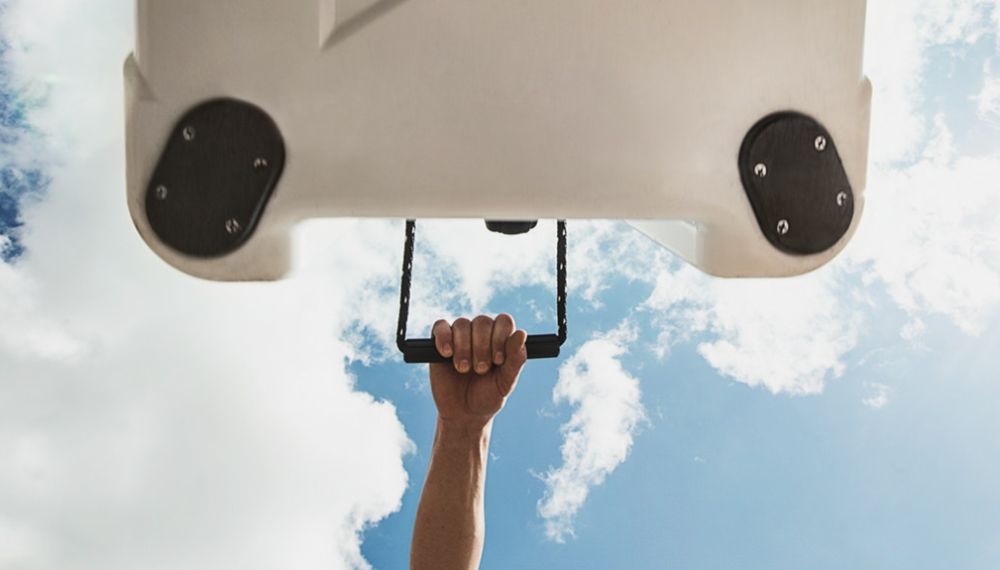 Yetis come standard with rubber feet that grip the floor tightly and don't slide at all, which is great for stability but can be hard to move your cooler. You can buy sliding feet for your Yeti from the company itself or get aftermarket sliding feet from AIEVE, which will make your cooler slide easily.
Alternatively, if you're into tools and projects, you can use leftover bits of the plastic cutting board from the DIY divider project to make your own sliding feet, which work great.
21. Paint Your Cooler Any Color And Design
If you want to make your Yeti a genuinely one-off piece of art, try painting some cool custom colors and designs onto it.
There are a variety of different ways you can paint your cooler.
Fill in the Yeti logo with spackle and put a good tooth on the plastic surface with sandpaper. Apply primer, and then trace designs onto it. It's a good idea to print the designs for a pro look.
Apply Mod Podge to protect the paint from chipping. Let the paint dry for 24 hours and apply several layers of sealant, followed by a coat of polyurethane to waterproof the paint.
Alternatively use spray paint which will adhere better than traditional paint and can be great for creating a camo look on your Yeti cooler without a lot of effort.
Click here for our detailed guide on the different ways to paint a Yeti cooler
22. Sticker Bomb The Lid Of Your Cooler
If you don't want to paint your Yeti, you can still customize it by sticker bombing the lid (and even the body).
Long a favorite way of decorating laptops and cars, stickers and decals provide a way of making your cooler stand out, which helps to identify it in a sea of identical coolers.
You could even go further and put a skin or wrap to cover your entire cooler and really personalize it.
You just need to make sure you put resin over the stickers to secure them to the lid and protect them from ripping off or getting damaged.
23. Turn Your Yeti Into A Master Serving Tray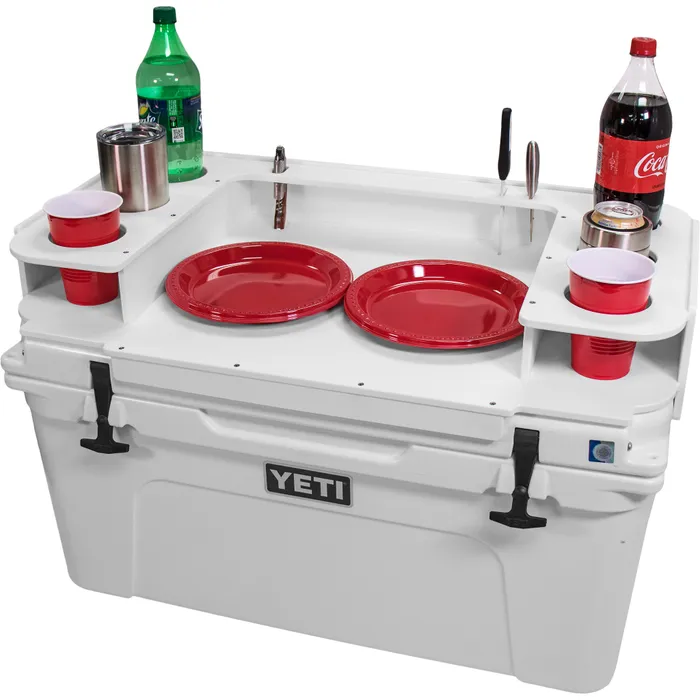 Whether on the beach or at a tailgate, you might want something that can hold your plates and drinks, and even accessories like a knife and bottle opener.
You need one of these master-serving trays. It secures to your Yeti's lid without any permanent modification, and you can carry food on it separately, making it a versatile piece of kit.
24. Keep Items Dry With A Cooler Lid Storage Bag
Use a cooler lid storage net to keep your dry items dry and out of any melted ice.
This cooler pocket fits inside the lid of most Yeti coolers and allows you to store a variety of dry goods.
25. Add A Cheap DIY Lock

If you have spent a lot of hard-earned money buying a Yeti, you don't want it stolen. Invest a bit more to lock it to something.
Thieves love a Yeti cooler and many people have had their stolen from the back of their trucks or even from campsites. But if you make things difficult for them with a good locking system, you're less likely to lose your cooler.
Check out my list of the best Yeti cooler locks to see the different options that are out there. You can also check out Yeti's own cooler lock on their website.
See the latest price of the Yeti Cable Lock and Bracket at Yeti.com
(or compare to price of Yeti Cable Lock and Bracket at Amazon)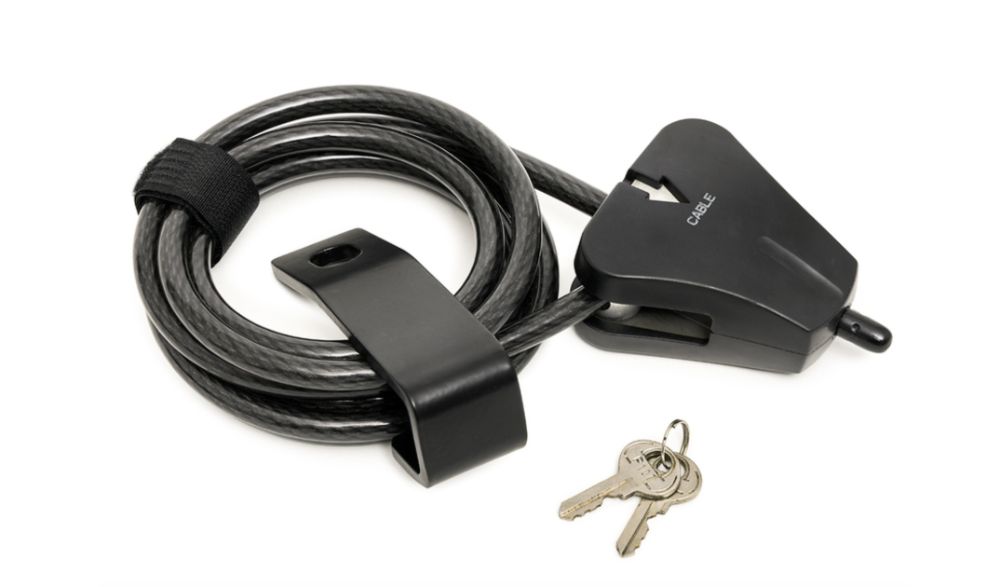 I also suggest reading through this guide on exactly how to lock a Yeti cooler.
Alternatively, padlocks on the corners of your Yeti prevent humans and bears from getting in.
You can even make your own DIY yeti cooler locks. Learn how in the video below:
26. Add A Triple Fishing Rod Holder
If you go fishing with your Yeti, make it do double duty by adding a triple fishing rod holder that will securely hold your rods ready for use.
This holder from AIEVE clips into the side mount hole and the mass of your cooler counterbalances the weight of the rods.
27. Raise Your Cooler Up With A Folding Stand
If you are tired of bending right over to get things out of your Yeti, raise it on a folding stand.
This stand is lightweight and rustproof due to its aluminum construction and features non-slip feet—a perfect rack to raise your cooler for any occasion.
Conclusion
We hope you enjoyed this list of cool ideas to improve your Yeti. There are all manner of ways to modify your already awesome Yeti into a one-of-a-kind masterpiece of a cooler, and if you implement even half of the ideas on this list, you will be the envy of your buddies.