When you're camping, fishing or heading to the beach for a day a cooler often serves two purposes. It works to keep everything cold, and it doubles as a seat or standing deck/step.
If you're looking at investing in a Yeti cooler you might first want to know if you can sit on a Yeti cooler or not.
Yes, you can sit on a Yeti cooler without any issues. Yeti cooler lids can handle 300 lbs (136 kg) with the Tundra coolers being able to handle 500 lbs (227 kg) or even more before breaking. The roto-molded plastic and thick insulation makes the lids super strong and nearly unbreakable.
Can You Sit on a Yeti Tundra Cooler?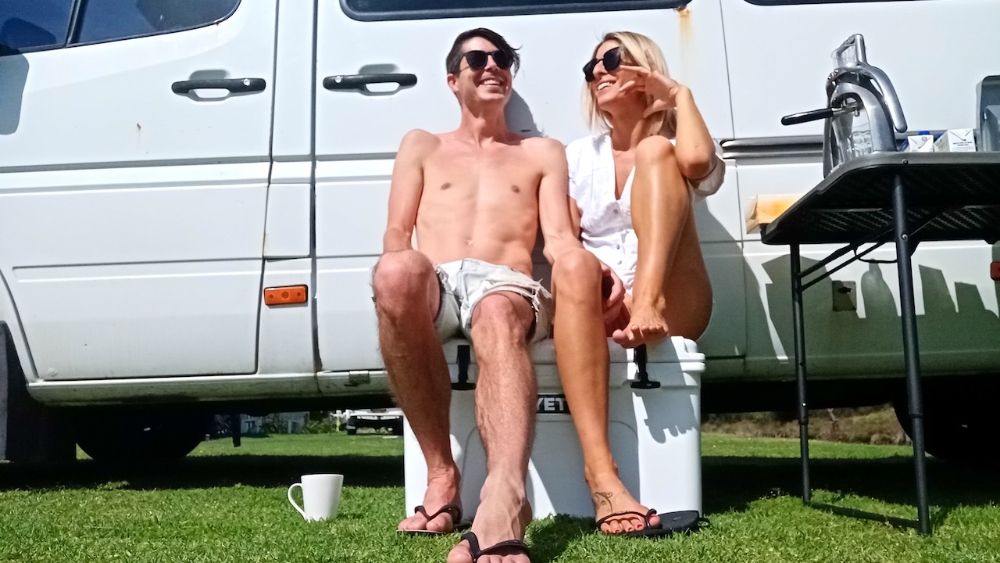 Yes, Yeti Tundra Coolers can handle the weight of almost any person, sitting or standing. Yeti doesn't give specifics as to what weight the lids are tested to but they can easily hold 300 lbs (136 kgs) and could likely handles a lot more.
Above you can see myself and my partner sitting on a Yeti Tundra 45 cooler. We aren't big people and combined we weigh roughly 270 lbs (122 kg) or close to the weight Yeti talks about their coolers being able to handle.
But I honestly say the cooler could handle way way way more weight than this before I would be concerned about it warping, let alone completely breaking.
I would happily have multiple larger people sitting on this lid and still have no concerns about whether or not it would hold their weight.
While Yeti don't specifically give a weight the lids are rated up to they do say this about their Roadie coolers on their Yeti Tundra FAQ Page:
CAN I STAND ON THE ROADIE HARD COOLERS?
We wouldn't. While the cooler is more than capable to take on the weight of pretty much any person, its smaller footprint ups its "tipping over" potential.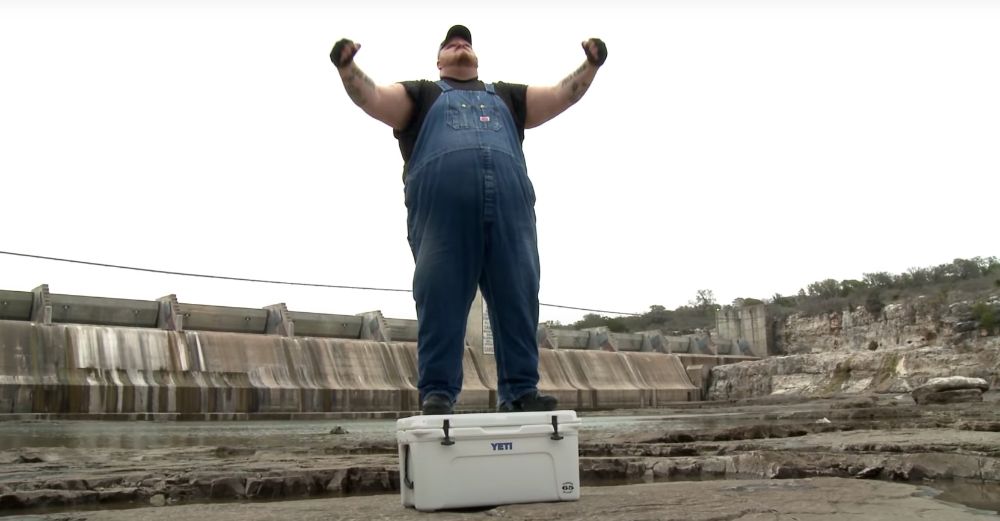 Above is a screenshot from Yeti's video of "Yeti vs 500 lb man" and as you can see the man is standing on top of a Yeti 65 cooler.
In the video he actually jumps on the lid of a cooler, which applies a lot more force, and the lid was completely fine.
From this we can see that Yeti lids can easily withstand at least 500 lbs, likely even more.
Can You Stand on a Yeti Cooler?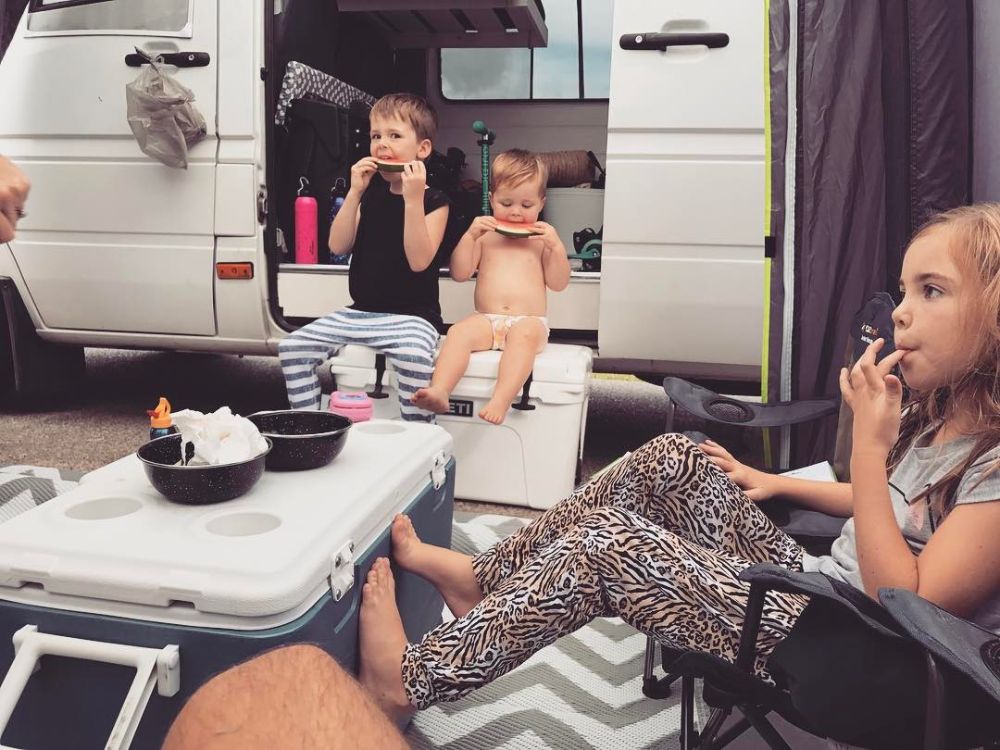 Above is a photo from a few years ago now when I used to live in a van with my kids. As you can see in the photo we had a Yeti Tundra 45 and we used our Yeti as a step to get into the van.
We never had any issues using the Yeti as a step or standing on the Yeti. Even having multiple people standing on the Yeti there was no concern as to whether or not the lid could hold us. It easily held us and could handle a lot more weight.
Yes, you can stand on a Yeti cooler lid without any fear of it breaking, denting or warping. Yeti lids are made of extremely strong plastic and thick strong insulation to handle people of almost any weight. Yeti even sells a SeaDeck specifically designed to help you stand on your Yeti.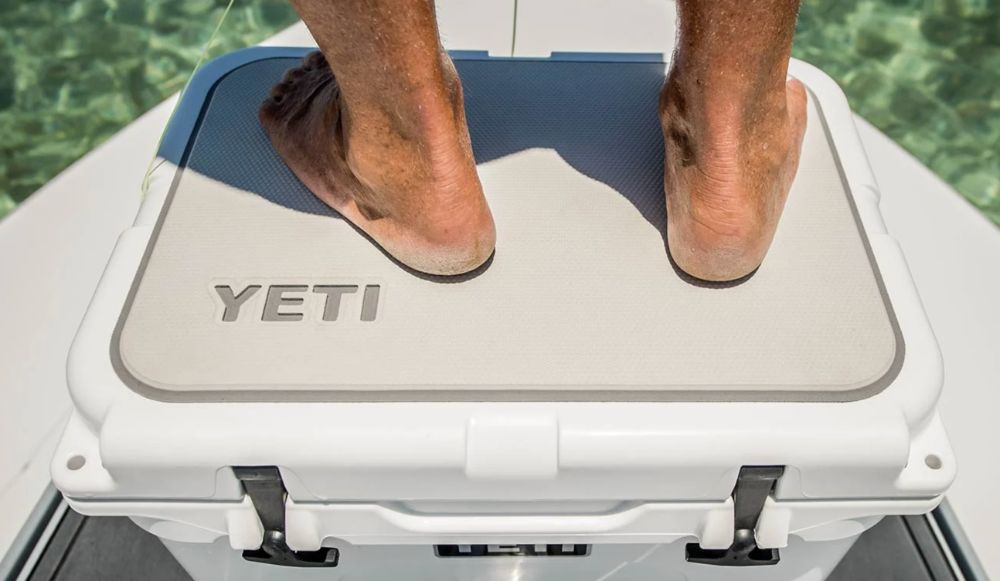 In fact, below you can see a picture of one of the founding brothers of Yeti standing on an Igloo cooler with a makeshift wooden lid to make it safe and strong enough to stand on and cast off when fishing.
The ability to stand on and cast off your Yeti cooler has always been a priority for the company and so Yeti coolers are made strong enough for anyone the stand on.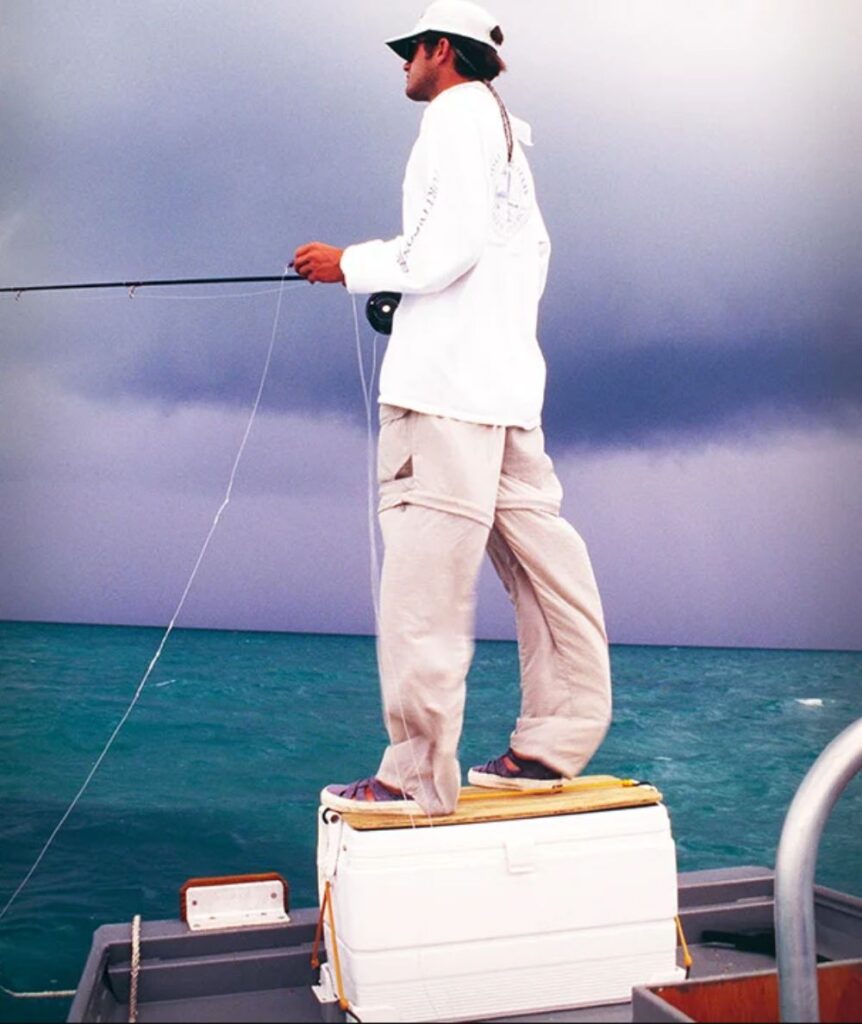 Can You Sit on a Yeti V Series Cooler?

Yeti V series coolers are Yeti's newest (and most expensive) range of coolers. They have a stainless steel exterior and use vacuum insulation to help them hold ice even longer.
However, they aren't as strong as the Yeti Tundra coolers so you may be wondering can I sit on a Yeti V Series cooler?
Yes, you can sit or stand on a Yeti V Series cooler. The lid is rated to hold up to 300 lbs (136 kgs)
Yeti specifically say on their Yeti V Series FAQ Page:
The YETI V Series is tested and supports at least 300lb on the lid. If using the cooler to sit or stand, we recommend using necessary safety precautions including ensuring the surface temperature is not too hot and footing is firm.
Can You Sit or Stand on a Yeti Loadout Bucket?

Yeti LoadOut buckets are made much stronger and tougher than your regular 5-gallon bucket and nowhere is this more true than the lid.
Yes, you can sit or stand on a Yeti LoadOut Bucket lid. The clear plastic with hexagon reinforcement can handle up wot 300 lbs of weight. It also resists cracking even on extremely hot of cold days.
The lid is made from thick plastic that is transparent making it easy to see inside your bucket. The lid also has honeycomb reinforcing which gives it a lot of strength.

So if you're fishing or just want a place to sit then you're definitely safe to put your backside on the Yeti LoadOut Bucket.
While the lid may be able to handle your weight always take care when standing on it as it's tall thin design makes it more likely to tip than something like a Yeti cooler.
Can You Sit on a Yeti LoadOut GoBox

The Yeti LoadOut GoBox is made from the same sort of roto-molded plastic the Tundra coolers are made from. But given the lid has no insulation is it still strong enough to sit on?
Yes, you can safely sit on a Yeti LoadOut GoBox. The GoBox is made from serious thick and strong plastic that can withstand serious impact as well as the weight of almost any person.
You can sit or stand on the Yeti GoBox without having to worry about the lid cracking. They are also designed so you can easily stack multiple GoBoxes on top of each other without worrying about the boxes at the bottom breaking from the weight.
Yeti say on their LoadOut FAQ Page:
DEFENDER MATERIAL
We can't legally say it's unbreakable – but this cargo box can withstand serious impact, even in the most extreme conditions.
Can You Jump on (or off) a Yeti Cooler?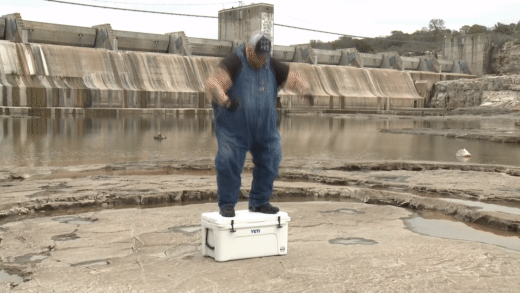 When we lived in the van my kids used to use the Yeti as a platform to jump onto or jump off all the time. But can a grown adult jump on a Yeti lid without breaking it?
Yes, you can jump on a Yeti lid without breaking it. Yeti did a test where a 500 lb man jumped on the lid and it was completely fine. The non-slip feet and low form factor make the cooler unlikely to tip over when jumping onto or off the cooler.
I get that this isn't something people are likely to do very often. But if you're looking at using the cooler as a platform and may need to jump and land back on it then it's good to know it'll be able to hold your weight pretty easily without breaking.