Otterbox is a well-known and trusted manufacturer of rugged phone cases and screen protectors designed to "LifeProof" our precious devices. Not many people know that they also have a range of outdoor products including their Venture range of hard coolers which compete with the likes of Yeti in the premium cooler market.
In fact, I have seen side by side comparisons where the Otterbox cooler actually outperformed other premium brands in terms of ice retention and they have even been rated grizzly-resistant by the IGBC.
These are some top-notch coolers we're talking about but there are however 10 potential problems you need to be informed on before making a purchasing decision.
Otterbox coolers are as expensive as the top premium brands and only come in three sizes and two colors. You can only buy them in America and only from their website, which does not always have all the sizes in stock. They are heavier than Yeti coolers and their handles protrude awkwardly causing them to take up extra space.
Don't get me wrong, Otterbox coolers are high quality, durable and come in 25qt, 45qt and 65qt sizes.
However, no cooler will be perfect for everyone and I think it's important to understand the potential downsides of a cooler before you spend you heard earned money on it. Then you know exactly what you're buying and won't be surprised. Let's take a closer look at the issues I mentioned.
1. They Are Expensive
At the time of writing only the Venture 25 qt and 45 qt coolers are available on the Otterbox website. The 25qt sells for around $230 while the 45qt goes for around $300.
Considering that a Yeti Tundra 45qt costs around the same as the 45qt Venture, you would expect the Venture to compare rather favorably – and to be fair, it does. Here is a list of their similarities:
1. Thick and durable outer shell made from polyethylene plastic
2. Thick and dense polyurethane foam in the walls and lid for insulation
3. Rubber gasket in the lid for extra insulation
4. Locks to keep the lid tightly closed
5. Rated grizzly-resistant by the IGBC
So in the case of Otterbox vs Yeti we can see that the Otterbox shares many of the key design features that make the Yeti brand so iconic.
However, pricing your coolers so close to the well known, expensive brands might lead the individual consumer to rather buy the trusted name brand instead.
2. Limited Sizes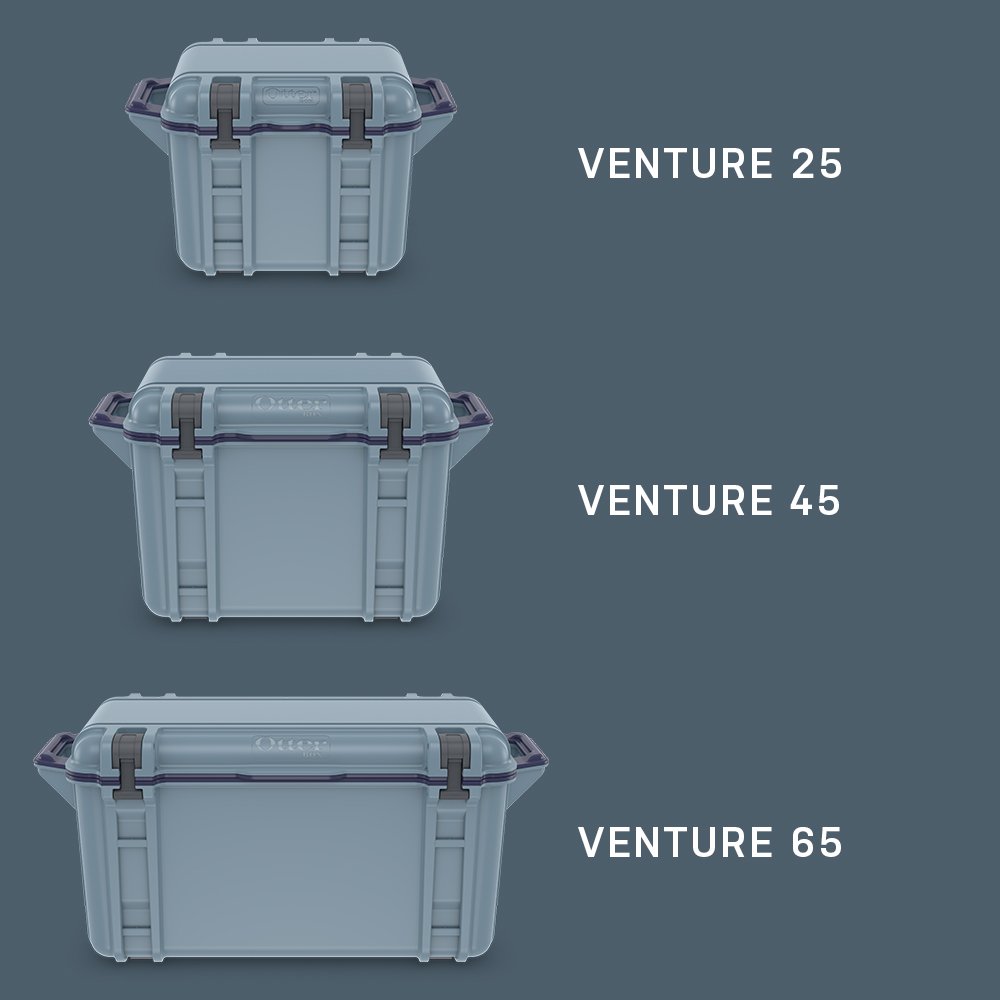 Currently it appears that your only options for purchasing a Venture cooler from Otterbox are the 25qt and 45qt models.
I know that there is or was a 65qt variant of the Venture cooler on the market but currently the only ones available on their website are the 25qt and the 45qt. This could very well have changed by the time you read this so be sure to check their website for what's in stock.
But even if the 65qt variant is available that still only gives you 3 sizes to choose from. Yeti coolers have 19 different sizes and they are regularly expanding and upgrading their range with even more coolers.
3. Limited Colors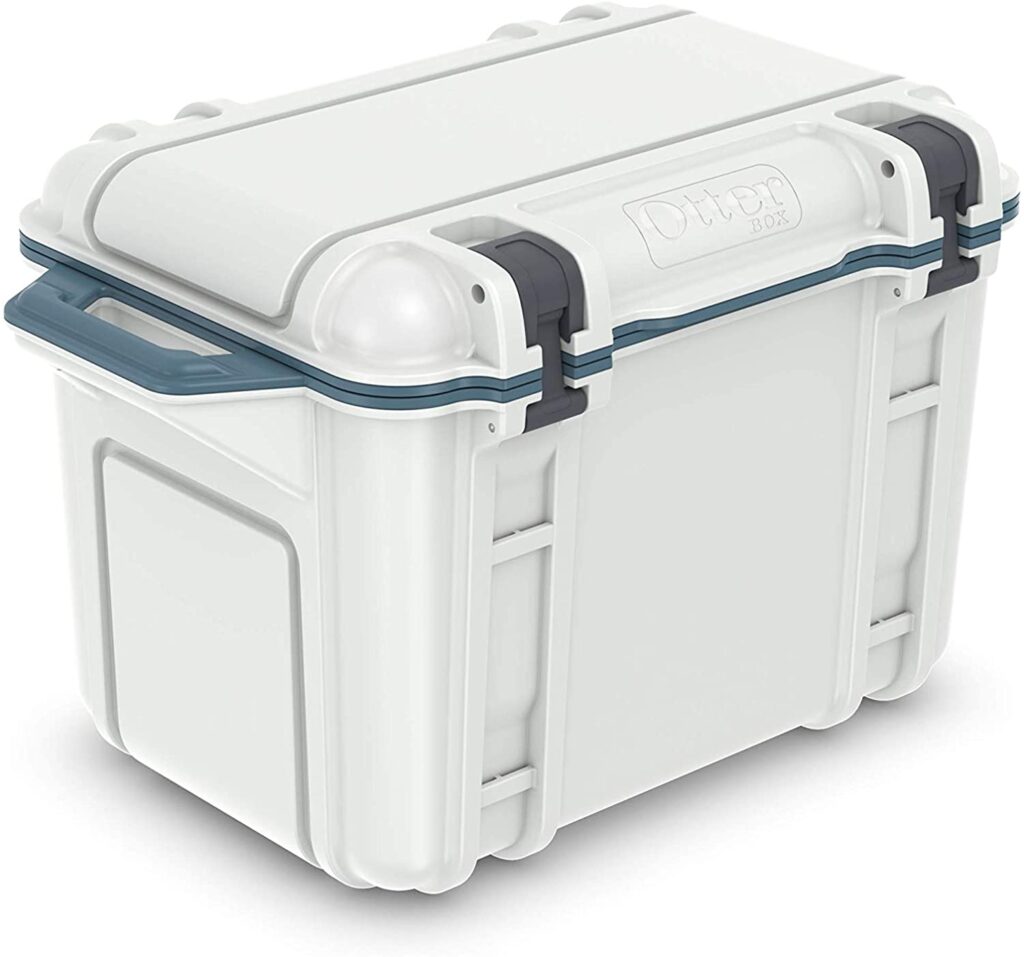 When it comes to color choices for the Venture coolers, there just aren't that many. Tan or White.
Although to be fair, there is also a choice of trim color for either the tan or white body. All in all, these are your choices:
Snow Banks (White)
Hudson (White / Blue)
Back Trail (Tan / Camo / Orange)
Ridgeline (Tan / Green)
I have come across images of blue Otterbox coolers but never found one that was for sale.
4. Handles Stick Out Giving Them a Larger Profile
One of the only gripes cooler connoisseurs have with the design of the Otterbox Venture is how the handles protrude out to the side.
The handles are sturdy and make for a good grip but because of how they protrude the cooler becomes awkward to pack into a truck or trailer and lead the cooler to take up more space than if it had rope handles recessed into the cooler like Yeti does.
5. It's Heavy
Otterbox coolers are even slightly heavier than Yeti's which are roto-molded.
While Otterbox coolers are not roto-molded, they use "integrated rugged injection-molding and high-grade cooling technologies", which results in a thick polypropylene shell.
For insulation the shell is then filled with 2 layers of dense polyurethane foam which greatly adds to the overall weight of the cooler.
The Otterbox also features heavy duty rubber latches and solid molded handles (compared to the rope handles of most others) which both also contribute to the extra weight of the Otterbox coolers.
6. Supply Issues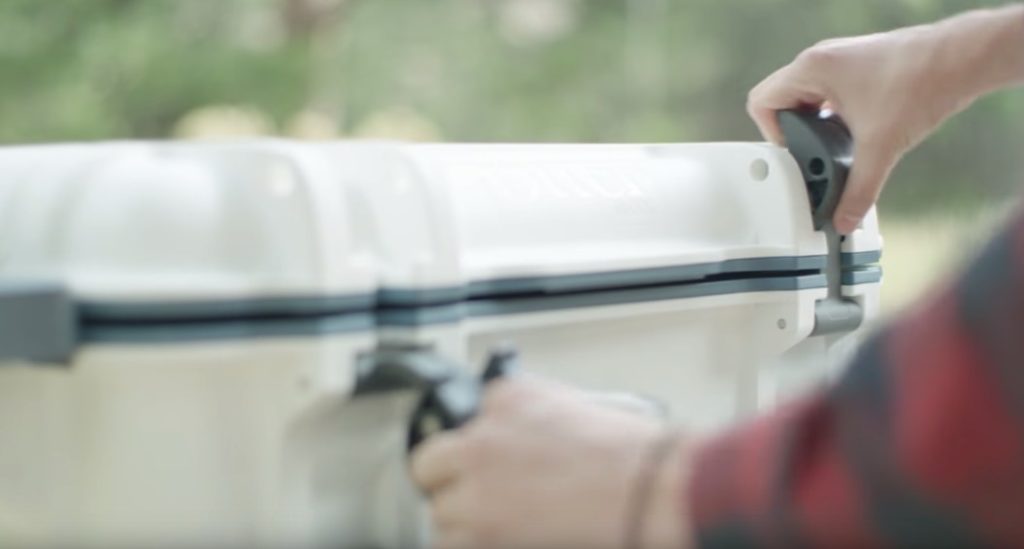 As I mentioned, the otterbox website has only the 25 and 45 qt coolers available and I do not see any that are available on Amazon at all.
Perhaps we can notch this up to supply chain interruptions, etc from covid but hopefully they resolve this soon.
7. Price Fluctuates
Otterbox coolers initially had a very premium price tag. At the moment they are about $20 cheaper than a Yeti but in the past they used to be more expensive.
Their price fluctuations could lead to skepticism from some buyers who might worry that the price drops again after they spend their money.
8. No Wheeled Version
For a heavy cooler such as these you might have hoped to purchase one with wheels to make moving it around a little easier.
Well, unfortunately you won't be able to because they don't make them with wheels.
What you will need to do is purchase the "All-Terrain Wheels" accessory which consists of a chassis and two 3-inch wide, 10-inch diameter wheels. This is one of the best cooler modifications you can make if moving your cooler around easily is a priority for you.
9. Only Sold In The USA
Manufactured in Detroit USA, Otterbox only sells their coolers inside the USA for the moment, making it difficult or impossible to source for international customers.
10. Accessories Are Expensive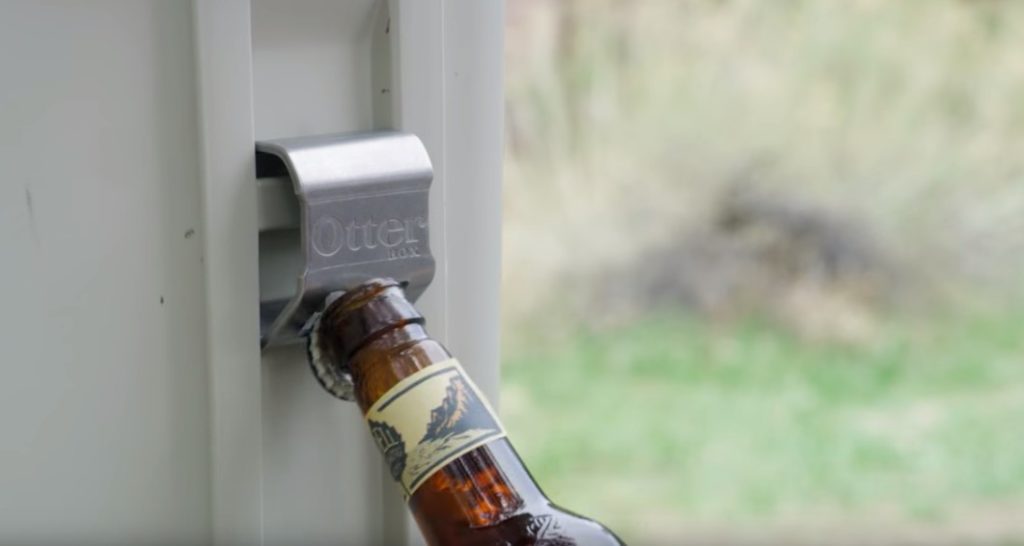 There is a wide range of cooler accessories on offer from the Otterbox website – allow me to list them all for you here:
Ice Pack
Separator
All-Terrain Wheels
Storage Tray
Locks
Side Table
Drybox Clip
Adjustable Drink Holder
Cutting Board
Collapsible Storage Container
Bottle Opener
Double Cup Holder
Tie Down Kit
Storage Pouch
The problem is that just like the Otterbox coolers, the accessories are on the expensive end of the spectrum.
In fact the All-Terrain Wheels we mentioned before cost nearly as much as the 45qt cooler itself.
Are These Problems Deal Breakers?
The answer to this question is always going to depend on your individual preferences. For me none of the "problems" that were covered would deter me from buying this cooler if the price was right and I was easily able to purchase it and get it shipped to my location.
If I can save $25 for a premium cooler that functions every bit as good as a Yeti and might even be the best cooler on the market when it comes to ice retention, then that is what I am going to do.
Great Things About Otterbox
Otterbox has developed their own injection-molding and high-grade cooling technologies that produces coolers with an out shell every bit as tough and durable as a roto-molded cooler.
Their coolers have all the design features needed for excellent insulation and ice retention: Thick Polyurethane foam in the walls AND the lid, Rubber gasket around the lid, and locks to keep the lid closed at all times.
Incredible Ice Retention
Otterbox claims that their coolers are able to retain ice for up to 14 days!
Now this must be under ideal conditions but don't doubt the efficacy of these coolers. I have seen side by side comparisons where Otterbox coolers outperform even Yetis.
Made In The USA

Unlike most other brands, Otterbox coolers are manufactured in the USA. This means that by buying from Otterbox you will be supporting the local economy.
If this is important to you then check out the 19 Best Coolers Made in the USA.
Lifetime Warranty
Having a lifetime warranty is a bold statement about the quality of their product. They are clearly confident about the durability and toughness of their coolers.
This says a lot for me, and if a lifetime warranty is important to you too then look at these 11 Best Coolers with a Lifetime Warranty.
Unique Attachment System To Accessorize Your Cooler
I think that the unique way the cooler and the accessories have been designed to intuitively fit together shows just how much thought and care went into the design.
Coolers Similar To Otterbox
Not convinced the Otterbox coolers are for you? Here are some other options you might want to consider:
Kong Coolers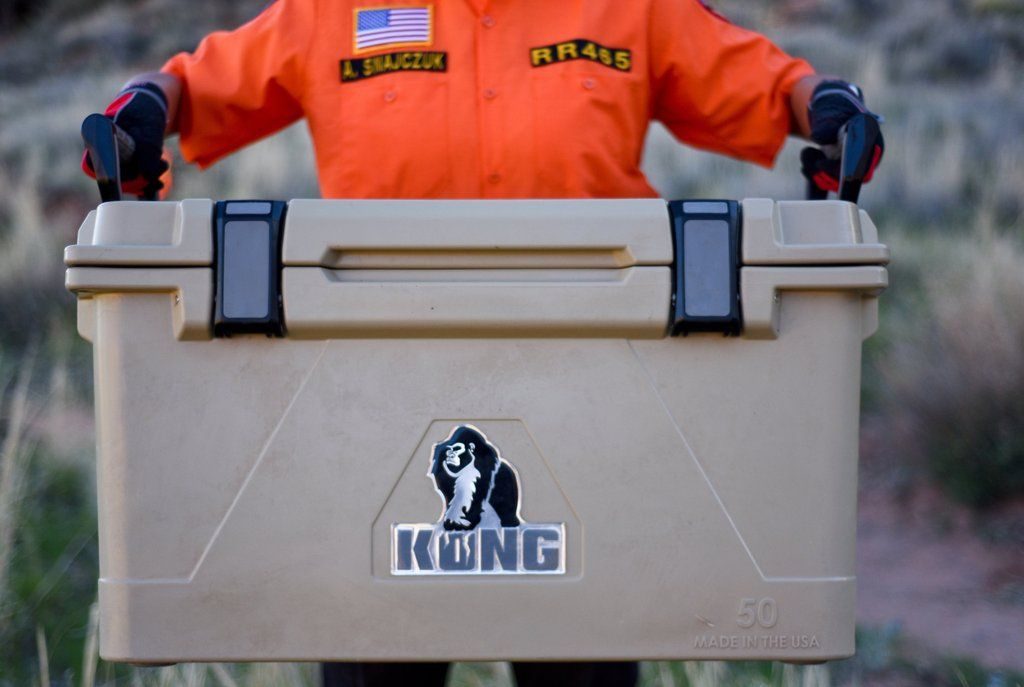 Kong coolers are another excellent brand in the premium cooler market. Kong coolers are also made in the USA and they also offer better ice retention than Yeti coolers and are backed by a lifetime warranty! Check out Kong vs Yeti!
Kong coolers are roto-molded which means they have a body that is strong and durable. And if you are looking for a wider range in sizes than Otterbox has, the Kong coolers come in 25qt, 50qt, 70qt and 110qt sizes.
Orca Coolers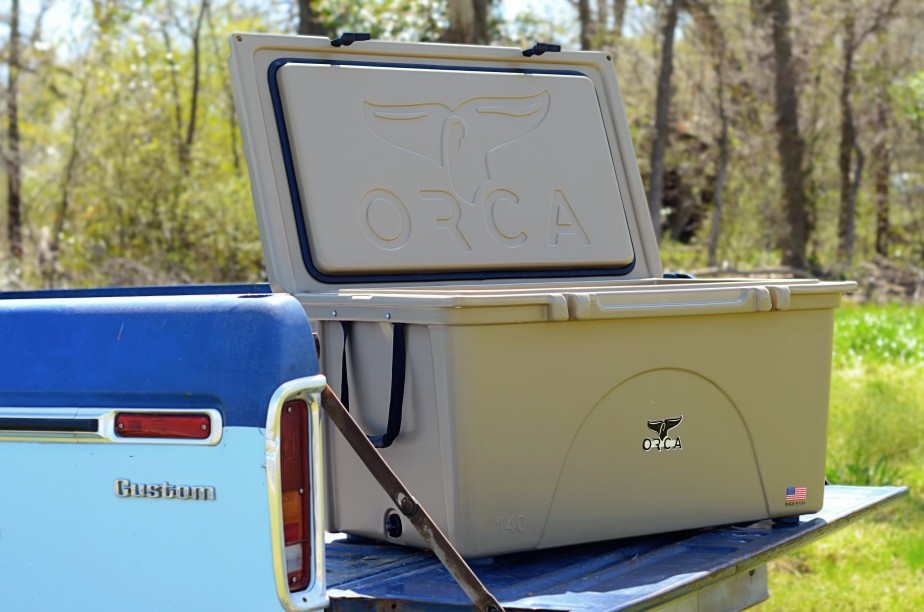 Orca coolers are also proudly made in the USA and offer better ice retention than a Yeti for a similar price.
They are of very good quality and even come with a Lifetime warranty in case you had any doubts.
Orca also has one of the widest ranges in terms of size, offering: 20qt, 26qt, 40qt, 58qt, 75qt and 140qt coolers.
In Summary
Despite a few minor points, Otterbox coolers are some of the best on the market. They are very well designed, durable and come with a lifetime warranty.
None of the points mentioned above would stop me from seriously considering buying an Otterbox cooler