If the standard white or tan cooler coolers aren't really your style then you may want to buy a pink cooler.
Maybe you want to support breast cancer awareness or maybe you just like the color and want to show off your feminine side. Perhaps you're buying a cooler as a present for a special lady in your life or heck, guys can like pink too…it is the 2020's after all!
While pink isn't a super common color for coolers (white, tan and blue/seafoam are more common) there are a few decent pink cooler options out there.
Also click here to see the best coolers for women or click here to see the best Yeti products for women.
Below are the best pink coolers on the market:
1. Yeti Coolers – Soft Pink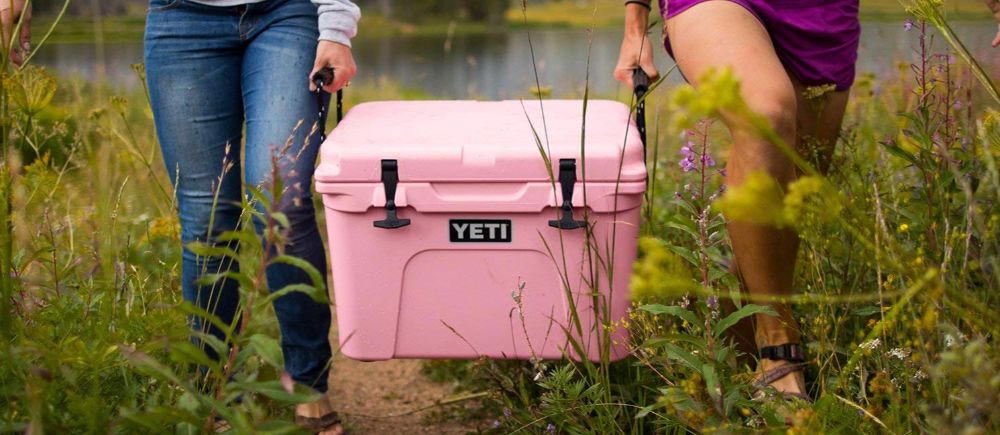 Yeti coolers are the premium cooler brand on the market. They are known for their high-quality coolers that can keep ice for 3-5+ days easily.
I personally own a Yeti and having reviewed a bunch of different coolers I can honestly say that this is still one of my favorite cooler brands out there.
Yeti Coolers Are Made To Last
Yeti coolers are made from roto-molded plastic, which means the exterior shell is super strong and can handle almost anything you throw at it.
I've seen people throw their Yeti's out of moving cars, throw them, hit them and even drive a car onto them and they hold up.
Yeti's are certified bear proof and will last you a lifetime. Yeti coolers are backed by a 5-year warranty but I've had my Yeti 4 years now and it works just as good as it did the day I bought it.
Can Keep Ice For Over a 3-7+ Days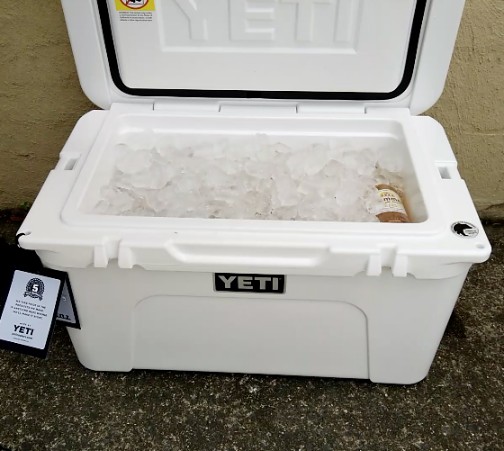 Yeti coolers are packed with 2-3 inches of pressure injected insulation. This insulation along with the freezer grade gasket and rubber handles means it can keep ice for 3-7+ days.
Check out my Yeti ice test – you won't believe how long it held ice for!
3 Pink Size Options
Yeti released their pink coolers in 3 different sizes.
Yeti Roadie
The smallest and most popular is the Yeti Roadie which is approximately 21-Quart in capacity and has a rotating padded metal handle for easy carrying.
This is a great personal sized cooler and it can keep ice for 2-4 days.
See latest price of Pink Yeti Roadie coolers at Amazon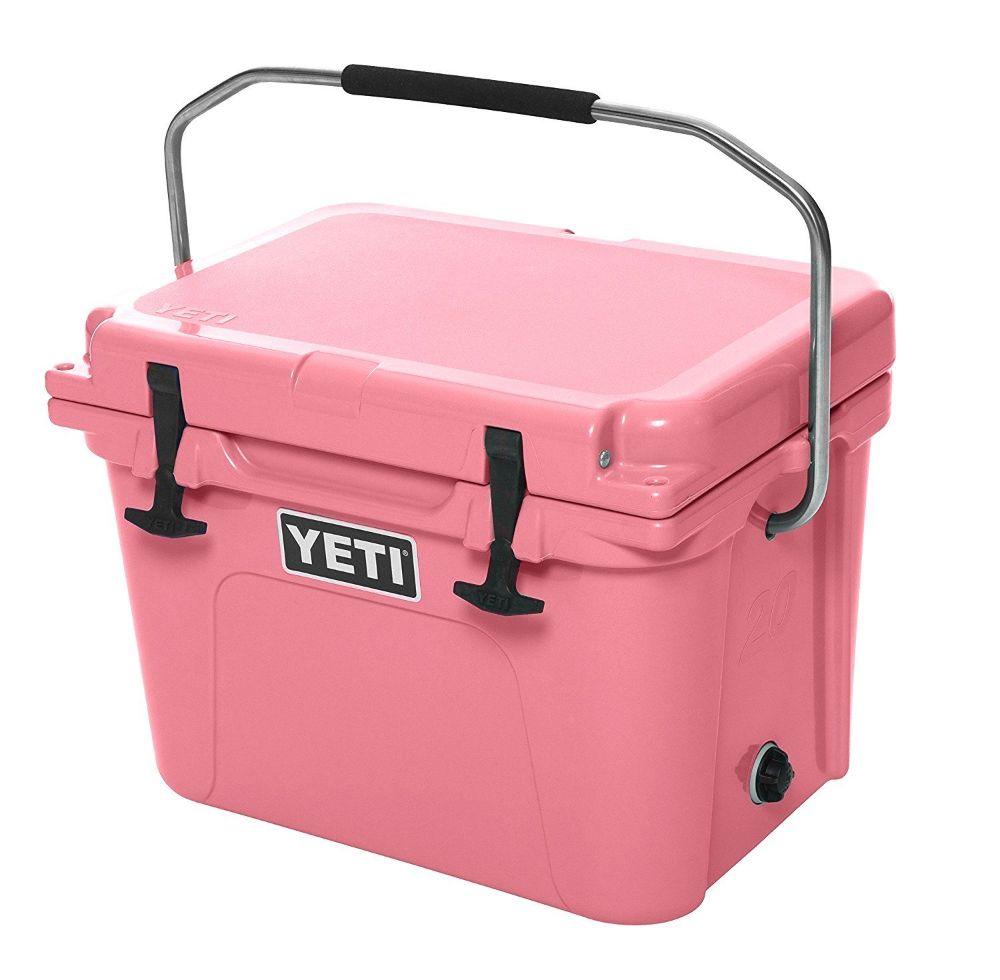 Yeti 35
The Yeti 35 is approximately 29-Quart in capacity and features two nylon rope handles on the side instead of the rotating metal handle the Roadie has.
A bit larger and with more insulation the Yeti 35 can keep ice 3-7 days.
See the latest price of Pink Yeti 35 coolers at Amazon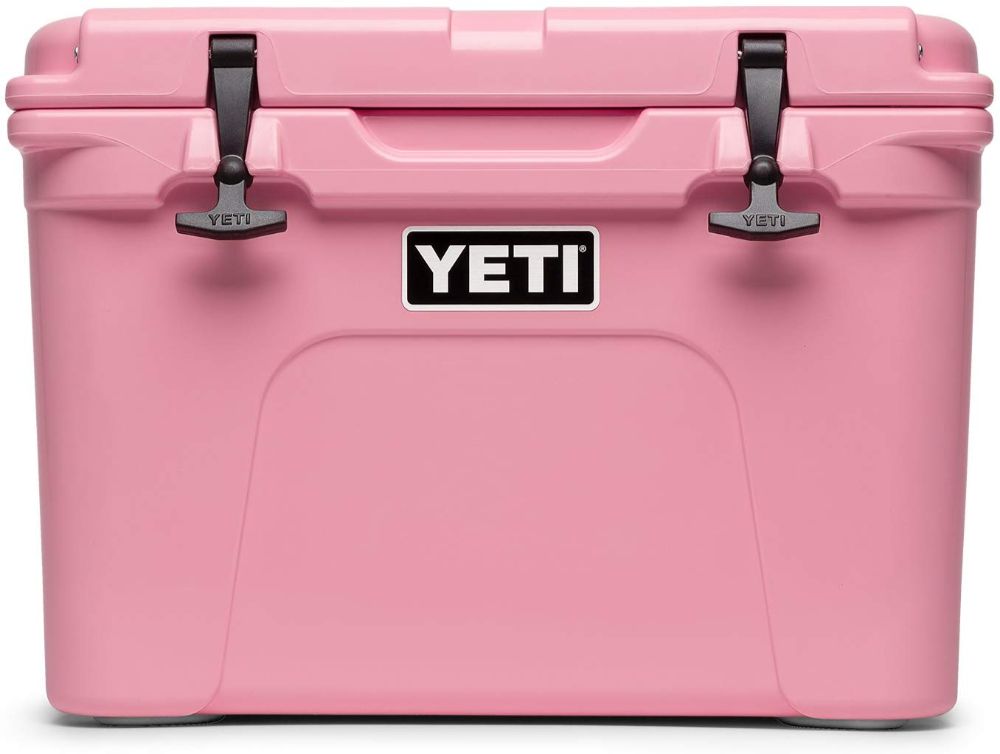 Yeti 50
The Yeti 50 is shorter and taller in design than most other Yeti coolers. It's approximately 47-Quart in capacity and is a good medium sized coolers for family weekends away or longer off-grid getaways.
The Yeti 50 is now a discontinued size but there are some still available at Amazon, and still some pink coolers available too – though you may pay a premium for them.
You'll be shocked at how expensive the pink Yeti 50 is at Amazon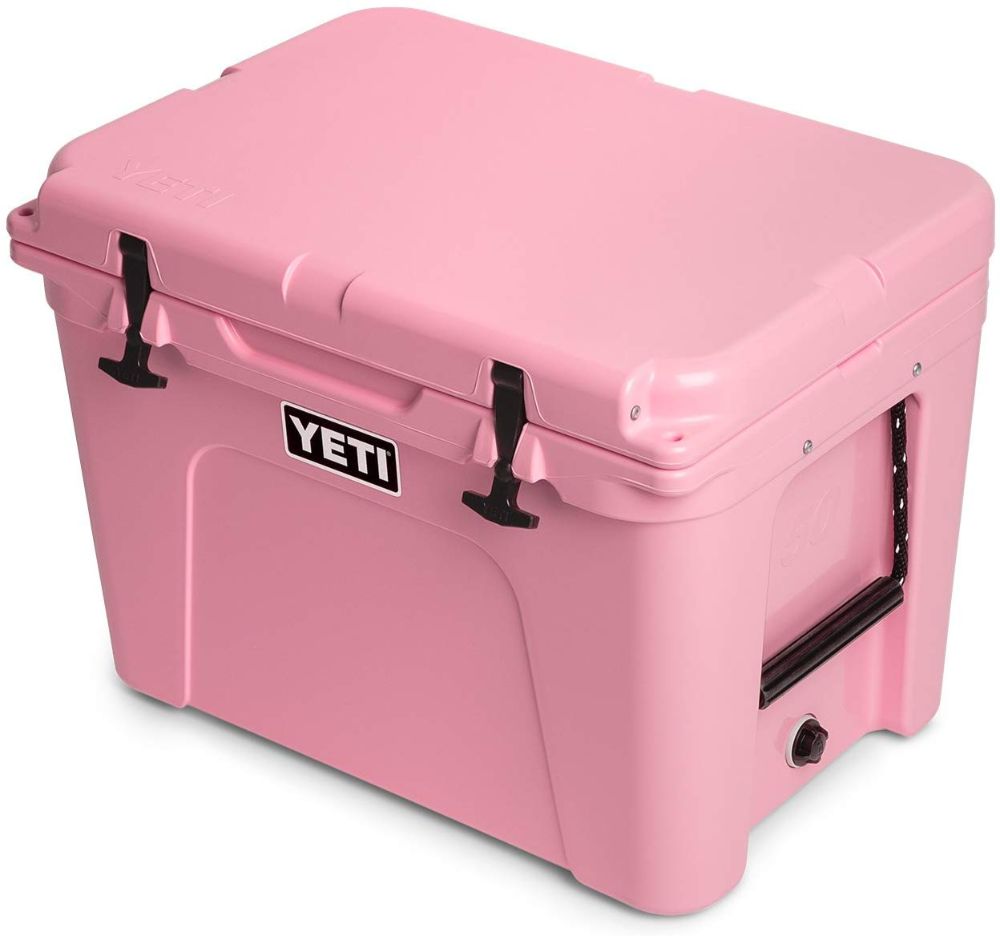 Coral Also Available
While not technically pink the "Coral" color is very close to pink just with a bit more orange in it.
You can get the Yeti Roadie, Yeti 35 and Yeti 45 all in Coral.
Even though they too had a limited rub they generally aren't quite as expensive as the Pink Yeti options.
See latest price of the Yeti Coral coolers at Amazon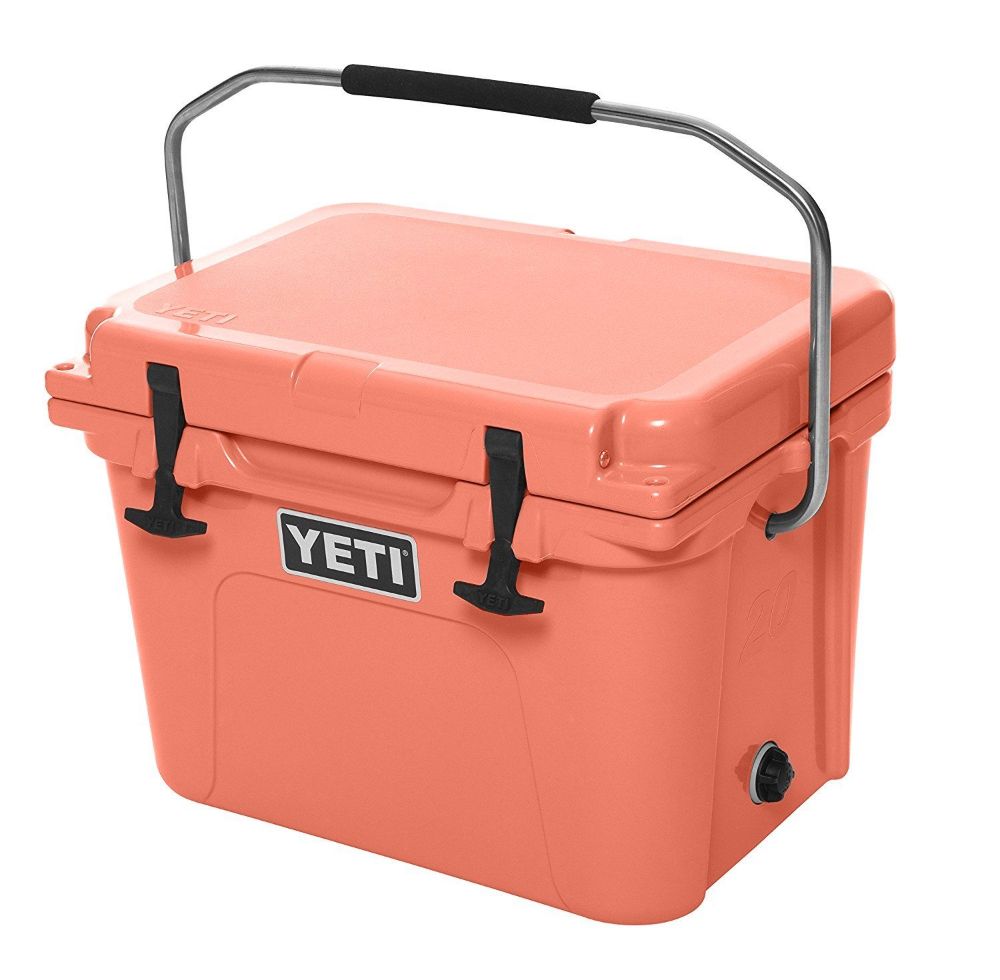 2. ORCA Coolers – Bright Pink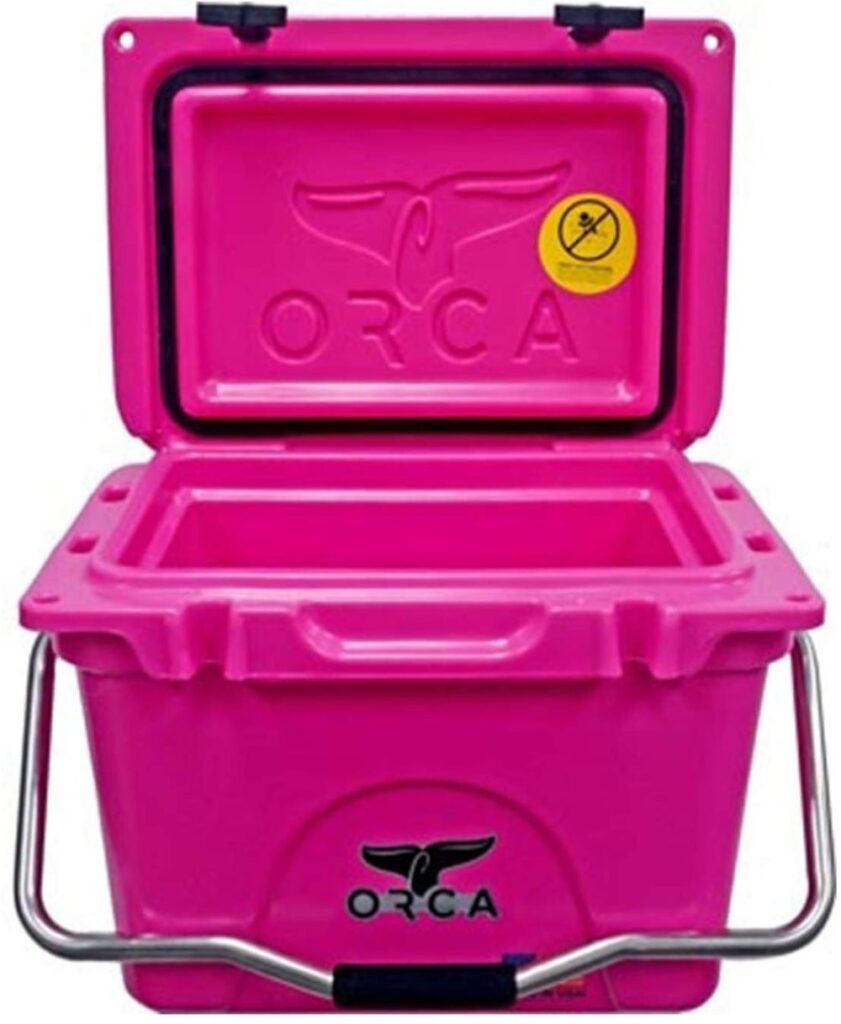 ORCA is another highly reputable brand of cooler that is similar to Yeti but is made in the USA and backed by a lifetime warranty.
Similar To The Yeti But Better Ice Retention
The ORCA coolers are extremely similar to the Yeti.
Roto-molded design
Thick insulation
Pull down rubber latches
Freezer grade gasket
Single pin hinge
Insulated lid
Non-slip feet
Rope handles
However, ORCA coolers do tend to outperform Yeti coolers in ice tests and are actually one of the best coolers at keeping ice the longest.
Pink ORCAs Aren't As Expensive as Yeti
Yeti did a limited run of Pink coolers which is why you can now only buy them on Amazon and also why they tend to sell for a premium.
However, ORCA seems to consistently sell pink coolers in a variety of sizes. This means you can pick them up for the same price as any other color ORCA cooler, making it much cheaper than the Pink Yeti coolers.
See the latest price of Pink ORCA coolers at OrcaCoolers.com
(or compare to the latest price of Pink ORCA Coolers at Amazon)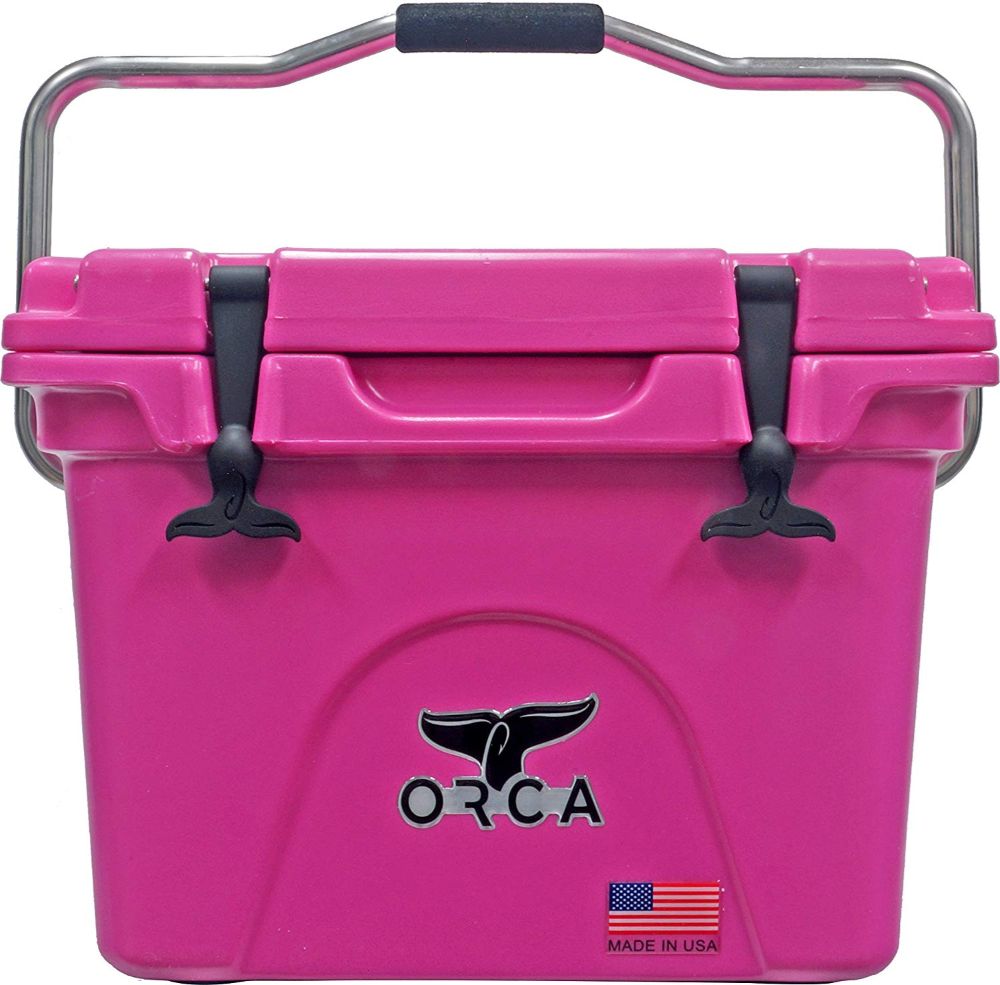 3. RTIC Pink Coolers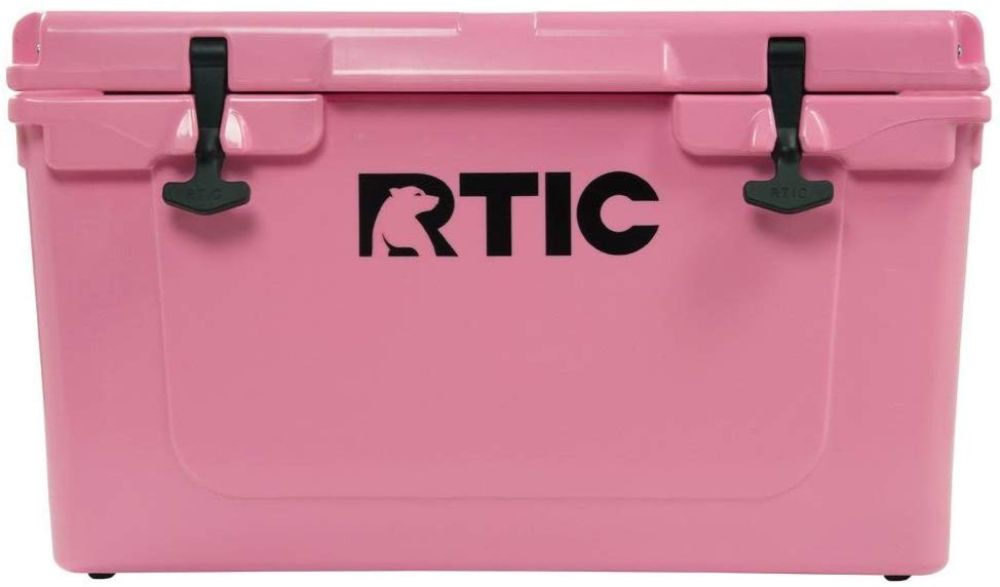 RTIC are another major competitor to Yeti and one of the most popular roto-molded coolers on the market and they recently came out with a pink version of their cooler.
All the stuff you would expect from a high-end cooler.
Roto-molded shell
Bear proof
Thick pressure injected insulation
Pull down rubber latches
Freezer grade gasket
Non-slip rubber feet
Rope handles
Currently it's only the 45-Quart size that has pink available and the smaller 20-Quart size doesn't.
But this cooler is a similar quality to both Yeti and ORCA but is significantly cheaper than them. So if you're looking for a high-quality pink roto-molded cooler but want to spend a bit less then this is the best option for you.
See how cheap pink RTIC coolers are at Amazon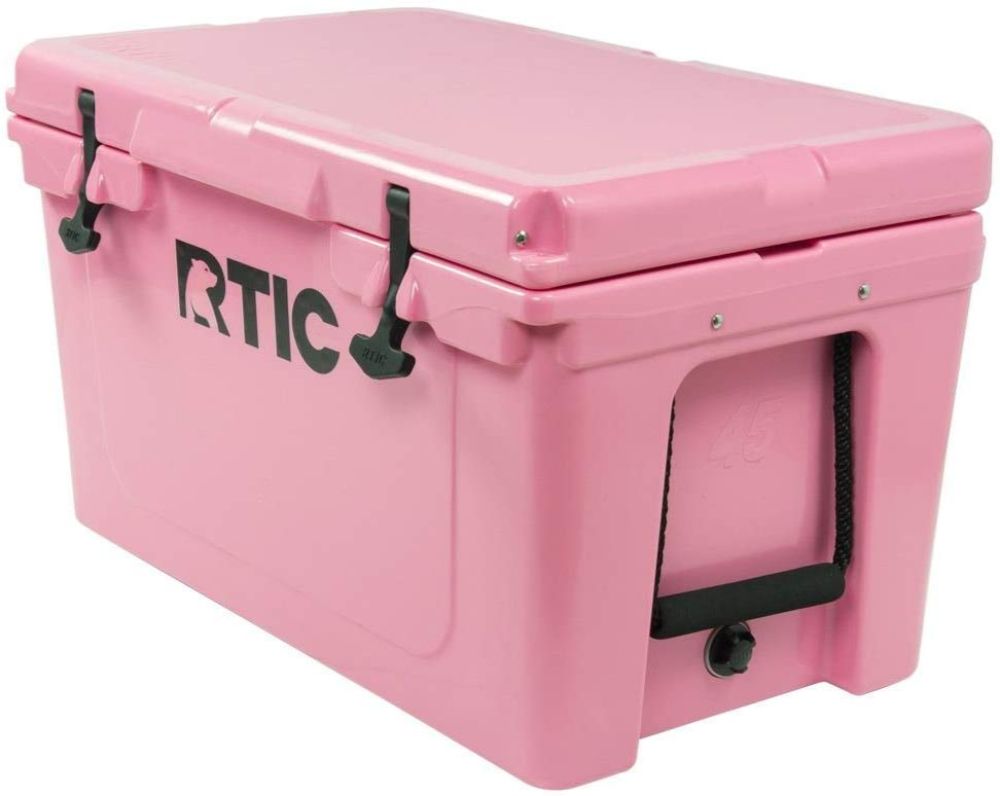 4. RTIC Pink Lunch Bag
For something on the cheaper end of the spectrum RTIC also have a bright pink and a soft pink insulated lunch bag with a shoulder strap.
This product is similar to other affordable insulated lunch bags you would buy. It doesn't have insulation to keep items cold for multiple days, but it has a little bit of insulation to keep you going until lunch time.
I rate this cooler as one of the best cheap coolers under $50.
It has an exterior front zipper pocket as well as 2 side mesh pockets designed to hold water bottles, extra snacks or other gear.
It's made from heavy-duty polyester and the interior is made of FDA approved food-safe material.
It comes in 4 different sizes – 6 cans, 8 cans, 15 cans and 28 cans. Each size has a pink option available and they start at under $30.
See the latest price of pink RTIC lunch bags at Amazon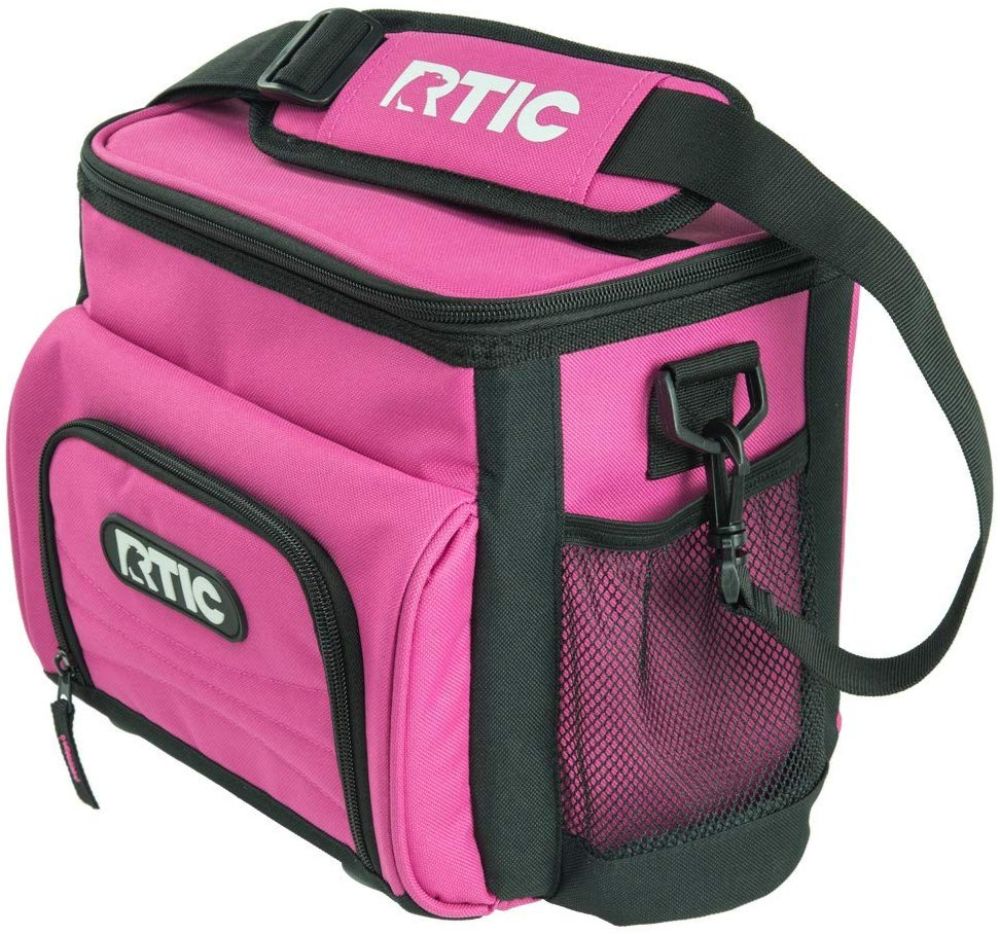 5. Engel Cooler/Dry Box
The Engel Cooler/Dry Box is a cute little 30-Quart cooler that can be used to keep items cold or can also be used as a general waterproof storage box to keep items dry.
It features a recessed central carry handle, airtight EVA gasket which provides a waterproof seal and stainless steel latches to keep the lid held firmly shut.
It is insulated but not to the level of the Yeti, Orca or RTIC roto-molded coolers mentioned above. But the price also reflects this too.
This is an affordable decent sized pink cooler.
If you don't need to keep ice for more than 2 days and if being bear proof doesn't matter to you then this could be a perfect affordable option for you.
See the latest price of the pink Engel cooler at Amazon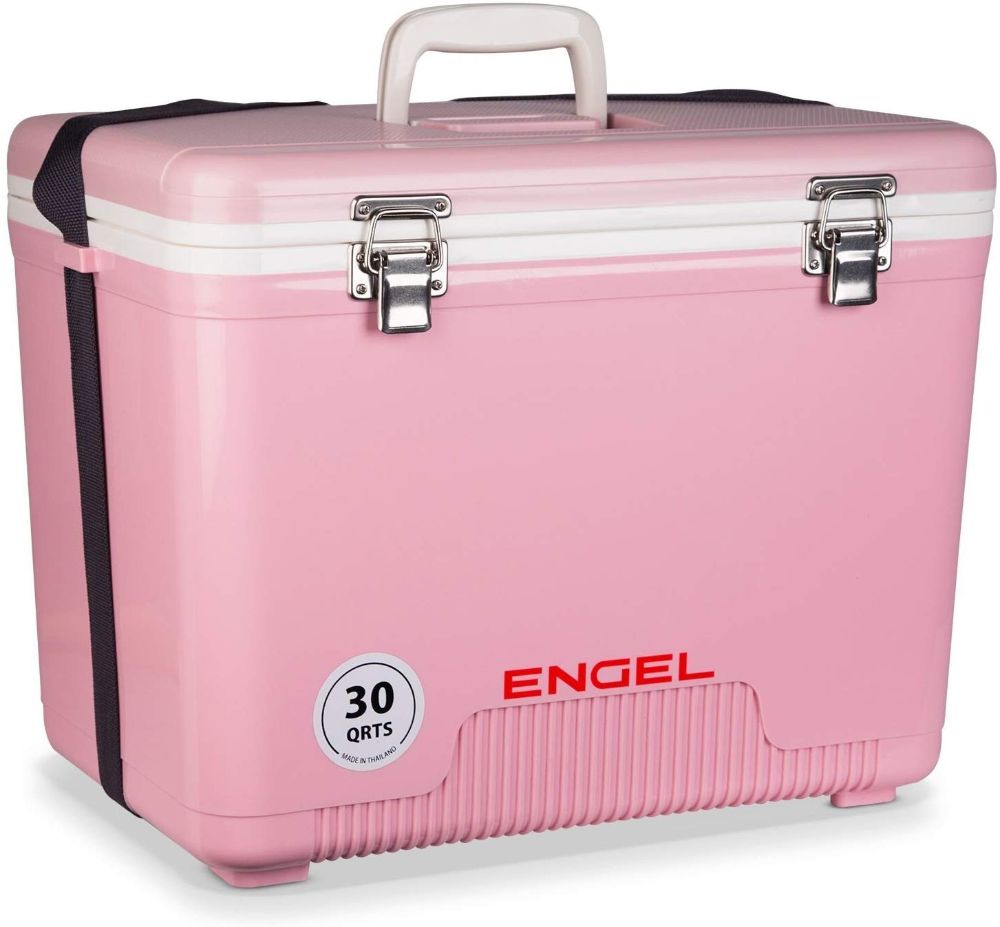 6. Coleman Steel-Belted
The Coleman steel-belted pink cooler is made from heavy-duty stainless steel and it has an amazing retro feel to it that I absolutely love.
It is 54-Quart in capacity and is basically the same design as the iconic Corona steel coolers.
It has a white bottle opener at the front, a metal turning latch to keep the lid from opening and fold up metal handles.
The insulation is similar to that of any regular cooler and while it claims up to 4 days ice retention you're more likely going to get 1-2 days of ice retention from this baby.
Still it's not nearly as expensive as a roto-molded cooler and it's a good medium-large size which would be suitable for multiple people's food and drinks.
Great for a camping gal, a day at the beach with the girls or a womens picnic.
This is probably the most stylish pink cooler on this list and one that the girls will love.
See the latest price of the pink Coleman steel cooler at Amazon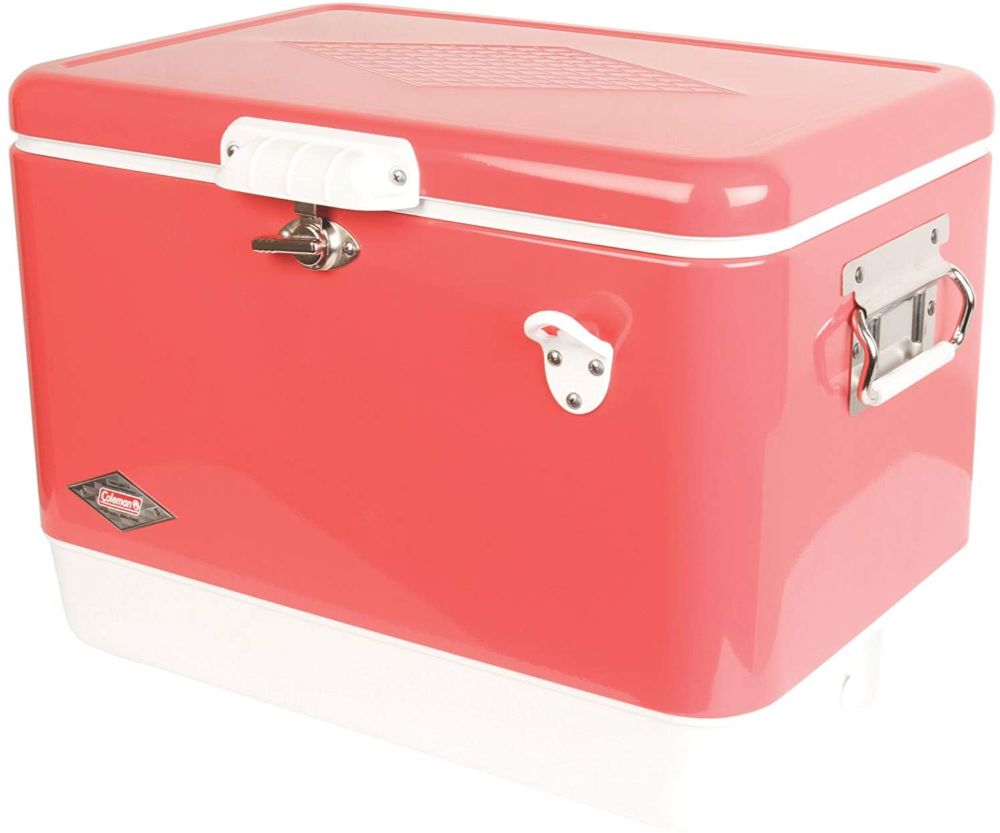 7. K2 Coolers
K2 coolers are another high-quality roto-molded alternative to Yeti.
The 30-Quart size comes in a reddish pink and has "Just For Does" logo branding on the lid.
The major difference with this cooler and the Yeti/Orca/RTIC is that the rubber latches pull up and over the lid rather than pulling down onto the body of the cooler. Same mechanism to keep the lid on tight just a different direction. It's much of a muchness.
The price however is starkly different. It's even cheaper than the RTIC and is one of the more affordable roto-molded coolers on the market.
See how cheap the pink K2 cooler is at Amazon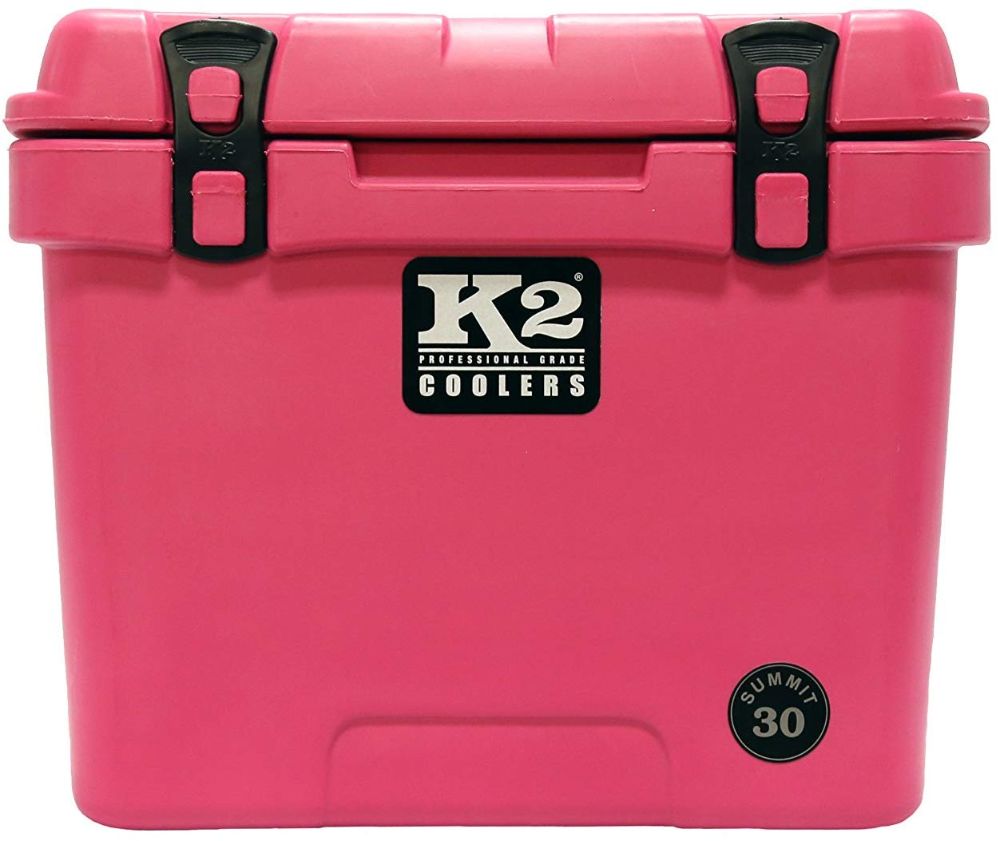 8. Bison Soft-Sided Coolers
The pink Bison soft sided cooler is higher-quality than the RTIC lunch box we mentioned above and it keeps ice longer too.
It is made from 1000-denier vinyl which is even tougher than high-end Yeti soft sided coolers. It's tear resistant and UV protected so it won't fade easily.
It's got premium insulation and can keep ice for up to 24 hours even in 120 degree heat.
There's a shoulder strap or carry handle and it also has an exterior front pocket for things you don't want to get wet.
These soft sided coolers are proudly made in the USA and they come in 2 sizes – 12 pack and 24 pack.
See pink Bison soft coolers at Amazon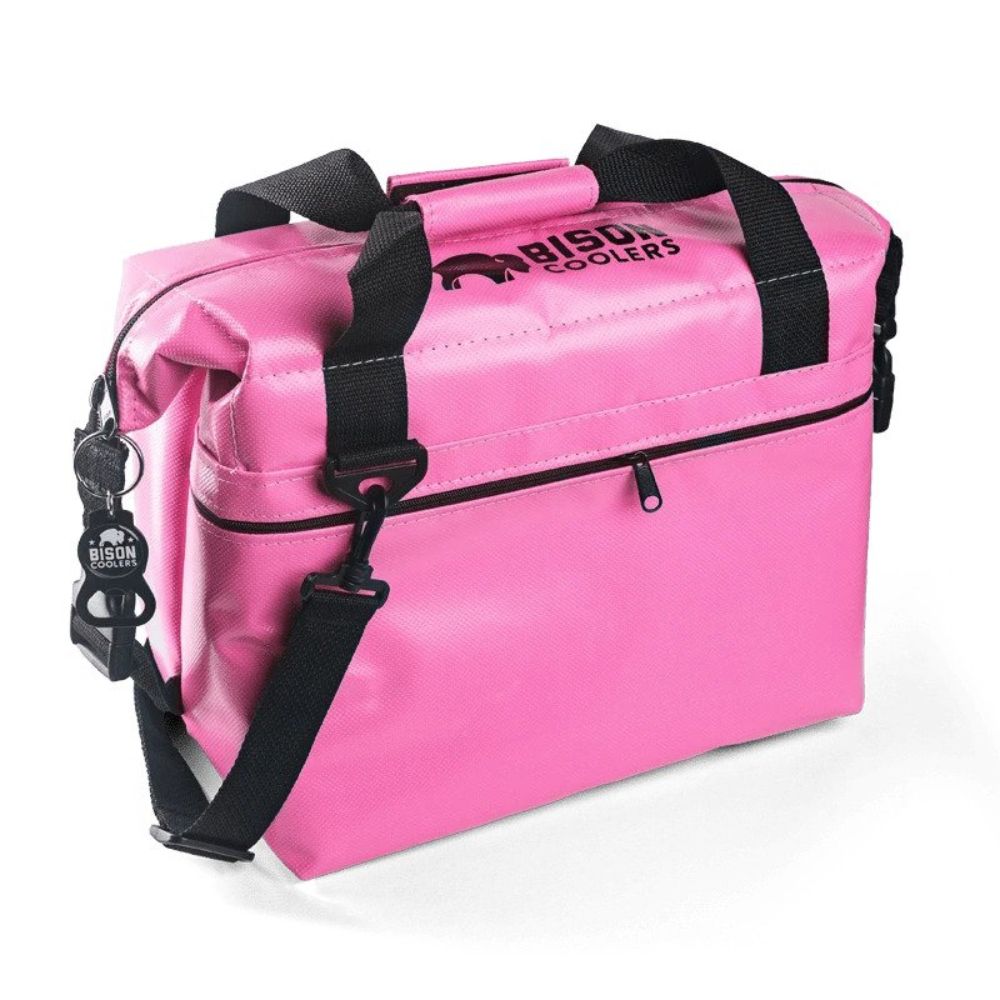 9. Corkcicle Backpack Cooler
Looking at the Corckcicle backpack cooler you can't even really tell that it's an insulated backpack. It just looks like a trendy soft-pink lady's bag.
It uses closed-cell insulation and while it's not super thick and won't keep ice for days it's useful for keeping your lunch cold.
It has a food safe interior liner which is easy to clean and a large capacity that can hold up to 12 cans.
The backpack straps are adjustable and it also has a top handle and reinforced base.
See the latest price of the Corkcicle backpack cooler at Amazon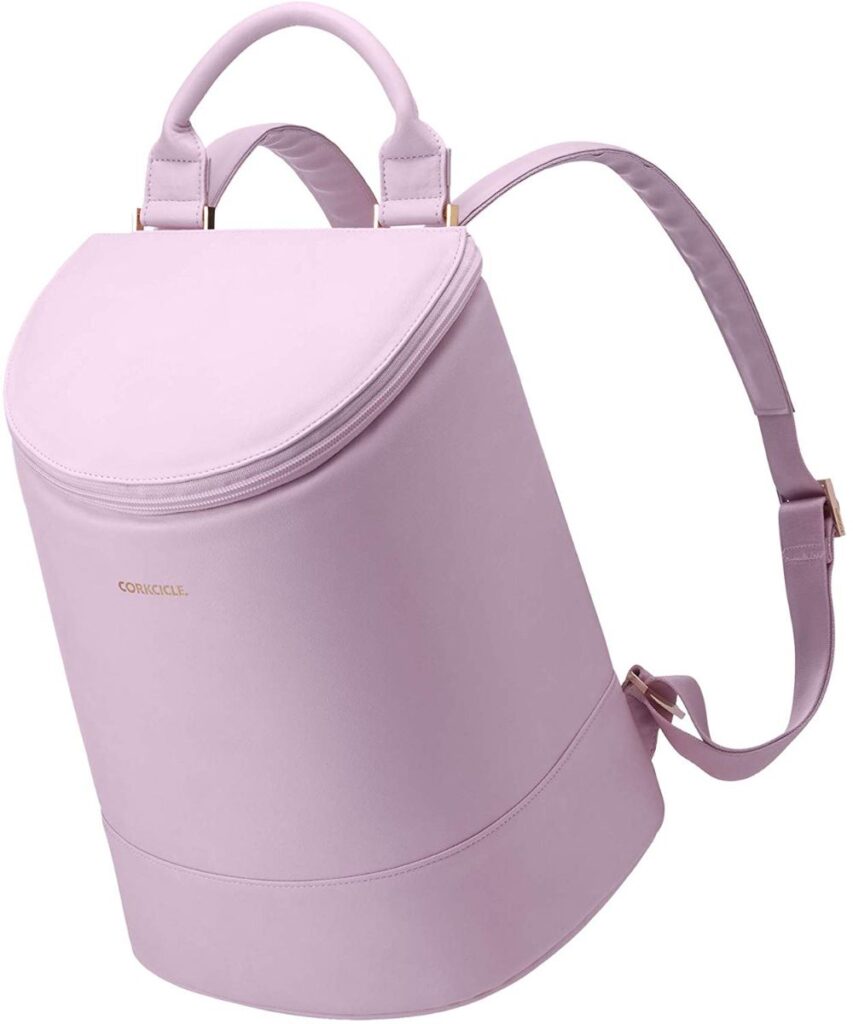 10. Milee Coolers
Milee Coolers are a generic imported roto-molded cooler that come in a bright pink color that is a bit more on the red side.
It has a lot of the same features as the Yeti but has added bottle openers as well as an attached drainage plug and folded in fishing ruler on the lid. There is also a pressure release valve on the front to make opening the lid easier.
The build quality isn't quite as good as the Yeti and I'm yet to see any serious ice comparison tests with the Milee but I would expect the pink 45-Quart version to keep ice similar to the Yeti (3-5 days).
It sells at a discount compared to Yeti, Orca and RTIC so may be worth considering
See the latest price of pink Milee coolers at Amazon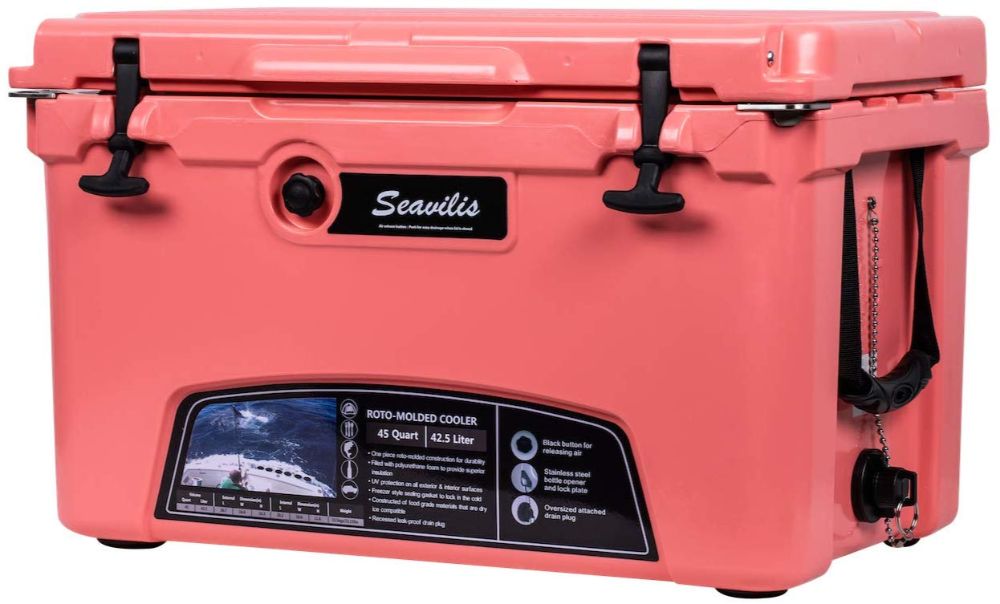 Which Pink Cooler Will You Choose?
There you have 10 of the best pink cooler options on the market at the moment.
Which one do you think suits you best?
Do you want to go with the high-end Yeti, Orca or RTIC cooler or are you simply looking for a trendy but smaller lunch bag like the RTIC bag?
Whatever pink cooler you decide to get I'm sure you'll love whipping it out and showing some flair to the world.
For more pink coolers click here to see a full list of the best pink coolers at Amazon