If you're a woman that loves the outdoors (or you know one who does) then chances are you may need a cooler.
There are a lot of great coolers out there and while some of them are more masculine in nature there are many options that are more feminine and would be great for women.
Here are some of the best coolers for women and girls.
1. Yeti Coolers (They Come In Pink)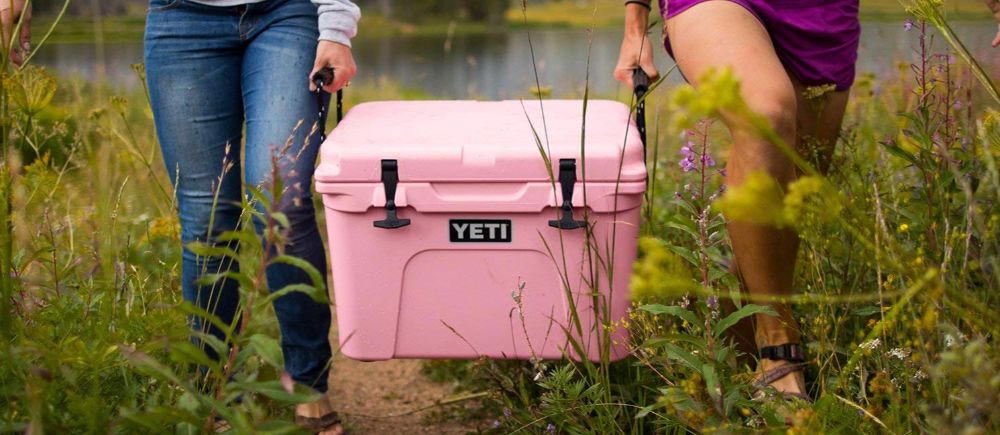 When it came time to choosing what cooler to use as our primary cooler when we lived in the van my female partner had the pick of the litter.
I run a cooler review site and had purchased a bunch of cooler brands for review.
She instantly liked the Yeti best for it's aesthetic appeal. It's smooth lines and quality plastic really make it feel like an upper class cooler.
It's interesting because Yeti are one of the best masculine coolers on the market but they are also one of the best famine coolers too.
Made To Last

Yeti coolers are made from roto-molded plastic which makes them extremely tough and even certified bear proof.
Everything on this cooler from the pull down rubber latches to the rope handles to the single pin hinge is over engineered and made to last.
These coolers will handle anything you throw at them. They are backed by a 5-year warranty but in most cases they will last you much longer than that. I've had my Yeti for about 4 years now and it still works as good as the day I bought it.
Can Keep Ice For Days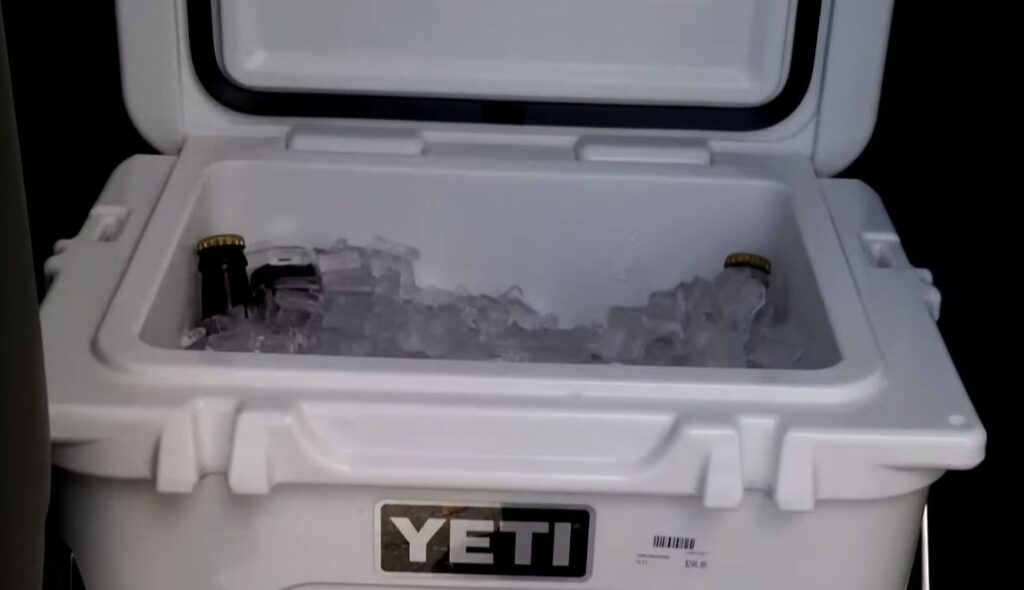 Yeti coolers are pressure injected with 2-3 inches on insulation in the walls and the lid of the cooler. This gives them their amazing ice retention.
Yeti coolers can keep ice for 3-7+ days which means your food and drinks stay colder longer and you don't have to top up ice as often.
You'll be shocked at how long my Yeti 45 kept ice for in this ice test
Lots Of Color Options Available
There are a lot of different color options available in the smaller sizes and you can get Yeti coolers in Pink, Coral, White and Seafoam Green. See the full list of every Yeti cooler color.
Yeti does limited seasonal releases of colors and while some colors (like pink) aren't available in stores anymore you can still get them through Amazon.
While we ended up getting the white cooler (which I still own today) you can choose the color that best suits you and your style.
See latest price and colors of Yeti coolers at Amazon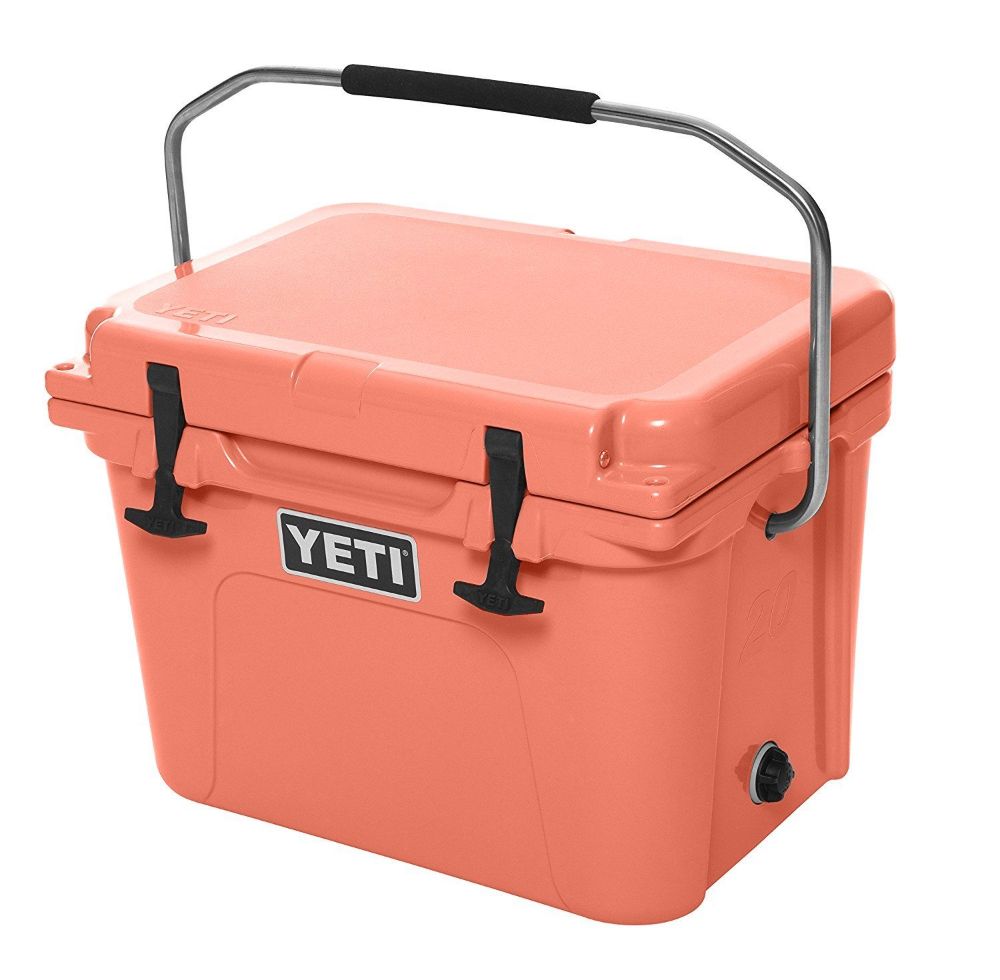 2. Yeti Hopper M30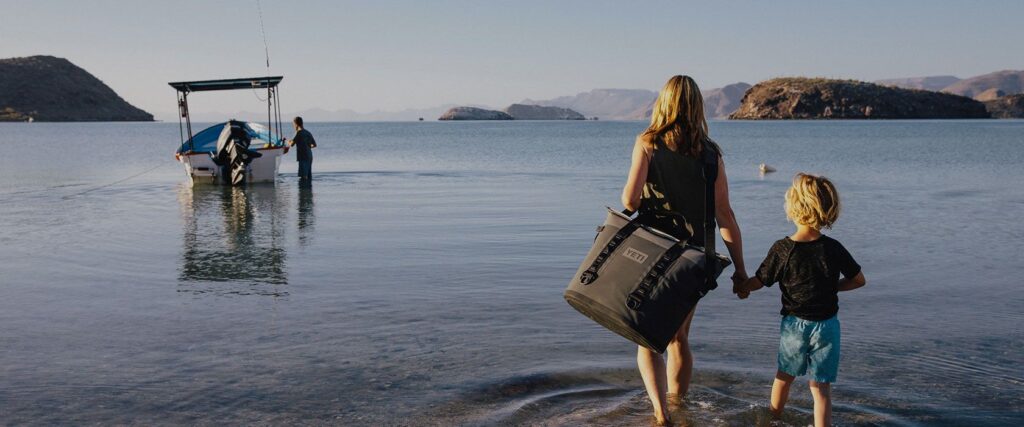 The Yeti Hopper M30 is Yeti's soft sided cooler.
It's made from 840D nylon which is TPU laminated which means it is extremely tough and scratch/puncture resistant but also soft to touch.
It is packed with 0.75-1 inches of insulation which allows it to keep ice for 2-4 days. The magnetic close and food-safe anti-microbial liner makes the cooler safe for food as well as waterproof so it won't spill if it tips over in your car. Read my full Yeti M30 review to see the full details.
It has a soft shoulder strap for easy carrying, two handles for single hand carrying as well as side handles for carrying with 2 hands when it gets too heavy.
Great for days at the beach with the family, road trips away or a day out on the boat.
It comes in a few different colors and Yeti does seasonal colors for this cooler also.
See the latest price of the Yeti Hopper M30 at Amazon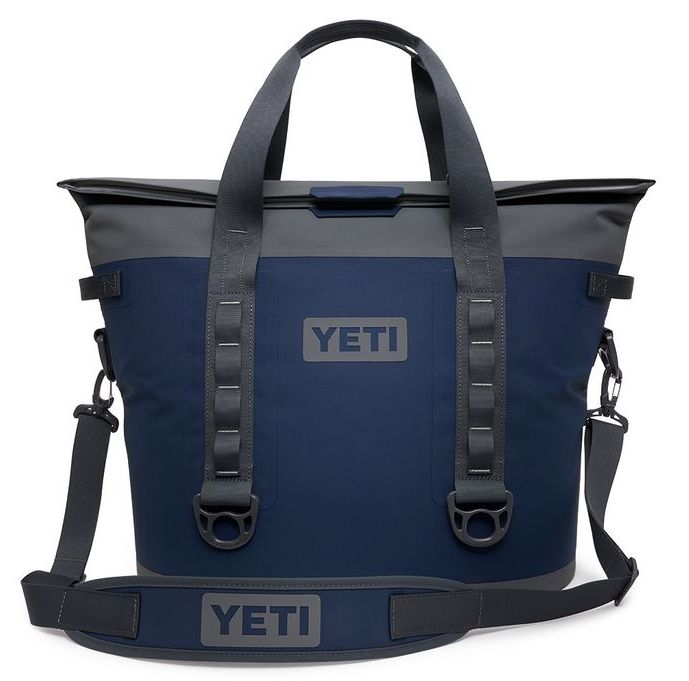 3. Kula Cooler

The Kula Cooler is one of the best round coolers on the market.
It's small and compact – coming in a 20-Quart and 10-Quart size – and is packed with features.
It's roto-molded which makes it extremely tough and durable and it has enough insulation to keep ice for 2-3 days. See more details about ice retention and features in my full Kula cooler review: is round actually better?
It has a grippy lid which adds a layer of padding making it more comfortable to sit on, a rotating padded metal handle for easy carrying as well as non-slip feet and an inbuilt bottle opener.
The smaller size also has a tap so it can be used either as a cooler or a drink dispenser.
Proudly made in the USA this is a great compact cooler that girls would love.
See the latest price of Kula 20-Quart at Amazon
Or see the Kula 10-Quart with tap at Amazon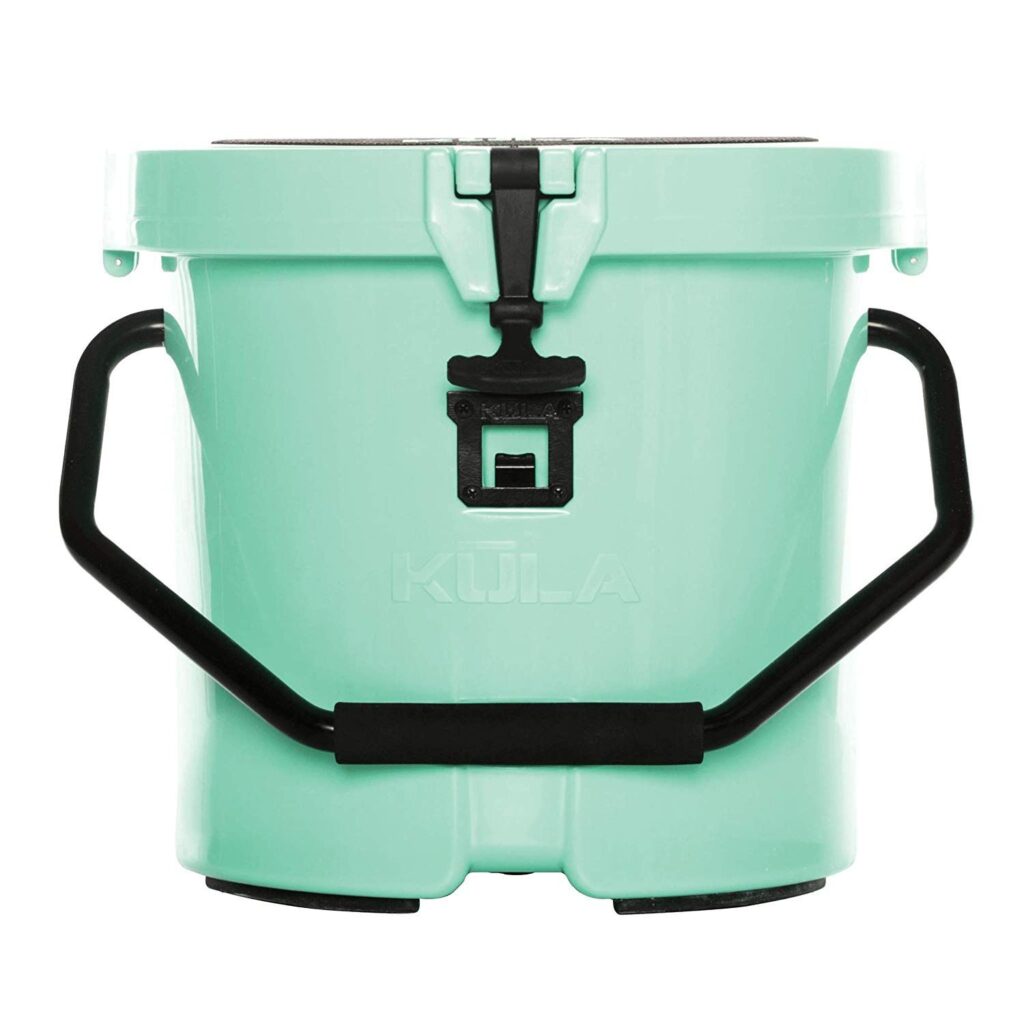 4. Yeti Hopper Flip

The Yeti Hopper Flip is a compact soft-sided cooler from Yeti with a rectangular shape.
It comes in smaller sizes than the M30 we talked about earlier (which is about 30-Quart). The Hopper Flip 8 is just larger enough for about 8 cans. Then it goes up in size to the Hopper Flip 12 and 18.
The Hopper Flip is easy to transport and has a should strap for easy carrying as well as a strong handle on the lid so you can just carry it around with one hand.
The HydroLock zipper is 100% waterproof which means no spilling or leaking even if your cooler gets knocked over.
It comes in 3 different sizes and a few different coolers and is a great portable cooler for women who need to keep things cool on the go.
To see the different sizes and color options click my affiliate link below.
See latest prices of Yeti Hopper Flip coolers at Amazon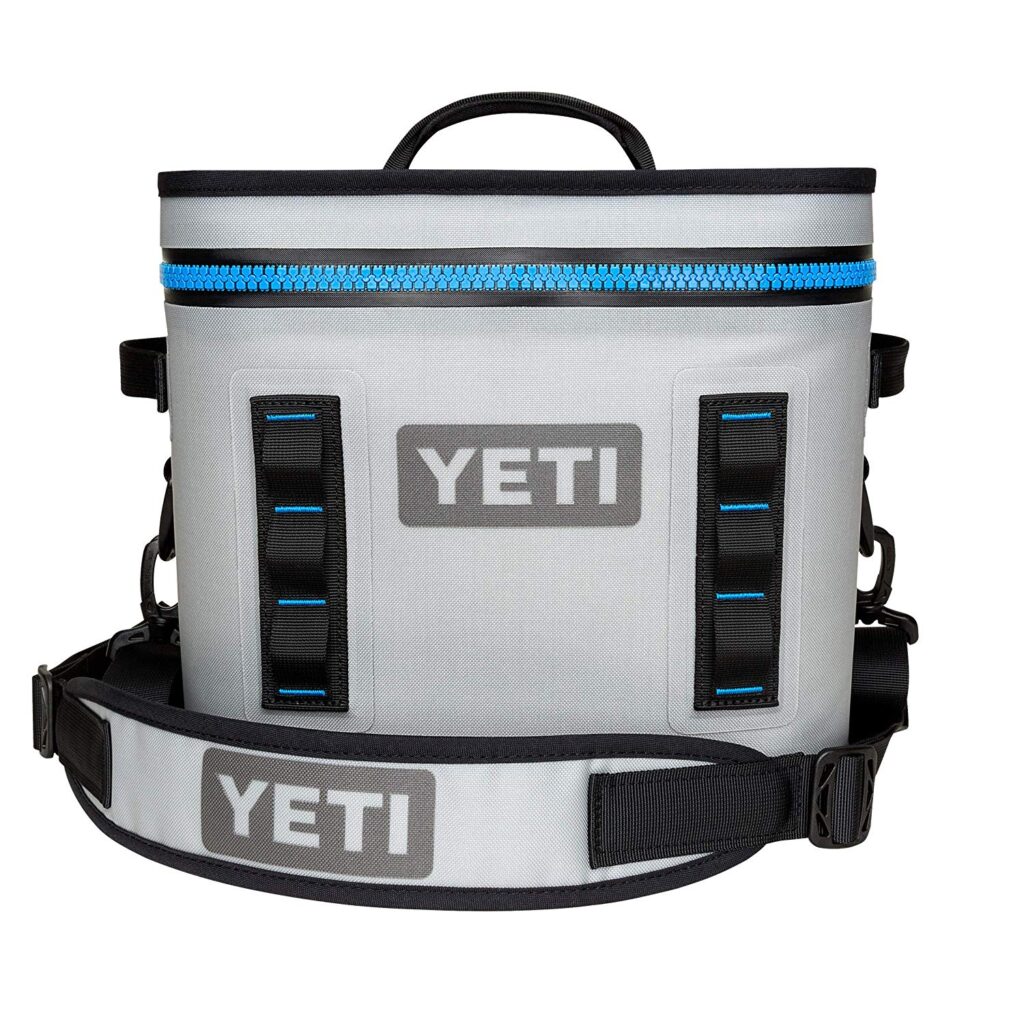 5. Orca Coolers (They Also Come In Pink)


ORCA coolers, like Yeti, are known for their high-quality roto-molded coolers.
The design is similar to Yeti and they have a variety of color options – including a bright pink color as well as a purple color.
ORCA is extremely similar to the Yeti in it's features. Click here to read my full Orca vs Yeti cooler review.
Below are some of the features they have in common:
Roto-molded shell
2-3 inches of pressure injected insulation
Pull down rubber latches
Strong single pin hinge
Non-slipping feet
Freeze grade rubber gasket
Nylon rope handles
ORCA coolers are made locally in the USA and they are also backed by a lifetime guarantee.
Their ice retention is also superior to that of Yeti and they are actually one of the top performing coolers when it comes to ice retention.
See the latest prices on pink ORCA coolers at OrcaCoolers.com
(or compare to the latest prices of pink ORCA coolers at Amazon)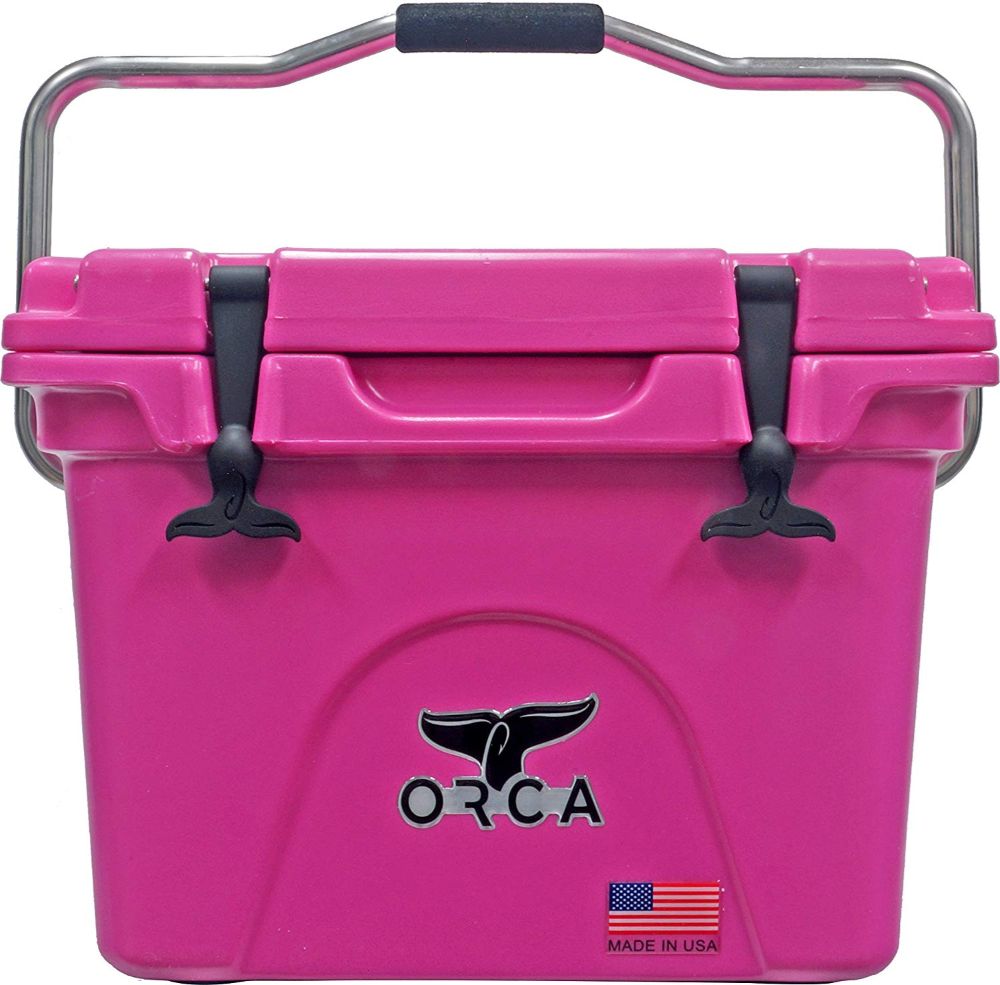 6. RTIC Coolers (More Pink)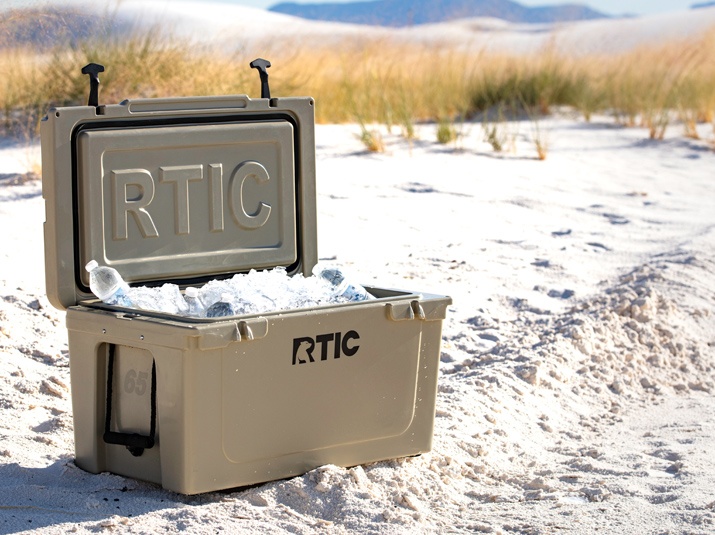 RTIC coolers are another high-end roto-molded cooler brand that is very similar to Yeti. So similar in fact that RTIC was successfully sued by Yeti and had to redesign a bunch of their products.
RTIC coolers have everything you would expect from a high-end cooler and their ice retention and durability is similar to that of Yeti.
However, they sell for cheaper than the Yeti and the ORCA coolers. So if you're looking for a high-quality cooler but want to save yourself some money then RTIC is a good option to look at.
They come in multiple sizes but only the RTIC 45 comes in the soft pink color shown above.
See how much cheaper RTIC coolers are at Amazon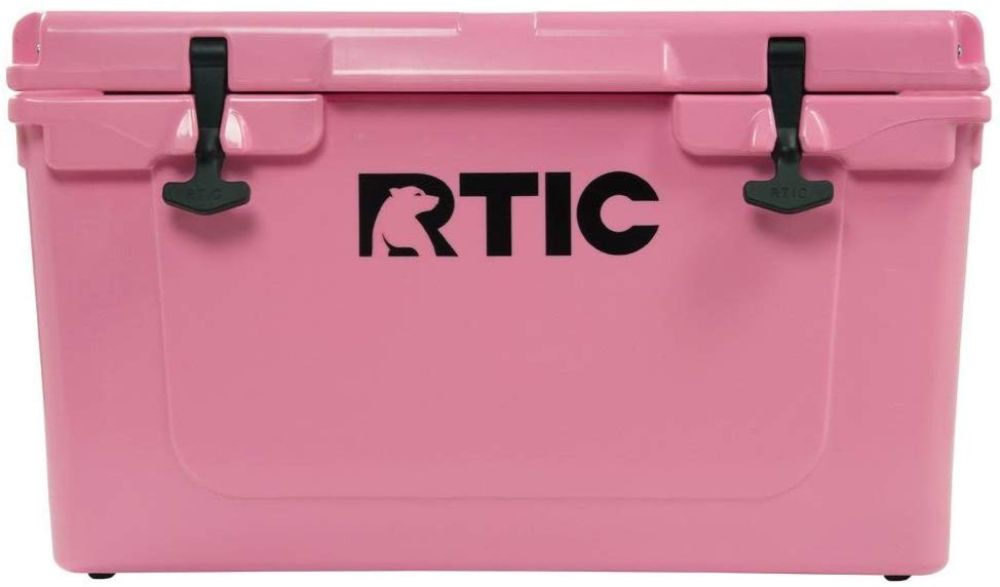 7. Pelican Elite 20-Quart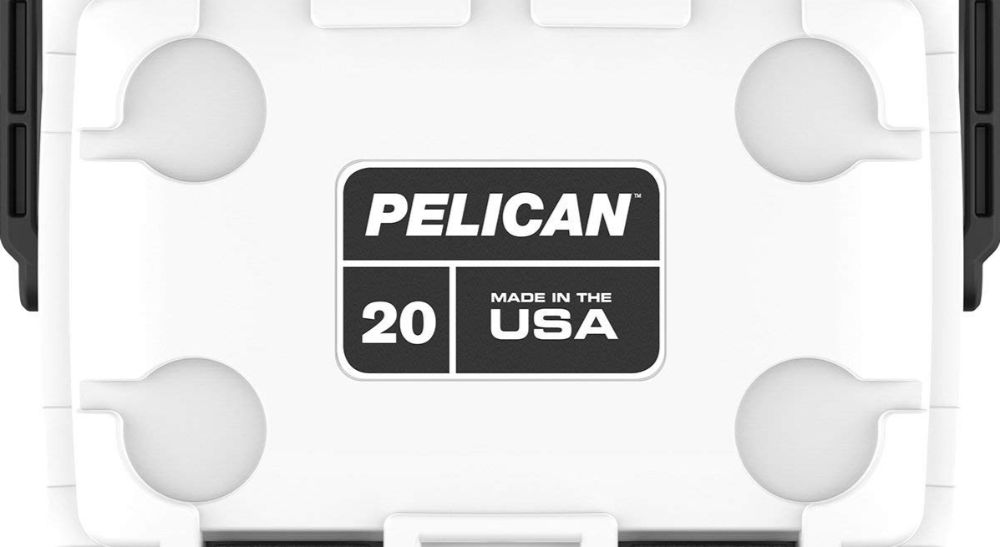 I put the Pelican Elite 20-Quart on this list because it's unique tall and slim design with thick rotating plastic handle means it is easy to carry and takes up less room in the car.
It features 2 inches of polyurethane insulation and with a freezer grade gasket. This means it can keep ice for 2-4 days.
It has easy to use locking latches, built in bottle opener as well as 4 self draining cup holders molded into the lid.
This is one of my favorite small roto-molded coolers.
Pelican coolers are also made in the USA and offer a lifetime warranty. The 20-Quart size has lots of different fun 2-tone colors to choose from.
See latest price of Pelican 20-Quart Coolers at Amazon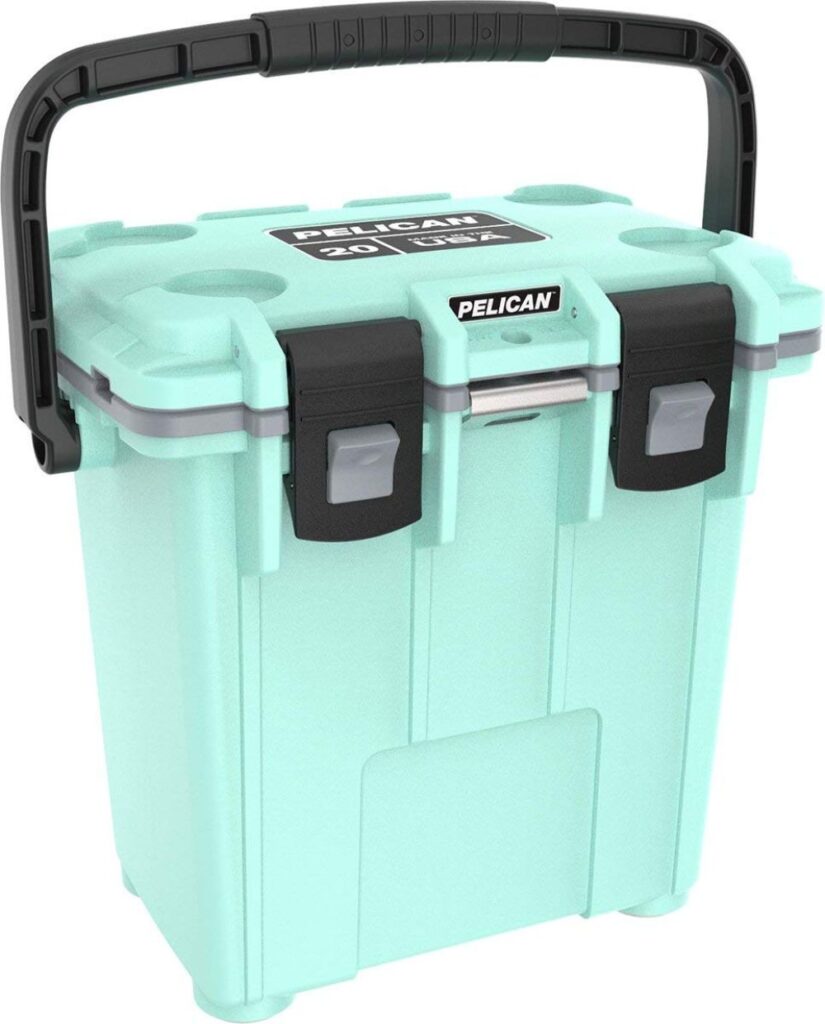 8. RTIC Lunch Bags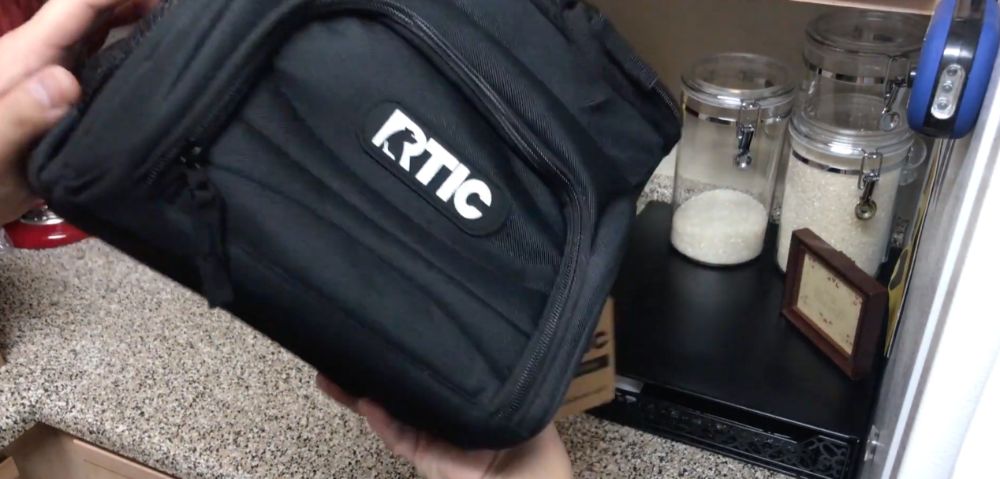 For something a little bit cheaper than the high-end coolers mentioned above the RTIC lunch bag is a great little cooler to help keep your lunch and water bottle cool during the day.
It's not super heavily insulated and it won't keep ice for days, but combined with a good ice brick the insulation it does provide is enough to keep items cool for approximately 6-12 hours.
It's similar to other insulated lunch bags of this type you might buy but is a bit higher quality and more durable.
It's one of the best cheap coolers on the market. Click here to see the best cheap coolers under $50.
The exterior is made from heavy-duty polyester and the interior is FDA approved food safe and is easy to clean.
It comes in 4 different sizes and features a front zipper pocket with the larger sizes having extra mesh pockets on the sides for water bottles, snacks or other smaller items.
These lunch bags start at under $30 and there are lots of vibrant colors available, including pink.
See the latest price of RTIC lunch bags at Amazon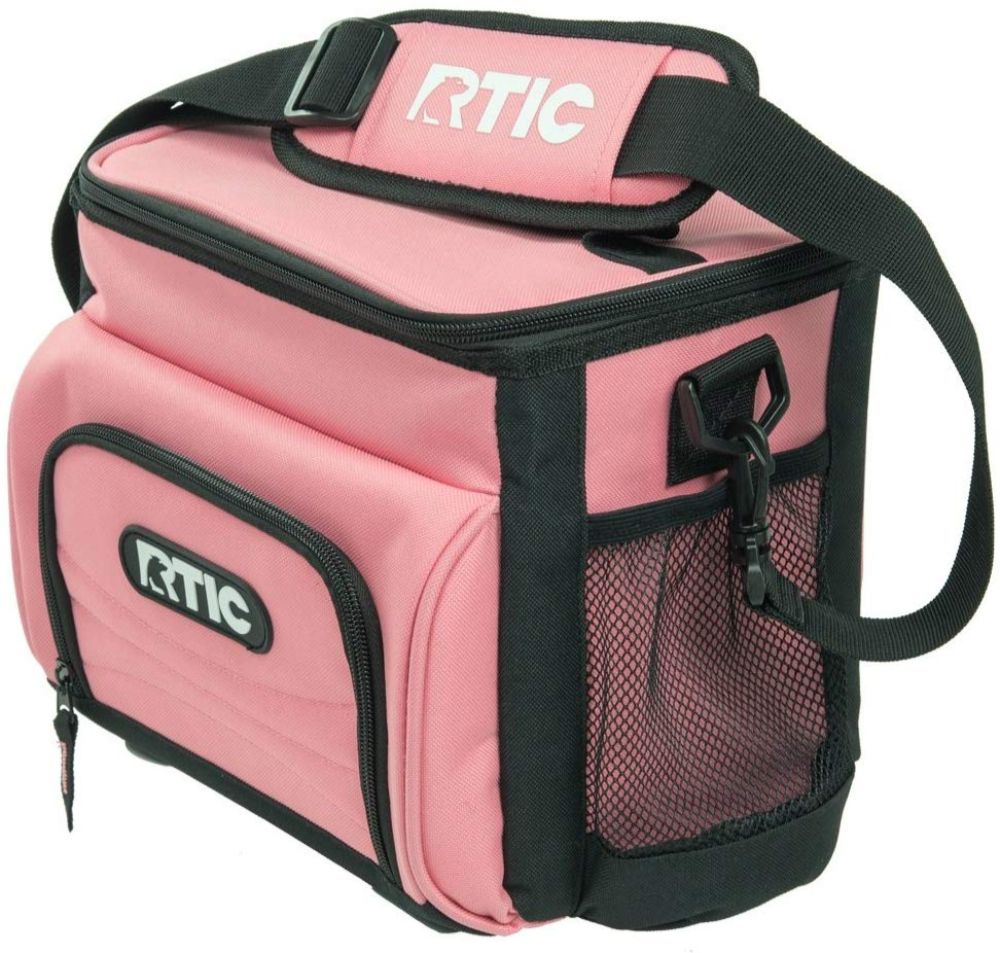 9. Yeti BackFlip

The Yeti BackFlip is arguably the best backpack cooler on the market.
It's made of extremely durable 840-Denier nylon which is TPU laminated and RF welded to make it super strong and resistant to punctures and scratches but also completely waterproof.
It has 0.75 inches of closed cell insulation in the walls and the lid, which allow it to hold ice for up to 3 days at a time. Click here to read my full Yeti BackFlip cooler review.
The comfortable back pack straps are padded, as is the back of the cooler. There is also a hip strap and sternum clasp for extra support to make it easier to carry.
The top zipper is completely waterproof so you don't have to worry about your contents leaking onto your back or in your car and it's has a Yeti Hitchpoint Grid which allows you to add external accessories like the SideKick Dry.
This cooler keeps your hands completely free for carrying more gear, holding little ones hands on the trail or just for ease of use.
A great backpack cooler for men and women.
See latest price of Yeti BackFlip 24 at Amazon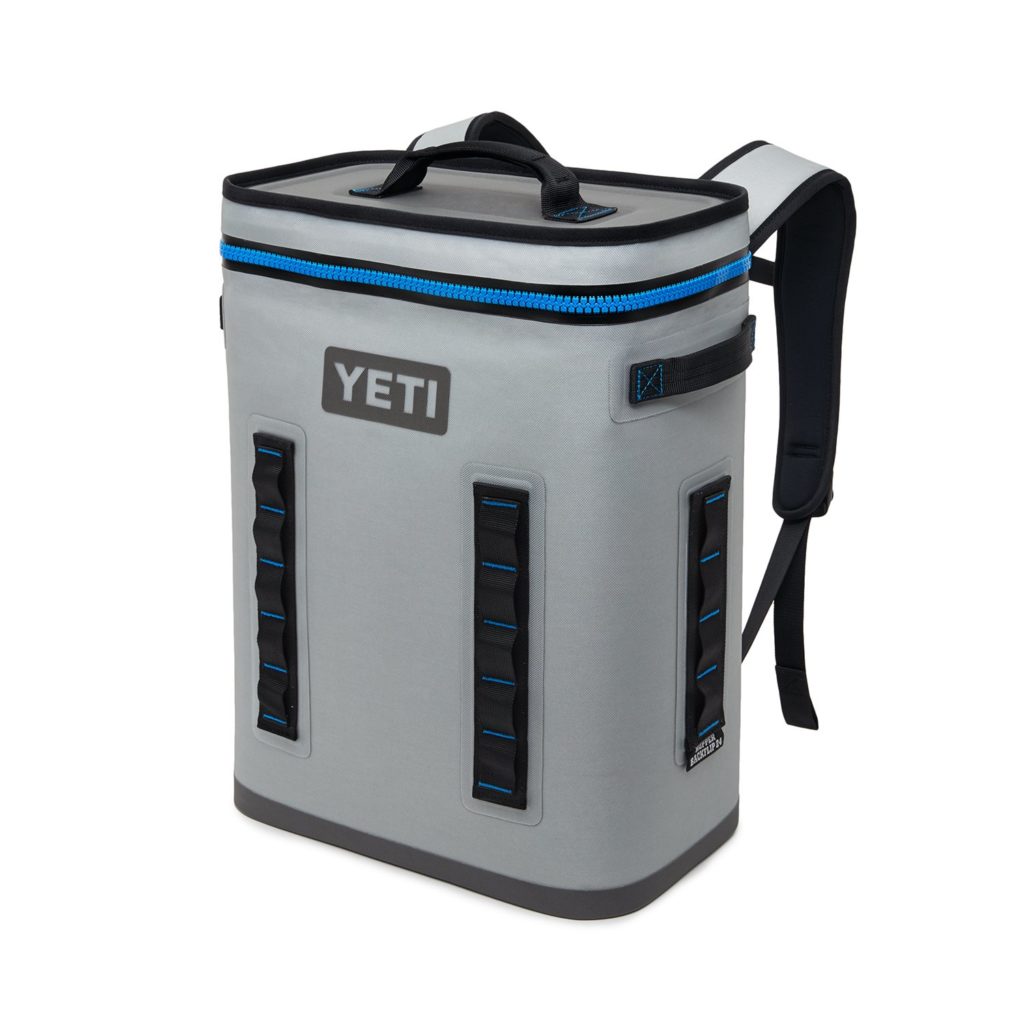 10. Corkcicle Backpack Cooler
The Corkcicle Backpack cooler is a stylish female backpack that you wouldn't even know was insulated.
It uses closed cell insulation and while the insulation isn't super thick like the Yeti BackFlip it can still help to keep items cold during the day.
The interior is made from FDA approved food safe material. It is easy to clean and has a fairly large capacity, able to hold up to 12 cans of drink.
The backpack straps are adjustable but they are quite thin which means when the bag is completely full they may dig into your shoulders a little bit.
This is a cooler and fashionable backpack cooler that I know a lot of women would love.
See the latest price of the Corkcicle backpack cooler at Amazon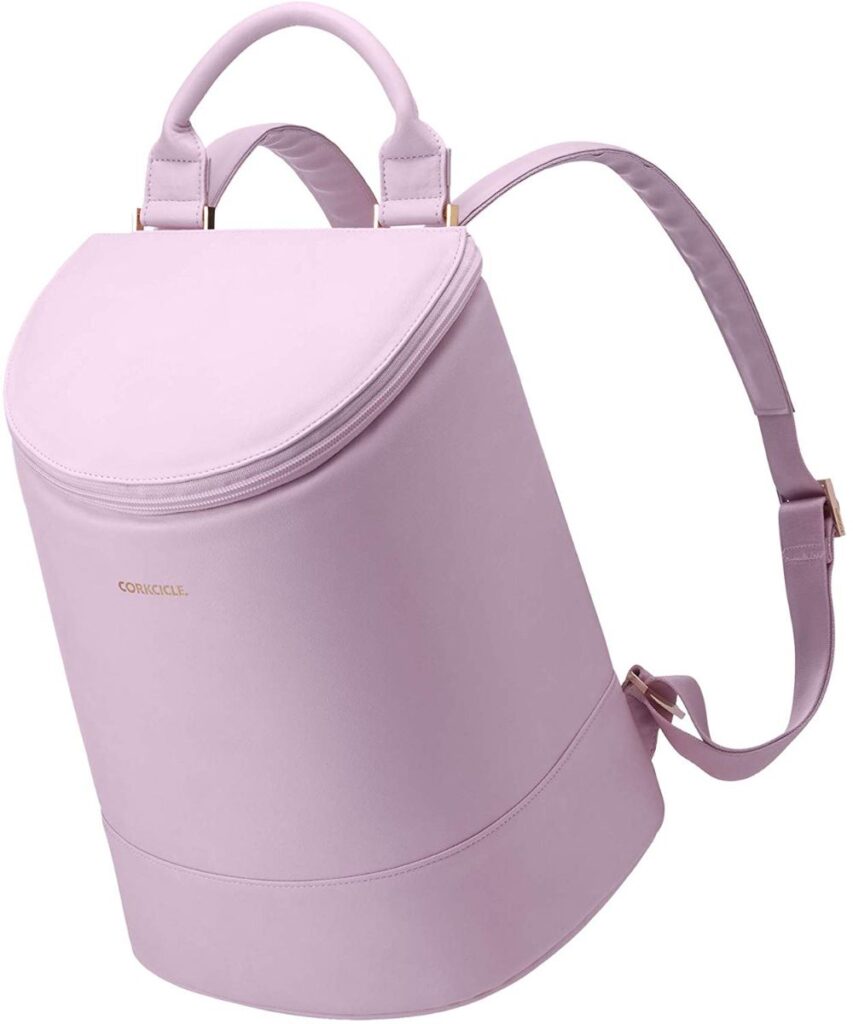 11. Coleman Steel-Belted
Get your retro on with the pink Coleman Steel-Belted cooler. This cooler looks like a blast from the past and I absolutely love the style of it.
Why buy a generic cheap looking blue or red cooler when for a few extra buckets you can get a pink stainless steel cooler which is more durable and looks way better.
The capacity of this cooler is 54-Quart which makes it ideal for families or for a full case of beer.
It has a white bottle opener at the front, a metal latch for locking the lid into place and fold up metal handles on the side for easy carrying.
The insulation on this is similar to that on a regular cooler and it'll only hold ice for 1-3 days but the stainless steel exterior does make it stronger and more durable.
This cooler is a talking piece and something that a girl can be proud to show off at a luncheon, tailgate or backyard party.
It's probably the most stylish cooler for girls I've ever seen and it's super affordable to for this size of cooler.
See the latest price of the pink Coleman steel cooler at Amazon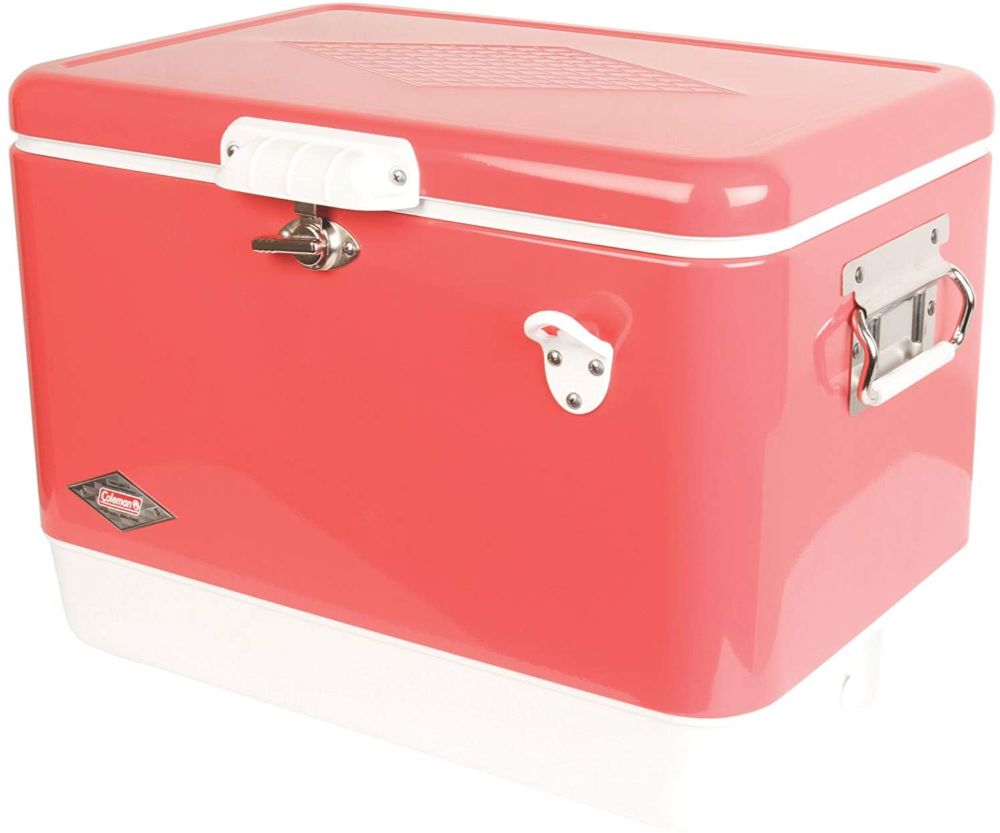 12. Kysek Coolers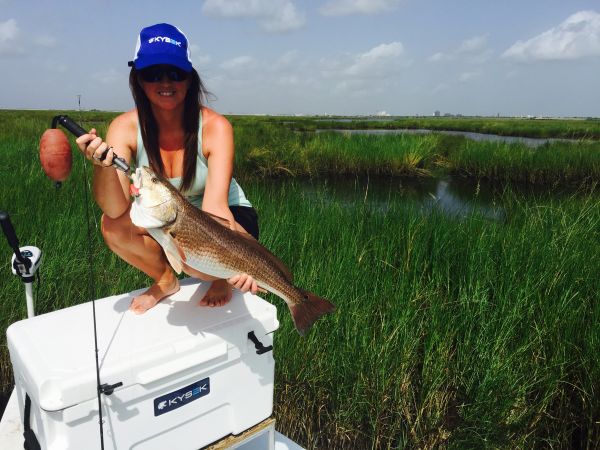 I added in Kysek coolers as the last option for one main reason, they have little built in wheels that makes them much easier to move around.
There are a few good wheeled coolers out there but most of them have big giant bulky wheels that stick out from the side.
The Kysek wheels are slim and compact and when the cooler is stationary you can hardly even tell it has wheels. This is the only model of cooler with compact wheels like this, but don't worry they are still strong enough to handle up to 500 lbs of weight.
The ice retention of Kysek is probably slightly less than that of the Yeti, but the price is cheaper and it also has built in bottle openers.
See the latest prices of Kysek coolers at Amazon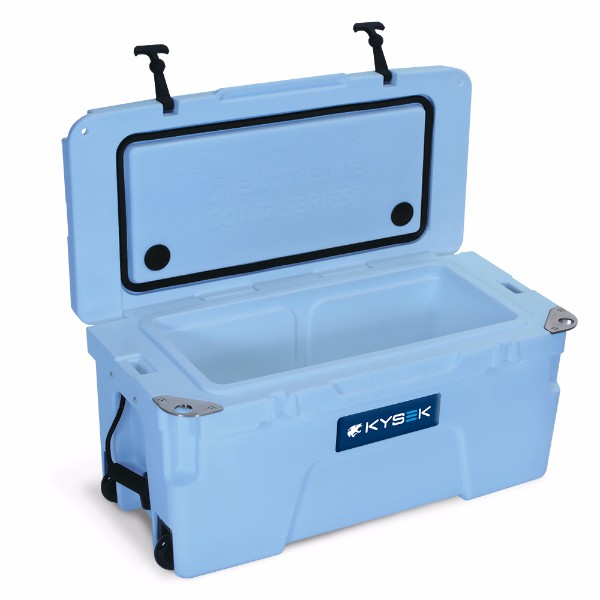 Any Cooler Can Be A Woman's Cooler

While I mentioned some of the best coolers for women in this article there are so many different brands of cooler each with their own price point, features and benefits.
Every cooler no matter what brand, shape, color or size can be a great cooler for a woman.
While the Lifetime 55 cooler is grey and blue and isn't the most feminine cooler on the market it's still great for girls on a budget. It has similar features and ice retention to the Yeti but sells for under $100 at Walmart. A girl on a budget would love this cooler.
So any cooler out there can be a great cooler for women or men or non-binary people too.
Click here to see my list of the best pink coolers on the market
Click here to see my list of the most popular Yeti cooler sizes