If you're on an extreme budget and looking for a good quality soft cooler under the $50 mark then there are a few decent options available.
Unfortunately this price point means a lot of the high-end coolers like Yeti, Pelican and Engel are completely out of the picture and most of the high-quality value-for-money coolers like Grizzly and RTIC are also a little bit too expensive.
If you can stretch to $100 there are a lot more good options for you – click here to see my list of the best soft coolers under $100.
However, if you want to see what soft coolers are available for under $50 then I have compiled a list of 6 soft coolers worth looking at plus one bonus cooler that is just over the $50 mark.
I have personally written indepth reviews on most of the coolers on this list so I know quite a lot about them and are happy to recommend them.
At this price point no cooler is perfect, so in this list of the best soft coolers under $50 we'll look at both the positive aspects of each cooler as well as the downsides or tradeoffs each cooler makes.
1. IceMule Classic Coolers (Starting at $49)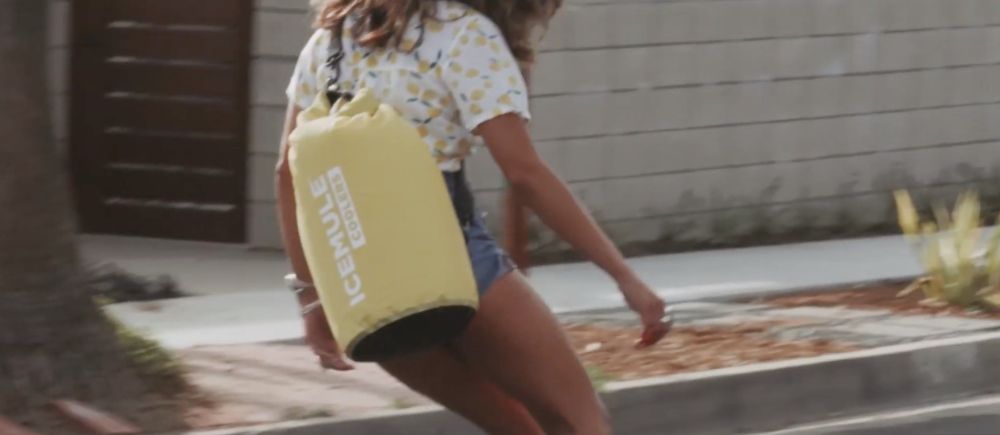 The IceMule Mini Classic cooler is by far my #1 pick for the best soft sided cooler under $50.
It's lightweight and extremely portable with it's shoulder sling strap and it has enough insulation that is can hold ice for 1-1.5+ days.
The exterior is made from a durable waterproof fabric and the base of the cooler is reinforced so it can handle the wear and tear of regular usage and regular contact with the ground.
The roll down top design also makes this one of the only waterproof coolers on this list (with Ozark Trail being the other one). When rolled down and clipped in place no water should leak out of this cooler even if it's knocked over.
I really like this cooler and it is a great affordable soft sided cooler. Click here to read my full IceMule cooler review to see all the nitty gritty details about this cooler and how it compares to other brands.
The downside of the IceMule cooler is that for under $50 you can only afford the IceMule Mini – which has a 9L capacity. If you want a larger size like the Medium (15L) or the Large (20L) then it is going to push you over the $50 mark.
But if you're happy with the smaller 9L capacity of the Mini then this is a great portable personal soft sided cooler.
To see the latest price of the IceMule Mini as well as the different color options click the link below:
See the latest price of IceMule coolers at IceMule.com
(or compare to the latest price of IceMule coolers at Amazon)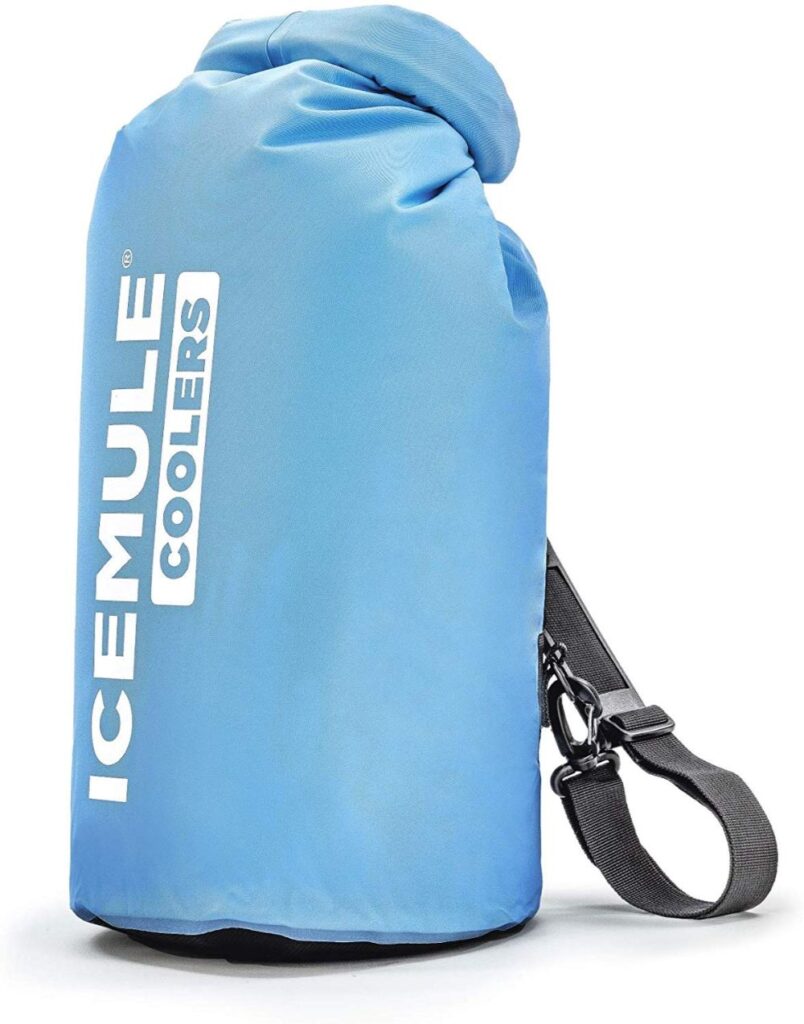 2. Polar Bear Original Coolers (Starting at $40)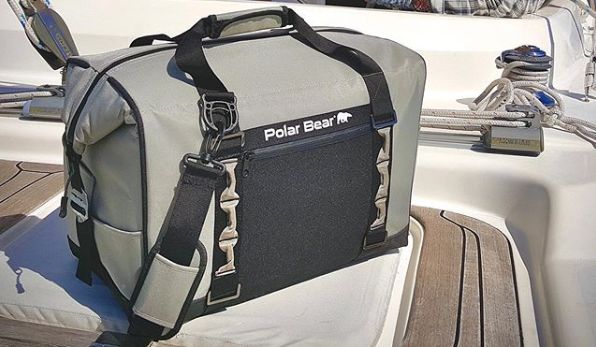 Polar Bear make two different types of coolers – the "Original" and the "Deluxe".
The Deluxe cooler is actually one of the best soft sided coolers for ice retention – holding ice for up to 4+ days.
The Original cooler uses a cheaper and less effective insulation, but it can still hold ice for up to 24 hours on a hot day and even longer in more moderate temperatures.
The exterior of the cooler is made from heavy duty nylon and while it isn't waterproof the YKK #10 zipper is very durable and rust proof. The zipper extends over the sides of the cooler allowing the top of the cooler to open wide for easy loading and access to the cooler.
It comes with external pockets, a detachable shoulder strap as well as carry handles and a food grade leakproof interior lining.
The smaller 6-pack size is under $50 but the larger 12-pack, 24-pack and 48-pack sizes are a bit more expensive.
The 6-pack comes in multiple colors so you can choose the one that best suits your style. To see all the color options and the latest prices for this soft cooler click the link below to see it on Amazon: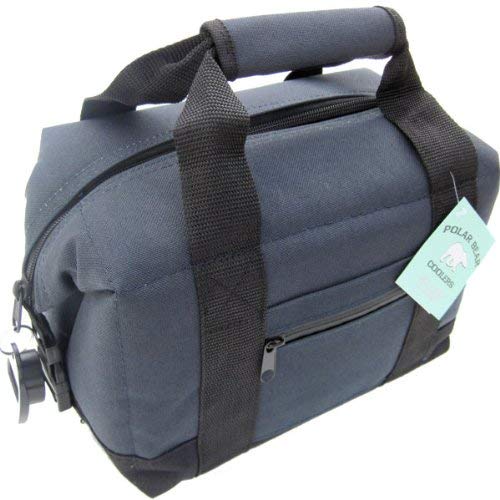 See the latest prices and color options for Polar Bear coolers at Amazon
3. RTIC Day Cooler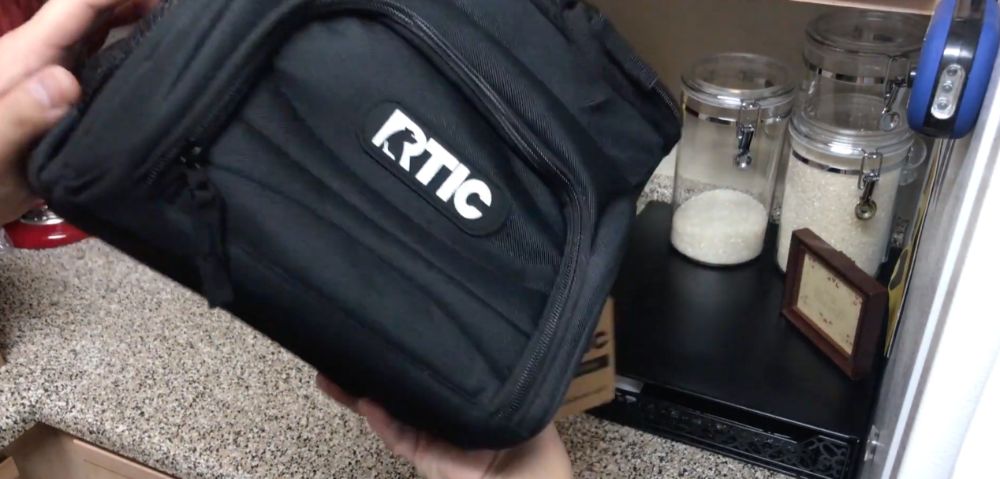 The RTIC Day coolers are a lunch bag style cooler. They don't have thick insulation like the IceMule or Polar Bear and are really only designed to keep your food and beverages cold for a few hours.
They are made from a thick nylon exterior and overall the cooler feels decent in quality.
It has an external pocket, removable shoulder strap and the larger sizes come with side handles and side mesh pockets.
Most of the sizes are under $50 so you've got a few different sizes and multiple different colors to choose from.
To see the different sizes and latest prices click my affiliate link below: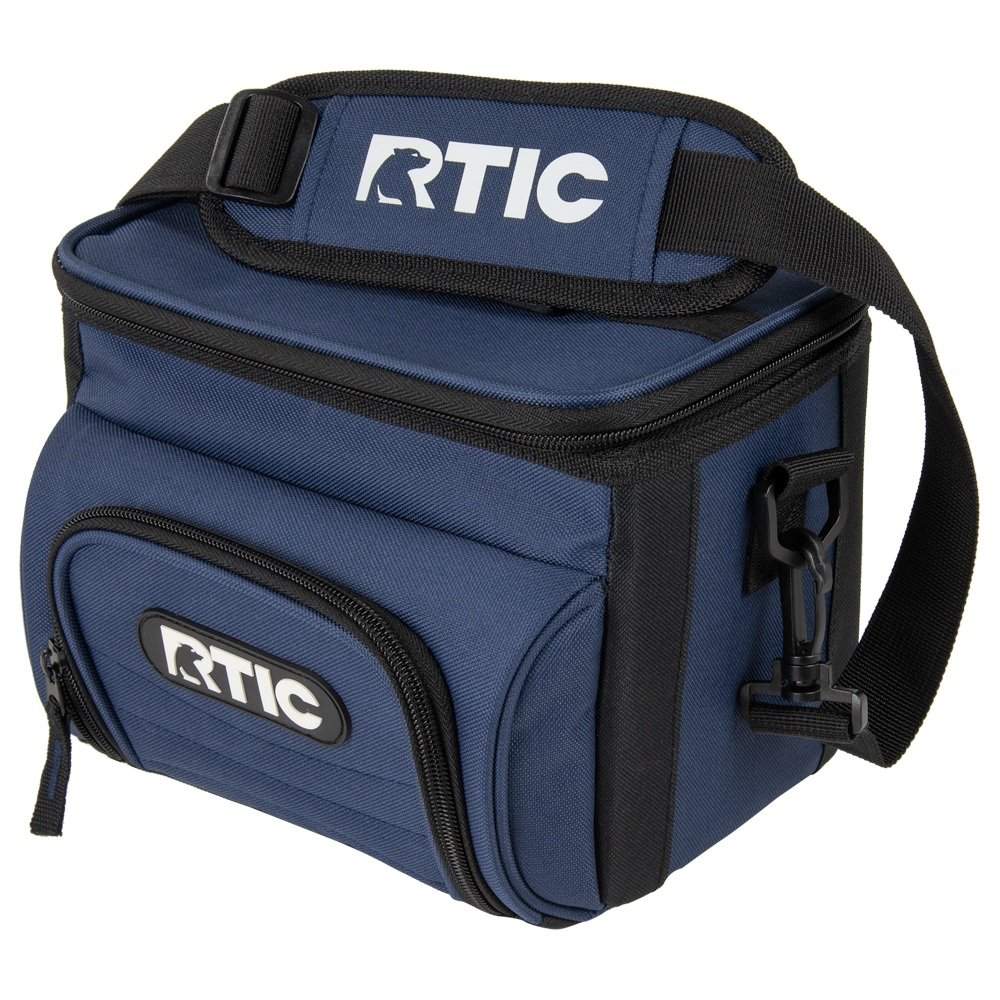 See the latest prices of RTIC Day Coolers at Amazon
4. Ozark Trail Soft Coolers (Starting at $30)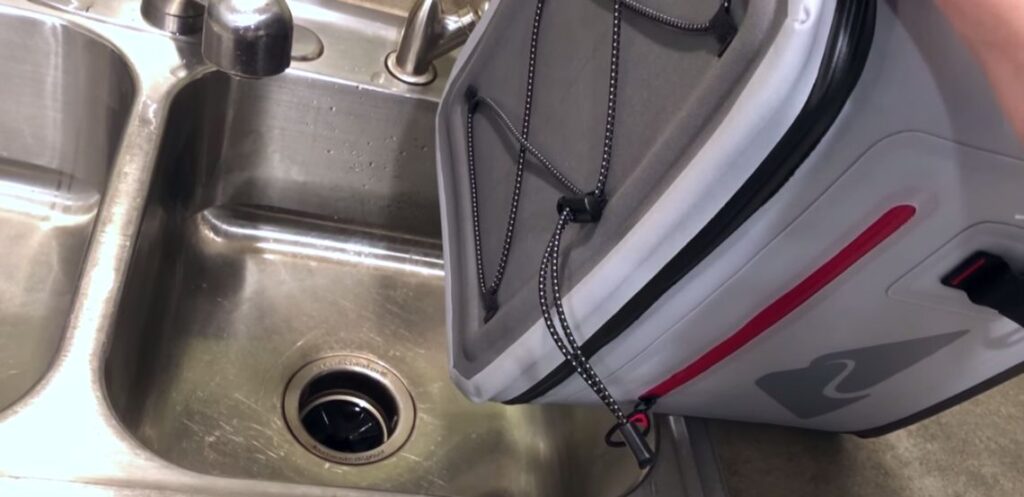 Ozark Trail soft coolers have all the bells and whistles that you would find in a cooler that is $200+, only a lot of the sizes actually sell for under $50!
It has thick insulation and can hold ice for 1-2 days
It has a 100% waterproof zipper
It has a waterproof exterior
It has a reinforced base
It has a food grade leak proof inner lining
It also comes with a front pocket, bungee chords on the lid for carrying extra gear as well as a removable shoulder strap and carry handles to make it more portable.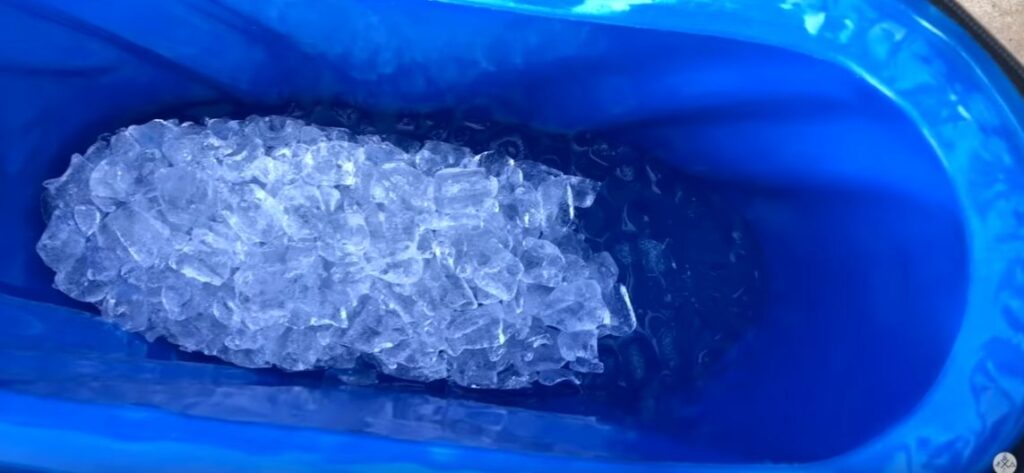 How do they offer a cooler with so many features for such an affordable price?
Partly it is scale production as Walmart can likely sell millions of these, but also it comes down to quality.
Ozark Trail coolers are NOT as high quality as a similar sized Yeti cooler. Click here to read my full Ozark Trail vs Yeti Hopper soft cooler comparison to see if Ozark Trail coolers even come close to Yeti coolers.
There are quite a lot of customer complaints about quality issues with the Ozark Trail coolers. Zippers breaking or even the inner lining coming apart.
It also seems that Ozark Trail coolers don't come with a warranty, so if it breaks you're on your own and likely just need to buy a new one.
The Ozark trail is unlikely to last you years of regular usage but if you're only going to use it infrequently then this could be a really good cooler for those on a budget.
To see just how affordable they are check out the latest prices for Ozark Trail coolers at Walmart by clicking my affiliate link below: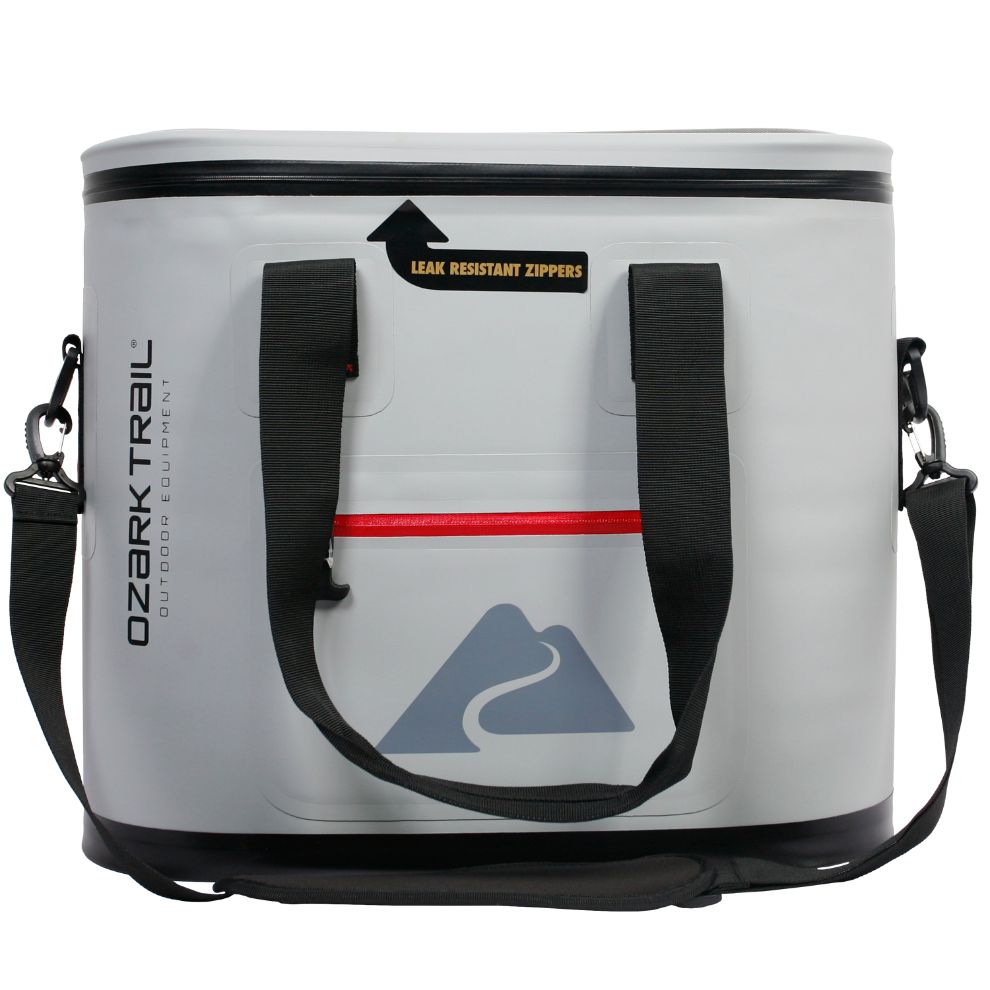 See the latest prices of Ozark Trail coolers at Walmart – they are super cheap
5. Titan Deep Freeze Coolers (Starting at $25)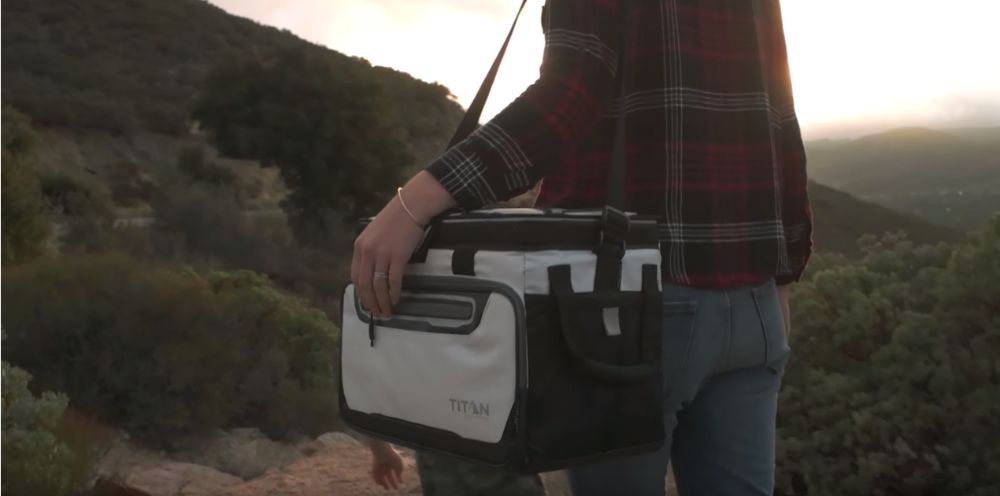 Titan Deep Freeze coolers are a decently built cheap cooler that can hold ice for 3-12 hours and comes with a bunch of features for the price.
Starting at around $25 this is definitely a budget soft sided cooler. The insulation on the cooler is thin and while the company claims 2-3 days of ice retention, in real world usage it seems 3-6 hours of ice retention is more normal with up to 12 hours of ice retention being possible.
The cooler has thin insulated walls as well as a thin inner plastic container that makes the cooler leak proof when standing up.
The zipperless opening is practical and makes it easy to open and close the cooler whenever you want, but it is NOT waterproof and will leak if tipped on it's side.
This cooler does come with multiple external pockets, some with zippers and some mesh pockets with elastics. It also comes with a detachable shoulder strap as well as an adjustable bungee chord on the lid for holding more gear. It even comes with a free detachable bottle opener.
It's not the best at ice retention, but it's a feature rich cooler for a very affordable price. It also comes in multiple sizes so you can either get a small one for personal use or a larger one for group events.
To see all the sizes and latest prices click my affiliate links below: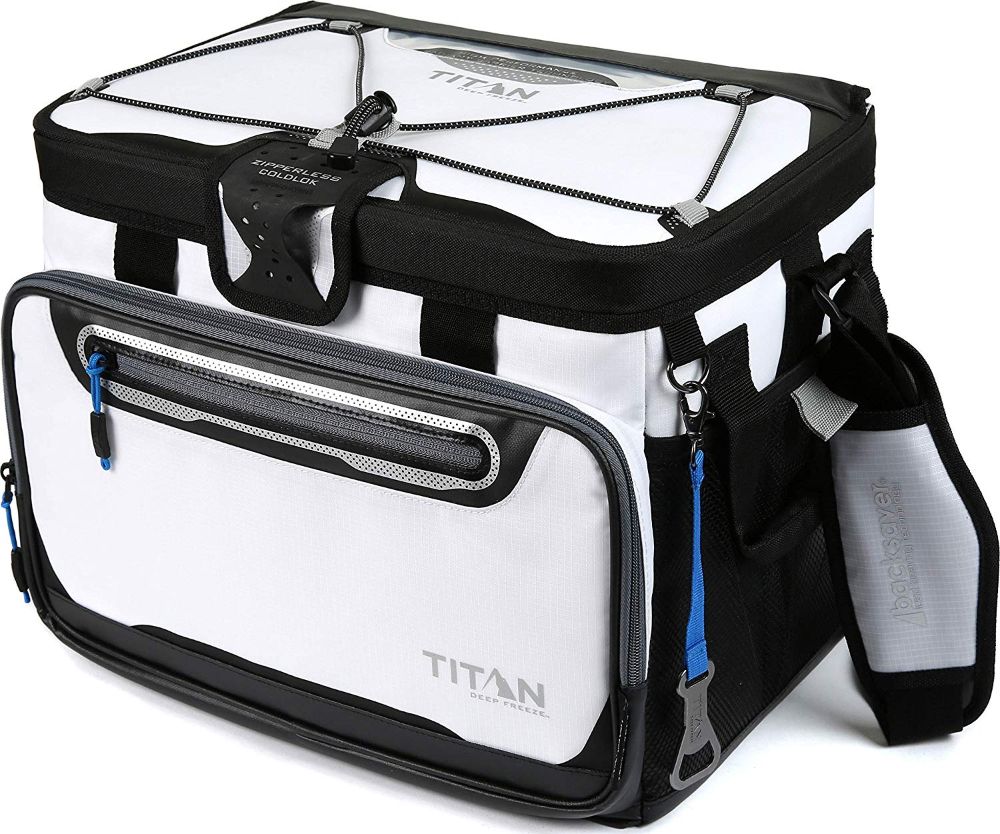 See just how cheap Titan Deep Freeze coolers are at Amazon…wow
6. Coleman Soft Cooler
The Coleman Soft Cooler is the cheapest cooler on this list and it's a good little cooler for your lunches.
It comes in 9-can, 16-can and 30-can sizes and what sets this cooler apart from other cheap soft sided coolers is the fact that it has an inner plastic container.
This inner container makes it leakproof and also stops the inner lining getting disgusting when food gets stuck in there or drinks spill etc. It just makes it so much easier to keep clean.
It has thin insulation and can't hold ice for extremely long, but it's good enough for your lunches each day at school or at work.
If features external pockets, a durable zipper (not waterproof) and a shoulder strap. It also has an interior pocket in the lid to keep items up and out of the water to stop them getting wet.
As an ultra-affordable cooler this one is pretty good for the price range.
To see how cheap it is click my affiliate link below to see the latest price on Amazon: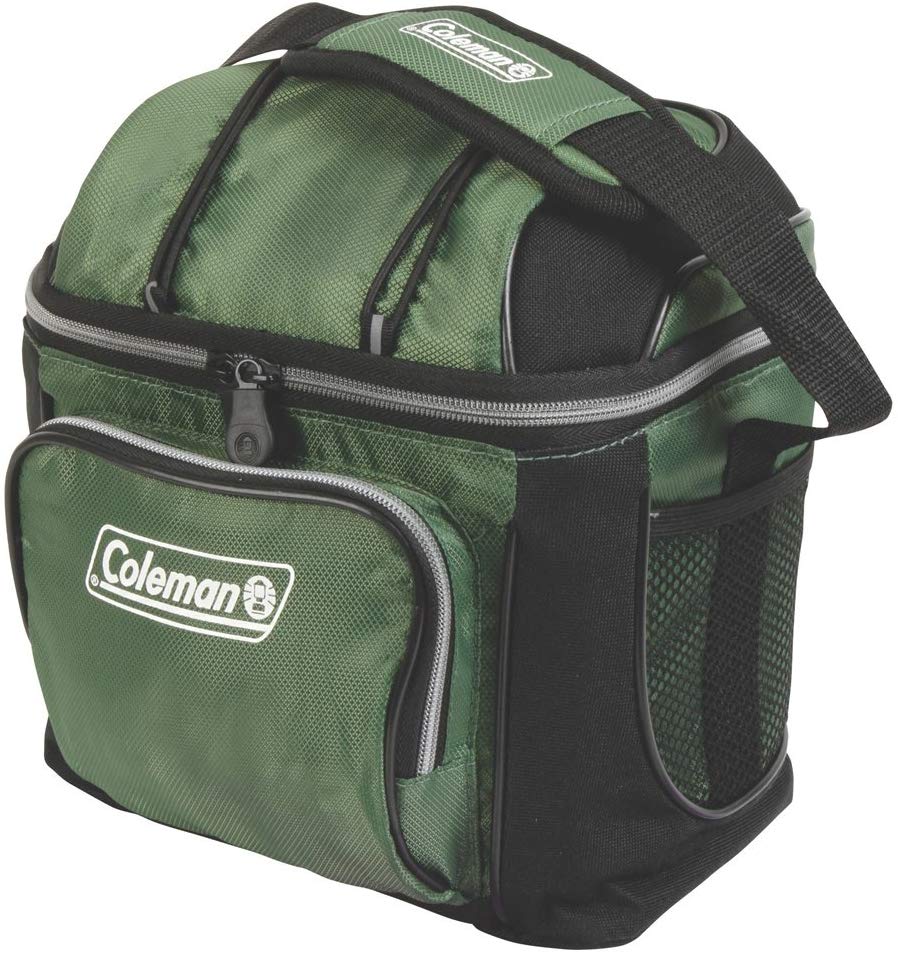 See the latest prices of Coleman Soft Coolers at Amazon
BONUS: AO Coolers (Starting at $60)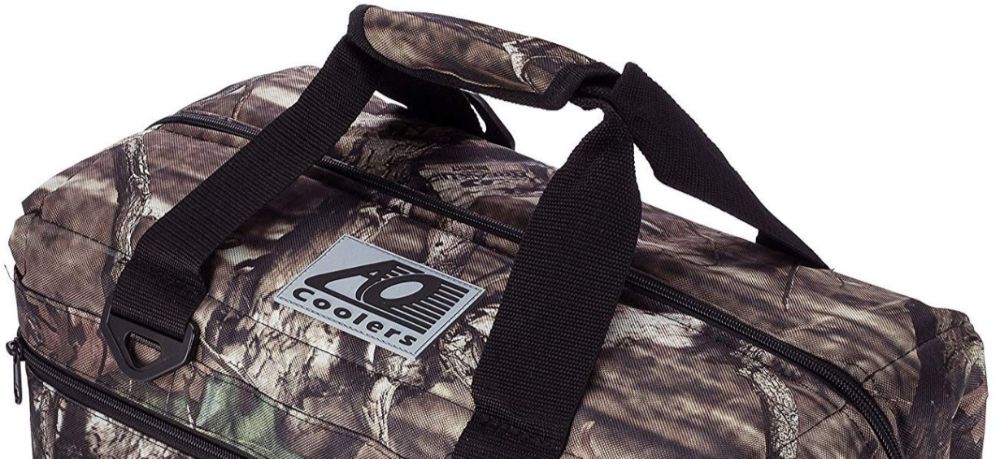 I'm adding in AO Coolers as a bonus extra because technically they start at just over $50, but sometimes they do go on sale and can be bought for under $50 for the smaller sizes.
I love these coolers and often rate them as the best budget cooler on the market.
They are heavy-duty and made from a thick nylon material. The zipper is a YKK #10 zipper that is backed by a lifetime guarantee and the inside liner is also backed by a lifetime guarantee.
It has a large external pocket as well as detachable shoulder strap for portability and carry handles. Click here to read the full details of what this cooler has to offer in my AO Cooler review.
I've seen people abuse this cooler and it continues to perform and continues to work.
If you're after a long lasting budget cooler and can stretch juuuuust over the $50 mark then I recommend checking out this cooler. To see the latest prices of these coolers and check if they are on sale click my affiliate link below to see the Amazon listing: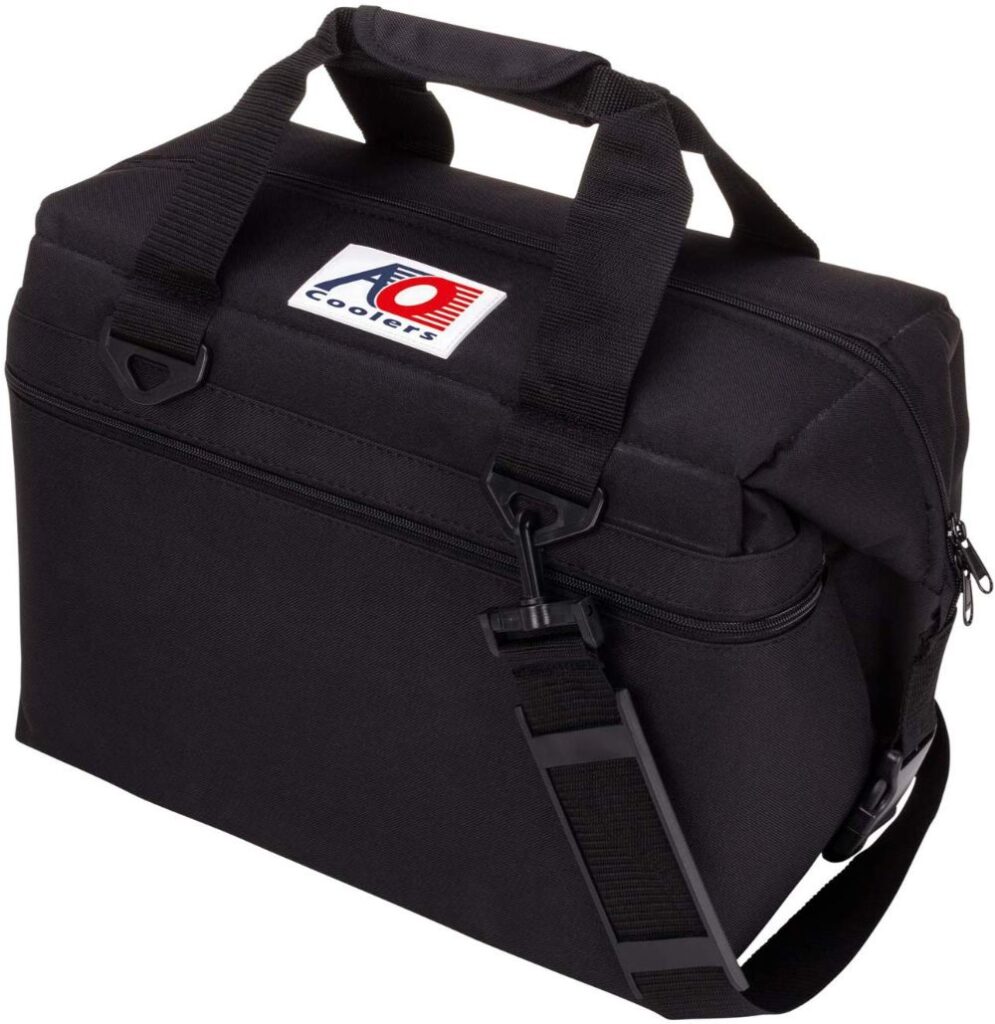 See the super affordable prices of AO Coolers at Amazon
Which Soft Cooler Under $50 Will You Buy?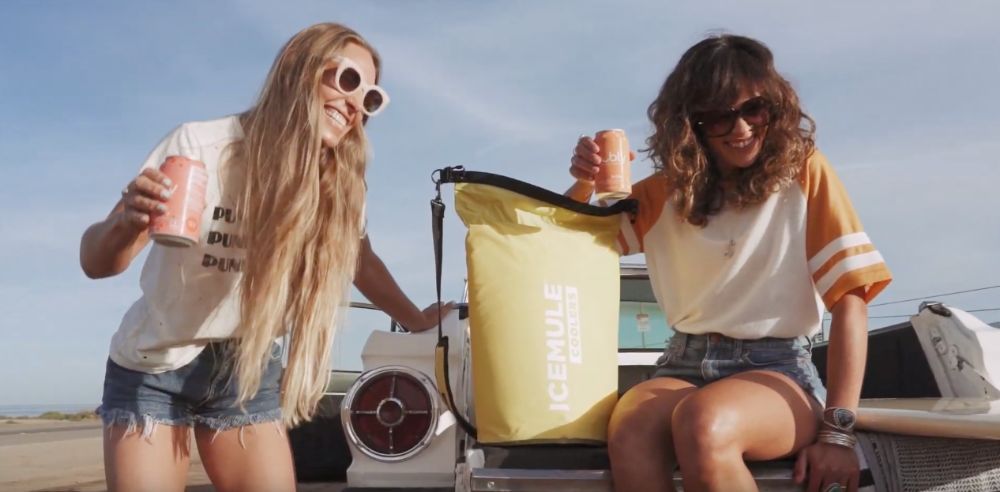 I've given you a few coolers to look into, each of them with different features and different price points.
Depending on exactly what you want from your cooler will depend on which cooler is best for you.
The IceMule is super portable and great for trips to the beach or hiking/walking adventures. The RTIC Day Cooler is great for lunches and the Ozark Trail is good for backyard picnics or BBQs as it holds ice longer than other coolers on this list.
If you want to continue reading about the best coolers out there then check out my article on the best soft coolers like Yeti but cheaper to see the best of the best coolers.