Girls love Yeti products too and there are so many great products that Yeti sell that women would love to use.
From rugged insulated water bottles in a variety of colors to wine tumblers you can throw around or bags and coolers that are great for her – you're sure to find something on this list of the best Yeti products for women that you or a woman in your life would love.
You can also check out my list of the best pink coolers on the market.
1. Crossroads Tote Bag

The Crossroads Tote bag is an everyday all-work bag. Would work as anything from a baby bag, complete with pouches for baby wipes and baby bottles, to a on-the-go work bag with designated laptop and tablet pockets and collapsible interior pockets for water bottles or your daily coffee keep cup.
The bag is built tough. It's made from 1000D nylon material and lined with 420D nylon so it won't rip, tear or break. The base is reinforced and weatherproof and will stand up on its own and the handles have a bit of padding to make it more comfortable to carry.
When it comes to organisation this tote bag has thought of it all. It has two external pockets, one on either side, each with extra compartments inside for organising all your things.
Internally it has two water bottle holders that fold away nicely when not in use as well as a laptop/tablet compartment and zipper compartment with keychain.
It's lightweight at only 2 lbs when empty so it won't weigh you down and it comes in 3 main colors – black, slate blue and charcoal with Yeti occasionally releasing seasonal colors.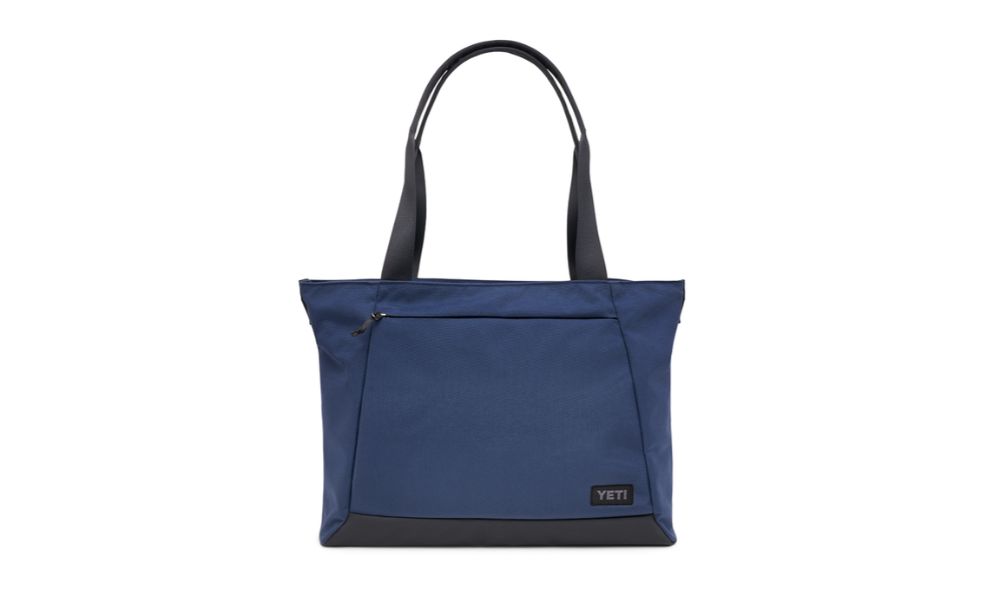 See the latest price of the Crossroad Tote Bag at Amazon
2. Camino Carryall Bag

The Camino Carryall Bag is a stronger and more robust tote bag that is designed as all all-purpose bag that is ready for any adventure.
It's made from the same waterproof, scratch and puncture resistant material than the Yeti Panga Duffel bags are made out of. It's also very easy to clean and can be easily rinsed out (inside and out).
It has a wide reinforced base that stands up by itself, two padded handles for comfortable carrying and an internal dry pocket if you need to keep items like your phone safe from water, dirt and sand.
This is a great beach bag or gear bag for whatever adventure she's going on. Throw your gear in it and head off on your next adventure.
It comes in 4 different colors so you can choose the one that best suits your style.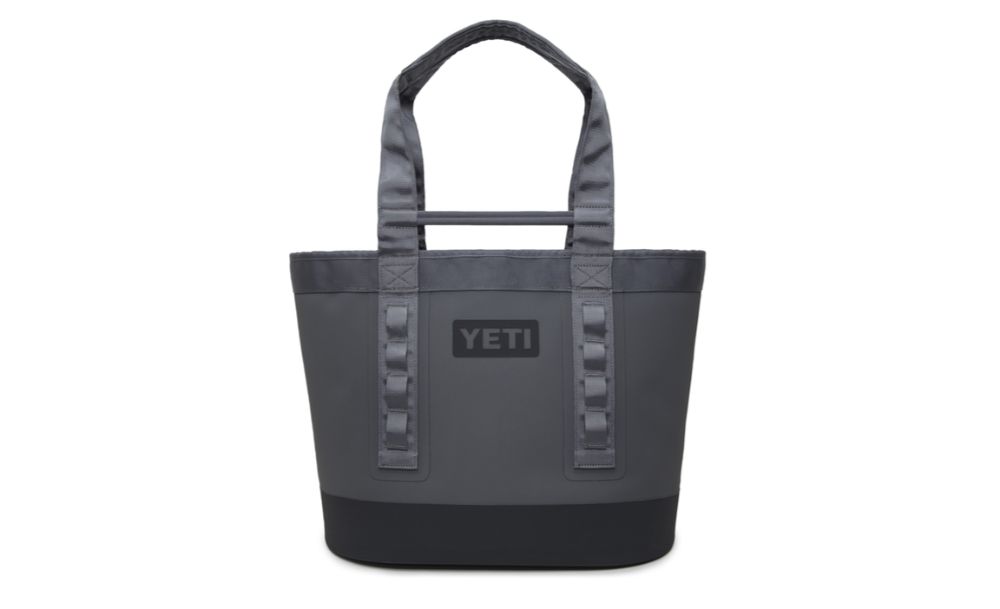 See the latest price of the Yeti Camino Carryall at Amazon
3. Yeti Hopper M30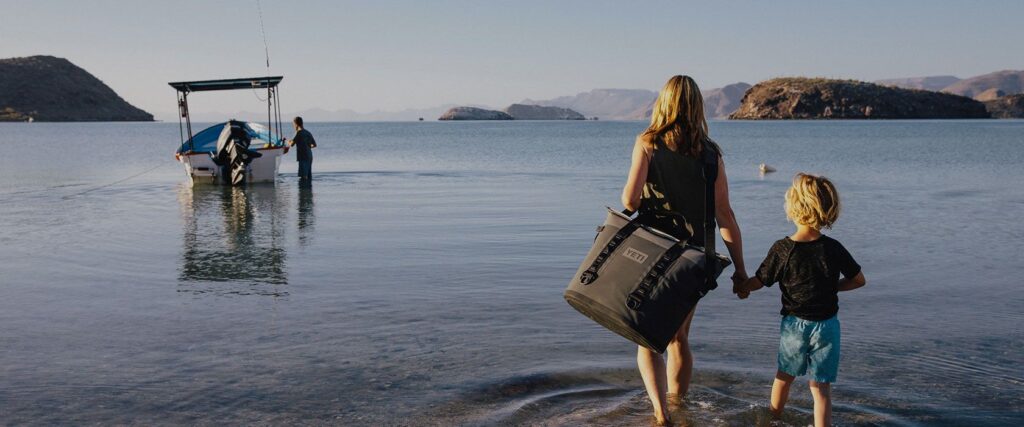 The Yeti Hopper M30 is Yeti's newest side sided cooler that can fit up to 30 liters.
This is the third generator of Hopper where they replaced the waterproof zippers with a waterproof magnetic clasp which allowed them to fit in 25% more insulation and keep ice even longer. Read more about the improvements they made and if the M30 is worth your money.
The Hopper M30 has a dry hide shell which is made out of 880-denier nylon that is TPU laminated to make it waterproof and puncture and abrasion resistant.
The Hopper M30 has 0.75-1 inches of insulation and can hold ice for up to 3-4 days. Inside has an anti-microbial liner and is made from food-safe material and is BPA free.
Load this up with your food, drinks and ice and head out on your next adventure.
When it comes to carrying there is a shoulder strap for hands free carrying or two handles for single handed carrying on the side. There are also two side handles if it gets too heavy and you need to carry it with two hands or get a friends help.
It has a wide base for easy loading, tie down points and comes with a 3-year warranty.
It's available in multiple colors with seasonal colors being released every now and then from Yeti.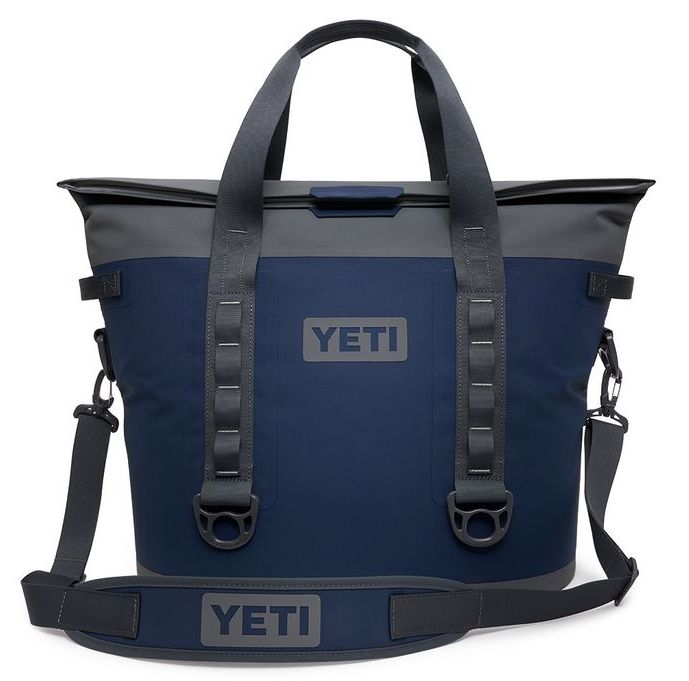 See the latest price of the Yeti Hopper M30 at Amazon
4. Yeti Water Bottles

Yeti has a full range of double-walled vacuum-insulated stainless steel bottles that are great for women who love to stay hydrated throughout the day.
The sizes start at 12 oz with a hotshot cap which is great for your morning coffee or tea and they get larger from there. 18 oz, 24 oz, 36 oz and then the half gallon and one gallon jugs.
The 18-36 oz sizes have a wide mouth lid that will go over your nose and the lid has a 3 finger grip for easy carrying.
These bottles are super durable and the insulation means they can keep drinks ice cold for over 24 hours or keep beverages hot for up to 12 hours.
These are a great product that women, children and men absolutely love and they aren't nearly as expensive as Yeti's coolers or bags either.
While one of the more expensive insulated bottles out there they are dishwasher safe, whereas other brands aren't, so they are much more practical to clean. What person doesn't love that?!
Yeti also has SO MANY color options available for these bottles. There are about 10 different color options available, from black to white to purple to stainless steel, so you can choose the one you like best.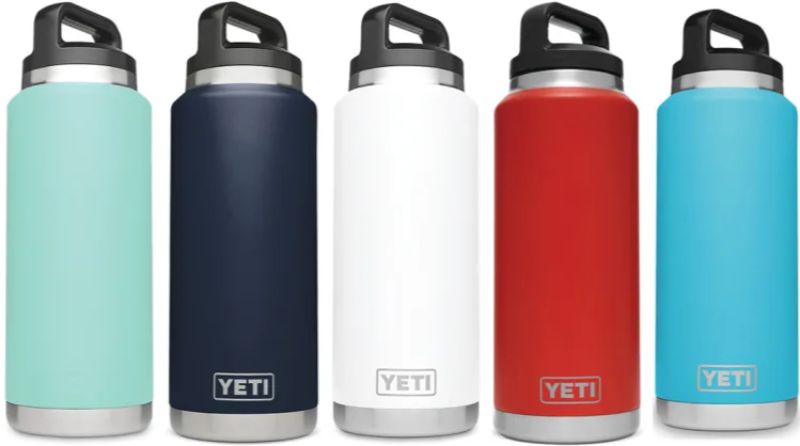 Click here to see all Yeti bottle options at Amazon
5. Yeti Rambler Cups

Yeti Rambler cups comes in many different sizes and colors to suit any girl who wants to keep her cold drinks cold or her hot drinks hot.
Starting at 10 oz there is the Lowball or the stackable mugs and they slowly go up in size to the larger 30 oz tumbler.
I've owned Yeti tumblers myself for over 4 years now and mine is still going strong and still keeping my coffee hot and my water cold. Click here to learn how Yeti cups work so well.
The mag-slide lid easily opens and closes to stop your drink from spilling all over your blouse or in your car when your commuting to work. There are also different lid options available so if you want a straw for your smoothies then there is a lid for that.
Durable and well built these are an affordable Yeti product that women will love. There are just as many color options available for these as there are for the bottles so you can mix and match sizes and colors depending on what you're after.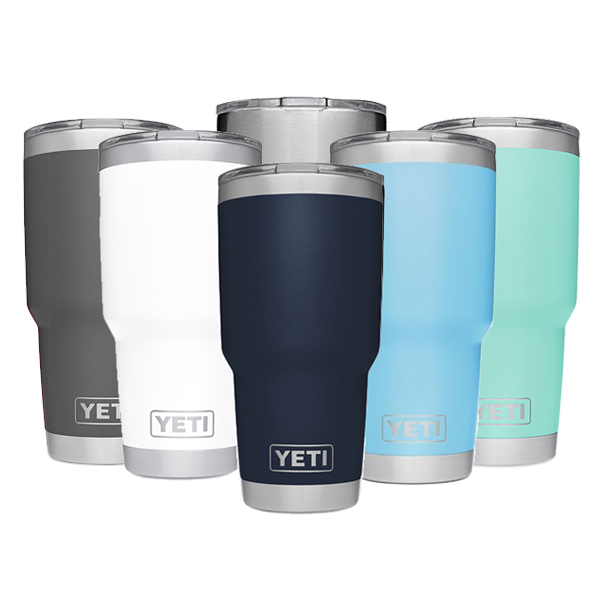 See latest prices of Yeti Rambler cups at Amazon
6. Yeti Wine Tumbler

The Yeti wine tumbler is a great product that means she'll never have to deal with broken glass around the pool deck, or the boat or at a picnic ever again – nor does she have to drink her wine out of a plastic cup.
Made from double-walled vacuum insulated stainless steel just like the Yeti Rambler cups and Yeti bottles this wine tumbler will keep wine cold for hours so she can sip and chat away.
These are strong and robust so can be packed up without having to be careful and they are perfect for camping, picnicking or backyard barbecues with the girls.
They come in lots of different vibrant colors to help her stand out from the crowd. A great product for any girl who loves her wine.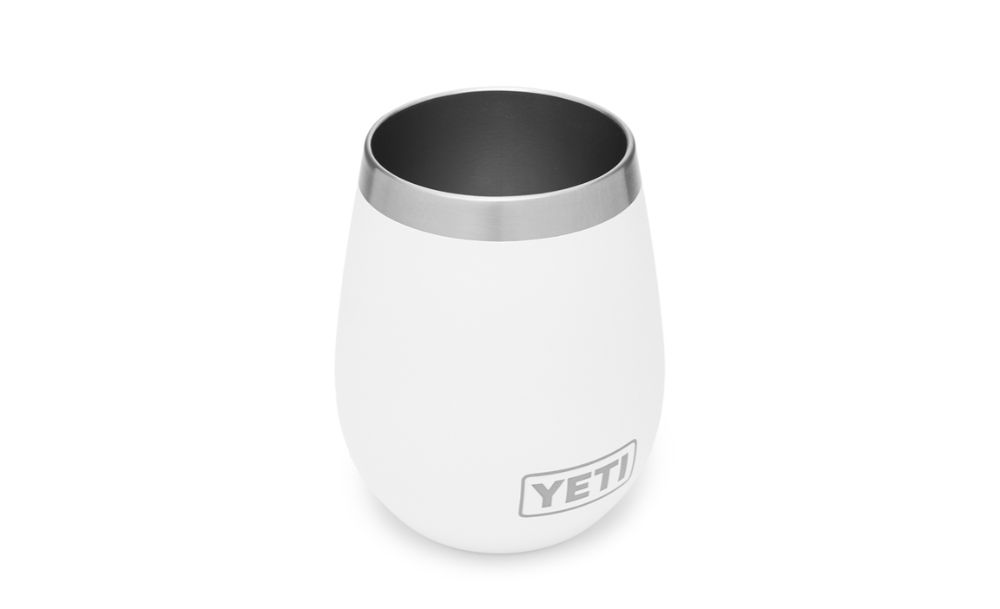 See prices and colors of Yeti wine tumblers at Amazon
7. Yeti Hopper Flip

The Hopper Flip cooler is a soft-sided personal cooler that is easy to transport and clean but durable enough to handle almost anything and insulated enough to keep ice for days.
The smallest version the Yeti Hopper Flip 8 is just larger enough for 8 drinks plus ice. This one is ultra portable and easy to carry and won't be too heavy even when full. Then you have the 12 and 18 size which is the same design only larger.
The Hopper Flip coolers have a shoulder strap for easy carrying as well as a strong comfortable handle on top of the lid so you can just pick it up and carry it around.
The HydroLock zipper is completely waterproof so you don't have to worry about spills and the lid opens a full 180 degrees so you can easily access everything inside your cooler.
With three different sizes and different colors to choose from this is a great portable cooler for women who love the outdoors.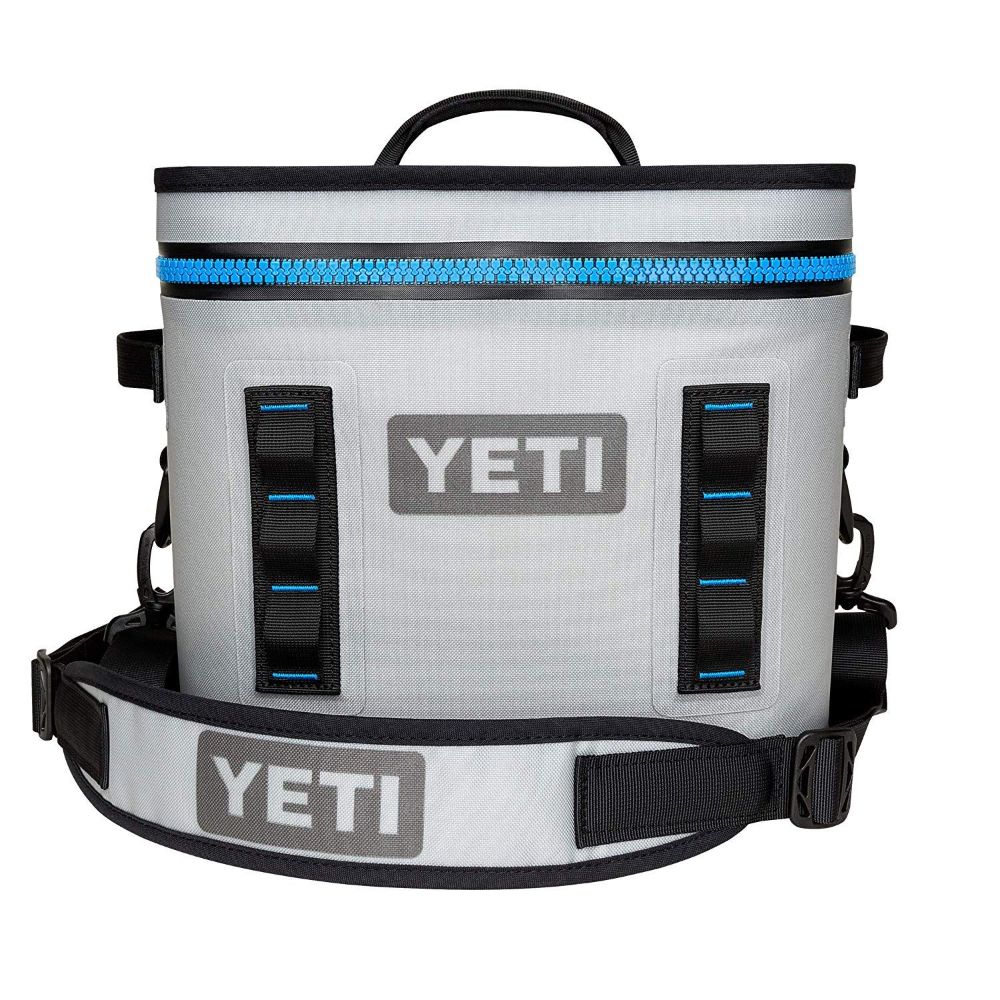 See latest prices of Yeti Hopper Flip coolers at Amazon
8. Yeti Roadie

For something that is going to keep ice a bit longer than a soft sided cooler the Yeti Roadie is the smallest hard-sided cooler Yeti offers.
It's roto-molded construction, which means it's basically indestructible, and it has 1.5-2 inches of insulation allowing it to keep ice for 3-5 days. It's comparable in size to the Yeti Hopper Flip 18 but it more robust and keeps ice longer. Click here for a full comparison of the Roadie vs the Hopper Flip to see which one best suits you.
Oh and did I mention that the Yeti Roadie also comes in PINK!
Pink was a limited edition color that Yeti create to support women with breast cancer but there are still some pink Yeti Roadie's available at Amazon.
The Roadie comes with a rotating stainless steel padded handle so you can carry it around, but it is significantly heavier than the Yeti flip coolers, weighing in at 15 lbs when empty. But for that extra weight you're getting more durability and better ice retention.
A great personal cooler and great for girls to take to picnics, the beach or the local game. Even big enough for a solo-traveller doing weekend away or living out of a van. There are so many uses for this cooler.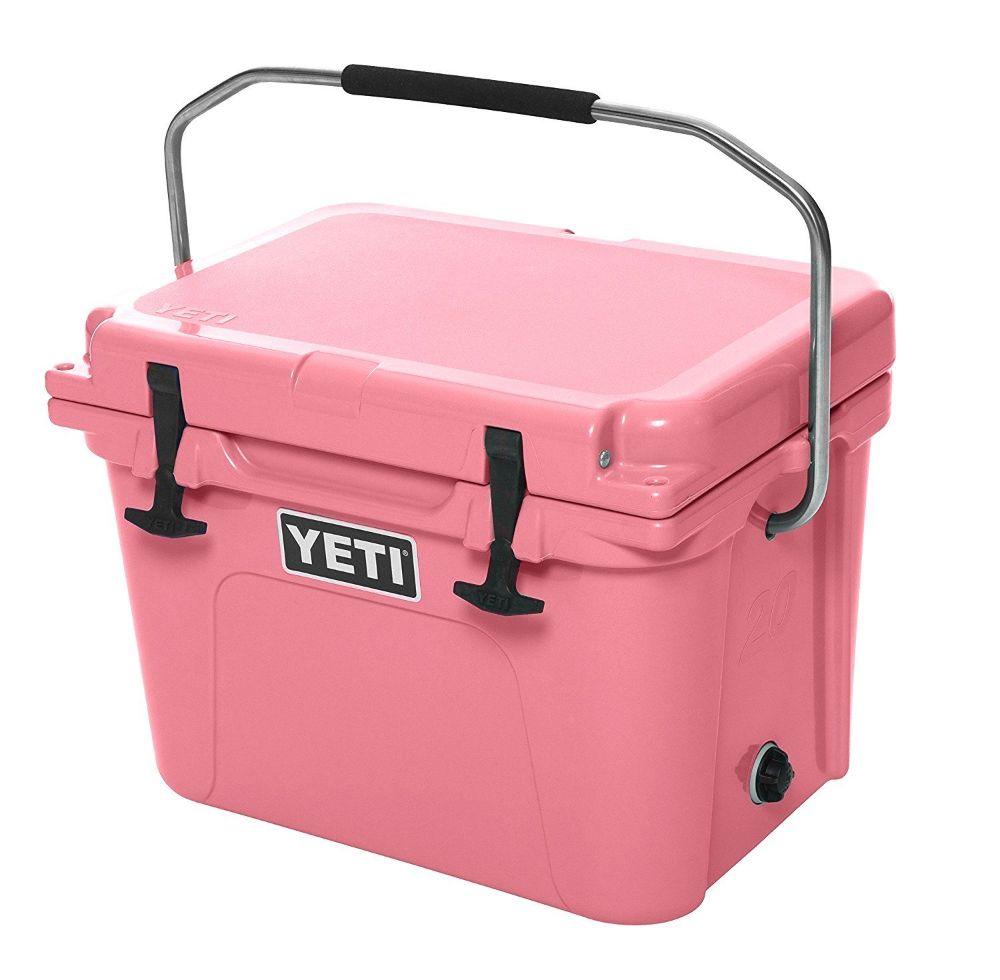 See the latest prices and color options of the Yeti Roadie at Amazon
9. Yeti Lowlands Blanket

The Yeti Lowlands blanket is the ultimate in blankets that is durable and waterproof yet soft and comfortable.
The material is soft to touch and nice to sit on but it's also designed to repel dog hair and be easy to clean. It has a waterproof layer which means your bottom will never get wet no matter how much it rained the night before and it also means even if your pup is jumping straight on this after a swim at the beach or the lake the water won't soak through to your car.
It's got fabric loops to stake it down and comes in a nice carry bag. There are two color options available – red and blue with some seasonal colors occasionally being release.
The ratings on this product are really high. While it's a premium blanket for a premium price owners of it seem to be really loving it. Click here to read my Yeti Lowlands Blanket review.
If you've got the money to spare and you've got the lifestyle that will use it this blanket is well worth the investment.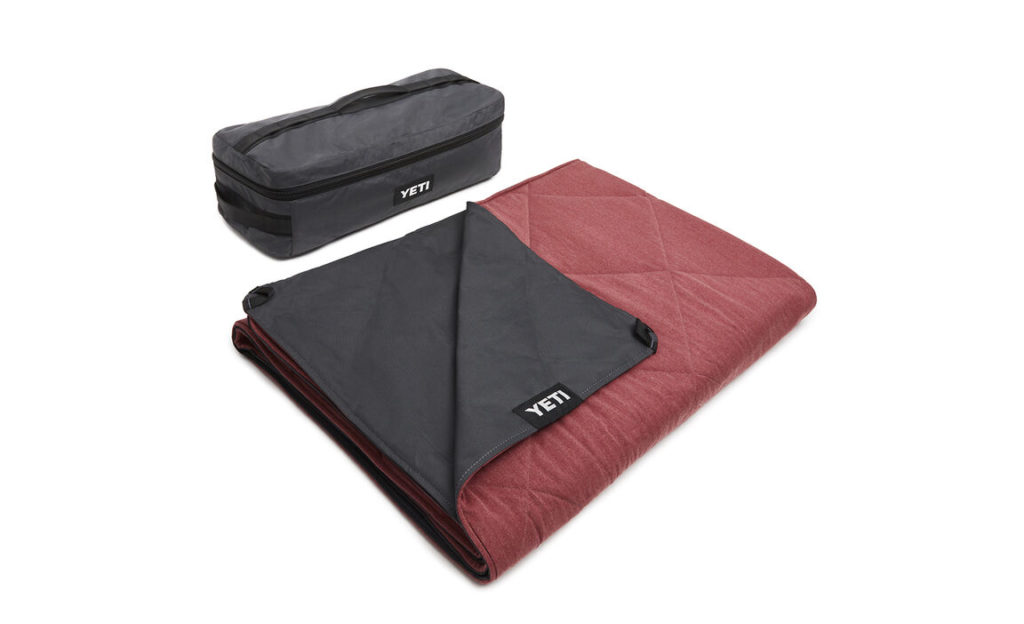 See the latest price of the Yeti Lowlands Blanket at Amazon
10. Yeti Tundra Haul

The Yeti Tundra Haul is everything you love in a Yeti cooler, only it has wheels and so it so much easier to move around.
In my opinion this is the best cooler on wheels, though the RovR and the Pelican come pretty close. Click here to see some incredible coolers that have wheels.
The Yeti Tundra Haul has 2 large "never flat" wheels that are made from a single piece of tyre that you don't have to inflate.
The Strong Arm Handle folds out from the side and the wide grips of the handle allow you to pull your cooler along without having to worry about it clipping you on the back of the heels. It also makes it easy to pull the cooler along with a friend.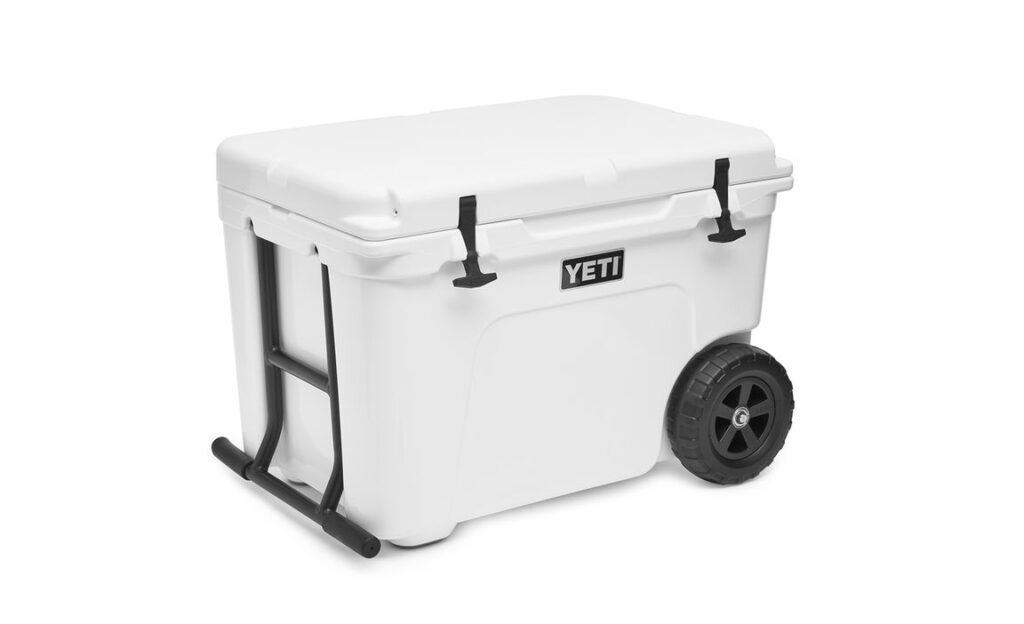 See latest price of the Yeti Tundra Haul at Amazon
11. Yeti DayTrip Lunch Bag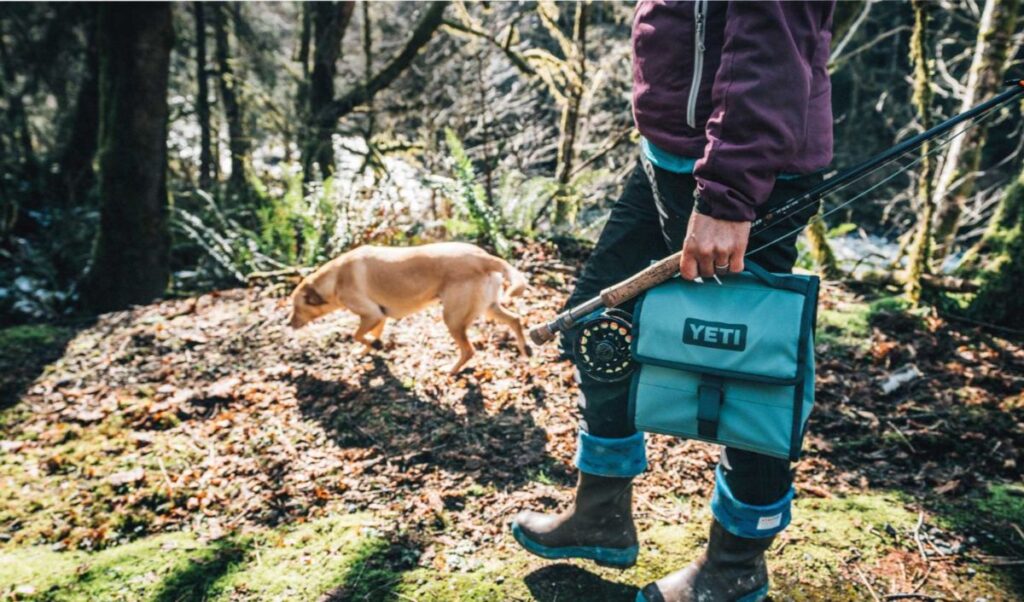 The Yeti DayTrip is a small but impressive cooler bag that packs some powerful ice retention and features compared to other lunch bags on the market.
To be completely pretty much every other lunch bag on the market is cheaply made, poor quality and has hardly any insulation. Yeti have taken a forgotten product category and innovated and made something that is much better than everything else out there.
The exterior is abrasion and puncture resistant and the lid has a thermos nap enclosure to help keep the warm air out and to stop spilling. It's made from food safe material and is RF welded and waterproof so you don't have to worry about ice from your lunch bag melting through and wetting all your stuff.
It has a carry handle on the top, and 6 closure loops so you can make it the exact size you want. Big enough to fit a 6 pack and ice this would easily fit your daily lunch and water bottle and keep it cold until you got home after work.
It also packs away small when not in use or when you've finished eating your lunch for the day. It comes in multiple colors and is one of Yeti's most popular products at the moment.
While this product is expensive for a "lunch bag" really it's quite affordable for a mini-cooler of this quality.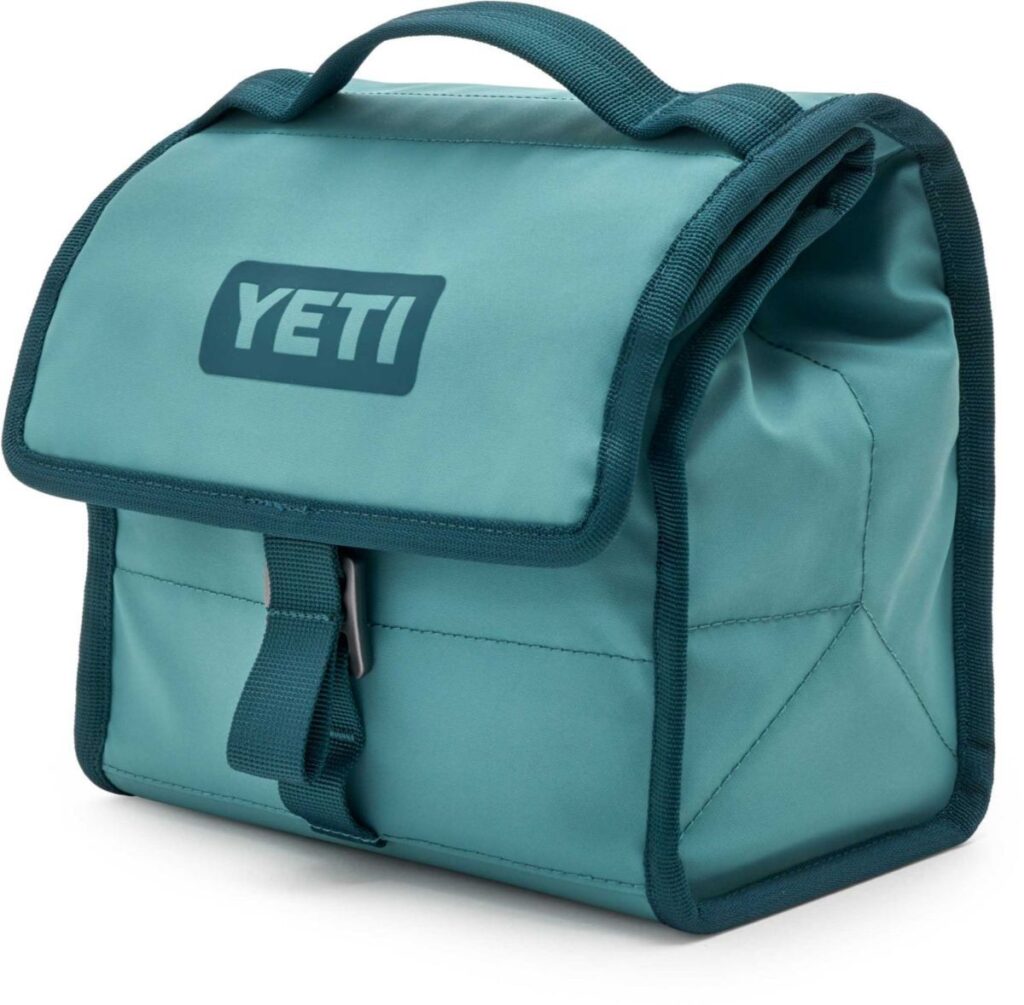 See the latest price and colors of the Yeti DayTrip lunch bag at Amazon
What Yeti Products Will You Buy?

Whether you're buying for yourself or for a woman in your life there are a bunch of great Yeti products that she'll absolutely love.
If you're on a budget then the tumblers and water bottles are a great option or if you have a bit more to spend then maybe you want to grab her one of the tote bags or the coolers.
Yeti products are durable and extremely high quality and will last you a lifetime.