Nalgene has been the industry standard for reusable water bottles for decades, and for good reason. They're durable, affordable, and really easy to use.
But recently, CamelBak Water Bottles have been gaining momentum thanks to their innovative lids and a wide variety of options. Camelbak also have a solid name for themselves with Hydration packs so water bottles are an obvious category for them.
I personally own 4 Nalgene bottles and 3 different Camelbak bottles with the different lid types. I know a thing or two about which of these bottles are better and where your money is well spent.
So how exactly do CamelBak Bottles stack up to Nalgene Bottles?
When comparing Nalgene vs CamelBak Bottles, Nalgene Bottles are great for their simplicity and top-of-the-line lifetime warranty that fully covers damaged bottles. CamelBak Bottles offer more options, including insulated stainless steel bottles, bike bottles, and some of the most innovative lid designs on the market.
Both Nalgene and CamelBak Bottles have advantages, but overall CamelBaks are the better bottle for everyday use. They share many of the same benefits of Nalgene, while also offering bottles with great thermal insulation, better lids, and more stainless steel options.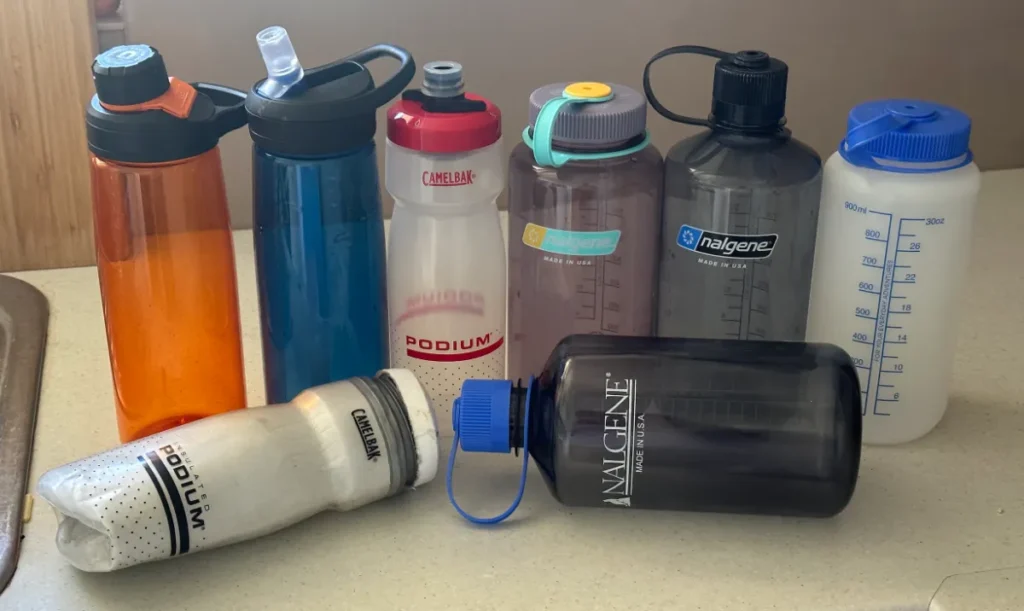 I've used Nalgene Bottles for well over 10 years, but in the last few years have added a couple CamelBak Bottles into my rotation.
And I plan to add more.
I still find myself using my Nalgene Bottles at the climbing gym or on the trail, but my CamelBak Bottles have found a home around the house and at the office and my kids absolutely LOVE the Camelbak bottles over the Nalgene because the lids are more interesting and this helps them to drink more water each day (which I love).
Price And Value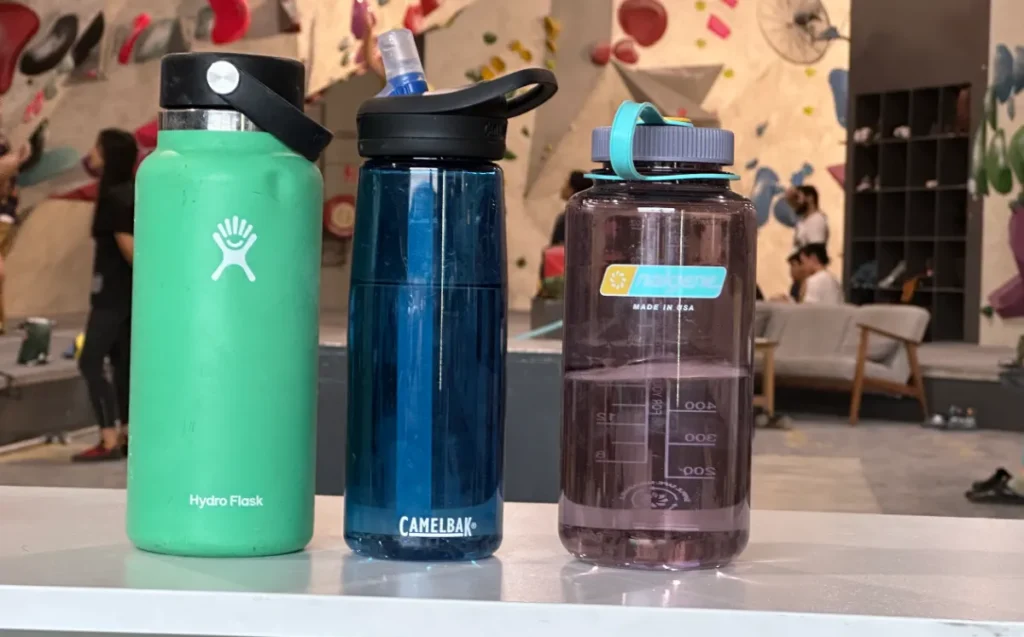 When buying a water bottle you plan on using for a while an important consideration for everyone is not just price, but also value.
Obviously the less you can spend the better, but also you don't want to buy a cheap and crappy water bottle. You want to get something good that is going to last you a long time before it needs to be replaced.
Nalgene
Most Nalgene Bottles will set you back somewhere between $10 and $20, which is a very reasonable price considering Nalgene Bottles often last for years.
I have Nalgenes that are well over five years old that I still use regularly with no issue. One of my friends at the climbing gym has one that she's had for over 10 years and is still going strong (granted it's a bit cloudy and the fill lines have worn off).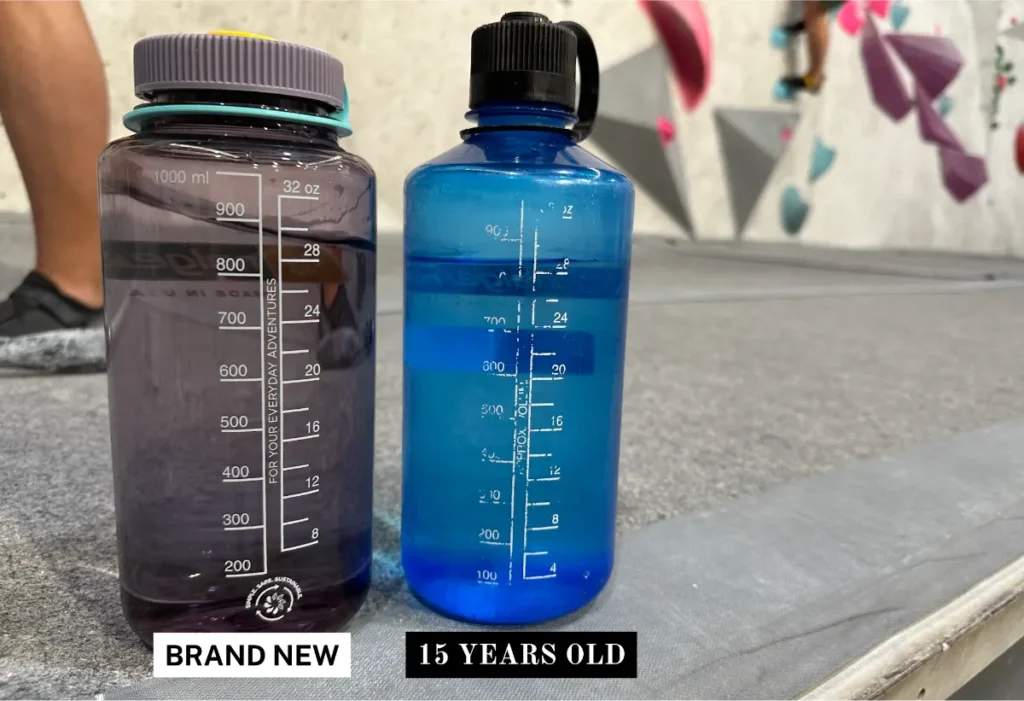 But what really sets Nalgene apart in terms of VALUE is their ridiculously generous lifetime warranty.
Not only are defects covered, but they'll replace any broken or damaged bottle with no questions asked (as long as the damage wasn't caused by fire, freezing, or chewing).
I am yet to find a single example where Nalgene failed to replace one of their water bottles even when the cause of the break was 100% the users fault and not Nalgene's.
When I tell my friends who own Nalgene bottles that their bottle is backed by a lifetime warranty and the company will replace it if it breaks they are shocked and impressed. In my mind this peace of mind can't be understated when it comes to value.
Especially considering the bottles are so cheap to begin with.
CamelBak
CamelBak's Tritan and Podium bottles cost about the same as plastic Nalgene bottles, roughly $10 to $20. With premium options, like the Eddy+ LifeStraw Bottles costing closer to $40.
But honestly, the Lifestraw bottles are less common and more designed for serious hikers who want to be able to drink water directly from rivers and streams. As an average consumer you'll be spending a lot less on your Camelbak bottles.
Their stainless steel bottles naturally cost a bit more as well, about $25 to $40. Which isn't bad considering that Hydro Flasks and many other premium stainless steel bottles can easily cost $50 or more.
Overall Camelbak bottles are similar in price to Nalgene but offer more feature rich lids.
Winner: Nalgene
Nalgene and CamelBak Bottles fall into a very similar price range and the difference in price is so small they can basically be seen as identical in pricing.
While I think you get "more for your money" with Camelbak because the lids are more unique and interesting ultimately it's Nalgene's incredible lifetime warranty that gives them an edge in terms of value for the money.
When you buy a Nalgene, you're essentially buying it for life.
Features And Functionality
With water bottles these days there are so many different options out there. From a plain and simple bottle to bottles with really interesting and unique lids and ways of drinking.
When it comes to features and functionality Nalgene bottles are the plain-Jane of water bottles and could very well have the motto "less is more". Whereas Camelbak have taken ideas from their Hydration packs and made some pretty innovative water bottle lids.
Nalgene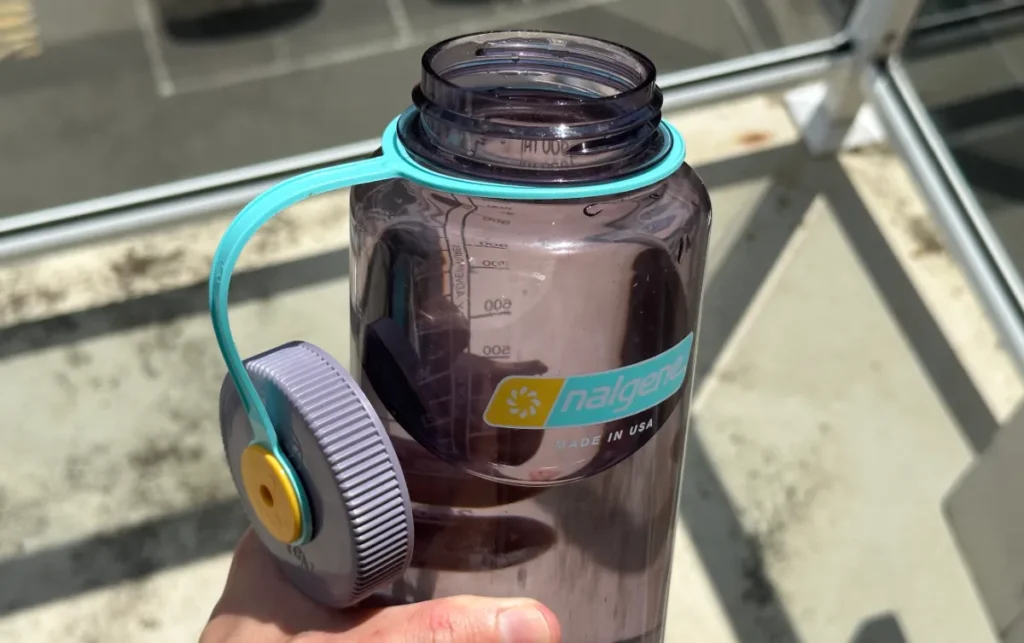 A big part of what makes Nalgene Bottles so popular is their simplicity.
The classic Nalgene Bottle is a basic, plastic bottle with a twist-off lid. A simple formula that has made Nalgene nearly synonymous with reusable, plastic water bottles for decades.
In the years since, Nalgene has added a few new options to their lineup and upgraded the plastic their bottles are made of, but the current 32 oz wide mouth Nalgene Bottle is otherwise nearly identical to the one that put Nalgene on the map in the 70s.
After all, if it ain't broke, don't fix it.
Aside from their standard bottles, Nalgene offers an Ultralite Bottle that weighs in at only ⅕ of a lb, one of the few non-insulated stainless steel bottles on the market, and a few different lid options (that offer smaller spouts, carrying handles, or a slide-out straw).
Click here to see a full list of the best Nalgene lids you can get.
But whether you buy the wide mouth or the narrow mouth bottles, at the end of the day, Nalgene Bottles are what they are — basic, functional water bottles. And oftentimes that's really all you need.
CamelBak
Available in a wide variety of sizes and styles, there's a CamelBak Bottle for every person and every situation.
CamelBak's main line of bottles are made of vacuum-insulated stainless steel or Tritan Renew, the same plastic Nalgene Bottles are now made of.
But what really makes CamelBak stand out are their lid options (that are compatible with any wide mouth CamelBak).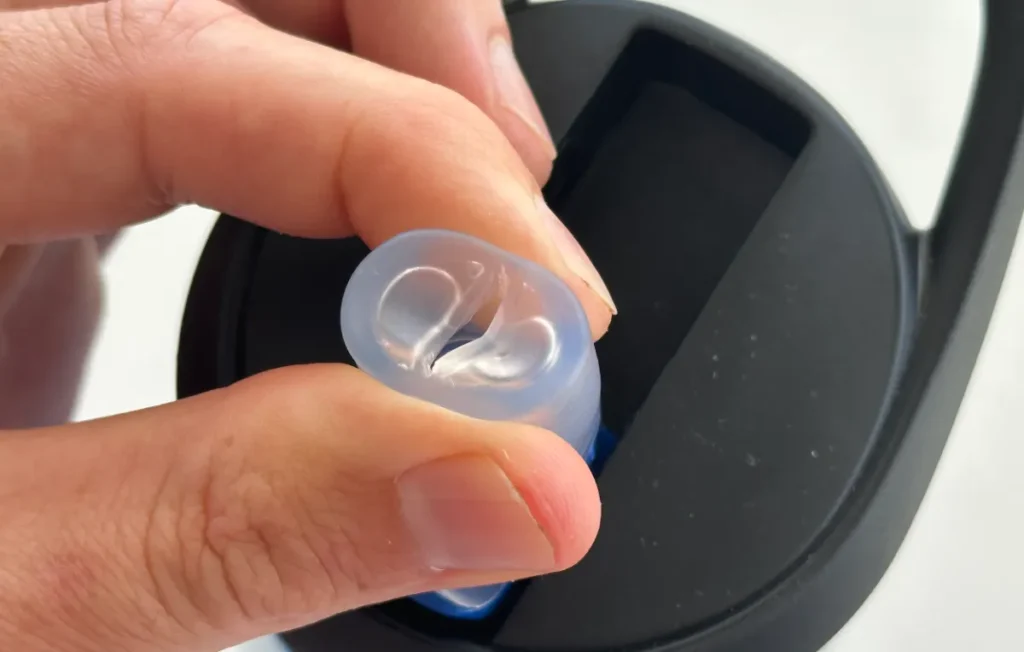 The CamelBak Eddy+ Bottle has one of my absolute favorite lids of any bottle I've used and it's the one my kids fight over and like the most.
Offering a flip-out straw with a bite valve (on either a Tritan plastic or insulated stainless steel bottle), it's the perfect lid for an active lifestyle.
And my kids love it too. The bite valve is fun and drinking from a straw (especially one with a bite valve) prevents spills. However, the bite valve does wear down over time and needs to be replaced more frequently than a basic Nalgene lid. However, Eddy+ bite valves are easy to replace and not too expensive.
If that's not enough, CamelBak recently introduced one of my favorite new products for the backcountry, the Eddy+ Bottle with built-in LifeStraw water filter that filters water twice (using a Hollow Fiber Filter and Activated Carbon Filter) to remove parasites, bacteria, microplastics, chlorine, lead, and more.
I've only had a chance to use it on one backpacking trip, but so far it looks like a real game changer.
If you prefer to chug rather than sip, CamelBak has you covered too. The Chute Mag Bottle offers a chug spout with a flip-off magnetic lid – interestingly all these lids also fit on Nalgene bottles if you want to mix and match.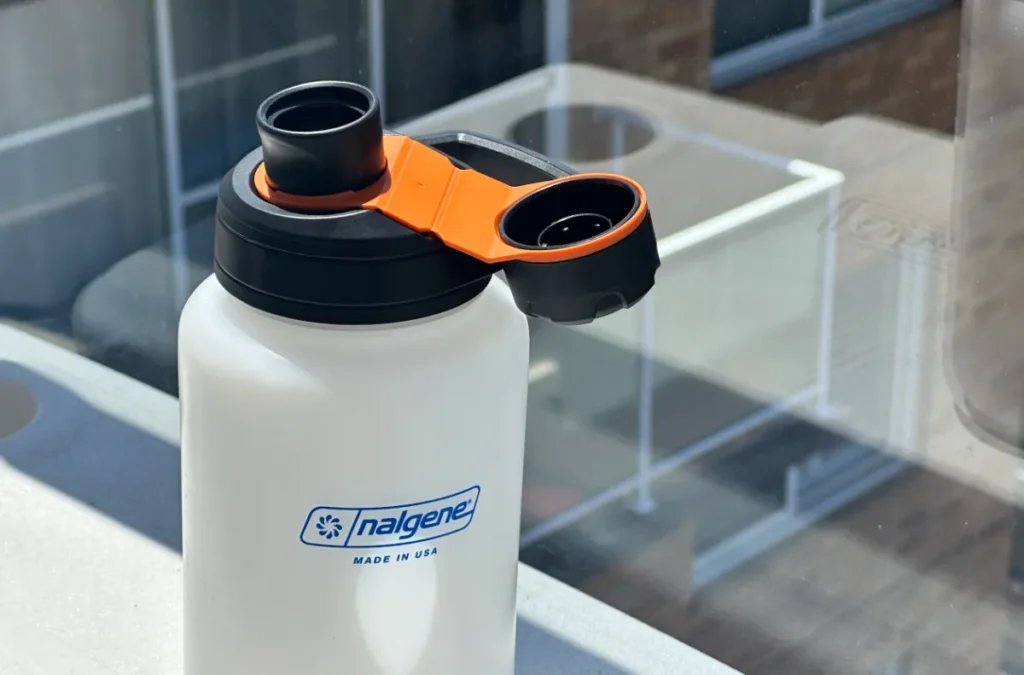 Or if you prefer a jet valve spout, CamelBak makes Podium Bottles, a line of slim 21 and 24 oz bike bottles made to fit comfortably in cupholders and bottle cages.
The jet valve cap makes drinking on the go easy and, if you like your drinks ice cold, their Podium Chill (double wall insulated) and Podium Ice bottles (double wall insulated with Aerogel) should do the trick.
My youngest son thinks the jet valve cap is absolutely epic. I had to buy a second Podium Bottle because he claimed my first.
Now if I could only figure out how to stop him from squirting his brother.
Winner: CamelBak
Where Nalgene Bottles are simple and straightforward, CamelBak Bottles are anything but.
While I do generally prefer plastic Nalgenes (the bottles themselves) over plastic CamelBaks, CamelBak takes the edge here regardless thanks to their innovative lids and insulated stainless steel options.
Fun fact: wide mouth CamelBak lids are also cross-compatible with wide mouth Nalgene Bottles. One of my go-to's is a CamelBak Eddy+ lid that I Frankensteined onto an Ultralite Nalgene Bottle.
It's the best of both worlds.
Thermal Insulation
No one likes drinking lukewarm water, that's never fun and if a water bottle can keep your drink cold for hours at a time then generally that's a good thing.
I love bottles like the Hydro Flask (see my Hydro Flask vs Nalgene. comparison) because Hydro Flask bottles keep water ice cold for 24+ hours even in extremely hot weather.
When it comes to thermal insulation Nalgene doesn't really have any options, but Camelbak has quite a few (and some are better than others).
Nalgene (It Has None)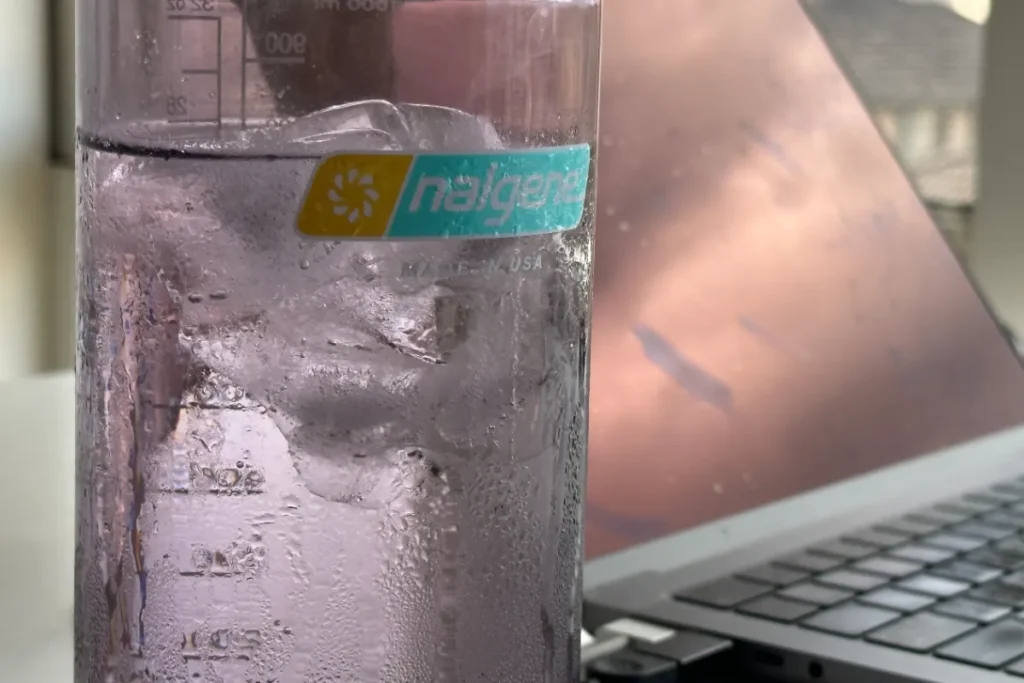 Nalgene doesn't offer insulated bottles, instead they prioritize making simple, lightweight bottles.
Even Nalgene's stainless steel bottle is non-insulated (which makes it perfect for use as a hot water bottle).
If I'm going to use a Nalgene and still want my water to stay cold, a nice hack I learned is to freeze a half-full bottle on its side the night before.
When you fill it in the morning, you're left with a large, solid chunk of ice that lasts for hours.
But in hot weather even a Nalgene filled with ice will only stay cold for a couple of hours and won't last the entire day. So if you're looking for an insulated water bottle Nalgene is not the brand for you.
CamelBak (There Are Insulated Options)
If maintaining your drinks temperature is a priority, CamelBak's stainless steel, Podium Chill, and Podium Ice Bottles will keep your drink cold all day.
Their stainless steel bottles are the best at keeping drinks cold or hot because vacuum is one of the best insulators. It can keep coffee or tea hot for hours as well. If I fill mine with tea in the morning, it's still nice and hot by lunchtime.
The Podium Ice bottles contain Aerogel, which is a super lightweight insulator and can keep drinks colder up to 4 times longer than you basic plastic water bottle. However, it's still not as good as the vacuum insulated one.
The Podium Chill has dual walled insulation but it seems there is only air between the walls to insulate which doesn't work that well. Still it better than a single walled water bottle.
Like Nalgene, CamelBak's regular Tritan bottles and standard Podium Bottles aren't insulated at all.
Winner: CamelBak
In my experience, insulated CamelBak Bottles do just as good a job of keeping drinks cold as some bottles that cost nearly twice as much. And there's nothing quite like ice cold water on a hot summer day.
CamelBak sort of wins by default, since Nalgene doesn't have any insulated options.
But it's important to note if you're buying a regular plastic CamelBak bottle these also lack insulation and will be exactly the same as a Nalgene.
Durability And Longevity
When investing in a brand like Nalgene or CamelBak you want to make sure you are buying a water bottle that is durable and will last you a long time.
The last thing I want is going for a hike, dropping my water bottle and it instantly cracking and being useless to me.
Nalgene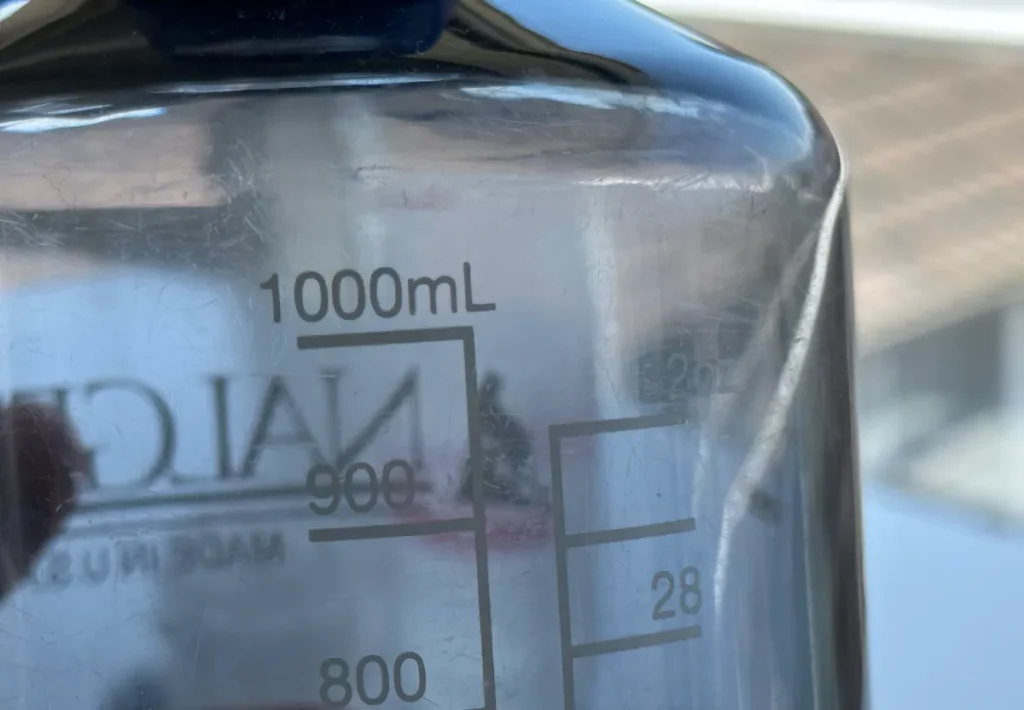 Tritan, the material Nalgene's main line has been made of since 2008, is surprisingly durable for a hard plastic.
I've had a couple crack on me from an unfortunately placed drop right onto a rock, but others have survived much worse falls.
Their Ultralite Bottles are even more durable. The malleable HDPE that they're made of is able to flex to absorb impact, though they don't handle hot or boiling water quite as well.
I've got friends who have Nalgene bottles that are 10-15 years old and still work great and I even own an Nalgene bottle from 1995. Though I'll admit I bought it second hand off Ebay so haven't used it for 30 years.
Plus the fact that Nalgene backs their bottles with a lifetime guarantee even if you're the one who breaks the bottle definitely means these bottles are hard to beat when it comes to longevity.
CamelBak
Like standard Nalgene Bottles, CamelBak's main line of plastic water bottles are also made of Tritan Renew and, as a result, are equally as durable.
And needless to say, both Nalgene and CamelBak's stainless steel bottles are borderline indestructible.
While I haven't owned my CamelBaks for nearly as long, I have yet to have one break. And I'm not exactly gentle on my bottles.
The downside with CamelBak bottles is that the lids have more moving parts and thus are more likely to break over time and also more likely to collect mold.
You need to physically pull apart the lids in other to completely clean them otherwise they can hide mold and bacteria inside them in parts you can't see or easily access.
In the video up above you can see me pulling apart the Eddy+ lid in order to clean it. But the downside is that in order to pull the lid apart I needed to use a knife to get out a plastic dowel holding the lid in place. This did damage to the bottle.
Also complaints are more common about CamelBak bottles leaking than Nalgene bottles so it seems like the lids at least aren't as durable as Nalgene bottles.
Winner: Nalgene
In terms of durability, Nalgene and CamelBak bottles are about even, but Nalgene gets the slight edge for their longer lasting lids and their incredible lifetime warranty (did I mention that it's incredible?).
Health And Water Safety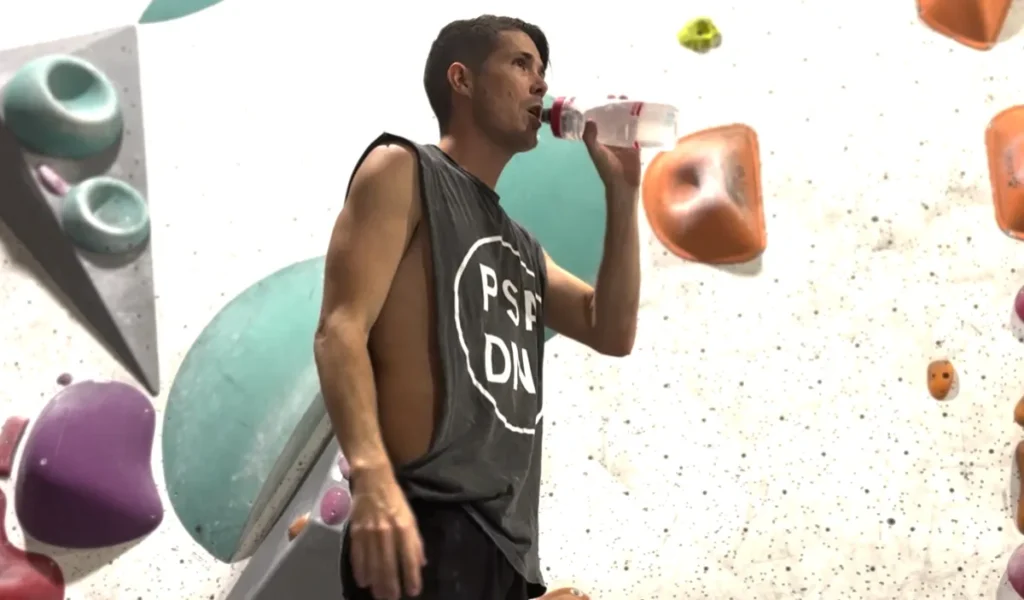 For me, if I'm going to be drinking out of a water bottle very single day I want to know that it's health for me to do so.
The types of materials used in the bottles are very important to me and should be to you too.
Nalgene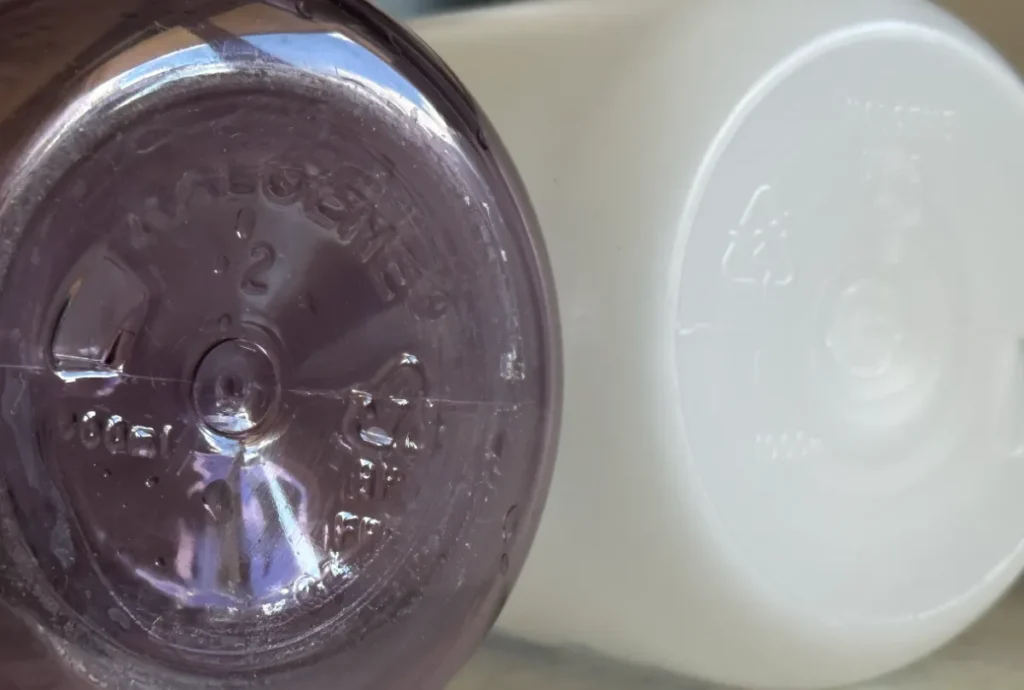 Nalgene Bottles (and CamelBak's plastic bottles) are made from Tritan Renew plastic completely free of BPA, BPS, BPF, phthalates, and all other known or suspected faux-estrogen compounds.
I did a pretty deep dive into whether or not Nalgene bottles are safe to drink out of (remember CamelBak uses the same plastic in many of their water bottles so this applies to them too) and it seems that yes this plastic is fairly safe.
However, there are only a few studies looking into this type of plastic and results are conflicting plus each study seems to have a large conflict of interest – being either funded by the company that makes this type of plastic or a competitor who makes a different type of plastic.
But unfortunately, when it comes to plastic, there's always a chance that new compounds will be found harmful in the future. After all, BPA used to be considered perfectly safe.
I'm comfortable using reusable plastic water bottles for cold drinks, some particularly cautious consumers don't feel quite as confident.
Also Nalgene bottles can handle boiling water without melting. A friend recently said you can cook noodles in a Nalgene bottle. However, I personally would never do this as high heats have been shown (in other plastics) to increase chemical leaching.
I only ever drink cold water from plastic water bottles and I discard it if the water has been in there more than 4-6 hours or so. But that's just me, I tend to be extra cautious with this stuff.
Hydro CamelBak
Most of Camelbak's bottles are made from the same Tritan renew plastic that Nalgene bottles use so the same safety concerns apply to them.
An extra safety concern with CamelBak bottles is that the lids can harbor hidden mold and you need to go to a fair amount of effort to make sure they are clean.
This can involve pulling apart the lid and gaskets in order to clean it, which not everyone is going to do.
If you'd rather avoid plastic altogether then stainless steel water bottles offer a safer alternative to plastic.
Stainless steel won't leach chemicals into your drink, even if scratched, damaged, aged, or used with boiling water.
CamelBak has some great insulated stainless steel water bottles that are my preference over the plastic onces.
Winner: CamelBak
CamelBak takes the edge in terms of health and water safety because, unlike Nalgene (who only offer a single, non-insulated stainless steel bottle), CamelBak carries a wide range of stainless steel bottles in a bunch of colors, sizes, and styles.
I'm making an effort to use stainless steel bottles as often as I can, both for the planet (more on that below) and for my health. Though I still use plastic bottles pretty often and so do my kids.
Environmental Impact
I'm often on the lookout for ways that I can reduce my carbon footprint as well as the waste that I produce.
Buying a reusable water bottle is a great way to ensure less plastic ends up in landfills and in the ocean but is one of these brands more environmentally friendly than another?
Nalgene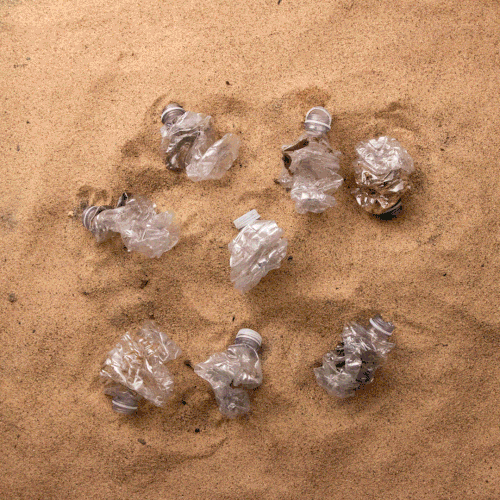 Nalgene has always taken an environment-first approach to their water bottles — even before it was cool.
In fact, a large part of the reason Nalgene became so popular in the first place was due to their commitment to eliminating single-use bottles and charity work aimed at providing clean drinking water to those in need.
All Nalgene Bottles are recyclable, and since 2020, their Nalgene Sustain line is made from up to 50% certified recycled materials.
That being said, plastic products are still not good for the environment.
Plastic is notoriously difficult and inefficient to recycle, plastic production causes toxic byproducts, and many plastic bottles aren't actually recycled, instead breaking down into harmful microplastics in our landfills.
While Nalgene is doing all that they can for the environment, plastic bottles are far from the most sustainable option available.
CamelBak
Like Nalgene, CamelBak is committed to driving positive environmental change through their REPURPOSE initiative.
REPURPOSE aims to make all CamelBak products from safe materials and with reduced climate impact by the year 2025.
Some of those changes are already apparent, like the recent swap to Tritan Plastic and an increased focus on stainless steel bottles.
Winner: Tie
Both Nalgene and CamelBak are striving to make planet-friendly products and to reduce the environmental impact of their products.
If you want to make a difference as well, consider choosing a stainless steel Nalgene or CamelBak Bottle. Stainless steel is fully and infinitely recyclable, doesn't create toxic runoff during manufacturing, and is typically made largely from recycled materials.
Maintenance
When it comes to cleaning and maintaining my bottles I can be incredibly lazy.
I have a business to run, kids to take care of and trails to hike. I don't want to spend more time on this earth cleaning bottles than I have to.
Nalgene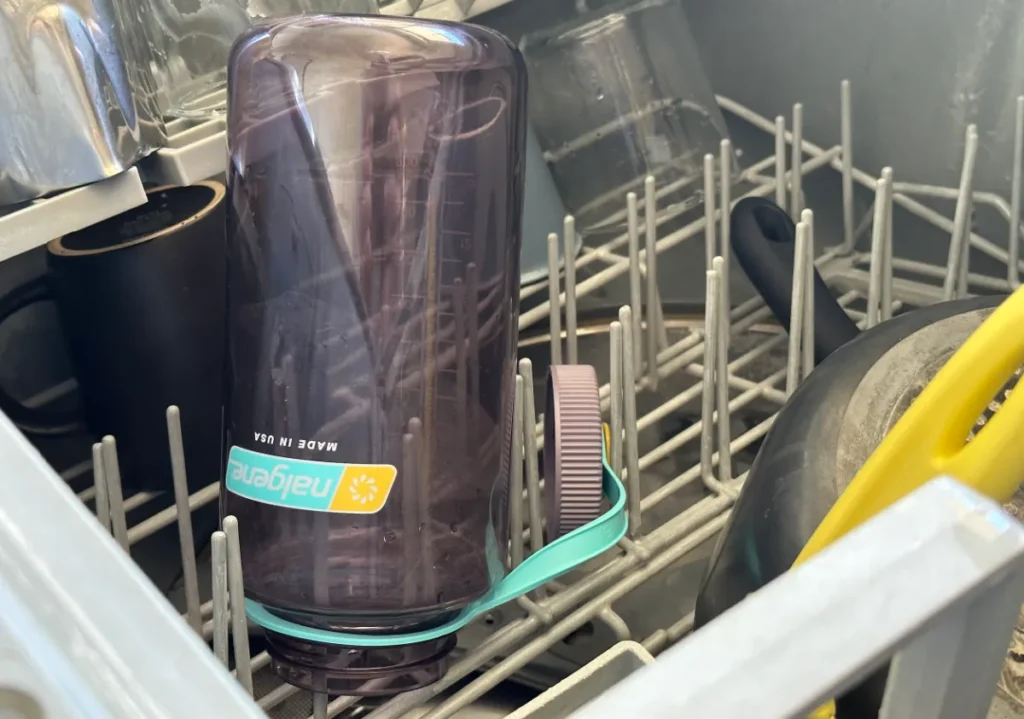 Because Nalgene Bottles are so simple, it's also very simple to care for them.
All you need to do is rinse your bottle out after every use and wash daily whenever possible (every few days is probably okay if you only drink water).
Nalgene bottles are also dishwasher safe which makes them a breeze to clean.
If I'm in a rush, I'll grab a Nalgene over any of my other bottles since I know it'll be quick and easy to clean once I'm done.
The other day I made myself a smoothie and I chose the Nalgene wide mouth because I knew it would be the easiest to clean.
3 days later I pull my smoothie caked Nalgene from the sun baked car. Gave it a quick rinse and then threw it in the dishwasher. It came out perfectly clean.
No straws to clean or extra parts to pay special attention to. I know my Nalgene is now good to go and it took little to no effort on my part.
CamelBak
Although CamelBak Bottles are also relatively easy to care for, the lids do take some extra effort to wash.
To prevent mold and odors from developing in the mouthpiece, the straws, spouts, and crevices require some special attention.
A water bottle cleaning kit can help make it a lot easier but depending on what lid you buy there can be some serious effort to clean the lid fully and ensure there is no buildup of mold.
Check the video below showing how to pull apart and clean a Podium Jet Valve water bottle for an idea. It's not HARD per-say but it's also not simple and easy.
Winner: Nalgene
While maintaining both Nalgene and CamelBak Bottles is relatively easy, Nalgene Bottles are as easy to clean as any bottle on the market.
If you're feeling lazy, routine cleanings can be done with water bottle cleaning tablets. Just be sure you still give the bottle a deep clean every week or two by scrubbing with a bottle brush.
Weight And Portability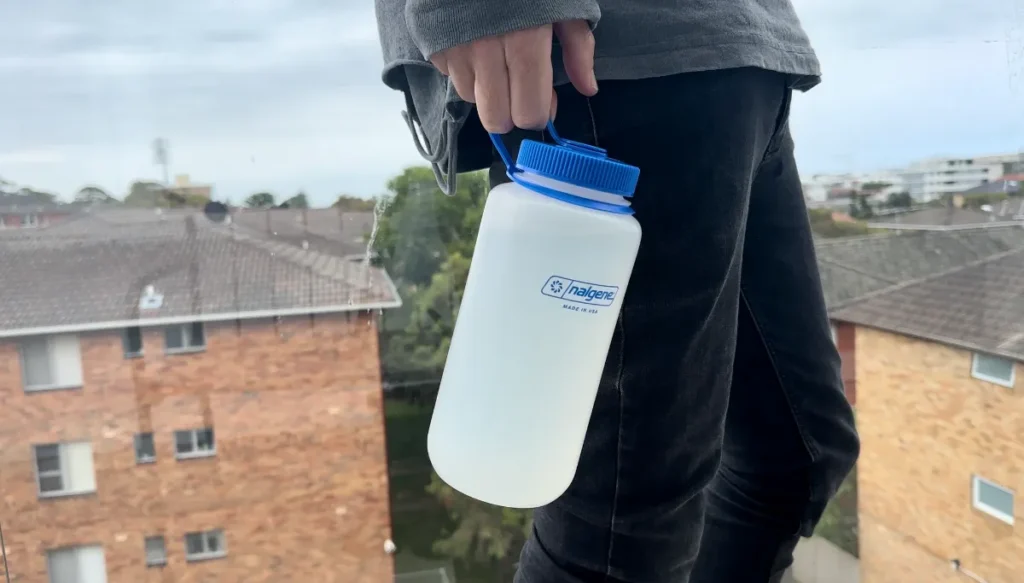 Reusable water bottles are only good if you can easily carry them with you wherever you go so you don't need to buy disposable water bottles.
Nalgene
For all their positives, Nalgene Bottles are a bit chunky and annoying to carry. I used to always lug mine around by the lid strap, at least until they started snapping.
Come to find out, the lid strap isn't meant to bear the weight of a full bottle. Whoops.
To make carrying your bottle more convenient, you can get a Nalgene Bottle holder (or make one if you're the crafty type).
Another annoying thing about Nalgene bottles is that they are so fat they can't fit into a car cup holder, even a large one.
So they have to always sit on the passenger seat or the ground in your car and this means they roll around a bit.
CamelBak
All CamelBak lids (aside from the Podium line) come equipped with a built-in ergonomic handle, perfect for carrying or hanging from a carabiner.
I didn't realize how convenient a built-in handle really was until I started using my CamelBak Bottles more.
CamelBak bottles are also thinner. The Podium is the thinnest and fits in all car cup holders as well as bike bottle cages but a lot of the other CamelBak bottles are also thin enough to fit in a car cup holder.
Winner: CamelBak
Plastic CamelBak and Nalgene Bottles are comparable when it comes to weight, though Nalgenes tend to hold a higher volume per ounce and offer a ⅕ lb Ultralite option.
But to me, it's not enough to overcome Nalgene's lack of a built-in handle — one of my biggest complaints with Nalgene Bottles as well as how fat the Nalgene bottles are and the fact they don't fit in any car cup holders.
Nalgene vs CamelBak: Which Bottle Is Best?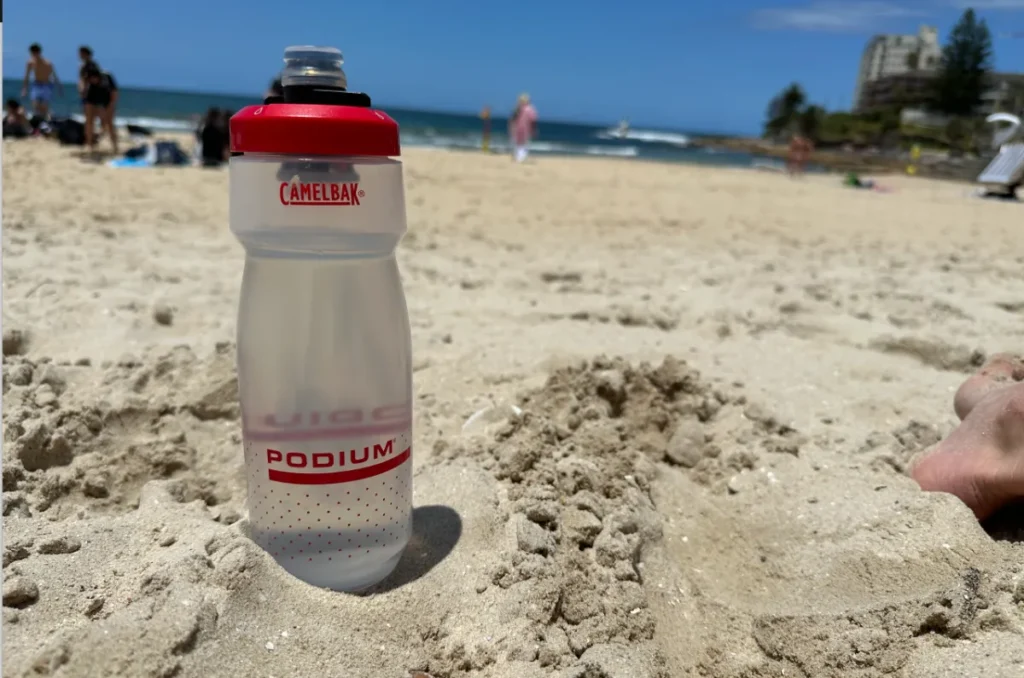 Honestly, going into this comparison I expected to rank Nalgene over CamelBak because I do love the bottles and the company itself. Definitely some personal biased going into this.
I've used Nalgene Bottles for decades and have had very few complaints. So I was a bit surprised to find that when I lost one recently, I wanted to replace it with a new CamelBak instead.
After all, CamelBak Bottles are about the same in terms of price and quality, but I was able to upgrade to an insulated stainless steel bottle that keeps my drinks cold all day and has one of the best lids I've ever used.
While I still like my Nalgene Bottles for backpacking, hiking, and climbing, I've found myself using my CamelBak Bottles more often for just about everything else.
My kids also prefer the CamelBak water bottles over the Nalgene because of the lid design. If you want to encourage your kids to drink more water then I'd have to recommend the Camelbak.