I've tried out many different water bottles and Camelbak is definitely one of my favorite brands. They're easy to clean, the lids aren't as complicated as Contigo lids and the quality is great.
If you're interested in investing in a Camelbak bottle, it's worth checking out how their lids differ so you can buy the right bottle.
The Camelbak Eddy+ is best for those who like straw-drinking bottles and spill-free drinking while the Podium suits cyclists and sportspeople as it effortlessly pumps liquid into your mouth as you squeeze the bottle.
The ChuteMag is great for hiking and adventuring as it provides instant and fast-flow hydration and is really easy to clean. The Carry Cap's integrated handle makes carabiner or normal carrying simple and the Fit Cap is streamlined and has low maintenance cleaning.
Camelbak bottles all have similar bodies and it's the lid you need to focus on before making a purchasing decision.
Below is a table that compares the various Camelbak lids: 
Best for Working Out + My Favorite: ChuteMag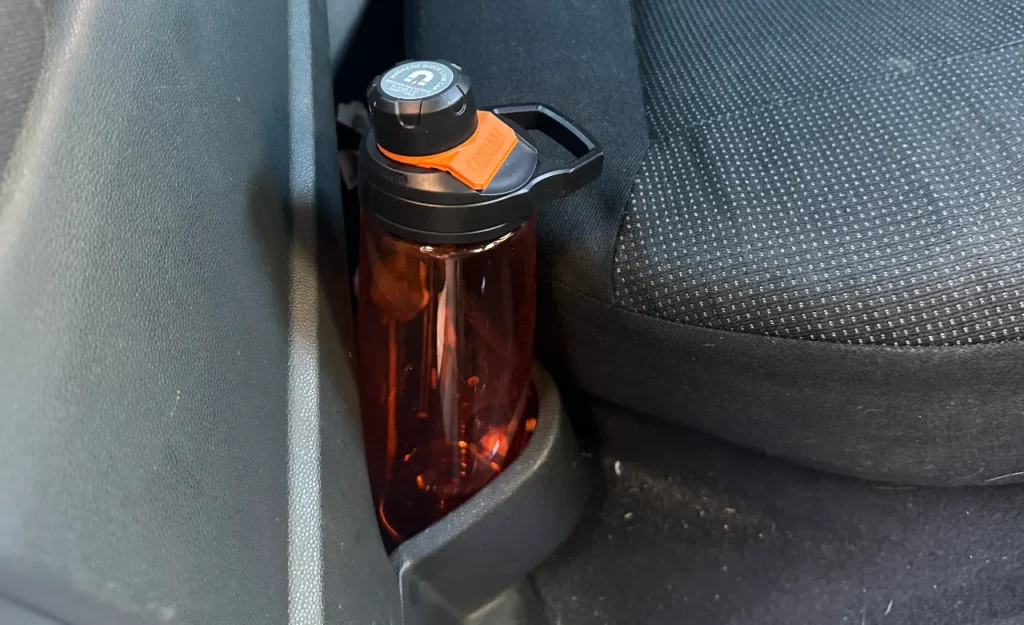 Do you need a lid that provides instant and high-flow hydration but also effortlessly snaps shut and is leak-proof when closed?
The ChuteMag ticks all these boxes. When you open the lid, there's a decent sized opening for a large amount of liquid to come through and quench your thirst. That said, the opening is still small enough that it's unlikely to spill on you while drinking. Which is one of the problems with bottles like Nalgene which have a super wide opening.
When you're finished drinking, the magnetic top easily screws shut and becomes leak-proof giving you peace of mind that it won't leak over your stuff. When you open it the magnet clicks the lid to the side of the bottle so that it doesn't drop down and bang into your face while you're drinking.
Like most Camelbak water bottle lids, the ChuteMag is universal on other Camelbak bottles. This makes them great for mix and matching if you have an insulated stainless steel Camelbak bottle but sometimes want to use your lid on the more lightweight plastic ones.
Best for Kids and Spill-Free Drinking: Eddy+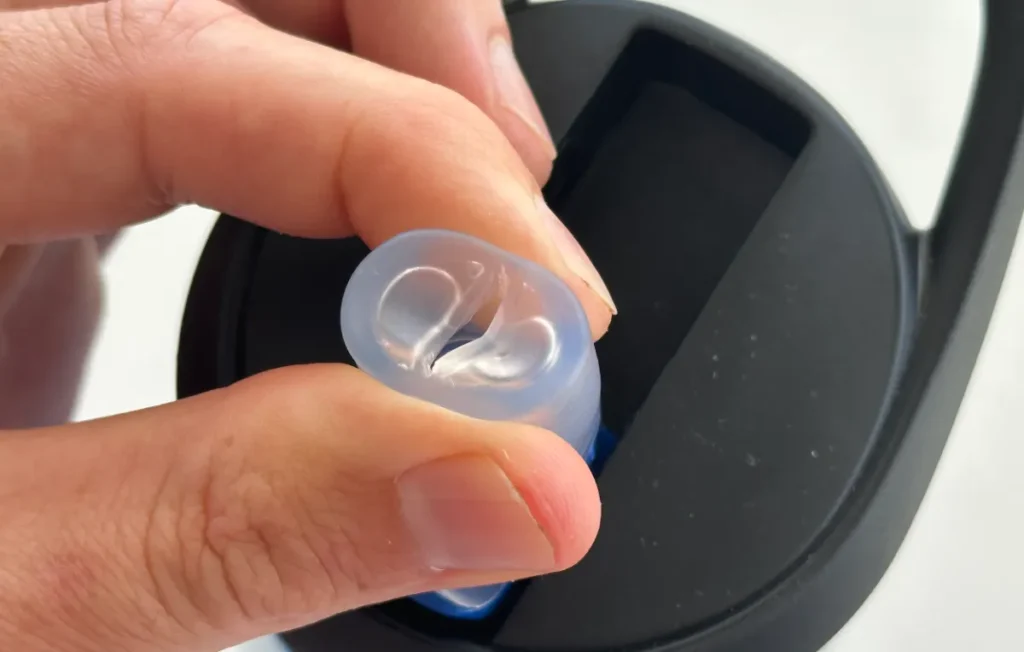 The Eddy+ makes drinking easy. All you need to do is flip the bite valve open, start sipping and the spill-proof design means you won't mess on yourself. This is just like how Camelbak Hydration Packs work.
It's also a great option if you like your bottle to have straw drinking.
The easy-to-use and spill-proof features make it great for kids. My kids love the fun, colorful designs that the Kids Eddy+ comes in and this helps motivate them to drink more water.
The Eddy+ also has a durable carrying handle so you can carabiner it to your backpack or just carry in your hands.
You can throw this lid in the top rack of your dishwasher but deep cleaning involves detaching the straw, removing the bite valve and gasket.
This lid is also leak-proof and you can have peace of mind when storing it in your bag.
The only downside to this lid is that to fully clean it and keep it mold free you have to pull it apart. I've created a full guide with video on how to properly clean the Camelbak Eddy+ lid so check that out if you've got one of these bottles.
Easiest to Clean: Fit Cap
One of the things I love about Camelbak bottles is how straightforward yet functional their lids are. They're less complicated to deep clean than Contigo lids are which is a win for me.
Bottle lids can be tricky to clean as they can harbor a lot of hidden mold and pathogens if you don't take them apart every now and then.
With the Camelbak Fit Cap, deep cleaning is easy because there are no parts to dismantle and you just need to open the nesting handle, remove the gasket, give it a good clean and soak it in white vinegar (optional).
The cap twists off giving you a wide mouth to drink from – great if you want to chug down lots of water quickly. However, if you don't want to mess you'll need to take smaller and slower sips.
Best for Cycling: Podium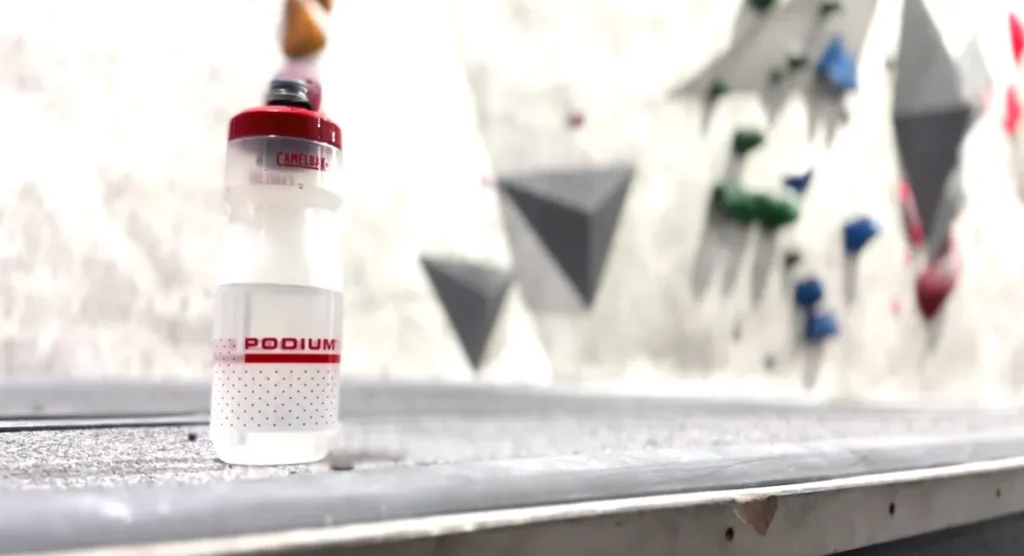 I love my Camelbak Podium bottle because it fits nicely in my bike cage and the fast-flow bottle opening means that I can hydrate myself quickly and efficiently when cycling by just gently squeezing the body of the bottle.
This lid is also great for other adventuring and while hitting the gym as the self-sealing cap and nifty jet valve mean that once it's closed, it's pretty much leak-proof and won't spill liquid all over your gym bag.
You can throw your Podium lid on the top rack of the dishwasher or hand wash it. For deeper cleaning, you'll need to dismantle it to eliminate the hidden mold and bacteria, which can be done by separating the keep cap and retainer ring from the cap.
I've created a full guide with video on how to properly clean the Camelbak Podium lid so check that out if you've got one of these bottles.
This lid comes standard on Camelbak's entire Podium range (the standard Podium bottle, the Podium Chill and the Podium Ice). There are 3 different Podium's to choose from and they are some of the only plastic water bottles that offer insulation to keep your water cold for longer.
If the Podium is the right bottle for you, check out my guide comparing the different Podium bottles.
Easiest to Carry: Carry Cap
As its name suggests, the Carry Cap lid makes it easy for you to carry around.
The durable carry handle is large and ergonomic enough for you to comfortably carry in your hand. However, you can also attach it to your backpack or bag with a carabiner or some string.
The handle also makes twisting the bottle open easy and cleaning the lid is pretty straightforward: just place it on the top rack of your dishwasher.
When you need to deep clean the lid, simply remove the inner gasket and give the 2 parts a good clean.