CamelBak's Podium series is a line of bike bottles optimized for easy one-handed use. I love them for my workouts and my kids love them for taking to school (and spraying their friends).
However, there are 3 different versions – Podium, Podium Chill and Podium Ice and it can be confusing what the differences are and which one you should buy.
I've owned all three of the standard Podium, Podium Ice, and Podium Chill bottles over the years, which has given me a pretty good idea of the pros and cons of each.
If you just want the easy squeeze bottle then I'd personally recommend just getting the classic Podium bottle and if you really want your water to stay cold then spend the extra money and go with the Podium Ice.
While the Podium Chill is still a good bottle it doesn't offer that much extra insulation compared to the classic to be worth it in my opinion. On hot days your water is still going to warm up pretty quickly and if you're doing a long ride it'll be warm pretty early into your ride.
When comparing the regular Podium, Podium Chill, and Podium Ice bottles, the two main factors to consider are ice retention and price.
The classic Podium bottle is non-insulated, so you can expect ice water to stay cold for about an hour or two on hot summer days. The Podium Chill features double-wall insulation that keeps your water cold for about twice as long as the standard Podium bottle. The Podium Ice uses Aerogel Insulation to keep water cold for twice as long as the Podium Chill and about four times longer than the classic Podium.
When it comes to price, the classic Podium bottle is the most affordable at around $12 or $13, with Podium Chill bottles costing about 50% more, and premium Podium Ice bottles costing about 2.5x as much.
They all feature a high-flow, self-sealing, leak-proof Jet Valve cap, a streamlined shape that fits securely in almost any bottle cage, and an easy-to-squeeze body.
They're among the premier bike bottles on the market. While there are similar bottles from brands such as Nike the CamelBak Podiums are an extremely common sight on Saturday or Sunday mornings as people head out for their weekend rides.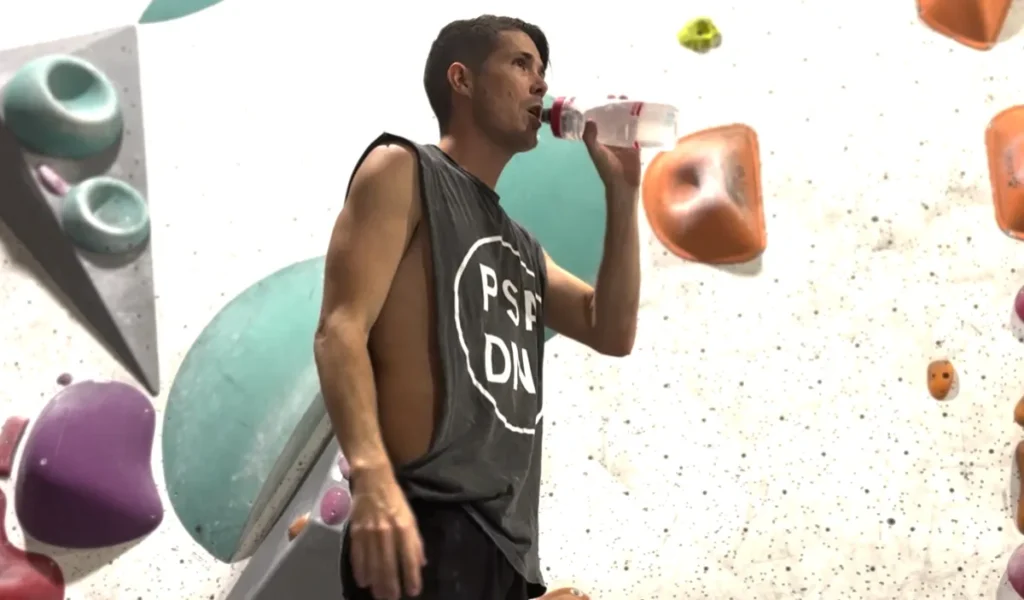 Choosing between the classic Podium, Podium Chill, and Podium Ice ultimately comes down to how you prioritize price vs insulation.
The classic Podium is the most affordable, and it's the one I got for my kids. I have 3 kids and they refill their bottles regularly at school from the tap which isn't cold in the first place. The classic allowed me to save some money and they really like their bottles and they now drink multiple CamelBak bottles a day.
The Podium Ice has the best ice retention, making it my next favorite pick and worth the jump in price.
The Podium Chill finds that sweet spot right in the middle, but for me personally the insulation is lackluster and not worth the increased cost for most people.
CamelBak Podium vs Podium Chill vs Podium Ice
While the Podium, Podium Chill, and Podium Ice bottles are all relatively similar, there are key differences that set them apart.
If you're stuck deciding between them, it's important to consider their ice retention, price, options, performance, and weight to make the choice that suits your needs best.
Ice Retention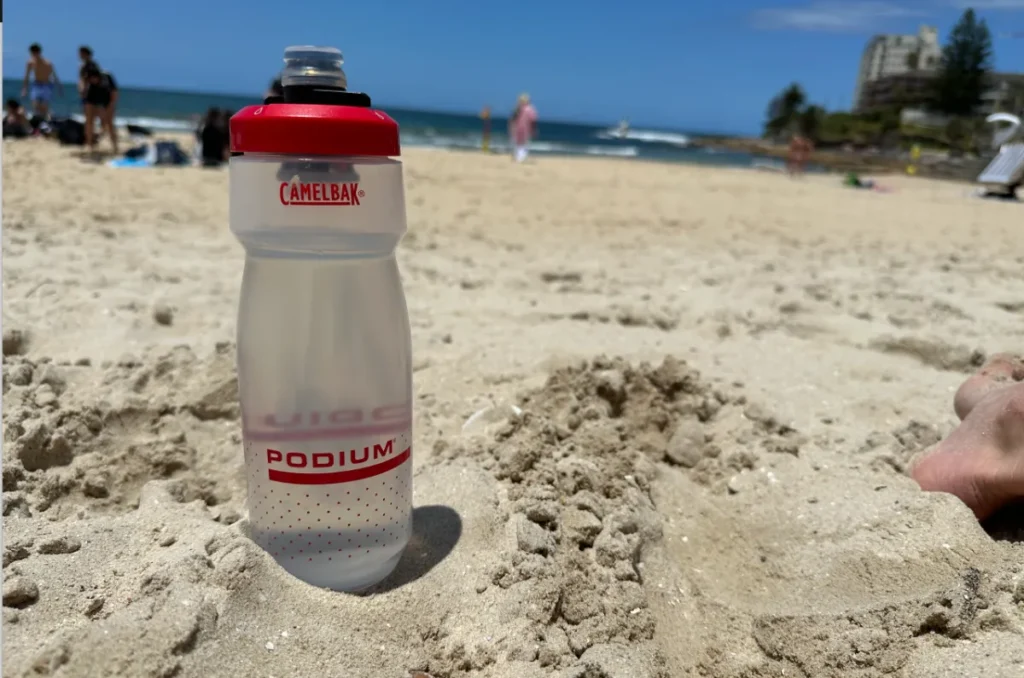 By far the biggest difference between the different Podium bottles is their ability to keep your water cold. 
We all know how much it sucks to go for a long ride on a hot day and to reach down, grab your bottle to rehydrated yourself and to get a mouthful of warm water.
It'll still hydrate you just fine but refreshing is NOT the word I would use.
Below you can see an ice test between a non-insulated bottle, the CamelBak Chill and the CamelBak Ice to see the differences in how cold your water will stay. The results were surprising.
Results After 3 Hours
Non-insulated bottle – 80ºF/27ºC
Podium Chill – 70ºF/21ºC
Podium Chill Ice – 50ºF/10ºC
The classic Podium bottle is completely non-insulated, meaning it won't keep your water cold for very long. On a hot summer day, you can expect ice water to last for about an hour, maybe two. 
The Podium Chill, on the other hand, is double-wall insulated and can keep your water cold for about twice as long as the regular Podium — roughly 2-3 hours on average in my experience. More on colder days and less on warm days. Definitely better than the classic, but not by a huge margin.
The Podium Ice is insulated with Aerogel, which is a super lightweight and flexible insulation. This helps keep your water cold for twice as long as the Podium Chill and about four times longer than the classic Podium — I've had ice remaining in mine well after a seven hour ride…but granted that was on a cooler day and I started with a lot of ice.
It doesn't work as well as vacuum insulated bottles like Yeti or Hydro Flask but those bottles aren't squeezable so there's a tradeoff there. Those bottles are also more expensive than the Podium Ice and I feel this product is well price.
For the best insulation the Podium Ice is 100% your best choice. If you care about keeping your drink cold this is the bottle you should go with. Spend that little bit extra, you've spent thousands on your bike what's an extra $10-$15 for a bottle that will make your ride so much more enjoyable?
Price
Price is the other major factor that sets the Podium bottles apart.
The standard Podium will set you back about $12 or $13, depending on the size. Sometimes you can even get them for under $10 when they are on sale at Amazon or elsewhere. See the latest price at Amazon or check the listing below to see current pricing.
Podium Chill bottles cost about 50% more, somewhere in the $16 to $19 range.
Still a very affordable water bottle and comparable to a Nalgene bottle or Contigo or other popular brands.
The Podium Ice bottles are more expensive and tend to land closer to $30 but I have seen them on sale for around $20 from time to time.
This makes them about 2.5-3x more expensive than the classic. But as I mentioned previously for me this is worth it.
I got myself the Podium Ice and I got my kids the classics.
Finding the right balance between the ice retention you want and the price you're willing to pay is key.
While $12 sounds a lot better than $30, it doesn't mean much if the bottle isn't doing what you want it to. 
And given many of us spend thousands on our bikes isn't it worth the extra $10-$20 to make our ride more enjoyable with refreshing cold water? I certainly think it is.
Sizes – The Ice Is Noticeably Bigger
Compared to regular reusable bottles, there isn't nearly as much variation in size with bike bottles.
20 to 25 oz is standard pretty much across the board. Any bigger or smaller and the bottle simply wouldn't fit securely in most cages.
Standard Podium and Podium Chill bottles are available in either 21 or 24 oz and Podium Ice bottles in 21 oz only.
However, the Podium Ice bottle does have a noticeably larger profile than the other 2 bottles, being a fair bit taller and a little bit chunkier than the others.
This is obviously because it needs room for the aerogel insulation.
The good news is the bottle isn't TOO big. It'll still fit comfortably in almost all bike cages so you shouldn't have any issue taking it on your next ride.
Performance
When it comes to how well Podium bottles work (outside of keeping water cold), all three share a lot of the same upsides.
They all have the same leak-proof Jet Valve cap that seals itself between drinks but still delivers the best flow rate of any bike bottle I've owned.
They're all easy-to-squeeze, making one-handed drinking super convenient. The further up you go in insulation the harder the bottles do get to squeeze.
You'll find yourself needing to use slightly more force with the Podium Chill version and more force again to squeeze the Podium Ice version.
While this wasn't an issue for me if someone had issues with hand strength or a disability then maybe that could rule out these options.
Cleaning Podium bottles is a breeze thanks to a relatively wide mouth when you remove the cap and I've create a full video guide on how to clean the lid properly.
And all three share the same body shape that fits securely in every bottle cage I've tried (if you've ever lost your bottle on a longer ride, you know what a pain it can be).
The biggest difference between the three is that the classic Podium is a bit easier to squeeze than the two insulated bottles, but really it's barely noticeable.
Weight
Weight-wise, all three bottles are relatively light and the comparison might seem a little nitpicky, but when you're riding and using the bottle one-handed, every ounce makes a difference.
The classic Podium bottle is the lightest of the three, weighing in at only .16 lbs, with the Chill not too far behind at .22 lbs.
The Podium Ice is where the difference in weight really starts to become apparent, weighing over twice as much as the classic, at .34 lbs (which is still nothing crazy).
Which Podium Bottle Is Best?
Ultimately, price and ice retention are the two factors that set the different Podium bottles apart the most.
Depending on how you intend to use your bottle and how you prioritize price vs insulation, the 'best' bottle will be different for each person.
If you live in a cooler climate and insulation isn't that big of a deal to you, a classic Podium bottle is cheaper and lighter than both insulated bottles. 
If you go on long rides in blazing hot weather, the ice retention of the Podium Ice is probably more than worth the cost. 
If ice cold water is important to you, but your longest rides are only two or three hours long, you might as well go with the Podium Chill. Your water will still stay cold for your entire ride, but your bottle will be lighter and you'll save a few bucks to boot. 
Best Podium Bottle For Mountain Bikers
If you're a mountain biker, I'm sure you've ended up with a mouthful of dirt after taking a drink from your bottle more times than you can count.
The Podium Dirt Series offers a pretty simple answer to that problem — an easy pop off mud cap.
The Dirt Series comes in both the classic Podium Dirt Series bottle and Podium Chill Dirt Series bottle, both with an integrated mud cap that's easy to open and close with one hand while you ride. There is no Dirt Ice bottle that I am aware of at this stage.