Cleaning your CamelBak Podium sports bottle is the most important part of keeping your water clean and your bottle operating smoothly.
Failure to clean your bottle can lead to the growth of harmful bacteria that could make you sick and affect your bottle's lifespan. So, what's the best way to clean your bottle?
To clean your CamelBak Podium, remove all lid components to ensure you're getting in every nook and cranny. Next, use hot soapy water or white vinegar and a bottle brush to scrub the bottle and lid components clean. Finally, allow it to dry before putting it back together.
While cleaning a bottle sounds straightforward, the Podium's many small parts make disassembling and reassembling it a challenge.
The instructions below will guide you in properly cleaning your bottle so you can enjoy fresh, mold-free water.
NOTE: CamelBak provides instructions themselves on how to clean the Podium lid but I personally found these instructions incompletely. They miss out some important steps which could lead to mold growth in your Podium bottle. So make sure to follow all my steps for the best possible clean.
Things You'll Need
Here are the things you'll need to clean your Podium bottle: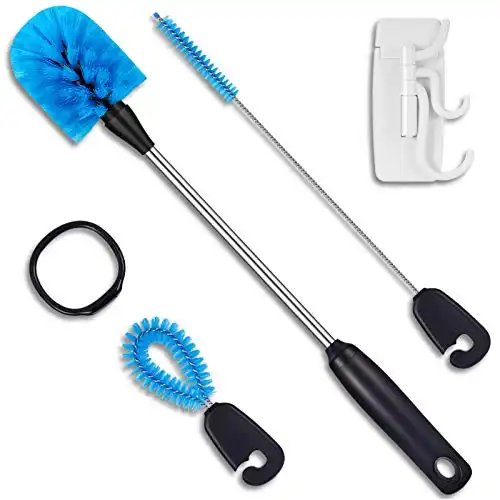 Step 1: Clean the Main Portion of the Bottle
The main portion of the bottle should be cleaned in a basin of warm water with soap.
You can use a bottle brush or sponge to access the entire bottle interior. Rinse well.
Step 2: Take the Lid Apart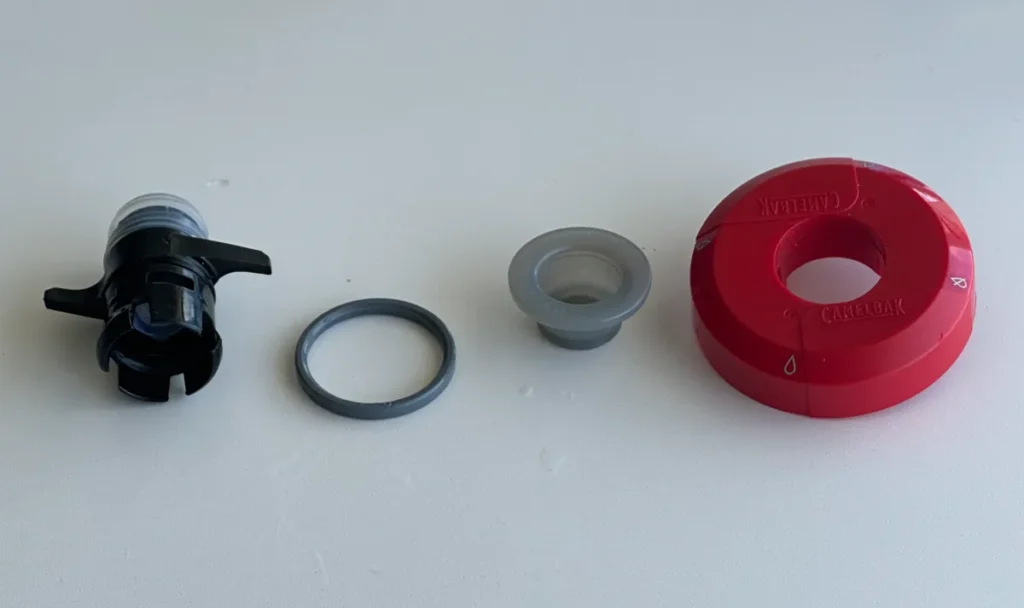 The lid has smaller components that must be separated to be cleaned properly.
This can be a bit tricky to do so I've created a video guide to show you exactly how to do this:
First, remove the rubber stopper and retainer ring from the underside of the cap.
Next, rotate the nozzle to the locked position.
Press the tabs on the cap's bottom together and push upward to remove the nozzle portion.
Use a butter knife to gently remove the plastic/rubber mouthpiece from the top of the cap.
Use your butter knife to also remove the black O-ring from the outside of the nossle.
Inside the nozzle is the jet valve you can gently lever this out with your butter knife. You want to put your butter knife in from the bottom to pop it out.
Step 3: Wash the Lid Components
You have two options for washing the lid components.
Use warm soapy water and a bottle brush to scrub every nook and cranny of each component.
I'll just do this if I cleaned the lid relatively recently and I'm not worried about any mold growth in my bottle.
If it's been a while between cleans then what I like to do is soak the components in a 1:1 solution of white vinegar and water overnight.
White vinegar has anti-fungal and antibacterial properties, so it's a fantastic natural cleaner for your Podium bottle.
After soaking the parts overnight to kill the mold I'll then give them a good wash in warm soapy water and a good scrub with the bottle brush.
Step 4: Dry Everything Thoroughly
I recommend leaving your bottle components apart to let them dry overnight if possible.
If not, use a clean towel to dry every part thoroughly. Personally I find the pieces too small for this to work so if I was really impatient I would use a hair dryer to dry everything.
You should really avoid piecing them back together wet as mold can grow in areas you can't reach and can't dry once it's reassembled.
This step is crucial and should not be skipped.
Putting the bottle back together when the components aren't entirely dry is practically begging for mold to grow.
Step 5: Put Your Cap Back Together
Once everything is dry, repeat the steps above in reverse order. Take extra care to ensure you're putting things back in the correct places otherwise, you may have to contend with a leaky water bottle.
Can't I Just Put My Bottle in the Dishwasher?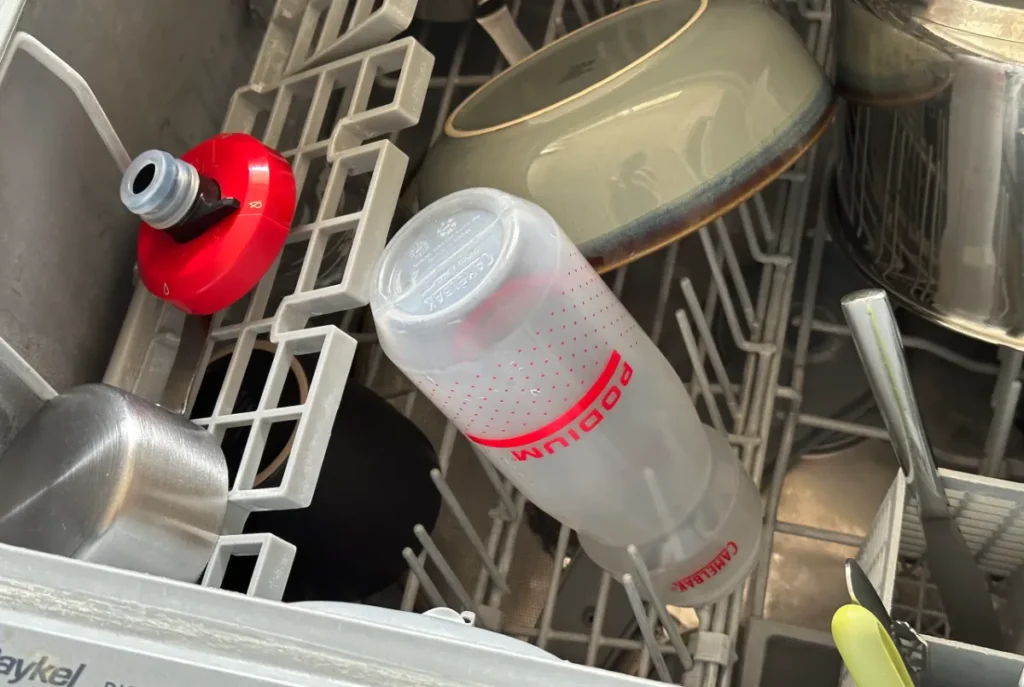 While some of CamelBak's bottles are dishwasher safe, the Podium series is not one of them.
The Podium caps can go in the top rack of your dishwasher, but CamelBak says you shouldn't put the bottles themselves in the dishwasher. However, the plastic used in CamelBak Podium bottles can handle the temperatures of the dishwasher
So regular Podium bottles will probably be fine but if you have the Chill or Ice versions you might want to avoid the dishwasher as you don't want water getting into the insulating layer.
The dishwasher may be useful for daily cleans of the lid, but if your bottle needs a deep clean, I highly recommend following the five steps above to ensure you get rid of lingering mold and bacteria in your CamelBak bottle.
Should I Wash My Bottle Before I Use It?
An unpleasant smell or taste often accompanies new water bottles, especially the Podium water bottles.
In the case of the Podium line-up, they're made with plastic, so you may be put off by a plastic scent or taste at first.
To eliminate the taste, I recommend filling your bottle ¾ of the way up with warm water. Add a tablespoon of baking soda and allow the mixture to sit for around an hour.
Rinse the bottle thoroughly, and it should be odorless and taste-free.
Are CamelBak's Cleaning Tablets Worth It?
CamelBak's line of self-dissolving cleaning tablets are designed to keep your bottles taste- and odor-free. They come in a pack of eight with notches to easily break it in half for smaller cleaning jobs.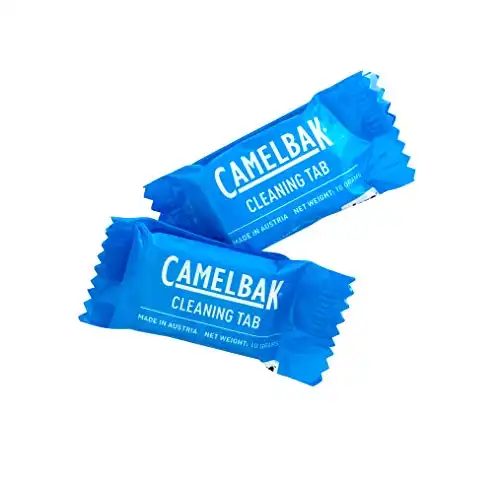 I found the tablets to work great, but they are quite pricy. For this reason, I prefer using my white vinegar and warm water cleaning hack. You can also check out my list of the best cleaning tablets for CamelBaks.