I love the Camelbak Podium water bottle thanks to its self-sealing jet valve and my kids love it too, they think it's so fun to drink water out of and it's really helped us drink more water each day. As somebody who is constantly on the go, I do prefer to throw my water bottles in the dishwasher while I'm busy with something else.
But the Camelbak Podium is made from a soft plastic and the lid has many parts. Plus some Podium bottles have insulation so are they dishwasher safe?
Camelbak Podium water bottles are NOT considered dishwasher safe, but Camelbak Podium lids ARE top rack dishwasher safe. However, the bottles are made from materials that can handle the high heats of a dishwasher so many people regularly put them in the dishwasher without issue.
What Does Camelbak Say About The Podium Bottles Being Dishwasher Safe?
CamelBak states that the Podium and Podium Chill bottles are not dishwasher safe. They advise against using the high-temperature settings on the dishwasher.
On their Care & Cleaning page, they say that the Podium sports bottles like the Podium Chill, the Ice, the Dirt, and the standard Podium should be hand washed.
However, why they states this baffles me and my own research and experiments gave me a different result.
You Can Wash The Lids in The Dishwasher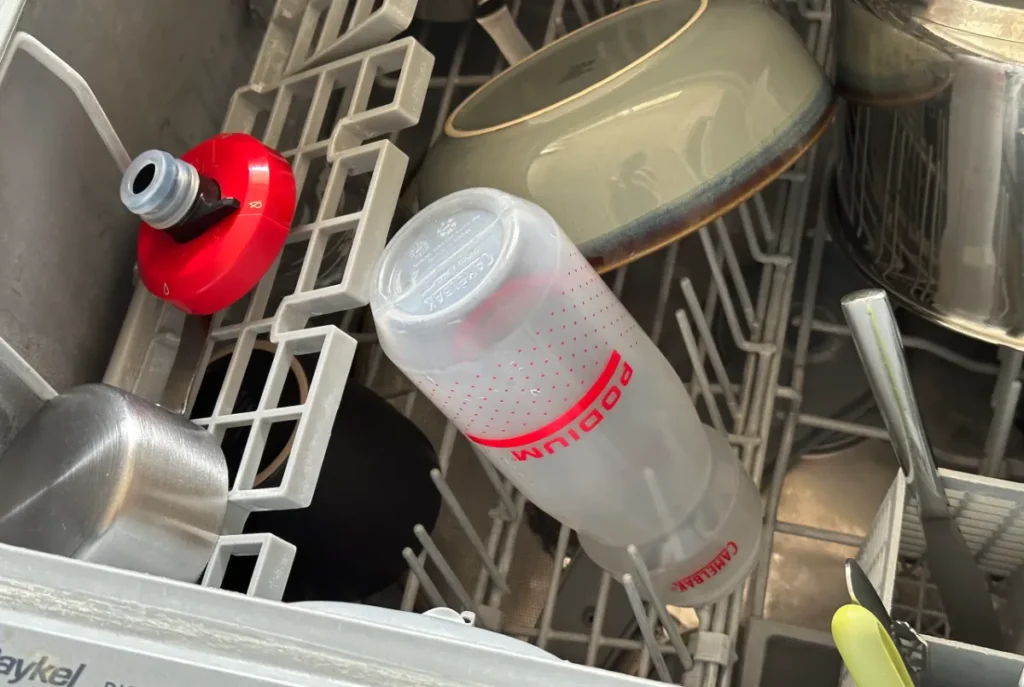 While Camelbak recommends hand washing the bottles in hot, soapy water, they do say that the lids with silicone jet valves are safe to use in the dishwasher.
The lids can be taken off the bottle and disassembled and then all parts can be washed in the dishwasher.
It's not too difficult to disassemble the lid but it does take a little bit of knowhow to accomplish and Camelbak only shows people how to partially disassemble it and miss some vital steps.
I've created a step by step video showing you exactly how to pull apart and clean the Camelbak Podium water bottle lids:
When washing the lid in the dishwasher, it's usually recommended you put this stuff on the top rack but honestly the items are so small I have to put them in my cutlery rack which is on the bottom of my dishwasher.
But I rarely dishwasher my lids parts anyway. Instead, I soak my podium bottle in vinegar to kill mold and then scrub it with the small brush in the 3-in-1 bottle brush set.
Podium Bottles Are Made From Materials That Can Handle The Dishwasher
Originally I thought that Podium bottles aren't dishwasher safe because they are made from softer plastics that can't handle the heat of the dishwasher.
But as I looked into this further I just found this isn't the case at all.
According to Camelbak's FAQ page:
Our Podium series bottles are made primarily from TruTaste polypropylene, a proprietary blend of polypropylene that is food-safe and taste-free. Ordinary bike bottles are usually made of low-density polyethylene
According to Marlin Steel the maximum operating temperature for polypropylene is 180ºF (82.2ºC) and the melting temperature is 327ºF (163.8ºC).
A "heated dry" cycle of a dishwasher seems to max out at around 160-180ºF (71-82ºC) but it seems that many newer dishwashers don't run this anymore and instead use heated rinse cycles and residual heat to dry everything (which uses lower temperatures).
So this means that Podium drink bottles CAN handle the heat of a dishwasher rather easily and can even handle the heat of boiling water – though repeated boiling water exposure can lead to degradation.
I tested this myself and filled up my Podium drink bottle with boiling water.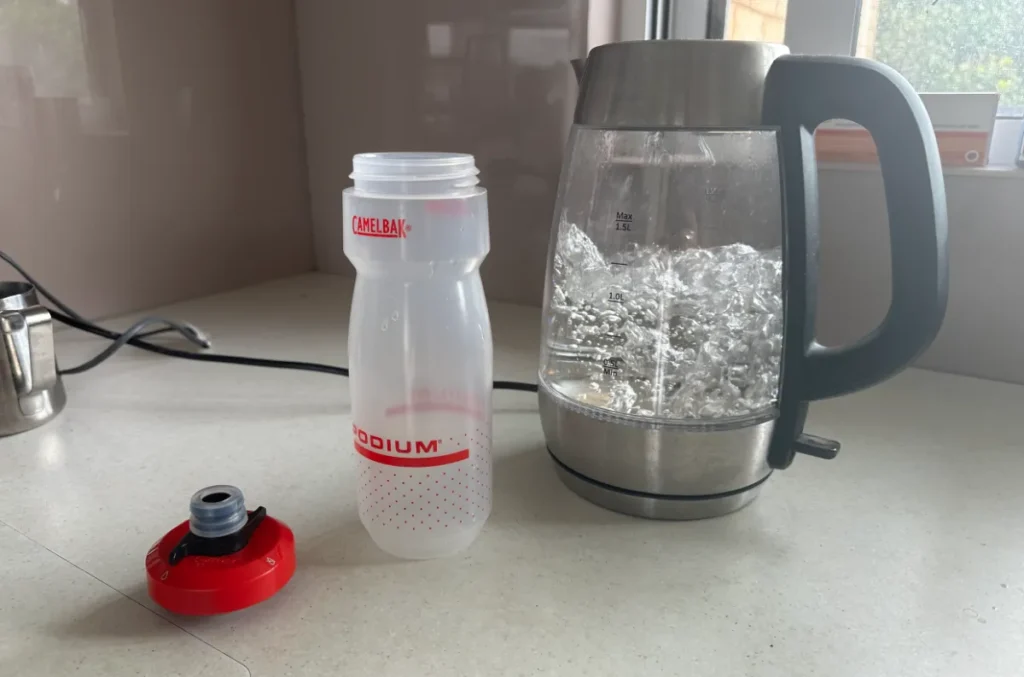 I am happy to say my bottle did NOT deform and acted the same as if it had cold water in it.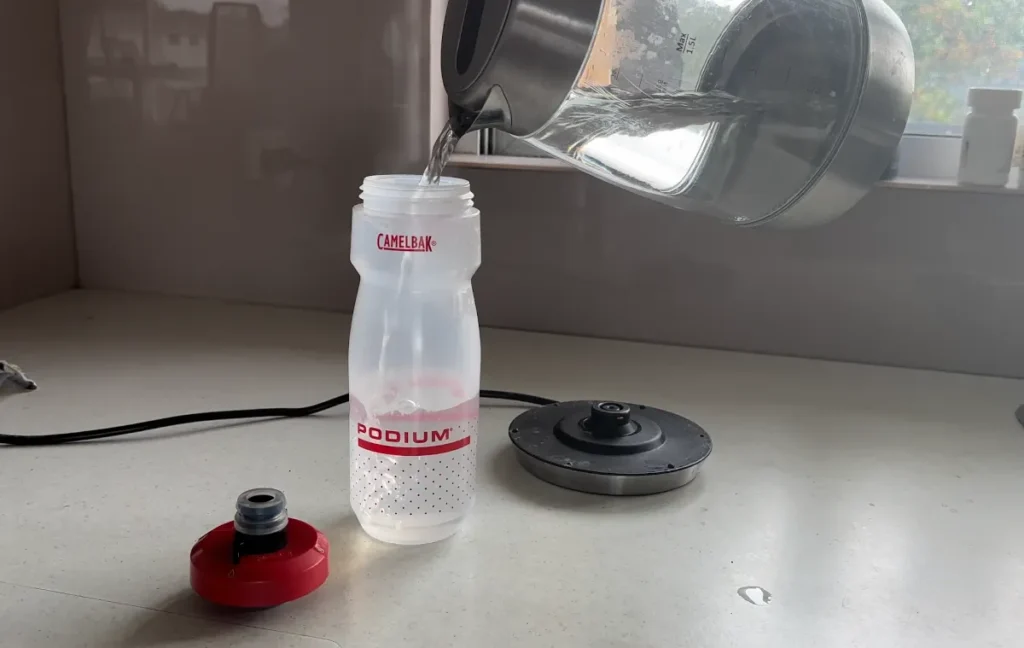 Camelbak Podium Chill are made from dual walled plastic with an air cavity in between them and CamelBak Podium Ice are made from dual walled plastic with a lightweight insulator called aerogel in between the walls.
Aerogel can withstand temperatures up to 1,200ºF (650ºF) so this isn't the issue.
In theory, maybe Camelbak Podium Chill and Ice are advised to be hand washed because the high water pressure of dishwasher could compromise the seals between the dual walls and allow water in. However, this seems unlikely to me.
I honestly cannot say WHY Camelbak Podium drink bottles have been flagged as not dishwasher safe. Everything seems to point towards it's being fine to put them in the dishwasher.
The Risk With Putting Your Camelbak In The Dishwasher
Given Camelbak say that Podium drink bottles should be handwashed only what are the risks of putting your Podium in the dishwasher.
We already established that melting and deforming is an extremely low risk event as the dishwasher doesn't seem to reach temperatures high enough to melt the plastic.
The only 2 remaining risks I can think of are the paint and external prints on the bottle being worn off or the seal between the dual walls in the Podium Chill and Ice bottles being compromised and it filling with water.
The biggest risk is losing parts of your lid (if you've disassembled it) in the dishwasher if they aren't secured down properly.
Is Damage From The Dishwasher Covered Under The Warranty?
Camelbak offers its customers an impressive lifetime guarantee on all its products, including its bottles.
But like most warranties, this one only covers damage or faults due to a manufacturing defect and not general wear and tear.
On the warranty page, they state:
"The Got Your Bak™ Lifetime Guarantee does not cover damage caused by normal wear and tear, accident (lost /stolen), combat damage, improper care or cleaning, non-standard usage or negligence."
This means that if your Podium bottle was damaged in the dishwasher, it is unlikely to be covered as this would be considered improper care and cleaning, which is not covered under warranty.
But you would have to tell them the issue was caused by the dishwasher for them to be aware of this.