Cleaning tablets are an easy and effortless way to disinfect every nook and cranny of a hydration pack, and an important part of keeping your CamelBak fresh and clean. 
While you can use other cleaners, I find that cleaning tablets leave my reservoir smelling and tasting the best and they help to remove any funky smells.
But with all the options out there, it can be tough to know which cleaning tablets are actually best for cleaning a CamelBak bladder.
The best cleaning tablets for a CamelBak bladder are CamelBak's own cleaning tabs. After all, they're specifically designed by CamelBak to clean and disinfect their bladders. Water bottle cleaning tablets, like those made by Bottle Bright and Stacked, and denture cleaning tablets are also very effective at cleaning and disinfecting CamelBak reservoirs. 
Below you'll find my five favorite cleaning tablets to thoroughly clean a CamelBak.
Just keep in mind, no matter which cleaning tablet you end up choosing, they all use very similar active ingredients and will all do a good job of cleaning your CamelBak's reservoir. The real difference between the best and worst is actually pretty minor.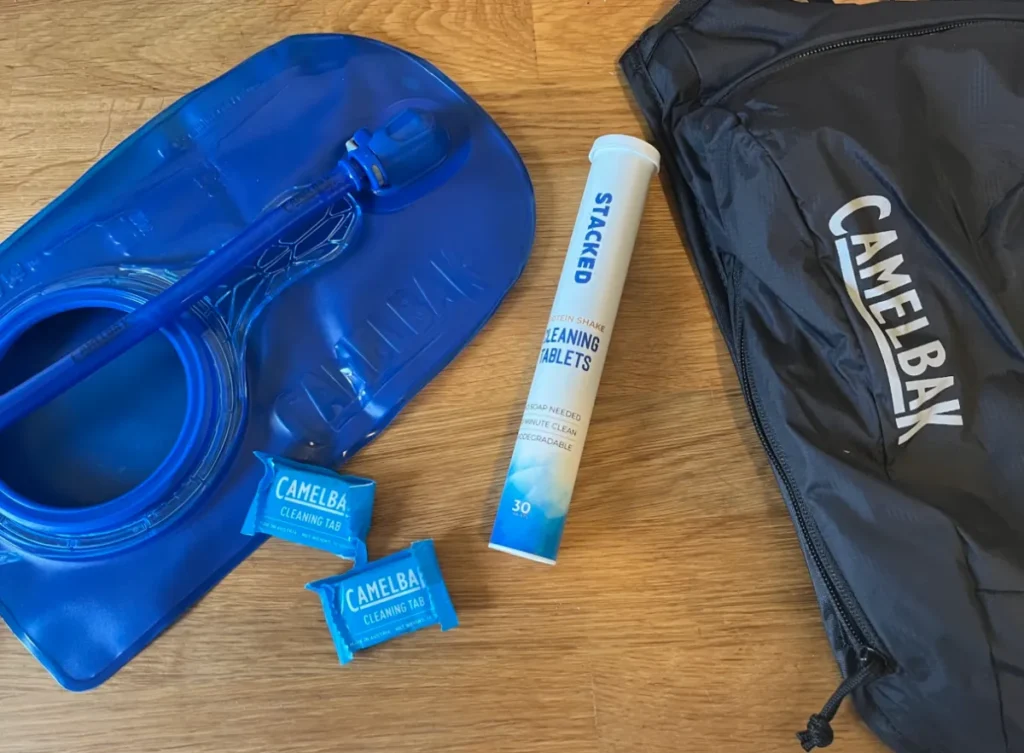 1. CamelBak Cleaning Tabs (best overall)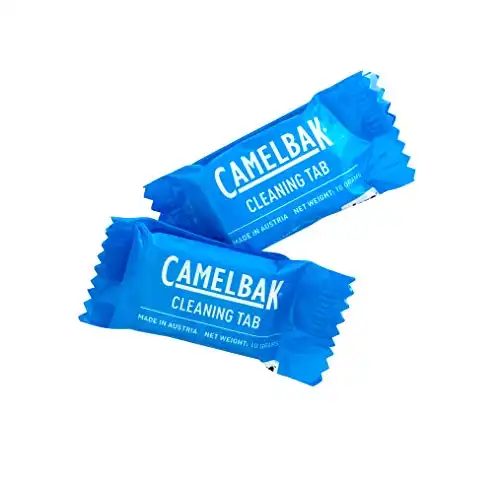 It may come as no surprise that CamelBak's own reservoir cleaning tablets are the best option for cleaning your CamelBak. After all, unlike the other tablets on this list, they're specifically designed by CamelBak to sanitize CamelBak bladders.
I've always used them to clean my reservoir and they've always left it smelling fresh and my water tasting crisp and clean (no matter how nasty I let my bladder get).
The biggest issue with CamelBak tablets, however, is the price. They're considerably more expensive than all the other options on this list — more than twice the price (per tablet) of premium water bottle cleaning tablets, like Bottle Bright.
But, to be fair, the price per tablet is a little deceptive.
Camelbak tablets are ten grams, while water bottle tablets are typically closer to six — meaning for larger bladders (more than two liters in size), you may need to use two Bottle Bright tablets where only a single CamelBak tablet would do the trick.
Regardless, if performance is your top priority in a cleaning tablet, there's really no other choice.
If you want to try out CamelBak cleaning tablets without committing to the full 8 pack then the CamelBak Crux Cleaning Kit comes with a cleaning brush, extra long cleaning straw, drying kit AND 2 cleaning tablets.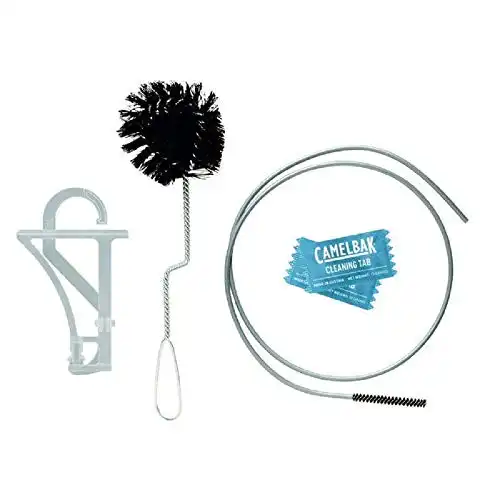 CamelBak Crux Cleaning Kit
Features a large brush for the reservoir and a extra long straw brush to clean the drinking tube plus CamelBak cleaning tabs which will help clean away any scum. After cleaning use the reservoir drying kit to easily hang your bladder and get it completely dry.
A must have for CamelBak bladder owners.
Buy Now at Amazon
2. Bottle Bright Water Bottle Cleaning Tablets
Water bottle cleaning tablets also work great for cleaning a CamelBak reservoir. They use many of the same active ingredients as CamelBak cleaning tablets, so they do just about as good a job.
If I happen to run out of CamelBak tablets, Bottle Bright water bottle cleaning tablets are my next choice. I always have them on hand anyway because I use them to clean all of my water bottles. 
What really sets Bottle Bright apart from all the other water bottle tablets on the market is that they're made of quality ingredients sourced right here in the USA and have a long, solid reputation for making a great product.
You know exactly what you're getting.
The only downside is, much like CamelBak tablets, you're going to pay a bit more for that level of quality. Don't get me wrong though, they're still very affordable and, in my opinion, more than worth the price.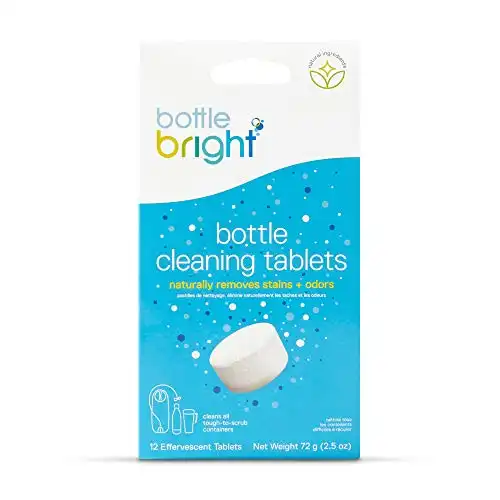 3. Stacked Protein Shake Cleaning Tablets (best budget option)
If cost is a concern, Stacked Protein Shake Cleaning Tablets find that sweet spot between price and effectiveness. 
Using many of the same active ingredients as the tablets above, Stacked tablets will clean your reservoir nearly just as well for less than half the price of Bottle Bright tablets and less than ⅓ the price of CamelBak tabs.
You'd be hard pressed to find a more affordable cleaning tablet.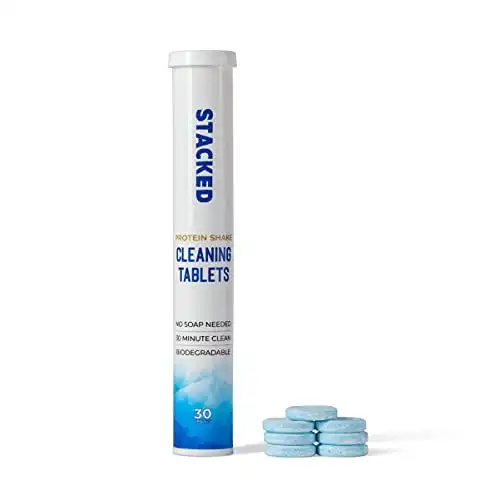 4. CleanHike Reservoir Cleansing Tablets
CleanHike's Reservoir Cleansing Tablets are another solid option designed specifically to clean hydration packs with no scrubbing required.
I forgot to pack my CamelBak tablets on my last backpacking trip, and CleanHike tablets were all I could find before I had to hit the trail.
And to my pleasant surprise, they left my reservoir smelling fresh and my water tasting great — for a much lower price. 
I like that these come in a large pack so I can use them often and they are individually wrapped so I can take one (or a couple) with me on my camping trips and wash my CamelBak on the go without much effort.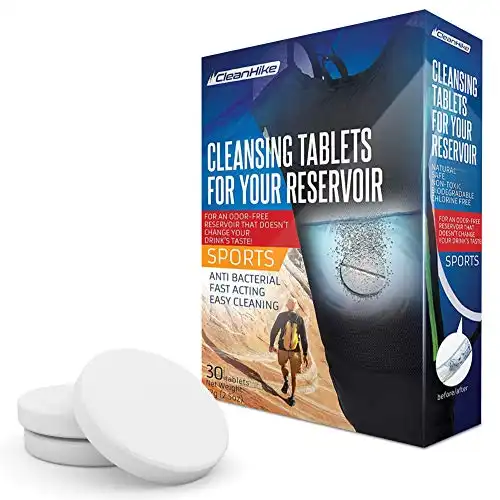 5. Denture Cleaning Tablets (easiest to find)
If you're in a pinch, denture cleaning tablets work more or less the same as all the other tablets on this list. They also use citric acid and baking soda as the main cleaning agents.
And the best part is, you can find them at any drug store, grocery store, or big box store if you don't want to (or have the time to) order tablets online.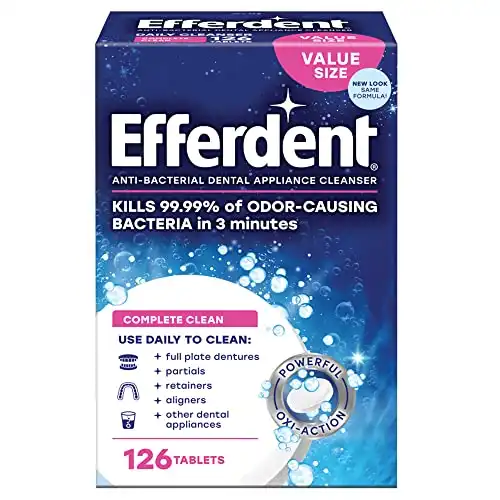 Cleaning Tablets Shouldn't Fully Replace Washing Your CamelBak
Cleaning tablets work wonders at keeping your reservoir fresh, and are an important part of maintaining a clean and sanitary CamelBak — but they shouldn't be the only way you clean your reservoir.
For routine cleanings, they can be used on their own, with no scrubbing required.
But for deeper cleanings, and especially if you find mold or mildew in your bladder, they can't fully replace a good scrub with hot water and some dish soap.
Using cleaning tablets alone is fine as long as the bladder is mold-free and smells and tastes okay. But I'd still recommend giving your bladder a deep cleaning after every few uses. 
How To Clean Your CamelBak With Cleaning Tablets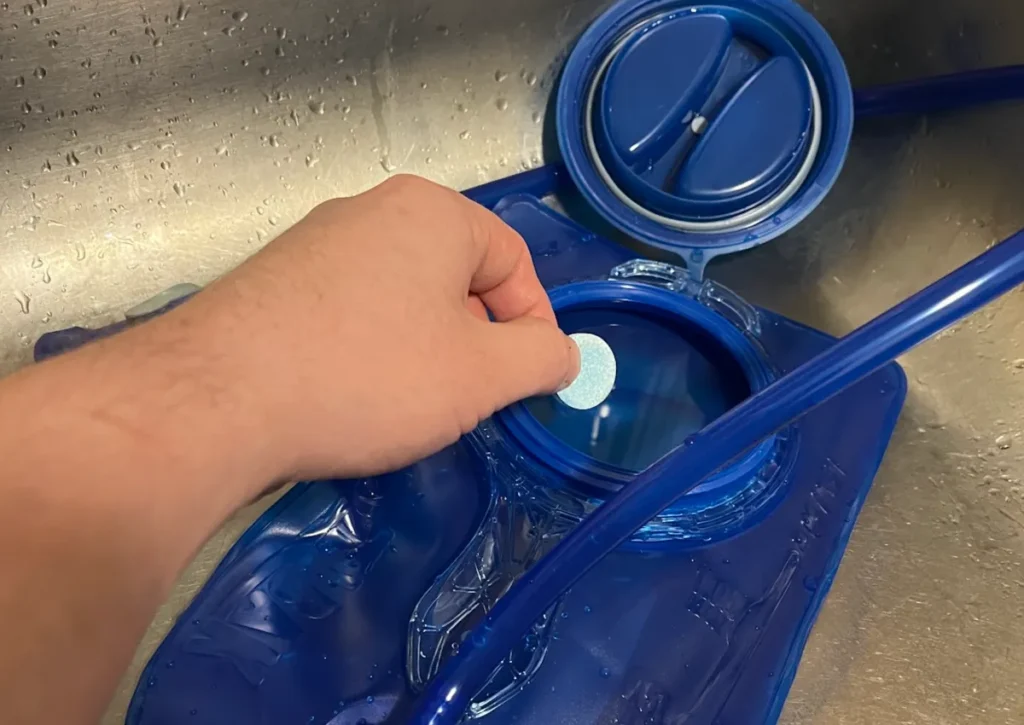 Rinse out your CamelBak with hot running water.
Fill the reservoir as full as possible with hot water.
Add the appropriate number of cleaning tablets (see below) and seal the reservoir.
Hold the reservoir above the sink and squeeze the bite valve until water begins to flow through, to ensure that cleaner reaches the entire system.
Give the bladder a few vigorous shakes.
Let soak for 15 to 20 minutes.
Dump and rinse out the bladder with hot running water, squeezing the bite valve to make sure the interior of the hose and mouthpiece are rinsed as well.
How Many Cleaning Tablets Are Needed To Clean My Reservoir?
Depending on the size of your reservoir, the type of tablet you're using, and how dirty your reservoir is, the number of tablets you'll need will vary.
| | | | |
| --- | --- | --- | --- |
| | 1.5 L Bladder | 2 L Bladder | 3 L Bladder |
| CamelBak Cleaning Tabs | 1 | 1 | 1 to 1.5 |
| Bottle Bright Tablets | 1 | 1 to 2 | 2 |
| Stacked Tablets | 1 | 1 to 2 | 2 |
| CleanHike Tablets | 1 | 1 | 2 |
| Efferdent Denture Tablets | 2 | 2 to 3 | 4 |