CamelBak is most well known for being the originators of the hydration pack, but have since expanded into making some pretty solid reusable water bottles. They are extremely popular and I see a lot of them at my climbing gym and on the hiking trails.
Contigo doesn't carry the same name recognition as CamelBak, but have slowly been gaining a reputation for their innovative lids and clever designs.
I currently own three different CamelBak Bottles and have had a few Contigo Bottles over the years as well. So I've learned quite a bit about what makes each awesome and what's lacking.
When comparing CamelBak vs Contigo bottles, CamelBaks outshine Contigo in nearly every way. They're more user-friendly, much easier to clean and maintain, last longer, have more insulated options, and fall into a very similar price range.
The problem with Contigo Bottles is that their innovative lids, which should be their biggest strength, are actually their biggest weakness. Because the lids are so complicated, they tend to trap moisture in hard to reach places — which often leads to hidden mold build-up and gunked-up, failing mechanisms that are nearly impossible to clean.
CamelBak Bottles, on the other hand, have simple but extremely functional lid designs on durable, high-quality bottles that can last for years.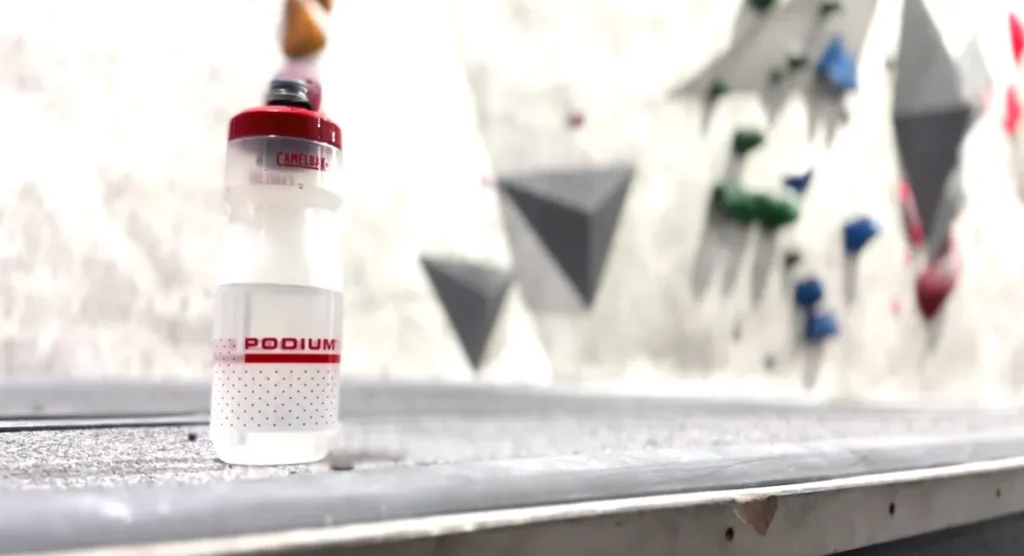 I have three CamelBak Bottles, a Podium bike bottle, a stainless steel bottle with an Eddy+ lid, and a Tritan Plastic bottle with a ChuteMag chug cap. All three are instant rebuys if I ever manage to break or lose one.
I recently tossed my last Contigo Bottle after finding the lid packed with mold, which is a shame because the AutoSpout Chug lid is actually pretty cool. 
Features And Functionality
One of the things that sets CamelBak and Contigo bottles apart the most is what features their bottles offer and how that translates to user experience.
More isn't always better.
Contigo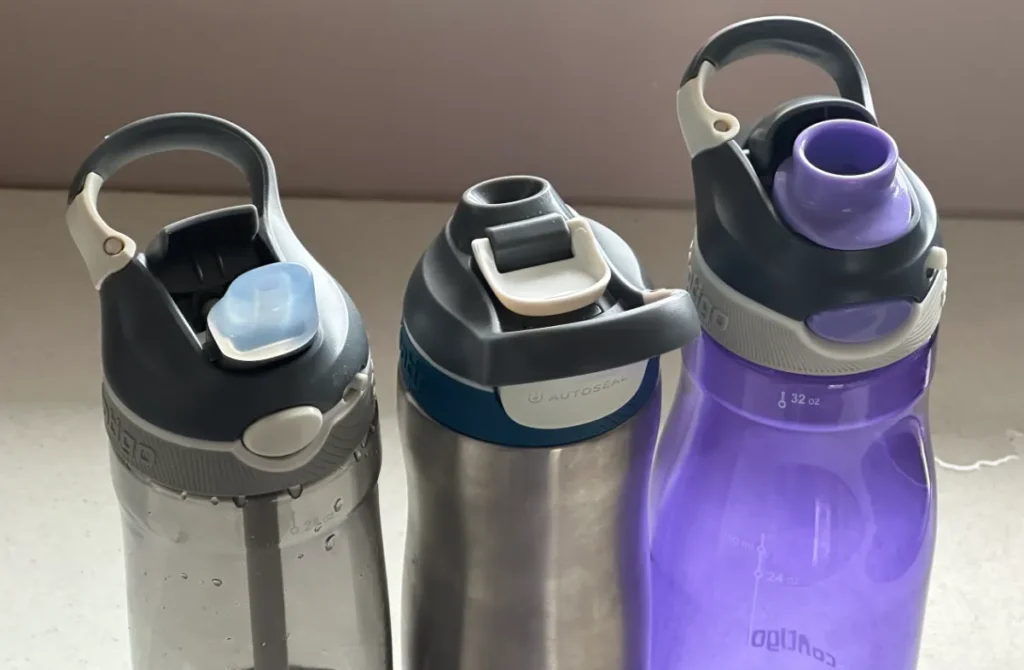 Contigo Bottles are most well known for having some of the most unique and innovative lids you'll find.
With six current lid options and a few older styles that are still readily available, there's a reasonable option for everyone, no matter how you prefer to drink.
If a straw is your go-to, the AutoSpout lid is equipped with a push-button release for a pop-out drinking spout. For a more classic take, the AutoClose lid has a removable straw that inserts into a self-sealing cap.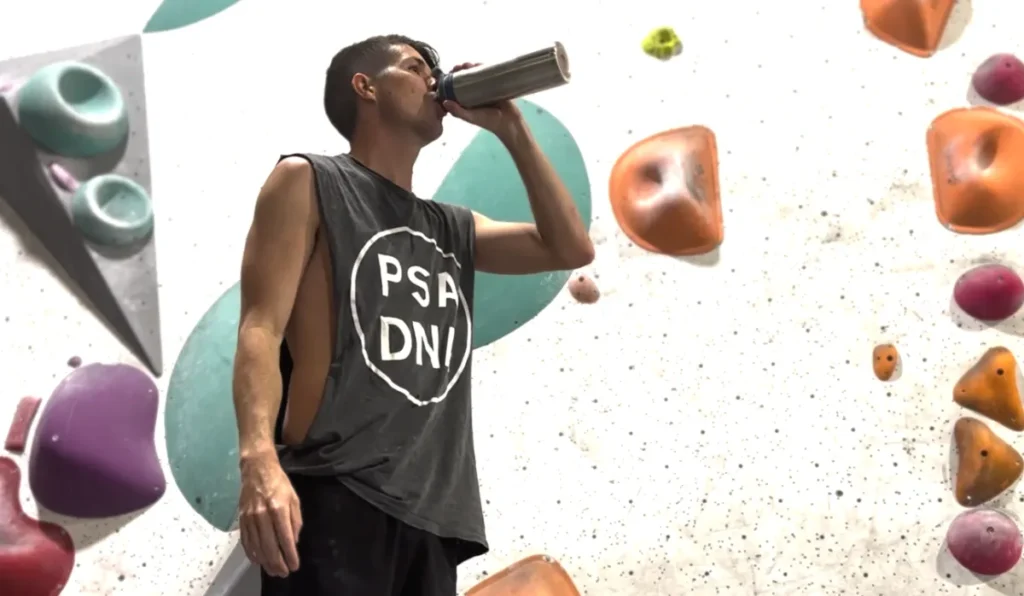 If you'd rather drink the old-fashioned way, the SnapSeal and AutoSeal lids have either a snap-on or push-button release over a narrow drinking slit. Or if chugging is more your speed, the AutoPop and AutoChug lids have a push-button release over a wide chug spout. 
All of Contigo's lids are available on Tritan Plastic or dual-wall vacuum-insulated stainless steel bottles in a wide range of sizes and colors.
CamelBak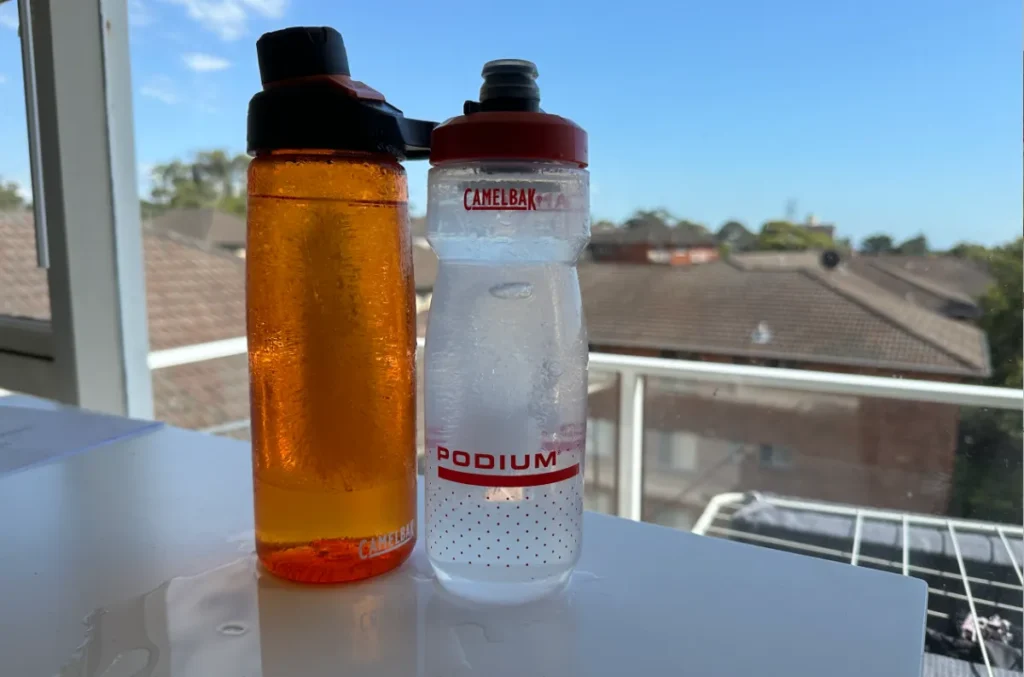 While CamelBak Bottles aren't nearly as flashy or complex as Contigo's, I actually prefer CamelBaks pretty handily.
The problem with Contigo Bottles is that they sometimes feel like they're just fancy for the sake of being fancy — which makes their bottles cool at first but a serious headache to use and maintain.
CamelBak Bottles, on the other hand, are simple, consistent, and provide a straight up better drinking experience.
The Eddy+ offers a flip-out drinking spout with a leak-proof bite valve. It's a great lid, but I rarely ever get the chance to use mine because my kids are always calling dibs on it. 
If you're more the chugging type, CamelBak's ChuteMag lid has a flip-off magnetic cap over a generously sized chug spout. It's one of my favorite chug lids on the market. 
CamelBak's newest lid, the Fit Cap, has a snug, raised edge to prevent spills and a nested carrying handle to make lugging your bottle around super convenient.
Like Contigo, all of CamelBak's standard lids are available on plastic or stainless steel bottles in a wide range of sizes and colors.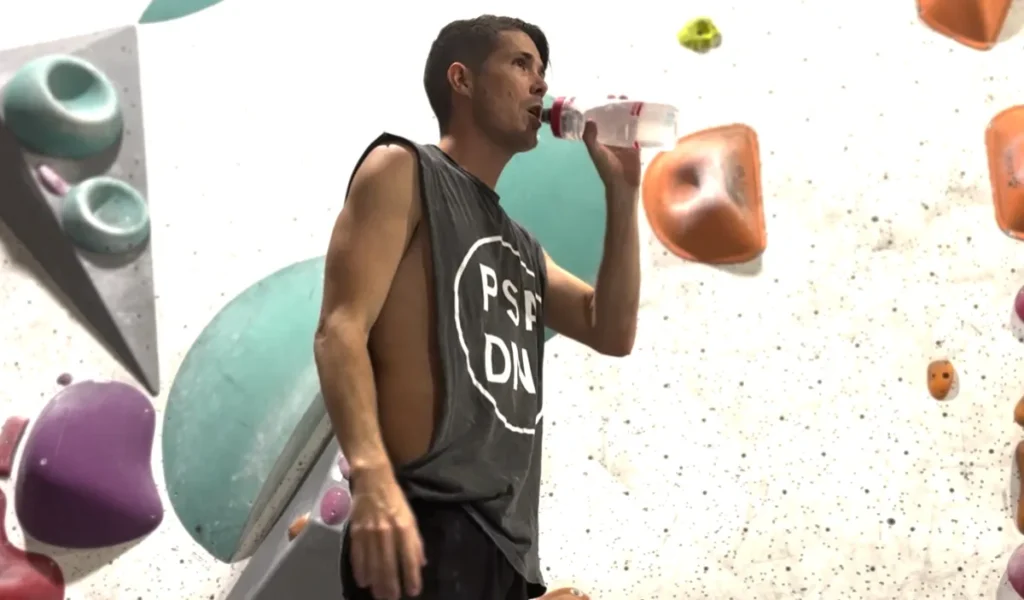 Aside from their standard lineup of bottles, CamelBak also makes Podium Bottles — a series of bike bottles with an easy to use jet valve cap.
Even though they're designed for cycling, I find myself reaching for my Podium Ice pretty often before I hit the gym.
Check out my deep dive on which CamelBak Podium Bottle is best to learn more. 
Winner: CamelBak
While Contigo makes some super innovative lids, they're really just not that user-friendly. Once you get over the wow factor of Contigo's bottles, they start to feel a little flair over function.
CamelBak Bottles, on the other hand, are a bit more basic, but are much more functional and extremely versatile.
Combined with a wider range of styles, CamelBak Bottles take an easy win.
Price And Value
Price is one of the most important factors most people consider before making a purchase.
If you're going to spend your hard-earned cash, it's nice to make sure that you're spending it in the right place.
CamelBak
CamelBak's plastic bottles, both Tritan and Podium, will typically set you back between $12 and $20 — a pretty standard price for a reusable plastic bottle.
Their stainless steel options and insulated Podium Bottles naturally cost a bit more.
Depending on the size of the bottle and the lid you choose, expect to pay somewhere between $25 and $40 — more than budget bottles, but a decent amount less than Hydro Flasks and most other premium options.
While CamelBak doesn't offer any ridiculous savings, their bottles are fairly priced for what you get. A dependable, long-lasting bottle with some of my favorite lids of any bottle on the market.
Contigo
Plastic Contigos normally run about $13 to $18 individually. But if you buy a two pack for $20, it's one the best deals on reusable water bottles you'll find, at just ten bucks a piece. 
Like CamelBak, Contigo's stainless steel options cost a bit more.
Depending on the lid and the size you choose, Contigo's stainless steel bottles run anywhere from $20 to $35 — a few dollars less than comparable CamelBaks.
Winner: Tie
Contigo Bottles may cost a few dollars less on average than CamelBak Bottles, but when you factor in longevity (much more on that below), CamelBak and Contigo Bottles are about dead even in terms of overall value.
If you want to save a few bucks now, Contigo has the edge. But if you're more concerned about how much you'll spend over time replacing bottles, CamelBak is a pretty clear winner.
Thermal Insulation
When I'm working out, climbing, hiking, or even just sitting around the office, I want my water to be ice cold every time I reach for it.
A bottle that's well-insulated isn't optional for me. It's mandatory.
CamelBak
While none of CamelBak's standard plastic bottles are insulated, all of their stainless steel bottles and a couple of their Podium Bottles are.
Stainless steel CamelBaks offer dual-wall vacuum-insulation, which is the most efficient type of insulation for bottles. They keep iced drinks cold pretty much all day and hot drinks hot for hours.
CamelBak's Podium Chill Bottles are also dual-wall insulated, but not vacuum-insulated. Still, they can help keep your water cold for a couple of extra hours.
Podium Ice Bottles are dual-walled and filled with AeroGel insulation that helps keep water cold for about four times longer than a standard plastic bottle. Nothing crazy, but more than enough for a quick ride or workout.
Contigo
Like CamelBak, all of Contigo's stainless steel bottles are dual-wall vacuum-insulated and can help keep water cold all day and hot drinks hot for several hours.
Contigo's Tritan Plastic bottles aren't insulated. Which is no real surprise, considering that CamelBak's Podium Ice and Podium Chill are among the few insulated plastic bottles you'll find.
Winner: CamelBak
If you're interested in a Tritan Plastic or stainless steel bottle, you can't go wrong with either CamelBak or Contigo. Their insulation is virtually identical.
But overall, CamelBak takes a slight edge thanks to their insulated plastic Podium options. 
Care And Maintenance
No matter how trivial it may seem, saving a few minutes washing your bottle at the end of each day can add up to a pretty big difference over the course of months and years.
A bottle that's easy and quick to clean is always around the top of my personal priority list.
Contigo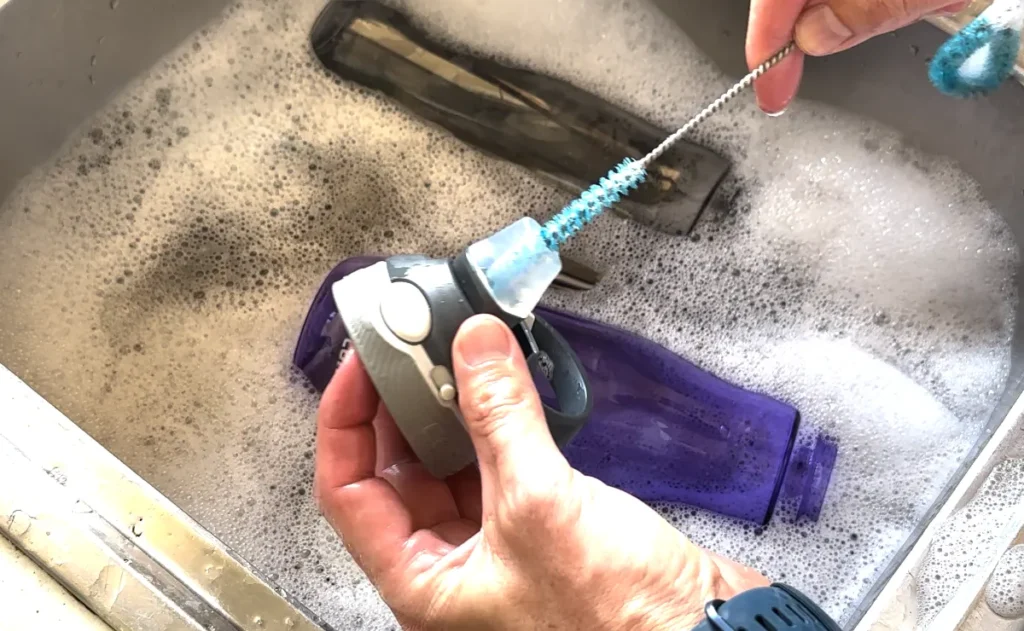 My biggest complaint with Contigo Bottles is how hard it is to keep them clean. 
The problem with all those intricate designs is that there are a bunch of small moving parts under the lid that trap moisture, are hard to reach, and will eventually grow a horrifying amount of mold.
And quite obviously, drinking mold is hazardous to your health.
The last Contigo I had in my rotation suddenly slowed to a light trickle through the mouthpiece.
After trying everything I could think of to get it working, I eventually disassembled the lid — and found that the entire underside of the AutoSeal mechanism was packed with mold.
It hit the trash can and I haven't looked back.
CamelBak
Even though CamelBak bottles take more effort to clean than Nalgenes and other super basic bottles, they're still way easier to care for than any of Contigo's offerings.
For the most part, a bottle cleaning kit and a few extra minutes to thoroughly clean the lid are all you really need.
While you may still have to disassemble your CamelBak's lid on occasion for a deeper clean, it's relatively easy to do.
I've created video guides for both the CamelBak Eddy+ and the CamelBak Podium lids which you can see below. The CamelBak Chute Mag is my favorite as you don't need to pull it apart to clean it properly, you just need to clean the rubber gaskets and you're good to go.
Winner: CamelBak (by a mile!)
CamelBak takes an easy win in terms of ease of maintenance. And it's not even particularly close.
CamelBak Bottles aren't the easiest bottles in the world to maintain, but you could argue that Contigo are among the hardest.
Durability And Longevity
What's the point of saving a few dollars on something that'll last half the time of a slightly pricier option?
Give me the bottle that costs twice as much but will last three times as long any day.
CamelBak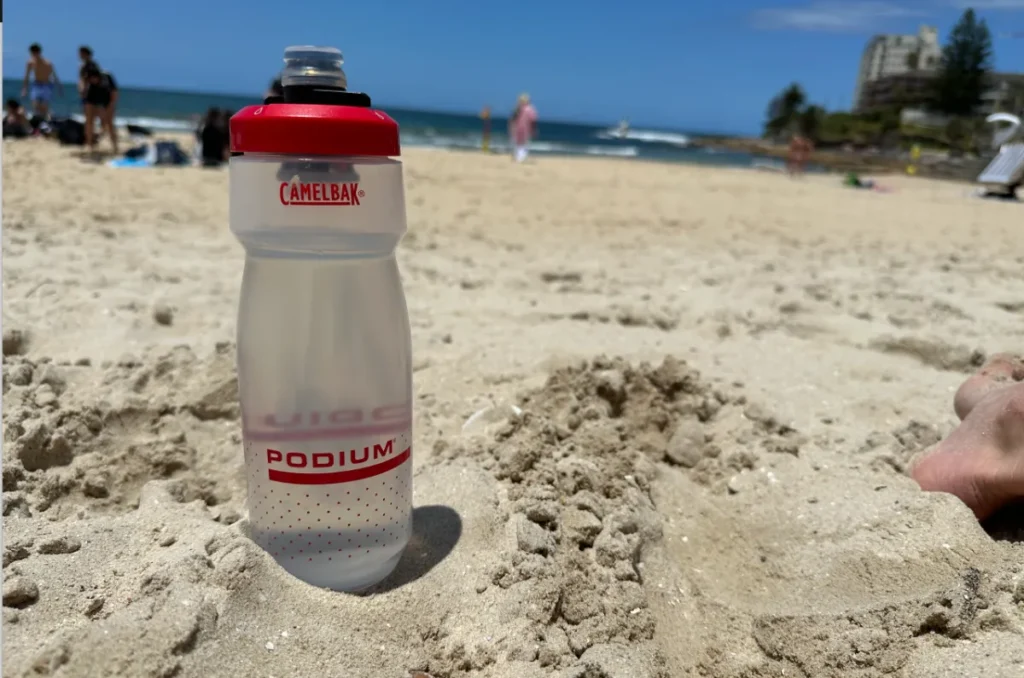 For the most part, CamelBak Bottles will last for years. 
Tritan Plastic is surprisingly durable for a hard plastic — it's the same material that has given Nalgene their reputation for making borderline indestructible bottles. And needless to say, stainless steel is an even more durable material.
But while you're unlikely to destroy your CamelBak by dropping it, they aren't perfect in the longevity department.
Their lids are a bit prone to mold build-up if you're not careful, are a little more likely to break than basic lids because they have more moving parts, and (while I haven't had the issue myself) may develop leaks.
And because CamelBak's stainless steel bottles are dual-wall vacuum-insulated, the steel is thinner than non-insulated stainless steel bottles and more likely to dent or lose its vacuum seal and insulation as a result.
Contigo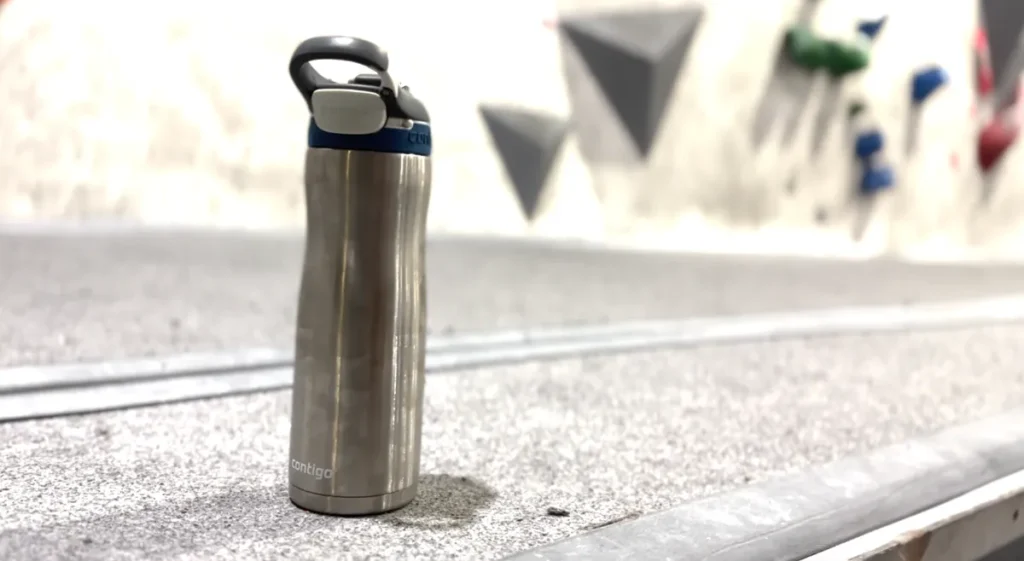 Contigo's Bottles are nearly identical to CamelBak's in terms of durability. After all, their plastic bottles are made of the same Tritan Plastic and their stainless steel bottles are also dual-wall vacuum-insulated.
But when it comes to longevity, they're actually much worse.
Not only are Contigo's lids way more prone to mold, they also have a lot more small moving parts that can gunk up or break.
And the worst part is, Contigo doesn't even sell replacement lids. You'd need to replace the entire bottle.
Winner: CamelBak
While CamelBak and Contigo Bottles are pretty similar in terms of durability, CamelBaks are miles ahead when it comes to longevity.
I have a couple CamelBak Bottles that are over four years old and still working perfectly. The last Contigo I bought barely lasted a year.
Health And Water Safety
The plastic bottles made by both Contigo and CamelBak are made of Tritan Plastic — which is completely free of BPA, BPF, BPS, phthalates, and all other compounds that have proven to be or are suspected of being harmful to ingest.
With what we know now, Tritan Plastic is perfectly safe to drink from.
Just keep in mind, there's always the possibility that new chemical compounds found in plastic could be discovered to be harmful.
If you'd rather play it safe, stainless steel is regarded as one of the absolute safest materials for drinkware. You can be confident that both CamelBak and Contigo's stainless steel bottles are perfectly safe to drink from (now and in the future).
Winner: CamelBak
Even though Contigo and CamelBaks are made of nearly identical materials, CamelBak Bottles take the edge in terms of water safety because they're much less likely to harbor harmful, hidden pockets of mold.
If you're incredibly consistent and take the time to disassemble and reassemble your Contigo lid with each cleaning, they draw more in line with CamelBak Bottles.
But who really has the time for that?
Check out the video below, where I disassemble a Contigo lid to show just how difficult the process actually is.
CamelBak vs Contigo: Which Bottle Is Best?
As you probably guessed, I'd almost always recommend buying a CamelBak Bottle over a Contigo Bottle.
Sure Contigo's lids are neat and my kids absolutely loved playing around with my AutoSeal bottle (until I had to throw it out), but at the end of the day it's not worth the headache and effort to keep mold-free.
CamelBak Bottles are dependable, functional, durable, affordable, and have some pretty innovative lids in their own right. What more could you ask?
At the end of the day, I really wish Contigo would sort out the problems with their lids. They have a lot of potential to be great. But until then, I'll happily stick with my CamelBak Bottles.