Contigo bottles offer great value water bottles for their price and are a solid option to keep your drinks cold.
I personally have gotten a lot of use out of my AutoSeal bottle over the years, and my kids love theirs as well. The Autospout straw lids certainly encourage my kids to drink more water everyday.
However, as with any product, Contigo bottles do come with their own set of flaws and I think it's important to be aware of these issues before buying.
If I knew about these issues I may have purchased a different bottle, or at least I would have been able to make a more educated decision.
The biggest complaints against Contigo include complex lid design that makes cleaning extremely difficult and can lead to unseen dangerous mold growth. There are also some other design and production based issues such as leaking, suction, and gasket problems.
I think many of these problems can be accepted along with the lower price, but I think it's important for any buyer to be aware that there are downsides to that cheaper price tag.
1. The Lids Can Grow Lots of Hidden Mold
In my humble opinion this is by far the #1 flaw with Contigo water bottles.
The lids are great to use and their pop up designs make them extremely fun and satisfying to use.
However, pretty much every Contigo lid comes with the major design flaw that it's incredibly difficult to get in and clean tight spaces and prevent mold.
Sure you can clean the parts you can see. But the lid has lots of hidden sections that you can't easily see or access and to make matters worst these sections are notorious for holding onto moisture and growing dangerous black mold.
This issue is a very consistent complaint amongst Contigo owners, and after disassembling many people have found extreme mold buildup in their lids.
Stomach warning: Check out the mold in the video below and you may never drink from a Contigo lid again:
The lids have a two part structure that can only be disassembled with a triangle screwdriver.
I don't know about you, but that isn't something I have lying around my house. It's a specialty item that you have to buy online or from a hardware store. I found this specialty screwdriver kit on Amazon which has the right tools to unscrew your Contigo lid.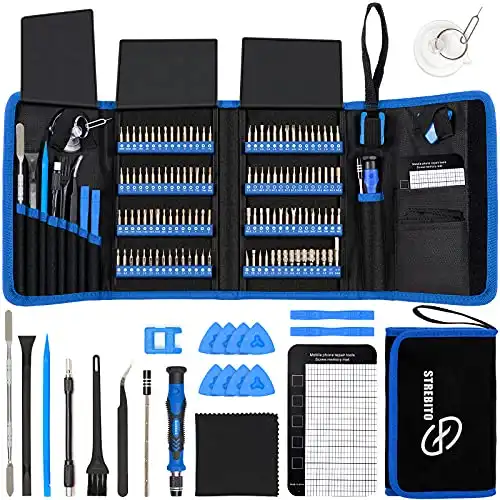 Speciality Screwdriver Set (142 Piece)
This specialty screwdriver set has 120 bits and comes complete with every driver bit you'll need to tackle any repair job. Also comes with 22 practical accessories such as tweezers, suction cup and cleaning brush etc.
All kept in a small and easy to use bag.
Buy Now at Amazon
I have seen some people remove these screws using small flathead screwdrivers, but you should be very careful not to strip the screws.
Not all Contigo bottles have this complex design and many of their lids, such as the SnapSeal, are simpler and easier to clean.
But most of Contigo lids are extremely difficult to pull apart and clean and they can build up large amounts of mold relatively quickly.
This is a HUGE design flaw in my opinion and something Contigo should really fix. They don't need to change the lid designs they just need to make them easier for us to pull apart and clean like the CamelBak lids.
You can also replace Contigo lids with simpler and easier to clean lids like those from Nalgene or CamelBak.
Regardless of the lid design, you should always make sure to be diligent with cleaning your Contigo bottle in order to keep it clean and safe for drinking.
2. They're Prone to Leaking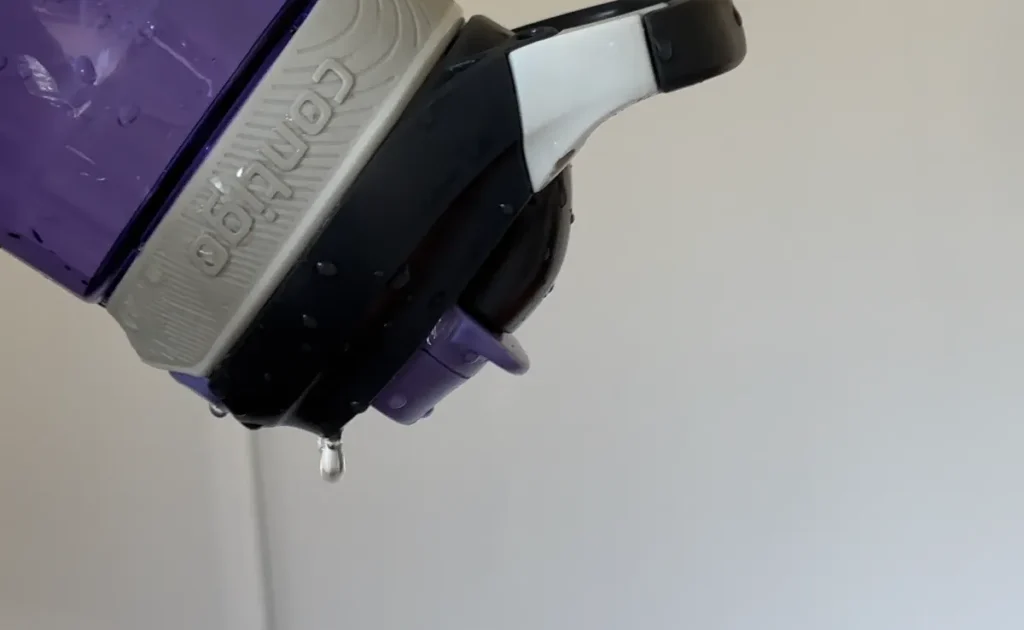 Contigo bottles are known to have leaking problems, largely in part to their complicated lid design. While I haven't experienced it with any of my Contigo lids I have heard of other customers having this issue.
Their lids have several moving parts, and a worn out O-ring or broken AutoSeal lock may cause your lid to leak.
I've even seen some people complain about water leaking out of the AutoSeal button itself and have also seen many reviews that complain about Contigo straws spitting when opened after sitting still for some time.
In fact, my daughter uses her Contigo Autospout Chug bottle to flick water at people because when the spout pops up it tends to spray water into your face. She thinks it's amazing and hilarious but some people might not like it.
Another major contributor to leaking involves the first problem on this list, as mold and other buildup can jam the lid mechanisms or cause them to be misaligned, which naturally leads to leaking.
Click here to learn more about Contigo leaking problems.
3. Gaskets Wear Down Easily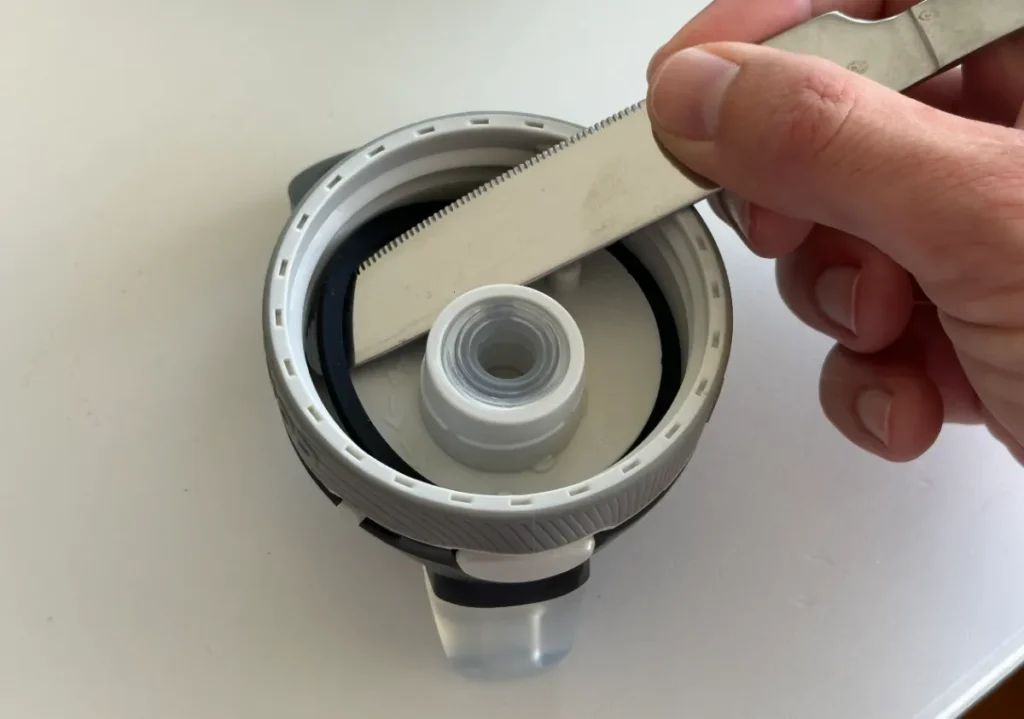 While this problem is included under leaking, Contigo tumblers, mugs, and thermoses are made with lids that have gaskets. 
These gaskets are very prone to becoming damaged, warped, or unseated.
While some Contigo gasket issues are easy to fix, others can prove to be somewhat of a pain, and you'll end up having to do some research to either replace that gasket or find a new lid all together.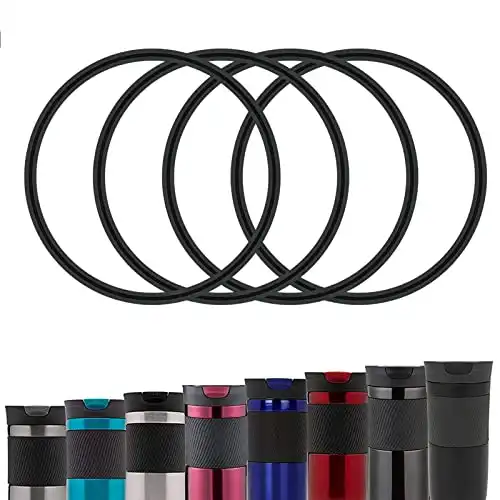 4. Suction Problems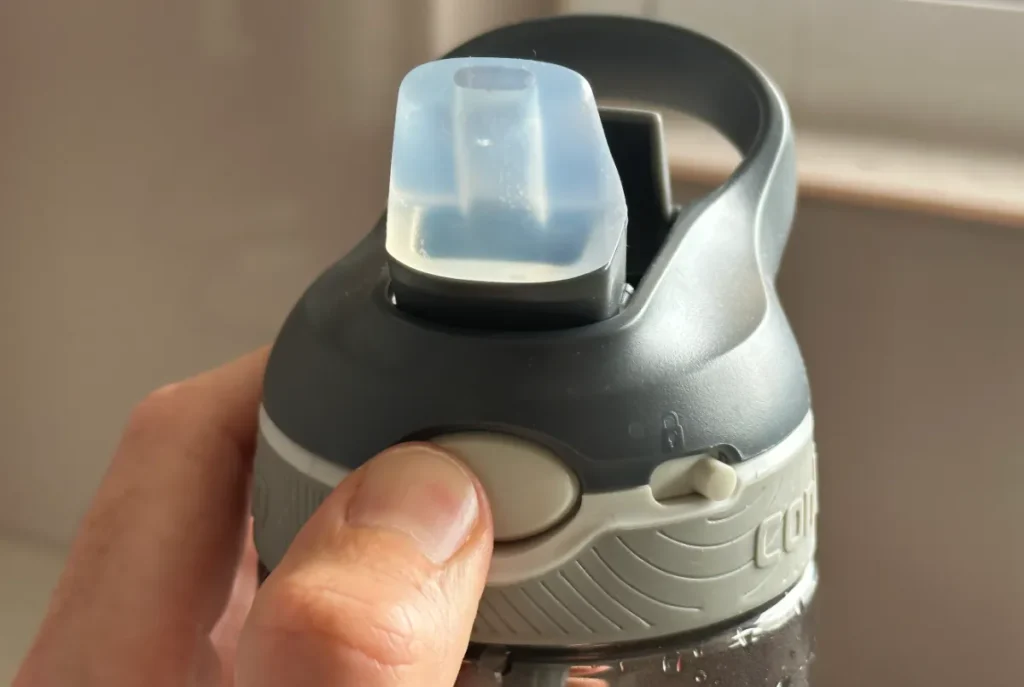 Definitely one of the more frustrating flaws on this list. If you can't get water up through the straw then the lid becomes a bit useless – no matter how cool the design.
Some of Contigo's lid designs are prone to clogging, mold, and other jams that can affect suction and make it difficult to get water out of the bottle.
Other possible causes include blocked or flooded air vents, misplaced or wrong sized straws, or damage to the lid or straw.
Before you go out and buy a new lid out of frustration (I've been there myself), read this article for more detailed causes and solutions to your Contigo bottle's suction problem.
5. Vacuum Seal Can Lose Effectiveness
This problem is limited to Contigo's stainless steel bottles as they are the only models with vacuum insulation. The plastic Contigo bottles are made from Tritan plastic and are not insulated.
I love using my Contigo for climbing and hiking, and it's not uncommon for me to find some ice leftover in my bottle even after a 5-8 hour hike.
While they do a good job of keeping water cold, especially for the price, the vacuum insulation in Contigo bottles can be prone to losing effectiveness.
This isn't unique to Contigo and can happen with a lot of vacuum insulated bottles. It even happened to my expensive Hydro Flask bottle.
There are a number of things that can cause the vacuum seal to break, such as extreme heat, a broken lid or even putting your stainless steel Contigo in the dishwasher.
If this happens the vacuum chamber will fill with air, compromising the vacuum insulation and leaving your bottle incapable of keeping drinks cold for as long.
If this happens to your bottle, there isn't a true fix and you'll have to contact Contigo for a replacement (luckily it's covered under their lifetime warranty).
6. Can't Put Stainless Steel Contigo Bottle in the Dishwasher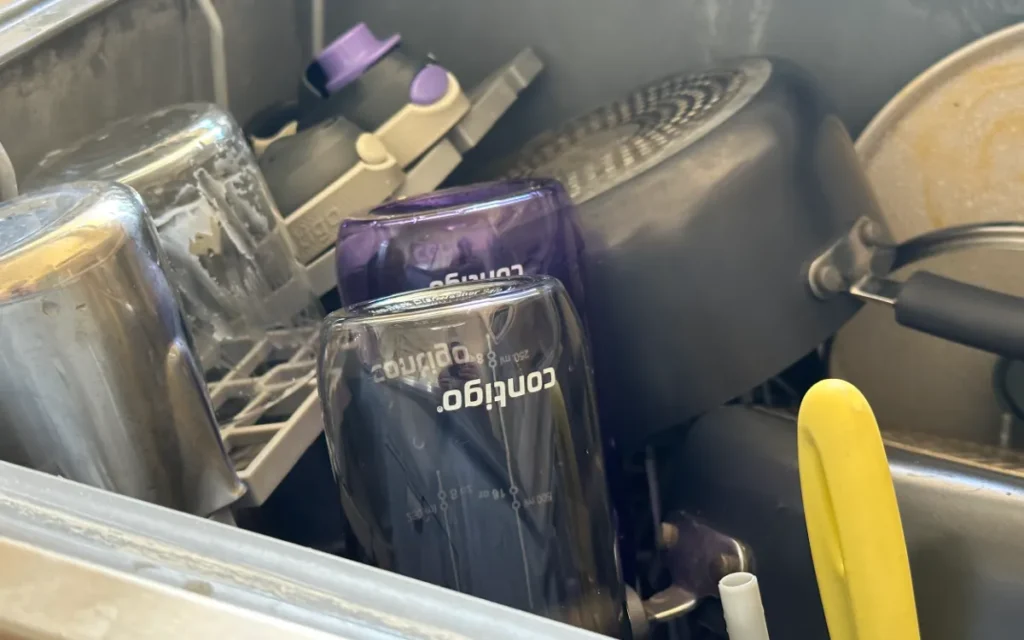 While their plastic bottles, lids, and accessories like straws are top-rack dishwasher safe, Contigo's stainless steel bottles are not.
Although many customers have reported putting their steel Contigo bottles in the dishwasher with no issues for months or even years, it risks damaging the vacuum seal on the bottle.
For bottles with painted surfaces, the dishwasher is also capable of damaging or scratching this coating.
While I have an unpainted stainless steel Contigo and technically could put it in the wash, the risk of damaging the insulation is enough for me to steer clear and hand clean my bottle.
7. Metallic or Strange Taste Caused by Bottle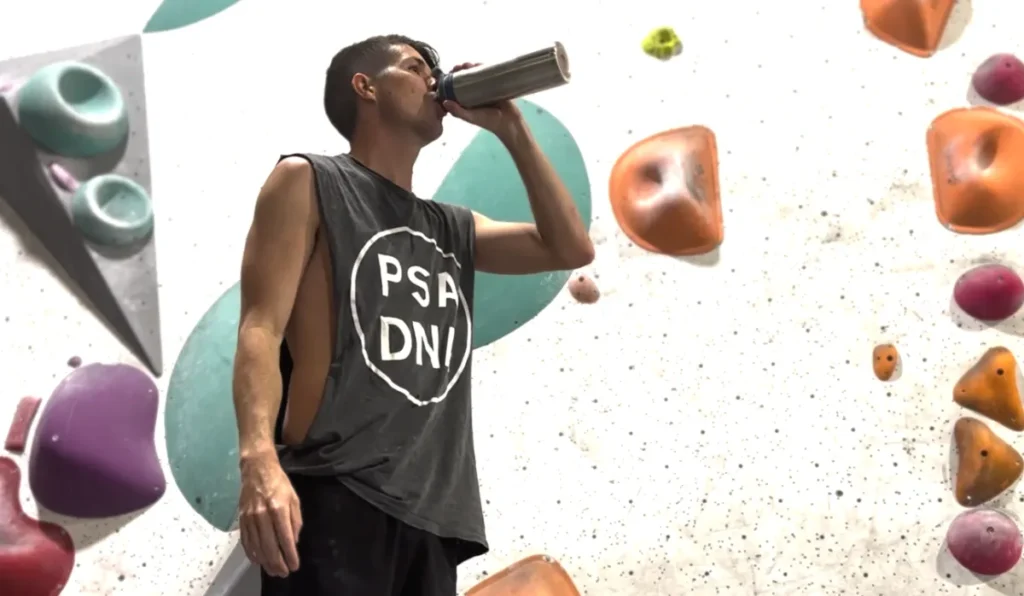 A good portion of Contigo's bottles are made with food-grade stainless steel, and as with any stainless steel product, there's a mob of people who swear up and down that it causes a strange taste in drinks.
I remember my old partner refused to drink water, coffee or anything else out of any stainless steel water bottle or tumbler because she could swear that she could taste the difference.
While I personally own a stainless steel Contigo and have yet to experience such a taste, many customer reviews suggest that Contigo's bottles will give your drinks a metallic flavor.
Like I said, I have yet to experience this issue with my Contigo, and personally I don't think it's a big enough problem to overrule all the benefits that stainless steel provides in comparison to plastic.
8. Cheaper Quality, Shorter Lifespan than Alternatives
Although Contigo bottles start at a much more agreeable price than alternatives such as HydroFlask or Yeti, the difference in quality may make the other brands worth the extra money.
This isn't to say Contigos have poor quality.
Their plastic bottles are manufactured with Eastman Tritan which is one of the strongest plastics, and their stainless steel bottles aren't too far from competitors. 
However, I've seen quite a few reviews complaining about the cheap quality of their products causing the lifespan of Contigos to be significantly shorter than more expensive bottle options.
For me the lifespan on their lids are quite short due to the mold problem. When it comes to plastic bottles I much prefer something like a Nalgene as the lid is simple and easy to clean.
While Contigo may be cheaper in quality compared to products like HydroFlask, I still think that Contigo's bottles are a very solid choice given the price.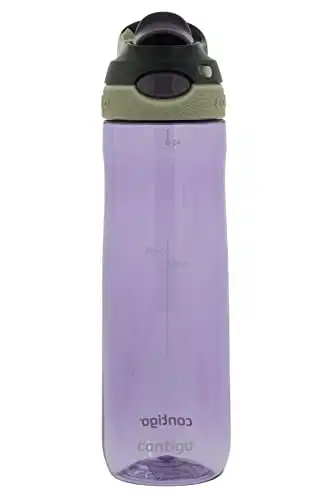 Problems are Acceptable Given the Price
Contigo bottles does have a few issues and flaws, but overall they are a really good product.
Some of these problems are a direct result of cheaper production, and some of the bigger problems are purely design based flaws.
I still don't know why they don't make their lids easier to pull apart and clean, then I would recommend Contigo bottles much more highly.
I think it's important to mention that pricier bottles still struggle with some of the same problems that are listed here.
I believe that if you're aware of these issues and are diligent in taking care of your bottle, a Contigo bottle is still a very good option at a very affordable price.