My kids love their Contigo bottles because of their fun and easy to use lids and I love my Contigo Autoseal insulated bottle and use it often.
However, while Contigo lids are innovative and easy to use they do have some common gasket problems that can occur than can cause your lid to fill up with mold or to start leaking.
Some of these issues are easily fixed while others are a bit more difficult to fix and may require a new lid altogether.
Contigo mugs, tumblers, and thermoses begin leaking with time. The leak is most often caused by a damaged, warped, or unseated gasket. Regularly wash and seat your gaskets to ensure a reliable seal.
Obtain replacement gaskets to restore leaks that aren't resolved by washing and installing your original gaskets. If that doesn't work, contact Contigo for a warranty claim. 
Contigo bottles are known to develop leaks over time, but this isn't the end of the world.
Learn how the gaskets cause most issues, and you'll know how to fix your leaky Contigo mug or tumbler.
Always Test Contigo Containers Using Cool Water First
Anytime you replace the gaskets or another component in your Contigo container, test the seal using cool water first.
Avoid tests with hot water until you verify the seal with cold water or you could burn yourself with a leak. 
1. The Gaskets Become Unseated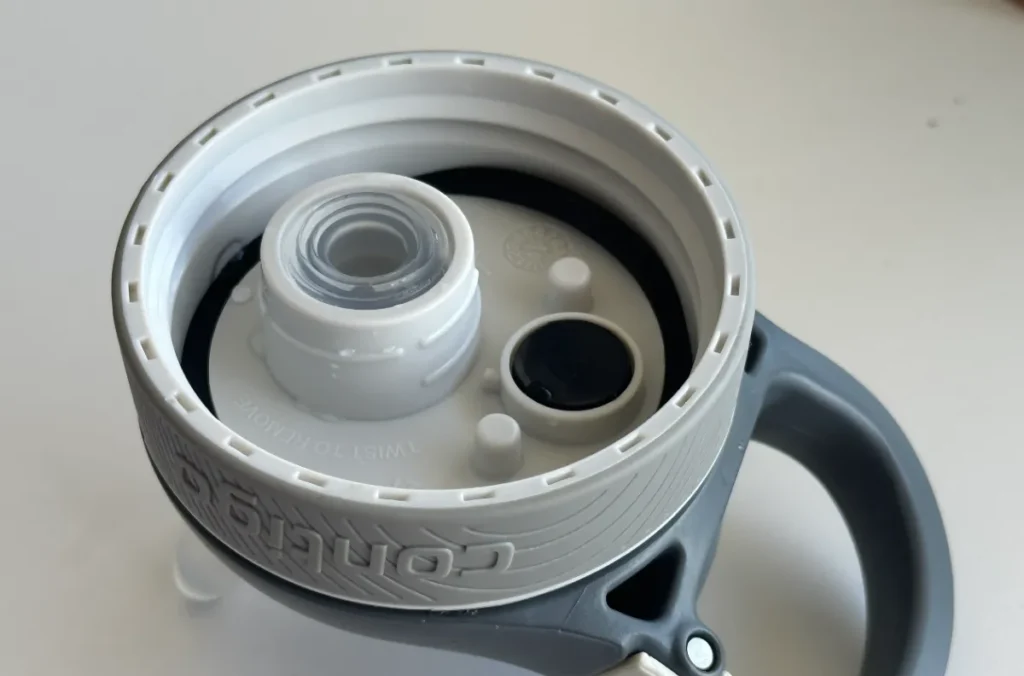 This is the #1 culprit when it comes to a leaking Contigo bottle and luckily this issue is fairly easy to fix.
Often, the tumblers and bottles have loose or unseated gaskets. Sometimes this is due to a stretched and worn gasket. Other times the gasket was not replaced properly after cleaning. 
Press the gasket firmly in position after cleaning it with soap and water and allowing it to dry.
Consider using a small plastic putty knife, butter knife or similar dull tool to press the gasket in position around the lid. You can to be careful it doesn't twist as this happened to me once when try to put it in. So take your time with it and do it properly.
If your Contigo is still leaking after this then you may actually need to replace your gaskets. Gaskets are fairly cheap to buy and easy to replace. You can get this 4 pack of replacement gaskets at Amazon for an affordable price and there are a variety of other versions depending on exactly what Contigo lid you have – however most Contigo bottles use the same O-Ring size.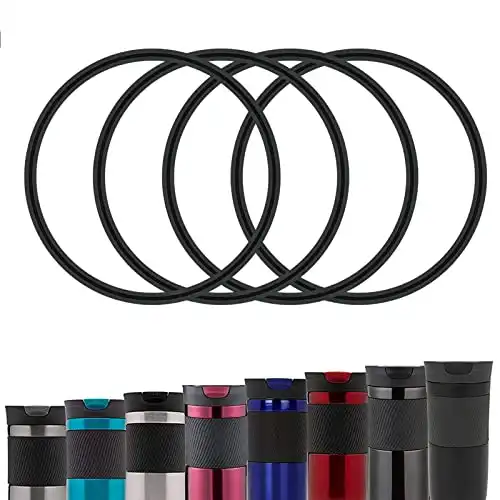 If the issue persists after installing new gaskets, it's time to make a warranty claim with Contigo to try for a full replacement. 
2. Mold Forms Under the Gasket Seals And Are Difficult To Clean
This is one of my biggest pet peeves with Contigo bottles in general and one of their biggest issues (in my opinion).
Contigo lids are great but they have a lot of moving parts, a lot of hard to reach parts and a lot of areas that can capture and retain water which leads to mold growth.
During regular use of your Contigo container, you're storing liquids inside. Both hot and cool liquids lead to condensation on the rubber gasket seals. This condensation eventually encourages mold to grow under your seals where you can't see it.
Some of the YouTube videos about mold inside Contigo lids is disgusting and due to the design it's difficult to see this mold and even more difficult to clean it.
Not only does the hidden mold make your drinks taste gross, but it can be harmful to your health and to the effectiveness of your container's seal.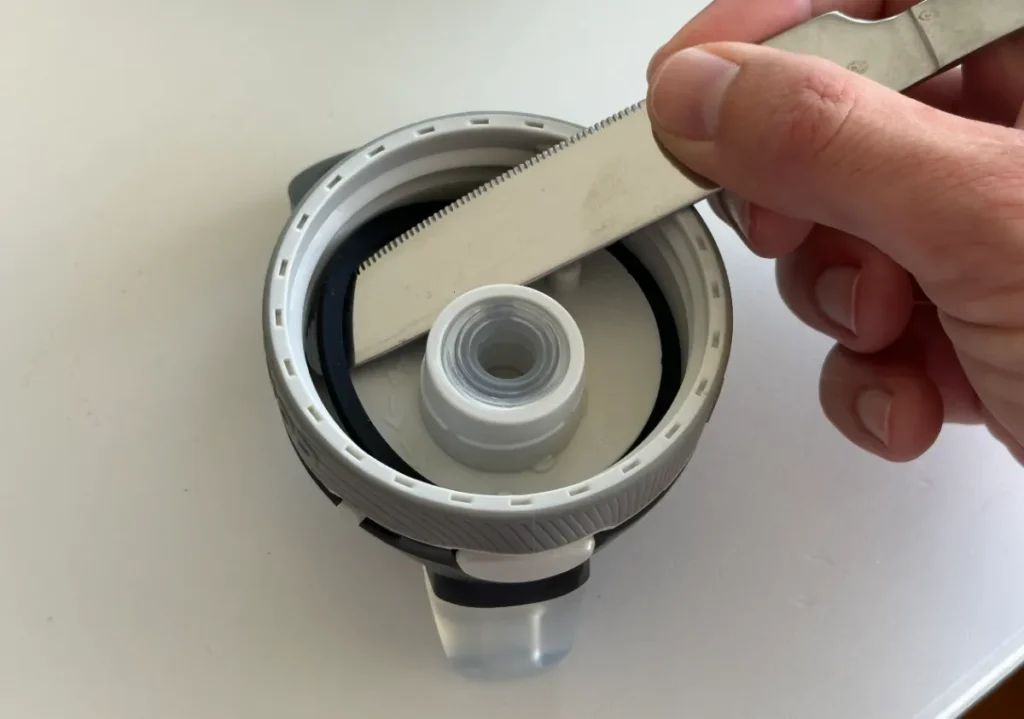 Remove the gaskets and clean them with soap and water at least monthly (if not more often) to remove any mold growth before it can do harm.
You may also need to completely deconstruct the lid and clean all areas. This can be difficult to do and does require speciality tools (thanks for nothing Contigo) and so sometimes it's just easier to buy a new lid.
Read here to learn why Contigo water bottles are safe, but remember the hidden mold and how it could harm your health if you don't properly clean your water bottle. 
3. The Gaskets Wear Over Time
Contigo gaskets is made from pliable rubber or silicone in order to form an air-tight seal.
This is effective at keeping air from getting past, but it wears with time and can begin to stretch or break down.
The more you use your Contigo, and the more you run it through a dishwasher, the sooner your rubber gaskets will become worn and need to be replaced.
Look for any of the following signs of a worn gasket:
Cracks or pits on any part of the body
Ragged edges
Hard and brittle material
Small cuts or breaks in the body.
If you notice any deformations, you likely have a worn gasket in need of replacement. If the gasket degraded in just a few months, you may be able to submit a warranty claim.
If you've owned it for years, it's probably worn naturally, and you can get replacement gaskets to resolve your problem.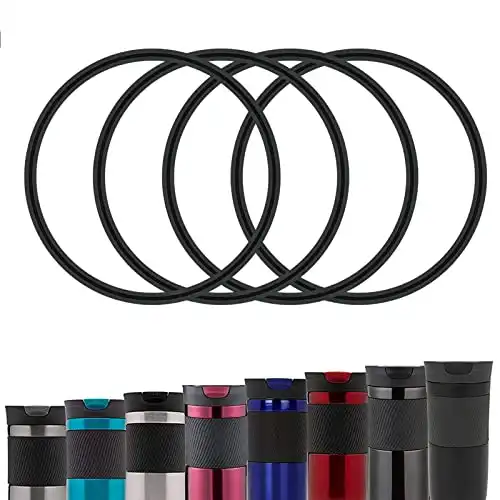 4. Weakened Plastic Between Gasket Seals
This issue was mainly a problem on older Contigo tumblers and mugs, but the plastic may degrade around the seals causing them to fail if you wash it in the dishwasher at high temperatures. 
If you have an older mug or bottle that's leaking near the Autoseal button and you've used the dishwasher,  deformed and weakened plastic could be the cause.
Talk with customer support at Contigo about getting a replacement for your mug. Learn more about whether Contigo bottles are dishwasher safe or not in this quick guide.  
5. The Contigo Lids Fail
Contigo Lids can fail over time as well. Sometimes this is due to the seals, but other times the lid becomes damaged or deformed in some way.
My kids are dropping their water bottles all the time and it's just a matter of time until these drops fall on the lid in just the right way to break it enough that it begins leaking.
If this happens, you can either submit a warranty claim to Contigo or you can obtain a replacement lid.
Finding the Right Contigo Replacement Gasket
If you determine that your Contigo gaskets aren't functional, it's time to seek replacements. You must obtain seals designed to fit in your specific Contigo model to obtain the proper size. Choose seals for the wrong product, and you'll be left with gaskets that don't fit. 
Look closely at the different replacement gaskets to verify that they are meant for your Contigo product.