With so many options to choose from, picking a CamelBak can be pretty tough.
A common holdup for many people is figuring out exactly what size bladder and what size pack suits them best, especially when it's their first hydration pack.
There isn't much downside to choosing the largest bladder available in whatever pack suits your needs. CamelBak bladders are really light, so the difference in weight between their smallest and largest reservoirs is minimal. A larger reservoir gives you the option to carry more water whenever needed, but still works perfectly fine if partially filled.
Smaller packs are better for short hikes, runs or biking while larger packs are more suited to longer adventures.
Choosing the right size for your CamelBak pack is a little more challenging, since packs that can carry more gear are usually noticeably heavier. Depending on how you plan to use your CamelBak, the best size will vary.
The best way to choose a CamelBak is to figure out how you plan to use it, determine what gear capacity best matches those activities, then pick the pack with the largest reservoir from among those options.
Check out the bottom of this post for specific size recommendations for a bunch of different activities. Or check out my full guide on every CamelBak pack options and which one might best suit you.
How To Choose The Right Size For Your CamelBak Bladder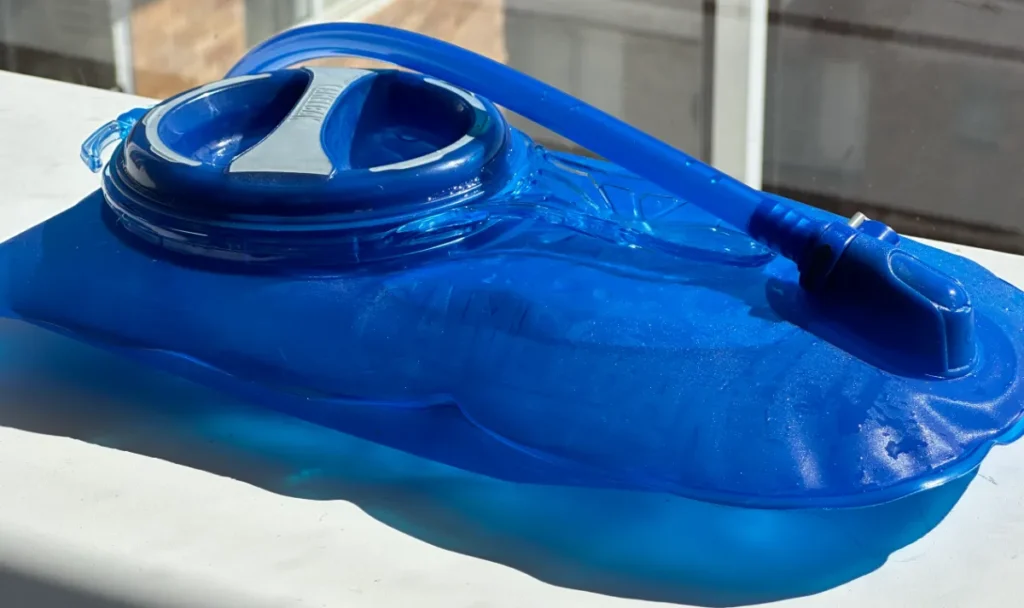 CamelBak bladders come in four standard sizes — 1.5 liters, 2 liters, 2.5 liters, and 3 liters. They also make a couple of much larger reservoirs that are designed for military use, but those don't really apply to the average person.
When choosing a reservoir size, bigger is usually better. But there still are a few occasions where a smaller bladder is a better choice.
The Biggest Reservoir Available Is Usually The Best Choice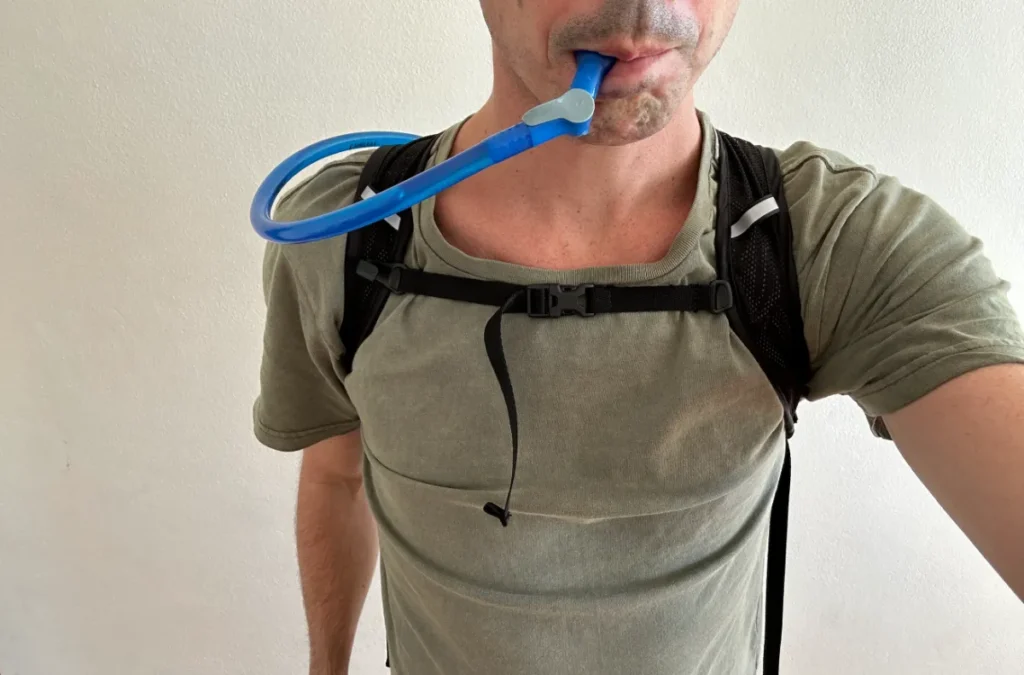 Generally, with all else being equal, I recommend choosing a larger reservoir. It gives you the flexibility of sometimes carrying more water, without having any major drawbacks.
CamelBak reservoirs are made of super lightweight Thermoplastic Polyurethane (or TPU for short), meaning there's only a 25 gram difference between an empty 1.5 liter and 3 liter Crux reservoir — which is barely noticeable once you're wearing your pack. 
While the larger bladder will weigh quite a bit more when filled to capacity (an extra liter of water weighs about 1000 grams or 2.2 lbs), you don't actually have to fill your bladder all the way full every time. 
Just fill it however much is needed and remove any excess air to prevent your water from sloshing around. A 3 liter reservoir can hold 1.5 liters of water just as effectively as a 1.5 liter reservoir can — with the option for more when needed.
When A Smaller Reservoir Makes More Sense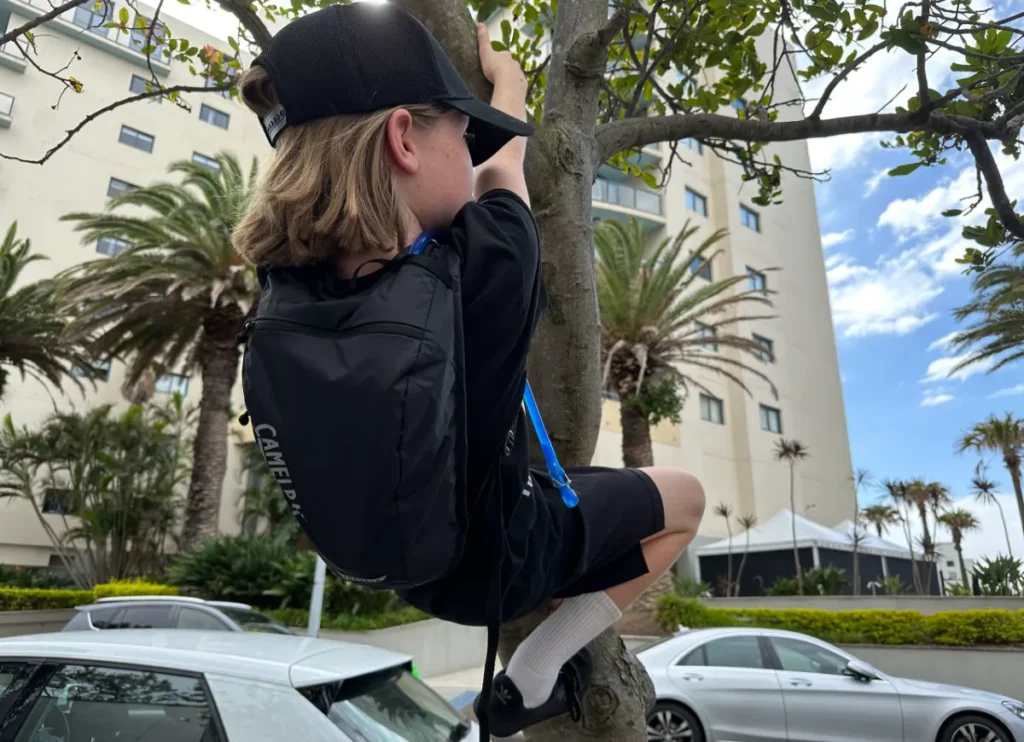 Even though big reservoirs have more upside, there are still a few reasons you may not want or need a larger bladder.
For starters, if the pack you want only supports a smaller reservoir, and you don't expect to find yourself in a situation where you'd like to carry more, it makes perfect sense to just go with that pack and the smaller reservoir size.
There's no reason to force yourself into something larger than necessary just because the bladder is bigger.
Second, runners and short-distance cyclists normally go for packs that only hold 1.5 liter of water, since a bladder filled any more would be too cumbersome and the extra length of the bladder may be too bulky with all that high-intensity movement.
The smaller packs can stay tighter and closer to your body and move around less making cycling and running that much easier.
And finally, if you prefer to go ultralight with your gear when you hike, it's one of the few times those extra 25 grams actually make a difference — though seasoned hikers usually already know exactly how much water they need before refilling, so they can just choose the reservoir size that makes the most sense for their needs.
How To Choose The Right CamelBak Pack Size
Aside from the amount of water your reservoir can hold, CamelBak packs differ in the amount of gear they can carry.
Ranging from streamlined packs with virtually no room for anything else to massive packs meant to carry several days worth of gear, it's important to match your CamelBak's gear capacity to your exact needs.
Unlike with water capacity, packs with more gear capacity tend to weigh quite a bit more than those that have less.
As a general rule of thumb, every 5 liters or so of gear space can hold one extra medium-sized item, like a light jacket or small meal.
Best CamelBak Size For Different Activities
Different activities benefit from different amounts of hydration and gear capacity. You want to tailor the size of your CamelBak reservoir and pack you choose to the way you plan to use it.
For an even deeper dive, check out my complete guide on how to choose a CamelBak.
What CamelBak Size Should I Get For Hiking?
Depending on the length of your hike and how often you'll be able to refill your reservoir, the best CamelBak size can vary quite a bit.
For short hikes, lasting a few hours, you may only need to bring your keys, phone, and a granola bar. A small pack with a 1.5 liter reservoir (like the Hydrobak Light) should work just fine — it'll be lighter, less cumbersome, and still hold whatever you need to bring. 
For day hikes and short hikes where you'd like to carry lunch or a light jacket as well, more gear capacity and, depending how much you drink, more hydration capacity is needed.
A mid-sized pack like the Cloud Walker 18 carries plenty for a single day with its 15.5 liters of gear capacity and a 2.5 liter reservoir. 
For thru-hiking, because you'll be carrying multiple day's worth of gear, you'll need a much larger pack. 20 to 25 liters of gear capacity is the sweet spot for ultralight, minimalist backpackers, but 30+ liters is standard for the average thru-hiker.
If you're unsure how often you'll be able to stop and refill your reservoir, a larger bladder is a big help. You don't want to be stuck with no drinking water toward the end of your day.
I regularly swap between the Fourteener 32 (which has 29 liters of gear capacity and a 3 liter Crux reservoir) and a standard hiking backpack that I added a reservoir loop to for my thru-hikes.
What CamelBak Size Should I Get For Cycling?
Cycling is a relatively high-intensity activity that requires balance and minimal weight above your midline. So strapping a heavy, shifting pack of water to your upper back isn't really the best idea.
Simple lightweight packs, like the Hydrobak Light and smaller packs that sit lower on the body, like the Repack LR 4, tend to work best for cycling. 
Avoid large, full bladders and weighty packs whenever possible.
What CamelBak Size Should I Get For Running?
Like cycling, running is a high-intensity activity that doesn't really suit large, heavy backpacks. Something with a smaller (or underfilled) bladder and a lower gear capacity is your best bet.
While I try to buy packs that are versatile enough for several uses, my running CamelBak is an exception.
The Circuit Run Vest is compact, lightweight, and can hold plenty of water for even my longest runs. And because it's a vest-style pack, it doesn't bounce around and shift every time I take a stride. 
What CamelBak Size Should I Get For Casual Everyday Use?
When it comes to choosing the right CamelBak size for normal everyday use, it's important to consider how much stuff you want to carry with you and how often you'll be able to refill your reservoir.
If you only ever need to carry your keys, phone, lunch, and a sweatshirt, and can easily refill halfway through the day, a smaller pack with a smaller reservoir like the Arete 14 should work just fine. Or, if you need more storage space, the Arete 18 offers a bit more room. 
My only complaint with the Arete series is that they both only come with 1.5 liters of water capacity. If that's not enough (either because you drink a lot or won't be able to refill), any of the 20-ish liter hiking packs may be a better option. 
What CamelBak Size Should I Get For Winter Sports?
Size is normally less of a concern than insulation for skiing, snowboarding, and other cold-weather sports. After all, it doesn't really matter how much water you're carrying if it's frozen solid.
CamelBak's insulated options are a bit limited when it comes to hydration capacity (they all come with the same 2 liter Crux reservoir), but when it comes to gear space, they vary quite a bit — ranging from 1 liter of gear capacity in the Zoid Hydration Pack, to 10 liters in the PowderHound 12, all the way up to 20 liters in the SnoBlast 22.