The very first time my youngest son saw me use my CamelBak, he was instantly obsessed.
He'd drink from it around the house whenever he could get his hands on it, asked to wear it every time we went on a hike, and even scribbled one down as the first item on his Christmas list. 
The problem was, my pack was a bit big for him and so heavy that he could barely make it a quarter mile into a hike before he had to tap out. 
So I did a bit of searching to find the very best CamelBak hydration packs for kids.
CamelBak makes a line of kids hydration packs for children 12 and under. The versatile Scout Hydration Pack for hiking and casual use, the minimalist Mini M.U.L.E. for activities where they don't need to pack much gear, and the fully-insulated Kicker Hydration Pack for skiing, snowboarding, and cold weather hiking. 
All of CamelBak's youth packs are lightweight, have a shortened torso length, come in fun kid-friendly colors, and include a built-in safety whistle — perfect for any adventure.
By the time your kids are in their early teens (or even 10-12 years old), most adult-sized packs should fit just fine. Double check the pack's torso fit range to be sure.
1. Kids Scout Hydration Pack (Ages 4 to 12)
The Kids Scout Hydration Pack is the pack I ended up getting for my son. And he absolutely loves it.
It's easily the most versatile pack in CamelBak's youth lineup — offering 12.5 liters of gear space and a 1.5 liter Crux reservoir, all while weighing in at just barely over 300 grams.
The 1.5 liter Crux reservoir is large enough to hold a full day's worth of water for most kids and you don't need to fill it up all the way if your child is smaller and you need to save on weight.
The 12.5 liters of storage is plenty of space to handle hiking or casual everyday use. Lunch, a sweatshirt, and a small sleeping bag will all fit with no problem. 
For kids 12 and under who want to carry some of their own gear, the Scout is the perfect pack.
2. Kids Mini M.U.L.E. Pack (Ages 4 to 12)
The Kids Mini M.U.L.E. Hydration Pack is a lighter weight, minimalist pack for younger kids (preschool and up) and older kids who don't really need to carry much in their pack.
While the Mini M.U.L.E. only holds about 1.5 liters of cargo (just enough for a light jacket or some snacks), it's also 50% lighter than the Scout — making it the lightest pack on this list. 
It also provides a close fit for kids who are running or mountain bike riding and has a sternum strap so that it won't move around a lot even as the run fast or turn hard corners.
For the smallest and youngest explorers, the Mini M.U.L.E. is a great first CamelBak.
3. Kids Kicker Ski Hydration Pack (Ages 6 to 12)
For kids learning to ski or snowboard, the Kids Kicker Ski Hydration Pack is the perfect fit.
It offers a 1.5 liter Crux reservoir, 4 liters of cargo space (enough to hold whatever gear your kid needs for a day on the slopes), and is fully insulated, so you don't need to worry about the water in the reservoir or tube freezing.
And just because the Kicker is insulated, doesn't mean it can't be used in warmer weather too. In fact, the insulation will also help keep the water in the bladder cold for most of the day. 
It features a back panel designed to repel snow and keep it from sticking to the pack and it has a lift friendly design which means your kids don't need to take it off when they jump on the ski lift.
It has a safety whistle as well as a sternum strap to keep it tight and stop it from moving around on the slopes and overall it's a great little hydration pack to help keep kids hydrated all day up and down the slopes.
4. Hydrobak Light 50 oz (Ages 10 and up)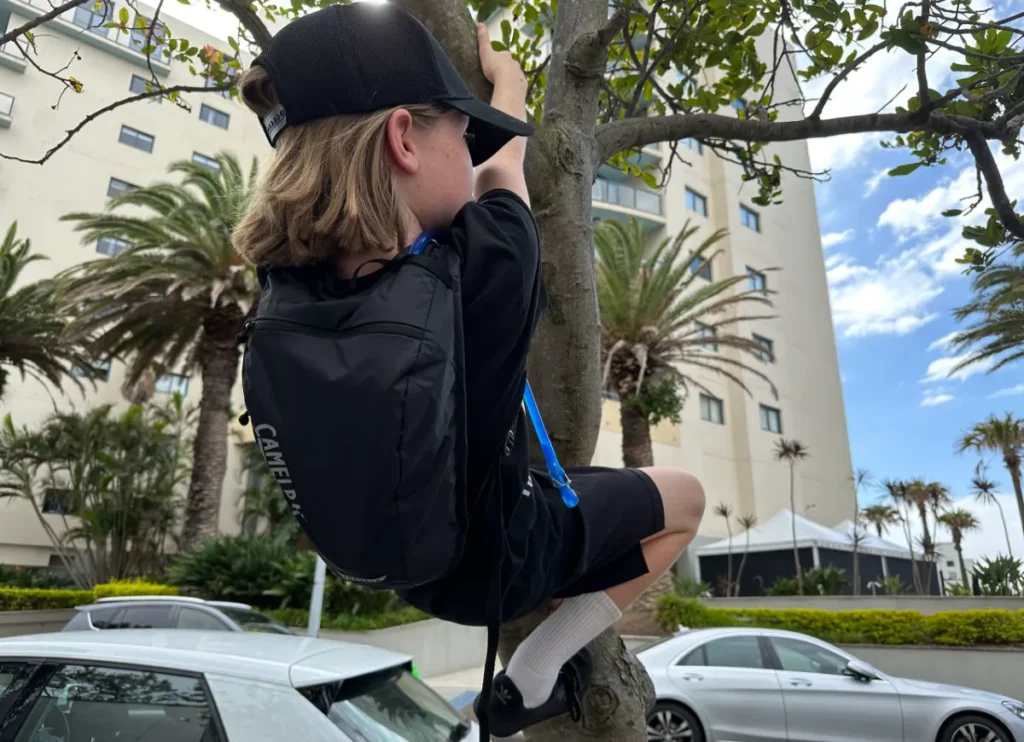 If you want a pack that your kid can grow into, the Hydrobak Light may fit the bill.
Weighing in at a super light 170 grams with a relatively short profile, the Hydrobak Light works great for smaller frames and my 10 year old was able to wear it without issue.
If your kid doesn't need to carry much gear and you want a pack that can last well into their teenage and even adult years, the Hydrobak Light is probably the perfect match. 
Even my 7 year old was able to wear this one and it was just a little bit big on him.
5. Arete 14 Hydration Pack (Ages 13 and up)
If you want a pack that's versatile enough for your teenager to take to school, to the skatepark, or on the trail, check out the Arete 14 Hydration Pack.
It offers a 1.5 liter Crux reservoir, a solid 12.5 liters of cargo space, a removable padded sleeve for a 13" laptop, and an easily accessible secure cell phone pocket (because teens never like to be too far from their phone).
It's perfect for teens of any age because it's surprisingly light at 250 grams, has a relatively small profile, and a small torso range.
Other Great Hydration Packs For Kids
If none of the CamelBaks above are the right fit, there are plenty of other brands putting out great, kid-friendly hydration packs that are at least worth considering.
These are two of my favorites.
6. Outdoor Products Tadpole Hydration Pack
While "Outdoor Products" could probably use a new marketing department to help with branding, they're actually putting out some pretty solid hydration packs.
The Tadpole is a simple, but functional, no-frills and super-affordable hydration pack for kids. It offers a 1.5 liter reservoir and 3.5 liters of gear space, on a small 360 gram frame.
But best of all, it can often be found for under $20 on Amazon. It's perfect if you're on a budget or to save a few bucks if you're not sure how much your kid's actually going to use their hydration pack once the novelty wears off. 
It's nothing special, but it's simple, durable, and very affordable.
7. KUYOU Kids Hydration Pack
Kuyou is a relative newcomer to hydration packs, but judging by the Kuyou Kids Hydration Pack, you'd never know. 
It's proven to be a solid, basic kid-sized hydration pack at a reasonable price and is very well suited to younger kids with it's bright pink and blue colors which make it a fun pack to wear.
It comes with a 1.5 liter reservoir, about 4 liters of cargo space, and is actually better insulated than all the other packs on this list, aside from the CamelBak Kicker. 
It also comes with a safety whistle for kids and the foam padded shoulders are great for all day comfort for your kids.
I've been very pleasantly surprised by this pack.