For well over 30 years, CamelBak has provided the US Military and other military units around the world with tough, durable, and functional hydration packs, ready for any situation. 
But what hydration packs does the military use specifically, what makes them different to the retail versions and are you able to buy the military grade CamelBaks?
The US military's current standard issue hydration packs are from CamelBak's Mil Spec line — designed to be tough, reliable, and protect your drinking water from whatever elements you may face. Each Mil Spec pack is specialized to handle a specific situation that service members may face in the line of duty.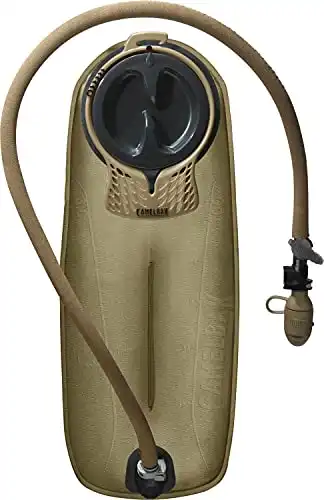 CamelBak has remained committed to providing our troops with the best mobile hydration systems available.
From chemical-warfare-proof bladders to massive 20+ liter bladders that can hydrate half a platoon, the innovation shows no signs of slowing down.
What Hydration Pack Does The Military Issue?
The original standard issue CamelBak of the US Military wasn't much different from the regular CamelBaks anyone could buy off of a shelf in an outdoor goods store.
But over the years, military-issued CamelBaks have evolved to be much more tough, rugged, and specialized.
Today's standard issue hydration packs are from CamelBak's Mil Spec line. 
Differing from civilian bladders, Mil Spec bladders offer an insulated tube cover to keep your water from heating up too quickly in the harsh elements and a built-in mud cap to protect the bite valve dust and dirt.
CamelBak's Chem Bio Reservoir, or CBR for short, is designed to prevent chemical and biological warfare agents and other toxins from penetrating your bladder.
The backpacks themselves are fully equipped with MOLLE systems to make organizing gear fast and efficient.  
The Differences Between CamelBak Civilian vs Mil Spec
If you're considering between the military versions of the CamelBak bladders and the civilian versions then it's good to know what the differences are and whether it's worth your money.
Color
Arguably the most noticeable difference is the color. Regular CamelBak bladders are bright blue in color while Mil Spec bladders are brown in color making them stand out a lot less.
Reinforced Longer Hoses
The Mil Spec hoses are reinforced making them a lot less likely to leak or freeze over and they are longer than the regular CamelBak hoses by about 7-8 inches.
The hoses of the Mil Spec and civilian models are compatible with each other.
Bite Valve Cover and Quick Release
The Mil Spec bite valve comes with both a dirt cover as well as a quick release to remove and replace the bite valve easier.
You can get dirt covers for the regular CamelBak bite valves but they do not have a quick release. Learn how to remove a CamelBak bite valve.
Angled Exit Port
The Mil Spec bladder has an angled exit port for the hose sending it slightly to the side of the bladder rather than directly up the bladder like on the civilian model.
Silver Ion Hydroguard
Baked into the very plastic the CamelBak is made from the Mil Spec features a silver ion HydroGuard which is anti-bacterial in nature and will last the lifetime of your bladder.
This reduces the growth of bacteria and mold in the bladder that leads to odors, discoloration and deterioration.
Cost
There is a bit of a difference to the cost of the civilian and Mil Spec models with the Mil Spec models being more expensive.
For everyday use the regular CamelBak bladders should be fine.
For example, me doing casual bushwalks with my kids I can safely rely on the regular CamelBak bladders and they are great products.
However, for those in extreme environments who need increase durability and less chance of breakages the Mil Spec bladders are more durable, better built and well worth the extra cost.
You can't really go wrong with either option, just make sure to get the one that best suits you.
12/04/2023 10:38 am GMT

See The Differences In Video
CamelBak's Mil Spec Line
Each Mil Spec pack is engineered to handle one of the many different roles service members may face.
The ThermoBak was the original hydration pack issued to US military service members way back in the early 90s, and is still the most commonly issued pack to this day.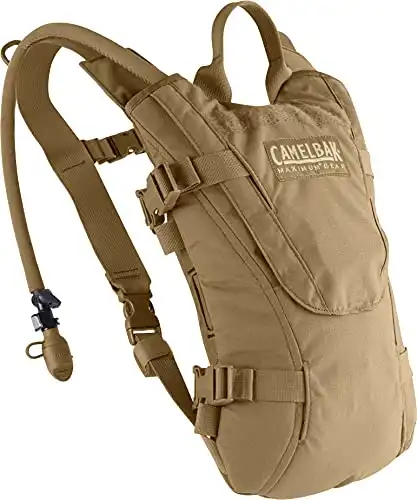 CamelBak Thermobak Hydration Backpack with Mil Spec Antidote (100 oz/3L)
Made from the highest quality materials this is one of the most trusted and well known minimalist packs.
Features two-zipper fill cover provides top or bottom of reservoir compartment entry points and quick release shoulder straps and adjustable sternum strap. Also features six D-ring points for attaching to any armor vest or pack with MOLLE and a fully insulated reservoir compartment.
Buy Now at Amazon

The 100 oz M.U.L.E. and H.A.W.G. offer eight and twenty liters of cargo space respectively, and are versatile enough to handle a wide range of missions.
Aside from the Hydrobak, they're the next most commonly issued hydration packs to US military service members.
For those longer multi-day missions where more cargo space is needed, the Motherlode and the massive 42 liter BFM packs are issued instead. Or for missions where water capacity is more important than cargo space, the SquadBak packs well over 20 liters of water.
The 100 oz Ambush, Sabre, and Stealth are lighter weight packs, meant for shorter missions where maneuverability is key.
For cold weather missions, the WaterMaster is fully insulated to prevent water from freezing, both in the tube and in the reservoir itself. 
If maximum visibility is needed, the Hi-Viz Hydration Pack will help keep you safe on the job, coming in an impossible to miss fluorescent green or orange.
Last but not least, the ArmorBak is a unique hydration pack that integrates directly into your armor, attaching seamlessly to your vest's MOLLE system in just moments.