Nalgene makes some of the most popular reusable water bottles on the market. They're simple, durable, lightweight, and inexpensive — what more could you want?
Well, a few things actually.
While Nalgenes are solid, they're far from perfect.
The biggest problems with Nalgene Bottles are that they're not insulated, don't have a built-in carrying handle, are too wide for cup holders, come in very few sizes, have overly simplified lids. Plus they are made from plastic — which isn't the most eco-friendly or healthy material for a water bottle. 
Despite their flaws, I still happily use my Nalgene Bottles for hiking and climbing (for their light weight) and for smoothies (because I can just stick them in the dishwasher when I'm done).
At the end of the day, your own priorities and preferences will determine if a Nalgene is the right bottle for you or if the problems with Nalgene Bottles make another bottle a better fit.
1. Nalgene Bottles Aren't Insulated and They Sweat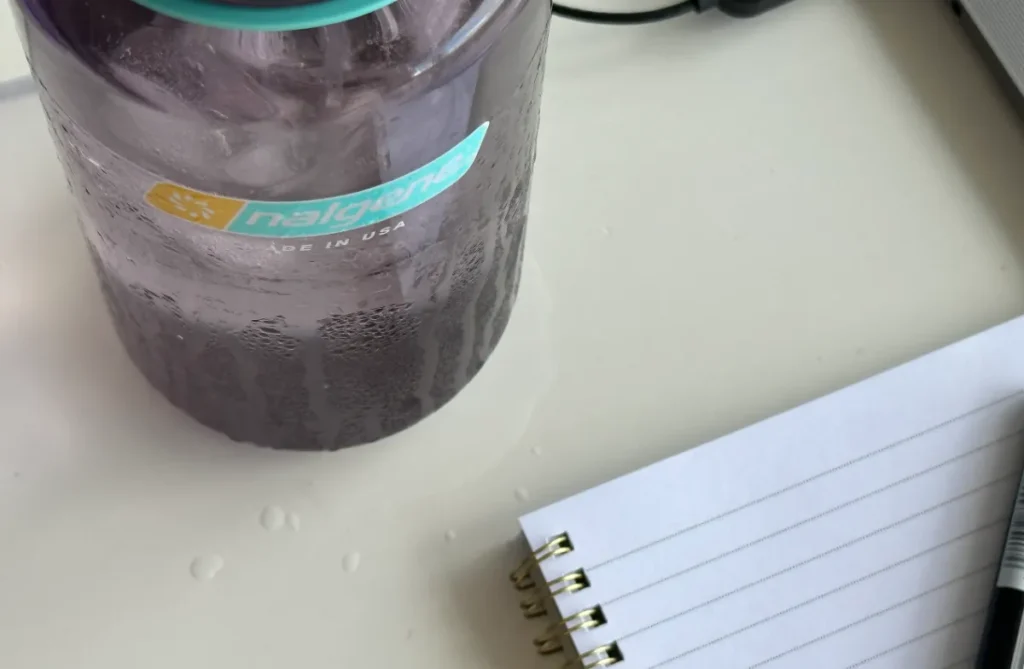 The most common complaint people have about Nalgene Bottles, and a big part of the reason Hydro Flasks and other brands are quickly catching up in popularity, is that Nalgenes aren't insulated.
Having constant access to water is wonderful. But having constant access to ice cold water is even better.
On an average summer day, ice water will stay cold in a Nalgene for a couple of hours at most.
Compare that to Hydro Flask's TempShield insulation that can keep water cold for over 24 hours or Klean Kanteen's Climate Lock vacuum-insulation that keeps water cold for up to three days and it's no wonder that many cold-water-connoisseurs are moving away from Nalgene. 
Nalgene bottles also sweat quite a lot if you have ice in them. Because of the lack of insulation water vapor in the air will condense on your Nalgene bottle and this can make your bottle and table extremely wet over time.
But it's not necessarily a dealbreaker.
Along with better insulation comes increased weight, more effort required to maintain your bottle, and a much higher price tag.
Nalgene bottles are super affordable, backed by a lifetime guarantee (which Nalgene actually honors and they replace your bottle in so many circumstances) and they are very lightweight.
Besides, if you know a few simple tricks, you can keep water cold in a Nalgene for most of the day anyway. 
2. They Don't Have A Built-In Handle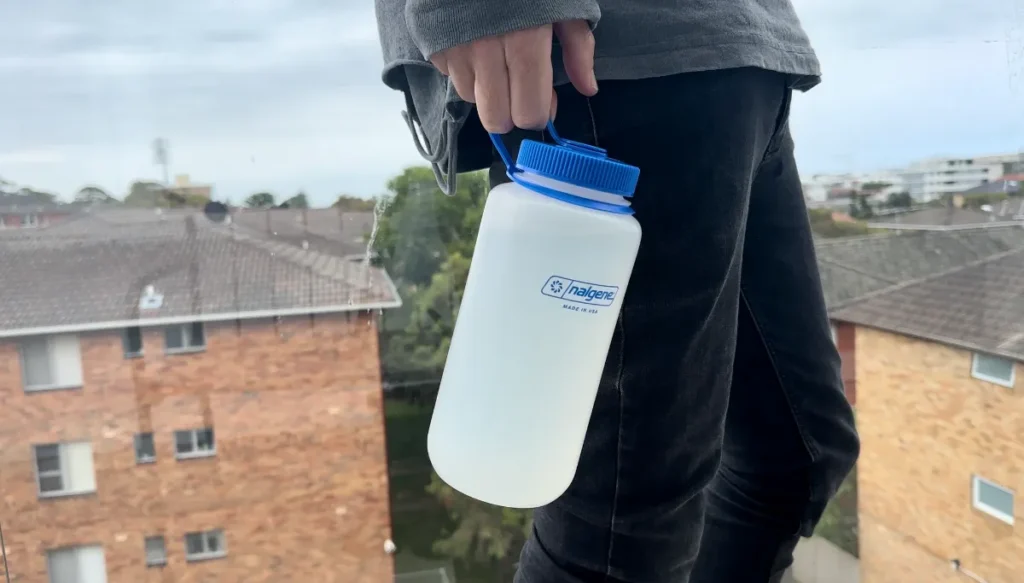 Nalgene Bottles are bulky and a bit awkward to carry around, especially because they don't actually have a built-in handle (the lid strap isn't meant for carrying).
This isn't a huge issue for adults but I've definitely noticed it with my kids. They always need 2 hands to hold it and even then the size and thickness can be a struggle for my youngest.
I used to lug mine around by the lid strap or hang it off my backpack by a carabiner all the time, but after having broken several straps (and lost a couple bottles as a result) I had to find another way.
Nowadays, I either use a DIY paracord bottle holder (premade ones work great too) or a lid with a built-in handle, like the Paravalve Straw Lid, and I don't have to worry about it any more. 
3. Nalgenes Don't Fit In Cup Holders
Another problem with Nalgene's bulky form factor is the fact that they don't fit in standard cup holders.
I eventually got sick of my Nalgene rolling around on my passenger seat and flying off whenever I had to brake hard and grabbed a cup holder adapter. 
Now I have one (or two) in all of my vehicles. 
4. Limited Size Options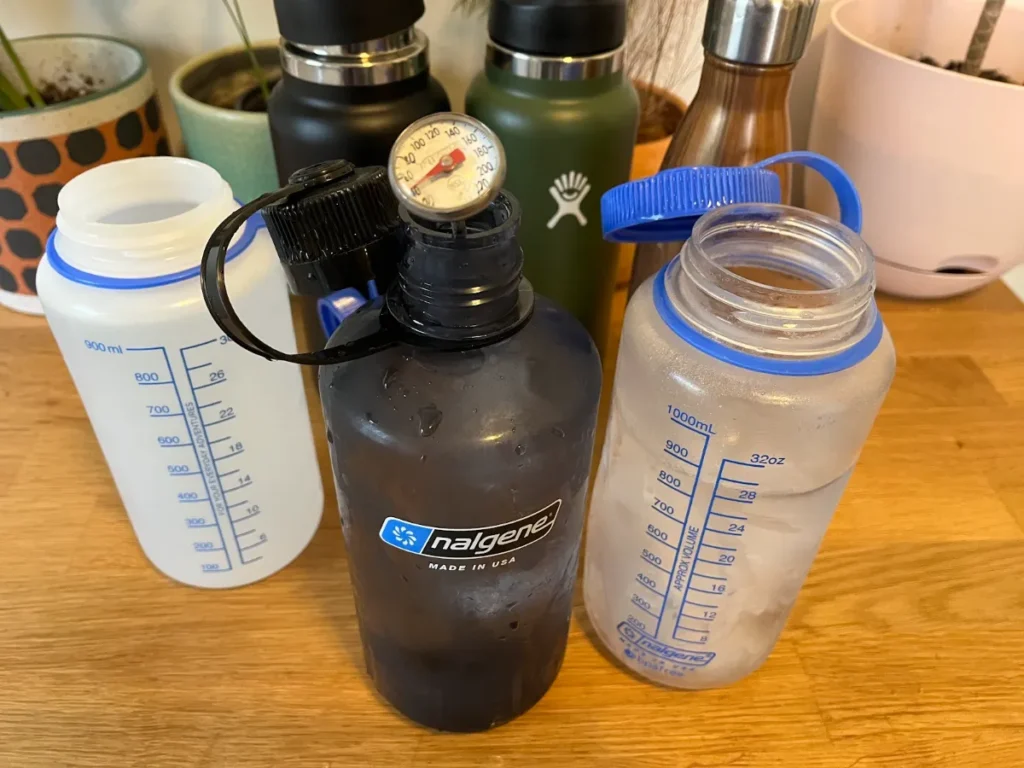 Simplicity is one of Nalgene's main selling points, but in some ways they're perhaps a bit too simple.
When it comes to size options, Nalgene is pretty limited.
They offer their classic 32 oz bottle, a larger 48 oz bottle, and a couple smaller, kid-friendly sizes — just nowhere near as many options as almost every other brand.
5. Few Lid Options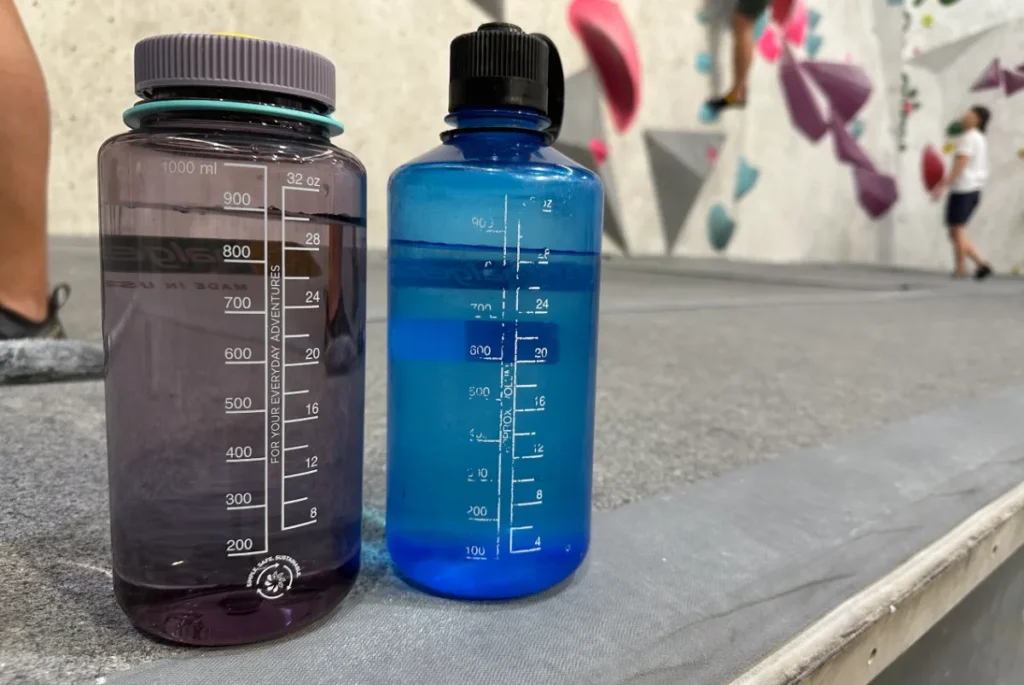 An even bigger issue with Nalgene's 'keep it simple' approach is their limited selection of lids.
Almost all Nalgenes come with a basic, twist-off cap. It works well enough, but sometimes you just want a straw or narrow chug spout (wide mouth bottles can be annoying to drink from). 
Nalgene does offer a couple other caps, like the OTF narrow mouth cap and the MultiDrink lid, but neither is particularly great. 
The good news is there are tons of third party options that add functionality and even a few lids from other brands that work perfectly on Nalgenes (Contigo's AutoSpout and CamelBak's Eddy+ are my favorites).
6. Plastic Water Bottles Have Potential Health Concerns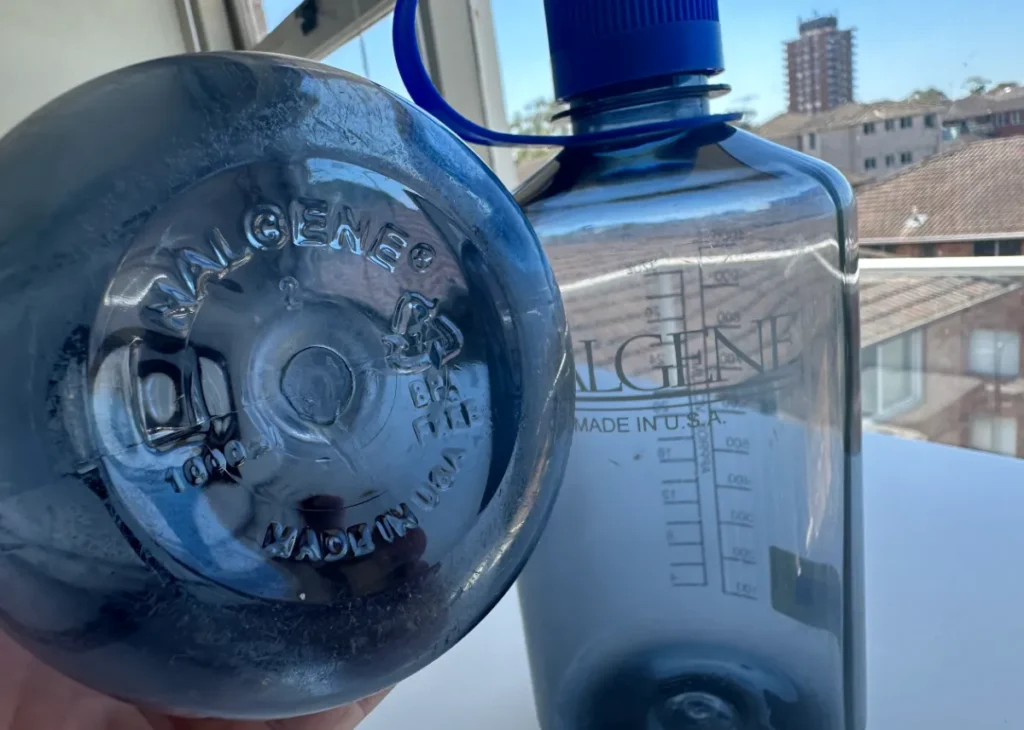 Old Nalgene Bottles contain BPA, an additive used to make plastic more shatter-resistant, that has since been linked to many serious health problems.
When the dangers of BPA became apparent, Nalgene swapped to Tritan Plastic and their bottles have been BPA and BPS-free ever since.
So that means that modern Nalgene Bottles are perfectly safe to use, right?
Probably, but it's impossible to say for certain.
BPA helps illustrate the problem with plastic bottles — it was considered perfectly safe… until it wasn't.
Even though Nalgene Bottles are free of any chemical compounds that are currently known to be harmful, it doesn't mean that other compounds they contain won't be found harmful in the future.
If you choose to use plastic bottles (which I'm perfectly comfortable doing), your best bet is to take steps to limit your risk:
Only drink cold liquids from your plastic bottle. Heat makes more chemicals leach from your bottle into the plastic it contains.
Replace bottles when they're heavily scratched, damaged, or worn. Damaged plastic leaches more chemicals.
Empty your bottle at the end of each day. The longer your water sits in a plastic bottle, the more time leached chemicals have to build up.
If you choose to avoid plastic water bottles altogether, Nalgene also makes stainless steel bottles — and stainless steel is one of the safest materials for food and drink storage. 
7. Plastic Isn't Good For The Environment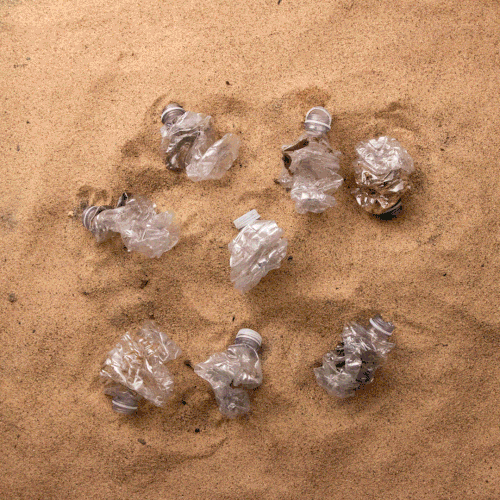 Plastic isn't the most eco-friendly material out there.
It creates toxic byproducts during manufacturing, is inefficient to recycle, and, if it isn't disposed of properly, breaks down into harmful microplastics.
That being said, using any reusable water bottle is way better for the environment than using single-use bottles.
And, among plastic bottles, Nalgenes are actually some of the best. Their Sustain Bottles are made of Tritan Renew, which is made of up to 50% certified recycled materials.
If the environmental impact of your bottle is a top priority, remember that Nalgene also makes stainless steel bottles — that are fully and infinitely recyclable and made almost entirely of recycled materials.