While Nalgene Bottles sometimes seem indestructible, it is actually possible to break them.
I swear.
I learned firsthand a few weeks back when I dropped one on a hike and it cracked at the base.
After mourning my loss, I pulled it together and checked out Nalgene's replacement policy to see if they replace broken bottles…turns out they do!
All Nalgene Bottles include a lifetime warranty that protects against manufacturer's defects and damaged bottles. The only things that Nalgene won't cover are bottles damaged by freezing, fire, or chewing. Getting a replacement is as easy as filling out a simple request form on Nalgene's website.
Two weeks later, I had my replacement in hand. Not bad for a bottle I bought almost a decade ago.
Below I'll teach you what damage is covered by Nagenes's lifetime warranty, what damage isn't, and what you need to do to get your broken Nalgene Bottle replaced.
Nalgene Bottles Come With A Lifetime Warranty
All Nalgene Bottles come with a lifetime warranty.
And unlike most other warranties, Nalgene not only covers manufacturing defects but broken bottles as well.
"Life happens. That's why all #Nalgene water bottles are covered against breakage by our lifetime warranty." — @nalgene
I've only ever managed to break one of my Nalgene Bottles, but it was replaced quickly with no questions asked.
And I'm not a unique case. There are hundreds of examples online on Twitter, Facebook, Reddit, YouTube and other social media platforms where people share the fact that their old Nalgene water bottle got replaced even though it was their fault they broke it.
Some of the bottles that were replaced were even purchased over 20 years ago!
Redditor "not-ted" talks about how their kid dropped and broke their 20 YEAR OLD Nalgene bottle. They contacted Nalgene (more for a laugh than anything) and were actually sent a free replacement!
"I had one for 20 years. My son dropped it and the top broke off – below the cap, right after the plastic has straightened out after curving away from the top.
On a lark, I sent a photo to Nalgene – they responded by sending me a new water bottle! Awesome company."
Seriously, I struggled to find a single example of a Nalgene customer where their water bottle was NOT replaced. If you know of one please let me know in the comments section down below.
What Damage Does The Warranty Cover?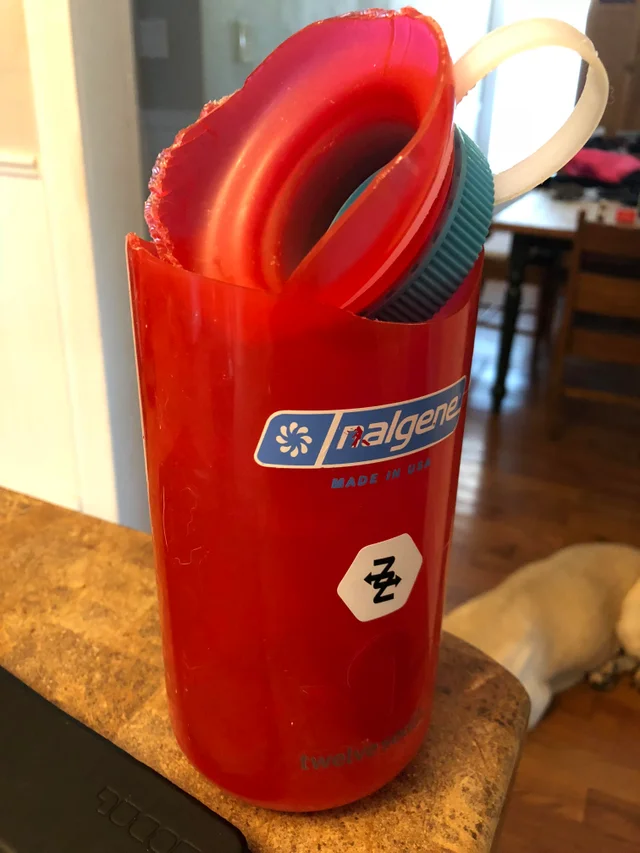 The internet is full of Nalgene owners who have had their damaged bottles replaced for a wide variety of reasons.
Like @ArtsyMoth whose Nalgene broke from an unfortunately placed drop.
"And this is why you buy @nalgene! Last 8yrs, hit the pavement just right. Replaced with no questions asked #buynalgene #lifetimewarrenty #totallyworthit"
Or this Redditor whose friend's Nalgene melted in the heat of Sub-Saharan Africa.
"My friends Nalgene bottle melted in sub-Saharan Africa. They sent her another one when she got back to the USA, as well as a thank you note for serving in the Peace Corps."
Any Nalgene Bottle damaged through normal use is fully covered — including drops, leaks, gouges, and more.
Chances are, whatever you've done to your Nalgene bottle or however you've broken it Nalgene will replace it for you – free of charge.
Still don't believe me check out some more examples:
What Damage Isn't Covered?
Unfortunately, there are still some damages that Nalgene's warranty won't cover (at least not always).
"there are a few things that typically aren't covered by the warranty: Freeze breaks, fire, & chewing damage. It will be at the discretion of the distributor" — @nalgene
Though notice the "it will be at the discretion of the distributor". As I mentioned earlier…I am yet to find ONE SINGLE EXAMPLE of a customer where Nalgene refused to replace their water bottle.
So it couldn't hurt to try anyway. Nalgene seems to err on the side of the customer in many cases.
And just in case you were wondering, the old rumor about the "I broke a Nalgene" shirt is unfortunately not true.
"If you can break a Nalgene water bottle, not only will they replace it, but you will also get a free t-shirt that says, I broke a Nalgene." — @Social_Chronic
"We'll replace a broken Nalgene, but the t-shirt part is an urban legend." — @nalgene
How To Claim Your Replacement Nalgene Bottle
Requesting a replacement Nalgene Bottle is pretty straightforward.
You don't have to send in your damaged bottle (don't forget to recycle it). You don't even need to provide a receipt or proof of purchase in most cases.
All you need to do is submit a picture of your damaged or defective bottle and a few basic pieces of information about yourself and the damage.
10pumpsclassic says this on Reddit:
They do ask you for proof that it broke, so take a picture!
And even better, Nalgene covers the shipping costs for you. The entire process is free, quick, and painless.
Even in cases where you don't have access to the damaged bottle because it's been lost or thrown out, Nalgene's official twitter recommends giving it a shot anyway.
"My kid threw hers away the other day. She broke it canoeing the Buffalo River. She didn't know to bring it back home to get it replaced. 🤦🤦" — @mejhing
"That's too bad! Sometimes, we're still able to replace it. You might as well fill out the warranty form and see if it's possible"— @nalgene
Couldn't hurt to try.
To request a warranty replacement for a damaged Nalgene Bottle:
Go to Nalgene's Contact Page.
Choose Warranty Replacement from the drop down menu.
Provide a picture of your damaged or defective bottle, your contact information, and a description of the problem.
Submit the form and wait. In most cases, your replacement will arrive within two or three weeks.
Final Thoughts
Nalgene offers an extremely generous lifetime warranty that covers defects and most damaged bottles.
Bottles damaged by freezing, fire, or chewing aren't covered under the warranty.
To claim your replacement bottle, simply fill out the form on Nalgene's contact page.
Replacements take about two or three weeks to arrive.