Nalgene and Hydro Flask have both developed a solid reputation for making high-quality, reusable water bottles. I personally own 3 Nalgene bottles and 4 Hydro Flask bottles (plus I've lost 2 Hydro Flask bottles over the years) and love both brands equally.
But when it comes to the bottles themselves, the two brands couldn't be much more different.
Nalgene makes simple, lightweight, affordable plastic bottles and Hydro Flask is known for their premium, vacuum-insulated stainless steel bottles.
But they also have come commonalities in the fact that the bottles are bright and fun, durable and long lasting and the companies themselves seem to care a lot about their products, their customers and the environment.
So between Nalgene and Hydro Flask, which bottle is actually better?
When comparing Nalgene vs Hydro Flask bottles, Nalgene Bottles are lighter weight, easier to maintain, less expensive, and backed by an incredible lifetime warranty. Hydro Flask bottles are potentially better for your health, better insulated, better for the environment, and have more sizes and colors available.
It's difficult to say which bottle is "best" because they are so different to each other which makes them difficult to compare. You would have to say Hydro Flask bottles is better because they are vacuum insulated, but in saying that they are A LOT more expensive and not as durable so Nalgene wins in affordability and durability.
In reality each has unique advantages that make it better for different situations. The best bottle for you will depend on your preferences and what you use the bottle for.
Let's take a look at how the two bottles line up in terms of water safety, insulation, longevity, portability, ease of maintenance, value, options, and eco-friendliness to help you make a more informed decision.
Best For:

Budget shoppers looking for a lightweight, simple, super durable plastic water bottle.

Best For:

Those wanting a high-quality water bottle that will keep drinks cold or hot for hours at a time
Best Value
Best For:
Budget shoppers looking for a lightweight, simple, super durable plastic water bottle.
Best Performance
Best For:
Those wanting a high-quality water bottle that will keep drinks cold or hot for hours at a time
Price And Value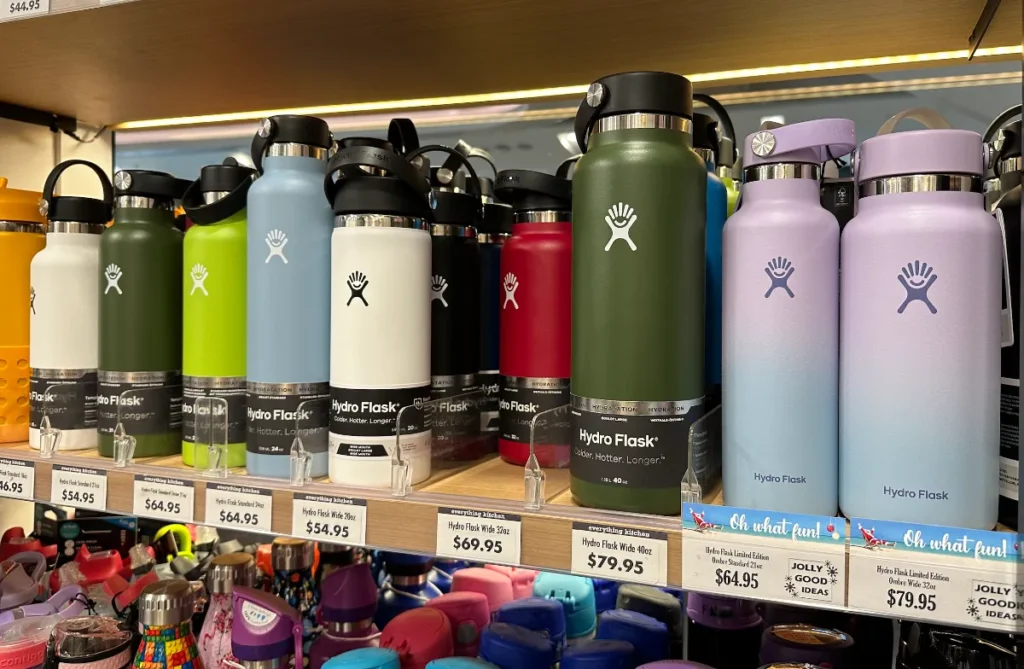 One of, if not THE, consideration most people will make when choosing between Hydro Flask and Nalgene is the cost – and whether or not Hydro Flask bottles justify the insane difference in price when compared to Nalgene bottles.
These 2 bottles are in very different categories here.
Nalgene
A Nalgene Bottle will set you back about $15 or $20, with the most basic models being in the $10 range. Sometimes you can even find them on special for under $10 during black friday sales or in bargain bins.
For a bottle that will last years AND be replaced for free if it breaks, it's really an incredible value.
Because they're so inexpensive, I've lost a few and barely batted an eye at the cost of a replacement. On the other hand when I lost my 32 oz and 24 oz Hydro Flaks trail bottles the total cost to replace them is nearly $100.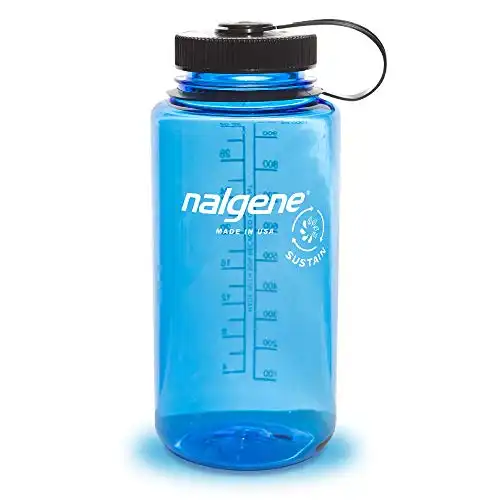 Nalgene Wide-Mouth Water Bottle (32 oz)
Made with BPA-free Tritan Renew plastic these Nalgene bottles are made with 50% recycled plastic.
This is the best selling water bottle that has been around for 30 years (and likely to last you 30 years). Suitable for warm and cold beverages (-40 to 212ºF) this is marked with milliliters and ounces for easy measurement.
Buy Now at Amazon
Hydro Flask
Hydro Flask bottles are much more expensive. A regular Hydro Flask will set you back around $30 to $50 depending on the size you buy and the design. Hydro Flask lightweight trail bottles are $5-$10 more expensive but well worth the extra cost in my opinion.
But considering the more expensive materials, the increased durability, and the high-end build quality, it makes sense.
Even though Hydro Flask Bottles are on the higher end of the price scale for stainless steel bottles, they still feel reasonably priced. In this case, you get what you pay for.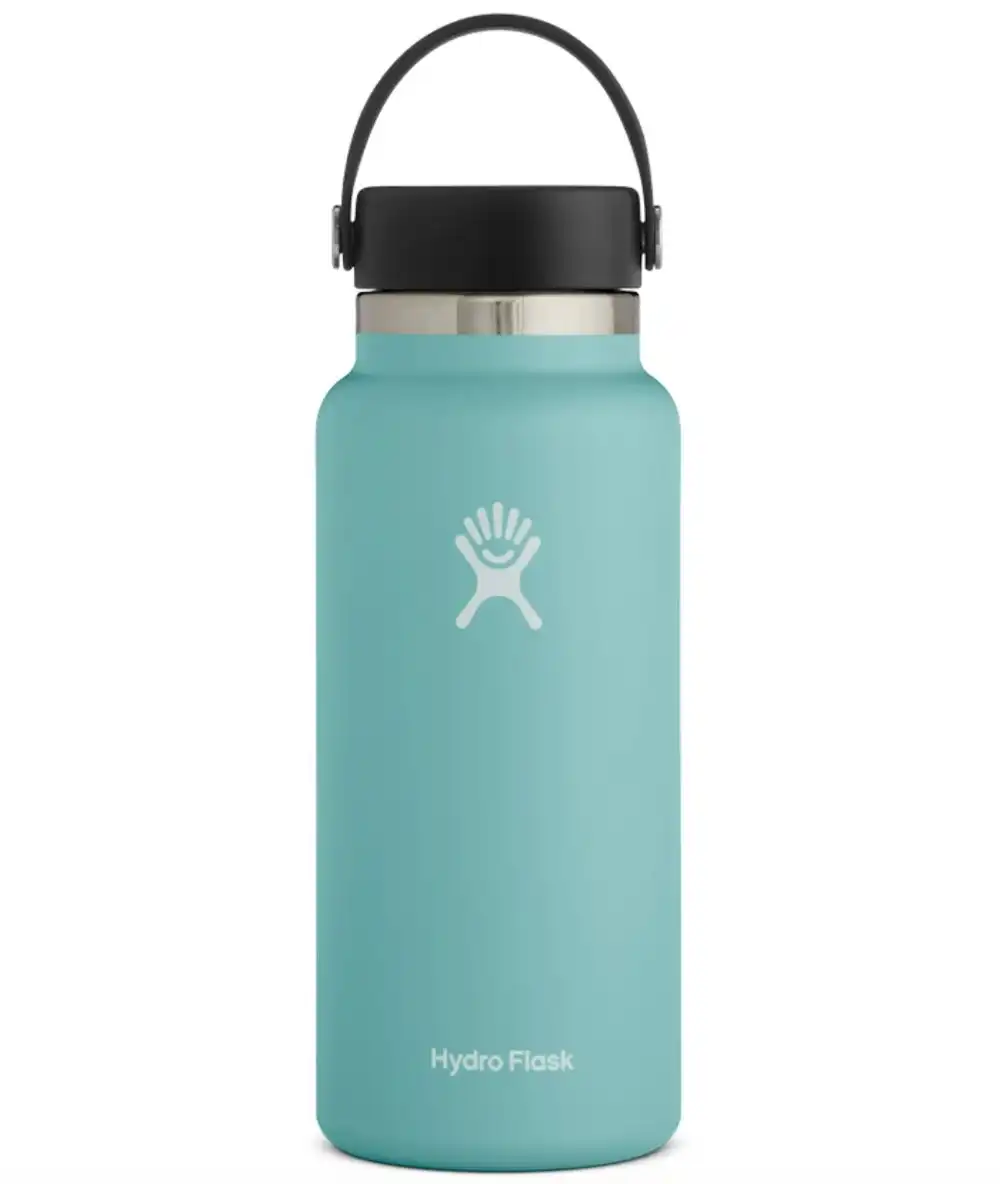 Winner: Nalgene
Nalgene Bottles take a small edge in terms of value — both because they're less expensive and again thanks to their incredible warranty. Did you know that if you break a Nalgene bottle they will replace it? Even if it's your fault!
Unless you lose your Nalgene, you may never need to pay for a water bottle again.
Thermal Insulation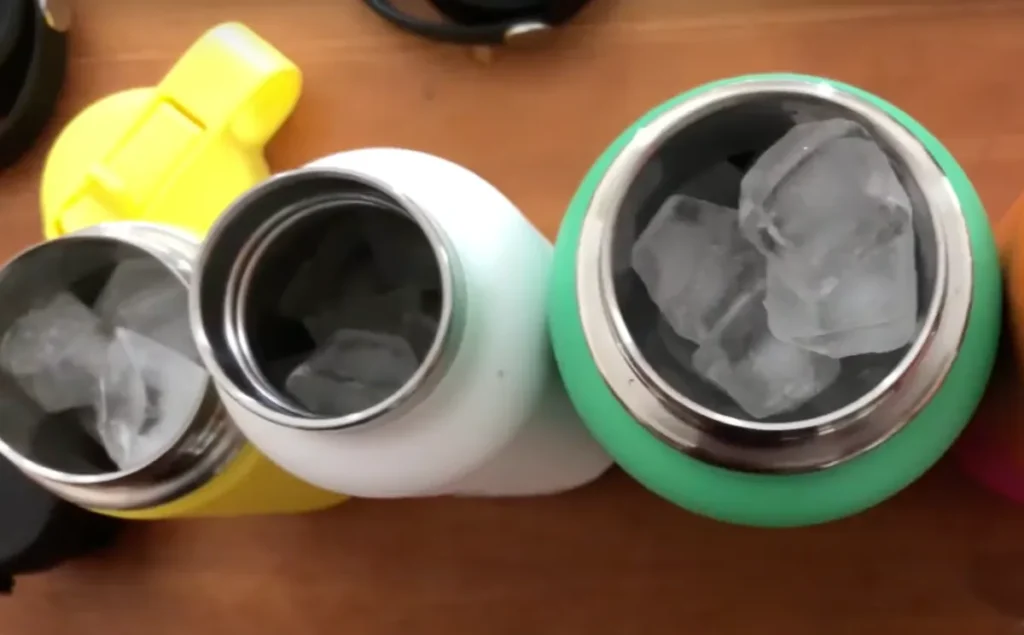 One of the biggest differences in these 2 water bottles is their ability to keep drinks cold or hot for extended periods of time.
Here the Hydro Flask features double walled vacuum insulation whereas Nalgene is just a normal water bottle with no insulation.
Nalgene (There Is None)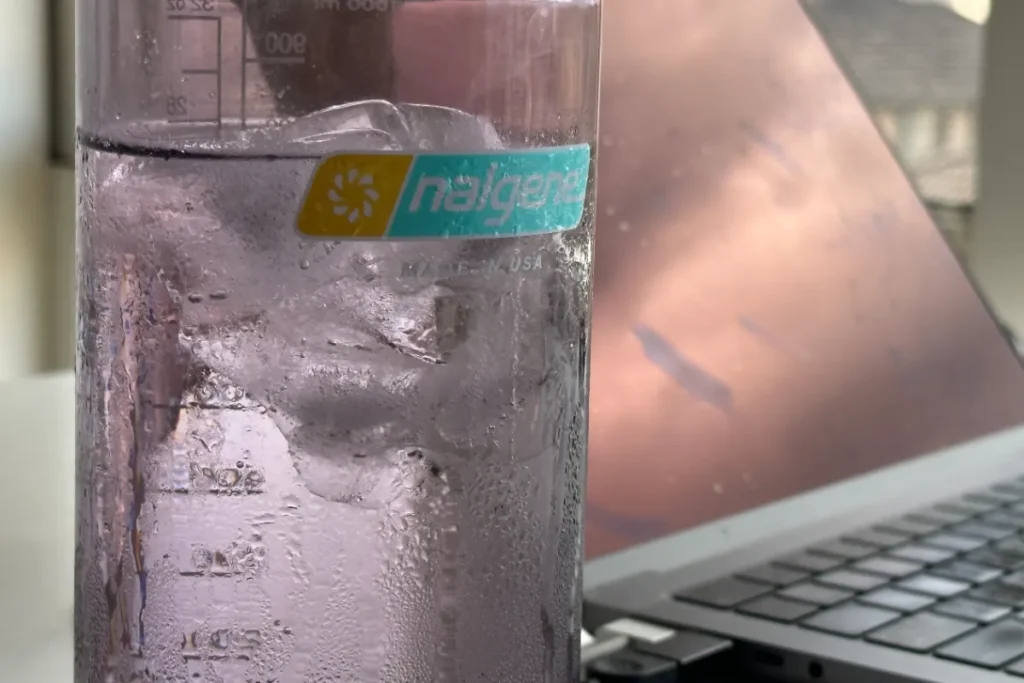 Nalgene Bottles (even stainless steel ones) aren't insulated and won't keep your drink hot or cold for long.
But that's a choice, not a failure of design. Nalgene Bottles are intended to be lightweight and functional, not to maintain temperature.
If you want your Nalgene to keep your drinks hot or cold longer, you can get an insulating sleeve or use one of my favorite Nalgene hacks and pre-freeze a half bottle full of water on its side before using.
This also means that Nalgene bottles will sweat profusely when you put ice in them on a warm day and they will only stay cold for a few hours at most.
Sometimes this lack of insulation serves me. Recently I went for a bushwalk and wanted to keep some chocolate and other food snacks cold and a Nalgene with ice in it was perfect because it acted like an ice pack. The Hydro Flask would have kept my drink cold for longer but my chocolate would have melted.
Still, more often than not having insulation is better than not having it.
Hydro Flask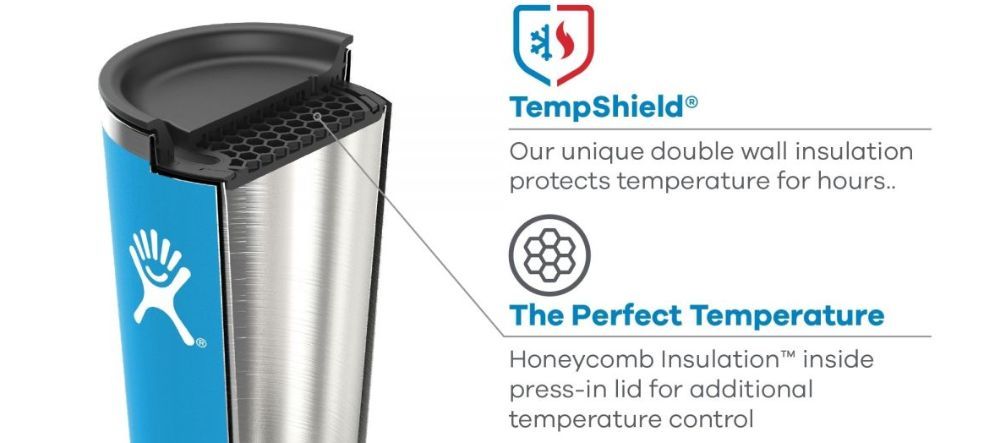 Hydro Flask Bottles (and tumblers), on the other hand, use TempShield double wall vacuum insulation and a honeycomb-insulated lid to keep drinks hot for 6 to 12 hours and cold for 24+ hours.
I've personally done a 3 DAY ice test using both the Hydro Flask 32 oz and the Hydro Flask Trail 32 oz bottles.
Seriously though…3 days! That's on par with a high end cooler and that's because vacuum is one of the best insulators for keeping things cold.
During the summer, I fill my Hydro Flask with ice water in the morning and always have ice to dump out when I get home in the evening. Even if I go on a full day hike in extremely hot weather.
During the winter months, my coffee is still nice and hot when I finish it with lunch and I love packing coffee for a waterfall adventure to have a warm coffee after a freezing cold swim.
There's nothing super special about Hydro Flask's vacuum insulation. It's great but there are loads of other water bottles out there with the same insulation. See my S'well vs Yeti comparison article as an example.
Winner: Hydro Flask
When it comes to maintaining the temperature of your drink, it's really a no-contest. If thermal insulation is important to you, a Hydro Flask is the clear and obvious choice.
That being said, non-insulated bottles do have their advantages — like making great hot water bottles for cold hikes and being much lighter weight.
Durability, Longevity, And Warranty
When I invest in a water bottle I want to invest in one that is going to last me a long period of time.
Gone are my days of buying cheap disposable water bottles, or even cheap reusable water bottles. Durability and longevity is super important to me.
Nalgene
Nalgene Bottles are crazy durable for plastic water bottles. We are talking so durable people have Nalgene bottles that are 15-20 years old and still basically look as good as a new one.
Check out the picture below of my brand new Nalgene vs my climbing friend's 15 year old Nalgene.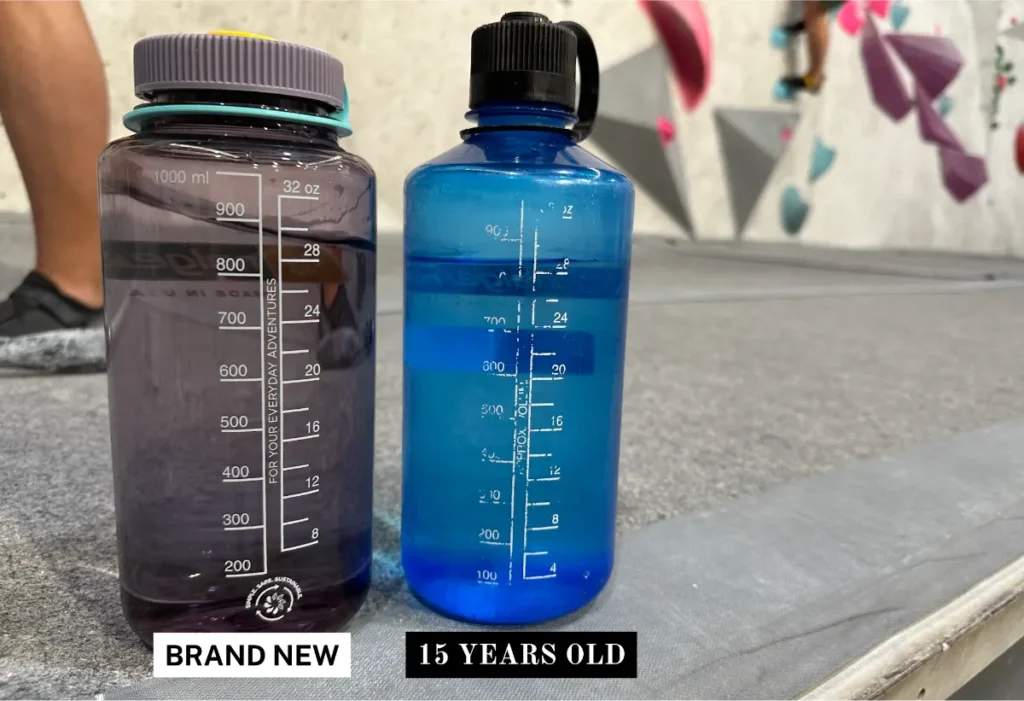 Nalgene bottles will survive most drops and can even handle boiling water. But if the bottle lands wrong or you leave it too close to a campfire, you'll be looking for a replacement. 
The good news is that Nalgene offers one of the most generous lifetime warranties I've ever heard of (which is one of the many reasons Nalgene Bottles are so popular). 
Not only are manufacturer's defects protected, any damage that isn't from fire, freezing, or chewing is also fully covered.
Honestly, I struggled to find a single example where Nalgene would NOT replace a water bottle. People dropped their bottles off a cliff, broke them in half down the middle and Nalgene still sent them a replacement free of charge. For a cheap water bottle it feels INSANE that a company would do this. But it's part of what I love about Nalgene.
Requesting a refund is simple. Fill out the warranty request form, send a picture of the damaged bottle, and wait a couple weeks for your replacement to arrive (with shipping charges covered).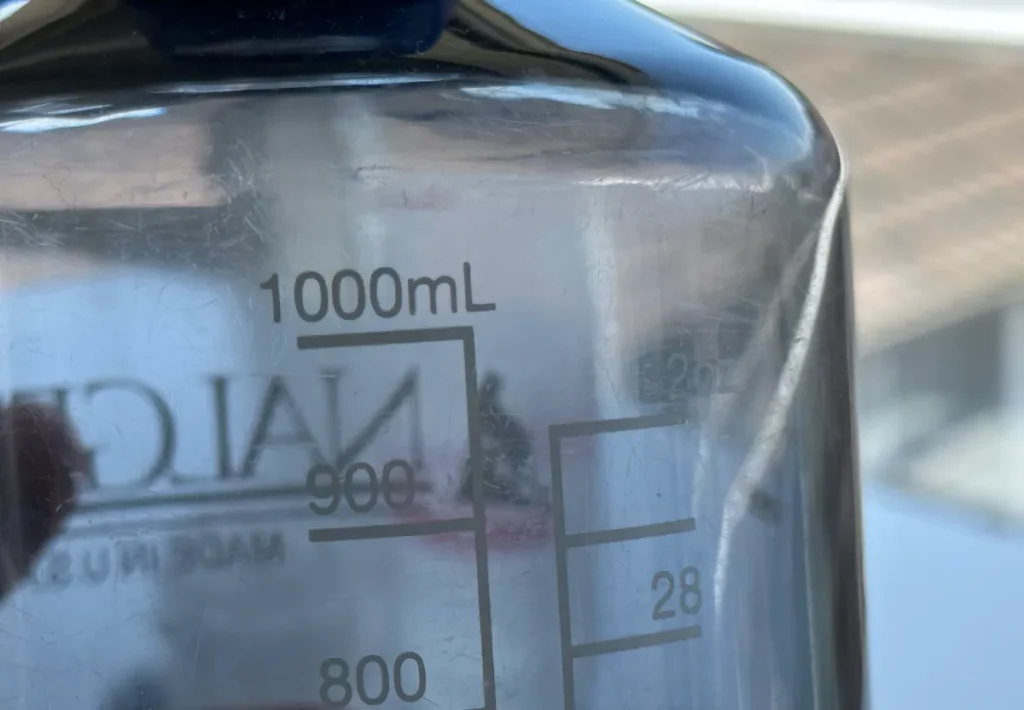 My Nalgene Bottles last for a few years on average, but if you're careful (and a bit lucky) can last for five years or more — though older bottles often have the fill lines wear off, collect scratches, and get cloudy. 
Hydro Flask
Made of high-quality stainless steel with excellent build quality, Hydro Flasks are built to last and the company backs this with a lifetime guarantee of their bottles.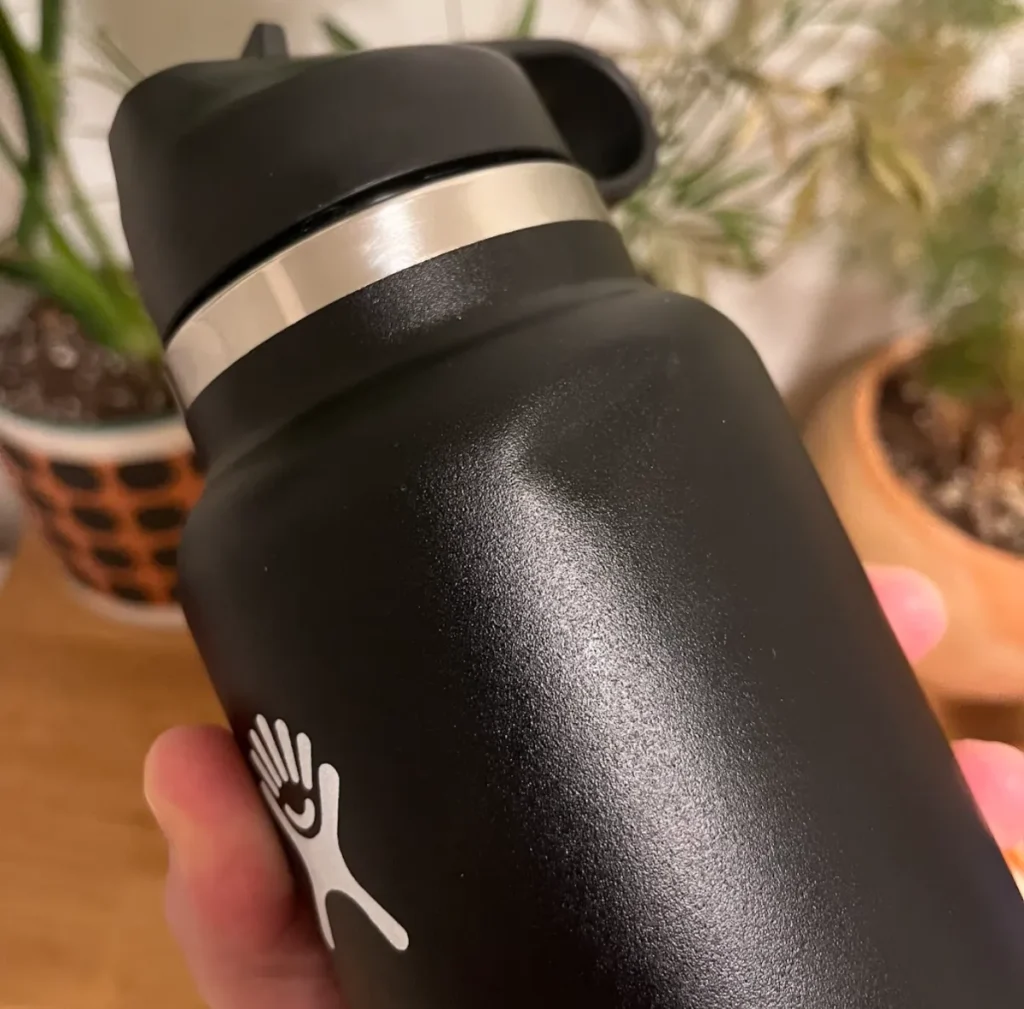 I've dropped mine down concrete staircases, have driven off with it on the roof of my car, and even let my kids use it for a day — it has a few dings and dents to show for it and a replacement lid, but is still going strong otherwise.
According to Redditors, their Hydro Flasks have routinely lasted five years or longer, with some lasting well over ten years. Mine are seven and nine years old, with no signs of slowing down. 
Hydro Flask also offers a lifetime warranty on all of their bottles, but it isn't nearly as generous as Nalgene's.
Manufacturer's defects and loss of insulation (at least when it's not related to damage) are covered, but physical damage from drops is not.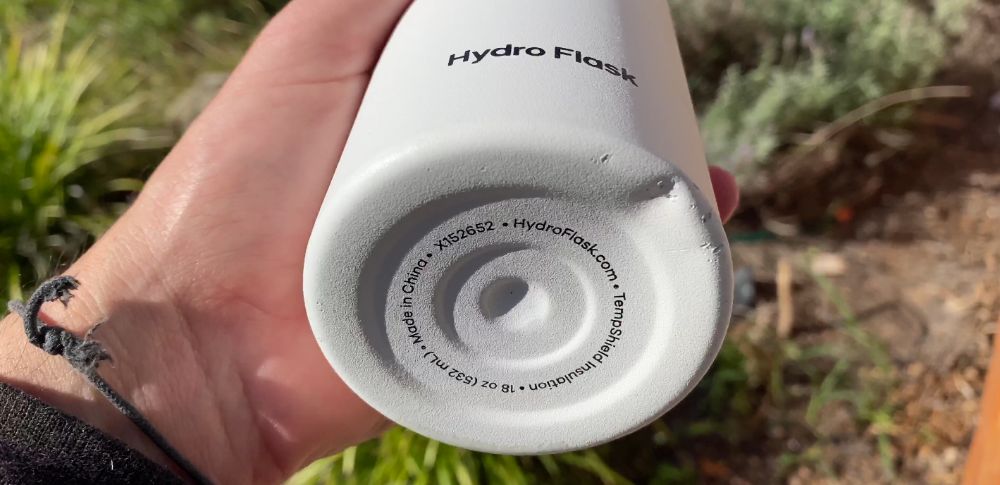 Unfortunately, the white Hydro Flask pictured above came back from a week of school looking like this on the bottom: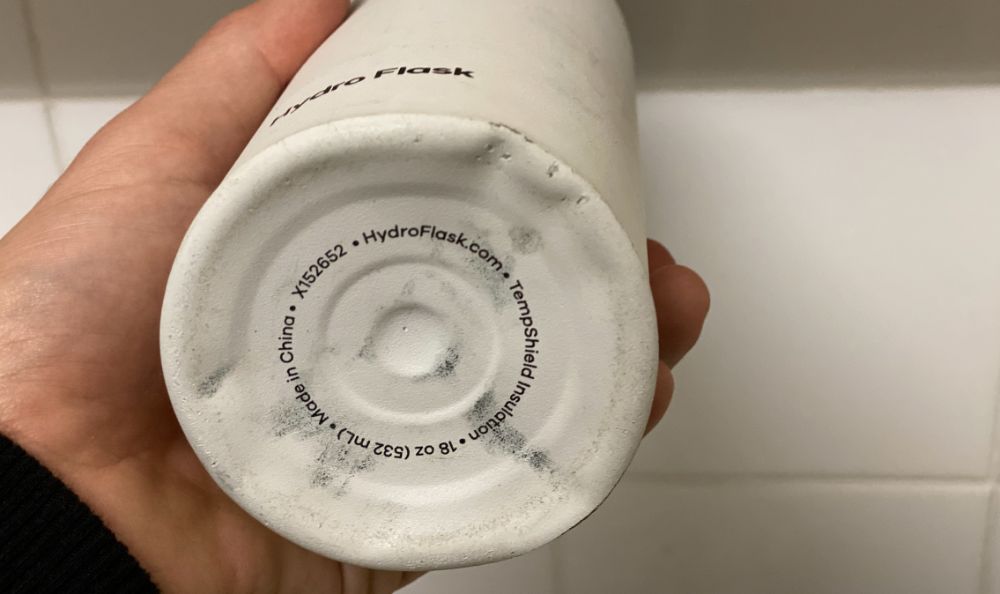 The insulation was gone in bottle but because it's from physical damage I didn't contact the company for a replacement. The bottle still works great and holds water, but it doesn't keep it cold for long anymore.
Unlike Nalgene's warranty, you'll need to send in your bottle for review and provide proof of purchase from an authorized retailer. As someone who doesn't keep receipts this might be hard for me to show (unless I have it in an email somewhere).
Winner: Nalgene
While each individual Hydro Flask can be expected to last longer than a Nalgene on average, Nalgene's world class customer service and absurdly generous lifetime warranty give them a slight edge.
When you buy a Nalgene Bottle, you're truly buying it for life.
Colors, Sizes, And Features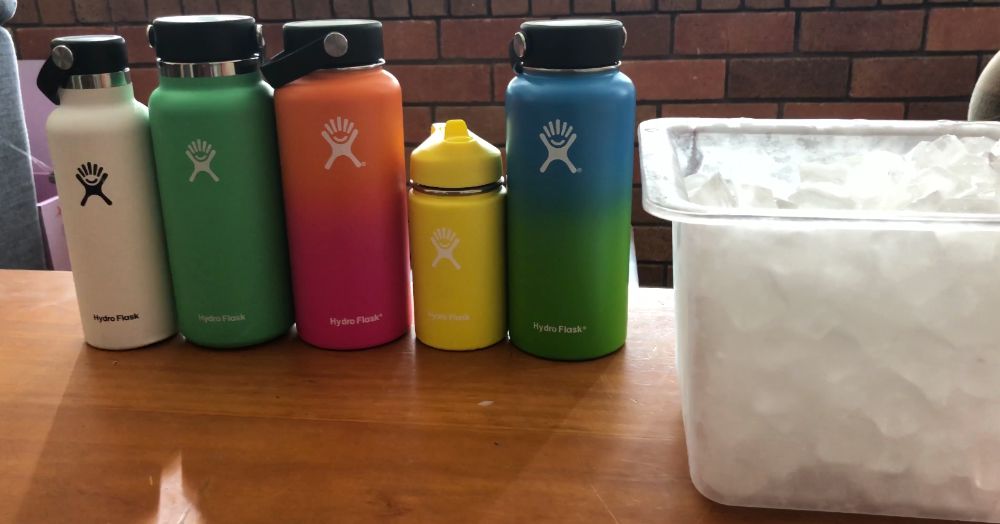 With both Nalgene and Hydro Flask basically lasting a lifetime choosing a water bottle becomes a very personal choice.
Having a lot of different options can make choosing the perfect water bottle for you easier and more rewarding.
Nalgene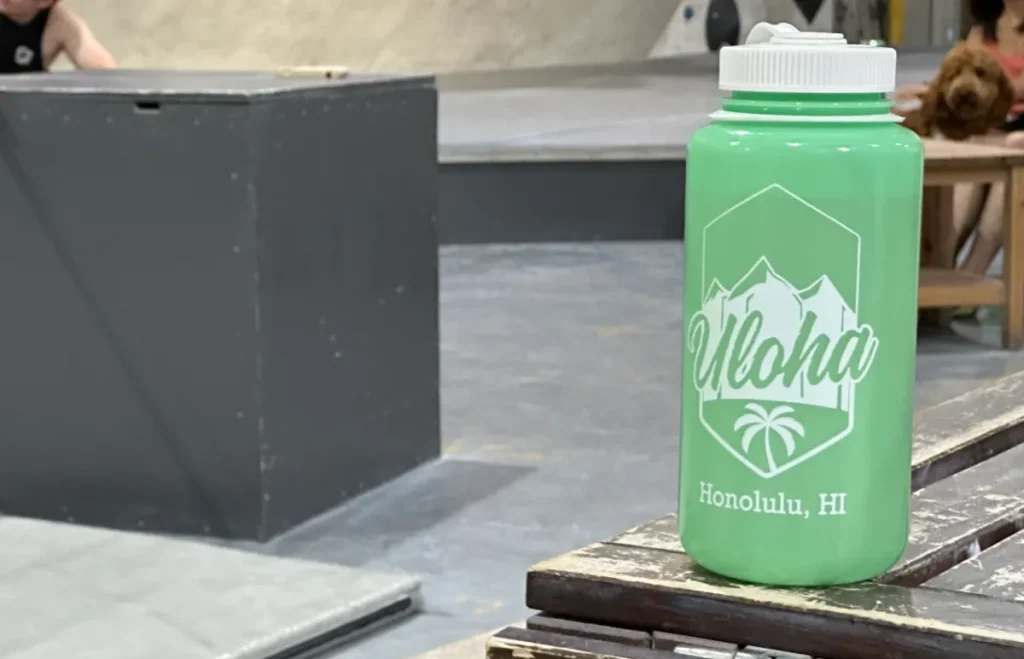 Nalgene Bottles range in size from a kid-friendly 10 oz to a massive 64 oz jug. But honestly it feels like there is really only one Nalgene size – the 32 oz. It's the one almost everyone has and everyone gets.
Nalgene's most popular bottle is their tried and true 32 oz Nalgene Sustain Water Bottle, made of Tritan Renew plastic with a classic twist-off lid.
Pretty much everyone either has this bottle or the narrow mouth version. Is a situation where "one size suits most" and as a Nalgene owner it feels cool at the gym that so many people have the same water bottle as me.
However, Nalgene goes have a VERY WIDE variety of colors of their water bottles. So while a lot of people at my climbing have the same size Nalgene as me, I'm yet to see one person with the same color as me.
Above is a picture of a limited edition Nalgene that my friend got on her trip to Hawaii. She was so proud of it and love it and despite us having the same water bottle her felt unique and important to her.
If you want something lighter for the trail, Nalgene's Ultralite Bottle weighs in at only ⅕ of a lb. Or if you'd prefer a non-insulated stainless steel bottle, Nalgene's is one of the few on the market.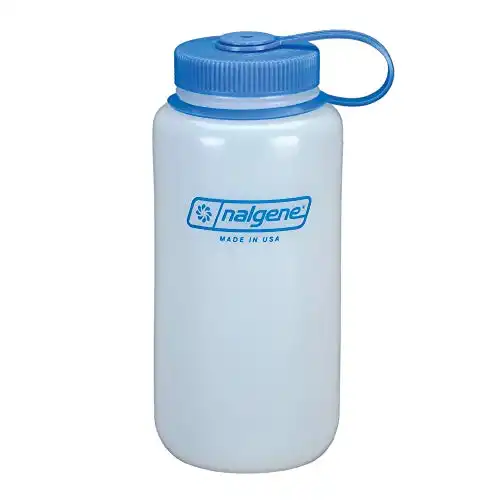 Hydro Flask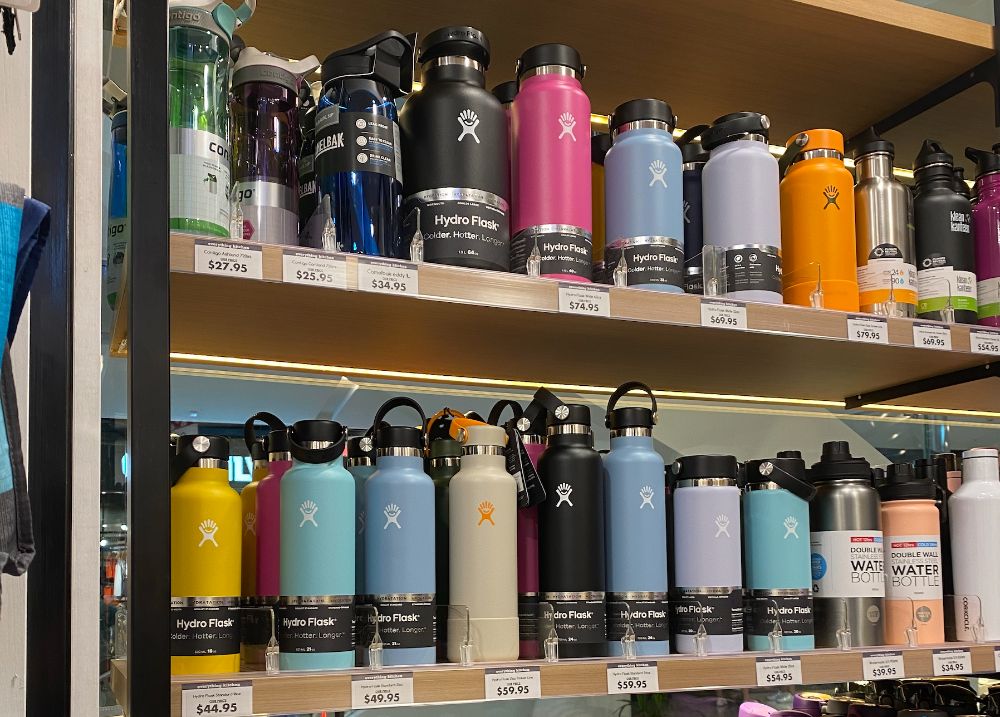 On the other hand, Hydro Flask bottles range in size from 12 to 128 oz, with an insane variety of color options, limited edition versions and several caps that can drastically change the way you drink. From twist-off chug caps to flip-out straws, you're sure to find a lid that works well for you. Click here to see the best Hydro Flask lids.
Hydro Flask's most popular bottle is their 32 oz wide mouth Flex Cap Bottle, though I find myself swapping between the different Flex lids constantly depending on what I'm doing and I also own as 12 oz (perfect for coffee) and 18 oz (great for kids) plus before I lost them I also owned a 24 oz and 32 oz trail series bottle.
Not to mention the food flasks and tumblers that I have that are great too.
Hydro Flask are known for their wide variety of bright and fun colors. I even created a Hydro Flask color picker quiz to help you choose which color to buy.
Winner: Hydro Flask
Although Nalgene offers a good range of sizes and colors, along with a few bottles and lids that provide additional functionality, most Nalgene Bottles are very simple and very similar as a result. 
Hydro Flask, on the other hand, offers a wide range of sizes, colors, and caps that can be mixed and matched to make your bottle feel all your own.
Whether you want a small black bottle with a flip-out straw or a huge yellow bottle with a chug lid, Hydro Flask has you covered.
Weight And Portability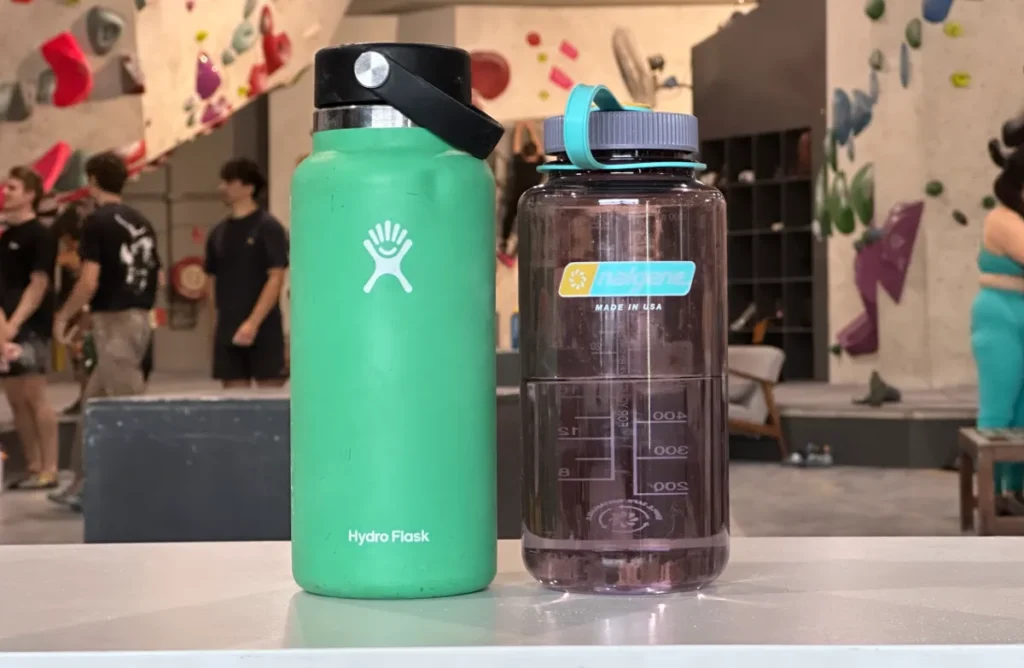 Above you can see a 32 oz Hydro Flask and a 32 oz Nalgene side by side. You can see that the Hydro Flask is a fair bit larger than the Nalgene, even though they hold the same amount of water.
Their weight is also very different. Below you can see the weights for the different 32 oz versions of each brand.
| Bottle | Weight (grams/ounces/pounds) |
| --- | --- |
| Hydro Flask 32 oz (Regular) | 428.1 g / 15.1 oz / 0.94 lbs |
| Hydro Flask 32 oz Trail (Lightweight) | 352.7 g / 11.56 oz / 0.78 lbs |
| Nalgene 32 oz (Wide Mouth) | 182.8 g / 6.45 oz / 0.40 lbs |
| Nalgene 32 oz (Narrow Mouth) | 166.9 g / 5.89 oz / 0.37 lbs |
| Nalgene 32 oz Ultralite | 108.6 g / 3.83 oz / 0.24 lbs |
| Nalgene 32 oz Narrow Mouth (1995 version) | 175.7 g / 6.20 oz / 0.39 lbs |
Nalgene
A big part of the reason Nalgene Bottles are so popular for outdoor activities is because they're very lightweight.
The standard 32 oz Tritan Bottles weigh around 0.4 lbs, while the HDPE Ultralite Bottles weigh about half that. Perfect for backpacking, climbing, or any other activity where weight matters.
That being said, Nalgene Bottles can be a little awkward to carry around. They're chunky so they're difficult to grab by the bottle itself, and the lid strap isn't actually intended for carrying (and may break if you make it a habit).
Luckily, there are plenty of other great lids that work with Nalgene Bottles that provide a built-in handle. Or, if you're the crafty type, DIY Nalgene Holders are surprisingly easy to make. 
If I'm going on a hike and minimizing weight is really important to me then I'll choose the Nalgene over the Hydro Flask.
Hydro Flask
Stainless steel is a heavier material than plastic, so naturally Hydro Flasks will be heavier — especially considering that Hydro Flasks are double walled to insulate your drink.
The base 32 oz model weighs about 1 lb with the larger 40 oz bottle weighing in around 1 ¼ lbs.
While those weights are easily manageable at home or around the office, I don't really want to lug around a tank of a water bottle on the trail for hours at a time if I can carry something lighter.
I will make the trade off on hot days where I want water to stay icy cold for longer or cold days where I want to keep coffee hot. But often I will choose the Nalgene over the Hydro Flask for hikes because they are lighter.
Partially offsetting their increased weight, Hydro Flask lids all come equipped with easy-to-carry, ergonomic handles.
Winner: Nalgene
Even though I wish Nalgene Bottles came with a carrying handle at baseline, it's an easy problem to solve. But no matter what you do, you can't make a Hydro Flask any lighter.
For that reason, Nalgene Bottles take the edge in weight and portability.
Ease Of Use And Maintenance
When it comes to keep my water bottle clean and in good condition I have to be completely honest with you. I am a lazy boy.
The easier something is the keep clean the more likely it is to stay clean for me and the more I will prefer that bottle over another one.
Nalgene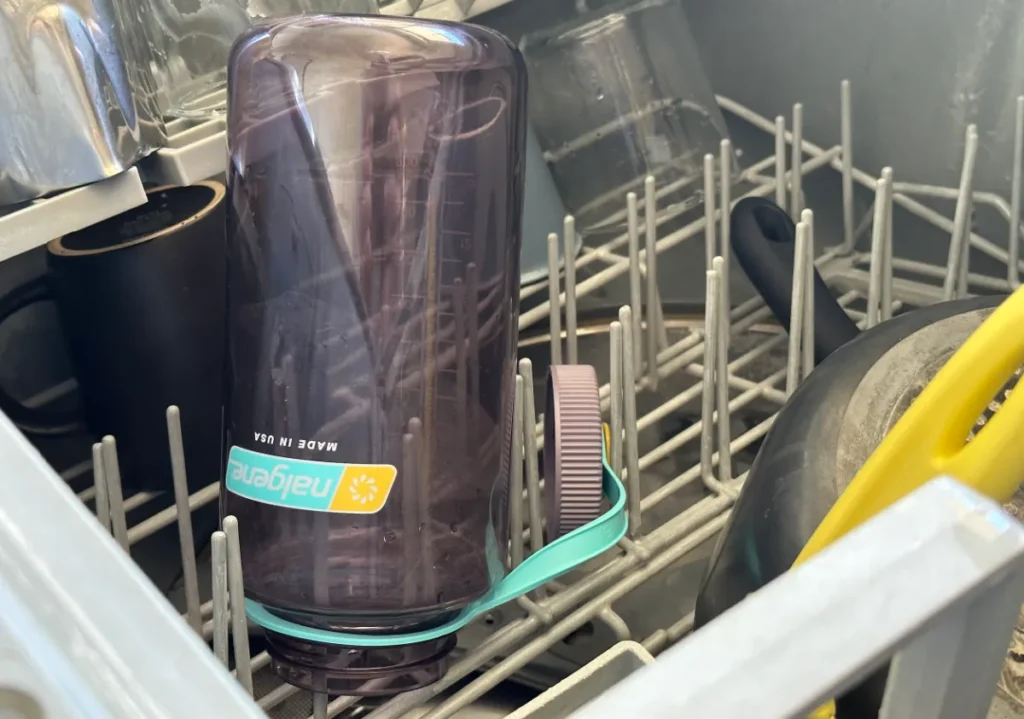 A big part of what makes Nalgene Bottles great is their simplicity — being a basic bottle with a simple screw on lid.
There's not much to caring for a Nalgene, outside of a straightforward cleaning routine. There are no rubber gaskets or anything where you need to worry about mold secretly getting under the lid.
All Nalgene Bottles are dishwasher safe, though I prefer to hand wash my bottles whenever possible due to evidence that dishwashing plastic may cause more chemicals to leach.
But the other day I had 3 day old caked smoothie stuck inside my Nalgene and I did NOT want to hand wash it. Too much effort.
So I threw it in the dishwasher and it came out perfectly clean, even the lid was clean.
Just be sure to wash daily whenever possible to prevent odors and mold (if you're only drinking water, you can probably get away with a few days between cleanings).
Hydro Flask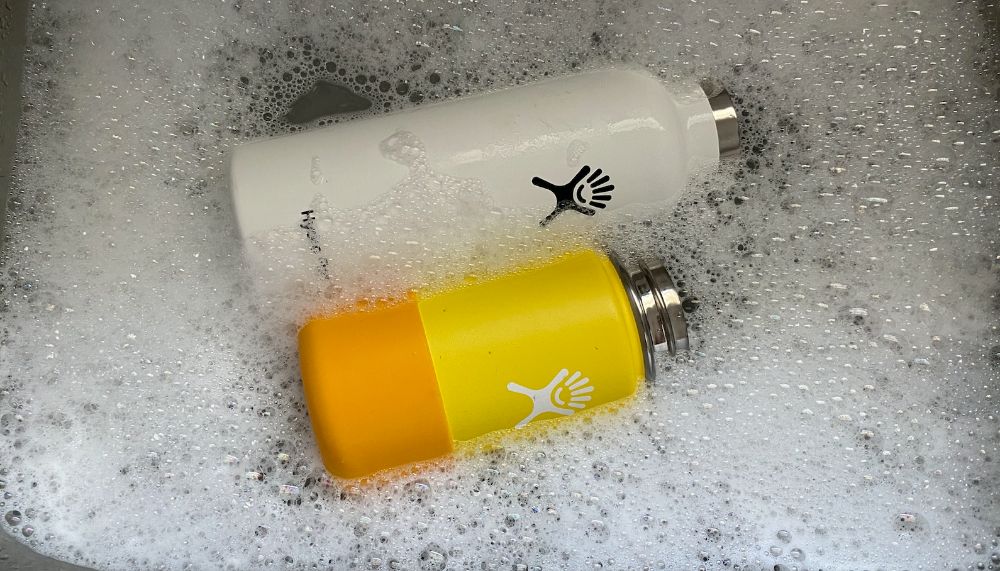 Hydro Flasks require a bit more maintenance than Nalgene Bottles, but nothing excessive.
They're not dishwasher safe because machine washing could damage the insulated seal. So when I leave smoothie in my Hydro Flask (and yes I do this too…don't judge me) I have to soak it and hand wash it which can be difficult.
The other day my Hydro Flask started smelling like mold even after cleaning. So I soaked it in some vinegar and now it's good as new.
Even hand washing takes a bit more effort thanks to the gasket in the lid, which is one of the most likely places for mold to grow in your bottle. 
Winner: Nalgene
Nalgene takes the edge in ease of maintenance, but it's a pretty minor difference.
Water bottle cleaning tablets can help make the routine cleaning of either bottle a breeze, though they shouldn't fully replace deep cleanings with a good scrub from a bottle brush every week or two. 
Water Safety And Health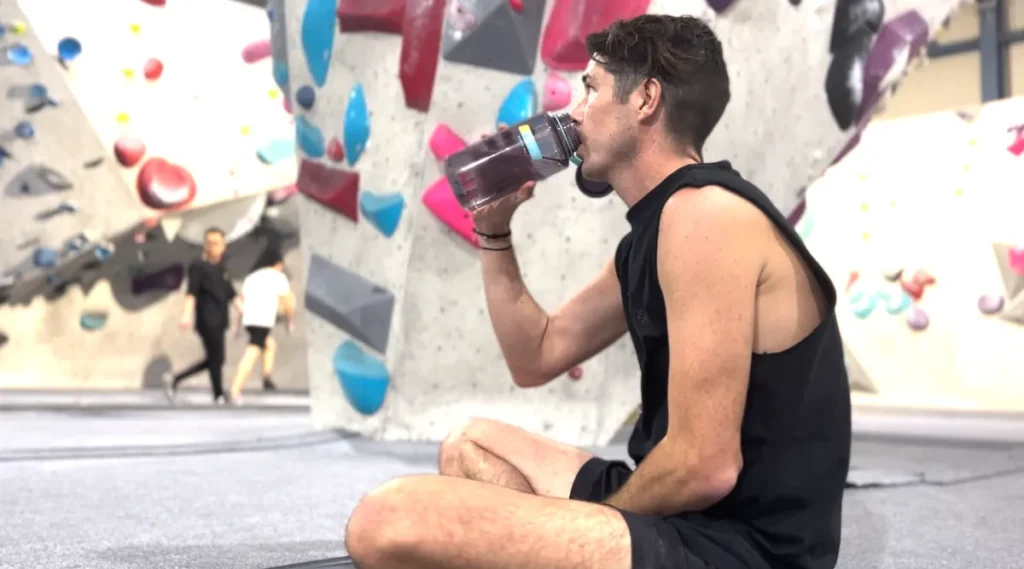 This is where I start to get a bit nerdy and a lot of people might not be concerned about drinking from plastic. But back when the BPA information came out in 2008 I was shocked to learn that my plastic water bottles could be disrupting my hormones and my health.
I drink water to be healthy and I want to live a long time. So I want to make sure my water bottles are safe.
Nalgene
You may remember the public health scare surrounding plastic water bottles back in 2008 where BPA, a common additive meant to make plastic more resistant to shattering, was found to cause a wide range of medical problems — from infertility to cancer, and more.
Nalgene immediately pulled all of their bottles containing BPA from shelves and went to work developing a safer alternative.
Since that time, Nalgene Bottles have been made of either Eastman Tritan plastic or HDPE — both of which are free of BPA, BPS, BPF, phthalates, and all other known or suspected harmful compounds.
Modern Nalgene Bottles have been approved as safe for food and drink by the US Food and Drug Administration. 
But to some, it's not quite that simple. After all, BPA was considered safe… until it wasn't. In fact, in the USA items containing BPA are still considered safe by the FDA even though they obviously aren't. 
Nalgene bottles are now made from a plastic that is BPA and BPS free, but there are conflicting studies on this – most of which contain a strong conflict of interest. So the data is still out on whether or not this type of plastic leaches chemicals into your drink. Learn more about whether or not Nalgene bottles are safe to drink from.
While I'm comfortable using Nalgene Bottles for cold drinks, I tend to avoid using them for hot drinks completely. I also use metal water bottles when I can and will quickly replace water that has been in my plastic Nalgene bottle for any significant length of time.
I'm semi-confident in using them but I don't like to use the bottles as my daily driver due to the risks of plastic chemical leaching.
Hydro Flask
Hydro Flasks are made of 18/8 304 grade stainless steel, one of the safest and highest grades of stainless steel available.
Stainless steel makes the perfect material for water bottles because it contains no chemicals that can leach into your water (even if the bottle is damaged or aged) and is safe to use with hot or boiling water. 
I did a full deep dive into whether or not Hydro Flask stainless steel bottles can cause cancers or have health risks and from all the studies that I looked into I couldn't find any data suggesting that stainless steel isn't safe.
Considering the high heats stainless steel undergoes in cooking (like in fry pans) I am not worried about having both hot and cold drinks in my Hydro Flask and regularly use it for both without concern.
There's also the added benefit that I now have a lid for my Hydro Flask which uses UV light to kill bacteria in my water. A very handy thing to have.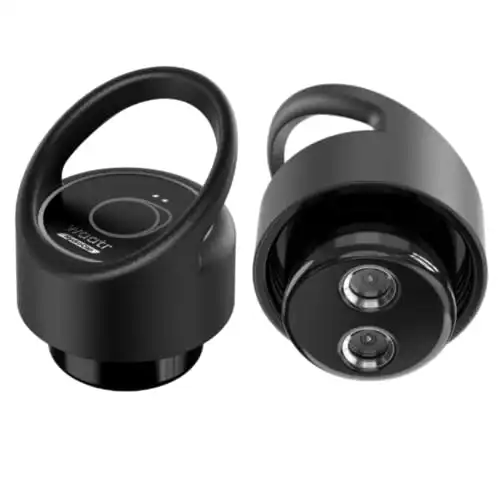 Winner: Hydro Flask
Hydro Flask Bottles take the edge in health and water safety.
Even though Nalgene Bottles manufactured after 2008 are about as safe to drink from as any plastic bottle could be, lingering doubts lead many cautious consumers (including myself) away from plastic food and drink containers as a whole.
Stainless steel, on the other hand, is one of the safest materials for water bottles.
Environmental Impact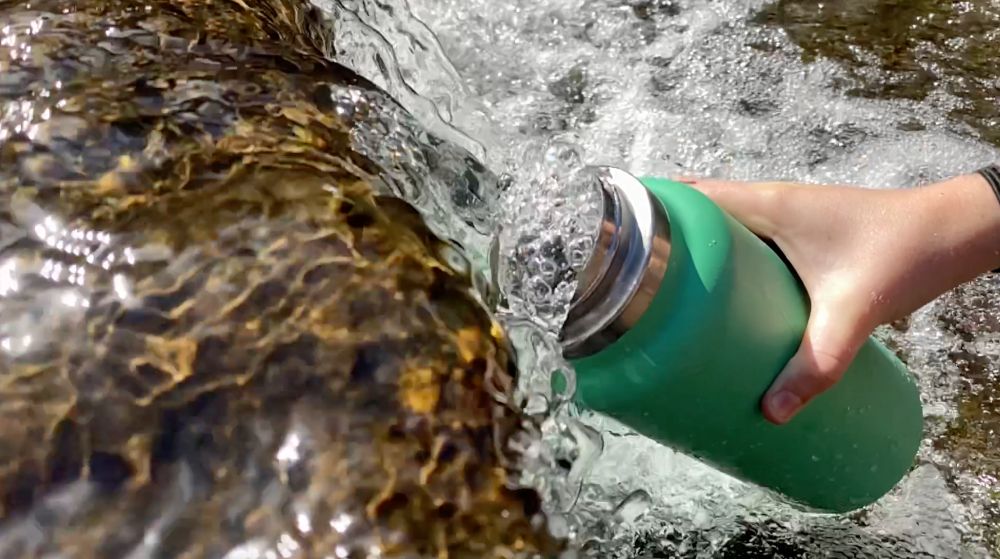 While I'm not the most environmentally friendly person in the world (I know I could be doing more) I do try to do my part where possible.
Choosing an eco-friendly brand of water bottle is important to me and makes me feel proud of the bottles I have.
Nalgene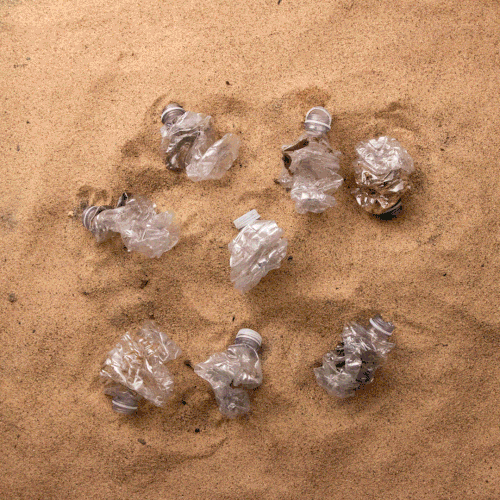 Nalgene is a great company that takes all the right steps to make their bottles as environmentally friendly as possible.
Nalgene Bottles have always been recyclable, but they took it a step further in 2020 when they released their line of Sustain Bottles, made of up to 50% certified recycled material.
That being said, Nalgene Bottles are still plastic, which is inefficient and difficult to recycle, often finds its way to the landfill anyway where it slowly breaks down into harmful microplastics, and is damaging to produce. 
In 2019 Nalgene established the Nalgene Water Fund to support domestic communities struggling with access to clean water. Nalgene partners with grassroots nonprofits to raise funds and has so far donated around $400,000 in donations from sales of Water Fund Exclusive bottles.
Given their revenues are likely in the hundreds of millions a year this is a drop in the bucket of what they could be doing but at least they are doing something.
Hydro Flask
Stainless steel, on the other hand, is one of the most eco-friendly materials out there.
It's infinitely and fully recyclable, doesn't release toxic run-off when produced, and is often sourced from scrap materials. 
This doesn't mean Hydro Flasks are completely eco-friendly. Obviously they produce some waste and their lids are made from plastic too, but they seem like the better choice to me.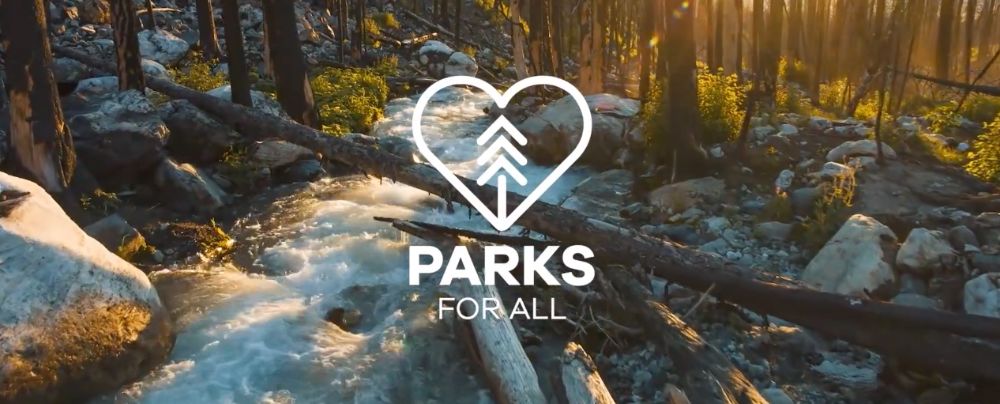 Hydro Flask also has their Parks For All program which support non-profit organizations focused on building, maintaining, restoring and providing access to parks. To date they have donated more than 2.5 million in support.
This sounds like a lot but for a company with revenues in the hundreds of millions or billions per year it's really just a drop in the bucket.
Winner: Hydro Flask
Even though Nalgene does everything they can to make their bottles sustainable, there's only so much a company producing plastic products can do.
Hydro Flask Bottles are better for the environment, and it's not particularly close.
Nalgene vs Hydro Flask: Which Bottle Is Best?
Ultimately, the best bottle between Nalgene and Hydro Flask comes down to your preferences and the way you intend to use your bottle.
I use both my Nalgene and Hydro Flask Bottles regularly, but for very different purposes.
If I'm on the trail or at the climbing gym, it's always my Nalgene. They're more portable and I won't mind as much if I lose or break one.
If I'm at my desk or sitting around the house, I find myself reaching for a Hydro Flask. The heavier weight isn't really a problem and having ice cold water or piping hot coffee is wonderful.
No matter which bottle you choose, I'm sure you'll be happy. But really, why not both?
Best For:

Budget shoppers looking for a lightweight, simple, super durable plastic water bottle.

Best For:

Those wanting a high-quality water bottle that will keep drinks cold or hot for hours at a time
Best Value
Best For:
Budget shoppers looking for a lightweight, simple, super durable plastic water bottle.
Best Performance
Best For:
Those wanting a high-quality water bottle that will keep drinks cold or hot for hours at a time