Properly cleaning a Nalgene Bottle can prevent your bottle from growing mold, developing odors, and making you sick.
Whether you have a wide mouth or narrow mouth Nalgene bottle (I have both) safest and most effective method to clean a Nalgene is to wash it by hand using a bottle cleaning brush.
But with all the different options available, it can be tough to know which bottle brush will do the best job of cleaning your Nalgene Bottle.
The best bottle cleaning brush overall for Nalgene Bottles is the MOSOLAN 3-in-1 Bottle Brush Set. It's long enough to reach the bottom of your bottle, firm enough to scrub off any drink residue or mildew, and comes with two smaller brushes to get into all the cracks and crevices under the lid.
For daily, light cleanings after only drinking water, I use a silicone bottle brush because it's easier on the plastic and lasts for months before needing to be replaced.
Ultimately, the best bottle cleaning brush for a Nalgene depends on the type of bottle you have and what you use it for.
Whichever brush you choose, make sure you're cleaning your Nalgene properly, checking for mold and mildew, and paying special attention to the lid.
How To Choose The Best Bottle Brush For Your Nalgene Bottle
When deciding on a bottle brush for your Nalgene Bottle, it's important to consider performance, material, and price.
Performance
With performance I look for brushes that can deeply clean my Nalgene bottles without scratching them.
I often have juice, smoothies and other items in my Nalgene which (when I forget about them) can get caked on there. So I need a brush that is great for everyday use but also great for those times I haven't washed my Nalgene in a while.
The brush should also last a decent amount of time before needing replacing. I don't want to be buying a new one every week.
Most Nalgene Bottles are between eight and ten inches tall. Choosing a brush that's at least 12 inches long will ensure that you can scrub the bottom of the bottle while having enough handle left to hold onto.
Bottle brush kits also come with smaller brushes that will help you scrub all the tiny cracks and crevices under the lid. If you buy a bottle brush rather than a cleaning kit, mini brushes can be purchased separately.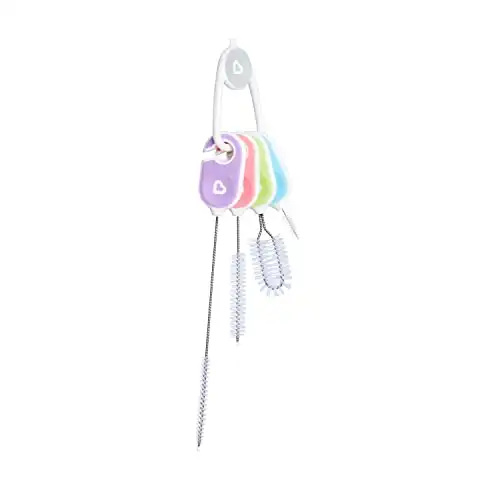 Material
Bottle brush heads generally come in one of three different materials — nylon bristles, sponges, and silicone.
The best material for you depends on the way you use your Nalgene, with each having unique advantages and disadvantages.
Brushes with nylon bristles do the best job of scrubbing away mildew and stuck-on drink but may leave micro scratches on your bottle's surface.
Sponge brushes are more gentle on your bottle, but need to be replaced much more often because, like regular sponges, will harbor bacteria.
Silicone bottle brushes last the longest of any bottle brush because they're easy to sanitize, but don't do a very good job of scrubbing. Silicone brushes are best if you only use your Nalgene for water.
Price
Budget bottle brushes can be found for just a few dollars, but are generally poorly constructed and sometimes fall apart after just a few uses.
In the end, you'll actually save money by investing in a higher-quality bottle brush that can last for weeks or even months.
Ultimately, the difference in price between quality bottle brushes is minor and not enough to base your decision on — with most brushes costing between $10 and $15 on Amazon.
1. Best Nalgene Bottle Cleaning Brush Overall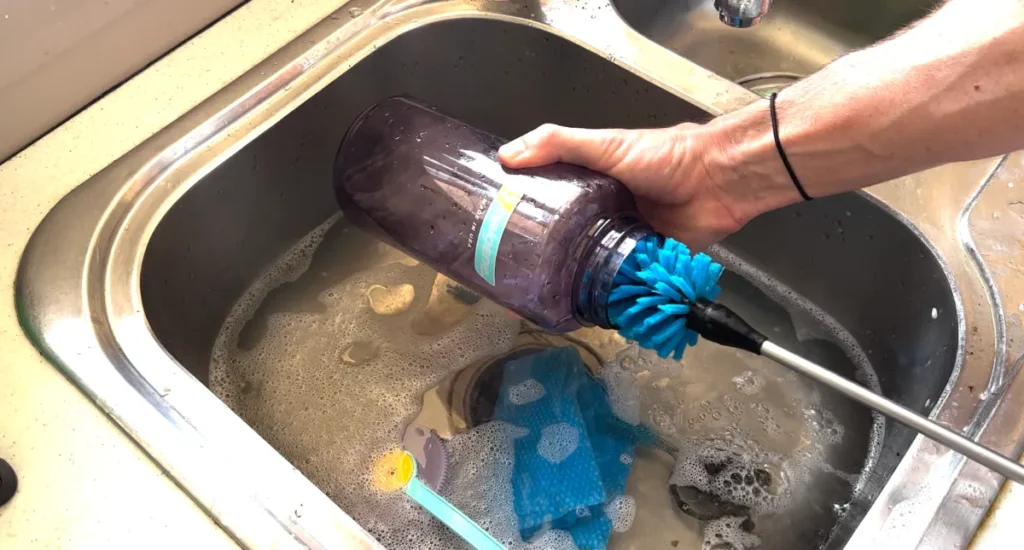 My go-to brush set for deep cleaning my Nalgene Bottles is the MOSOLAN 3-in-1 Bottle Brush Set, which includes:
A 15 inch bottle brush that's plenty long enough to scrub the bottom of your bottle (Sometimes I get the Flat Headed set to really get into the corners, but the Round Head works well enough).
A detail cleaner that's perfect for scrubbing the threads and lid.
A straw brush that I use to clean out the small lip on the underside of the cap or I use for straws on other (non-Nalgene) bottles.
While this brush is good it isn't revolutionary or anything. After all it's just a bottle brush.
Honestly, what makes this brush so good is the detailed cleaner that comes with it. It's just perfectly sized and shaped to fit under the lids of my Nalgene bottles making them super easy to clean.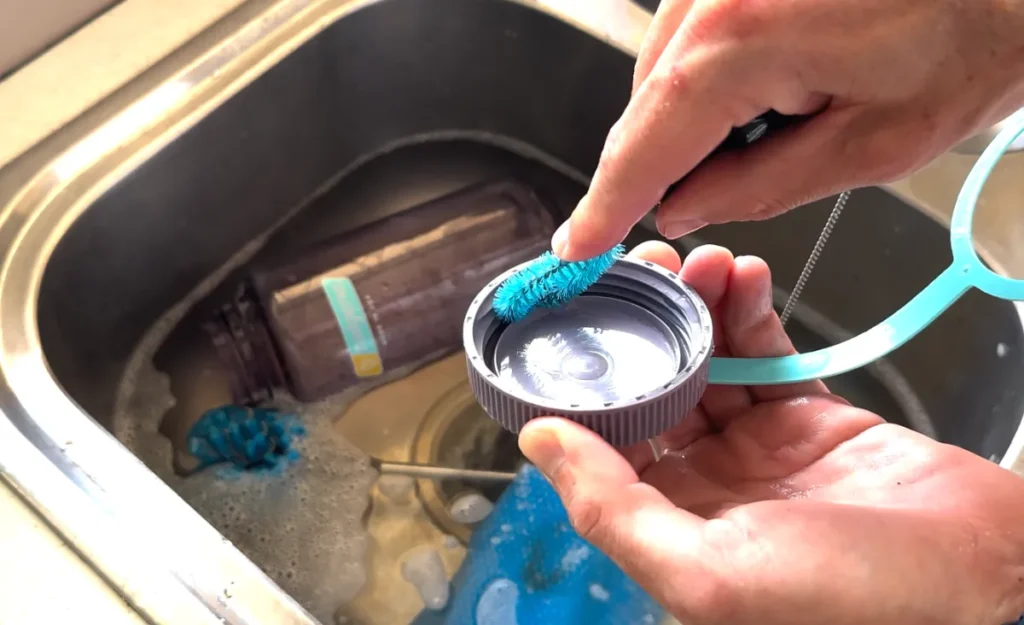 My only complaint about the MOSOLAN Bottle Brush Set is that the bristles are a little soft and sometimes struggle to remove really caked on leftovers. But most of the time, after a good soak it does the job just fine. It's also really great for getting into and cleaning my narrow mouth Nalgene bottle.
I use my MOSOLAN kit any time I drink something other than water from my Nalgene and for my weekly (okay… semi-weekly) deep cleans.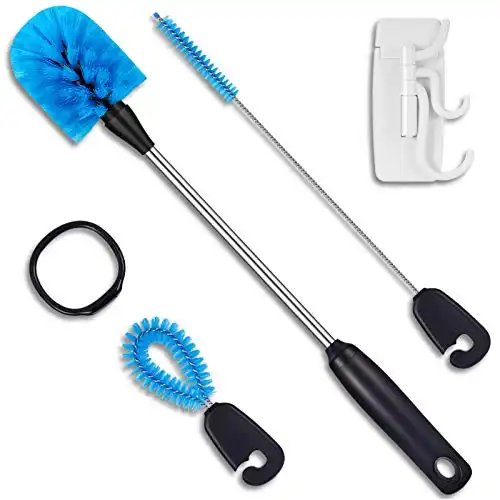 2. Best Bottle Cleaning Brush For Ultralite Nalgene Bottles
If you want something a little more gentle on your bottle, the YDAZU Soft Sponge Bottle Cleaner may be just the right match.
It is topped with a sponge rather than nylon bristles, which means it seems to be better at removing and scrubbing away small residue like that left over from tea or coffee.
I find the nylon bristle ones take a lot of effort to get smaller stains out and they can miss spots, whereas a sponge bottle brush gets this stuff really easilt.
This Bottle Brush in particular is long enough (at 15 inches) to scrub all the interior surfaces of your Nalgene and soft enough to leave no scratches.
The sponge is surprisingly durable and doesn't separate easily from the handle like many cheaper sponge brushes.
But sponge brushes aren't perfect:
The sponge isn't quite as effective at removing stuck on residue if you use your Nalgene for juice or smoothies. You'll probably need to soak the bottle first to soften any stuck-on drink and it can really get caked on the sponge and hard to get off.
You have to replace sponge brushes much more often than those with nylon bristles or a silicone head. Like regular sponges, the sponge on the YDAZU Bottle Brush can harbor all sorts of bacteria. Clean it after every use and replace it every couple of weeks.
Because it's sold as a bottle brush only, you'll also need to buy a smaller brush to wash the underside of the lid thoroughly as this can't really reach those areas.
Regardless, the YDAZU Soft Sponge Bottle Brush is the best sponge bottle brush I've used, and I've been through quite a few over the years.
It's my choice to wash my Ultralite Nalgene Bottles, which are more prone to scratching than Tritan bottles.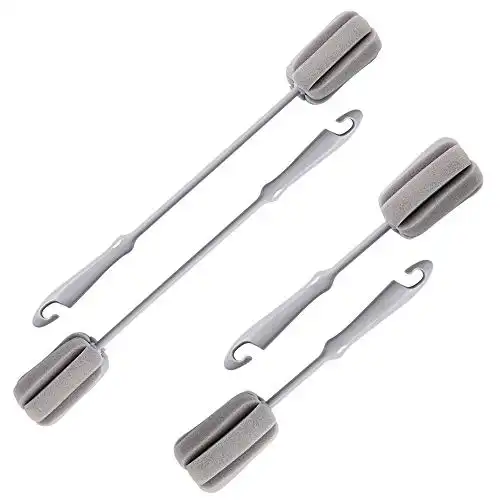 3. Best Bottle Brush For Daily, Light Cleanings
A Kitchiny Silicone Bottle Brush is my favorite bottle brush for routine cleanings. After all, if I'm only drinking water (and washing my Nalgene as often as I should), it doesn't really get very dirty.
A silicone brush cleans more than well enough and lasts much longer than other brushes. It also doesn't absorb as many stains, particles, odors or bacteria compared to other bottle brushes I have used.
The downside of this brush is that it's not the most amazing brush when you really have caked on residue from that smoothie you drank 5 days ago and left in your car. You'll still need a brush with a sponge or nylon bristles for deeper cleanings and stuck-on drinks.
Alternatively if you have a lot of residue or your Nalgene bottle has gotten cloudy use these techniques to clear up a cloudy Nalgene bottle easily.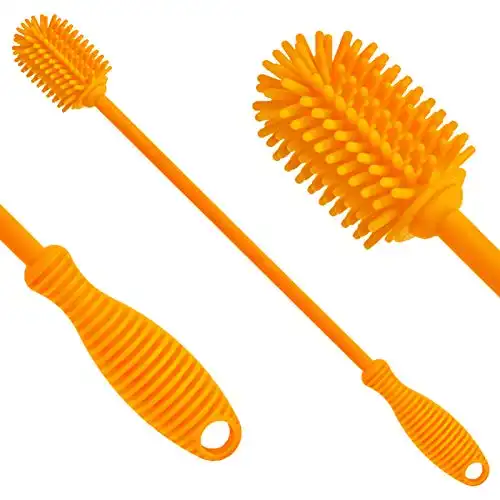 Kitchiny Silicone Bottle Brush for Narrow Neck containers
With a 12.5" long steel shaft and 2" silicone bristle head this brush is perfect for getting deep down into tall, narrow containers such as water bottles.
Because it's silicone it doesn't absorb unpleasant odors, stains and bacteria like a regular bottle brush and it won't scratch your bottles. Long lasting and dishwasher safe.
Buy Now at Amazon
4. Best Nalgene Bottle Cleaning Brush For Kids
No one likes cleaning bottles, and my kids least of all. While Boon's Cacti Bottle Cleaning Brush Set doesn't technically make cleaning "fun" it definitely makes it less "not fun" and helps to make my kids slightly more excited to actually wash up their bottles rather than leaving them for me.
It works just as well as the Mosolan kit but is much cuter and looks better on your counter top.
You won't be fooling anyone with this set though it's clearly not actually a cactus but it still does look pretty nice.
It includes a bottle brush, straw brush, and two detail brushes with fun, kid-friendly handles.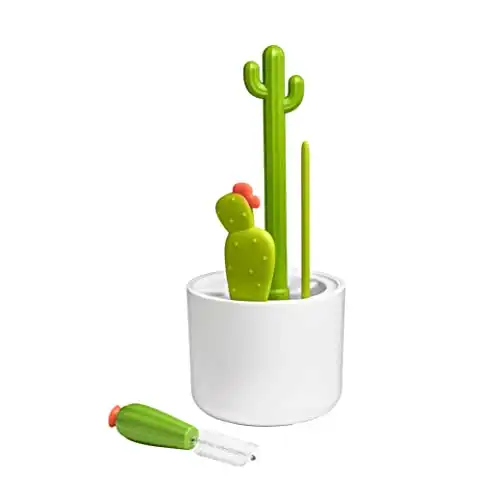 5. Best Nalgene Cleaning Kit For Travel And Camping
Cleaning my Nalgene on the road when I'm camping can be tricky because I don't really want to take a large long bottle brush with me as they can be a pain to carry and store (and keep from getting dirty).
Packing up into a small, luggage-friendly carrying case, the TechoEcho Travel Brush Set is perfect for car camping, road trips, vanlife and travel.
It includes a bottle brush with a snap on extension handle, detail brushes, a dish soap bottle, and a drying rack — everything you need to keep your Nalgene clean away from home.
It's not the set I would choose to use at home and every single day. But if you're traveling and need to keep things small and compact it's a good option