A big part of what makes Nalgene Bottles so great is their simplicity. They are great without you having to do anything extra to them.
But who could really say no to something that makes their favorite bottle just a little bit better or gives it a new use entirely?
After using Nalgene Bottles for years, I've learned a bunch of cool tricks to make my Nalgene do more for me, whether on the trail or at the office.
Some of my favorite Nalgene Bottle hacks are to
Switch to a more functional lid (like a narrow mouth adapter, hydration system converter, or coffee filter lid)
Flip the lid strap upside down to prevent it from smacking your face when you drink
Replace the lid strap with paracord (or survival paracord) to make it more durable
Use an insulating cover to keep water colder for longer and stop it sweating
Use it as a hot water bottle to keep warm on cold hikes
Freeze a half-full bottle on its side before filling it to have a large block of ice inside
Plus a few other cool tricks
I wish I had learned a lot of these hacks sooner, I'd have gotten a lot more out of my Nalgene Bottles and may have saved a headache or two.
But that's exactly why I'm sharing my 12 favorite Nalgene Bottle hacks with you below.
1. Upgrade Your Lid
The first thing I do with all of my new Nalgene Bottles is replace the lid with a humangear capCap to make the wide mouth easier to drink from. This is especially helpful for my kids who sometimes struggle with the wide mouth when the bottle is full (and heavy).
Now you might be wondering why I don't just get a narrow mouth Nalgene instead, and the answer is pretty simple. A wide mouth bottle is really convenient… for everything but drinking.
The wide mouth makes it easier to clean, add ice, fill from a stream, dump, store stuff in, and pretty much every other thing I use my Nalgene Bottle for.
A capCap lid (or one of the many others like it) gives me the best of both worlds.
2. Share Lids Between Your Bottles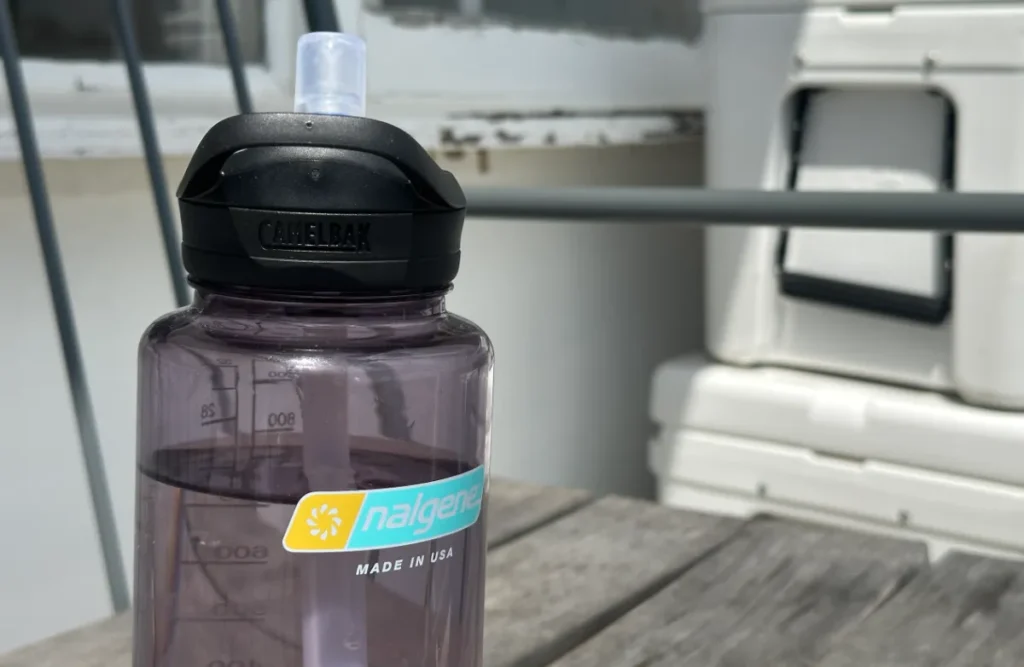 Another interesting hack I discovered, mostly by accident, is that many wide mouth bottles have interchangeable lids.
I often mix and match wide mouth CamelBak and Contigo lids with my Nalgene Bottles depending on the type of cap I want at the time.
I love using the Contigo Autoseal lid as I find it the simplest and easiest to use.
My kids love to use the Nalgene Bottles with CamelBak lids for the flip out straw. The Eddy+ straw lid (available at Amazon) actually worked out to have the perfect length straw for the Nalgene. It's a match made in heaven.
3. Turn Your Nalgene Into A Hydration System
If I'm going backpacking, I'll almost always bring along a hydration system conversion kit.
I'm usually packing a Nalgene Bottle (or two) anyway, so there's no reason to carry a CamelBak or bladder as well when I can just convert my water bottle into a hands-free Hydration system.
Just screw the converter on, leave the bottle in your pack, and clip the straw to a shoulder strap. Easy, hands-free drinking without adding much weight.
Plus it means I get to take my normal backpack and I can pack all the swimmers, towels and extra food snacks I need for the kids, but I still get to have a Hydration system.
This doesn't just work with Nalgene bottles but can work with most wide mouth bottles and even standard PET bottles too.
4. Use A Filter Lid To Brew Coffee Or Tea
I'll be completely honest with you. I am a coffee snob. I'll either drink great coffee or no coffee at all. But when it comes to tea I am way more lenient and nothing beats a warm tea after a cold swim (or during a cold night).
On cold mornings on the trail, there's nothing like a nice hot cup of coffee.
A coffee filter lid for your Nalgene is small, lightweight, and makes a decent cup of brew. It's also great for tea leaves (which is what I'll use it for).
Just be mindful, using hot water in a plastic bottle may leach toxins into your water and I personally try to avoid it. I only ever use my coffee filter lid with a stainless steel Nalgene Bottle.
5. Flip The Lid Strap Upside Down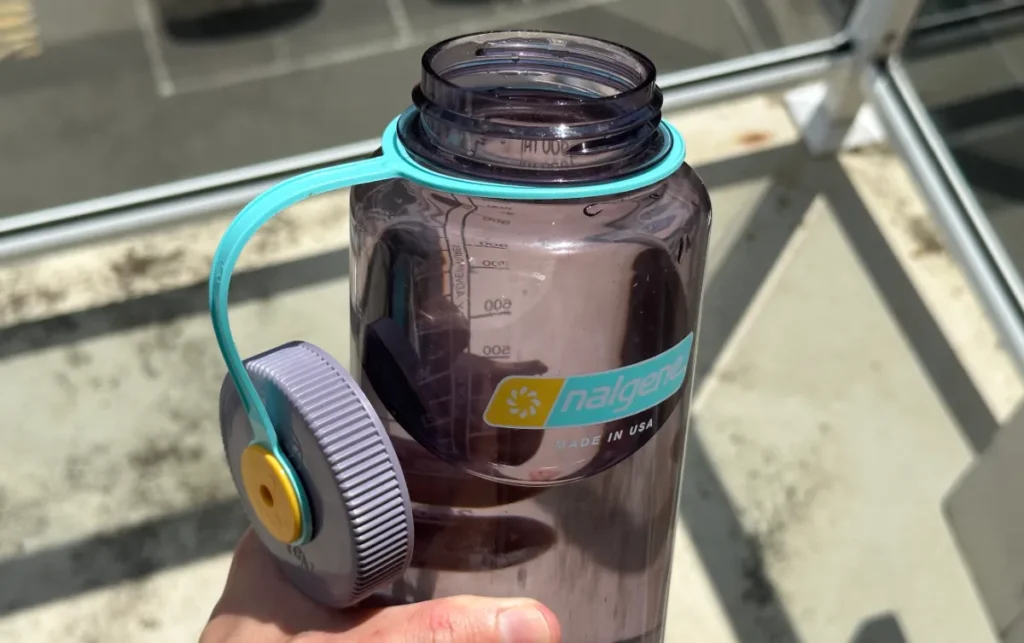 If you're tired of getting smacked in the face by your lid every time you take a drink, simply pop off the lid strap and reattach it upside down.
Instead of flopping upward toward your face when you drink, the lid will angle downward toward your bottle instead.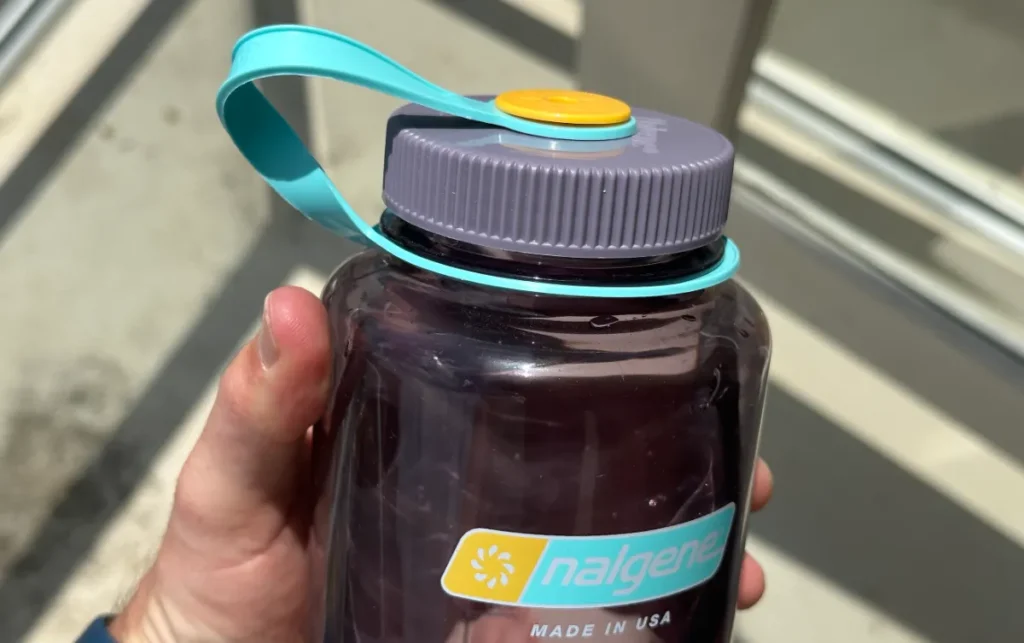 It'll have a bit of a twist in the loop when it's closed making it slightly harder to carry the bottle by its loop, and maybe leading to a bit more wear and tear over the years. But to avoid being hit in the face every time I have a drink I think it's worth it.
6. Replace The Lid Strap
The first thing that usually wears out on my Nalgene Bottles is the lid strap.
In fairness, it's not really intended to be a loop for carrying and I'm constantly snatching my Nalgene up by the strap to carry it across the climbing gym or hooking it to a carabiner on my pack.
Having a built-in loop for carrying is just too convenient though.
While Nalgene will happily replace broken lids under their lifetime guarantee, it's still more convenient to just not break it in the first place.
Swapping your lid strap with paracord will make it about as indestructible as the bottle itself.
You can buy a paracord lid strap for a few bucks at Amazon or, if you're the crafty type, make one yourself.
7. Make A Survival Lid Strap
If you make the paracord lid strap yourself, you can add even more functionality by using survival paracord instead of standard.
Survival paracord works just like normal paracord, but has a few sneaky benefits if you find yourself in a pinch.
Instead of being made from yarn, the core of survival paracord is made of fishing line, thread, and fire-starter tinder.
You never know when you might need some. Click here to learn exactly how to create a paracord lid strap for your Nalgene.
8. Go Hands-Free
We all know Nalgene Bottles are a little chunky and awkward to carry around. But luckily, there are a bunch of different ways to make your Nalgene easier to carry.
9. Use An Insulating Cover To Keep Your Drinks Cold For Longer (and Stop Sweating)
If you're tired of room temperature water after just a few hours in your Nalgene, an insulating sleeve can help.
While it still won't keep water cold for as long as a vacuum-insulated stainless steel bottle would, it can make a big difference. Especially in hot weather.
As added bonuses, a sleeve will help prevent your bottle from sweating and most sleeves have built-in clips, handles, or shoulder straps to make your bottle easier to carry.
There are a variety of different brands out there that sell insulated sleeves for Nalgene bottles. But interestingly enough, Nalgene sells their own insulated bottle sleeve (at Amazon) and it's actually one of the cheapest options out there (and it's really practical).
10. Pre-Freeze Your Nalgene Bottle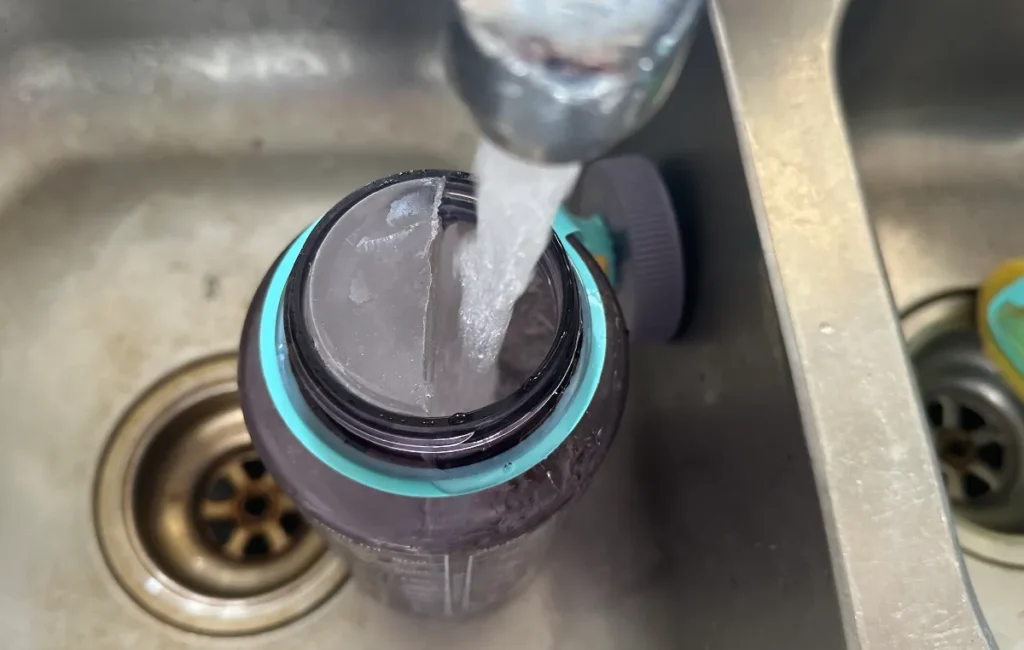 If you know you're going for a hike and want your water to stay cold for longer, freeze a half full Nalgene Bottle on its side overnight.
When you fill around it in the morning, you'll be left with one large chunk of ice that will take much longer to melt than ice cubes.
Your bottle will stay cold for hours and it saves you having to make lots of ice cubes.
Just make sure not to FULLY FILL your Nalgene bottle when you freeze it. As this can cause too much expansion and can break the bottle. Fill it up to 2/3 as a maximum.
11. Use It As A Hot Water Bottle To Keep Warm On Cold Hikes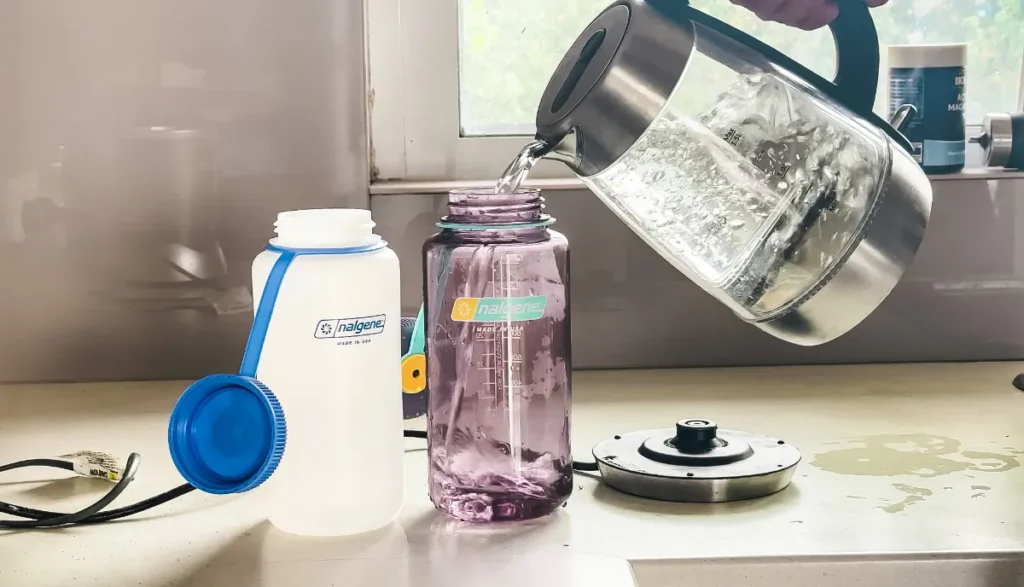 A Nalgene Bottle filled with hot or boiling water can be wrapped in a sweatshirt or a couple wool socks and tucked into your sleeping bag or under a jacket to help keep you warm on cold hikes.
Stainless steel bottles are really the best choice to make a hot water bottle, but Tritan bottles work okay too and their temperature range allows them to handle boiling water without them warping.
Avoid using ultralight HDPE bottles with boiling water, they may soften and deform under pressure.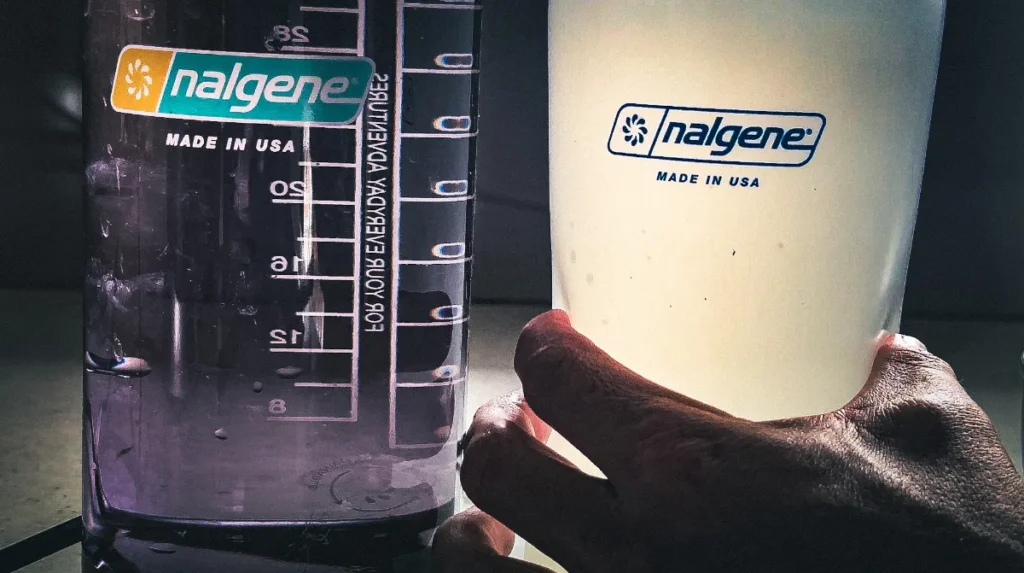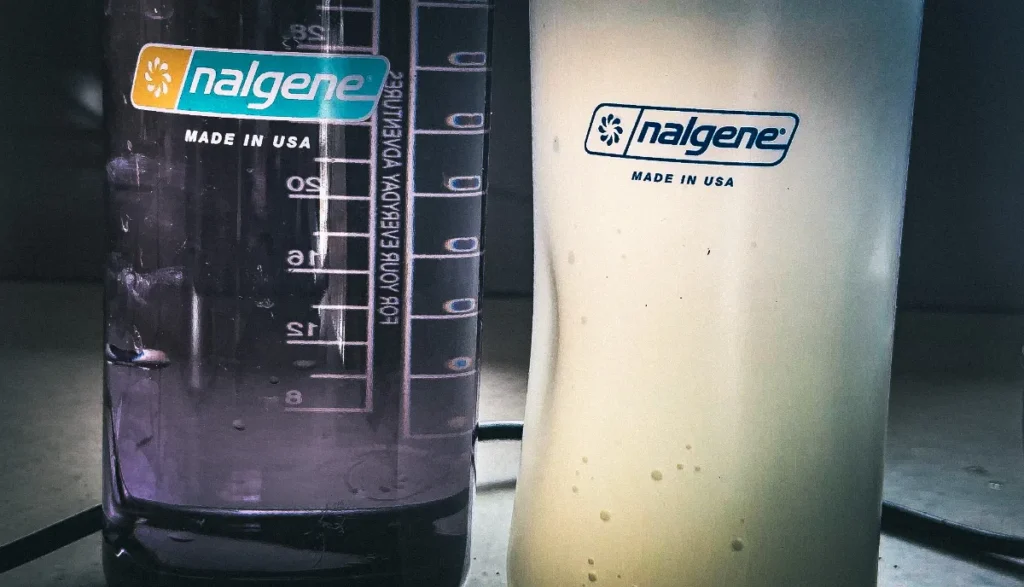 Oh, and don't forget to wash your plastic Nalgene Bottles thoroughly and refill with fresh water before drinking from them. I would personally never drink boiling water (even once it's cooled) from a plastic bottle, even a Nalgene one.
While Nalgene bottles have been proven safe to drink out of it has also been shown leaching tends to increase with higher temperatures.
So while I may use a Nalgene for a hot water bottle I won't drink that water once it's cooled. I'll empty my Nalgene and refill it with fresh drinking water.
12. Use It For Storage On The Trail (or at Home)
Nalgene Bottles aren't only great for water, they also make great storage containers for the backcountry. This is why I prefer the Nalgene wide mouth over the Nalgene narrow mouth bottles.
I usually bring two Nalgene Bottles with me when I backpack, one for water and one for:
Small items like toothbrushes and spare batteries, so I don't have to dig around in the bottom of my pack to find them.
Food that can be crushed or crumbled, like cookies and granola bars.
Wrappers and other trash I don't want wildlife catching the scent of.
Important items that I don't want to lose, like my phone, compass, and keys.
Items I want to keep dry, like matches and first aid supplies.
They can also be great for storing things at home too. I have used Nalgene bottles to store simple pantry items like rice and they work great.
13. Find Uses For Old (Retired) Bottles
While Nalgene bottles are backed by a lifetime warranty and the company will replace them free of charge when they break, sometimes the bottles don't break but you want to retire them anyway.
Maybe they have gotten cloudy, or they are the old plastic with BPA or you got a new one and you're not using your old one anymore.
There are lots of clever things you can do with old Nalgene bottles to give them a new lease on life:
Use for storage around the house
Make a reusable ice pack
Use them as pot-plants
Make a backcountry shower
Make a backcountry washing machine
Plus more
Check out my full list of clever things to do with old Nalgene bottles