I bring a water bottle with me pretty much everywhere I go. But unfortunately, my Nalgene doesn't have a built-in handle like my Hydro Flask or loop like my Iron Flask.
Nalgene's are chunky too so carrying them in your hand can be difficult. I often use the lid loop to carry my bottle but I've been told this isn't ideal and can lead to breaking.
It's even worse for backpacking because the bottle holster on my pack is just barely out of reach when I wear it.
It was time to get creative and find a way to carry my Nalgene Bottle without having to take off my pack every time I wanted a drink.
The best ways to carry a Nalgene Bottle are to use an insulating sleeve, bottle belt, shoulder strap bottle holder, or MOLLE tactical pouch. You can also hang your Nalgene from a carabiner by the lid strap, a DIY paracord holder, or by duct taping a small paracord loop to the side of your bottle.
In the end, I went for the insulating sleeve for everyday use as well as the paracord handle for longer walks.
My kids (who used to drop their bottles more than successfully carry them) love their Nalgene sleeves with cute prints (at Amazon) and now only drop their bottles a few times a day.
1. Get An Insulating Sleeve
To carry a Nalgene Bottle around campus or to the office, an insulating sleeve is your best bet.
Not only do they come with a variety of hooks (for a carabiner), shoulder straps, and handles, they also keep your water colder for longer and prevent your Nalgene Bottle from sweating.
My favorite sleeves are neoprene (the same stuff wetsuits are made of) because it's durable, flexible (to get a snug fit on your bottle), well insulating, and water resistant.
They come in a bunch of different colors and patterns too if you want to add some flair to your Nalgene.
There are a few third party brands of bottle sleeves but interestingly Nalgene sells their own brand (at Amazon) and they are way more affordable than anything else and they do the trick just fine. I highly recommend them.
2. Carry It On A Bottle Belt
Bottle belts are convenient for backpacking because they keep your bottle easily within reach without having to remove your pack.
They're great to wear while jogging too because they keep your bottle secure, hands-free, and usually have a pocket for your keys and phone as well.
Just keep in mind, they might look a little out of place when worn casually around town (but do your own thing).
I feel like this is something my Dad would absolutely love but if I wore it out in public my partner would refuse to walk next to me.
3. Use A Shoulder Strap Bottle Holder
Shoulder strap bottle holders are another easy way to carry your Nalgene hands-free — and are a bit less awkward for everyday use.
Just strap it around your bottle, sling it over your shoulder, and head out the door.
There are a variety of different brands that will easily fit a Nalgene with tight elastic to hold the water bottle in place and an adjustable (and removable) shoulder strap for easy carrying.
4. Attach A MOLLE Tactical Pouch To Your Pack Or Belt
MOLLE Tactical pouches are great because of their versatility and durability.
If you're into tactical gear, you probably have one or two laying around already anyway.
You can hook it to your backpack on a multi-day hike (I keep mine on a cross strap for easy access) or your belt for packless day hikes.
I always use one for top-roping because they're durable enough to withstand being drug across rock faces without ripping or tearing like most other bottle holders.
5. Carry It By The Lid Strap Or Hang On A Carabiner (NOTE: May Break Lid Strap)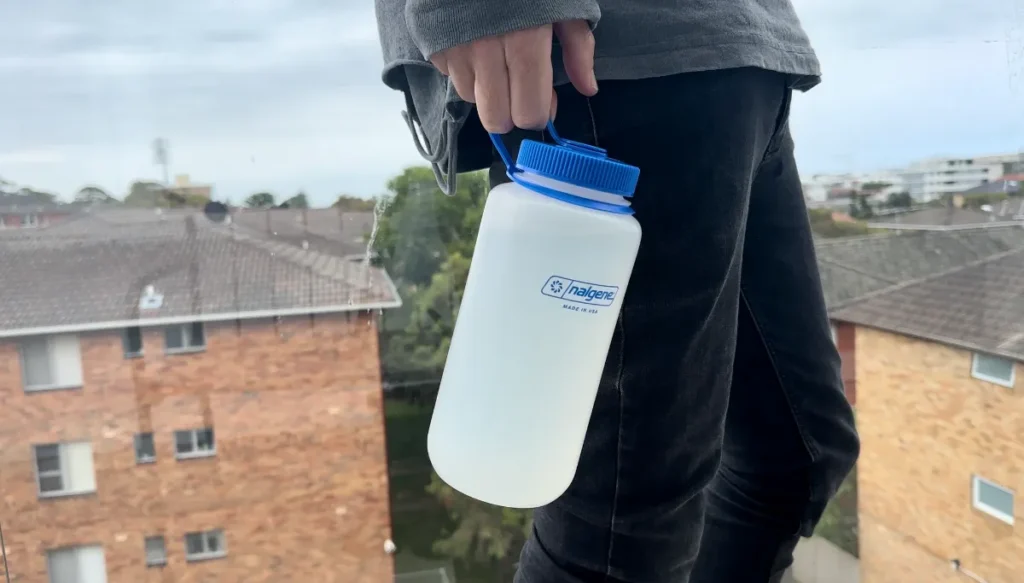 While Nalgene Bottles don't have any hooks or handles built in, they do have the lid strap and I will be completely honest with you and say I am often carrying my Nalgene bottles using this method.
Moving around the climbing gym or at the crag I'll pick up my Nalgene with one finger and walk it over the the new spot.
Hanging a Nalgene by the strap from a carabiner on my pack was my go-to for years. At least until I learned the hard way that the lid straps aren't quite as durable as the rest of the bottle. Oops
Well into a hike, I reached to grab my Nalgene and found nothing but an empty carabiner. After backtracking a bit, I found my bottle on the side of the trail with a broken strap (a big shout out to Nalgene for replacing my broken lid with no questions asked).
I wouldn't make it a habit, but if you need to hang your bottle and only have a carabiner, this method works just fine until the strap starts to wear out.
6. Make (or Buy) A Paracord Bottle Holder
If you're the crafty type, I've seen some awesome DIY paracord bottle holders on the trail and you can actually buy a variety of different ones that are designed to work perfectly with the Nalgene bottles.
The goal is to make a basic cradle out of paracord that holds your bottle and has a small loop at the top for a carabiner or a larger loop for a shoulder strap (or sometimes both).
Paracord is lightweight, strong, and your bottle holder can be taken apart in a pinch if you need the paracord for something else.
Bonus points if you use paracord that has a fire-starter tinder or fishing line core.
I personally prefer to just purchase one because I'm not crafty like some of my friends are. But this one from Amazon works great.
7. Wrap Your Bottle In Duct Tape With A Paracord Loop
This one's ugly but is probably the most functional on the entire list. 
By wrapping your bottle in duct tape and adding a short, paracord loop, you can hang your bottle from a carabiner without risking the lid strap breaking and adding virtually no weight.
If you're at all concerned with the weight of your gear, this is the way to go.
However, I've written about a bunch of DIY Nalgene bottle holders that you can make with paracord that don't require you to strap tape to your bottle. These are great projects and one of the best ways to carry your Nalgene so it doesn't break.