The Nalgene wide mouth bottles are the most common and the most popular by far, but some of my friends have the narrow mouth bottles and love them and recently I got one as well.
Turns out my kids prefer them and I actually found myself using different bottles in different situations.
I've now had a good chunk of experience with both the wide and the narrow mouth bottles so if you're tossing up which one you should get for your next water bottle then there are a few different things you should think about.
When choosing between a narrow mouth and wide mouth Nalgene bottle the wide mouth is more popular and will suit most people. It's the one I would recommend because it's easier to fill, empty, clean, add ice to and more widely available.
However, the narrow mouth bottle tends to be better for kids as it's easier to drink from and I also find the narrow mouth better for use around the office and technology as spilling feels a lot less likely.
By using a wide mouth bottle and a lid with a narrow drinking spout, you can have all the benefits of both. But this does require extra cost to buy a new Nalgene lid, and it's something most people won't do.
The Nalgene narrow mouth is a good bottle and has some niche situations where it's better than the wide mouth. But other than those unique circumstances the wide mouth bottle is almost always the better version and it's the one I take with me on all my hikes and everytime I go to the climbing gym.
A few of my friends at the climbing gym still swear by their narrow mouth Nalgenes and they have every right to hold a wrong opinion. Haha.
But let's have a bit of a closer look at the pros and cons of each bottle so you can decide for yourself which one to buy.
Ease of Drinking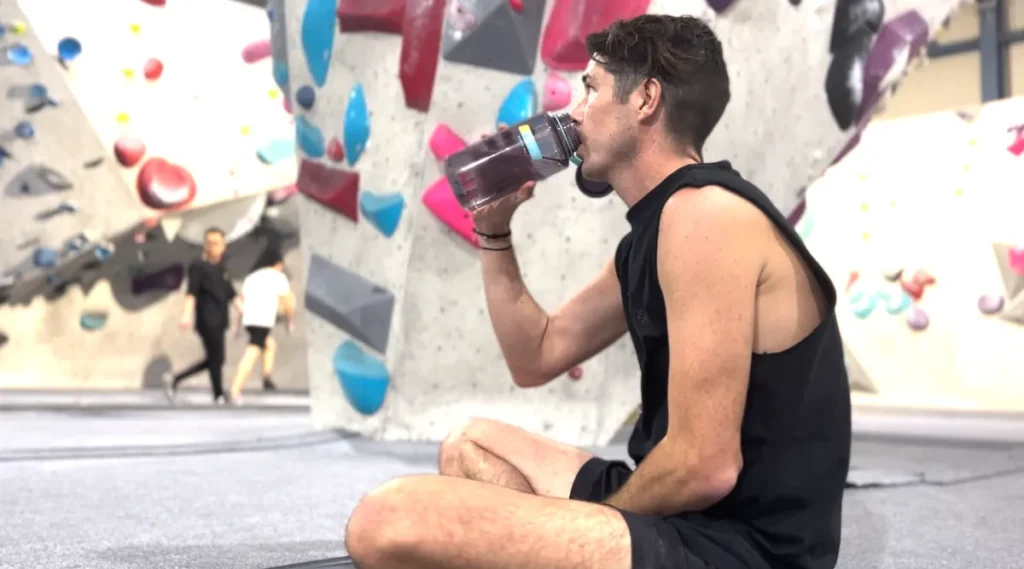 The main benefit of narrow mouth Nalgene Bottles is that they're much easier to drink from and much less likely to spill when you use them.
If you've ever used a wide mouth Nalgene while driving or jogging (or even just sitting on the couch), you know exactly what I mean.
I've definitely spilled a bit too much water on myself due to a sloshing that ended up with a tidal wave coming full force at my face. That doesn't happen with the narrow mouth bottle.
The narrow mouth is still plenty big enough to chug, but not so large that an overly eager sip will leave you reaching for a towel.
My youngest son is currently 7 years old and he LOVES the narrow mouth Nalgene bottle. Firstly he thinks it looks like a rocket launcher so he loves taking it to school but also he has openly said he doesn't like the wide mouth bottle because it spills to easily.
When you see him trying to life up a full 32 oz bottle to drink with his little hands you can see exactly why the narrow mouth bottle is way better for him.
I have also found myself avoiding using (or being more careful with) the wide mouth Nalgene bottles around my expensive laptop while I'm working. I don't want to spill water on my laptop and ruin it.
Instead (if my son hasn't take it to school) I'll choose the narrow mouth Nalgene instead. It helps me drink more Nalgene bottles of water per day achieving my water intake goals but doesn't feel as dangerous.
There are also plenty of lid options to make drinking from a wide mouth Nalgene just as easy as a narrow mouth. A few of my favorites are:
Ease of Cleaning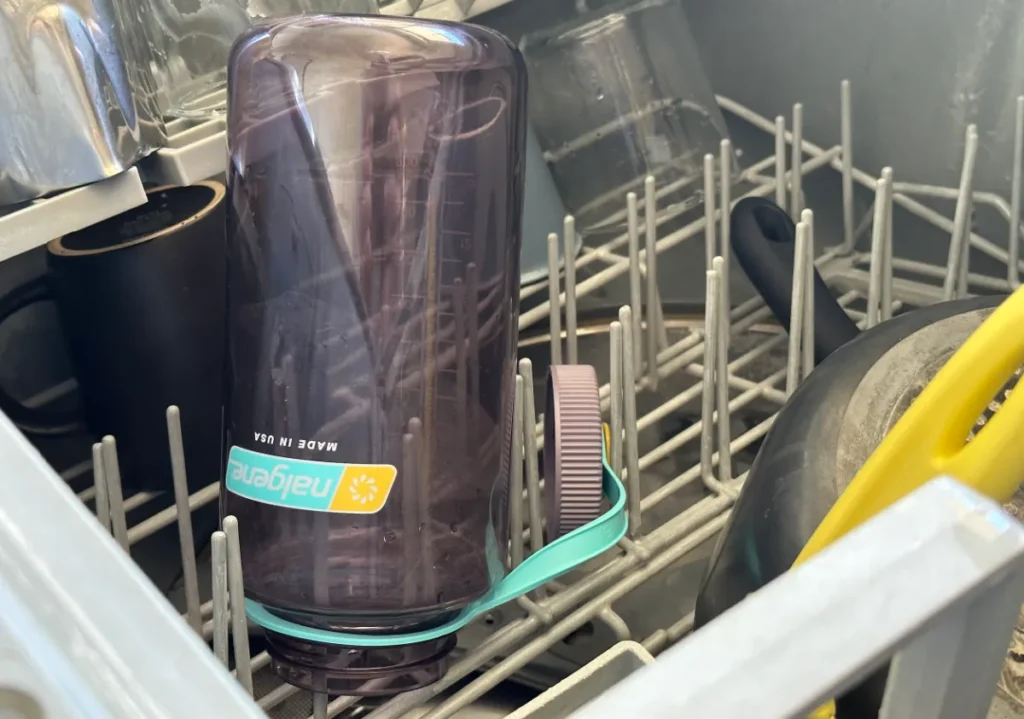 For me, this is 100% why the wide mouth bottles are better than the narrow mouth bottles. They are SO MUCH easier to clean.
For starters, some bottle brushes won't even fit into narrow mouth bottles or they are difficult to get in. And it's usually tough to know which will work until you've already bought it and given it a try.
Even when the brush fits, thoroughly scrubbing the area under the bottle's neck can be a challenge and you might have to use one of these unique techniques for cleaning a narrow mouth Nalgene bottle.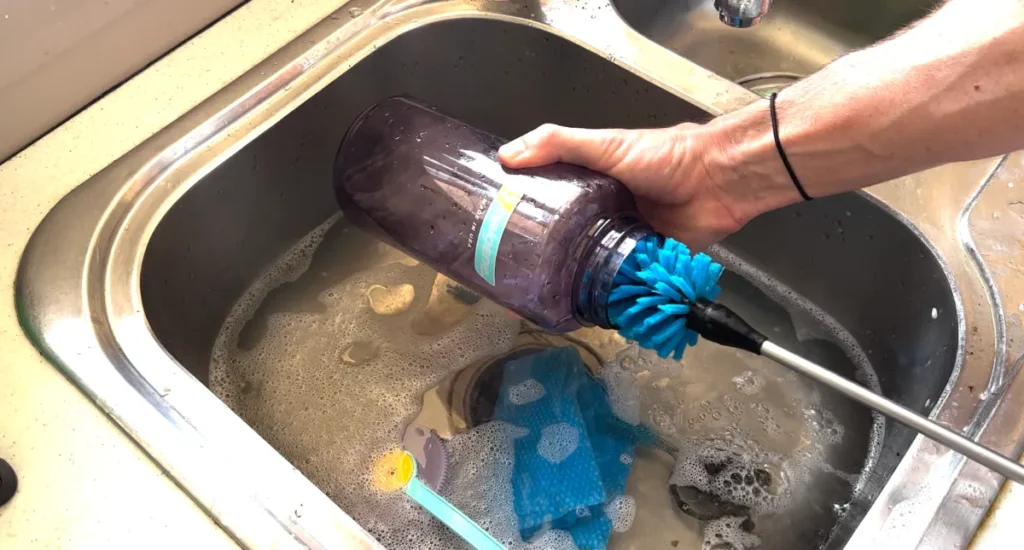 Wide mouth bottles, on the other hand, can handle larger brushes with longer bristles and the area under the bottle's neck is much more accessible.
But best of all the Nalgene wide mouth bottles are really easy to clean in the dishwasher.
Yes the narrow mouth Nalgene bottles are still dishwasher safe. However, sometimes the dishwasher doesn't do a great job because of the small opening.
Recently, I have been using my wide mouth Nalgene bottle for smoothies on the way to climbing and 3 days later when I remember it's in my car I don't have to do battle with caked on smoothie with a bottle brush. I just throw it in the dishwasher and it cleans it for me.
For this reason alone I prefer the wide mouth bottles. But the other thing that's annoying with narrow mouth bottles is trying to put ice cubes in them.
Ease of Use
When it comes to ease of use and functionality, wide mouth Nalgenes are better in just about every way.
Adding Ice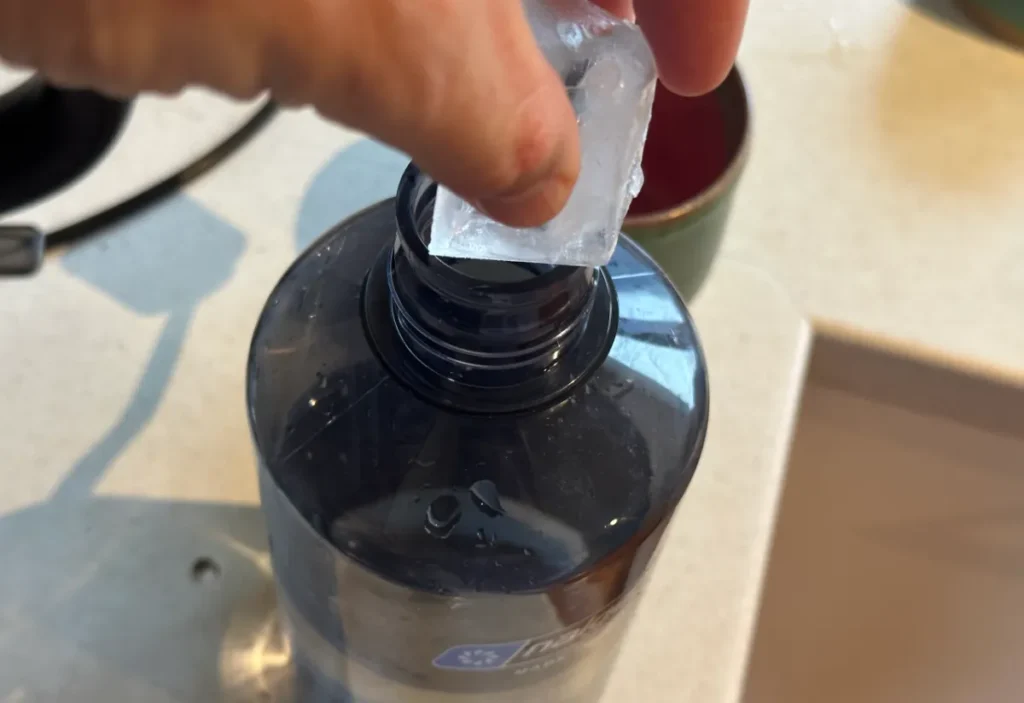 Adding ice to a narrow mouth bottle can be a pain. Standard ice cubes often just don't fit through the narrow opening. None of the ice cubes I use are even remotely close to fitting in this bottle.
This means if I want cool water I need to make super small ice cubes ahead of time or I need to remember to put my bottle in the fridge or fill it up halfway and freeze it the night before.
You can get narrow ice cube trays or one of my favorite Nalgene hacks (pre-freezing a half full bottle on its side to make a large chunk of ice) help to make it much less of an issue.
But I prefer to just throw in a bunch of ice cubes and water before a hike so I have cold water while I'm out and about so for me this is a major advantage of the wide mouth over the narrow mouth.
Filling The Bottle
Filling narrow mouth bottles can sometimes be more difficult than it needs to be. Usually this isn't a problem, especially from the tap at home.
But some fridge water dispensers and the water cooler in my office both take some serious finagling to fill my narrow mouth bottle.
With my wide mouth bottle, it's easier to fill up.
Backpacking And Hiking
But the biggest problems I had with my narrow mouth Nalgene became apparent when I took it on a three day backpacking trip.
For reference, I always bring two Nalgene Bottles with me on multi-day hikes. They're lightweight, durable, easy to refill, make great hot water bottles, and can be used to store trash or keep important items dry.
When I went to fill my narrow mouth Nalgene in a stream, I dunked it in for a few seconds and pulled it back out like I normally would — except it was only ⅓ full.
Okay. No big deal. I dunked it back in and waited for it to fill.
But still, strike one.
That night was a little chilly, so I decided to make a hot water bottle. I boiled some water and went to pour it into my narrow mouth Nalgene — except I spilled half the water trying to fill it.
Strike two.
The next day, it started drizzling so I stuck my matches in my narrow mouth Nalgene to keep them dry — except when I needed them later that night it took about ten minutes to fish them out.
Strike three.
Narrow Mouth vs Wide Mouth Nalgene Bottles: Which Is Better?
All things considered, these are pretty minor inconveniences that can be worked around — but they do add up.
While I see the appeal of narrow mouth bottles, and even choose to use it over the wide mouth in some circumstances, a wide mouth Nalgene with a lid that has a narrow drinking spout or straw is a much more versatile option.
It's the best of both worlds. Click here to see the best lids for the wide mouth Nalgene bottles.