The classic Nalgene lid works great and is really easy to use and easy to clean. But, if you're anything like me, you might want to upgrade your Nalgene lid from time to time and have something more than just the basic screw on cap.
Nalgene offers several lids of their own, but there are also a variety of 3rd party lids that fit Nalgene bottles and can make them even better.
From lids that make drinking just a little more convenient to lids that fully convert your Nalgene into a hands-free hydration system — there's a lid for everyone.
The best lid for a Nalgene Bottle is the Humangear capCAP+ lid. It adds an ergonomic narrow mouth drinking spout to any wide mouth bottle, providing the ease of drinking from a narrow mouth Nalgene while maintaining all the benefits of a wide mouth bottle. If you prefer a lid with a straw, the CamelBak Eddy+ lid is compatible with wide mouth Nalgene Bottles and has a flip-out straw with a bite valve.
Ultimately, the best lid for a Nalgene Bottle comes down to your own preferences and the way you use your bottle. I find myself swapping between several lids regularly depending on what I'm doing.
Check out 12 of my favorite Nalgene lids to upgrade and personalize your own bottle.
1. Humangear capCAP+
We've all been there before with wide mouth bottles. You're taking a drink and tilt the bottle just a bit too far and water comes pouring out from around your mouth.
This is one of the reasons my youngest son always chooses the narrow mouth Nalgene over the wide mouth to take to school. But I personally prefer the wide mouth because it's easier to clean and easier to put ice into.
Luckily, the Humangear capCAP+ can help. It adds an ergonomic drinking spout to wide mouth bottles, similar to the one found on narrow mouth Nalgenes.
Now you may be asking yourself, why don't I just get a narrow mouth Nalgene instead of a wide mouth with a capCAP+ lid?
And the answer is pretty simple.
Narrow mouth Nalgene Bottles are more convenient to drink from, but wide mouth bottles are better for just about everything else — they're easier to fill, add ice to, pour out, clean, and more.
It's also much harder to clean Nalgene wide mouth bottles. Just yesterday I threw my wide mouth Nalgene full of caked on 3 day old smoothie into the dishwasher and it cleaned it perfectly. You can't do that with a narrow mouth Nalgene.
I've used a capCAP+ lid with all of my wide mouth Nalgene Bottles for years and haven't had any problems.
2. CamelBak Eddy+ Lid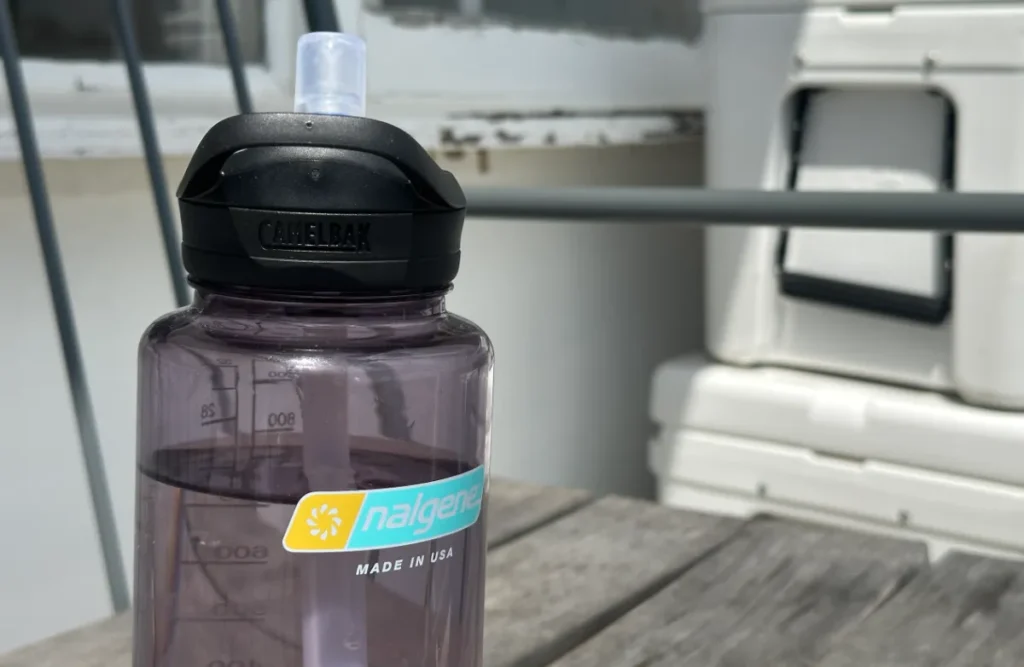 One of my favorite Nalgene hacks is that the lids are cross-compatible with many other wide mouth water bottles.
One of my favorites to use with my Nalgene is the CamelBak Eddy+ lid.
The Eddy+ comes equipped with a flip-out bite valve, perfect for an active lifestyle or drinking on the go.
It's my kids favorite cap for their bottles because they love the bite straw and they used to argue over who got to take the Camelbak Eddy+ water bottle to school.
Now I can add this lid to all my Nalgene bottles and everyone is happy. The straw is even the perfect length to fit the wide mouth Nalgene bottles so you don't have to cut them at all (and they aren't too short).
They are also great for me when working at my desk. Less risk of tipping the bottle too high and spilling water over my computer. Plus it's fairly straightforward to clean Eddy+ lids and they are dishwasher safe.
3. Nalgene Easy Sipper
Like the capCAP+, the Nalgene Easy Sipper is designed to make drinking from a wide mouth Nalgene a lot easier. But unlike the capCAP+, the Easy Sipper is a simple insert that can be used with the classic Nalgene lid or any other cap.
Just slide the Easy Sipper into the mouth of your bottle, let it lock into place, and enjoy your new easier-to-drink-from bottle.
4. CamelBak Chute Mag Cap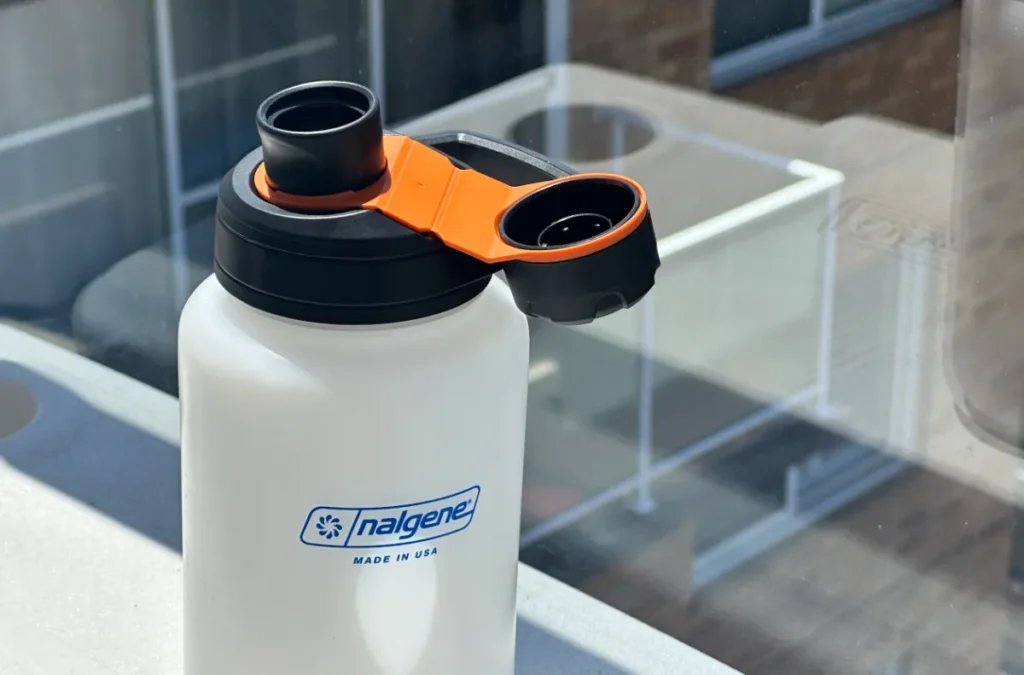 The Chute Mag Cap by CamelBak is another lid that comes equipped with a narrower mouthpiece. But the Chute Mag stands apart from the others because its spout is still wide enough to chug.
A screw-off cap flips away and locks in place with a magnet to prevent the cap from swinging back into your face while you drink.
It's completely leak-proof when closed, and has an easy-to-carry handle built right in, which is something that regular Nalgene bottle lids lack and often leads to broken Nalgene lid straps.
5. Paravalve High Performance Straw Lid by Eveau
The Paravalve High Performance Straw Lid offers a flip-out straw with a Dual Ball Valve design that provides a few unique advantages when compared to other straw lids.
For starters, the Paravalve's Dual Ball Valve is completely leak-proof when closed. Which is great for my Nalgenes, since they don't fit in my car's cup holders and often just lay on my passenger seat between drinks.
Secondly, when open, the Dual Ball Valve provides effortless drinking thanks to large air and water paths that allow for easy, unrestricted sipping.
I've personally found that with some other straw lids it's difficult to suck up the water and this makes me drink less. The Paravalve makes drinking through the straw easier than other straw lids, which helps me drink more Nalgene bottles everyday.
6. Nalgene MultiDrink Lid
The Nalgene MultiDrink cap offers two functional ways to drink from your Nalgene Bottle — equipped with both a narrow mouth drinking spout and a slide-out straw.
The narrow mouth spout with twist-off cap is comparable to the capCAP+, but provides the added flexibility of an easy-to-use straw that slides right out from the base of the lid.
Plus, it's made directly by Nalgene so you don't have to worry about quality or compatibility.
It's the best of both worlds.
7. Nalgene N-Gen Lid
The Nalgene N-Gen Lid is great for those who don't mind drinking from a wide mouth Nalgene as is, but want their bottle to be easier to carry.
Unlike the classic Nalgene lids, the N-Gen has no strap but instead provides a rounded loop, perfect for snatching your bottle up to carry across the climbing gym or hanging from a carabiner on a backpack.
If you're prone to breaking your Nalgene caps, the N-Gen is made from an extra-rugged copolyester that's even more durable than the classic lids. And even if you do manage to break it, Nalgene covers damaged lids under their lifetime warranty.
I usually use my N-Gen lid with a Nalgene Easy Sipper. They make a perfect pair.
8. Nalgene On The Fly (OTF) Cap
The Nalgene On The Fly Cap is another solid option made directly by Nalgene.
The OTF lid comes with a narrow mouth drinking spout and a button-released swing-off cap, like a simplified version of the Contigo AutoPop lid.
Just keep in mind, the OTF cap isn't quite as durable as most other caps on the list. While it's not ideal for the rigors of the trail, it's perfectly suited for the office, classroom, beach, or home.
9. Source Convertube Water Bottle Adapter
My favorite lid for hiking and backpacking is the Source Convertube Water Bottle Adapter, that turns your Nalgene into a hydration system.
When I go backpacking, I bring a Nalgene Bottle or two with me anyway, so there's no reason to also carry a water bladder or CamelBak when I can essentially turn my Nalgene into one.
Simply screw on the converter lid, keep the bottle in your pack, and clip the straw to your shoulder strap.
Easy, hands-free drinking without taking up much space or adding weight.
10. GSI Outdoors H2JO Coffee Filter Lid
The GSI Outdoors H2JO Coffee Filter lid turns your Nalgene Bottle into a portable coffee (or tea) brewer that's surprisingly easy to use.
Simply drop in the filter, add coffee or tea leaves, fill your bottle with hot water, and let it do its thing.
Just keep in mind, even though plastic Nalgene Bottles can handle boiling water, it may cause more chemicals to leach from the plastic.
I prefer to use my coffee filter lid with my Stainless Steel Nalgene instead. Just to be safe.
11. Contigo Lids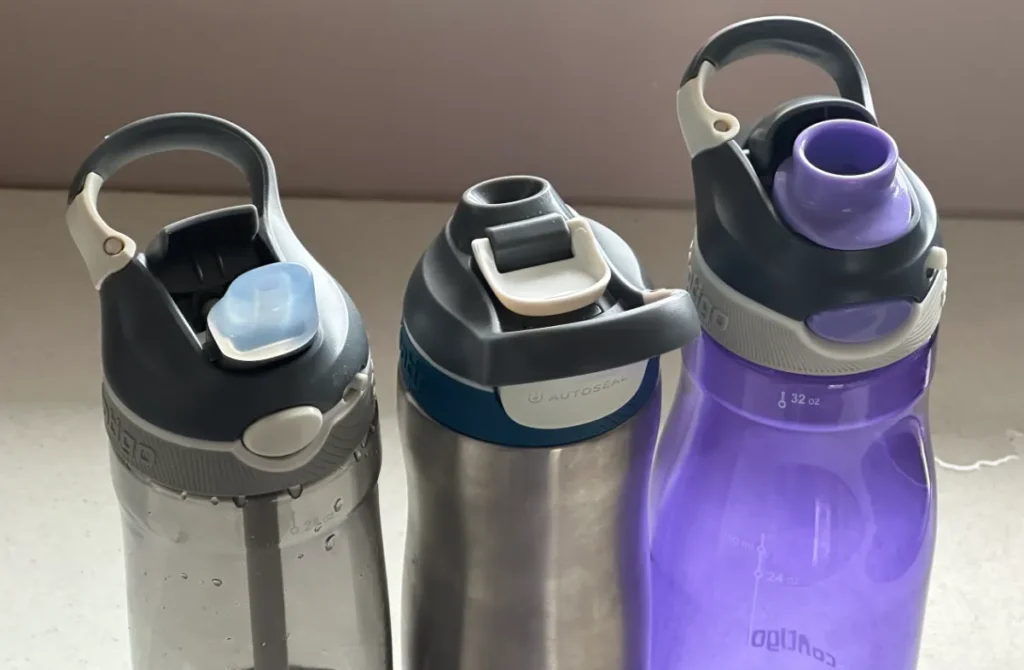 The lineup of Contigo lids are three more great options that are cross-compatible with wide mouth Nalgene Bottles.
While Contigo doesn't appear to sell replacement lids, their lids work flawlessly with Nalgene Bottles if you happen to already have them.
And honestly, they're good enough lids that it may be worth buying the entire bottle regardless (they cost about the same as many replacement lids anyway).
Like the capCAP+, the Contigo AutoSeal adds a narrow mouth drinking spout for ease of use. But instead of a screw-on cap, the AutoSeal has a self-sealing sip spout and push-button release that makes one handed drinking that much smoother.
The Contigo AutoSpout lid is another one of my kids favorites. Simply press a button to release the pop-out straw and lock it back into place when you're finished drinking.
For being active, the Eddy+ is still my go-to straw lid, but for the office or lazy days around the house, a straw without a bite valve is a lot easier to drink from.
Similar to the AutoSpout, the Contigo AutoPop lid has a push button release. But instead of a pop-out straw, it has a pop-off cover over a narrow mouth drinking spout.
If you like the convenience of the AutoSpout or AutoSeal lids, but want to chug water faster than they allow, the AutoPop may be the perfect lid for you.
12. The Classic Nalgene Cap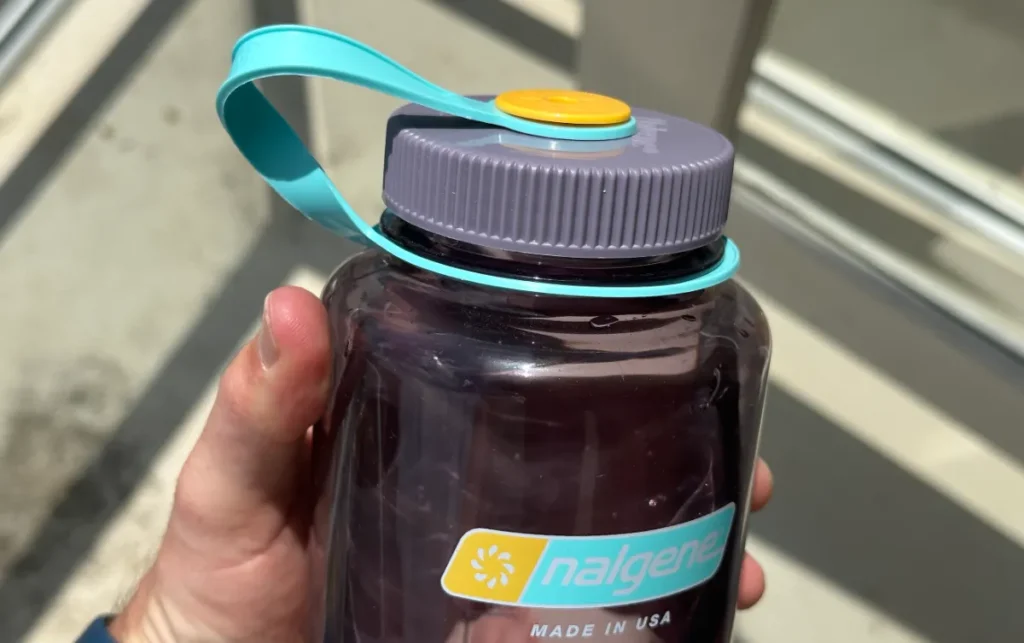 And lastly, we have the classic Nalgene lid. It's simple, durable, easy to clean, and much less likely to grow mold than most other lids.
There's a reason it's been left unchanged for decades.
Just keep in mind, the lid strap isn't designed to support the weight of a full bottle. But you can make your own strong lid straps that don't break.
If you prefer to carry your bottle by a handle, the classic lid may not be the best option for you. Consider one of the other options on this list with a proper handle or make your own DIY Nalgene holder (some of which are a lot easier to make than you may think).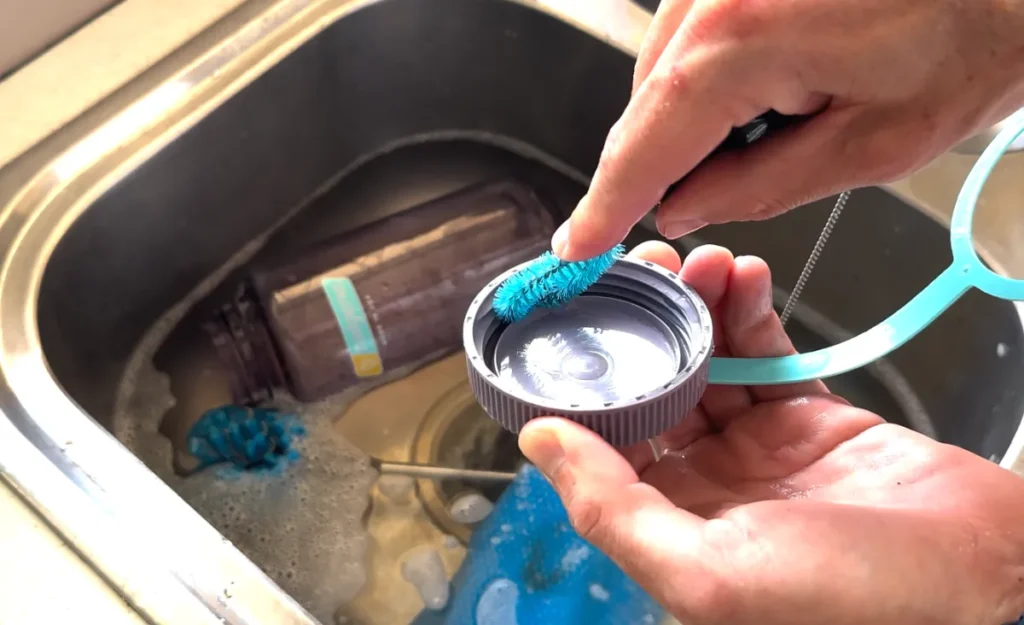 And no matter which lid you choose, it's important to wash your Nalgene lid regularly to prevent mold from growing.
If you're lazy sometimes (like me), water bottle cleaning tablets can make it an easy, pain-free process.
The Nalgene original lid is great and does the job just fine. If you lid is broken you can contact Nalgene for a replacement or you can simply purchase a replacement cap for not too much.