Nalgene Water Bottles have long been a staple for anyone wanting a simple, functional water bottle.
They're perfect to take on hikes or carry around town because they're so light and durable. My kids love them too (and when they lose them it's no big deal because they're so inexpensive). My friends at climbing also love these water bottles and swear by them.
I've been trying to up my water intake lately, and wanted to know how many Nalgene bottles I should drink each day to reach my target.
The exact number of Nalgene Water Bottles you should drink per day depends on the size of the bottle and your daily fluid intake goal. If your target is to drink eight cups of water per day, for example, you'd need to drink four 16 oz Nalgene bottles, two 32 oz bottles, or a single 64 oz bottle.
Below, I'll show you exactly how many Nalgene bottles you should drink each day based on your daily fluid intake goals and the size of your bottle. I'll also teach you some tricks to determine just how much water you should be drinking on a daily basis.
How Many Nalgene Water Bottles Should You Be Drinking Per Day?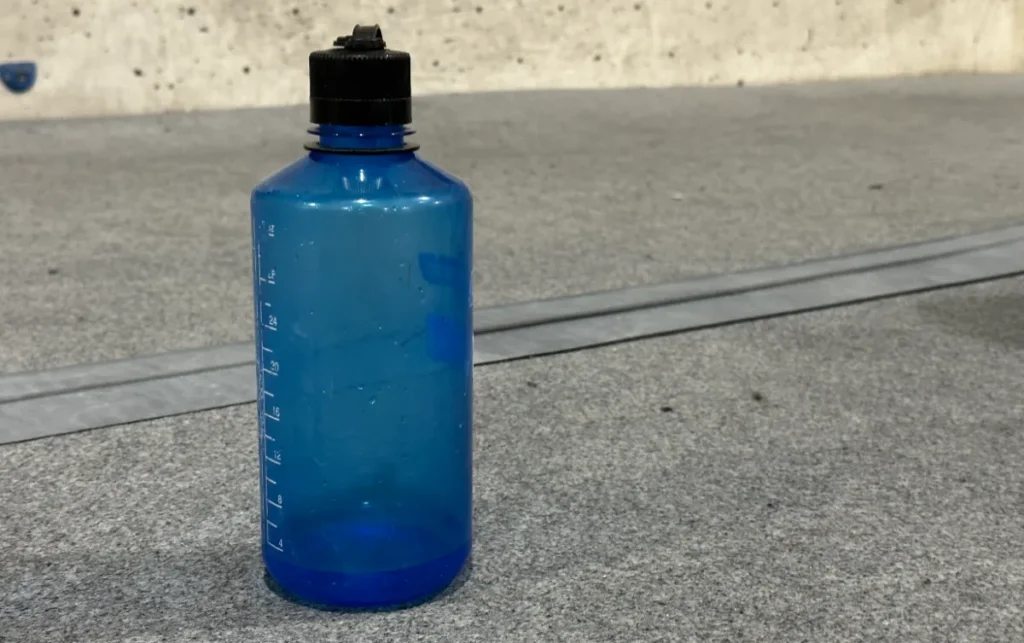 Nalgene Bottles range in size from 10 oz all the way up to 64 oz. But the most popular size is the 32 oz (1L) Nalgene bottle.
Depending on the size of your bottle and your own personal goals, the number of Nalgene bottles you should drink every day will vary considerably.
To illustrate, I drink about half a gallon of water a day because I live a pretty active lifestyle. Normally that's two 32 oz bottles. But on days when I'm out bushwalking or in the sauna at the gym I might drink as many as 3-4 of those bottles per day.
My kids, on the other hand, drink a little over four cups per day — a little less than three 12 oz bottles or one of the big 32 oz bottles.
Use the chart below to determine just how many Nalgene Water Bottles you should be drinking per day to reach your fluid intake goals.
| | | | |
| --- | --- | --- | --- |
| Nalgene Bottle Size | 4 Cups/Day | 8 Cups/Day | 1 Gal/Day |
| 10 oz | 3.2 | 6.4 | 12.8 |
| 12 oz | 2.7 | 5.3 | 10.7 |
| 16 oz | 2 | 4 | 8 |
| 20 oz | 1.6 | 3.2 | 6.4 |
| 22 oz | 1.5 | 2.9 | 5.8 |
| 24 oz | 1.3 | 2.7 | 5.3 |
| 32 oz | 1 | 2 | 4 |
| 38 oz | 0.8 | 1.7 | 3.4 |
| 48 oz | 0.7 | 1.3 | 2.7 |
| 64 oz | 0.5 | 1 | 2 |
How Much Water Should You Be Drinking Per Day?
Adequate hydration is key to keeping every system in the body running smoothly.
Water helps transport nutrients and oxygen to our cells, flush bacteria from our urinary systems, aid digestion, maintain a healthy blood pressure, regulate body temperature, and more.
You've probably heard that you should drink eight glasses of water a day to stay hydrated, and while this is a reasonable target, it may be more than is actually needed.
According to the experts at Harvard Medical School, four to six cups per day is enough for the average, healthy adult.
If you suffer from a chronic medical condition, like CHF or kidney disease, four to six cups may actually be too much. Consult your doctor for a personalized recommendation.
If you live a very active lifestyle, you may need to bump up your intake to eight cups or more.
There's really no one-size-fits-all answer.
Your best bet is to drink as soon as you start feeling thirsty (the sooner the better), drink more with exercise, and to monitor your urine — with a goal of having clear or pale yellow urine and urinating every two to four hours.
Get Yourself A Nalgene Water Bottle
Nalgene Water Bottles have been around for what feels like forever. In fact, when I moved away from disposable plastic bottles (which are really awful for the environment), a Nalgene bottle was my first step.
Even though I've since bought several stainless steel bottles that keep my drinks colder for longer, I still find myself whipping out my old faithful Nalgene bottle for day hikes (because it's really lightweight) and cooler days where I don't necessarily need ice cold water.
They're durable, lightweight, and affordable. The perfect simple, functional water bottle.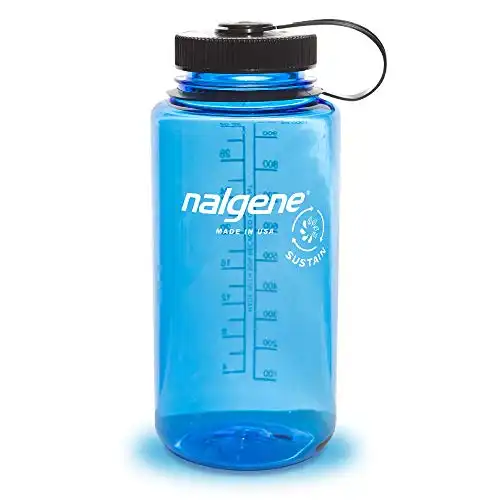 Nalgene Wide-Mouth Water Bottle (32 oz)
Made with BPA-free Tritan Renew plastic these Nalgene bottles are made with 50% recycled plastic.
This is the best selling water bottle that has been around for 30 years (and likely to last you 30 years). Suitable for warm and cold beverages (-40 to 212ºF) this is marked with milliliters and ounces for easy measurement.
Buy Now at Amazon