I've been using Nalgene Bottles for years, whether I'm hiking, climbing, or sitting around the office. Whenever I need a new reusable plastic water bottle, I instinctively pick up a new Nalgene without even considering the other options.
Whenever I go to my climbing gym the seats and floor are almost littered with Nalgene bottles. Everyone seem to have one and everyone I talk to about them raves about them like it's their first born child or something – not a $15 plastic water bottle.
Which made me wonder, what exactly is it about Nalgene Bottles that makes them so popular?
Nalgene Bottles are popular because they're durable, versatile, and inexpensive. Nalgene has a long track record of providing excellent customer service, generous charity work, and a commitment to offering sustainable, functional water bottles. It's no surprise that they've grown a very large and loyal following.
When I think about it, it's really no mystery why Nalgene Bottles have become so popular. They're great bottles made by a great company.
The History Of Nalgene Helps Explain Its Popularity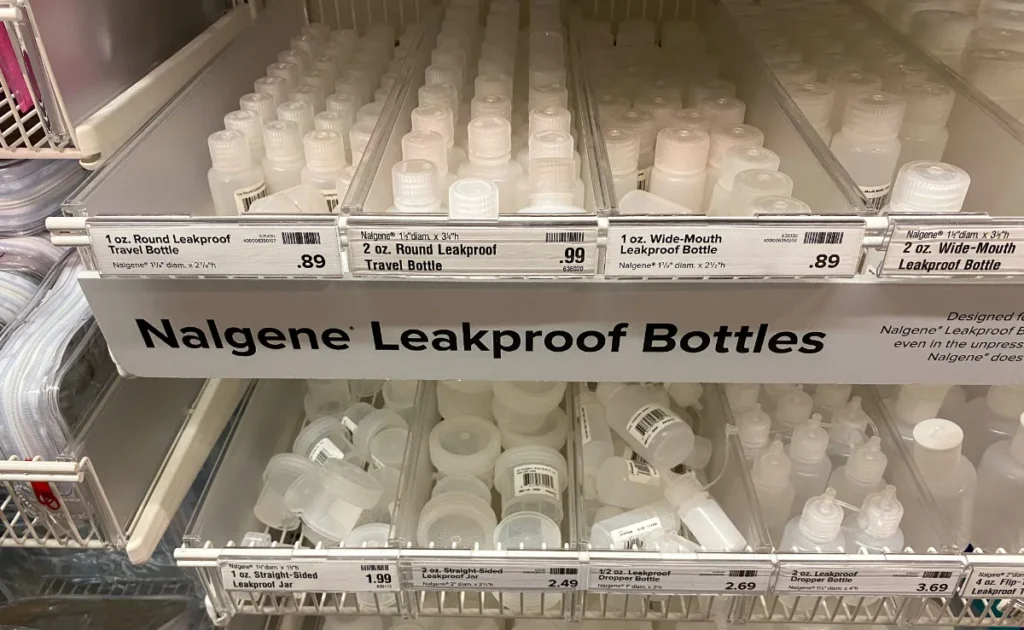 From the beginning, the popularity of Nalgene Water Bottles wasn't the root of a clever marketing campaign or widespread media blitz. It was completely grassroots and organic — and mostly by accident.
The Nalge Company of Rochester, NY never set out to make water bottles for hikers, climbers or outdoor enthusiasts.
In fact, the very first Nalgene Bottles weren't water bottles at all — they were large plastic jars meant for use in the lab.
But by the early 70s, scientists began to realize that these durable, lightweight, leakproof bottles were the perfect alternative to the bulky, stainless steel canteens used at the time.
Combined with an early push by conservationists speaking out against single-use cans and glass bottles, the use of Nalgene Bottles spread like wildfire on trails, campgrounds, and Boy Scout troops across the country.
The bottles quickly became well known for being lightweight but also ultra durable. Nalgene bottles last decades without breaking and can take 50 foot falls in their stride without breaking. Plus even when they do break Nalgene replaces broken bottles free of charge!
The Nalge Company had no choice but to repackage and rebrand their bottles under the name Nalgene Outdoors.
By the late 90s, Nalgene and reusable water bottles were all but synonymous in the hiking and outdoor community — and quickly gaining popularity in college classrooms and offices too.
Nalgene Has Stayed True To Its Roots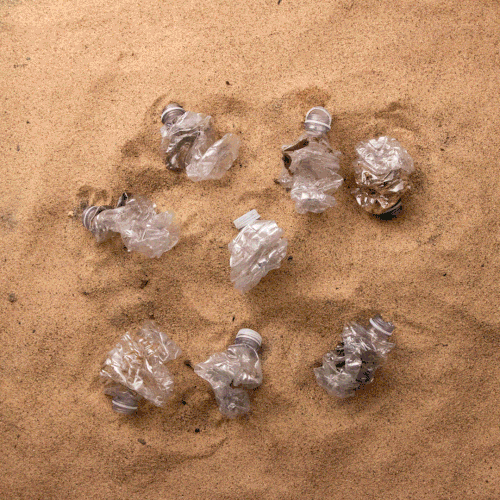 To this day, Nalgene Outdoors has never wavered from their commitment to provide quality, sustainable drinkware — an ethos that aligns perfectly with that of the outdoor community.
Combined with notoriously top notch customer service (they're known for replacing broken bottles free of charge with no questions asked) and a history of charitable work that provides increased access to clean drinking water, Nalgene has gained a very large and very loyal user base.
So loyal in fact, the brand has continued to thrive after being the face of the anti-BPA media frenzy of 2008.
In 2008 when the news that BPA can leach into water and have potentially harmful effects Nalgene quickly moved to Tritan plastic which is BPA-free and considered EA-free (or free from estrogen mimicking chemicals). Read more about what Nalgene bottles are made of.
In 2020 Nalgene moved to "Sustain Tritan" which is the same reliable and BPA-free plastic but made from at least 50% recycled plastic that was otherwise destined for landfill.
The Durability and Plain Awesomeness of The Bottles Have A Lot To Do With It
Nalgene Bottles are NOT only popular because they're made by a great company with an interesting backstory.
Far from it.
The bottles themselves have just as much, or more, to do with Nalgene's success.
Nalgene Bottles are simple, durable, versatile, and cheap. What more could you want from a basic reusable water bottle?
I've heard people rave about expensive bottles like HydroFlasks that can keep drinks cold for hours or Yeti bottles or tumblers, but never in my life have I heard people rave about plastic water bottles the way they do about their Nalgene.
One of my climbing friends called it "the best water bottle ever" and when I asked her how long she had owned the bottle she said "basically since birth".
While that's an exaggeration (the nerd in me found out her bottle was made after 2008) she has owned the bottle for over 10 years and it's still going just as strong as it was on day one.
See the comparison below between her old bottle (blue) and my new bottle (purple).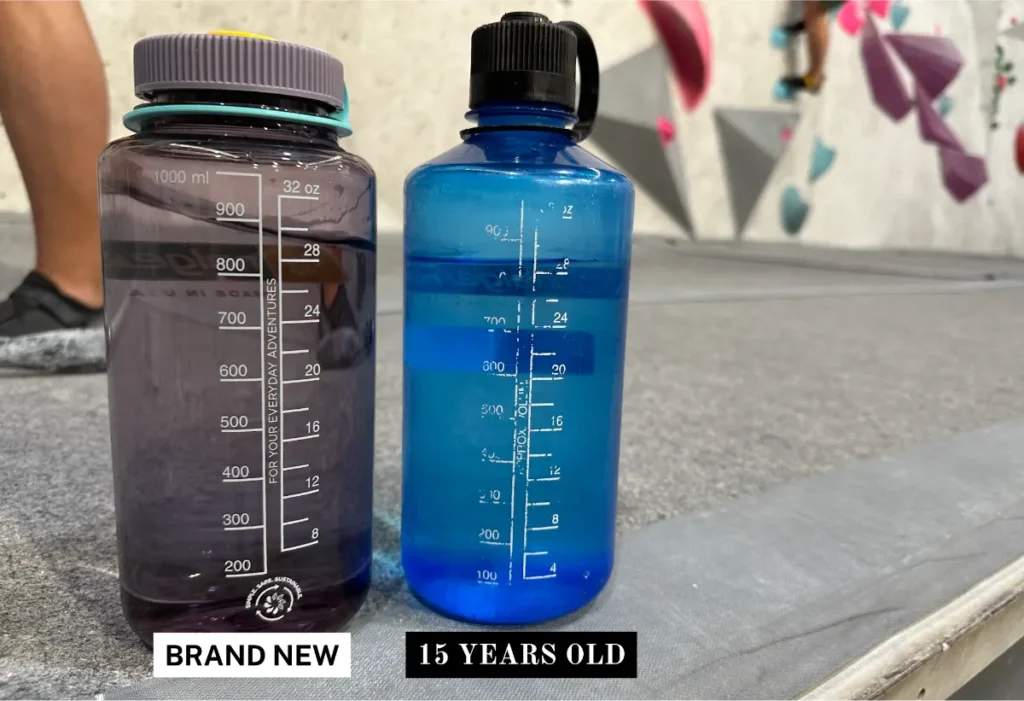 And Nalgene hasn't laid back and let their reputation carry them either.
They're constantly trying to improve, as can be seen from their new line of Nalgene Sustain bottles that are made of up to 50% recycled post-consumer plastics.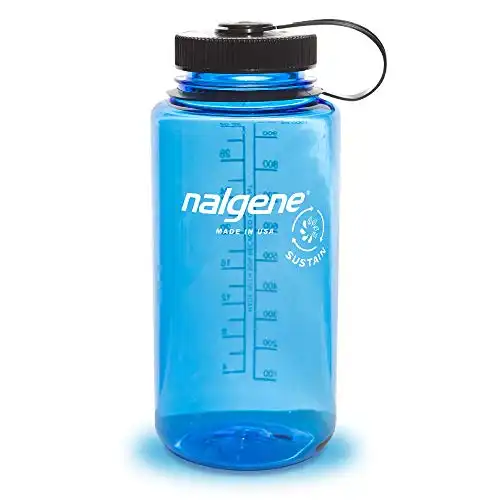 Nalgene Wide-Mouth Water Bottle (32 oz)
Made with BPA-free Tritan Renew plastic these Nalgene bottles are made with 50% recycled plastic.
This is the best selling water bottle that has been around for 30 years (and likely to last you 30 years). Suitable for warm and cold beverages (-40 to 212ºF) this is marked with milliliters and ounces for easy measurement.
Buy Now at Amazon

Nalgene's Customer Service Is Ridiculously Good
I do a lot of outdoor gear reviews and when companies started offering lifetime guarantees on their expensive coolers that was a big deal.
But it kind of made sense. If you're spending $300-$500 on a cooler then having it backed by a lifetime warranty gives you confidence in the product.
But most of these warranties are "limited lifetime warranties" meaning you're protected against manufacturer defaults but that's about it.
HydroFlask is one of the rarer water bottle companies that offer Lifetime guarantees on it's products and that's great.
But then there is Nalgene. A $10-$15 water bottle has no right to offer a lifetime guarantee…yet they do.
Not only that…but Nalgene offer a guarantee against breakages and they routinely replace people's decade old bottles with free new ones even when it's the customers fault the water bottle broke!
The following example from Redditor "Not-ted" sums this up perfectly:
"I had one for 20 years. My son dropped it and the top broke off – below the cap, right after the plastic has straightened out after curving away from the top.
On a lark, I sent a photo to Nalgene – they responded by sending me a new water bottle! Awesome company."
Honestly, I am yet to find ONE SINGLE EXAMPLE where Nalgene refused to replace a broken bottle. If you know of one tell me in the comments down below.
A Great Bottle, By a Great Company
To sum it all up Nalgene got a lucky start – striking onto the idea to make a good durable water bottle completely by accident.
But they backed this up with innovations, improvements and decades long dedication to their customers and their products.
Are you really so shocked they are still such popular water bottles?