Whenever I buy a new water bottle, I always check what it's made of. Since they discovered BPA leaching back in 2008 I really like to know exactly what my water will be exposed to.
I've been using Nalgene Bottles for years to help reach my water intake goals, and made sure to find out what plastic each type of Nalgene was made of to make sure it was safe and matched my goals.
Nalgene bottles made after 2020 are almost all made from a copolyester plastic Tritan Renew plastic – a BPA-free plastic made from at least 50% recycled materials. Bottles made from 2008-2020 are made from Tritan plastic and Nalgene Ultralite bottles are made from high-densisty polyethylene, or HPDE. All Nalgene bottles made after 2008 are BPA free.
However, old Nalgene bottles made prior to 2008 are made from polycarbonate plastic that contains BPA.
Nalgene Bottles are made of a couple of different types of plastic, each with their own unique properties and benefits.
The Original Nalgene Bottles Were Made Of Polycarbonate and Contain BPA (Pre-2008)
If you're an OG Nalgene bottle owner and your water bottle is coming up to (or surpassed) it's 2nd decade or life then you've got what I would call an "Original Nalgene".
The original Nalgene bottles were made of the hard, transparent plastic, polycarbonate.
Polycarbonate seemed to make the perfect material for reusable water bottles. It's extremely durable, crystal clear, and can withstand high temperatures.
There was only one problem.
Polycarbonates often contain bisphenol A (better known as BPA), a chemical compound that helps make plastic more resistant to shattering — and can also be very harmful to humans.
In the early 2000s, studies began to surface that showed just how easily BPA could leach from a plastic bottle into the water it contains.
It all came to a head in 2008 when it became a hot button topic on the news.
Nalgene Bottles containing BPA were pulled from shelves and Nalgene immediately started making and selling bottles made from the BPA-free plastic known as "Tritan".
BPA-Free Nalgene Bottles Are Made Of Tritan Plastic (2008-2020+)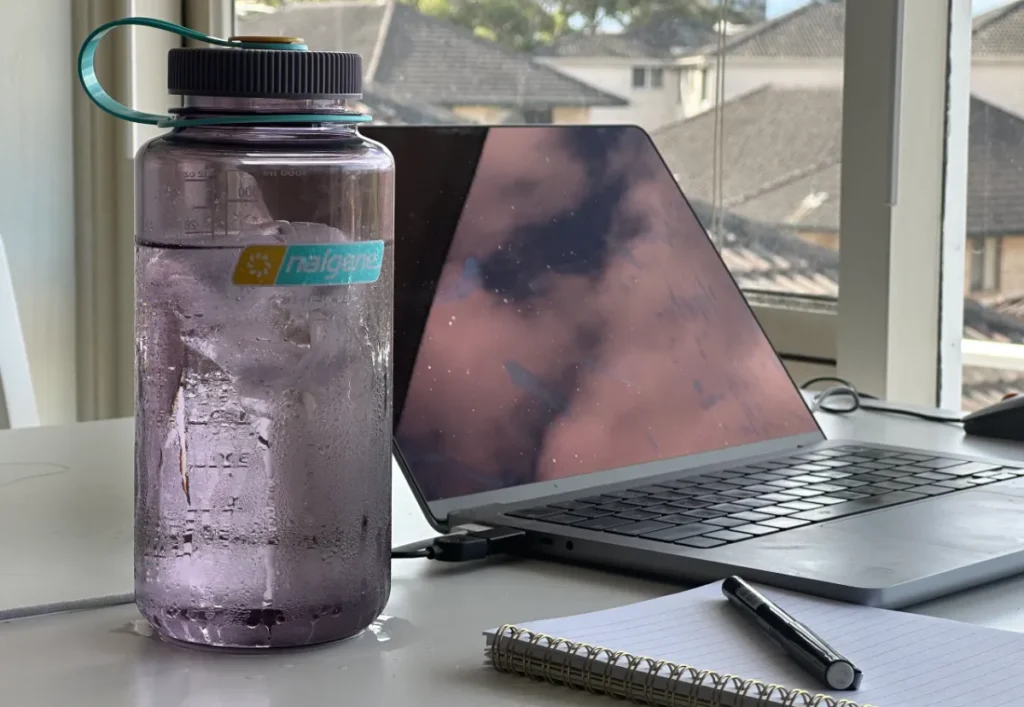 When Nalgene went BPA-free in 2008, they switched their main line of bottles to the specialty plastic, Tritan, made by the Tennessee-based Eastman Chemical.
Tritan is a copolyester plastic that shares all the same benefits as polycarbonate plastics — it's durable, clear, and temperature-resistant.
And unlike polycarbonate plastics, Tritan is completely free of BPA, BPS, BPF, phthalates, and all other chemical compounds that have been proven to cause estrogenic or androgenic activity.
It's worth noting that there is still debate about whether or not any type of plastic is safe for use with food and drinks.
But for now, Tritan Plastic Nalgene Bottles and Oasis Water Bottles seem as safe to drink from as any plastic bottle could be.
Personally, after looking into the data I would say that yes – Nalgene bottles are very safe to drink out of and I happily drink out of them myself.
I'm just careful to manage the temperature range of my Nalgene bottle and don't drink hot water from my Nalgene and only drink cold water from it.
Nalgene Sustain and Tritan Renew (Post 2020)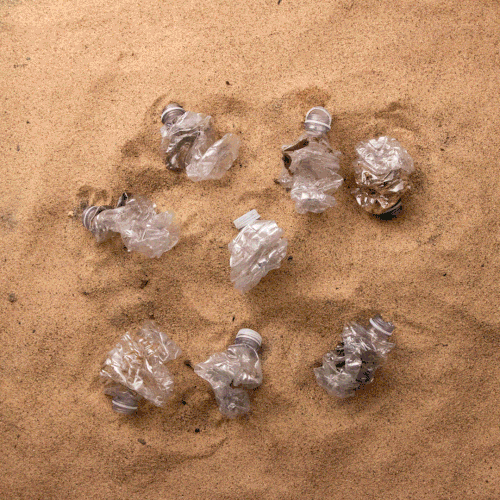 In 2020, Nalgene released a new line of (even more) eco-friendly bottles called Nalgene Sustain.
Nalgene's line of Sustain bottles are made of Tritan Renew, a copolyester made from up to 50% recycled materials.
According to Eastman, Tritan Renew is virtually identical to the original Tritan plastic, but uses a new recycling technology to transform recycled single-use plastics into the "basic building blocks" of Tritan Renew.
Nalgene Sustain Bottles share all of the same benefits of the standard Tritan bottles, cost about the same, but are better for the environment.
Whenever I replace one of my Nalgene Bottles, I now buy Nalgene Sustain — there's no reason not to and since 2022 basically every Nalgene water bottle sold was made from Tritan Renew with the old "Tritan" bottles being phased out completely.
Ultralite Nalgene Bottles Are Made Of HDPE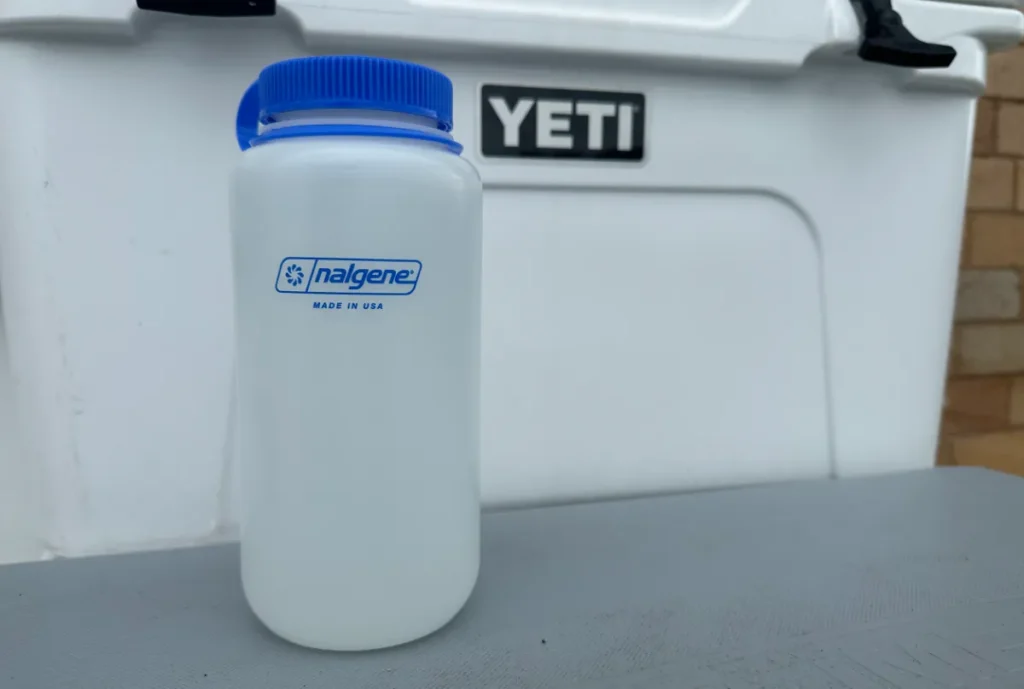 Outside of Nalgene's main line of water bottles, they offer Ultralight bottles made from high-density polyethylene (HDPE).
HDPE is known for having a very high strength-to-density ratio — meaning it's incredibly durable for how lightweight it is. In fact, many coolers are made with HDPE plastic to give them amazing durability.
Unlike Nalgene's hard, clear polycarbonate and Tritan bottles, their HDPE Ultralite Bottles are opaque, flexible, and weigh about 40% less (180g vs 108g) — perfect for backpackers who are concerned about the weight of their gear.
Other Nalgene Products
Though Nalgene specializes in reusable plastic water bottles, they also make stainless steel bottles and soft cantenes.
Nalgene's Stainless Steel Bottles are made of (you can probably guess…) stainless steel. More specifically, surgical grade 316 (18/10) non-insulated stainless steel.
Nalgene's Soft Cantenes, which are soft-sided bottles that compress for easier packing, are made of food-grade polythene/polyethylene.
What About The Lids?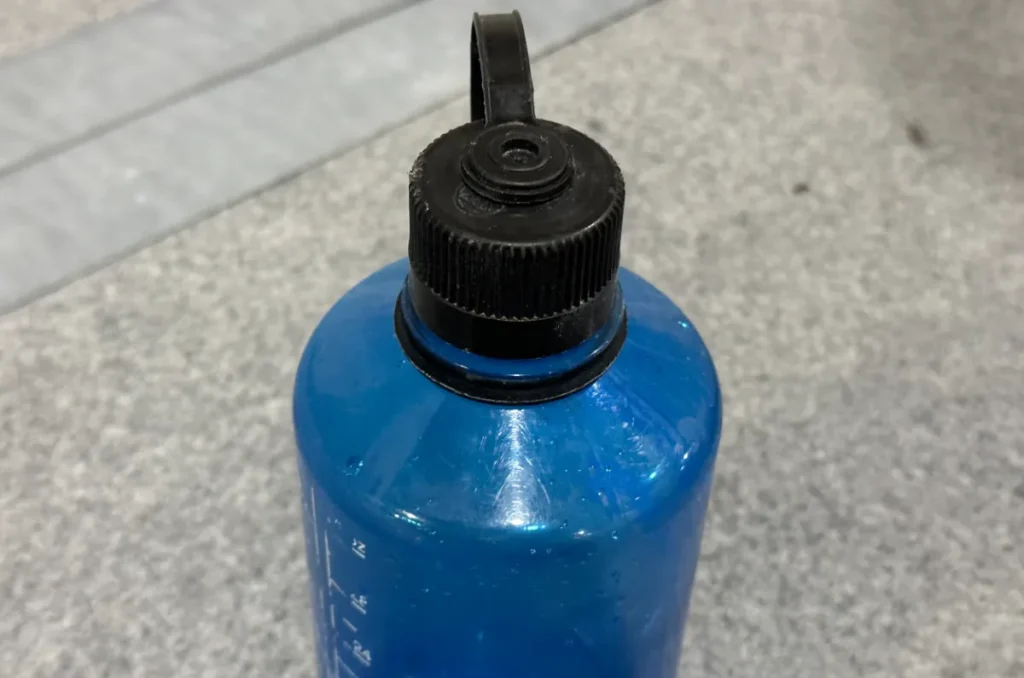 Nalgene's caps are made of polypropylene (PP) and low-density polyethylene (LDPE).
PP is one of the most widely used materials for bottle caps (used for everything from ketchup bottles to shampoo) because of its elasticity and ability to retain its shape.
LDPE is a durable and highly-flexible plastic used for the straps of Nalgene lids.