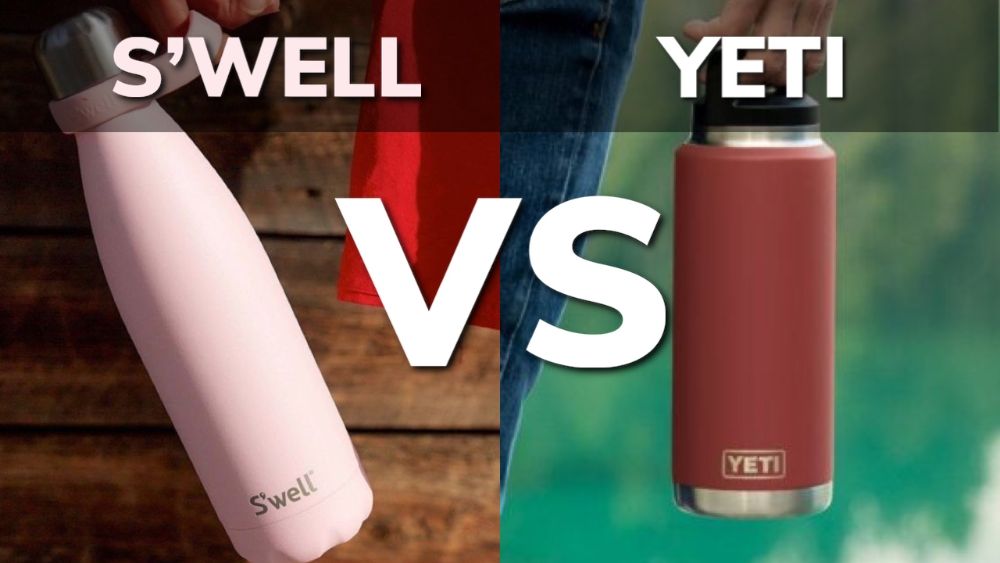 Both S'well and Yeti make high quality water bottles that keep drinks hot or cold for hours.
Both Yeti and S'well bottles don't come cheap so how do you know which one you should buy and which bottle is better?
Quick Summary
Yeti bottles are a similar price to S'well bottles but they are much more durable and have a longer 5-year warranty compared to 1-year for the S'well. However, S'well bottles hold ice longer and have more colors and designs to choose from.
Yeti and S'well couldn't be more different in their aesthetic are their target market.
Yeti bottles, like this coolers, are made to be tough and durable and geared towards the outdoors. Their color options are earthy and their designs look strong and bulky and a bit masculine.
S'well bottles on the other hand are as sleek, beautiful and feminine as they come. They have smooth lines, gorgeous colors and pattern options and scream "fashion accessory" and "high status".
While both brands are well know and both are a status symbol they do this in different ways.
Performance on both bottles is excellent and both have a wide range of sizes available. I suggest you go with whichever bottle you like the design of best.
In this article we'll go into detail and look at the major differences of S'well bottles vs Yeti bottles to help you decide which one is right for you.
S'well is Better For:
Price on larger sizes
Design and color options
Ice retention
See the latest price of S'well Water Bottles at Swell.com
(or compare to latest price of S'well water bottles at Amazon)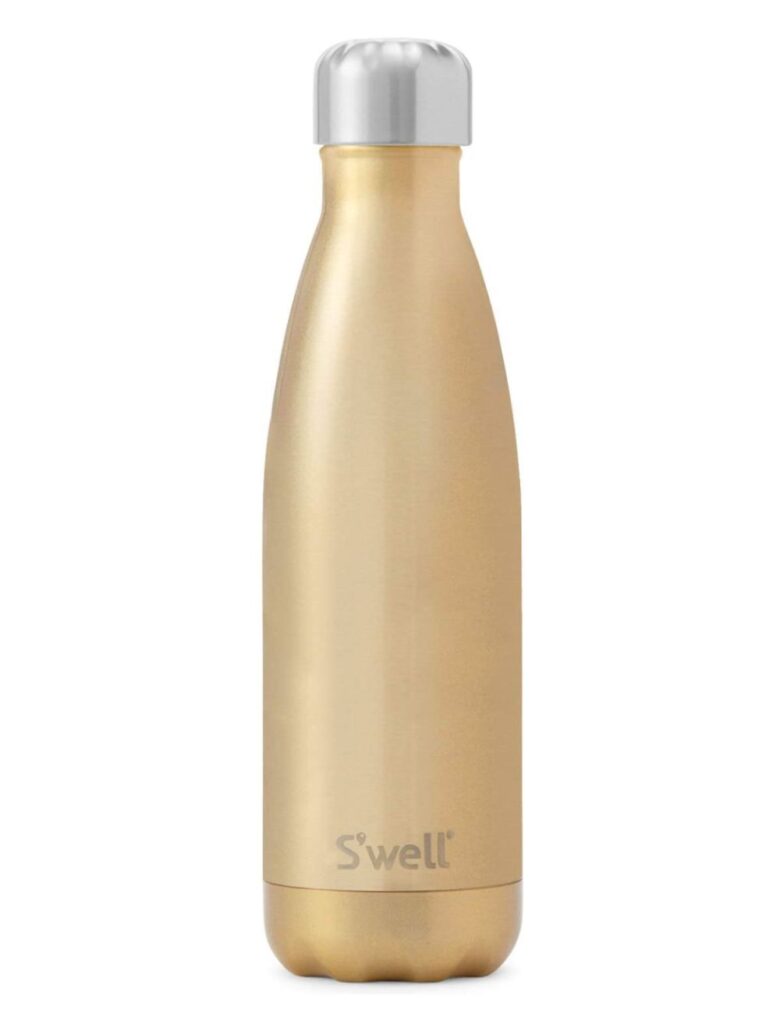 Yeti is Better For:
Price on smaller sizes
Durability
Warranty
Wide mouth and lid options
See the latest price of Yeti Bottles at Yeti.com
(or compare to the latest price of Yeti Bottles at Amazon)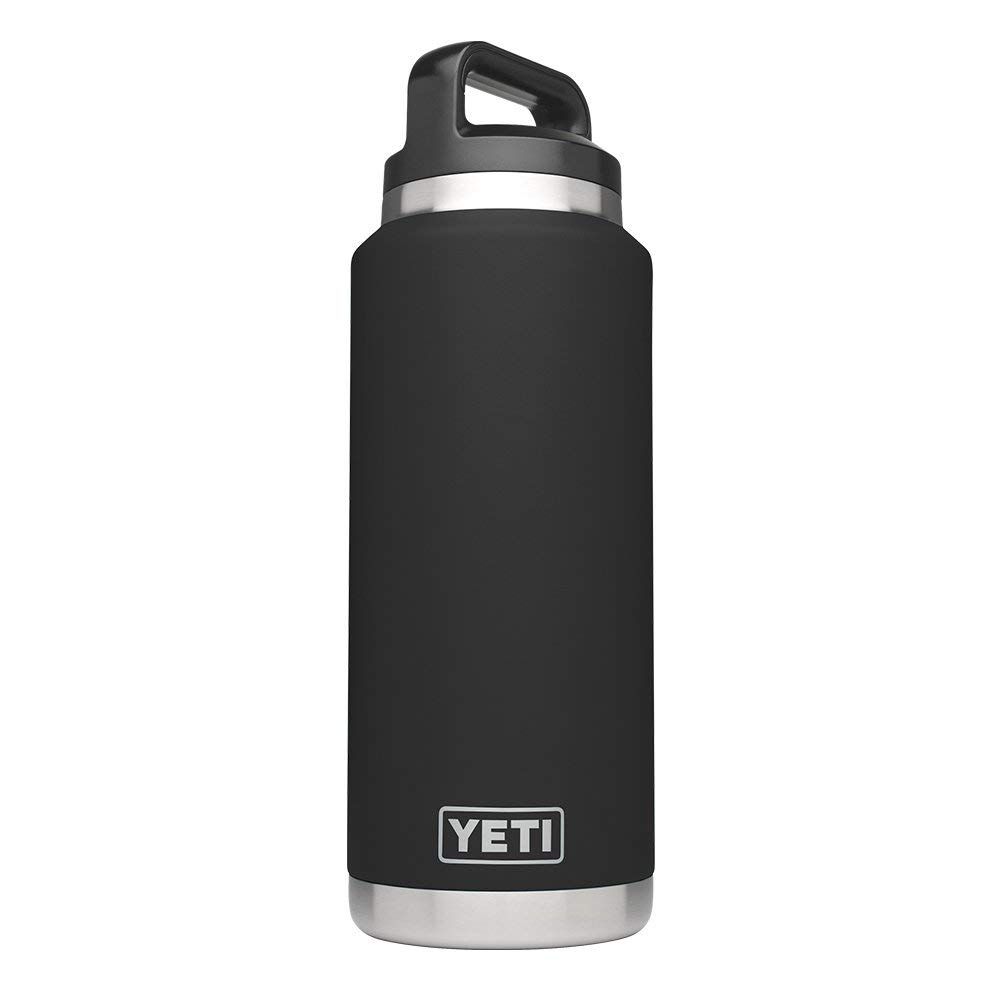 S'well vs Yeti Comparison
Below you can see a direct comparison between Yeti and S'well.
S'well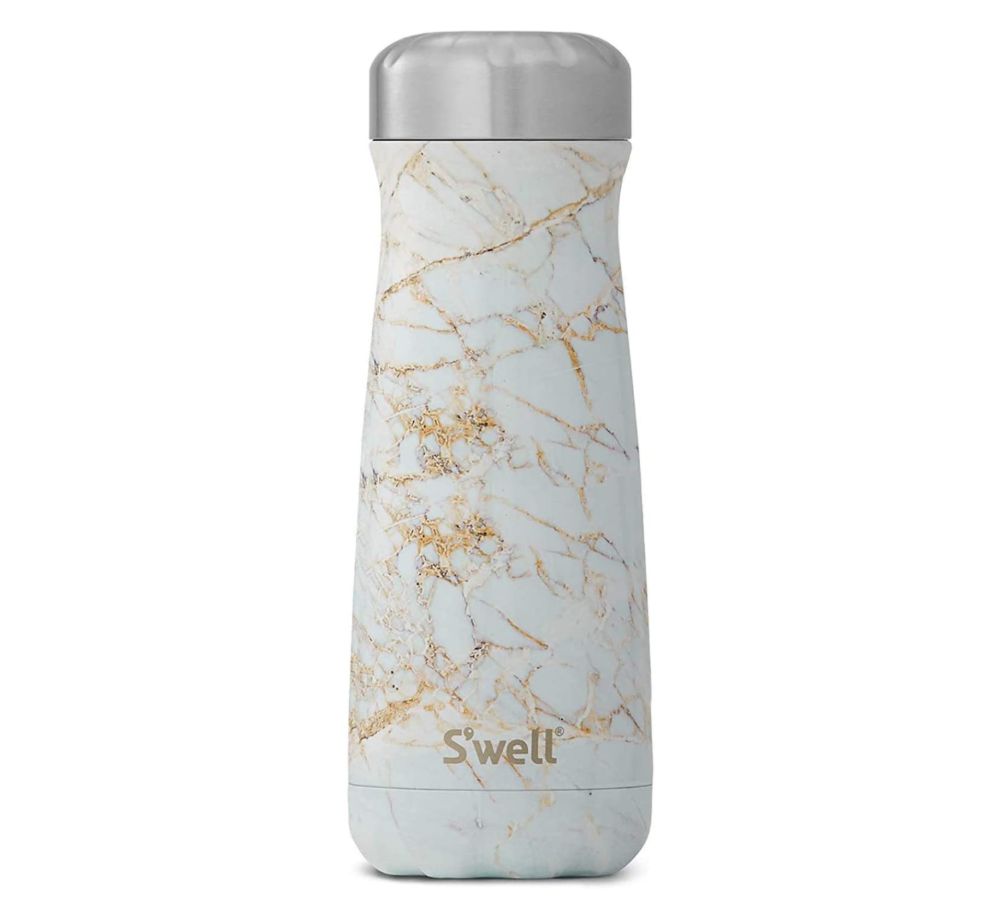 Slightly more expensive
See latest prices at Swell.com
Sizes: 6, 9, 10, 12, 15, 16, 17, 20, 25, 40, 64 oz
Positives:
Better ice retention
Feminine design/form
Lots of colors and prints available
Lots of sizes available
Negatives:
No handle making it prone to dropping
Not as durable as Yeti
Slightly more expensive
Hydro Flask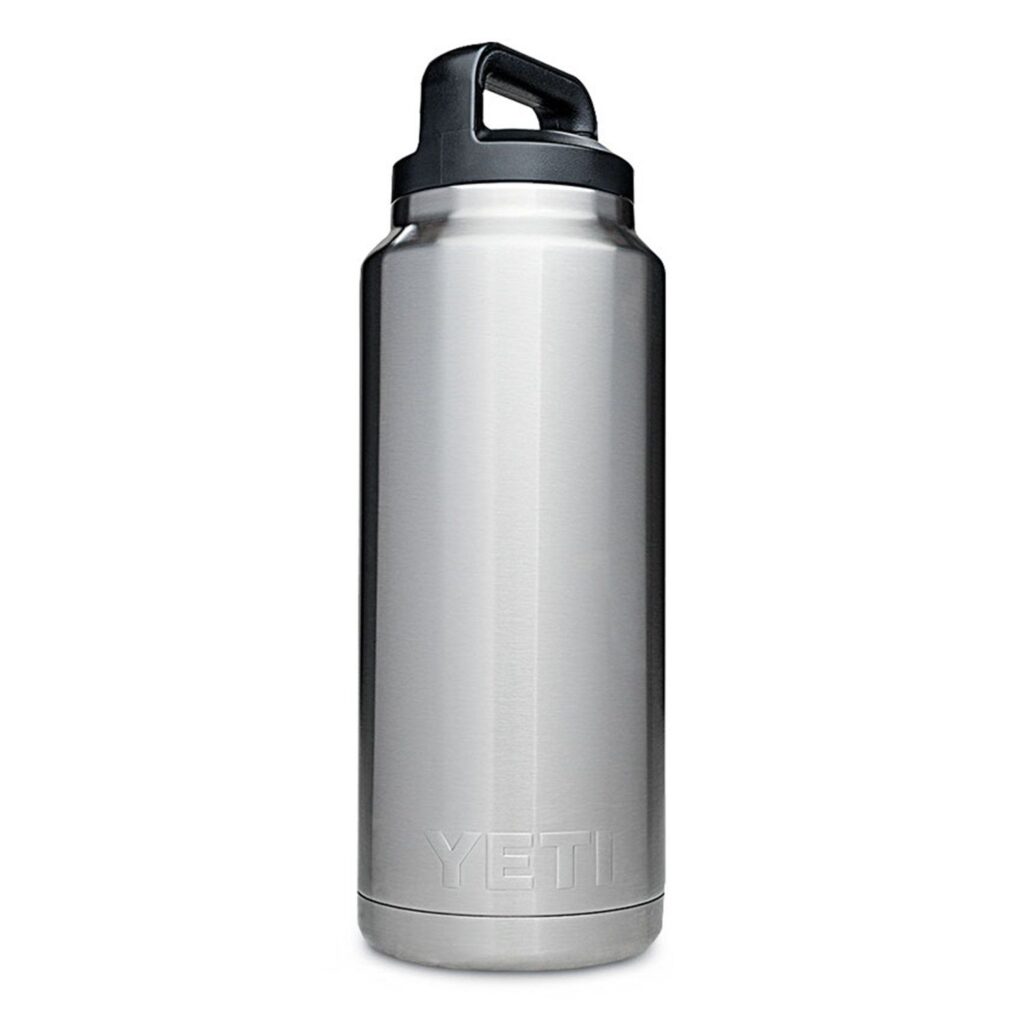 Slightly cheaper
See latest prices at Yeti.com
Sizes: 12, 18, 26, 36, 46, 64, 128 oz
Positives:
Well know brand name
Extremely durable
Lots of sizes available
Unisex design
More affordable than S'well
Negatives:
Ice retention isn't as good as S'well
Cold Performance
Winner: S'well (But Only Just)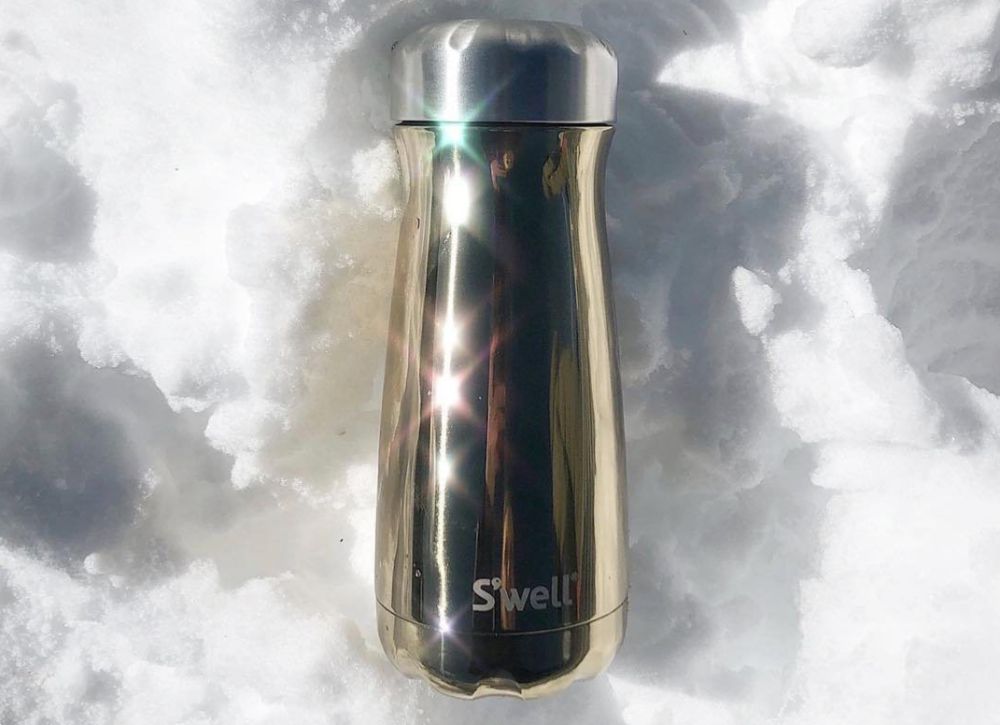 One of the really big selling points of both of these bottles if they are able to keep drinks cold or hot for an extremely long period of time. But which bottle actually works better and hold ice for longer?
While both of these bottles are great at holding ice the S'well slightly outperforms the Yeti bottle and can hold ice longer.
When I say slightly I really do mean slightly.
Both bottles can hold ice from 1-3 days depending on the size of the bottle and the outside temperature. The S'well might hold ice 3-12 hours longer than a Yeti over a 2-3 day period.
So performance is really close and given you're rarely going to even want to keep your drink cold for more than 1 day they are both more than good enough at keeping your drinks cold.
Why is S'well Better at Holding Ice?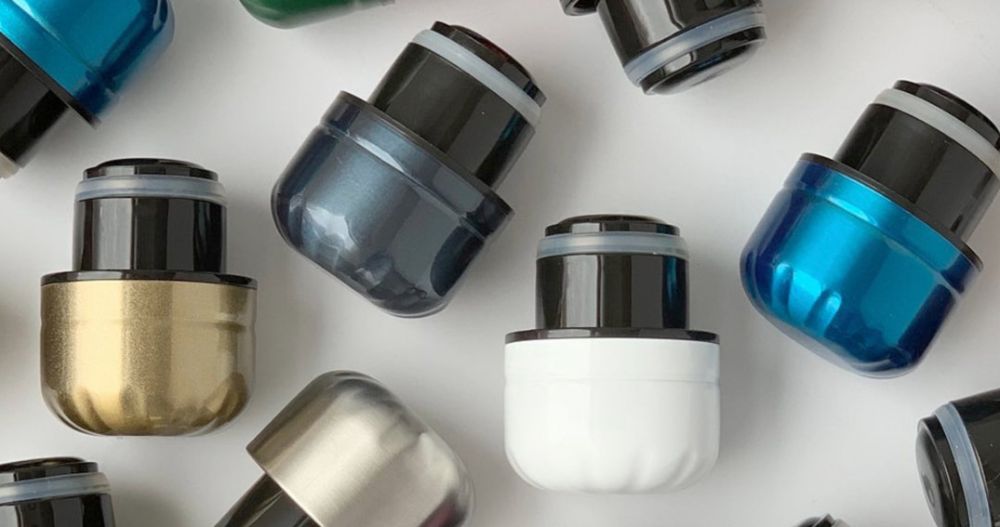 Both S'well and Yeti bottles are great at holding ice but S'well does it just a little bit better than Yeti. You might be wondering how it manages to do this?
Well both S'well and Yeti bottles are made from double walled stainless steel and they use a vacuum between these 2 walls as insulation. So both of them use the same type of material and the same insulation.
A vacuum makes it extremely hard for heat to pass through it which is why they can hold ice so long. But something I found when looking into the best insulated tumblers that hold ice the longest is that the lid is where most of the heat gets in.
Given the S'well bottle has a small mouth opening and the lid is thick and heavily insulated this stops heat getting into the bottle. Compare this to the wide mouth and wider lid of the Yeti and this design allows a bit more heat in leaving to slightly worse performance.
Price
Winner: Depends on Size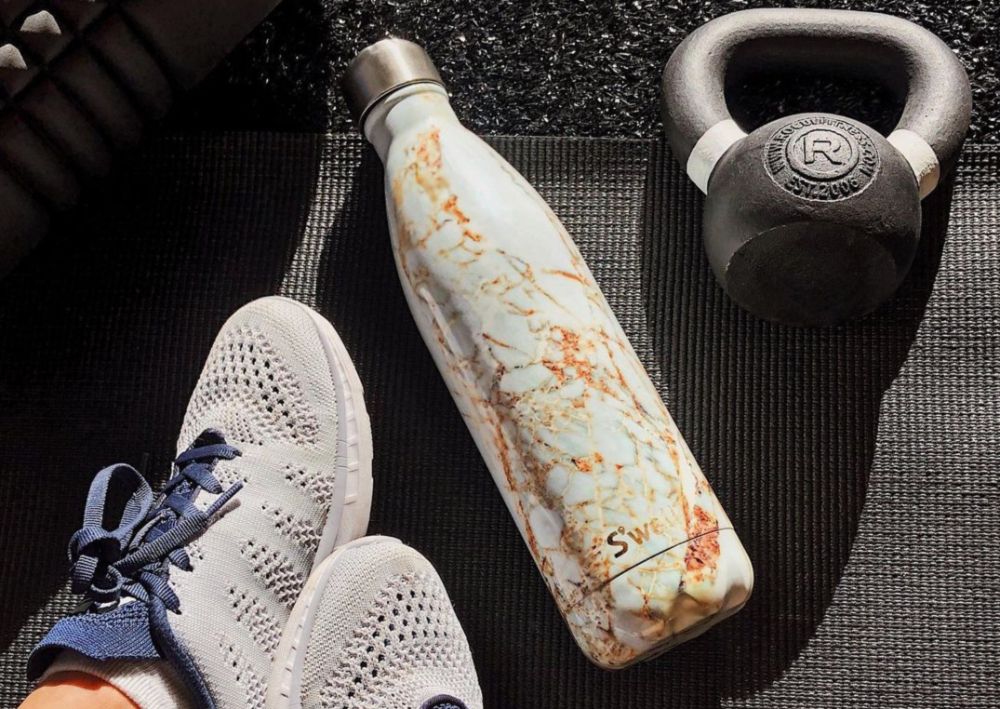 Given both bottles perform almost the same the next thing to look at is the price.
If either Yeti or S'well was significantly cheaper than the other brand then this could be a good reason to choose one over the other.
While both Yeti and S'well have lots of different sizes I did a comparison of the RRP of some of the more popular sizes to see how they compared to each other.
As you can see Yeti coolers are slightly cheaper (around $5-$10) for the smaller sizes of 26 oz and under. But then S'well bottles are cheaper for the larger sizes of 40 oz and 64 oz.
S'well Prices
12 oz – $30.00 RRP
20 oz – $40.00 RRP
25 oz – $45.00 RRP
40 oz – $50.00 RRP
64 oz – $75.00 RRP
Yeti Prices
12 oz – $29.99 RRP
18 oz – $29.99 RRP
26 oz – $39.99 RRP
36 oz – $54.99 RRP
64 oz – $99.99 RRP
So depending on what size you are buying you could potentially save yourself $5-10 by buying a Yeti bottle or save yourself $5-$25 buying a larger size S'well bottle.
Colors and Design
Winner: S'well (But Depends on Personal Preference)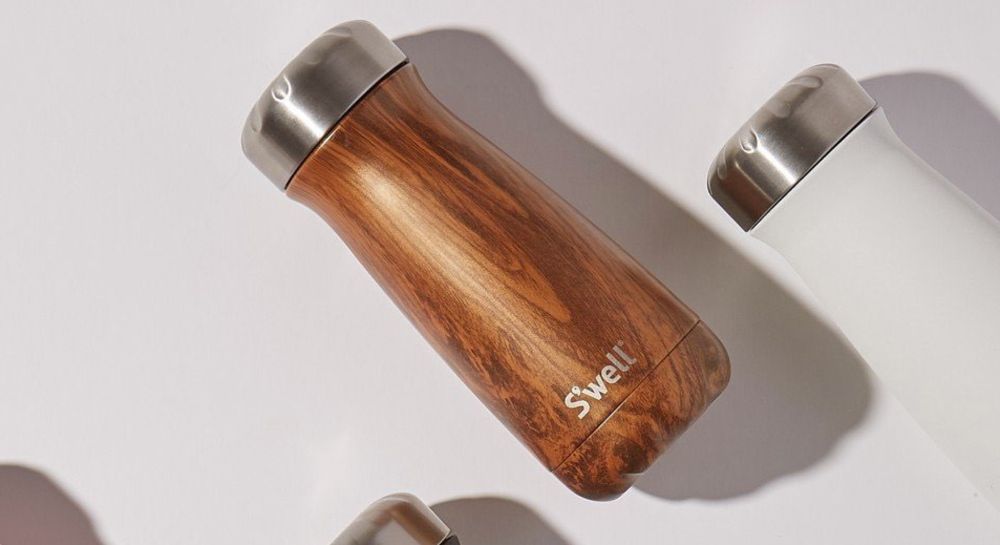 I think both S'well and Yeti bottles have great designs and both look great, but for this category I've got to give the edge to S'well.
Their variety of designs from thin bottles to shorter and thicker "travellers" (as seen above) plus their super wide range of colors and printed designs means there is way more to chose from when compared to Yeti.
Yeti bottles only come in a few colors and while they do have seasonal colors which look really great they are always solid colors and they are also usually more earthy and subdued tones.
Compared to the gold or marble or wood finish of the S'well bottles I just think the S'well looks like it has a more premium design.
However, at the end of the day it comes down to personal preference. The S'well bottles are more feminine and the Yeti bottles are more masculine and different people would like different things.
See the latest price of S'well Water Bottles at Swell.com
(or compare to latest price of S'well water bottles at Amazon)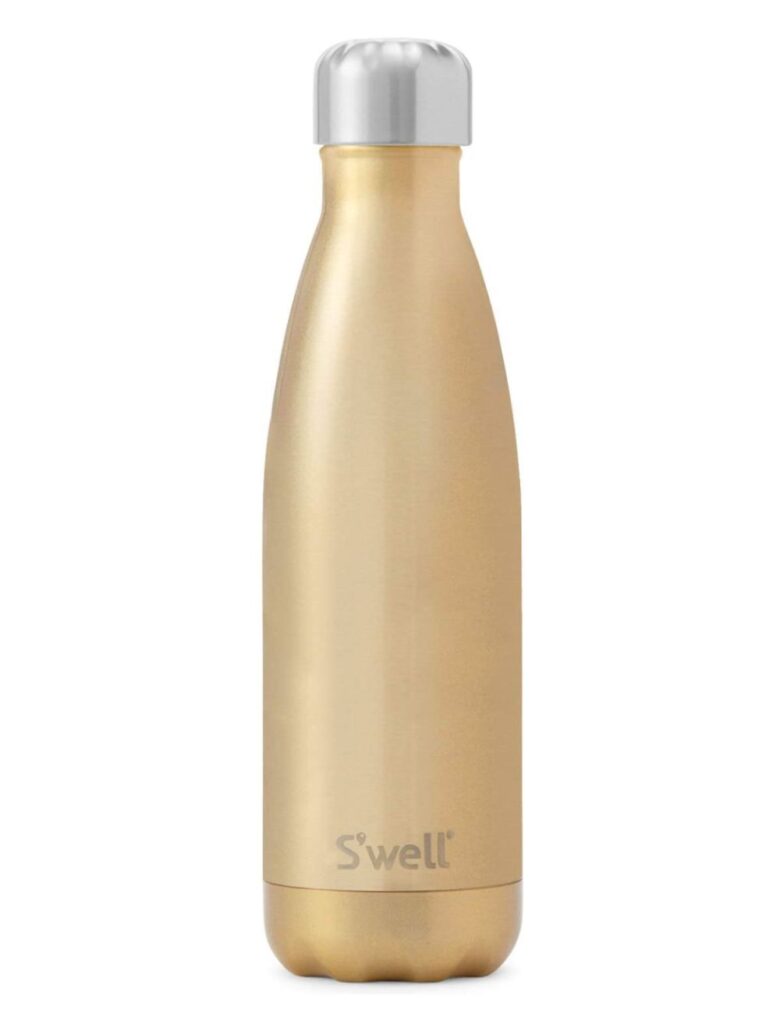 Width of Mouth
Winner: Yeti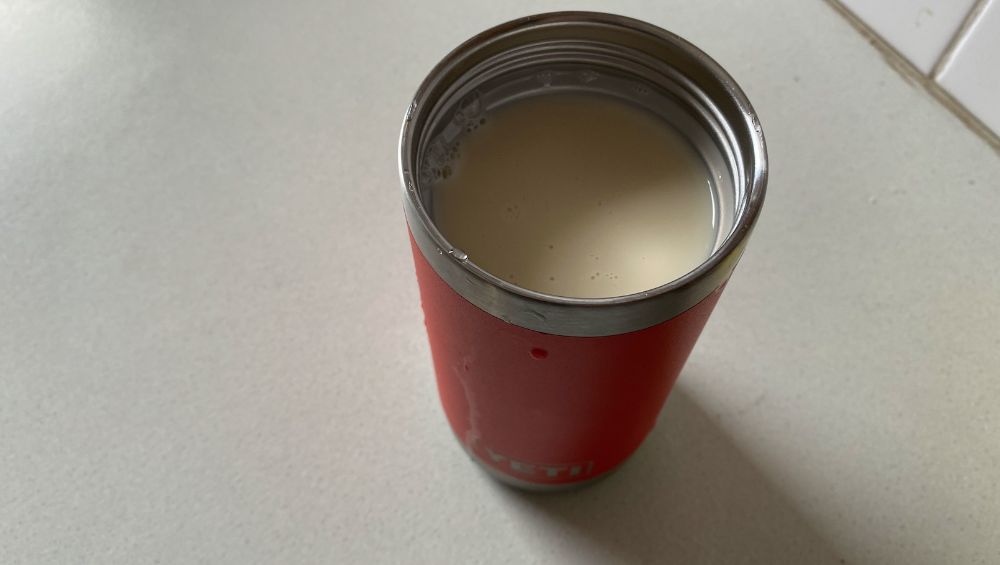 One of the downsides of the S'well bottle is the width of the opening at the top.
S'well bottles have a very thin opening which makes it hard to fit in larger pieces of ice. It's no good if your bottle holds ice for a long time but you can't fit any ice in it!
The smaller mouth opening also makes it a lot harder to see inside and clean inside of the S'well bottle.
The S'well traveller bottles do have a wider mouth but I personally prefer the Yeti bottles as they all come with a wide mouth opening.
This makes it really easy to load it up with ice and it also makes the Yeti bottle really easy to clean. Tips on how to clean a Yeti bottle/tumbler properly.
Size Options
Winner: S'well For Variety, Yeti For Large-ness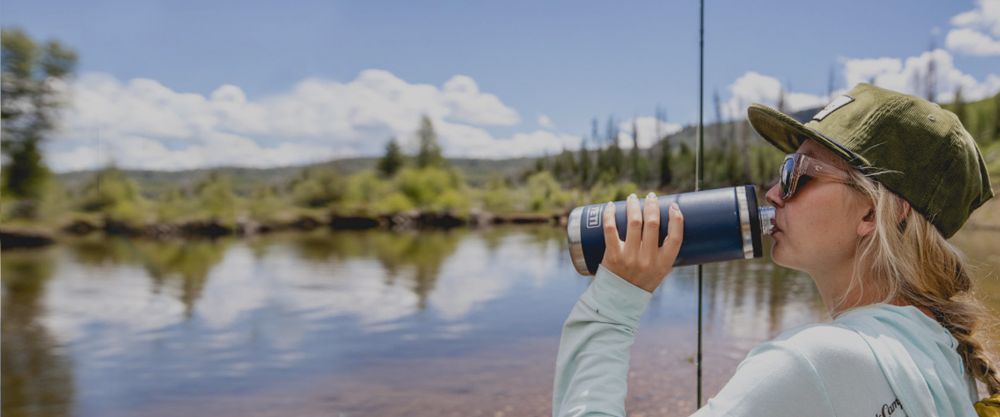 Everyone is different and the size of bottle people want is going to be different.
My friends who have very physical jobs working in the heat all day long love the larger 64 oz and 128 oz Yeti's as they'll go through it easily in a day.
Me being someone who works from home or spends time on the road I much prefer a smaller size around 18-26oz size.
S'well have a much wider variety in the smaller sizes with 11 different sizes to choose from between 9-64 oz. Yeti only have 6 sizes ranging from 12-64 oz which is basically half the options.
However, Yeti does have the extra large 128 oz (1 gallon) jug whereas S'well doesn't have an option this big.
Both brands over a good variety and unless you want a 1 gallon jug you should be able to find a size to suit your need from either S'well or Yeti.
Durability
Winner: Yeti

When it comes to insulated water bottles it's pretty safe to say I own more water bottles than most people and I also own a wide variety of brands.
From cheap no-name brands to the most popular and expensive brands like Yeti, Hydro Flask, Thermos, Klean Kanteen etc. I've also got 3 kids who help me test these water bottles on a daily basis
Below you can see just part of my collection of water bottles.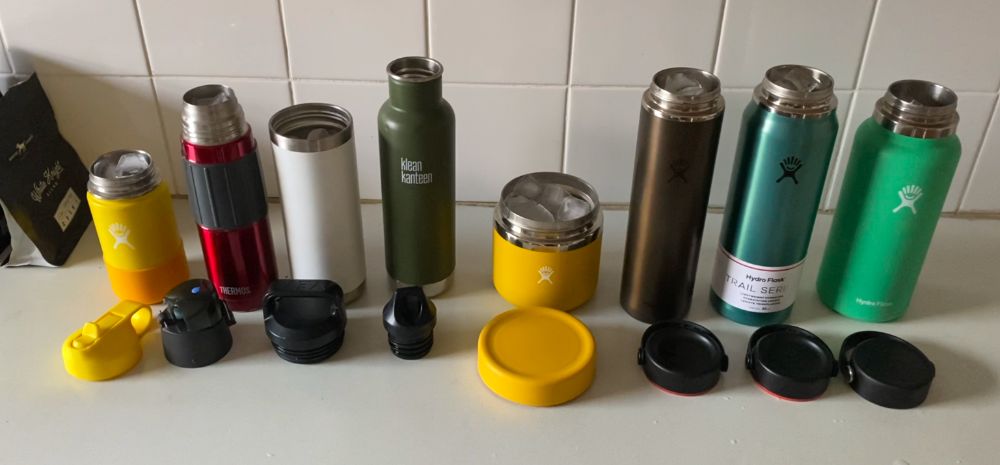 I say this to say that I know A LOT about the quality and durability of these water bottles.
After months and months of usage and testing I can say confidently that Yeti water bottles seem to be more durable than any other water bottle on the market.
I don't know how they do it but they feel stronger and are less likely to dent than other water bottles.
Also I have seen a few reviews for S'well bottles complaining about the paint coming off easily and the bottles denting easily so with this it's pretty clear that Yeti water bottles are made to be more durable.
See the latest price of Yeti Bottles at Yeti.com
(or compare to the latest price of Yeti Bottles at Amazon)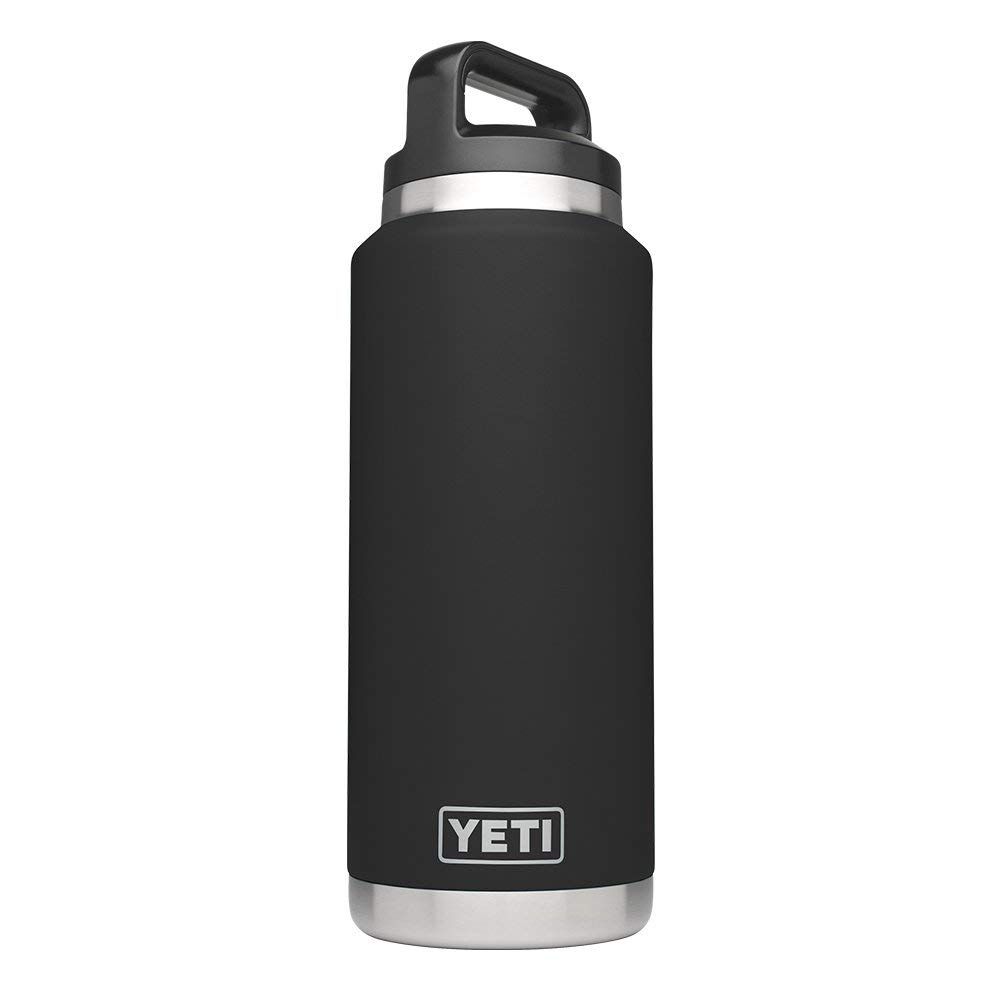 Warranty
Winner: Yeti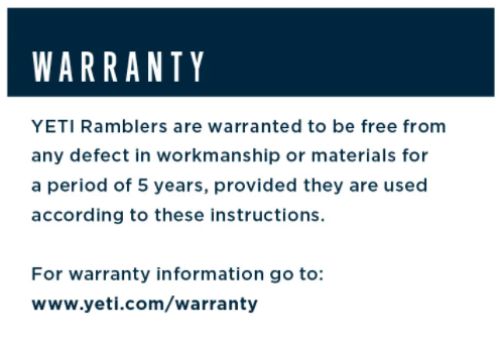 When it comes to warranty Yeti beat S'well bottles by a wide margin.
Yeti Rambler bottles all come with a 5-year limited warranty. S'well water bottles on the other hand only come with a 1-year warranty.
For this reason alone I am way more confident to recommend Yeti water bottles to people because I know if something does go wrong they'll be covered under warranty for up to 5 whole years!
Lid Options
Winner: Yeti

Yeti bottles come with a variety of lid options that you can change between.
There is a standard lid, a chug cap lid, a lid with a magnetic dock for to store the cap when drinking, a straw cap, a hotshot cap designed for coffee and even a lid that doubles as a drinking cup.
As you can see there are so many different lid options when it comes to Yeti bottles.
I haven't even mentioned the aftermarket lids that you can buy from Amazon are compatible with Yeti bottles.
S'well on the other hand has only a few lid options. The basic lid, a filter lid and a sports lid.
Their lids are good but there just isn't a lot to choose from.
Accessories
Winner: Neither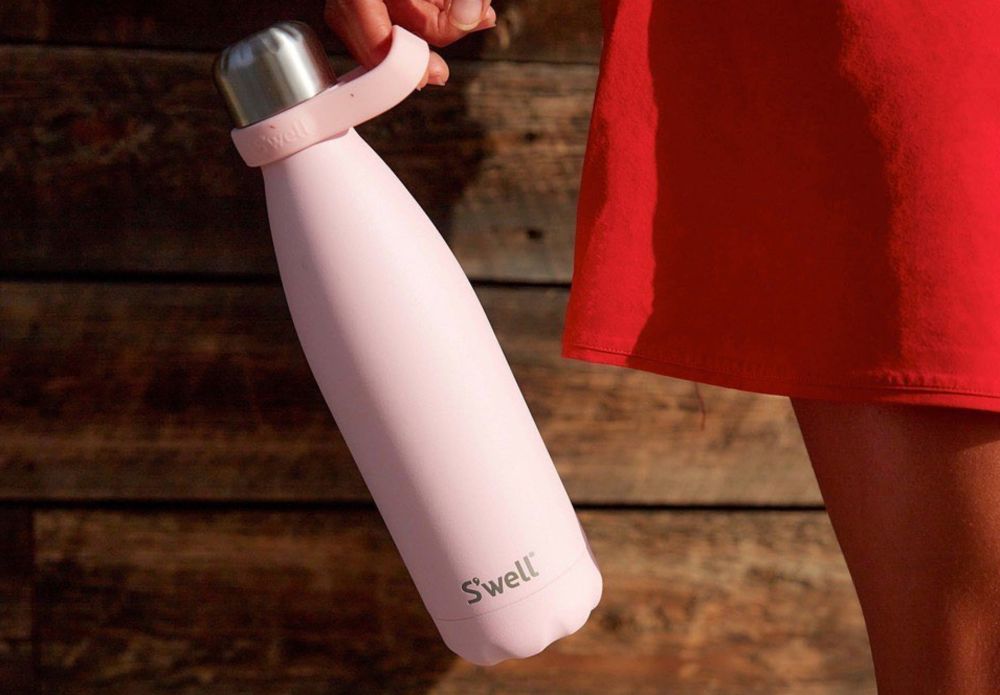 Neither the Yeti bottles or the S'well bottles have any amazing accessories to deck them out and make them even better.
The S'well has a bottle handle shown above which makes it easier to carry but that's really the only accessories available.
Yeti doesn't have much more but there are after market accessories available for the Yeti which gives you a few more options for things like bottle protectors, paracord handles etc.
S'well vs Yeti: Which One Would I Recommend?
We've now had a good look at the major differences between these 2 bottles.
If you're curious as to which bottle I would recommend when comparing S'well vs Yeti here is my verdict.
I Would Recommend: Yeti For Durability and Longevity

If I had to recommend just one bottle then I would most likely recommend the Yeti bottle.
The primary reason for this is the durability of the Yeti bottle when compared to other insulated water bottles on the market.
It's made stronger than the S'well and is less likely to dent or have the paint chip off.
It's also backed by a 5-year warranty which is 5x longer than S'well's 1-year warranty.
I own a couple of Yeti bottles and even more tumblers and I absolutely love them and I'm always happy to recommend Yeti products to people. They are expensive, but they are worth it.
See the latest price of Yeti Bottles at Yeti.com
(or compare to the latest price of Yeti Bottles at Amazon)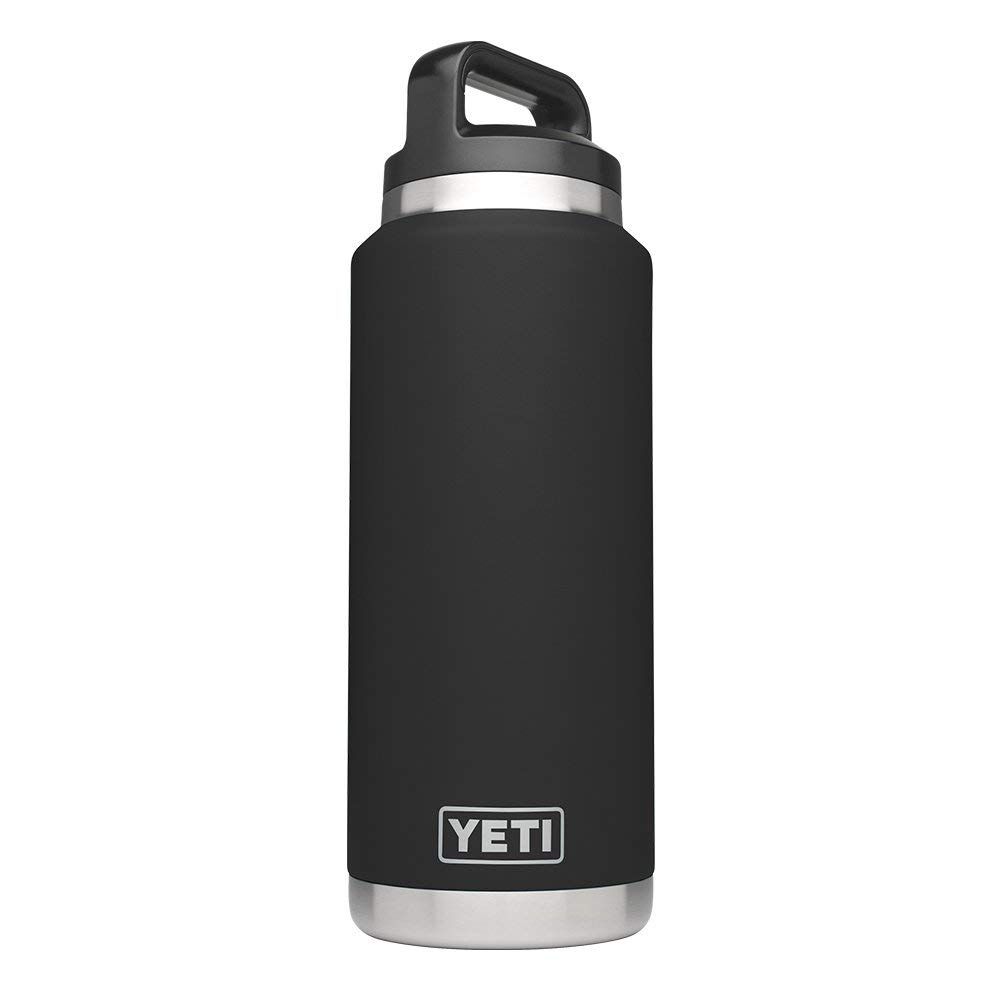 I Would Recommend: S'well For Design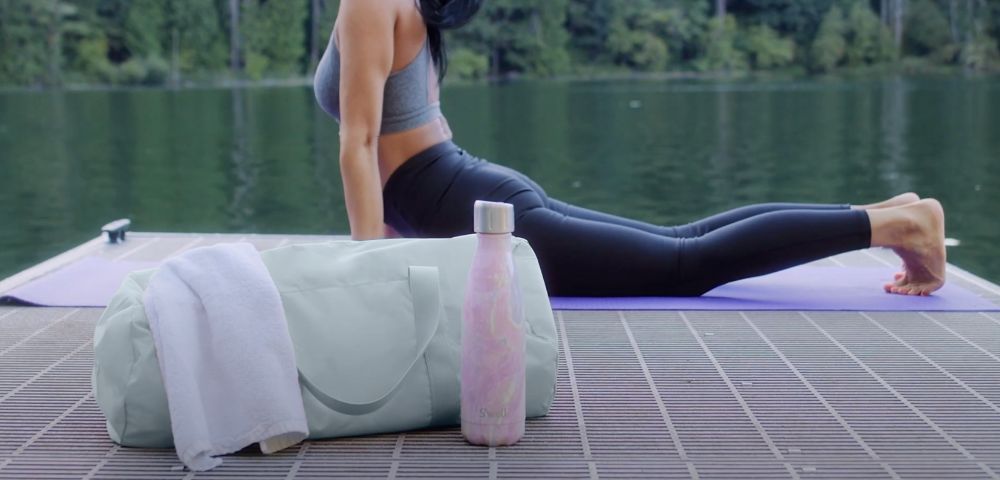 The exception to this rule would be if I was talking to someone who had an eye for fashion and design or someone who was much more feminine and wanted a water bottle that looked beautiful.
To the fashion gurus, yoga mums and hipsters out there I would definitely recommend the S'well over the Yeti.
Yeti looks bulky and masculine but the S'well is sleek, beautiful and comes in a wide variety of colors and patterns so you can choose the exact right options to suit your style and personality.
It's got great performance and if you want that high-end style then definitely go for the S'well over the Yeti.
See the latest price of S'well Water Bottles at Swell.com
(or compare to latest price of S'well water bottles at Amazon)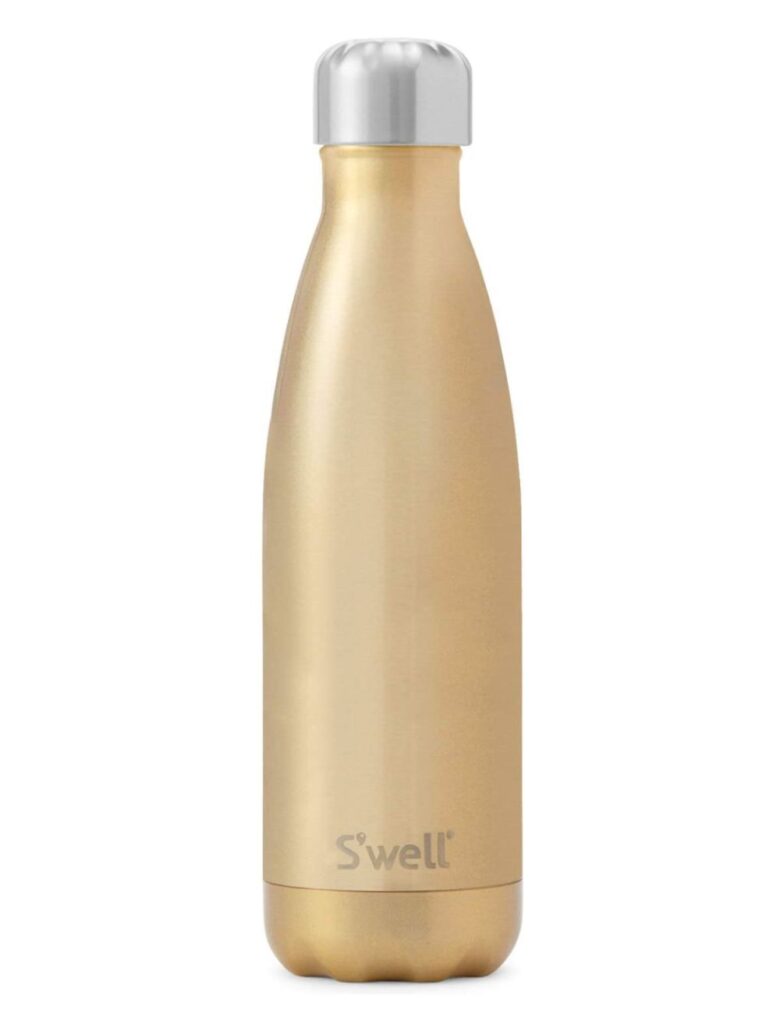 Other Product Comparisons
If you liked this head to head comparison then check out some of our other popular product comparisons:
S'well vs Hydro Flask – Which Bottle is Better?
Zak vs Yeti Tumblers: Which Is Better?
Hogg vs Yeti Tumblers: Which Is The Best?
Polar Camel vs Yeti Tumbler: Which is Better?
Cauldryn vs Ember 2 Heated Coffee Mug Showdown: Which Is Better?