There are a lot of different tumblers on the market and all of them make promise to keep drinks cold or hot for hours. But which is the best insulated tumbler cup for ice retention?
Does the famed Yeti with it's big brand and expensive price outlast all the competitors? Or do cheaper brands like Ozark Trail and RTIC perform just as good?
I wanted to know which tumbler can hold ice the longest and also which tumbler can keep drinks hot the longest.
What I found is extremely interesting:
If you're looking for the best insulated tumbler cup for ice retention they actually all work almost identically. You really are splitting hairs. The Hydro Flask, Thermos and Simple Modern work best but only slightly and only because the lids are more insulating.
Biggest Brand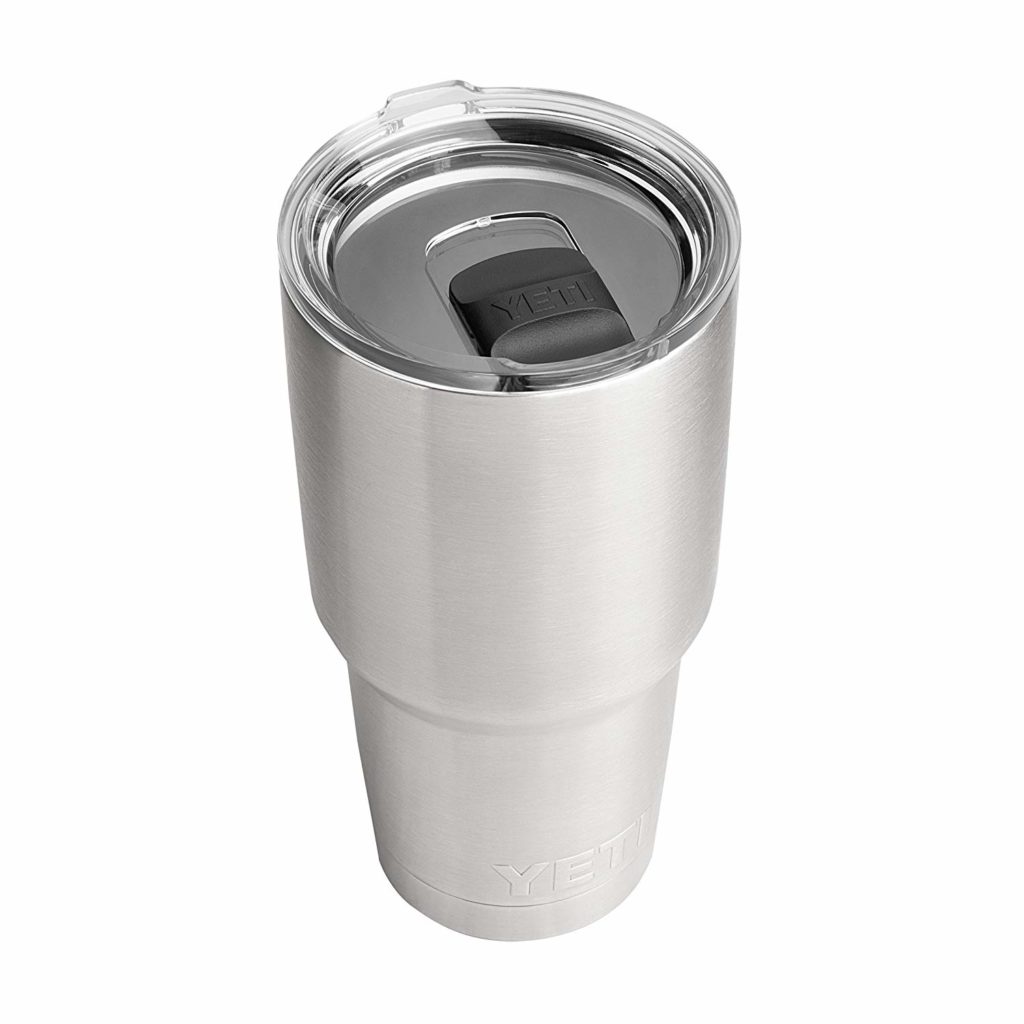 Yeti Rambler Tumblers
Sizes: 10, 16, 20, 26, 30 oz
~$19-$40
Price: See at Yeti.com
(or compare to Amazon)
BEST ICE RETENTION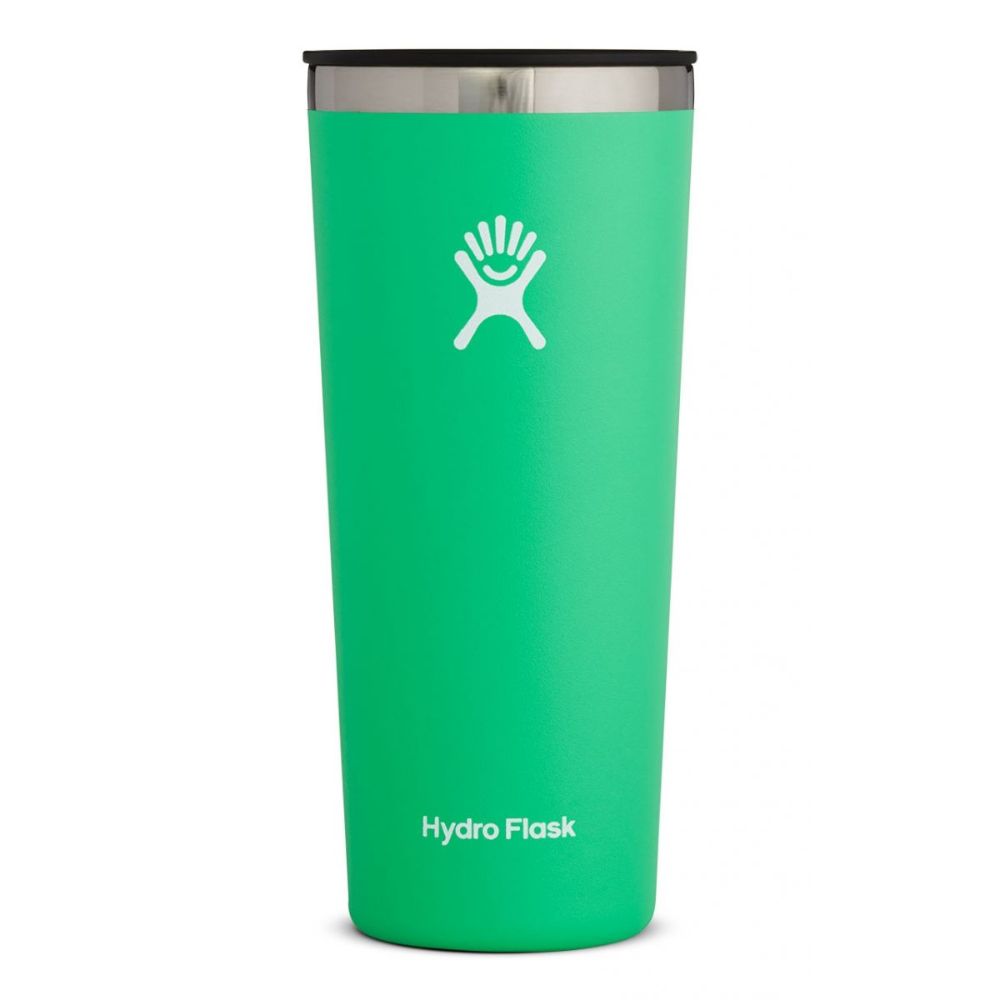 Hydro Flask Tumbler
Sizes: 16, 22, 32 oz
~$28-$40
Price: See at HydroFlask.com
(or compare to Amazon)
Value For Money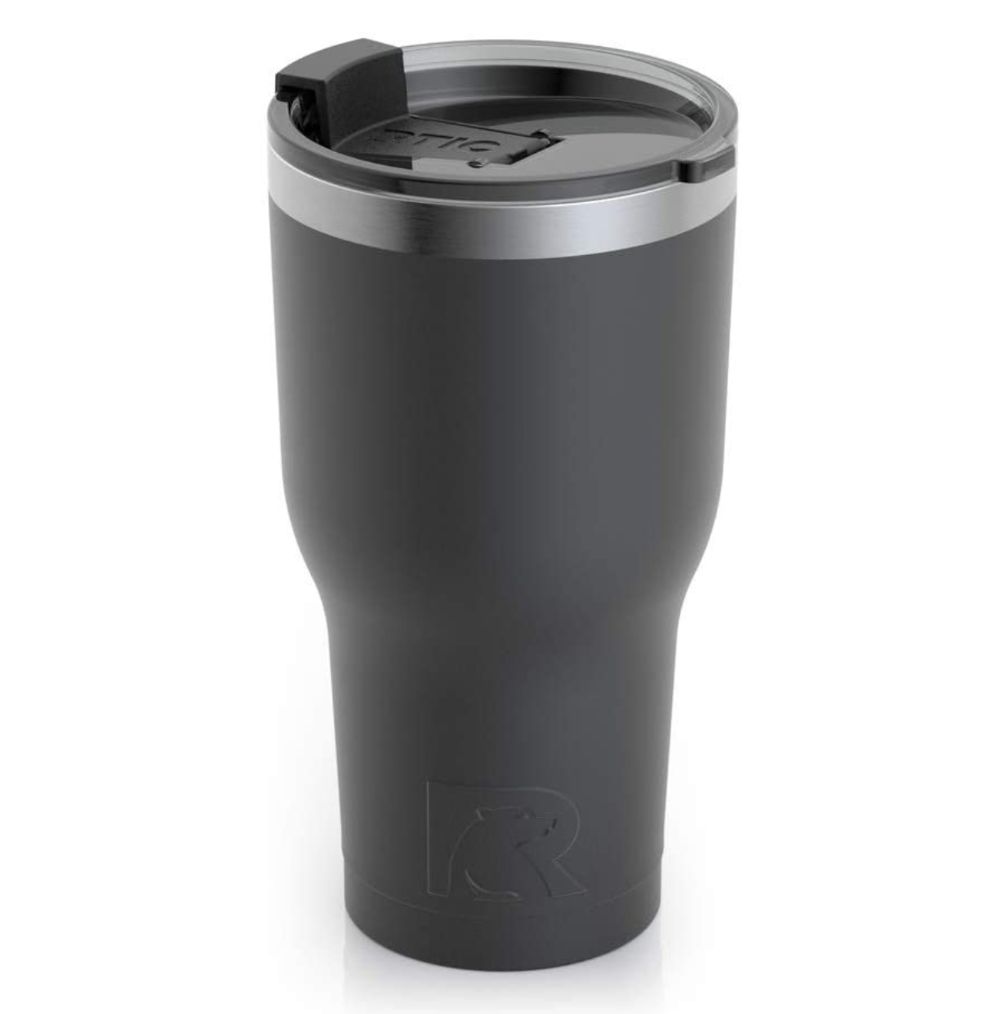 RTIC Tumblers
Sizes: 20, 30 oz
~$75-$155
Price: See at RTICProducts.com
(or compare to Amazon)
Best Performer: Hydro Flask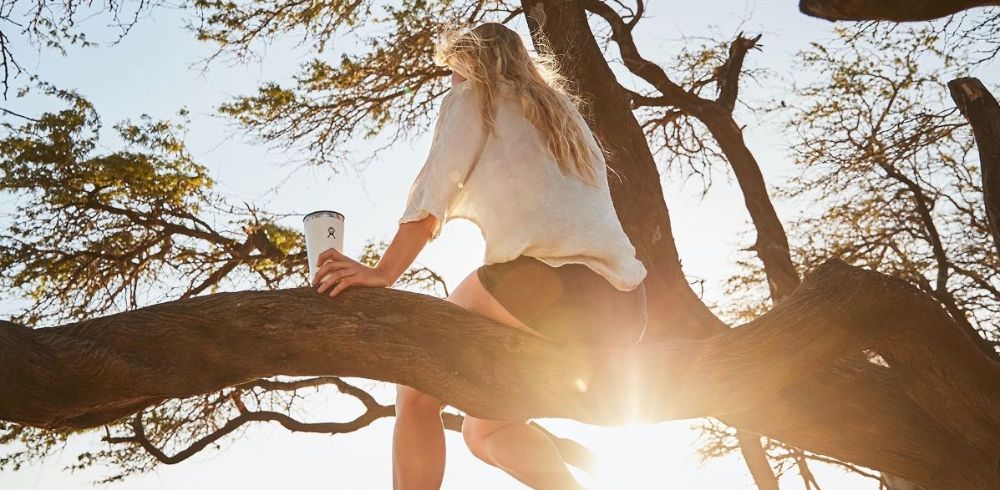 A surprising result was that Hydro Flask, who have long been in the water bottle game but not so much the tumbler game, actually performed the best when it came to ice retention.
This was shown in a couple of different tests where it outperformed Yeti as well as other popular brands like RTIC and Ozark Trail.
The difference however between Hydro Flask and other brands is rather small and while I can't prove it I personally think it comes down to the lid.
It's not a sealed lid so Simple Modern and Pelican do outperform it slightly on hot beverages but when it comes to keeping drinks ice cold none can beat it.
It happens to be one of the most expensive tumblers, up there with Yeti in terms of price. They are around $28 for the smallest size (the 16 oz) and around $40 for the largest 32 oz size.
It has a very different design which some people may love and they come in all the amazing bright colors that Hydro Flask are known for.
See the latest prices of Hydro Flask tumblers at HydroFlask.com
(or compare to the prices at Amazon)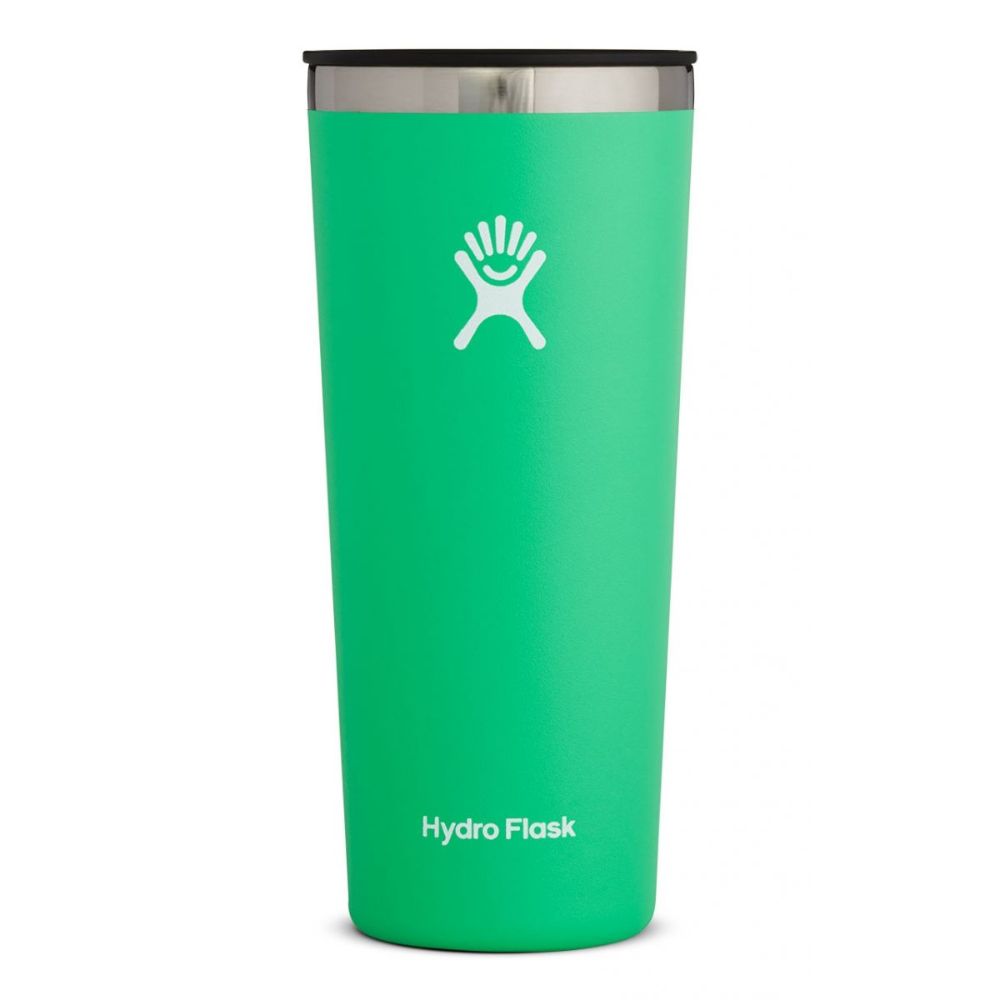 How I Worked Out Which Tumblers Perform Best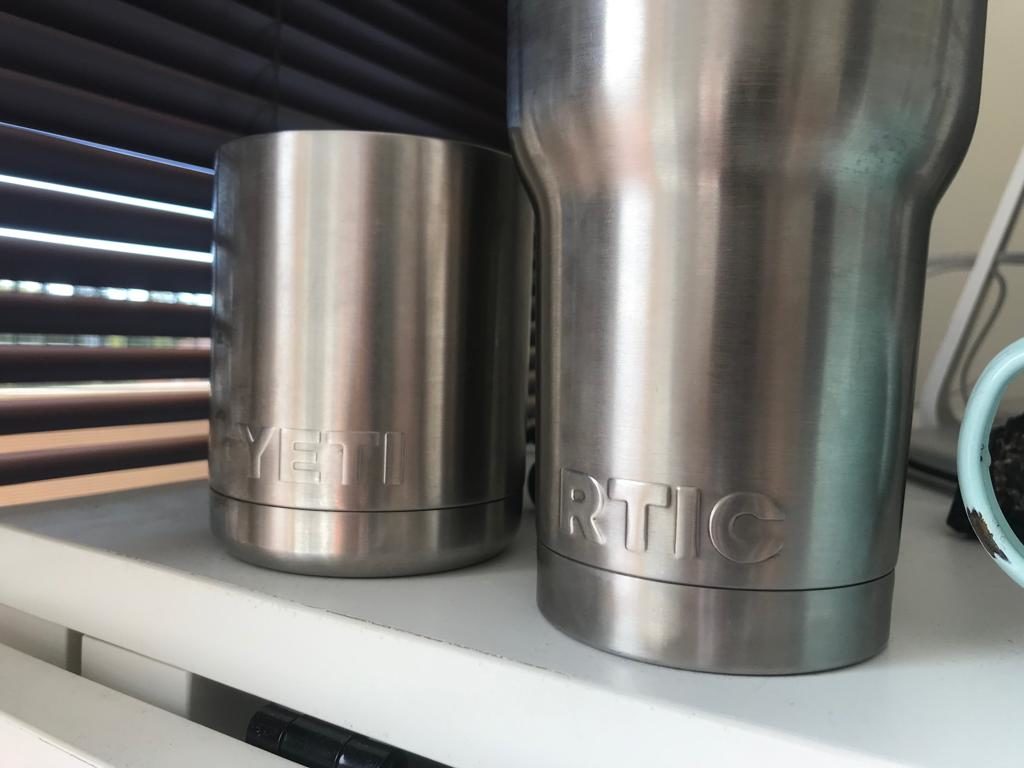 I own multiple brands of tumblers. In fact you can see a comparison I did a while back on Yeti vs Orca vs Pelican tumblers.
However, since then a lot of different brands have come out and I will say that I don't own all of them. It would be an excessive amount of tumblers to own and I just don't drink that much water or have enough kids to share them around.
But a lot of people online own these cups and a lot of people have done ice tests and hot drink tests comparing them.
So I treated this like a research project and looked at all the videos and articles where actual tests were done comparing brands. I then compiled the data to give the most accurate representation of which cup I think holds ice the longest.
You can see all my research linked at the bottom of this article if you're interested in seeing what went into this post.
Insulated Tumbler Cups All Perform NEARLY The Same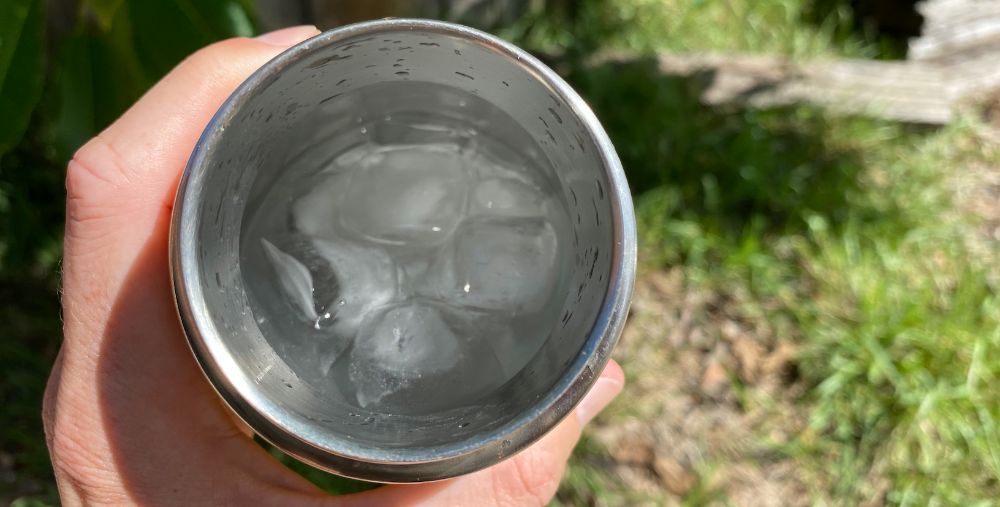 This was a frustrating discovery to make. I had hoped that there would be big performance differences between the brands.
Maybe the expense brand like Yeti would outperform all the other brands and show itself to be worth the money.
Or maybe a cheaper brand like Ozark Trail or RTIC would be a surprise winner and hold ice way better than anything else. I definitely discovered some interesting results in my look at the best soft coolers for ice retention.
But this didn't seem to be the case. The difference in performance between the tumblers was really small. With different tests giving different results for a lot of the tumblers.
This is likely due to the fact they all use the same technology – vacuum insulation and the only main differences are the lids or the thickness of the vacuum.
It's The Lid Design That Makes ALL The Difference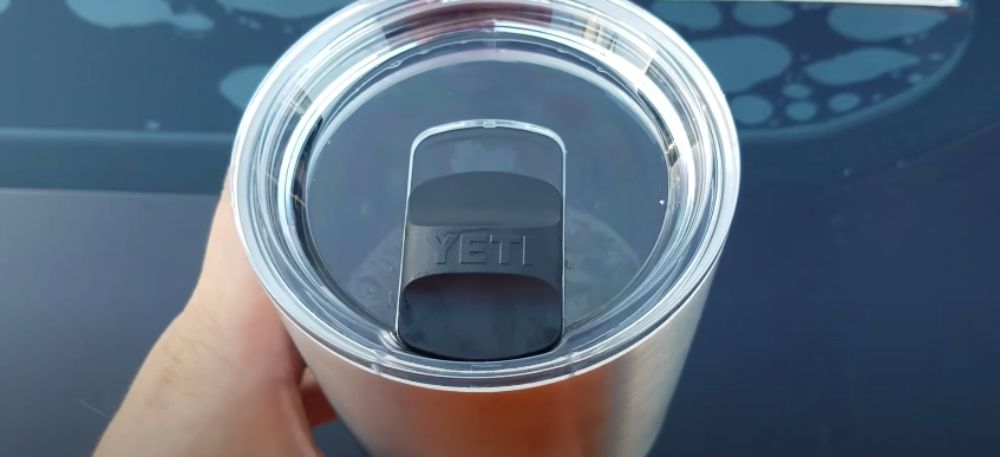 From what I can gather from the hours of experiments that I watched is that the bodies of the tumbler cups all perform basically identically.
The only place where there is any difference is in the lids and it is the lids that make all the difference.
Here are some interesting things to consider:
Air Tight Lids Perform WAY Better in Heat Tests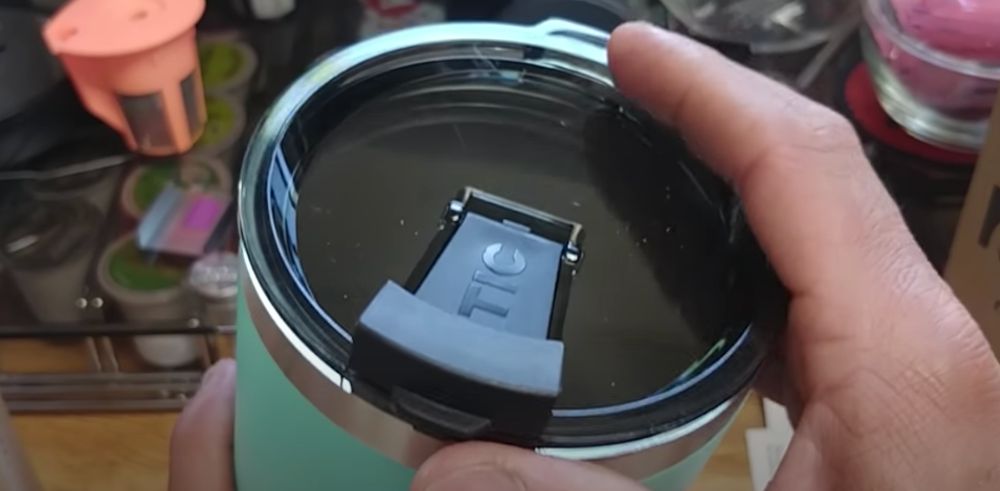 When it comes to ice there wasn't a huge difference but when it came to hot drinks airtight lids outperformed tumblers without airtight lids every single time.
The reason for this is that hot drinks let off steam. As the steam evaporates it actually takes A LOT of heat with it, which in turn cools down your drink faster.
Tumblers that had lids where the steam couldn't escape weren't losing this heat and so would stay hotter for longer.
This is why you have a cup like Simple Modern outperforming the Hydro Flask in a heat test even though the Hydro Flask performed better in ice tests.
Having An Open Hole Doesn't Affect Ice Retention As Much As You Would Think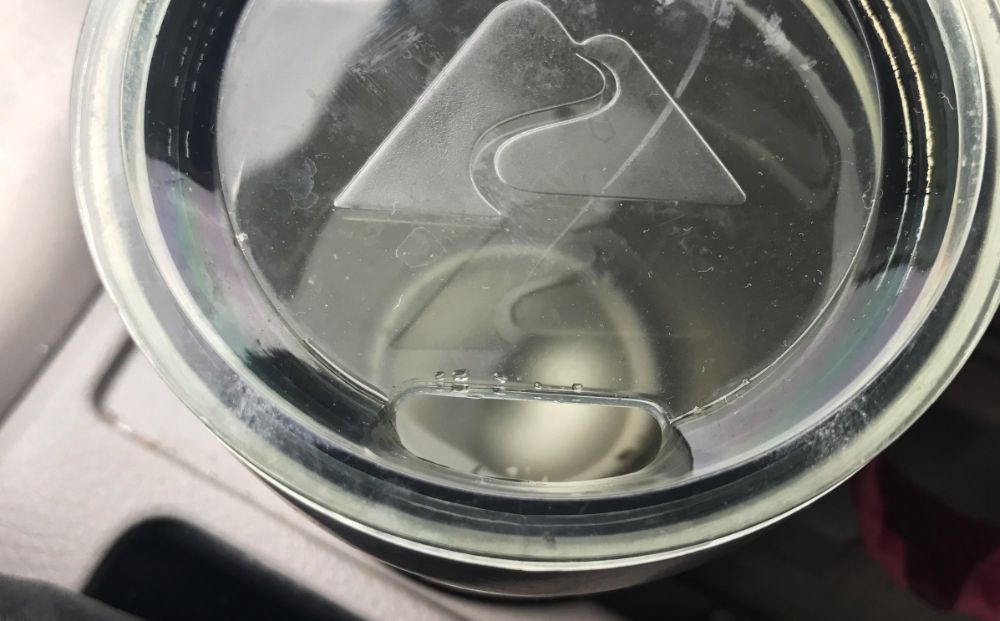 A lot of tumblers come with lids that have a permanent open hole in the lid.
This hole can't be closed and so would be constantly letting in the outside air.
I thought this would have a massive negative impact on ice retention but it seems to have little to no impact at all.
A Lot of The Ice Retention Comparisons Use Outdated Lids
Most of the videos I could find comparing tumblers were from 2016-2018 where Yeti and RTIC (the 2 major brands) had lids that didn't close.
Since then Yeti has released the MagSlider lid which closes over the sipping hole but isn't leak proof and RTIC also has a closing lid.
I was able to find a few more recent ones though which are included in my research data below.
The Better The Lid The Better The Tumbler Works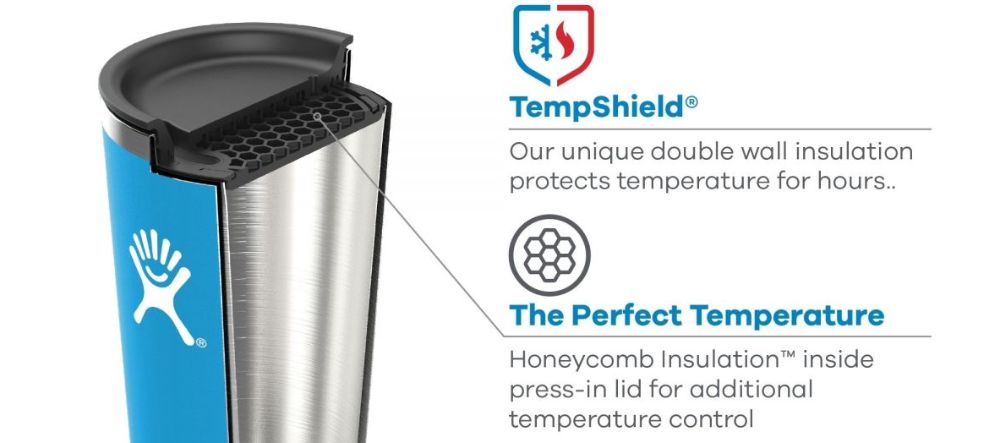 This is honestly one of the only reasons I can see why the Hydro Flask and the Pelican outperformed other tumblers in the test.
My guess us that if you switched lids then you would get a different result. Whichever cup has the best lid would be the winner.
What Makes The Tumblers Work So Well?
Given all the tumblers were extremely close in performance what is it that makes each of the tumblers work so well at keeping ice for 24+ hours in a lot of cases.
The secret behind their performance is vacuum insulation technology.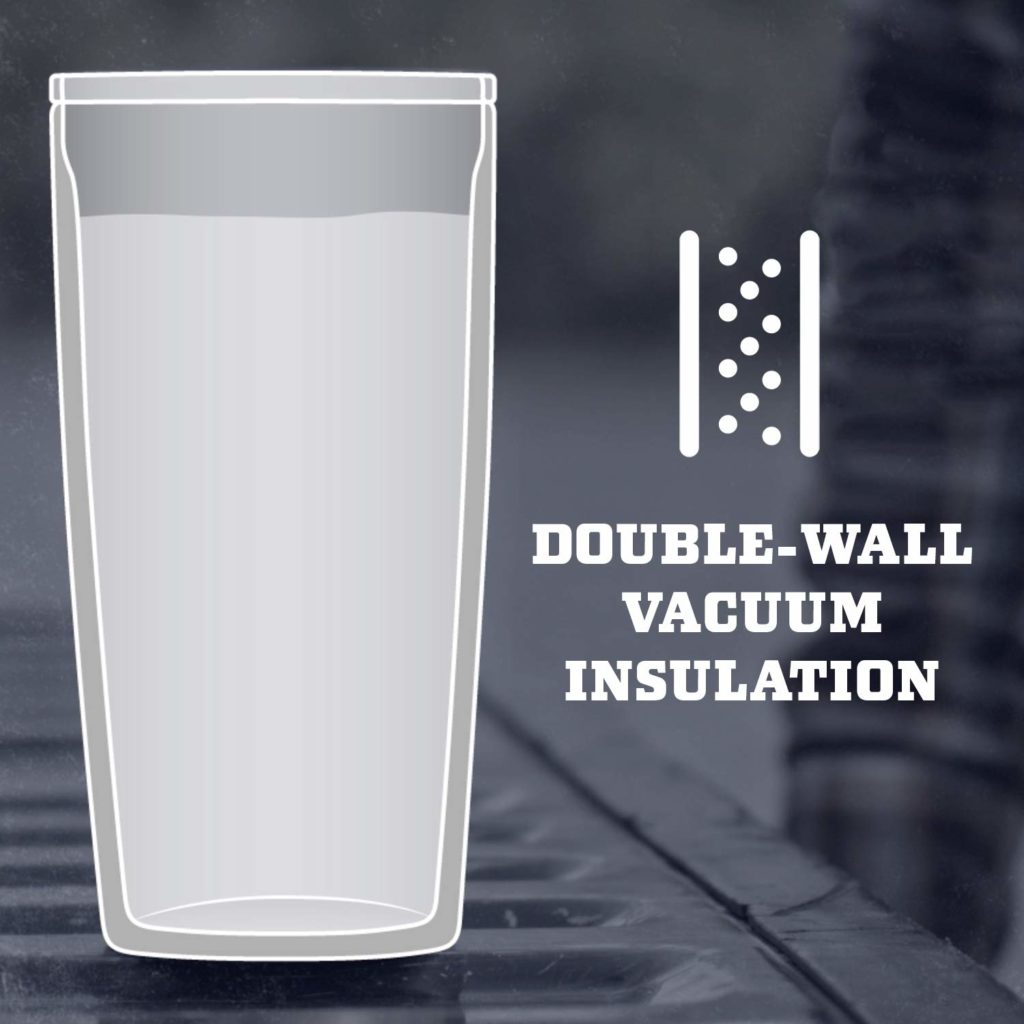 Each tumbler has an inner and outer wall of stainless steel and in between these two walls they suck out all the air and create a vacuum.
Because most heat is transferred by molecules bouncing up against each other and transferring heat to each other the vacuum, with very few molecules is a great insulator.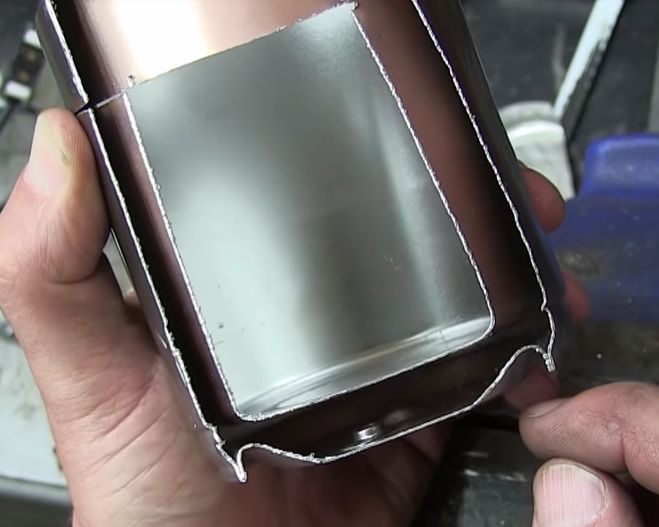 This means it's great at stopping heat getting in when you have an iced water and ice can last for over a day at a time.
It also means that when your cup is full of hot tea or coffee it stops that heat escaping out. Keeping your drink hot for hours at a time.
What Are The Best Tumblers For Ice Retention
1. Hydro Flask Tumblers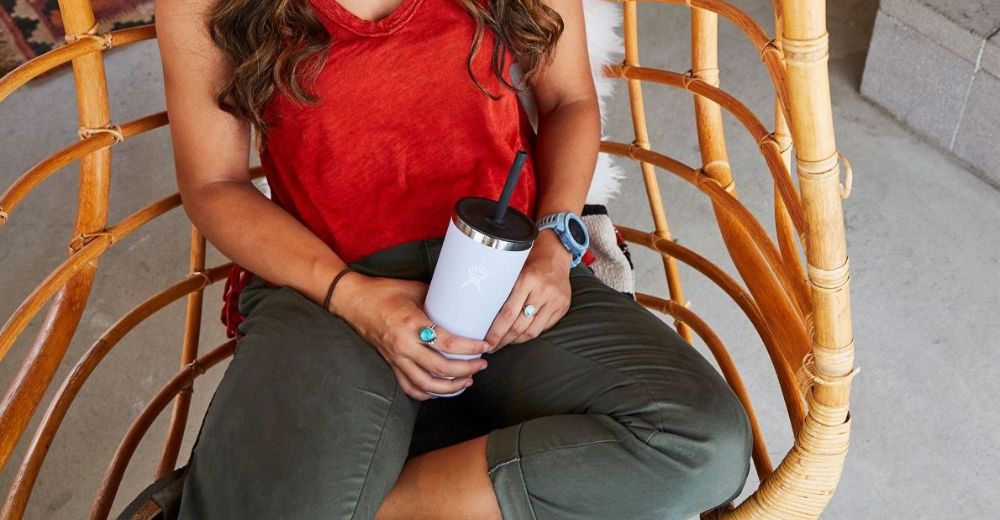 Hydro Flask was a surprise winner in this category and honestly even though I own a bunch of their water bottles and have written a lot about this brand their tumblers weren't even on my radar.
I kind of knew they made tumblers but no one really talks about them so I didn't know if they were any good.
Turns out they are actually the best as keeping ice the longest. Again the differences between first and last place on this list are really small, they all work really good.
But Hydro Flask takes home the title of the best tumbler cup for ice retention.
Their black plastic lid keeps the sunlight out of your cup and the honeycomb insulation in the lid obviously works to keep drinks cold for ages.
They come in a bunch of fun colors and their tapered design makes the great at fitting into cup holders.
One of the downsides of this tumbler is that it is one of the most expensive tumbler on the market, being just as expensive as Yeti.
They are backed by a lifetime warranty and they also happen to be one of the lightest tumblers on the market.
See the latest prices of Hydro Flask tumblers at HydroFlask.com
(or compare to the prices at Amazon)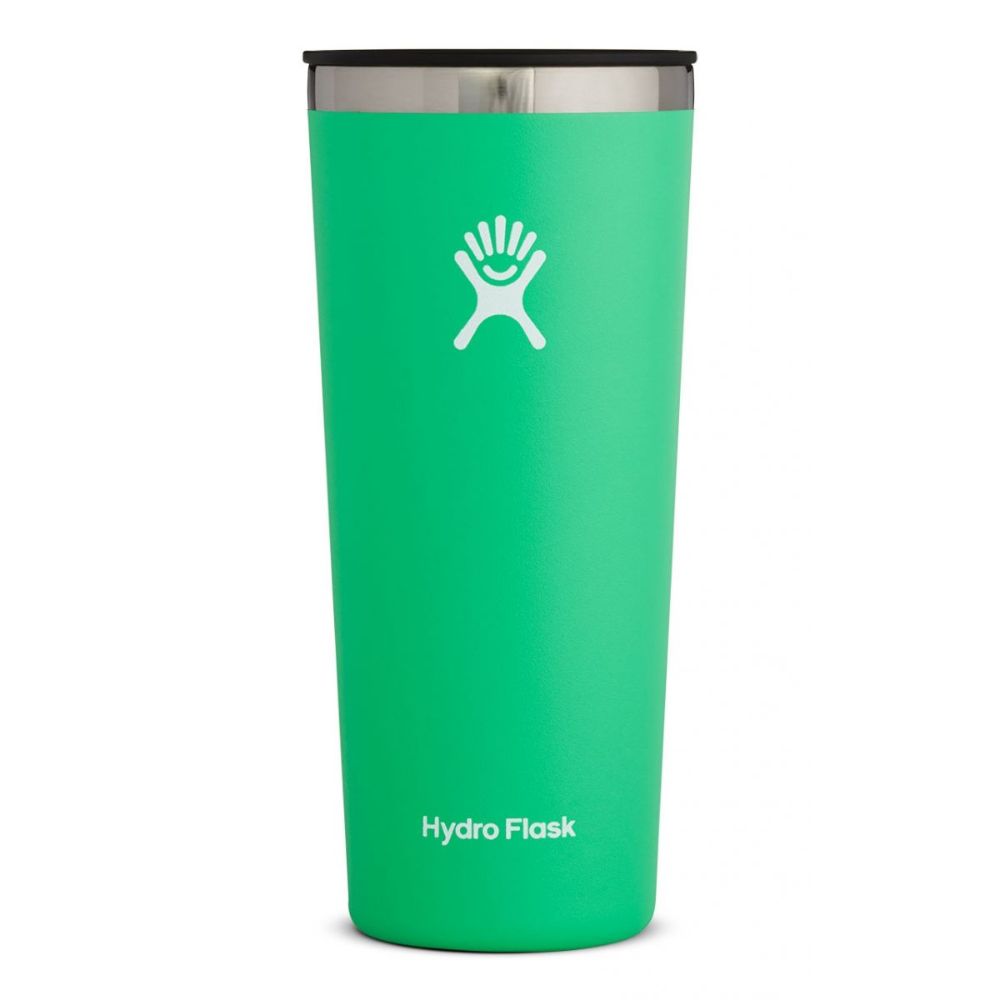 PROS:
Best ice retention out of any tumbler cup
Lifetime warranty
Fun colors
Lightweight
Tapered design means they fit in cup holders well
CONS:
One of the most expensive tumblers
Lid has an open spout so isn't leak proof
2. Thermos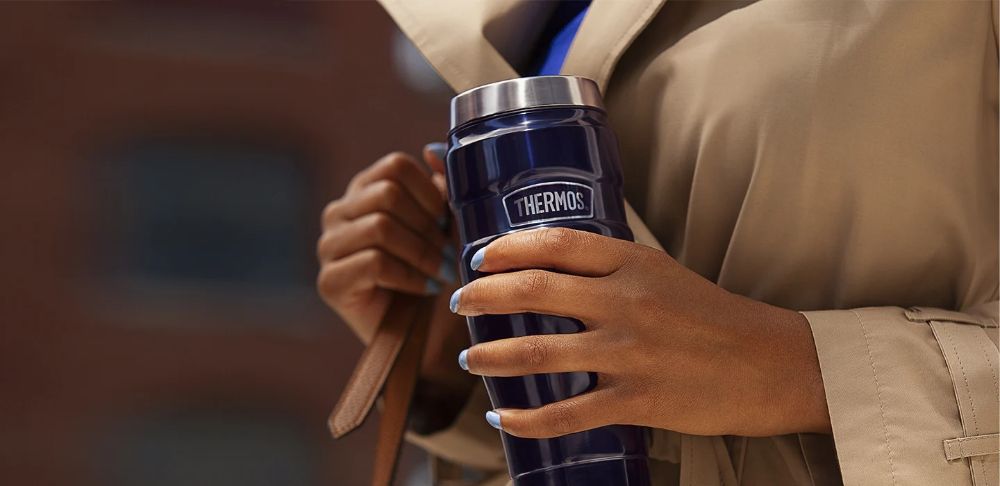 Another surprise contender Thermos is one of the original brands in the vacuum insulation game.
They have had insulated tumblers longer before insulated tumblers were cool.
Something that is really cool about the Thermos tumbler is that the lid screws on and is completely leak proof. This also adds to it's insulating ability because steam can't escape from hot drinks and warm air can't get into cold drinks.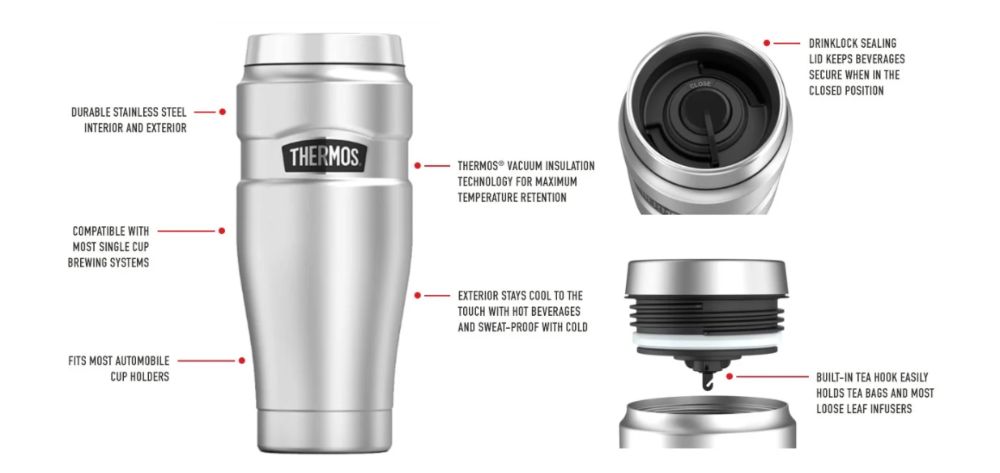 It's also got a little tea hook on the inside of the lid for hooking your tea bag onto.
The downside of the Thermos is that is only really comes in smaller sizes.
This design, that ranked so well in ice retention, only comes in a 16 oz tumbler. That may be big enough for some people but a lot of people want a 20 oz or 30 oz size.
When it comes to price they are middle of the range. Not super cheap but not too expensive.
See the latest price of Thermos tumblers at Amazon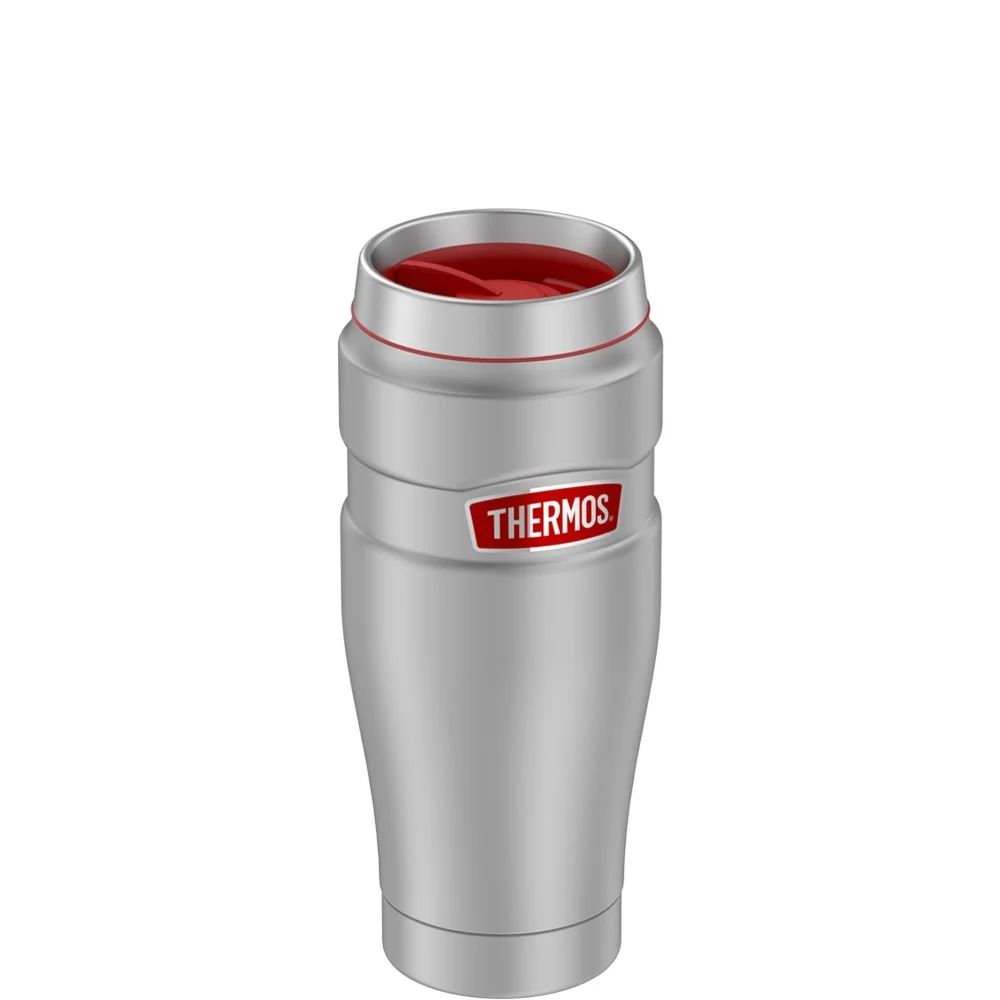 PROS:
Great ice retention
Leak proof lid
Tea bag hook
Long lasting brand
CONS:
Only comes in smaller sizes
Not the most elegant design
3. Simple Modern Classic Tumblers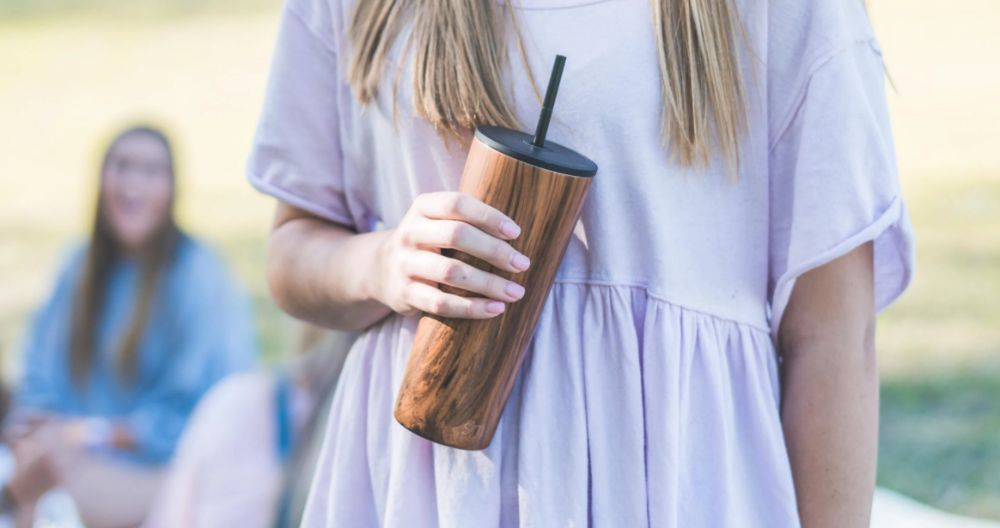 The surprises continue with the Simple Modern tumbler that seems to primarily sold through Amazon but is quickly making a name for themselves with their cool designs and great performance.
The Simple Modern Classic tumbler looks a lot like the Hydro Flask tumbler and it comes in 16 oz, 20 oz, 24 oz and 28 oz sizes. So whatever size you need you should be able to find it.
It's also 2.8 inches at the base so should fit into any standard car cup holder.
There are a couple of things that are great about this tumbler other than it's impressive ice retention:
Amazing designs – Most tumblers in this list come in just a few colors. These tumblers comes in so many different colors. From 2-tone ombre colors to metallic colors to crazy marble patterns, floral and even wooden designs. These tumblers look great.
Leak proof lid – The lids of these tumblers screw into place so they won't fall out and the Flip Lid is also completely leak proof, so you can throw it in your bag without having to worry about it leaking.
2 lids included – I also like that when you buy these from Amazon they include both a straw lid and a flip lid, so you can pick which you like best without having to spend any extra money.
They are a similar price to Thermos, not too cheap but not too expensive either.
See the latest price of Simple Modern Classic Tumblers at Amazon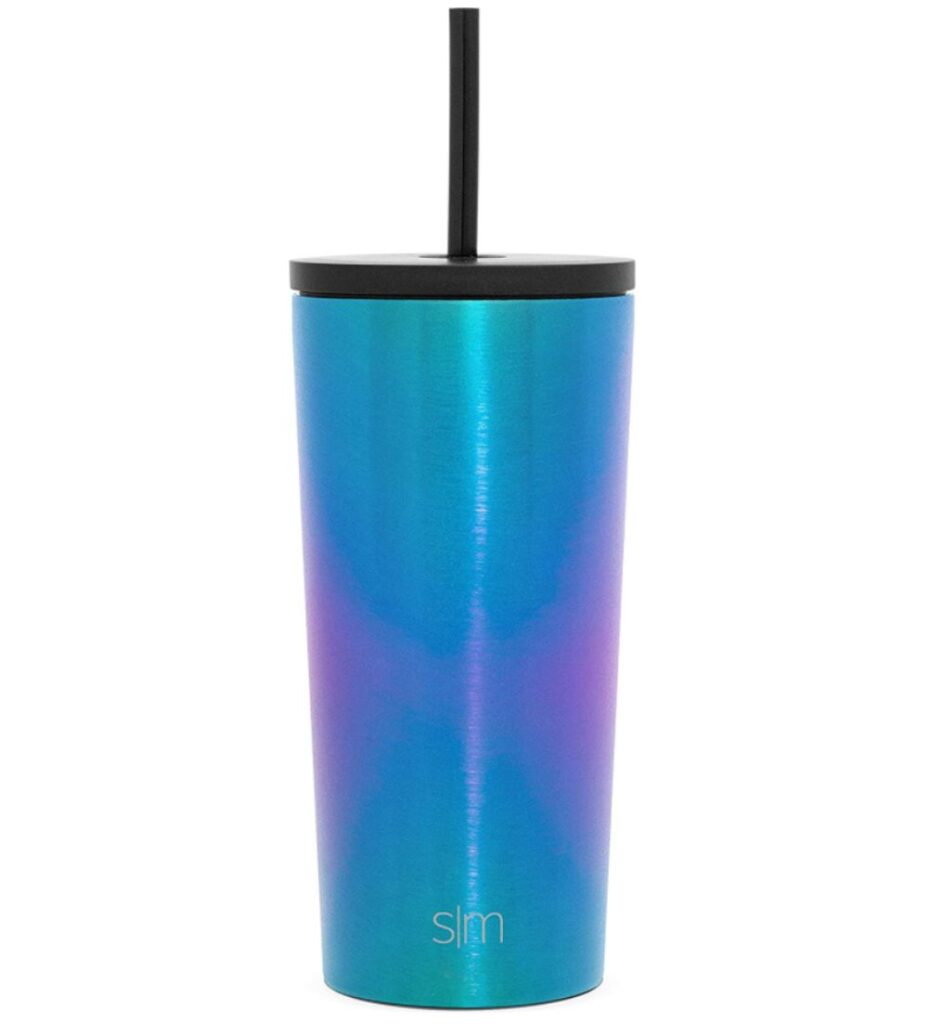 PROS:
Amazing selection of colors and designs
Can be completely leak proof
Comes with 2 lids
Fits into most cup holders
Company donates 10% of profits to helping others
CONS:
Only a 90-Day warranty
Brand relatively unknown
4. RTIC Tumblers – VALUE FOR MONEY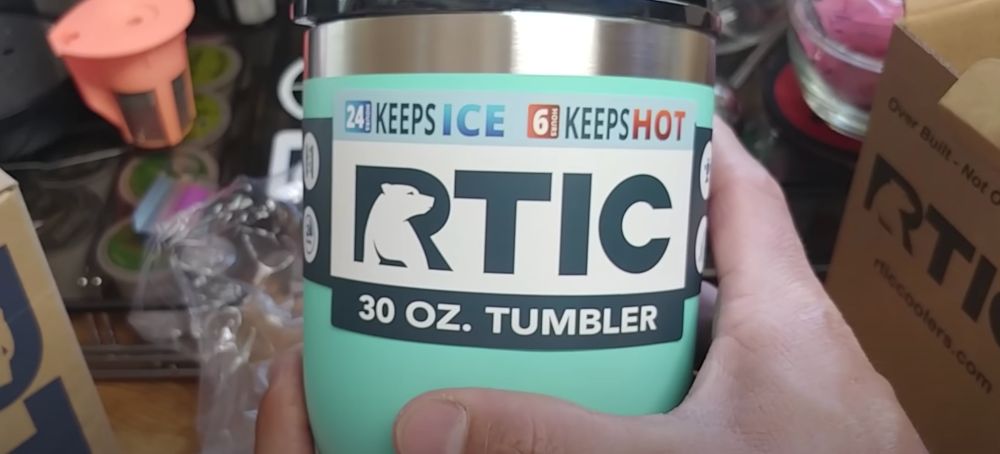 RTIC are a popular brand that looks like Yeti yet sells their products for much cheaper than Yeti.
The RTIC Tumblers come in a 20 oz and 30 oz size and they have a huge range of colors to choose from.
They are also incredibly cheap compared to Hydro Flask, Thermos and Yeti. The only brand that is cheaper is Ozark Trail.
A 30 oz tumbler will only set you back around $14 at the time of writing. That means you could effectively buy 2.5 of these tumblers for the price of a single Yeti.
RTIC are a reputable brand and their new flip top lid is leak proof. The downside of the lid is that some women say the flip cap can touch their nose and mess up their makeup when drinking.
But these are super affordable and in the tests performed on-par with Yeti tumblers. Sometimes outperforming Yeti and sometimes Yeti outperformed them.
See the latest price of RTIC tumbler cups at RTICProducts.com
(or compare to the price of RTIC tumblers at Amazon)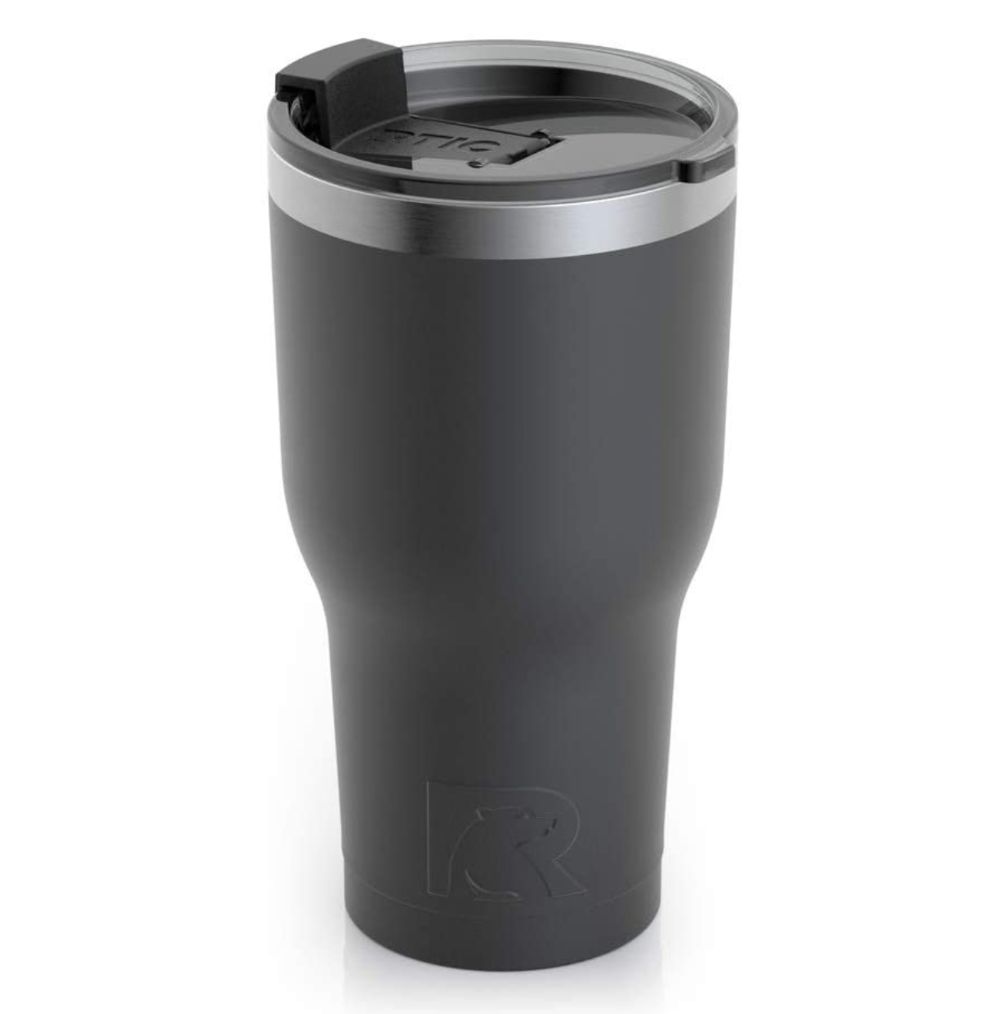 PROS:
Super affordable
Great value for money
Lots of different color options
Leak resistant lid
CONS:
Only 90-Day warranty
No smaller sizes
Flip cap can mess up makeup
Base is wider and may not fit in cup holders
5. Yeti Rambler Tumbers

Chances are if you're looking at tumblers you've already seen or heard about the Yeti Rambler tumbler.
Yeti is arguably the biggest brand in this space and were the brand that made tumblers popular.
Their ice retention is super close to that of the RTIC and isn't very far behind the #1 spot in term of performance. So even though they rank 5th on this list they still work great.
I will say about Yeti that the build quality is exceptional. They can handle a beating and these are the only vacuum insulated tumblers that are dishwasher safe making them super easy to clean.
The MagSlider lid is easy to use, doesn't mess up your makeup and gives a satisfying click. However, it's not completely leak proof just splash proof.
There are a bunch of different colors and Yeti are often releasing limited edition colors.
This is one of the most recognised brands out there and they make great products. But you will pay a price premium for this product with prices at the time of writing ranging from about $20 for the smallest size to around $40 for the largest 30 oz tumbler.
With a 5-year warranty and one of the best build qualities in the industry if money isn't an issue then grab a Yeti.
See the latest price of Yeti Rambler tumblers at Yeti.com
(or compare to the prices of Yeti tumblers at Amazon)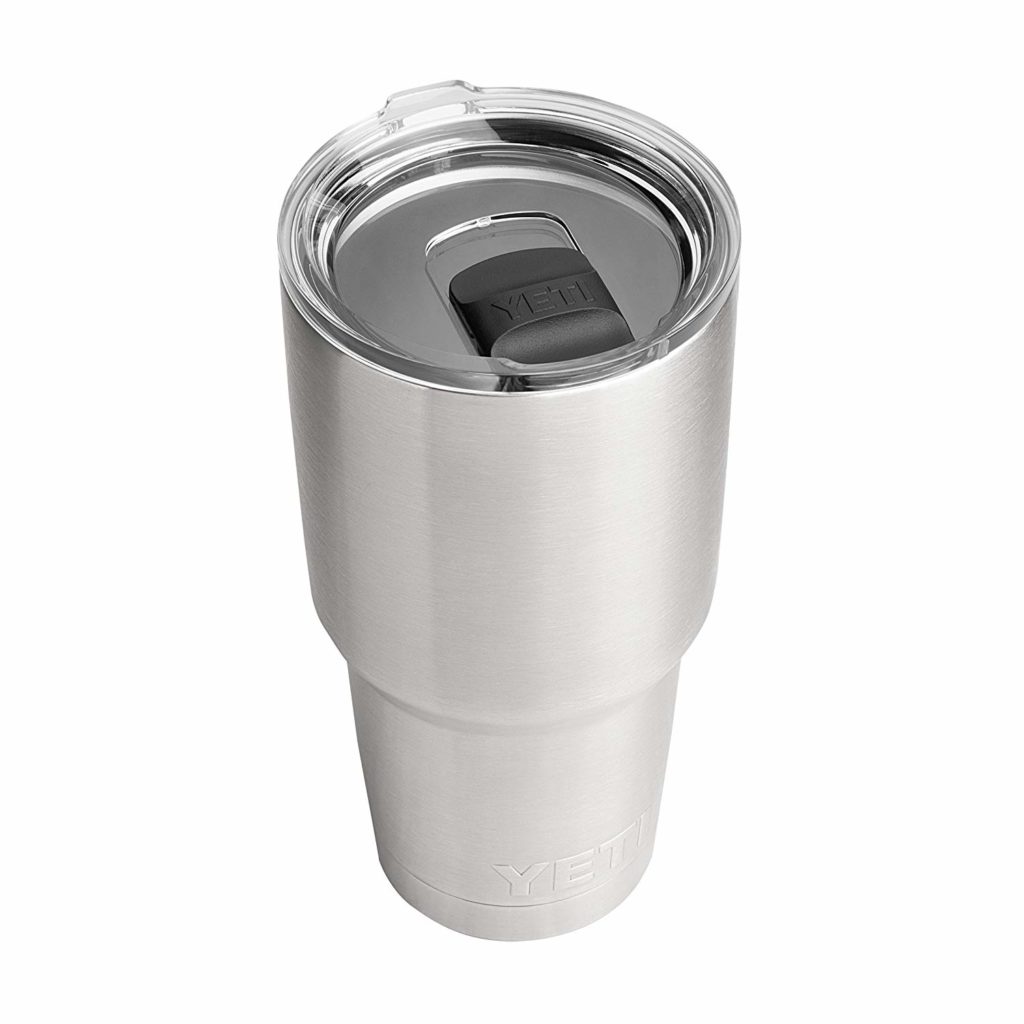 PROS:
Best build quality
Only dishwasher safe tumbler
Biggest and most well recognised brand
5-Year warranty
6. Pelican Dayventure Tumblers

Year and years ago I reviewed the original Pelican tumblers and to be completely honest, while they kept ice extremely well the lid design wasn't great.
But Pelican have now updated their design and their new tumblers look much better.
They range in size from the small 10 oz which I find great for coffee up to a 22 oz which should be big enough for most people. For those who want a 30 oz you'll have to consider another brand.
They have a leakproof locking lid and improved drinking spout
See the latest price of Pelican tumblers at Pelican.com
(or compare to the prices of Pelican tumblers at Amazon)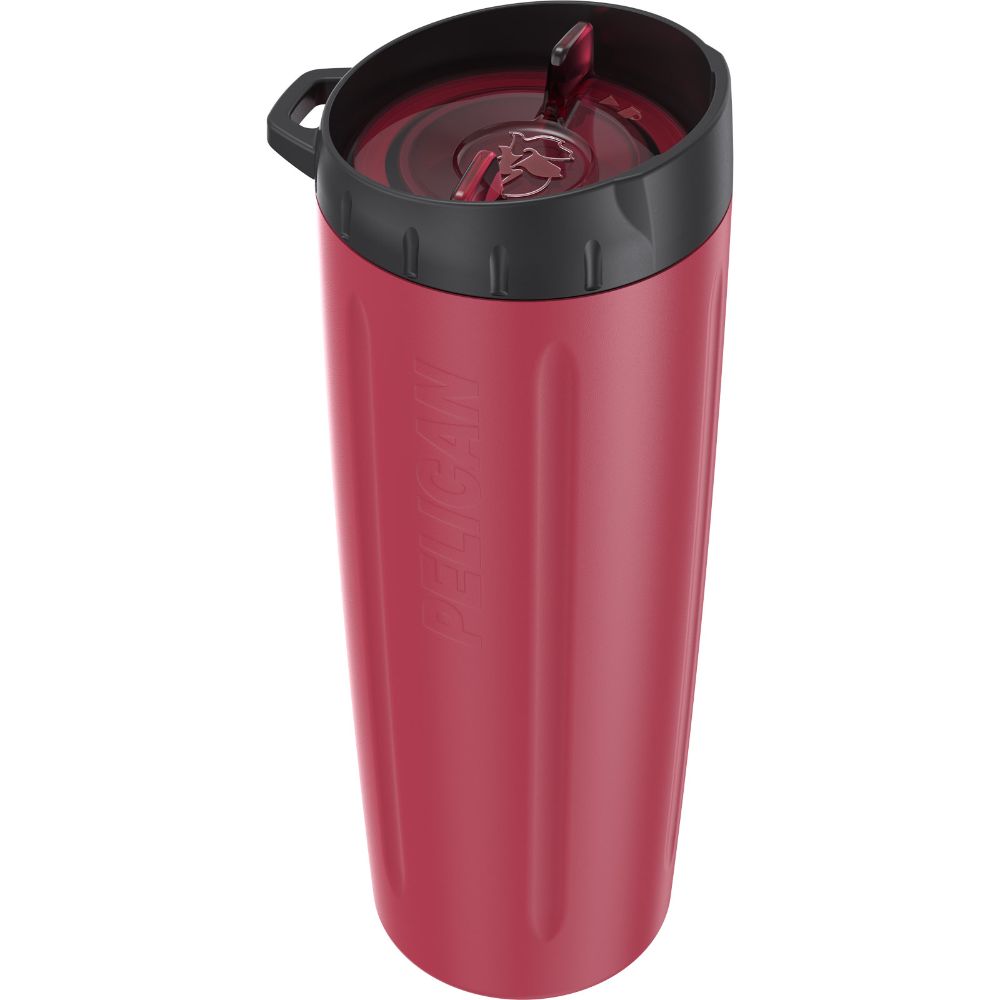 PROS:
Leak proof lid
Cool new design
7. Ozark Trail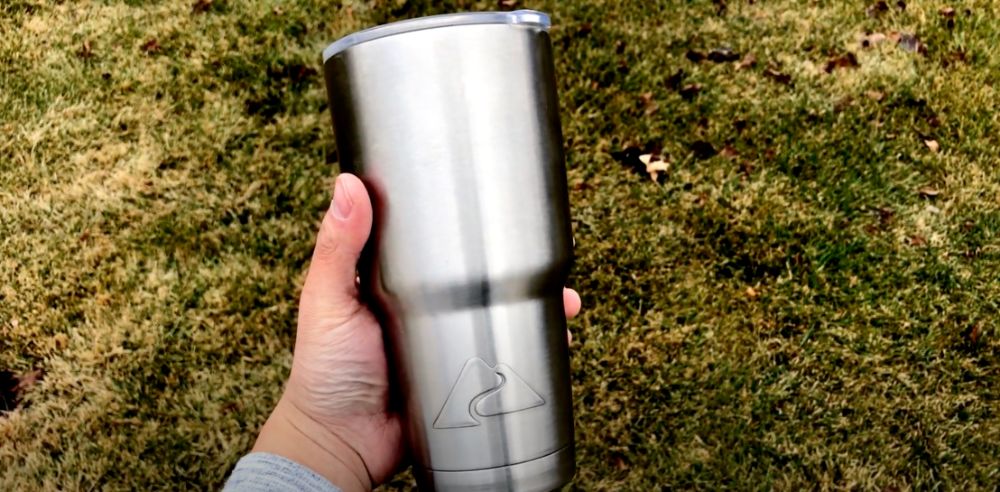 Ozark Trail are Walmart's brand of tumblers and they have seriously undercut the competition.
These tumblers are crazy affordable compared to brands like Yeti and they work basically as well.
Some tests showed Ozark Trail beating Yeti while others showed Yeti performing better but it was always really close.
While Yeti and RTIC have upgraded their lids Ozark Trail tumblers are generally still sold with the original open-spout lid design which isn't leak proof. But you can get a leak proof lid for just a few dollars.
But the tumbler insulates great. It's actually backed by a lifetime warranty so if you do happen to have issues with it you can get a replacement free of charge.
Where this wins out against all other tumblers is the price. Ozark Trail tumblers generally sell for under $10 even for the larger sizes and sometimes Walmart has sales on them and they sell for even cheaper.
No other tumbler sells for this cheap anywhere, so if you want a tumbler that is basically as good as a Yeti but you don't have a big budget definitely grab one of these.
See just how affordable Ozark Trail tumblers are at Walmart.com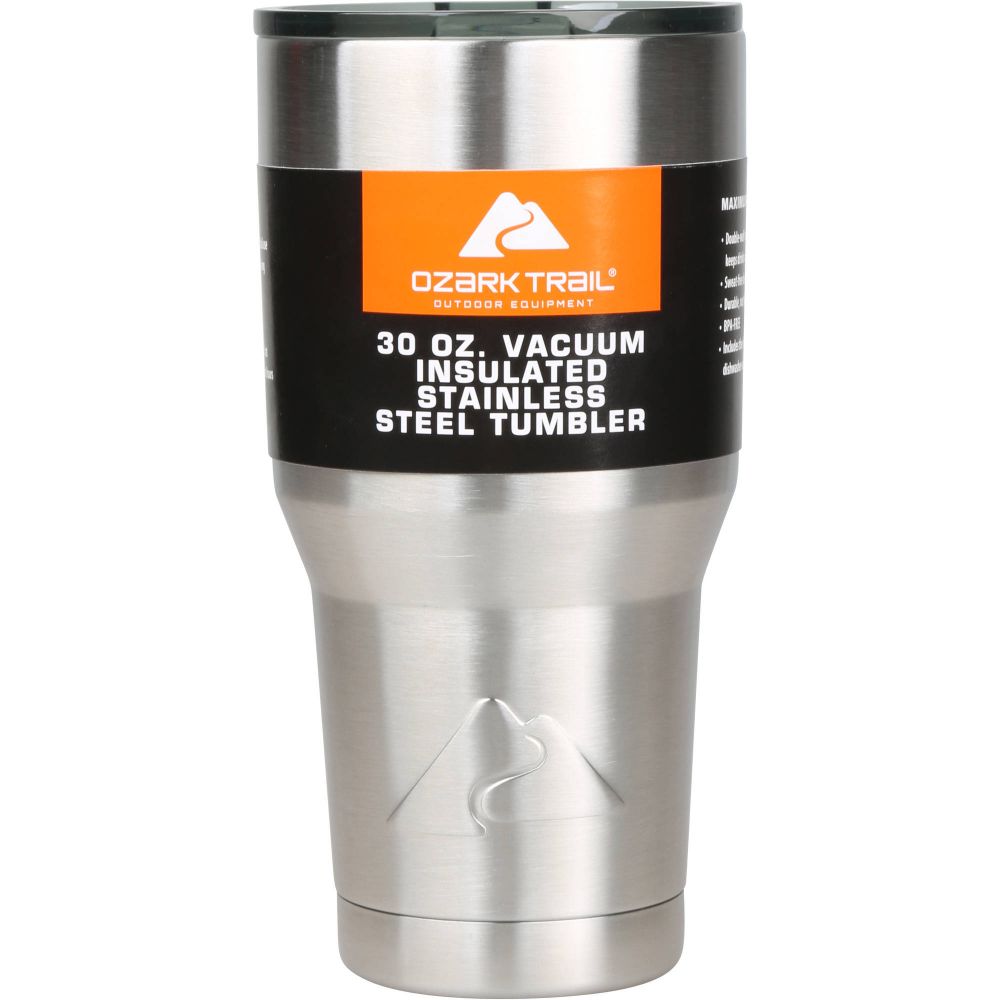 PROS:
Cheapest tumbler on the market
Lifetime warranty
Works really well
Sometimes go on sale and sell for even cheaper
CONS:
Open spout lid isn't leak proof
Some quality issues (but covered under warranty)
8. BEAST Tumblers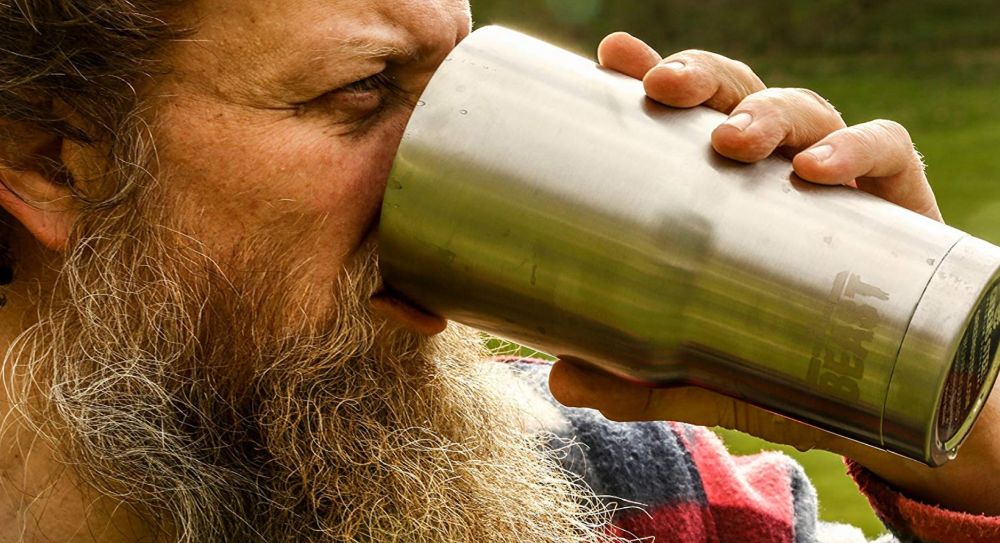 Beast tumblers are a brand that seems to have blown up on Amazon and are starting to make a name for themselves.
Their tumblers are well priced, come in lots of different colors and also come with 2 metal straws free of charge.
They are backed by a lifetime guarantee and if you're not completely satisfied you can get your money back.
The downside to these is the base is a bit wider than brands like Yeti and so it may not fit into every cup holder. For some people this may be a deal breaker.
Still it's a great product and worth checking out.
See the latest price of Beast tumbler cups at Amazon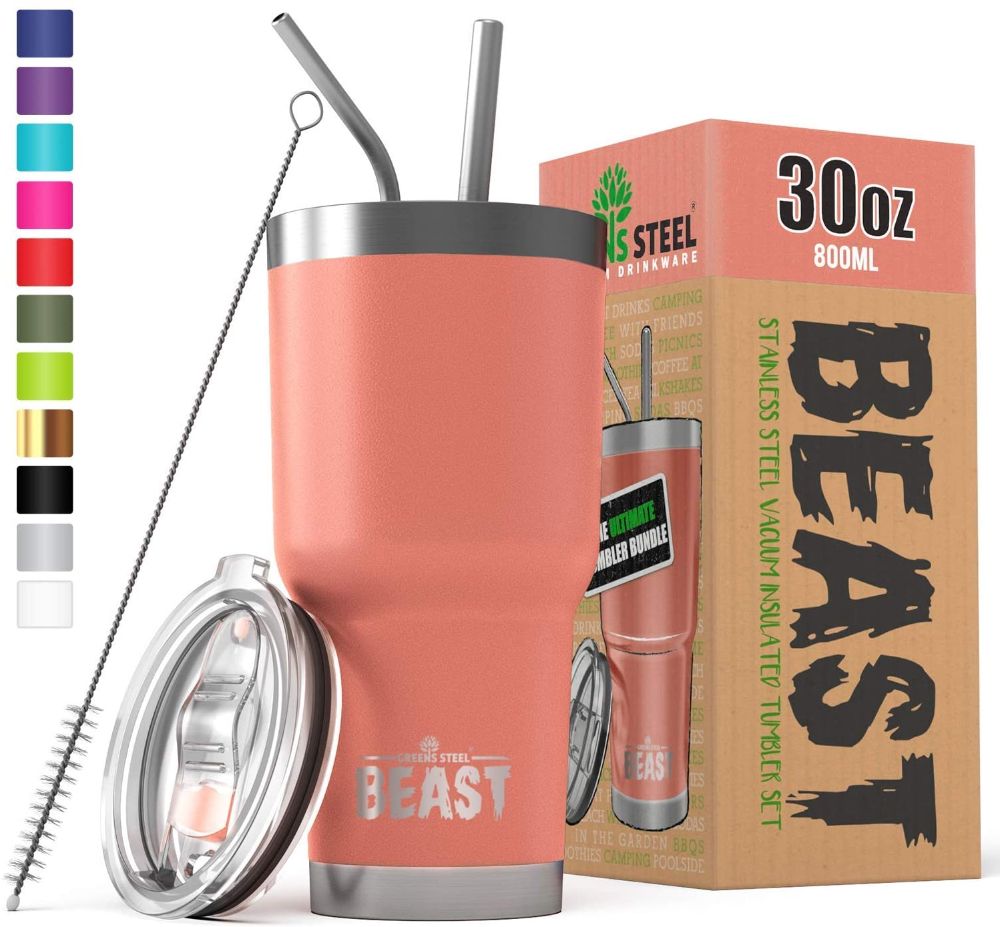 PROS:
Best ice retention out of any cooler
Exceptional build quality
Made in the USA
Lifetime warranty
CONS:
Expensive
Limited color options
Handles protrude out the side taking up extra space
Honorable Mentions
There are honestly so many different brands of "me too" tumblers out there that all work just as well as the cups mentioned in this post but they just aren't popular enough and people haven't made videos testing the performance of these cups against other brands.
So these are still great cups, but I just can't tell whether or not the ice retention is as good.
Orca
Patriot
Twin Peaks
Tahoe
Juro
Bubba
Coleman
Contigo
Tervis
Ello
Which Tumbler Should You Buy?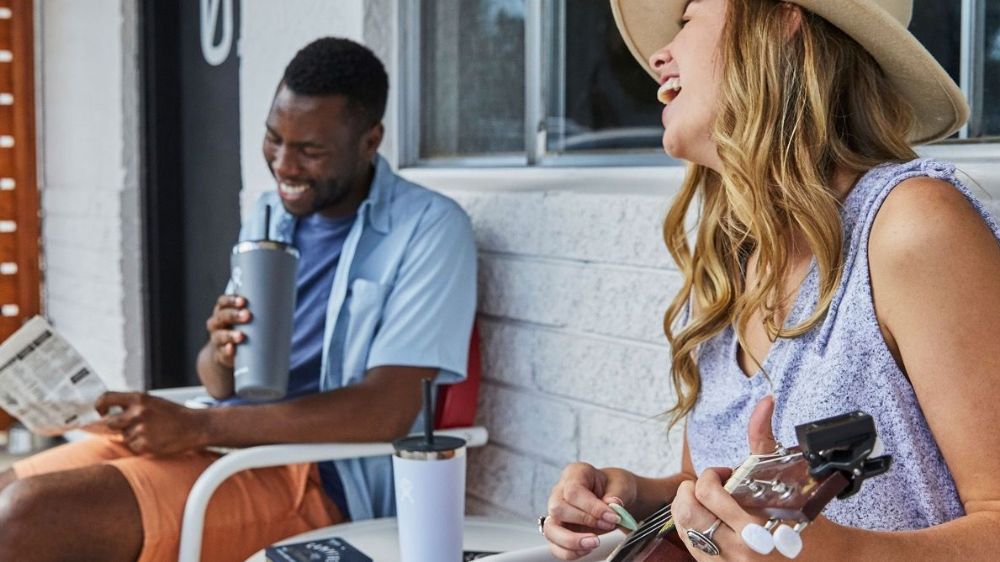 Honestly these tumblers are so similar in performance which one you buy tends to come down to pricing and personal preference.
If pricing isn't an issue for you I would personally recommend the Hydro Flask tumblers as they were the best performing or the Yeti Rambler Tumblers as in my opinion they have the best build quality.
If budget is an issue and you want to save yourself some money you can't go wrong with either the Ozark Trail tumblers which are are cheapest of the bunch of the RTIC tumblers which are also super affordable. Both of these tumblers work great and have been reviewed by thousands of people.
Still if being completely leak proof is your #1 priority and you don't want drinks spilling everywhere then none of the cups mentioned above are right for you. Instead you'll want to grab yourself a Simple Modern tumbler or the Thermos tumbler as these are both leak proof.
Or check out my full list of completely leak proof tumblers.
Ultimately it's up to you. Which tumbler do you prefer and which fits your price range and has the features or the colors you want?
Best of luck with your purchase and until next time,
Stay cool!
Research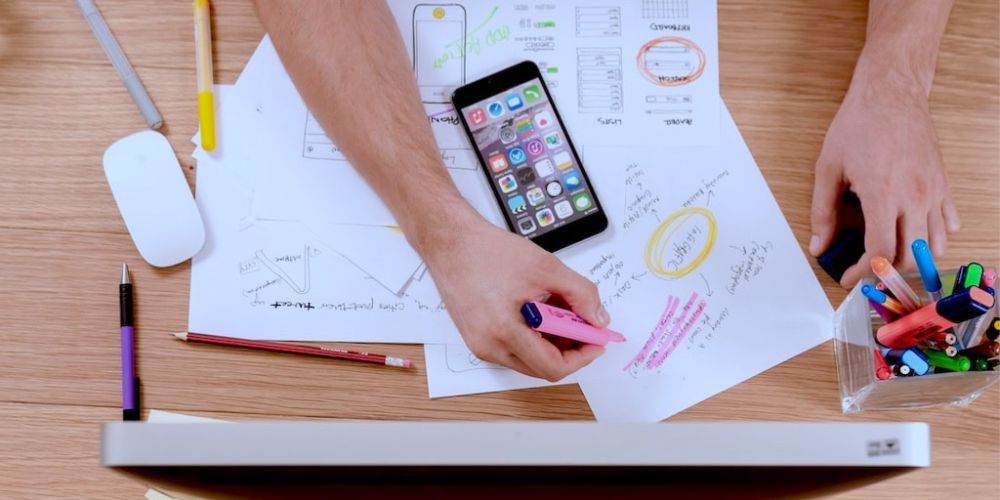 I did A LOT of research to come to these conclusions and honestly the results were so close it was hard to pin down a winner.
I did this same sort of research for my article on the best coolers for ice retention and people seemed to enjoy looking through the results from the different tests I looked at.
So below you can see links to all the ice test and hot drink tests on YouTube that I watched as well as which cups won.
As you'll see there are conflicting results especially when it comes to Yeti, RTIC and Ozark Trail.
Tumbler Challenge – YETI vs RTIC vs PATRIOT TUMBLERS (2018) New lids
Results:
Basically identical performance
Pelican Day Venture Tumbler 16oz 473ml review (2020)
Results:
Hydro flask vs Yeti Full Tumbler Comparison
Results:
Hydro Flask
Simple Modern
Yeti
Ultimate Tumbler Challenge, 9 Tumblers Yeti Vs Ozark, Engel, Siberian, Which Is BEST Tumbler? (2016)
Results:
Ozark Trail 30 oz | Yeti 30 oz | Engel 30 oz | Ozark 20 oz
Yeti vs Ozark vs RTIC – Tumbler Comparison (2016)
Results:
24 hour ice test – RTIC wins (just) | Yeti + Ozark Tied second
4 hour 100ºF ice test – Yeti and RTIC wins (just) | Ozark second
8 hour hot water test – RTIC wins | Yeti second | Ozark third
2 hour hot water freezer test – Yeti wins | RTIC second | Ozark third
Yeti Rambler 20 Oz Vs Ozark Trail Tumbler 20 Oz "Tumbler Comparison" (2020)
Results: Ozark wins (slightly) | Yeti second
Tumbler Comparison – RTIC vs YETI vs Ozark Trail vs Hydro Flask, Thermos, OtterBox (2017)
Results:
Hydro Flask wins
Thermos 2nd
Otterbox 3rd
YETI 4th
RTIC 5th
Ozark Trail 6th
Yeti vs RTIC – Tumbler Test (2016)
Results:
12 hour ice test – Yeti wins (just)
4 hour hot coffee test – Identical
4 hour cold beer test – Identical
YETI vs Pelican vs Fake YETI vs RTIC vs Ozark Trail – Plus how to spot a fake YETI – Best Tumblers (2016)
Results:
Ice and water in the sun – Pelican wins | Fake Yeti | Ozark Trail | RTIC | Yeti
13 hour ice inside – Pelican wins | Fake Yeti | RTIC | Ozark Trail | Yeti
Hot water inside – Ozark | Pelican + Fake Yeti | RTIC | Yeti
YETI vs. RTIC vs MalloMe – 30 oz Tumbler Cup Comparison (2017)
Results:
Ice and water test – MalloMe | Yeti and RTIC tied
150ºF water test – MalloMe 1st | Yeti 2nd | RTIC 3rd
12 hour hot water test – MalloMe 1st | Yeti and RTIC tied
Yeti vs. Beast!!! Which tumbler is better? (2019)
Results:
Yeti vs RTIC Tumbler 30oz (2016)
Results:
Identical performance
Yeti Tumbler vs Rtic Tumbler vs Orca Tumbler (2016)
Results
Yeti 1st
RTIC 2nd
Orca 3rd (but a smaller cup)
Wal-Mart "YETI" Tumbler Knock-Off vs. Real YETI | IS IT WORTH A BUCK?
Results:
Ozark Trail and Yeti the same
YETI vs RTIC, Which Tumbler Holds Ice 45 + Hours?
Results:
Yeti VS RTIC VS Ozark (ultimate tumbler testing)
Results:
Yeti wins
RTIC and Ozark 2nd
Yeti VS RTIC VS Twin Peaks VS Ozark Trail Tumbler Hot Test
Results:
Yeti and RTIC 1st | Ozark Trail 3rd | Twin Peaks 4th
Yeti 30 oz. Rambler v RTIC 30 oz. Tumbler ice test
Results: