Heated coffee mugs use batteries and heating elements to keep your coffee, tea or whatever drink you have at the perfect drinking temperature.
Two of the most popular heated mugs are the Cauldryn and the Ember 2 coffee mug. Given the prices of these mugs I wanted to do an indepth comparison between the two to determine which one is best and which deserves your hard earned money.
In short:
When comparing the Cauldryn vs the Ember heated coffee mugs I recommend the Cauldryn for performance but the Ember for looks. The Cauldryn is cheaper, has a 5x the battery life and can boil water whereas the Ember heats to a maximum of 63ºC (145ºF).
Quick Comparison
Cauldryn Heated Mug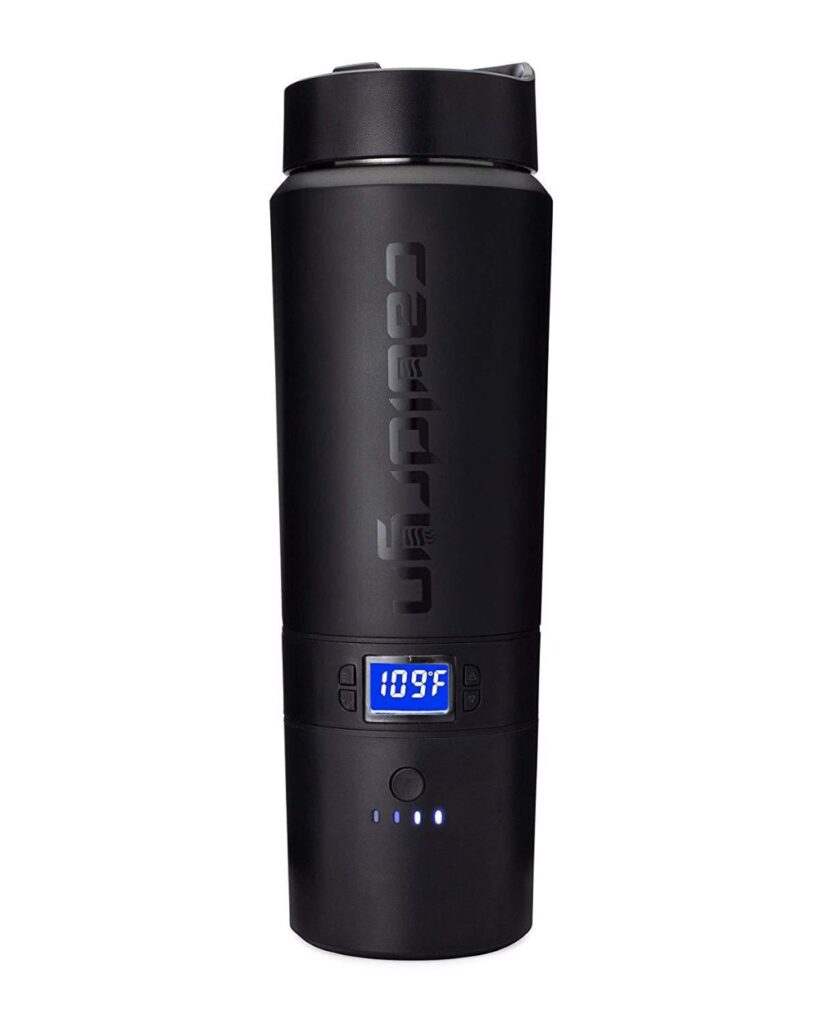 Price: $89 – $149 (see latest price at Amazon)
Capacity: 16 oz
Battery Life: 10 hours
Temp Range: 0-100ºC (32-212ºF)
Vacuum Insulated: Yes
Colors: Black
Weight: 1.65 lbs
Bluetooth: Yes
Accessories: Blender, Vehicle Adapter, Percolator, Coffee Lid
Ember 2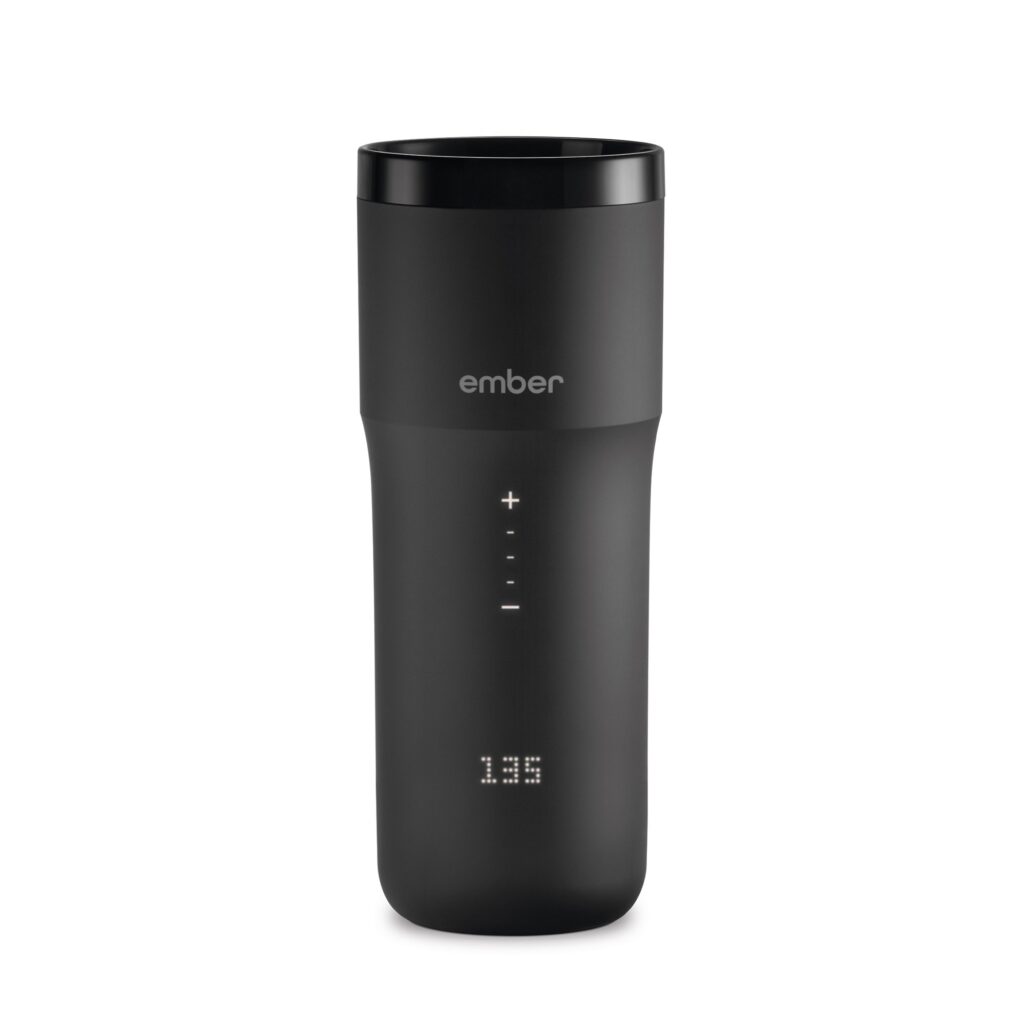 Price: $99 – $179 (see latest price at Amazon)
Capacity: 10 + 12 oz
Battery Life: 1-3 hours
Temp Range: 49-62.5ºC (120-145ºC)
Vacuum Insulated: No
Colors: Black, White
Weight: 0.90-0.95 lbs
Bluetooth: Yes
Accessories: N/A
Best Performance: Cauldryn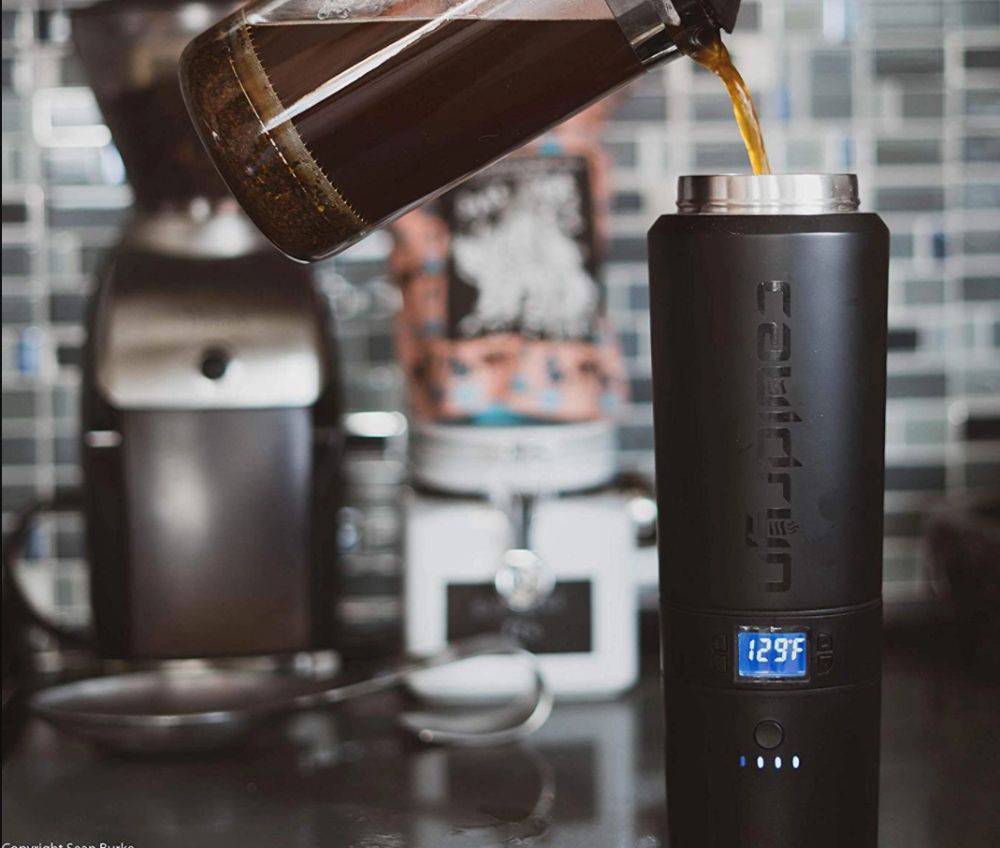 When it comes to performance there is no heated coffee mug quite like the Cauldryn. It's in a league of its own when it comes to battery life and heating ability.
It uses a vacuum insulated mug which helps to keep the heat in, requiring less energy to keep drinks warm.
You are able to set the desired temperature of your beverage all the way from freezing temperature up to boiling temperature. It doesn't have an active cooling agent to cool drinks down when they are hot but the insulated sides help to keep drinks hold just like a Hydro Flask or Yeti.
You have the ability to add a blender attachment (instead of the heating attachment) and you can use your Cauldryn to create smoothies or cocktails on the road.
The ability to go from cold to boiling and still have battery left over is amazing.
This makes the Cauldryn a more versatile product and great for people wanting to keep a drink hot all day whilst being off grid or disconnected from a power source.
See the latest price of the Cauldryn Coffee Mug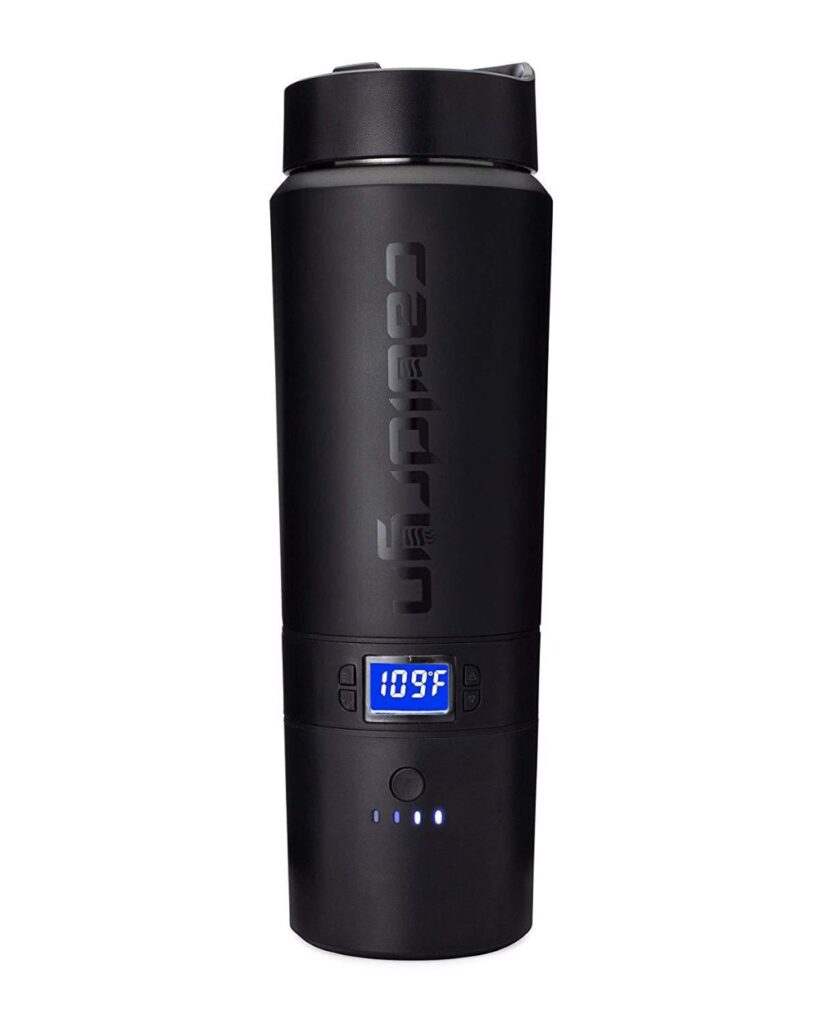 Heating Range: 0 – 100ºC (32 – 212ºF)
This is one of the things that really makes Cauldryn stand out from the Ember.
Neither of the cups have a cooling ability but the Cauldryn does have the ability to heat water up to boiling point using battery power alone. It can also do it multiple times and do it quite quickly.
Whereas the Ember is really designed more for keeping drinks warm the Cauldryn is quite capable of warming up cold drinks. So you could store cold water in there for the day and then heat it up when you're ready for a hot drink.
The fact that the Cauldryn is vacuum insulated also helps it to maintain it's battery life for longer as your beverage isn't losing heat to the outside air.
Battery Life: Up To 10 Hours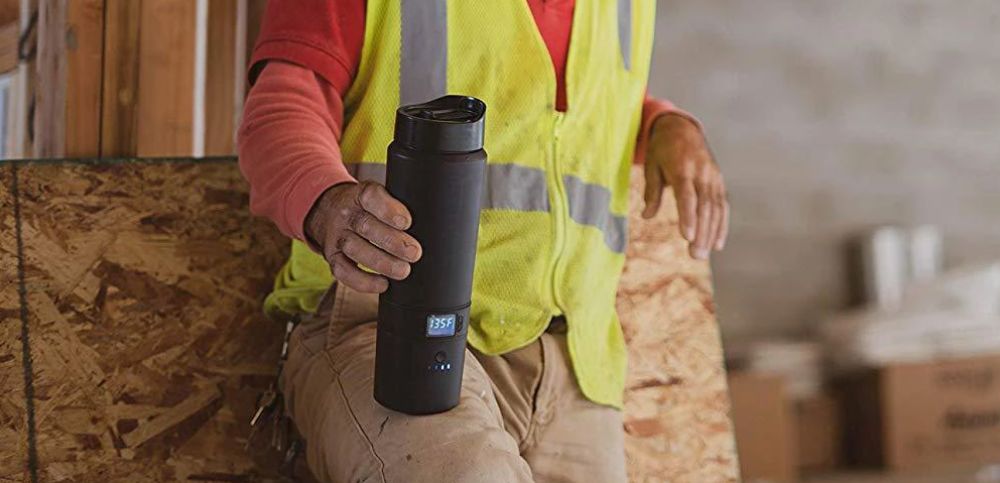 The Cauldryn comes with a 37.5 Wh battery which is able to keep drinks warm for up to 10 hours at a time.
It's unclear at what temperature it can keep drinks warm for this long but I would assume its around that 135-145ºF (57-63ºC) temperature range.
It does this by heating your drink in spurts. It'll warm it up and then turn itself off, then when it gets colder it'll warm it up again and turn itself off.
You won't get 10 hours of battery life constantly keeping water at a boil, but you can boil a few cups before the battery dies.
You can also see my full list of the best battery powered heated coffee mugs. (Spoiler: Cauldryn is #1 and Ember is #2)
Capacity: 16 oz Black
The Cauldryn comes in just a single 16 oz size. It designed more as a travel mug than a cup to have on your desk at work.
Design and Colors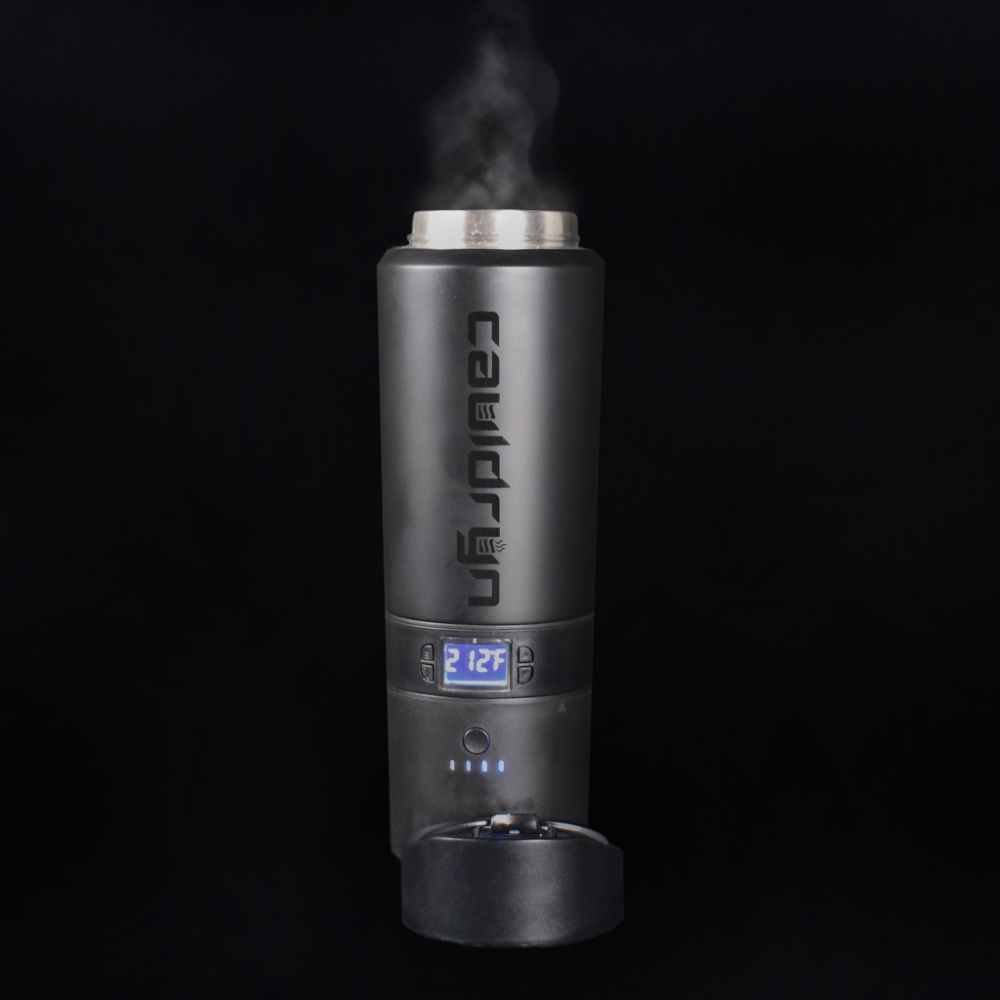 The Cauldryn comes in just one color, black, and the design isn't the sexiest thing you'll see on the market.
This product is practical and does it's job well, but you don't feel stylish carrying it around.
It's a little bit and bulky and the backlit screen and LED lights don't turn off while the cup is on use, it stays on the entire time which can be annoying.
So not the sexiest design, but not downright ugly either.
Insulated Stainless Steel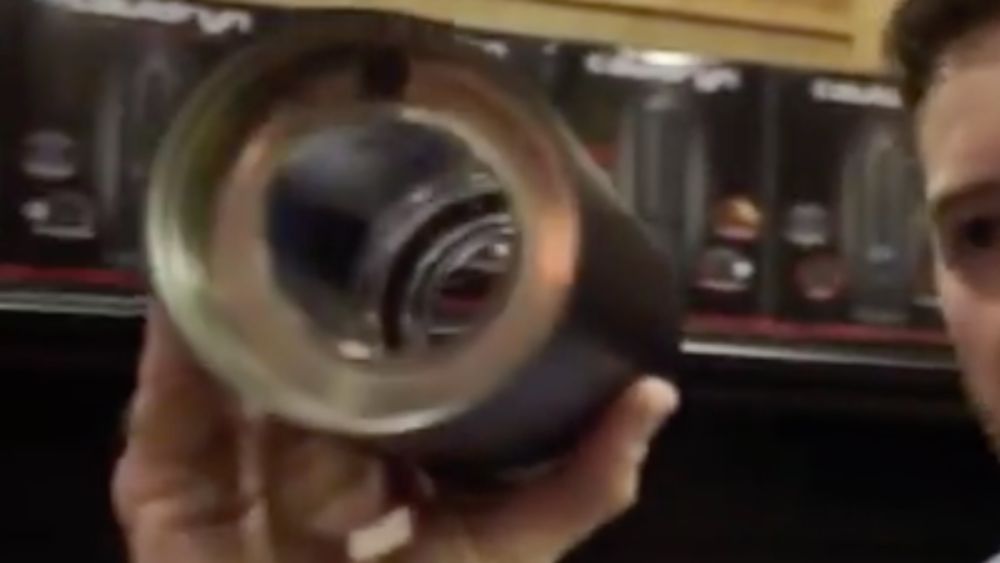 The main body of the Cauldyn mug is made from vacuum insulated stainless steel.
This is some of the best insulation a cup can get and is the same technology used in things like Hydro Flask bottles and Yeti Tumblers. It works really well and even without the heating element can keep your drinks hot for hours.
The downside is that when it comes to tea, coffee and other hot beverages some people (my girlfriend included) complain that stainless steel gives their beverage a weird flavor.
The Ember is ceramic coated so you won't get that metallic taste but the Cauldryn is not.
Smartphone Connectivity
You can connect to your Cauldryn via bluetooth and use the app on your phone to control to temperature of your cup.
However, all of the functionalities in the cup are accessible through the LCD panel and buttons on the cup itself so I don't know how often you would actually use the app.
Accessories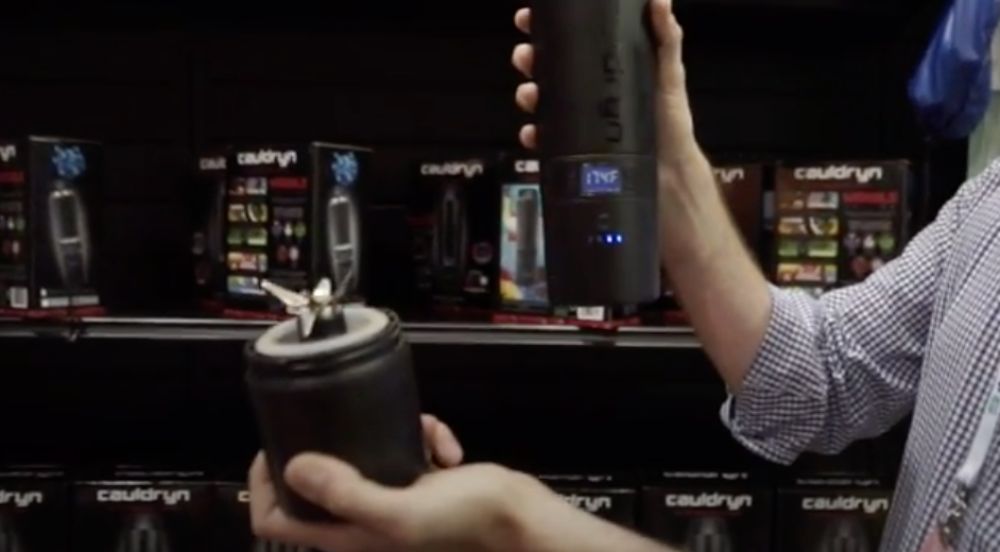 To add even further functionality to this cup the cup is modular so you can change things up as you need to.
There is a blender accessory so you can turn your mug into a mini blender to make smoothies or cocktails.
There is a desk base so you can charge it and run off mains power if you're using it at home or at the office and there is also an adapter to power it from your car.
Price
Comparing the Cauldryn to the Ember they are both expensive mugs and way more expensive than a regular travel mug. But the Cauldryn is cheaper that the Ember Travel Mug and it has more features and more capacity.
The small 10 oz Ember Mug is more affordable than the Cauldryn but that doesn't have a lid and is mainly designed to be used at home or in the office.
So the Cauldryn has more features and can do more than the Ember but costs less. Seems like a no brainer to me.
I also found that the full mug + heater + blender set was cheaper on Amazon than it was at Cauldryn's website. So it's worth checking out.
See the latest price of the Cauldryn Heated Mug at Amazon
See the latest price of the Cauldryn Heater Mug + Blender at Amazon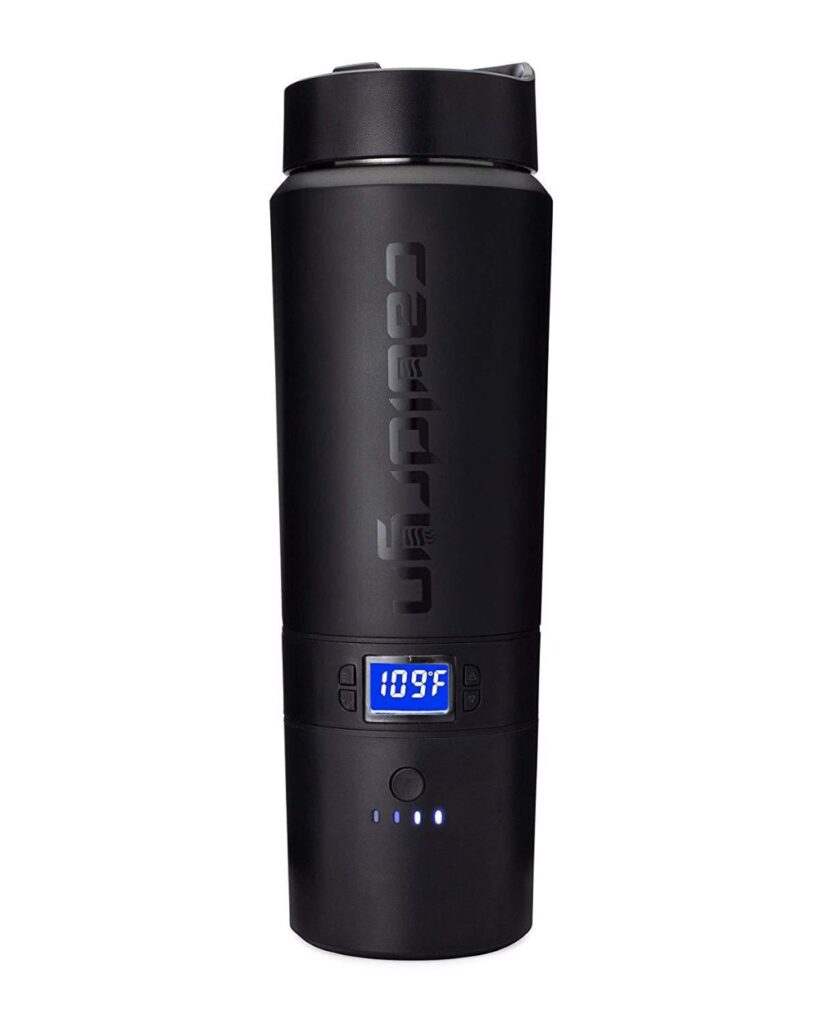 Best For The Office: Ember Coffee Mug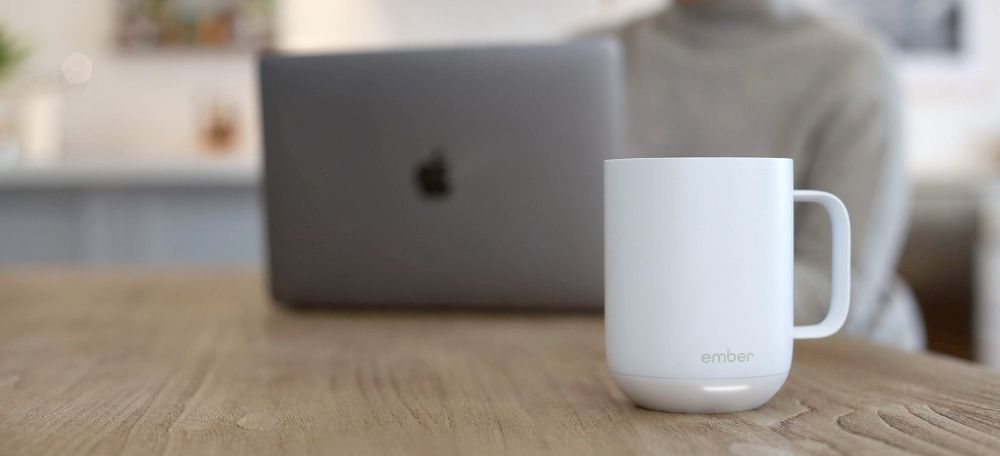 While the Ember 2 coffee mug doesn't compare to the Cauldryn in terms of performance it does absolutely destroy it in terms of looks.
Both the 10 oz cup and the 12 oz travel mug look absolutely beautiful.
They are also more practical for using around the office where you have access to power directly from the socket to keep your beverage warm all day long.
The battery isn't as long lasting as the Cauldryn but it's inbuilt into the cup and the non-modular nature means you can just easily pop it down to charge or power from the wall and then pick it up and take it with you and it'll keep heating your drink until it runs out of battery or you finish drinking.
It looks every similar to a regular stylish coffee mug so most people will be none the wiser that you've got a battery powered smart mug. However, you'll be happy to get to the end of your coffee or tea and it's still warm.
The heating range only allows you to choose between 49-63ºC (120 – 145ºF) but this is a good temperature for most coffee and tea drinkers.
If you're going to be using the at the office, at home or for shorter commutes or outings and want the sexiest smart cup available then this is going to be the one for you.
See the latest price of the Ember Mug at Amazon
Heating Range: 49 – 63ºC (120 – 145ºF)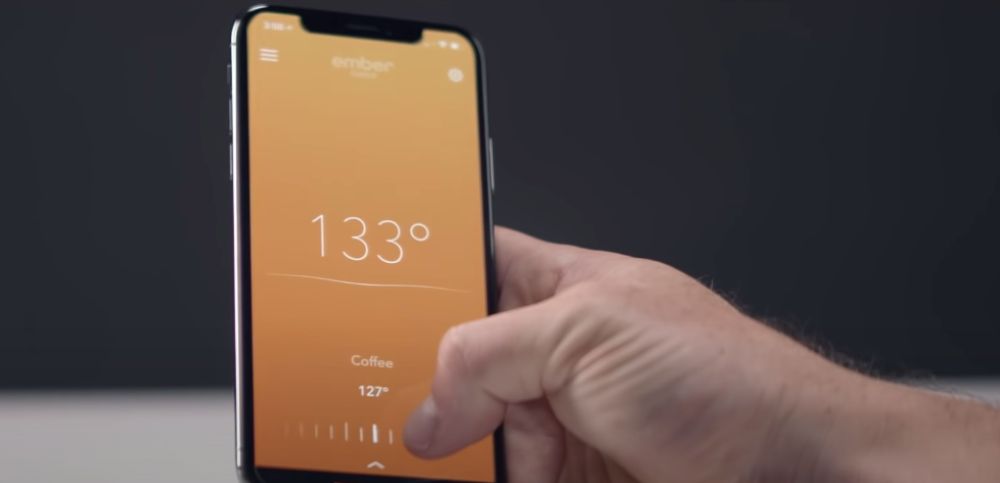 64ºC or 145ºF is generally the hottest people would want to drink their tea or coffee with around 55ºC (130-135ºF) being the most popular drinking temperature.
The Ember will keep your drinks warm at this temperature and can even warm up drinks to this temperature. But it takes quite a while to warm up drinks and this chews through your battery quickly.
You're better off preparing your drink ahead of time at the right temperature and then just using the Ember to keep it hot, or keep it plugged in through it's saucer charger in you want to heat something up from cold.
Battery Life: 1-3 hours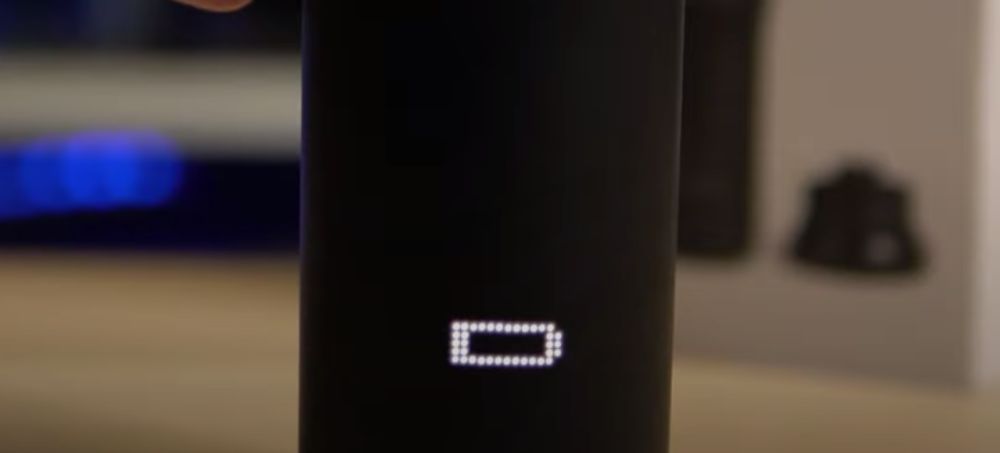 The smaller 10 oz Ember Mug has a battery life of 1-1.5 hours but that's when it is just keeping drinks warm. If you are heating up cold drinks the battery will die much faster.
The 12 oz Ember Travel Mug has a longer battery life of up to 3 hours.
Most of us are likely to finish drinking out coffee within a 3 hour time frame.
Capacity: 10 oz + 12 oz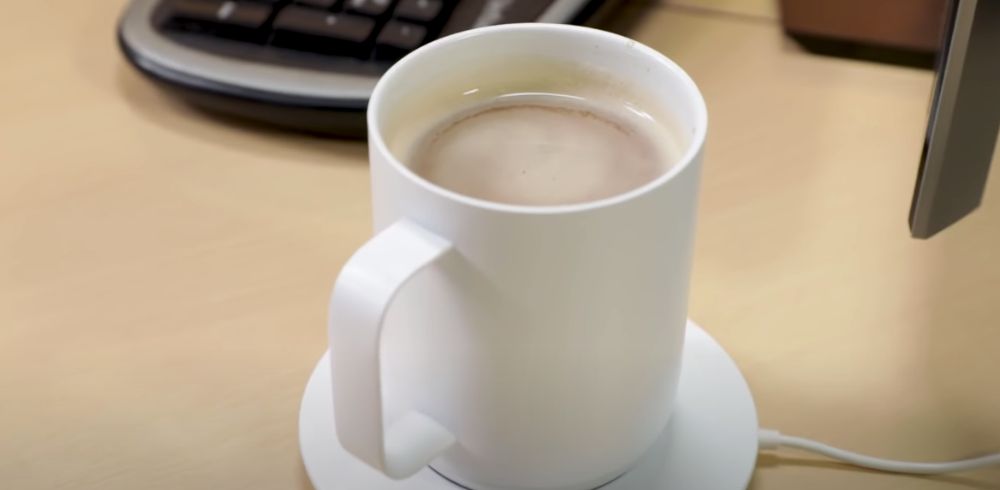 The Ember comes in two different types.
The 10 oz size looks like a regular ceramic coffee mug with a handle and no lid.
See the latest price of the 10 oz Ember Mug at Amazon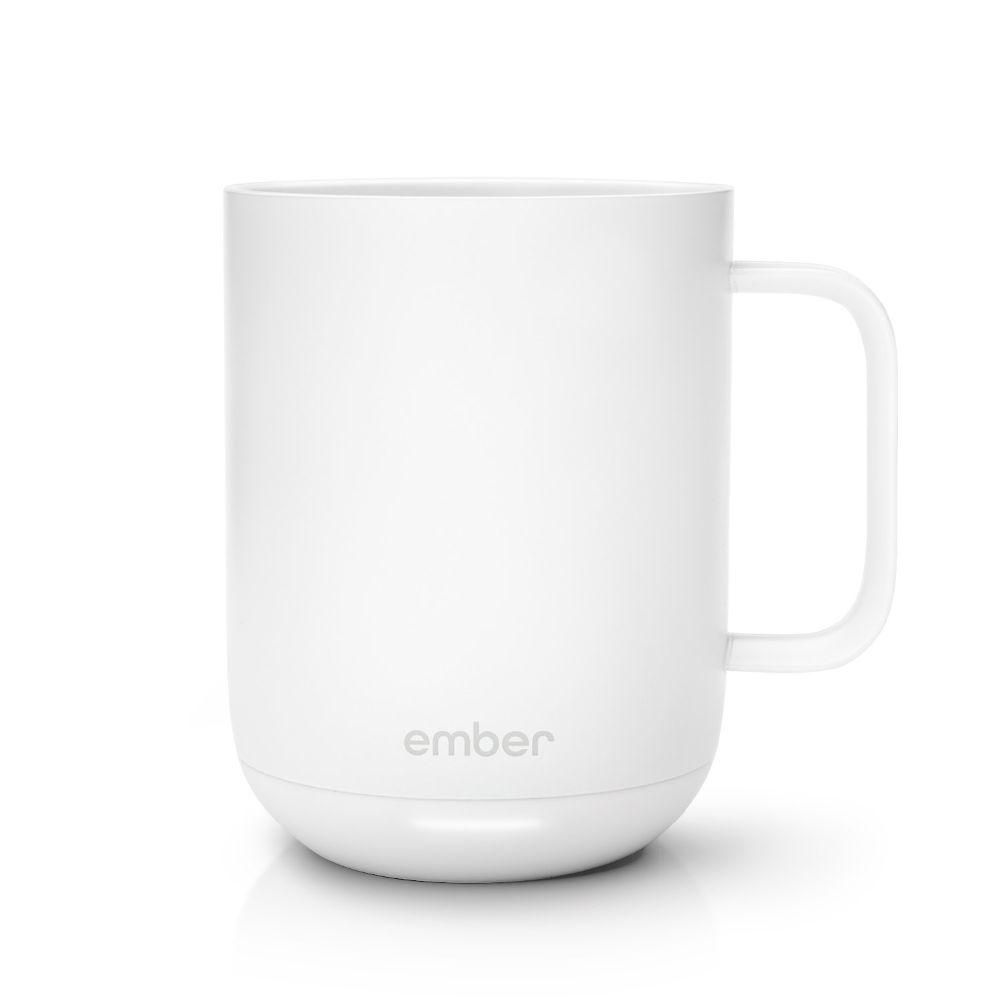 Then there is the larger 12 oz Ember Travel Mug which looks (you guessed it) like a travel mug.
The travel mug features a push top lid which is leak proof (a feature I like) and the bottom spins and acts as a dial allowing you to adjust the temperature without needing to use the app.
See the latest price of the 12 oz Ember Travel Mug at Amazon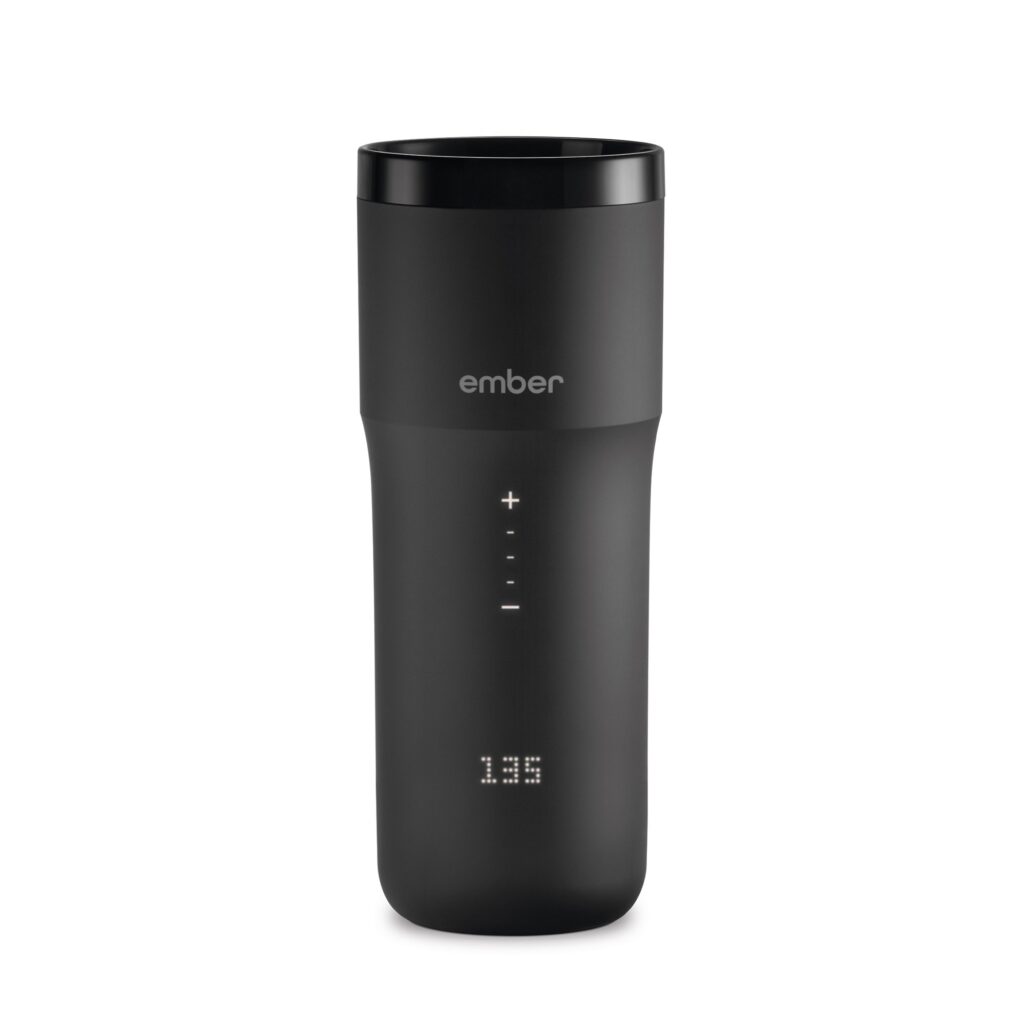 Design and Colors
The Ember mug comes in white, black and a special copper edition for the smaller mug.
The design on this mug is beautiful.
Whereas the Cauldryn looks like a cheap camping mug the Ember looks elegant and expensive and something you would be proud to drink out of.
Ceramic Coated Stainless Steel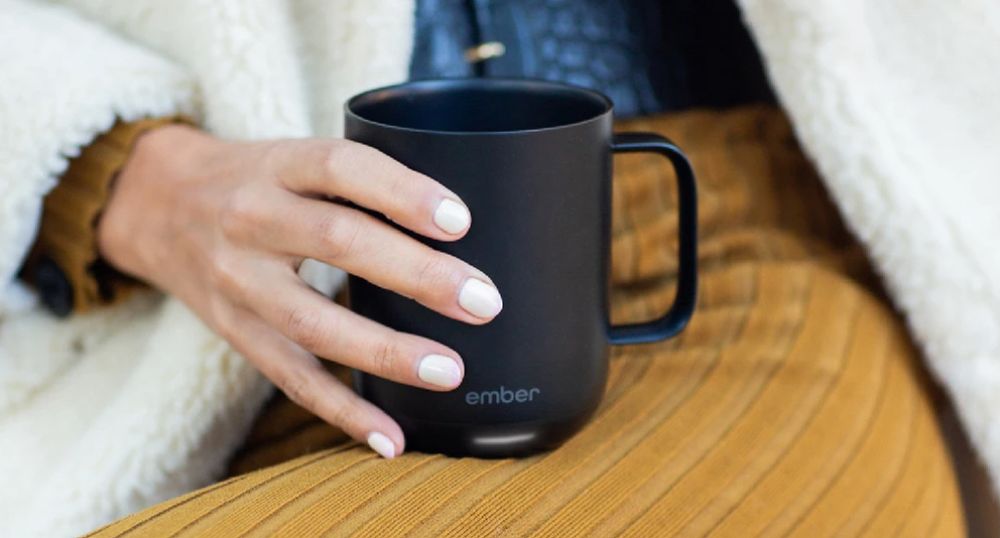 The Ember mug is ceramic coated stainless steel so you get the strength of the stainless steel but because of the ceramic coating it won't add any flavors into your drink.
One of the problems with the Ember mug is that the ceramic coating can start of scratch off over time so that's something to be aware of.
It also isn't vacuumed sealed so it doesn't hold heat as well as the Cauldryn.
Apparently it has a phase change material that quickly cools down coffee to the right temperature then holds it there, but I don't know if this actually works or it's just cool marketing.
Smartphone Connectivity
The Ember easily connects to your phone via bluetooth. With the smaller mug you need to use your phone in order to set the temperature but the larger one you can do it straight from the mug.
Of all the best heated coffee mugs for the car out there the Ember arguably has the easiest app to use.
Accessories
There aren't really any accessories for the Ember Mug other than buying extra lids or extra charging stations.
Price
The Ember mug isn't cheap and the smaller one starts at around $99 with the larger travel mug being around $179 at the time of writing.
You'll need to check Amazon to see what the prices are today but this is a premium mug and it's priced as such.
While the Cauldryn is cheaper when compared to the 12 oz it isn't that much cheaper and honestly, there aren't currently any good cheap alternatives out there.
For a premium looking mug and if money isn't an issue for you then it's a great mug and worth the money. If spending over $100 of a cup seems excessive to you then maybe this isn't for you.
See the latest price of the Ember Mug at Amazon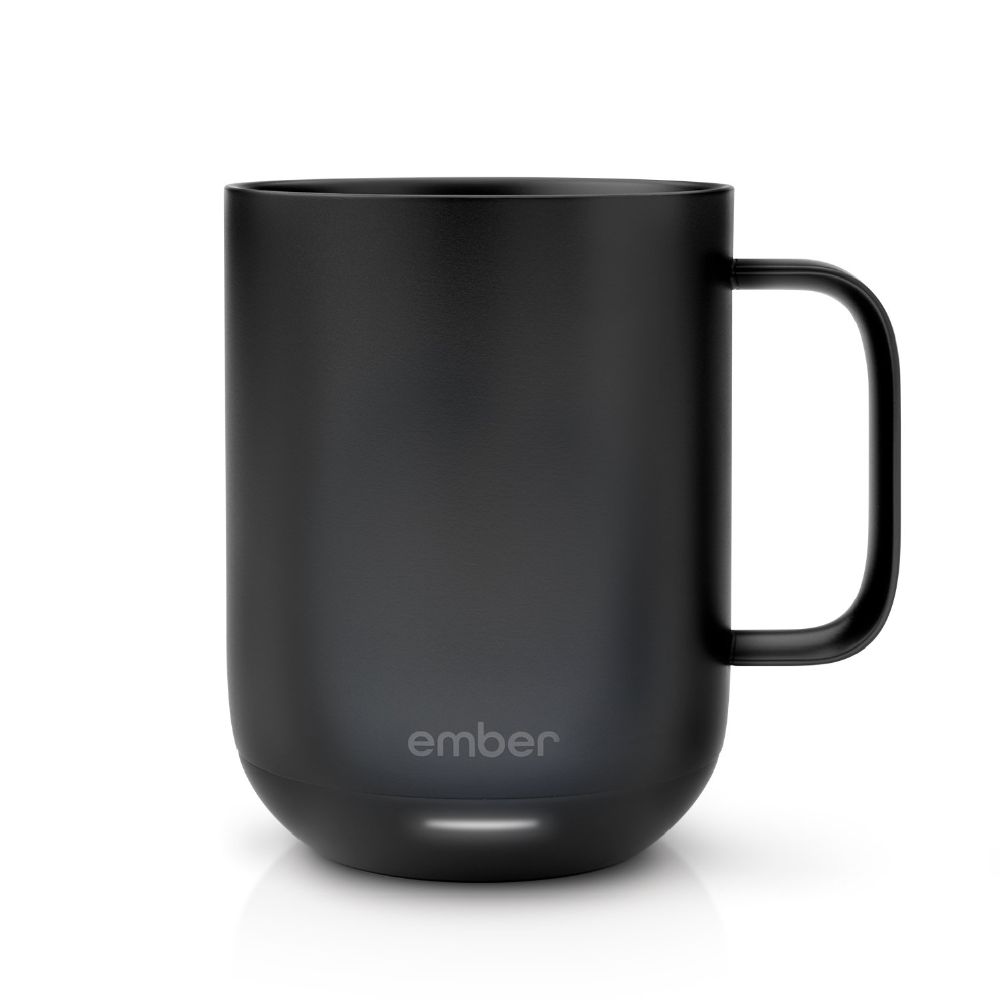 Who Should Buy The Cauldryn?
The Cauldryn performs better than the Ember and has more heating ability and a better battery life. It can heat up cold water to boiling temperature and can even be used to blend things on the go.
The Cauldryn is perfectly suited to people who are going off grid and would be great for hiking or longer trips away where you might want to keep drinks hot or maybe even cook some noodles or freeze dried soups just using the battery pack.
See the latest price of the Cauldryn Travel Mug at Amazon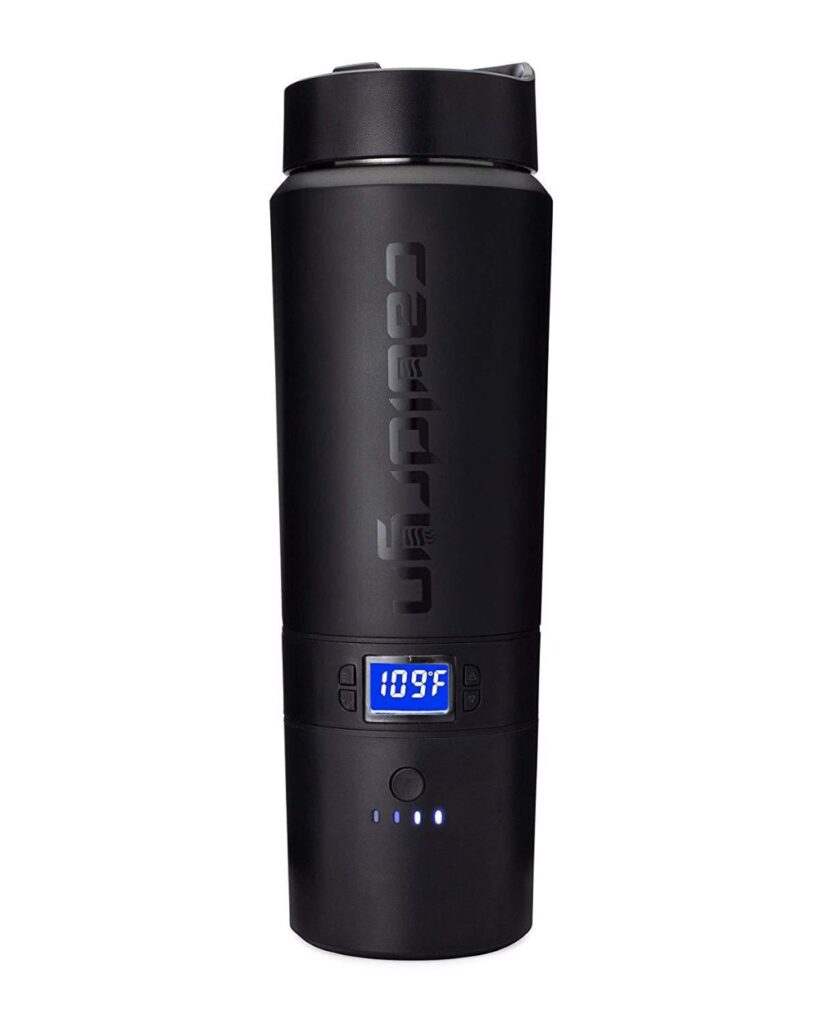 Who Should Buy The Ember 2?
The Ember is more attractive and more practice for people who are going to be using this cup more around the office or at home where they won't be far from power for a long period of time.
It can keep your coffee or tea hot at your desk all day with the charging saucer or keep your coffee hot for the commute to and from work.
The Ember is perfect for the busy professional.
See the latest price of the Ember Travel Mug at Amazon