Who doesn't love drinking coffee on that long commute or during that roadtrip? It make a boring drive that little bit more interesting.
But so often you just want to drink your coffee slowly, only it gets stone cold which is way less enjoyable. A good heated coffee mug for the car can solve this problem.
They use the 12 volt power from the car to keep your coffee at a deliciously hot drinking temperature for your entire trip. No more stone cold coffee. But how do you know which heated coffee mug to get?
The best heated coffee mug for the car is the Cauldryn battery powered heated coffee mug with the 12v car adapter. It's vacuum insulated to keep coffee hot longer without power, but it also has a heating element to maintain your coffee at the perfect drinking temperature. It is even powerful enough to boil water.
There are a few other great options out there as well with prices ranging from extremely cheap and simple devices to expensive battery powered ones with different heating temperatures.
It's Hard To Find Good Heated Coffee Mugs For The Car
It can be quite difficult looking for a good 12 volt heated coffee mug for the car because so many brands have just gone the route of offering something super affordable, but to do so have compromised on quality.
The internet is littered with heated coffee mugs that work great for a few times only to break and stop working a few weeks or a few months in never to work again.
#1 and #2 in this list are high-quality brands that I would feel confident recommending and buying. They are unlikely to break easily and should last a long time. They are also on my list of the best battery powered heated coffee mugs.
As you get to #3 through to #10 the quality starts to drop but the price also significantly drops too. If you're a budget conscious shopper these are your better options, but just be aware that you'll need to treat these more carefully and that the quality isn't as good.
1. Cauldryn Heated Coffee Mug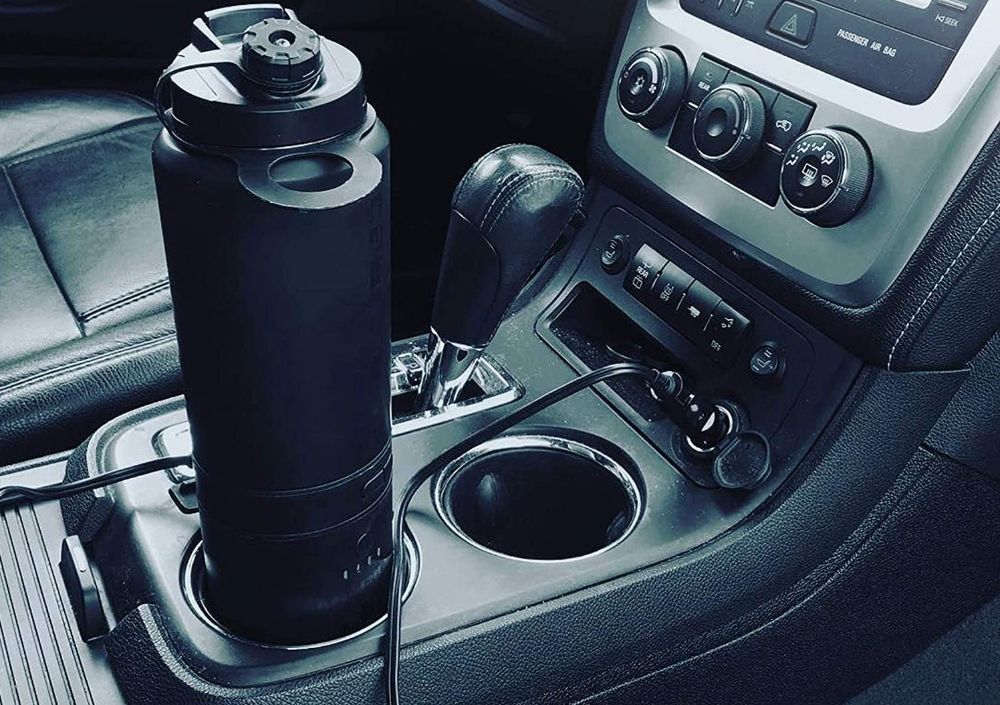 The Cauldryn heated coffee mug with the 12 volt car adapter is by far the best heated coffee mug for your car.
It's premium quality and likely to last a long time, but it's also affordable enough that it won't break the bank.
It comes with a battery pack that has enough juice in it to keep your coffee hot for 10 hours at a time, but there's also a cheap 12 volt car adapter so you can keep it charged and running all day long.
The main body of the mug is vacuum insulated which means once your coffee gets hot it won't cool down quickly, even if your Cauldryn isn't powered on.
It's modular and the heating element and battery come off which makes it easy to clean. But it also means you can swap out the heating element with a blending attachment for making smoothies or cocktails on the road.
Maybe don't do that during your commute to work though. Haha.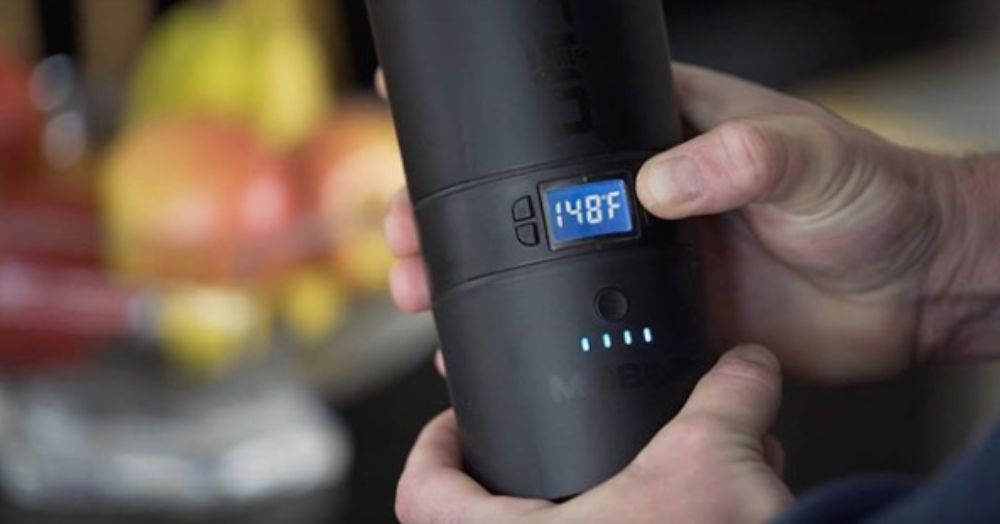 It's got a temperature setting which you can set anywhere from room temperature up to boiling point 212ºF (100ºC).
This means you can keep your coffee at the perfect drinking temperature for the entirety of your drive. Most people like to drink their coffee around 130-145ºF (54-63ºC).
The battery is long lasting enough you don't need the car adapter but for less than $10 you can give yourself peace of mind that you'll always be able to power your Cauldryn on the road and never have to drink cold coffee again.
It comes in a 16 oz capacity which should suit any size of coffee (unless you're drinking crazy amounts).
This is a bit more expensive than a lot of the other heated coffee cups on the list, but the quality is way better and it has a battery pack which a lot of the other brands don't.
In my opinion this is the #1 pick by far. If you can afford it, grab this one with the car adapter using the links below.
See the latest price of the Cauldryn heated travel mug at Amazon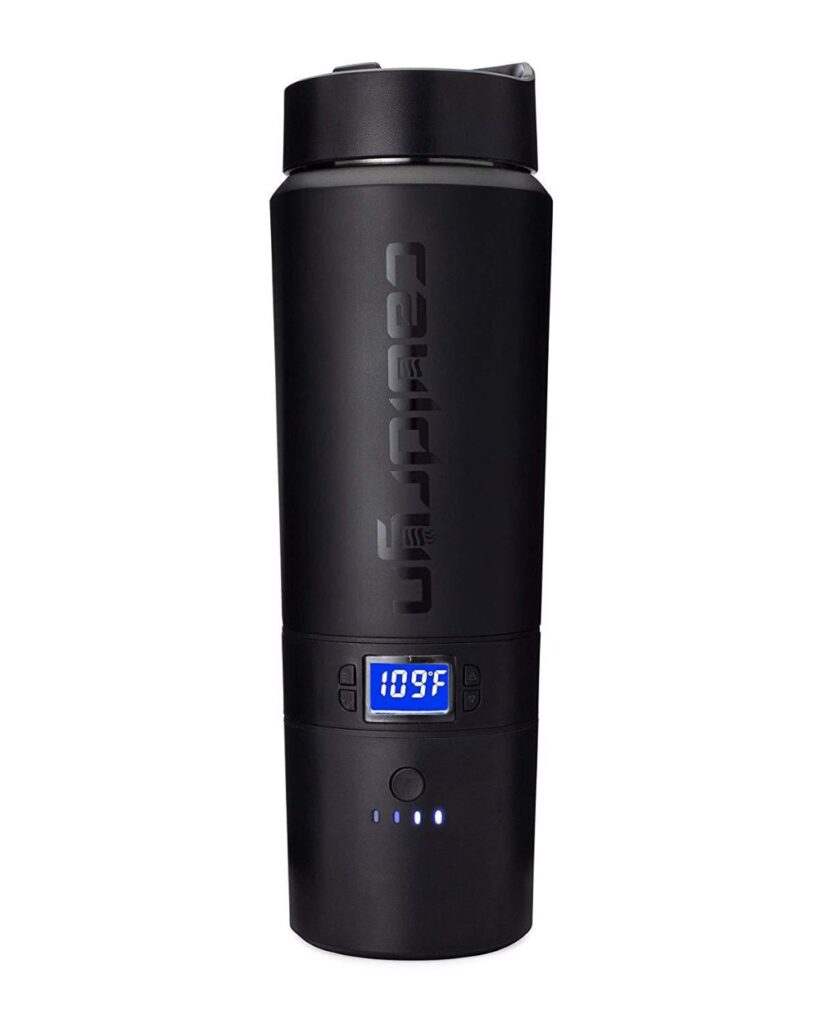 See the latest price of the Cauldryn 12 Volt Car Adapter at Amazon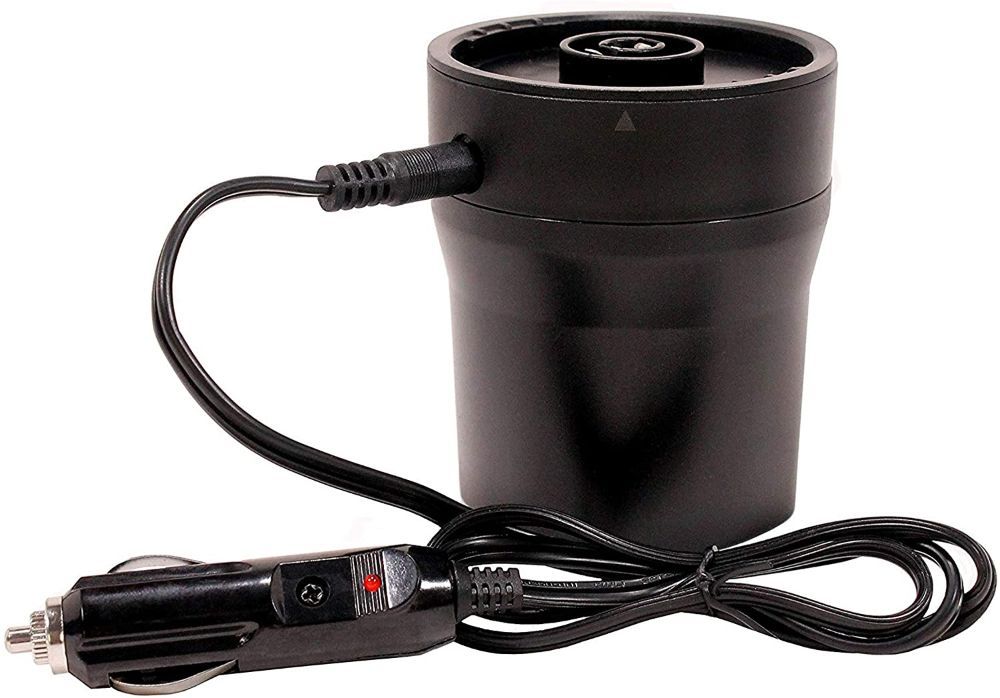 2. Ember Travel Mug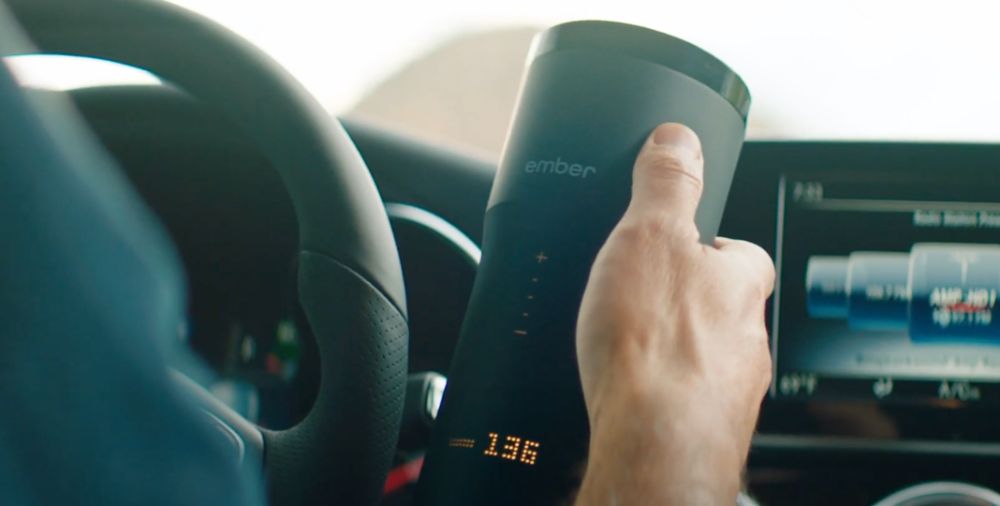 Coming in a close second place is the Ember Travel Mug which is by far the most elegant and beautiful heated travel mug for the car or for anywhere.
It runs off battery power like the Cauldryn mentioned above but unfortunately at the time of writing there is no 12 volt car charger so you'll need to make sure it's charged before you start driving.
It's got 3 hours of battery life and can keep your drinks anywhere from 120-145ºF (48-63ºC).
The push down lid is completely leakproof when closed and when open you can drink from any point on the lid.
It's thin enough to fit into your car cup holder and it's 12 oz capacity perfectly fits a standard sized coffee.
One thing that makes this cup stand out is the fact that inside it's ceramic coated. This means you won't get any flavors imparted into your coffee and you can enjoy it's true flavor.
This is a premium cup with a premium price. But if you're spending thousands per year on barista made coffee then it's worth the investment into a good heated cup so you can enjoy that expensive coffee at the perfect temperature for the entire time.
See the latest price of the Ember Travel Mug at Amazon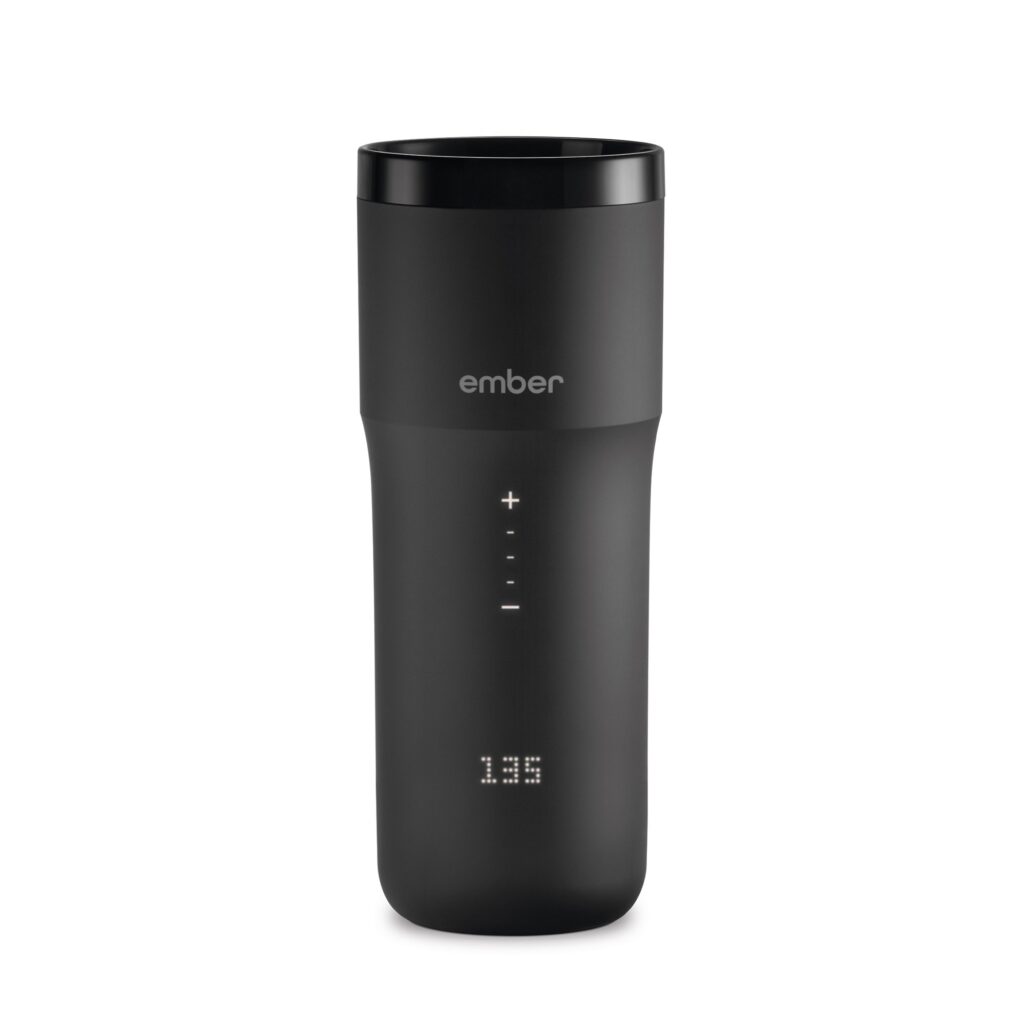 3. Kemin 12V Car Heated Travel Mug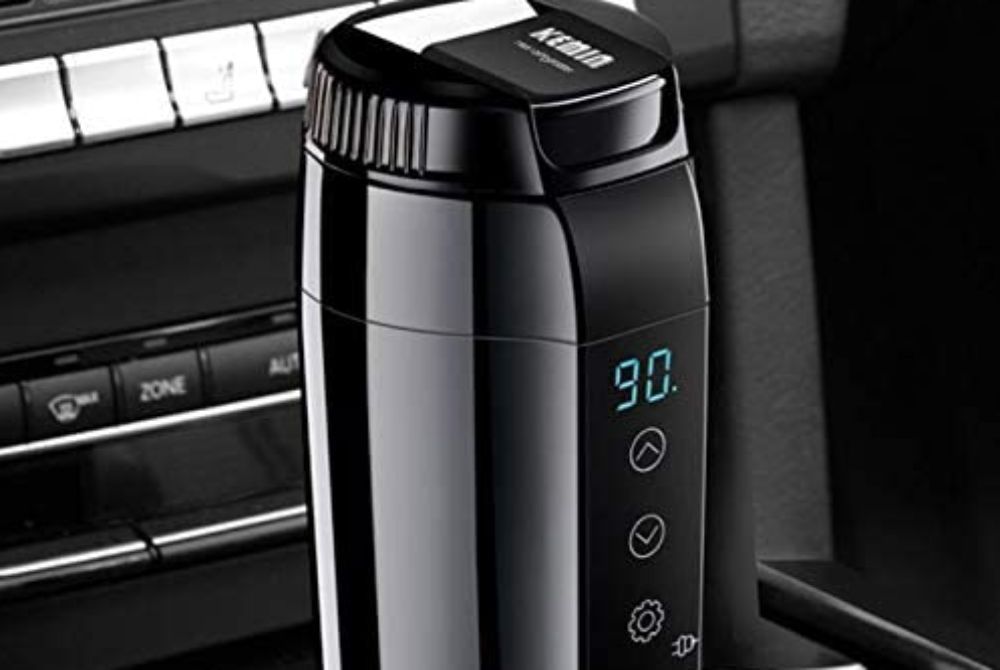 For something a little more affordable but still decent quality the Kemin 12v Heated Travel Mug with temperature control is a good option for your car drive.
It's LCD and touch controls allow you to set any desired temperature from room temperature up to 90ºC (194ºF). Many people have commented that this can make coffee so hot that it scalds you, so you'll want to be careful as this thing works!
It's not perfect and not without it's flaws. The temperature control buttons are super sensitive which can lead to frustration trying to set a certain temperature and the screen can be difficult to see in the daylight.
The power cord can be a little short for some people and the lid, while leak proof, is tricky to open with one hand whilst driving.
Still, a lot of people are happy with this product and find it works well. It can keep coffee warm and even heat up tap water in order to brew tea or coffee on the road.
It's a bit cheaper than the Cauldryn but doesn't have a battery pack.
See the latest price of the Kemin 12V Heated Mug at Amazon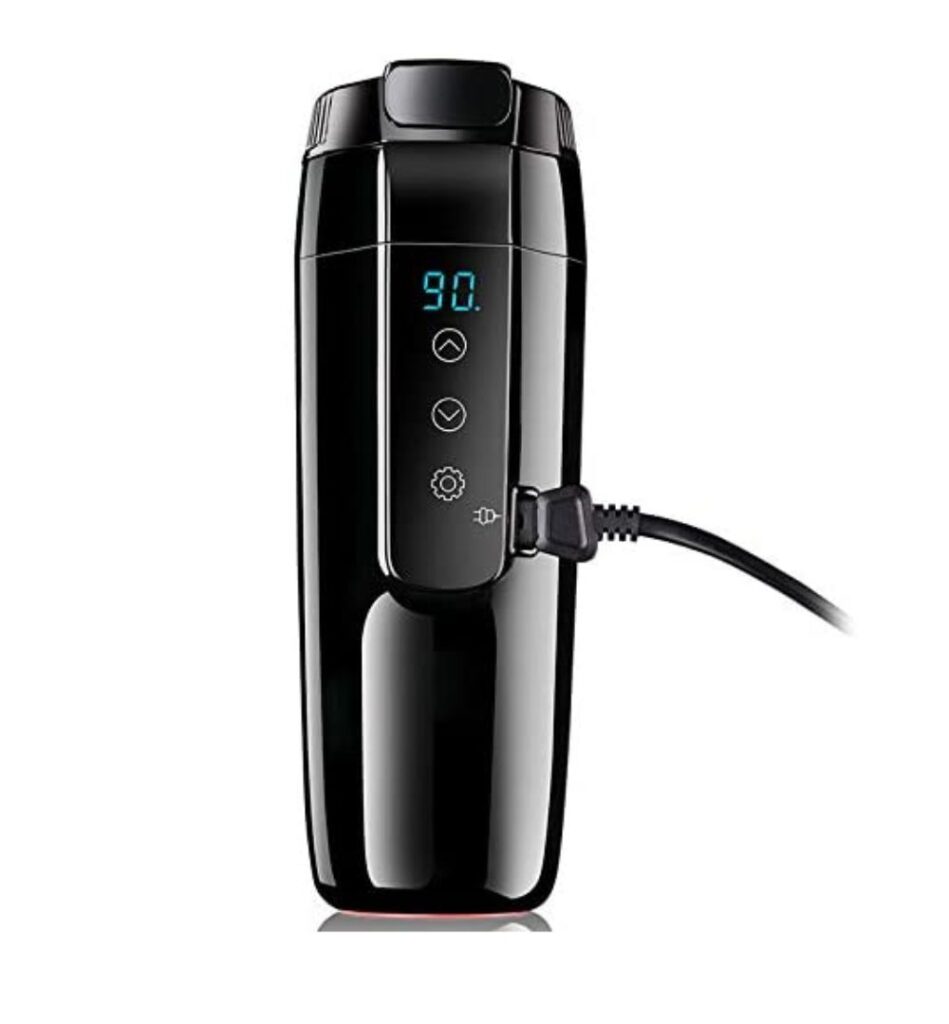 4. Spardar Water Heating Cup 12V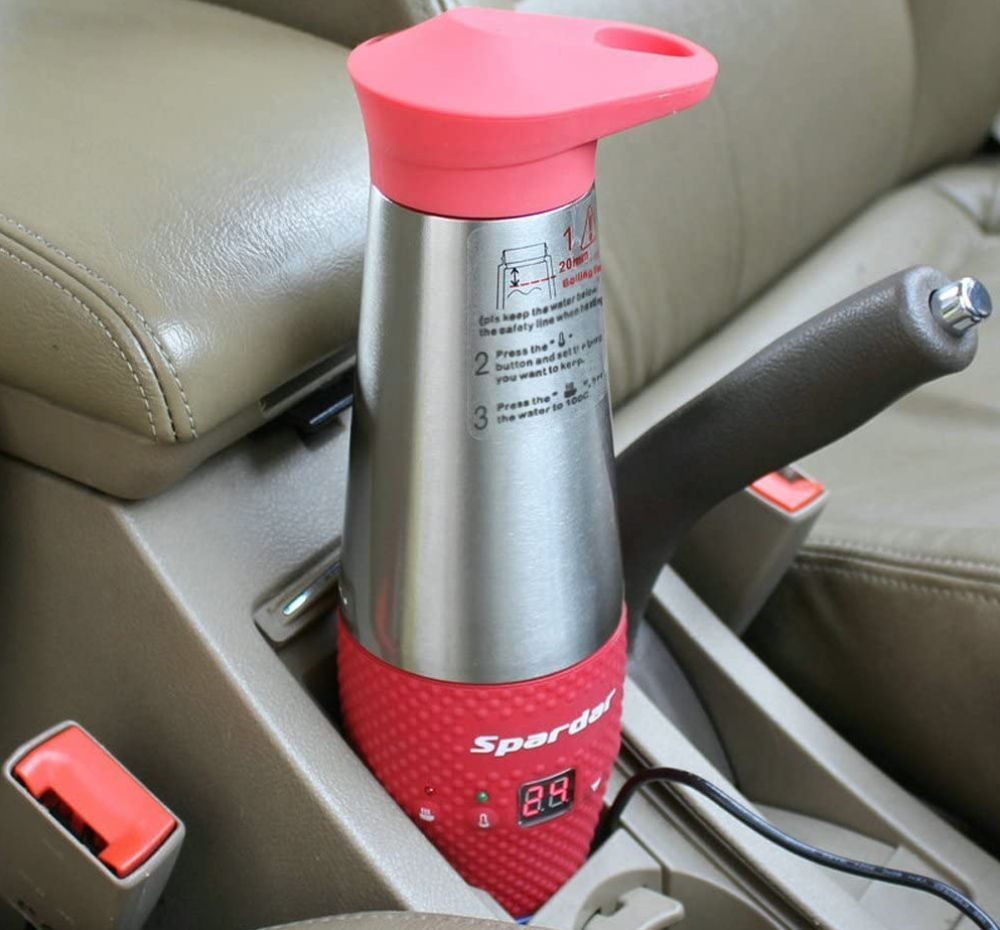 The Spardar doesn't look like a coffee cup or travel mug and that's because it isn't. It's designed to heat or boil water and then you to use that water in another cup for tea, coffee, noodles or whatever it is you're making.
This is less designed to keep your coffee at a certain drinking temperature for your entire drive and more designed to heat up and even boil water in your car.
It takes about 10-15 minutes to reach boiling point, which isn't too bad if you've got a little drive somewhere. But it needs the car to be on and the engine running in order to work so if you're parked somewhere you'll need to leave the car running.
It has an 11 oz capacity which is large enough for a cup of tea or coffee or to make a cup of instant noodles. But if you want noddles AND coffee you'll have to do it one at a time.
It's thin enough to fit into most cup holders and the silicone base. I advice only setting it to about 90ºC (not 99ºC) to use less power and to decrease the chances of it breaking your 12 volt power point in your car.
This isn't cheap, but it's fairly well priced for what it does. This is perfect if you want to be able to boil water and make tea or coffee in the car, but not if you want to keep coffee hot and drink from it. This is for water only.
See the latest price of the Spardar Heated Cup at Amazon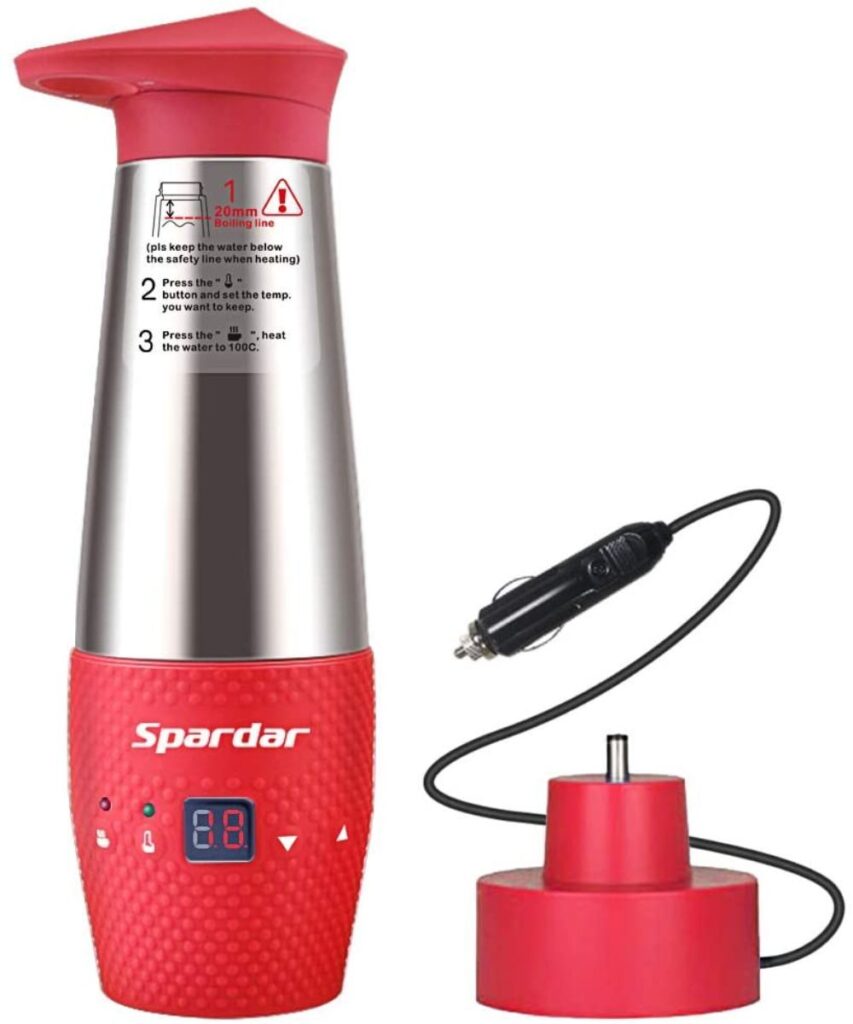 5. Puncia 12V Smart Heated Travel Mug
The Puncia 12V Smart heated travel mug is sold under a variety of different brands but the Puncia seems to be the most popular and the most reviewed.
It's similar the the Kemin listed above where you can control the temperature and it can warm your drink up to that exact temperature.
The buttons are less finicky compared to the Kemin and it's also a little bit cheaper.
You can use this for tea and coffee so it isn't a water only design like the Spardar.
It's got a little plug on the side so it can be attached and disconnected from your car whenever you want and you can also get a wall adapter so you can use it at home or in the office to keep your drinks hot all day.
It has a heat range from 20-90ºC (68-194ºF) so can't bring water up to boil but it gets pretty darn close.
It comes with a leak proof lid and it's well priced for it's feature set.
See the latest price of the Puncia Smart Heated Mug at Amazon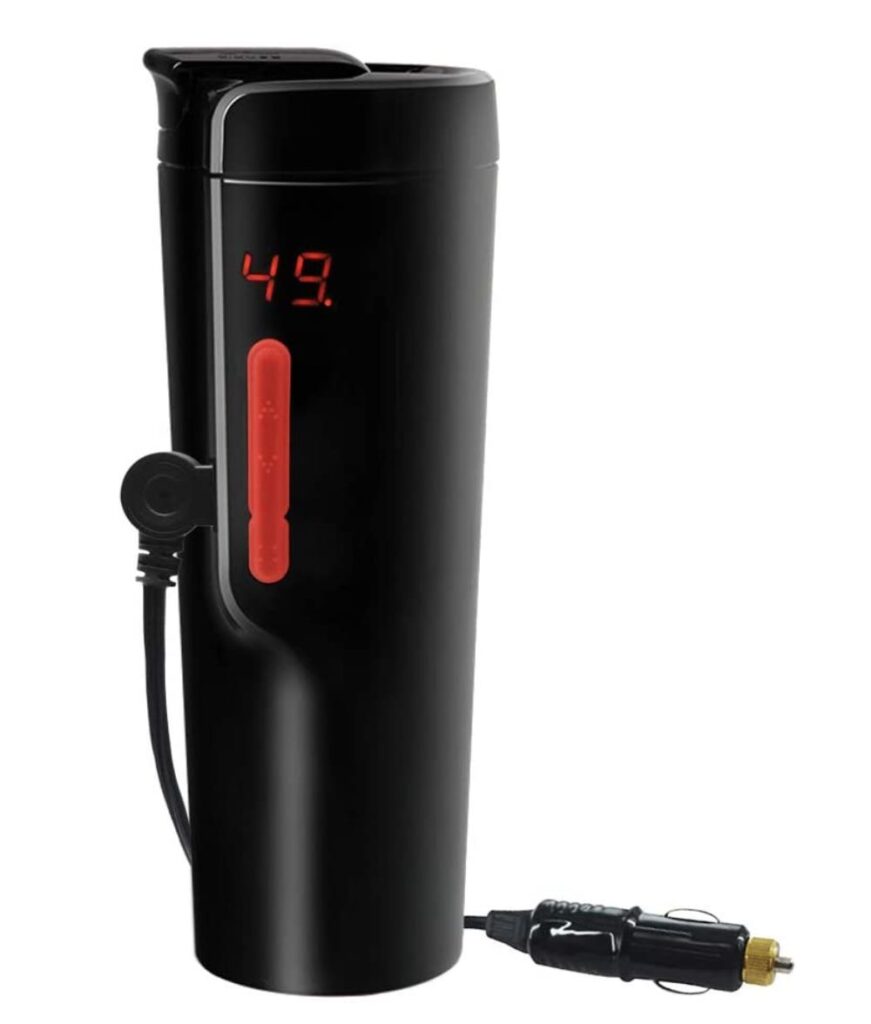 6. Bright Colors: Aimeio Insulated Heating Cup 12V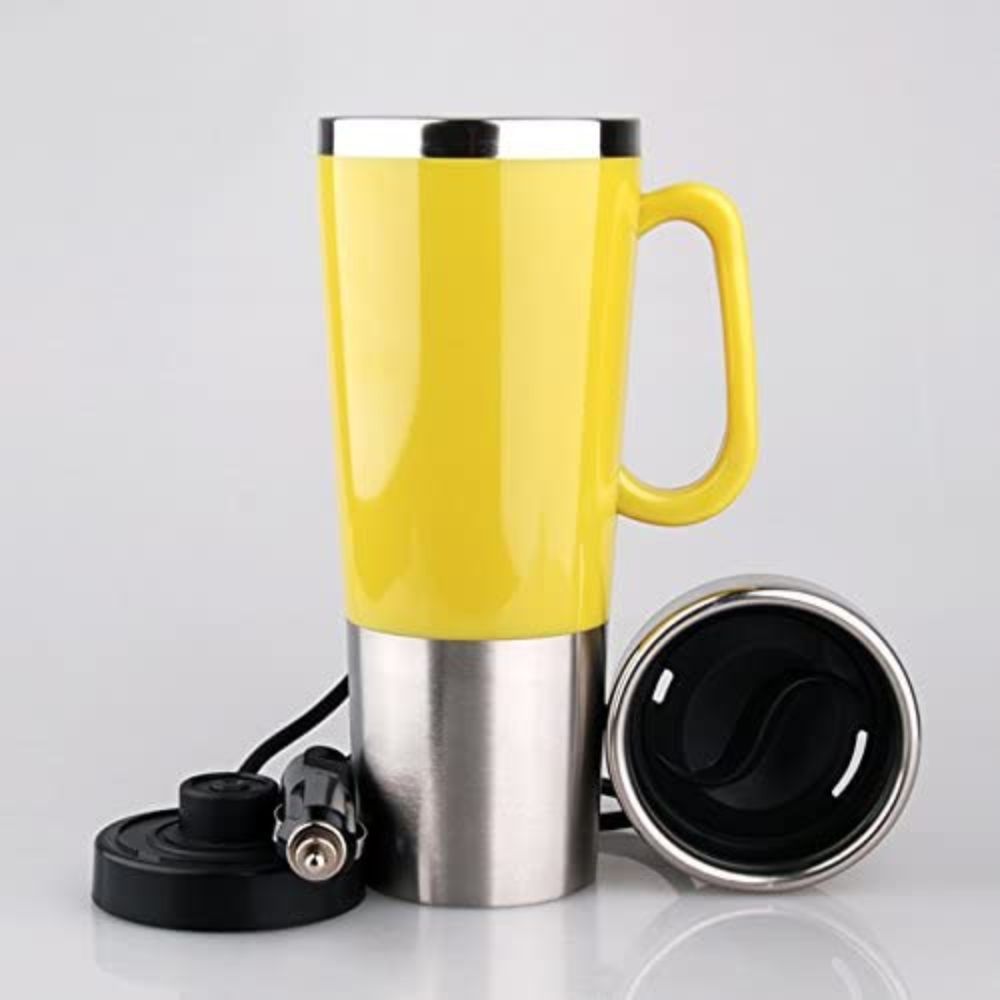 The Aimeio is a cup that is designed to quickly heat and boil water. It doesn't have any temperature settings on it but rather will heat and bring water up to boil in about 10 minutes.
It's easy to use as the base plugs into your 12 volt car port but then the mug easily goes on or off the base to be activated or turned off.
Once your cup reaches your desired temperature you take it off the base so it stop heating and then you have double walled stainless steel to keep your drink warm. If it starts to get a bit cold and you need to top it up then you can just put it back on the charging base.
You want to be careful with this one that you don't leave it boiling away for hours and you also don't want to be boiling water with the lid on as the steam can build up a lot of pressure.
But to be able to quickly heat up your morning coffee and then turn off the power so it's not draining your battery is a good feature that I like.
See the latest price of the Aimeio Heating Cup at Amazon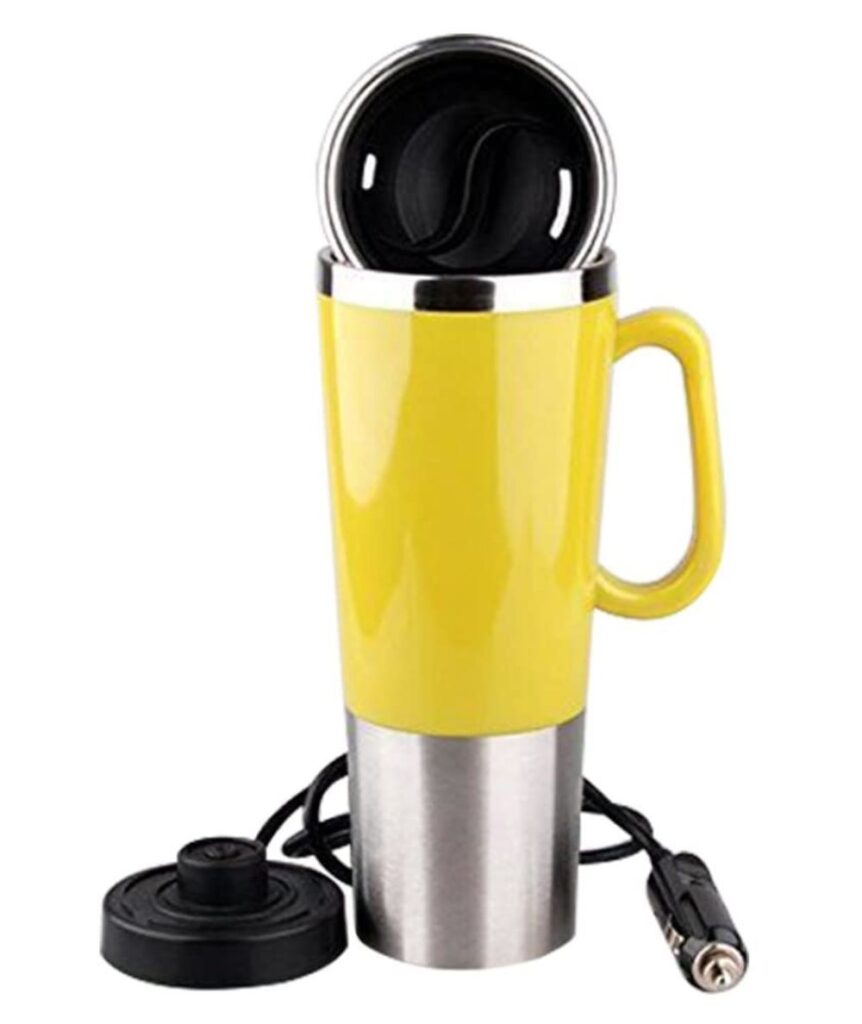 7. AFFORDABLE OPTION: Wagan EL6100 12V Heated Travel Mug with Anti-Spill Lid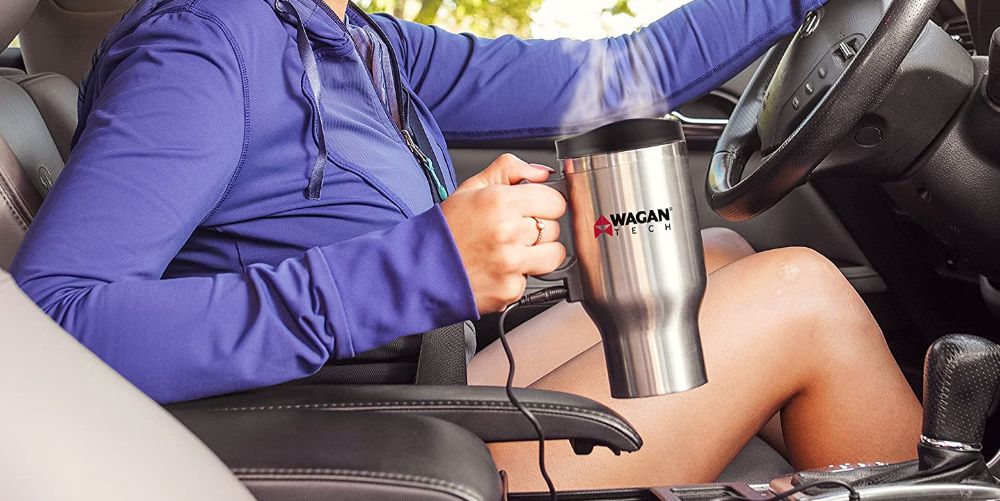 If you're looking for the most affordable option then you should consider the Wagan EL6100. It's a heated coffee mug for the car that won't break the bank.
It's made from double walled stainless steel. It's not vacuum insulated so it won't keep your drink hot for hours away from power but it's enough to not burn your hands when you pick it up.
It is designed to keep drinks warm at around 145ºF (63ºC) but it takes a LONG time to heat up cold water. So it's better to make your tea or coffee then take your cup with you for your commute.
This isn't like the other cups higher up this list that are able to take room temperature water and boil it or heat it up quickly. This keeps drinks warm, it doesn't do good at warming cold drinks.
As you can expect with the price like this the quality isn't the best and it's not the most durable of all the 12 volt heated mugs on this list.
Some people have complained it stopped working after a few goes or a few months while others are really happy with it.
But at the insanely cheap price that it sells for worst case scenario the heating stops working and you've still got a double walled stainless steel travel mug for your morning commute.
See the latest price of the Wagan EL6100 Heated Mug at Amazon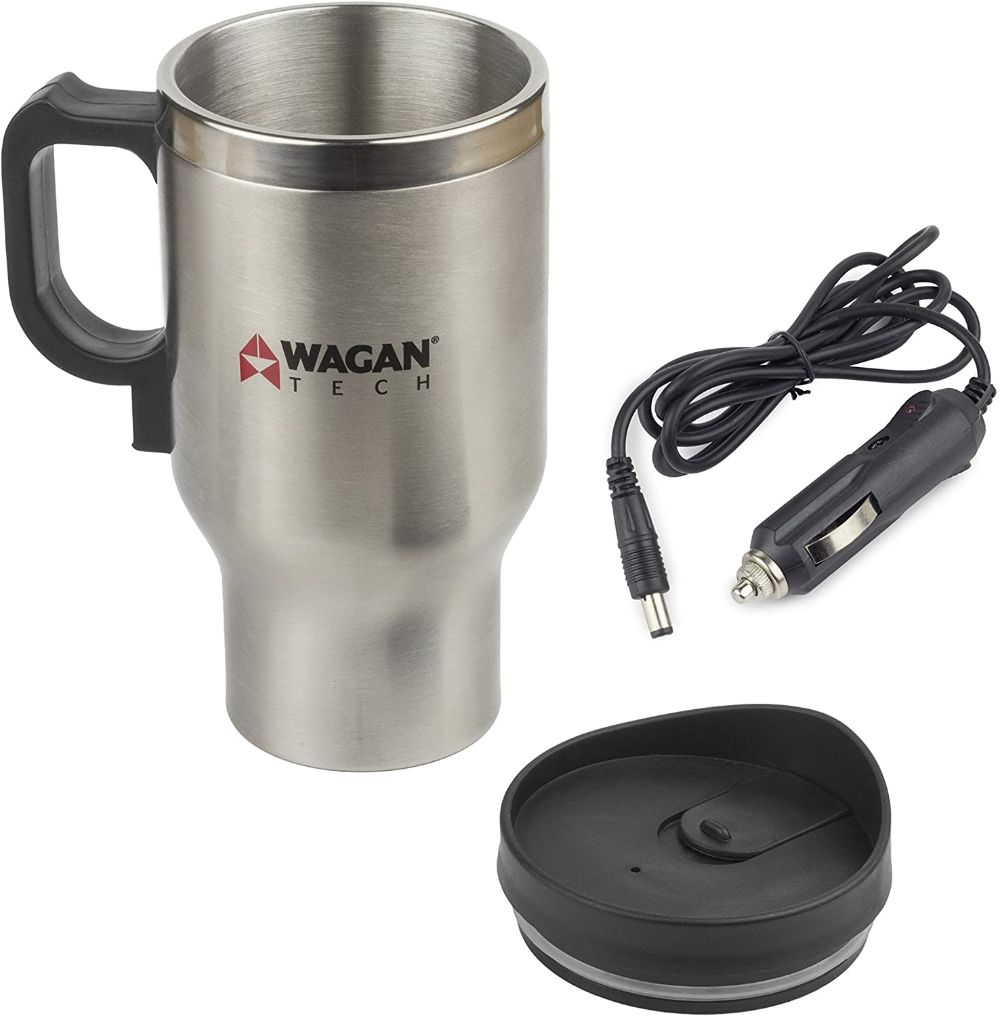 8. East Mount Smart Temperature Control Travel Mug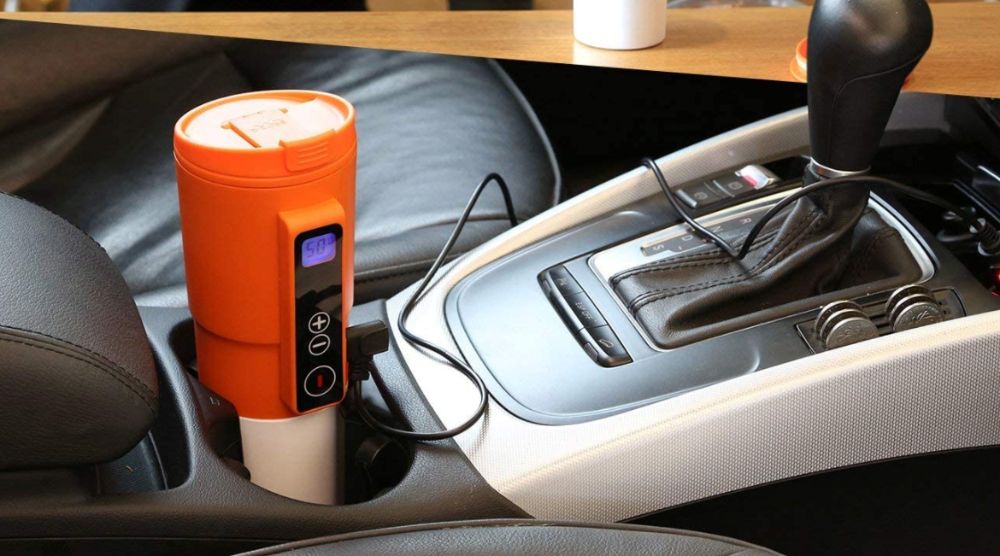 The East Mount heated travel mug is a bit more expensive than the Wagan but it has temperature control anywhere from 86-194ºF (30-90ºC) so you can maintain your drink at the perfect temperature and even keep it hot enough to cook noodles.
It's simply + and – design makes it easy to use and the temperature control has proven to be useful not just for tea and coffee but also for prepping formula or baby milk to exactly the right temperature.
The inside comes out for easy cleaning and so you don't have to worry about ruining the electrical components.
But again the quality in this isn't the best and it isn't the longest lasting product. Some of the other temperature control mugs listed above seem to last longer but this one is a bit more affordable than those so it comes down to what your budget can afford.
See the latest price of the East Mount Temperature Control Mug at Amazon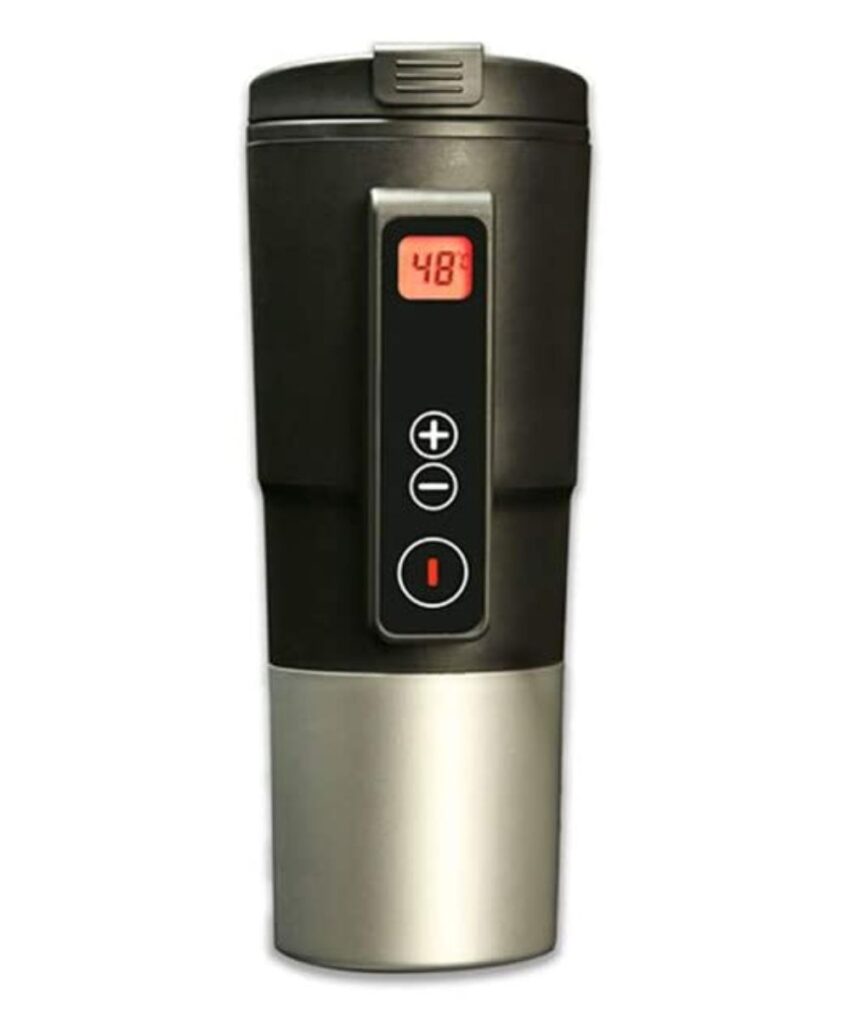 9. Tech Tools Heated Travel Mug Retro Style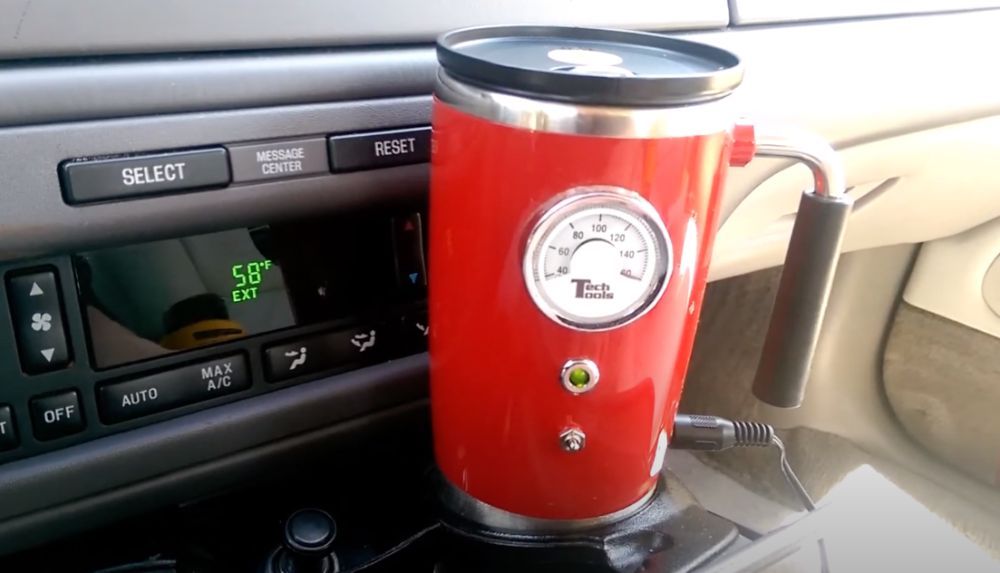 I love the style of the Tech Tools Heated Travel Mug and with over 800 reviews it's obvious that a lot of other people like it too.
I like that on the front it's got an analogue temperature indicator so you can see exactly what temperature your coffee is at. This will stop you from burning yourself on coffee that has gotten too hot.
It doesn't have any temperature controls and I couldn't find any details on exactly what temperature it keeps your coffee at.
But it's a nice affordable option that looks great and works pretty well.
See the latest price of the Tech Tools Heated Mug at Amazon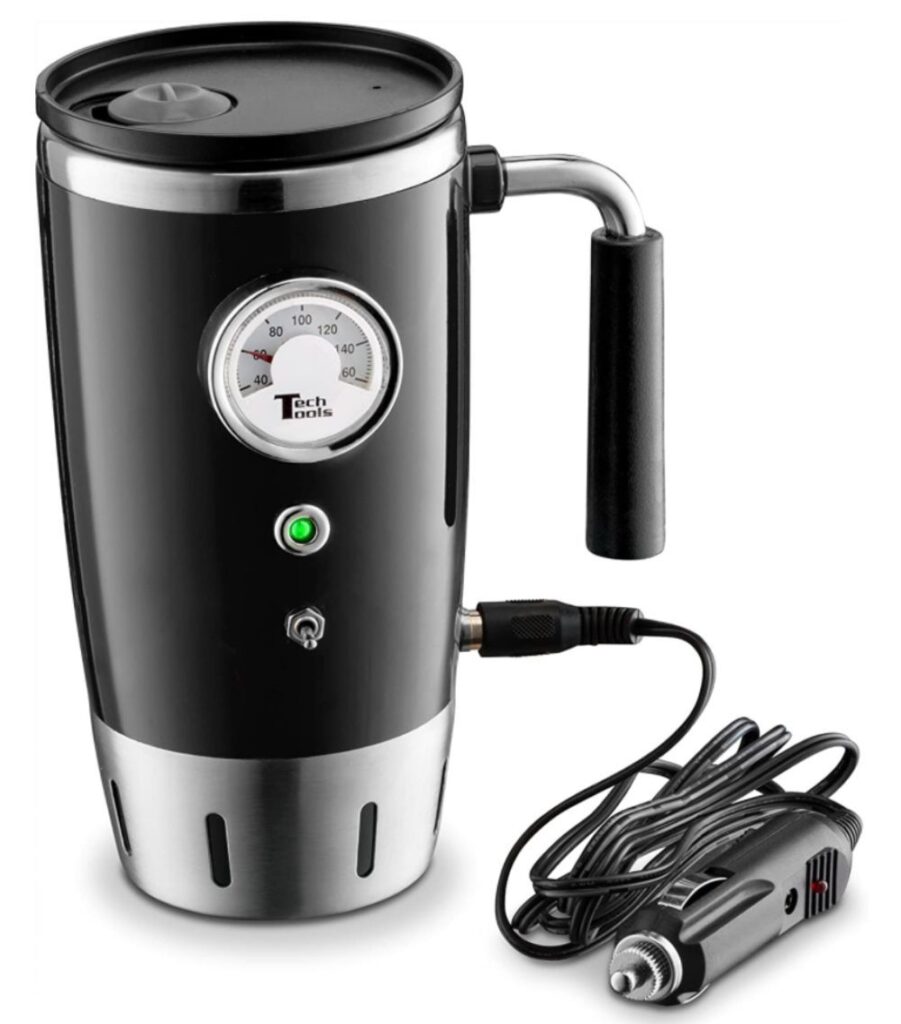 10. Brentwood Travel Mug 12 Volt Heated
I don't have a lot to say about the Brentwood Travel Mug. It's a generic heated travel mug that has an almost identical design to the Wagan.
The main difference between the two is that the Brentwood seems to have a USB chord and from the reviews has a tendency to burn out and stop working.
I would personally advise spending a little extra money to buy a better brand or get the Wagan. But some people may still want to get this one because it's really cheap.
See the latest price of the Brentwood Travel Mug at Amazon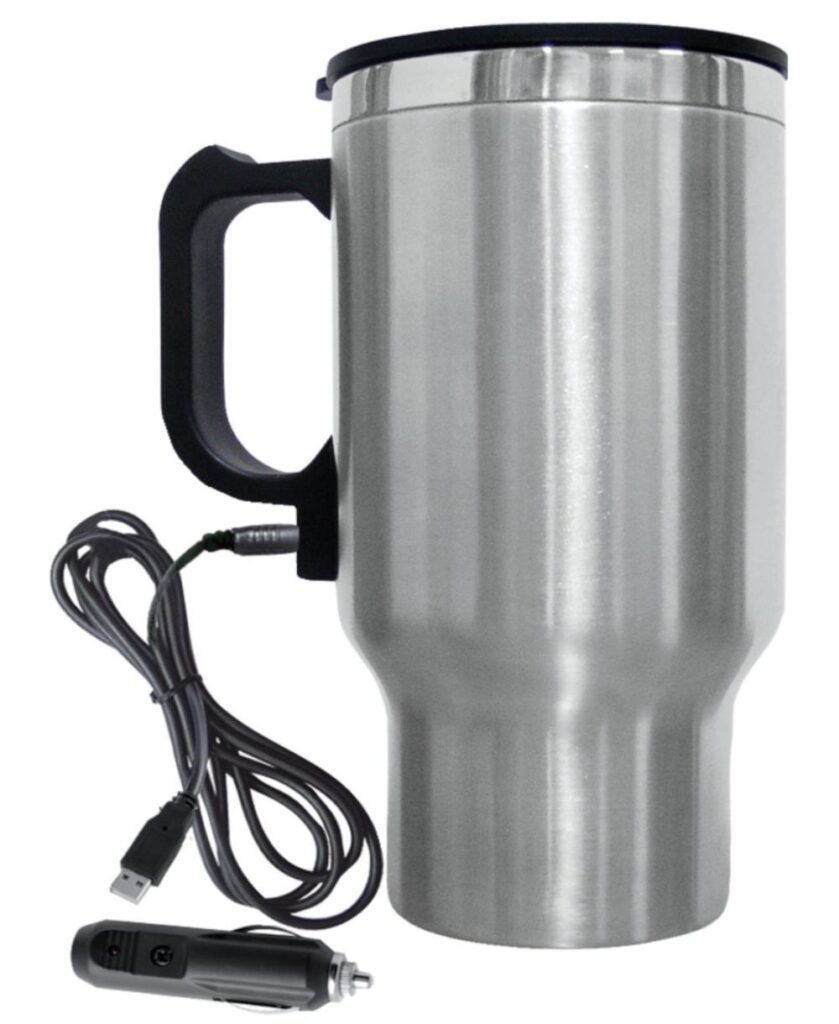 Car Cup Warmers
An alternative to a heated coffee mug for the car is to get a car cup warmer.
This is a device you put your coffee cup in and it has a heating element to help keep that cup warm.
They generally don't work as effectively as the travel mugs with heating elements in them, but it'll keep your coffee warmer a bit longer than if you just leave it in your cup holder.
Rainpobo Car Cup Heater/Cooler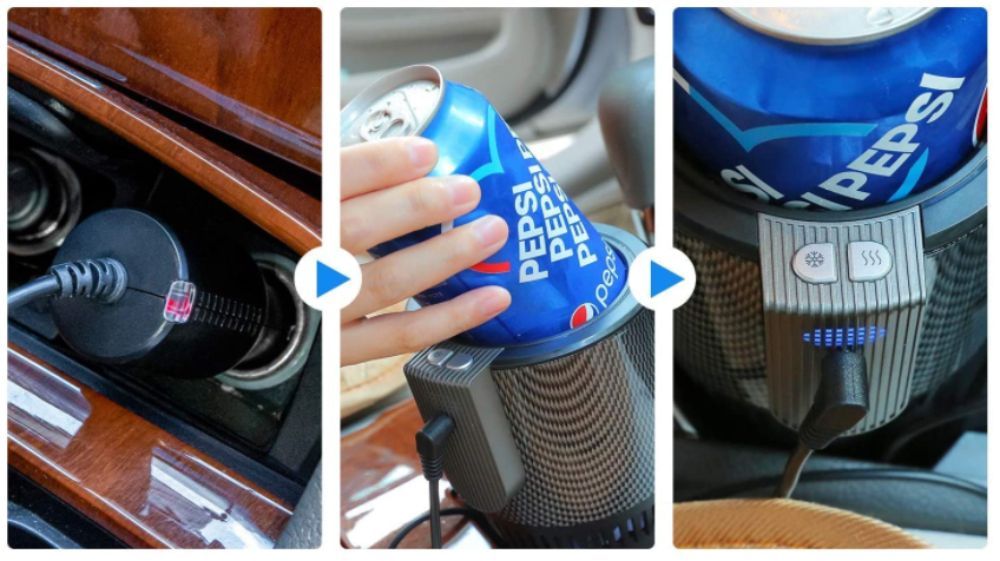 The Rainpobo Car Cup Heater/Cooler has the ability to both keep your drinks hot or to keep them cold.
It's not going to heat up your drink for you or cool it down for you…it's not that powerful. It won't even keep it hot or cold indefinitely, it's just slow down the process.
It also takes about 5 minutes to either heat itself up or cool itself down so it can actually start working.
It's base is small enough to fit into most car cup holders and if you want to mix it up between hot coffee in the morning and a cold drink in the afternoon this may suit you.
See the latest price of the Rainpobo Cup Heater/Cooler at Amazon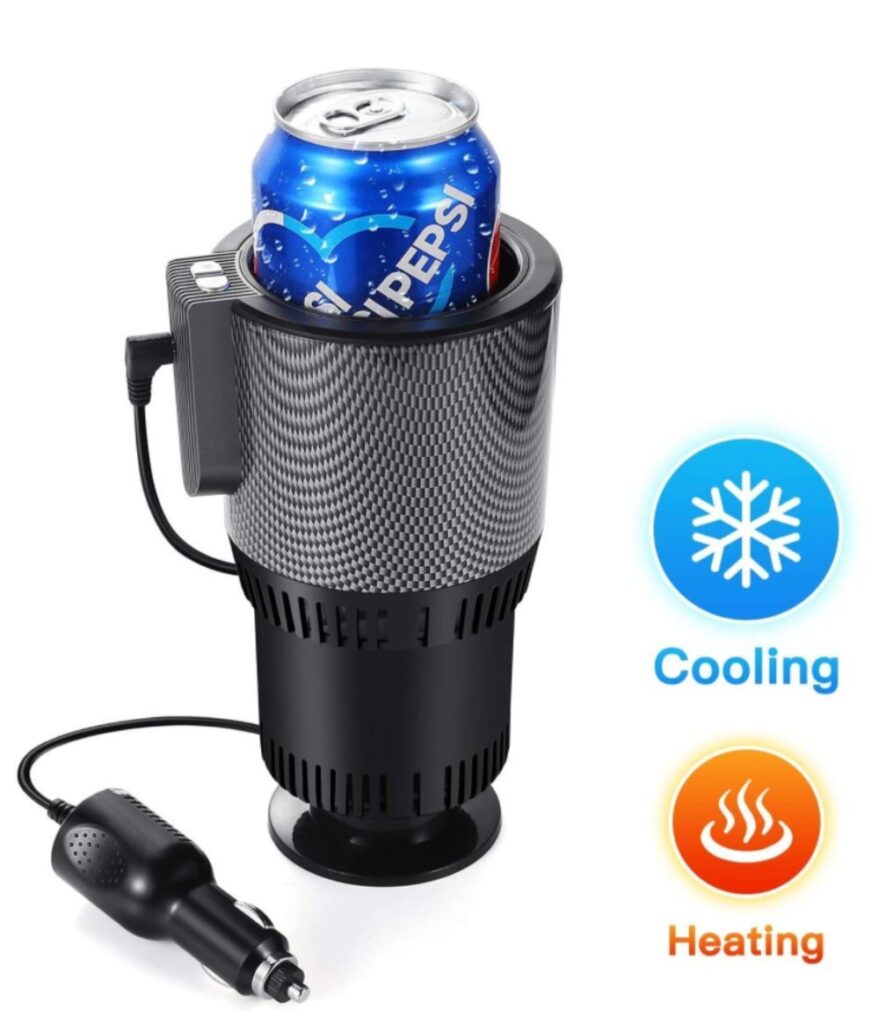 AutoCafe Take-Out Hot Cup Warmer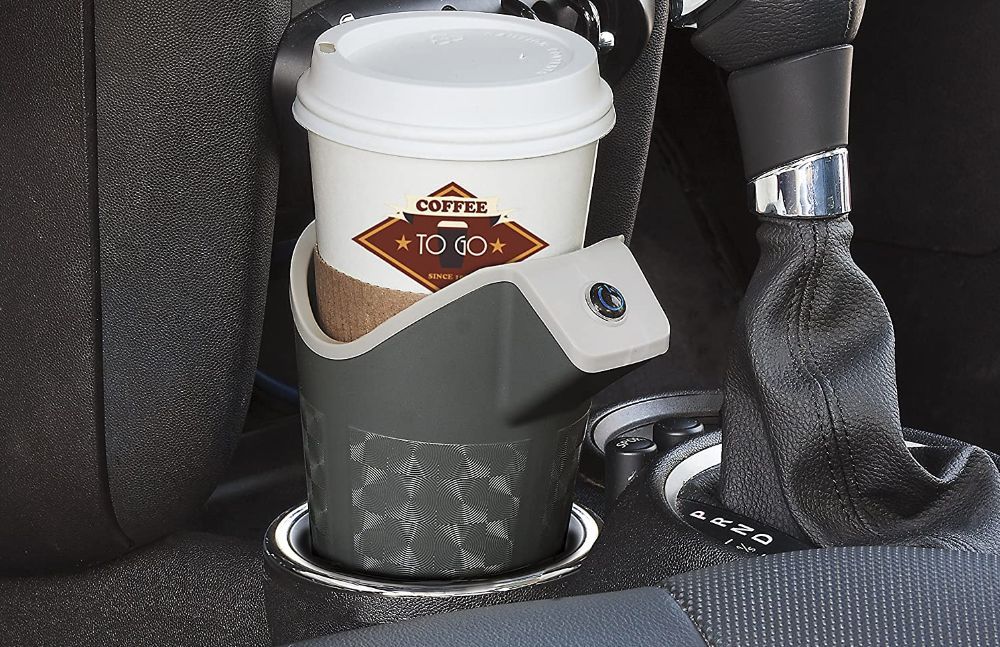 The AutoCafe is designed to keep your disposable coffee cups warm for longer than normal.
It's safe for use with paper, ceramic, glass, styrofoam, plastic and metal cups.
It claims to have a "precision temperature heater" but there is no indication of how hot it tries to keep your coffee.
I like that it automatically turns on when a cup is inside it and turns off when the cup is taken out.
This will only work if the warmer plate actually touches the bottom of your cup. That is how the heat transfer works. So this only works for certain types of cup.
It won't keep your coffee hot, just lukewarm, but it will slow down the cooling of your coffee so you can enjoy it for longer.
See the latest price of the AutoCafe Cup Warmer at Amazon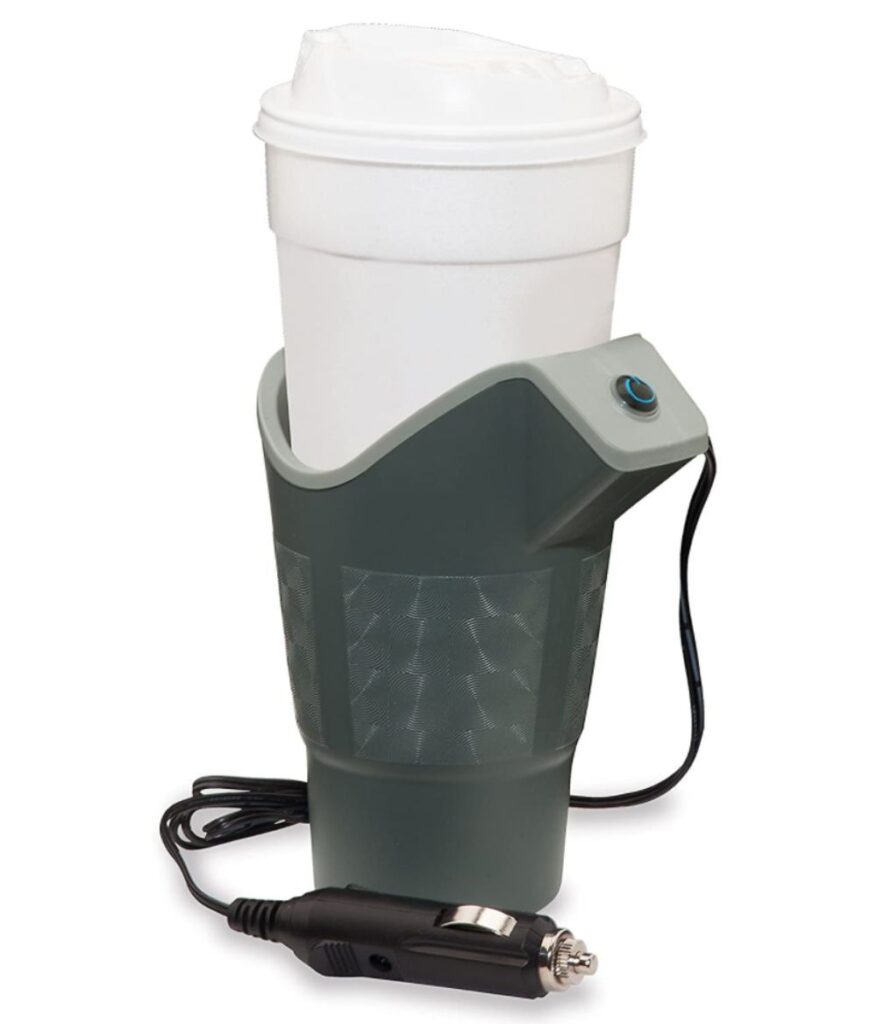 RoadPro Beverage Heater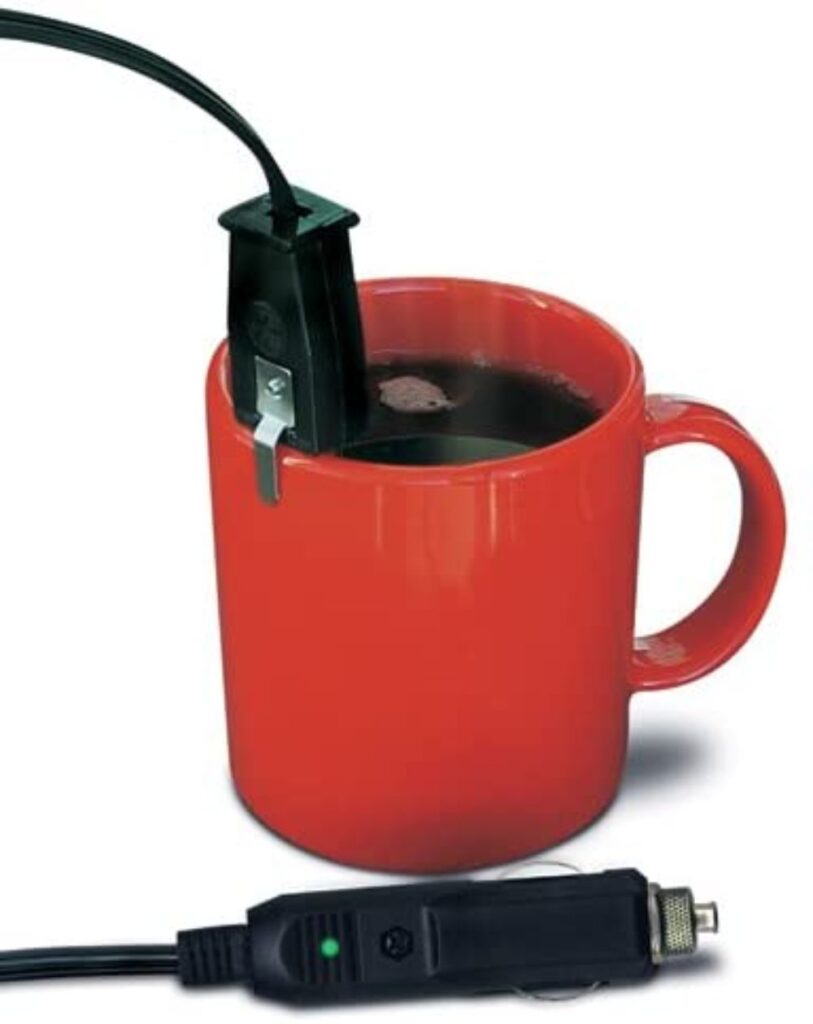 Rather than warming the cup from the outside you can get this RoadPro Beverage Heater to heat your drink from the inside.
Clip it onto the side of your cup and place the metal heating element in your drink. The heating element will then warm up your coffee or tea.
It draws a lot of power for a car battery (around 140 Watts) and has a tendency to overheat.
UPDATE: Upon reading the reviews apparently the care instructions say the product contains lead and it's unclear if this is in the heating element or somewhere safe. I would not personally buy this product for that reason.
See the latest price of the RoadPro Beverage Heater at Amazon