Battery heated coffee mugs are a great way to keep coffee perfectly hot on the go or to heat up cold coffee when you're out and about. In the last couple of years a few good battery heated coffee mugs have come onto the market.
Most are quite expensive and some are much better than others so I wanted to create this article to share with you the best battery heated coffee mugs on the market today.
In short:
The best battery heated coffee mug is the Cauldryn Travel Mug. It has 16 oz capacity, 10 hours battery life and heat drinks up to boiling temperature or hold them at a perfect drinking temperature. The Ember Mug is the most beautiful heated mug but is more expensive with less battery life and less heating capacity.
BEST MUG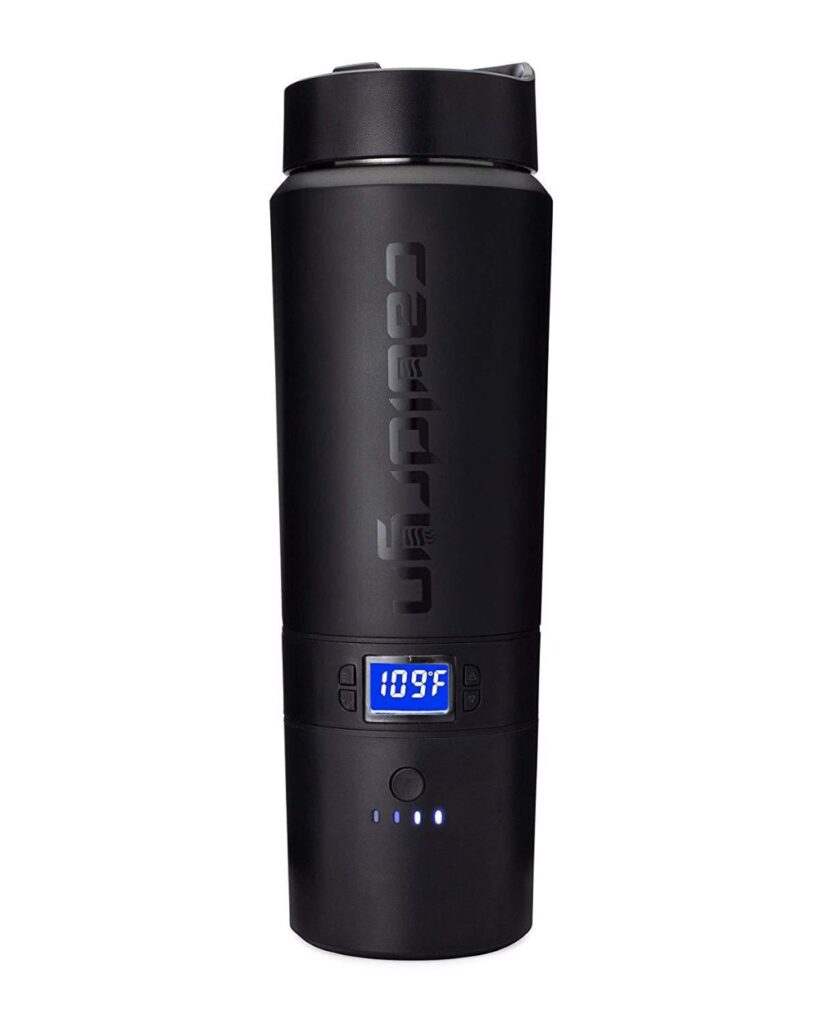 Cauldryn Travel Mug
Price: ~$89 – $149 (see latest price at Amazon)
Capacity: 16 oz
Battery Life: 10 hours
Temp Range: 0-100ºC (32-212ºF)
Vacuum Insulated: Yes
Colors: Black
Weight: 1.65 lbs
Bluetooth: Yes
Accessories: Blender, Vehicle Adapter, Percolator, Coffee Lid
Runner Up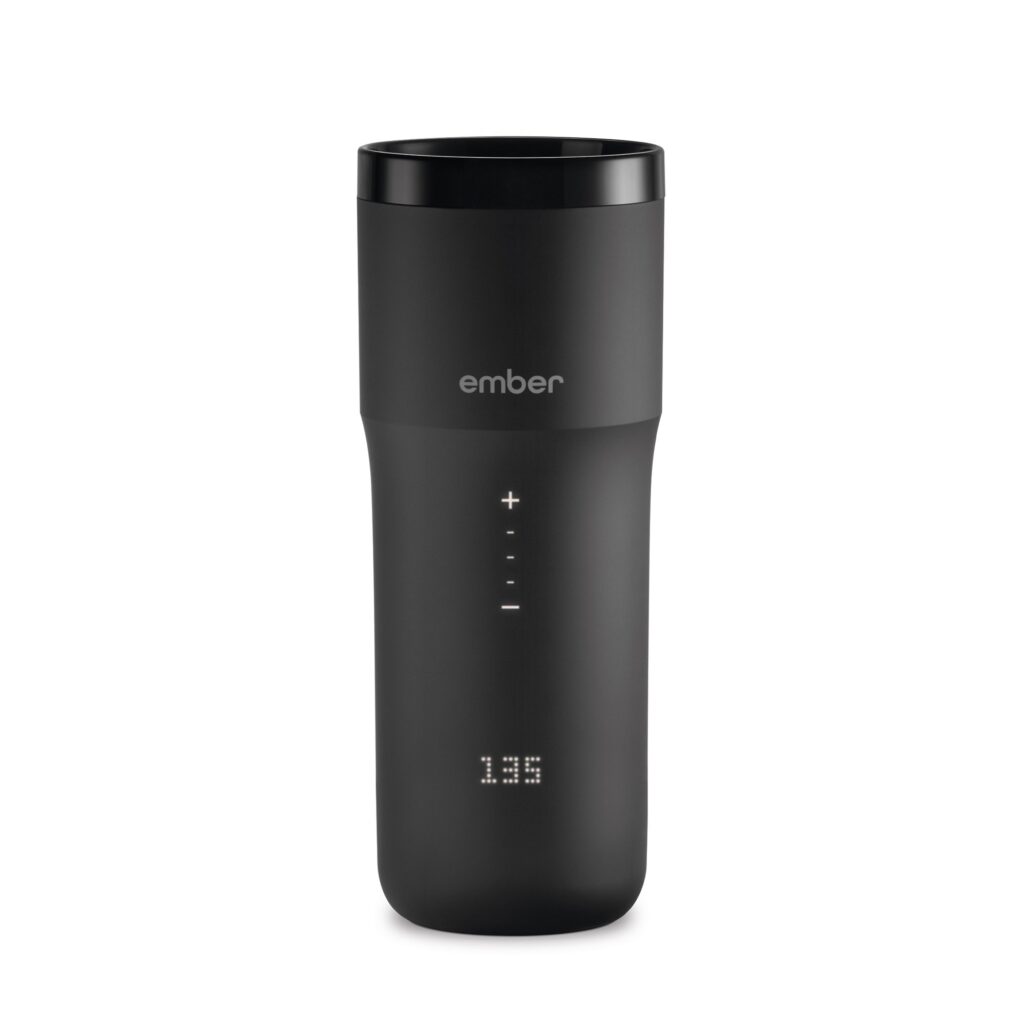 Ember Mug
Price: ~$99 – $179 (see latest price at Amazon)
Capacity: 10 + 12 oz
Battery Life: 1-3 hours
Temp Range: 49-62.5ºC (120-145ºC)
Vacuum Insulated: No
Colors: Black, White
Weight: 0.90-0.95 lbs
Bluetooth: Yes
Accessories: N/A
Best Performer: Cauldryn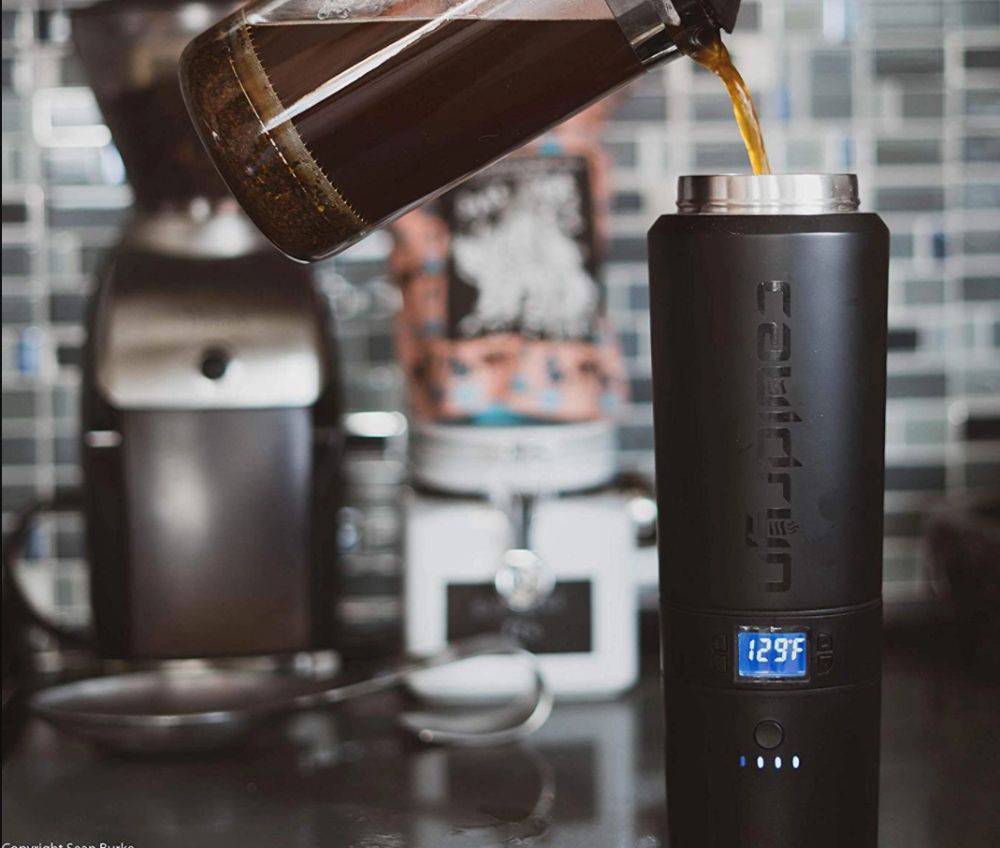 When it comes to battery powered heated mugs none really compares to the Cauldryn in terms of pure performance both in terms of heating capacity as well as battery life.
The Cauldryn can maintain heat anywhere from room temperature up to boiling point and keep it there.
The Cauldryn is the only battery powered mug that can boil water
The battery life on this is also incredible. It can keep your drink at 135-145ºF (57-63ºC) for up to 10 hours.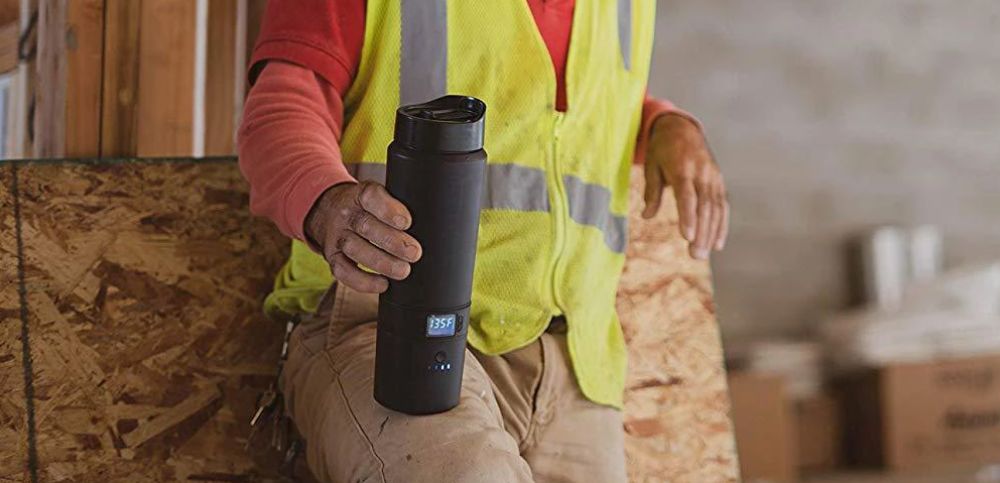 This is the drinking temperature most people like their tea or coffee at so it's unlikely you'll want to go higher than this.
But if you do want to go hotter to make a cup of soup, heat up some freeze dried food or boil water to prep your coffee or tea then you can do that too.
The main body of the mug is vacuum insulated so once your drink reaches that temperature it can be held there without much energy.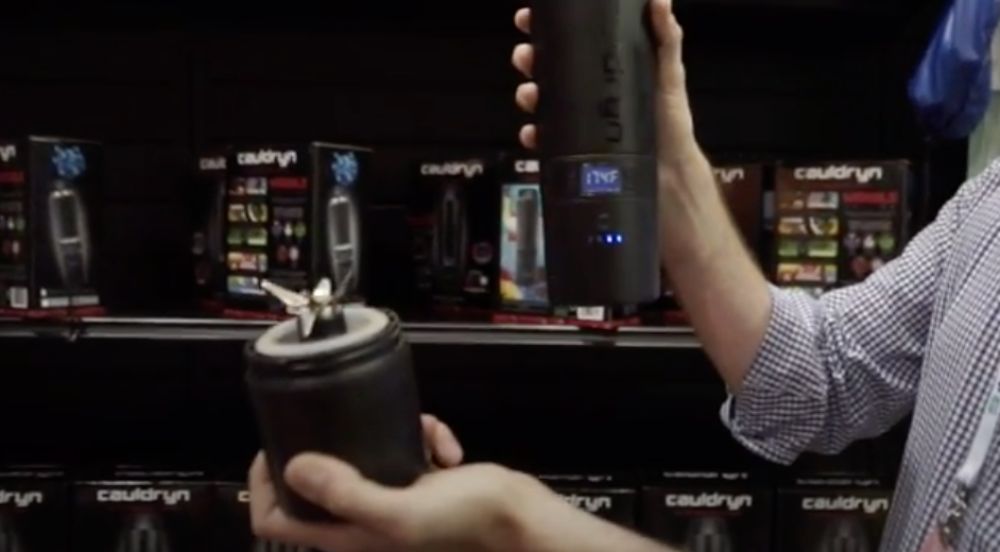 It has a modular design so you can change out the heating element for a cool blender that allows you to make smoothies or cocktails wherever you are.
You can also plug it directly into a wall socket or into your car and keep your drinks hot without draining your battery.
If you want long lasting performance and if you want the ability to boil water then the Cauldryn is the best product for you.
For me it's perfect for boiling water in my van to make espresso and then even heating up the milk to mix into my coffee. I don't even need a stove to make coffee anymore.
It's also competitively priced and cheaper than some of the other alternatives making it even better value for money.
You can buy the Cauldryn directly through their website but as I'm writing this it's significantly cheaper on Amazon for some reason so it's worth checking it out over there using the links below.
See the latest price of the Cauldryn Heated Mug at Amazon
See the latest price of the Cauldryn Heater Mug + Blender at Amazon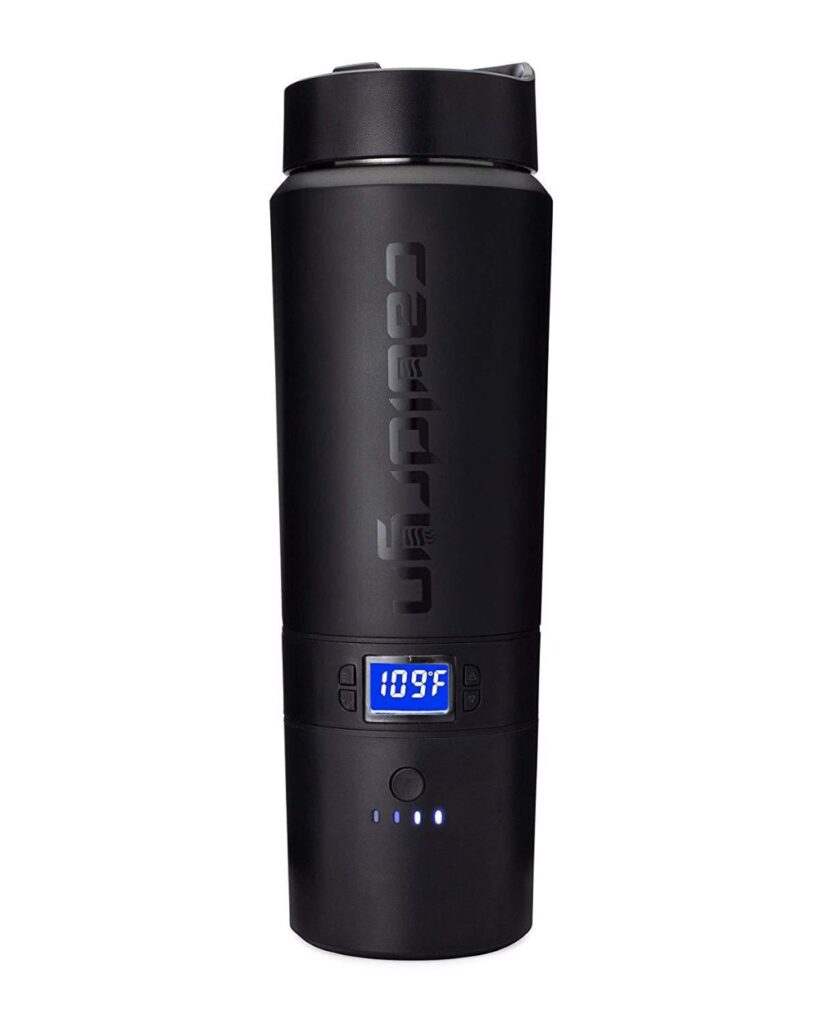 PROS:
Can boil water or keep it any temperature
Battery lasts for up to 10 hours
Vacuum insulated
Modular design
Blender accessory
CONS:
Not the most beautiful mug
Only comes in black
Light stays on when in use
Stainless steel may impart flavors into your drink
Most Beautiful: Ember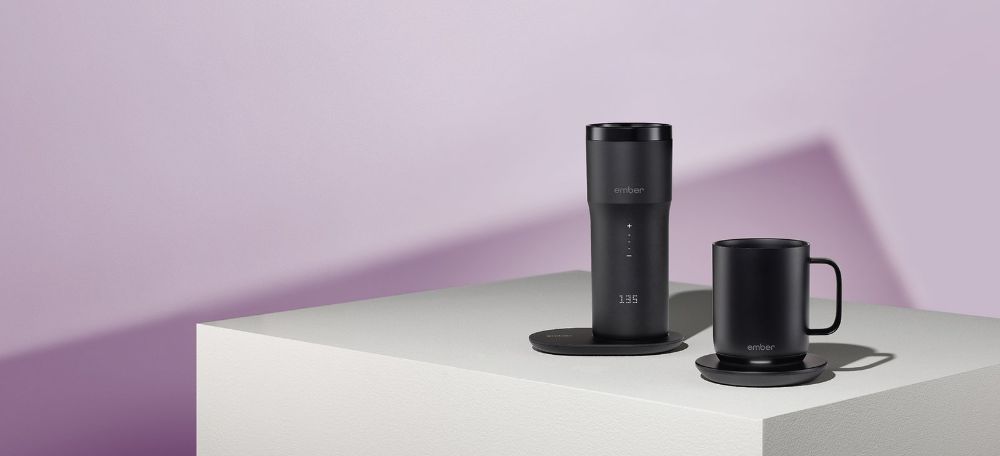 The Ember is the runner up as it can't compete with the Cauldryn in terms of performance, but where it does excell and beat the competition is in it's looks.
This is a beautiful coffee mug to look at. Whether you're thinking of getting the smaller 10 oz mug which is great for the home or office or if you're looking at getting the 12 oz travel mug for your commute or travel both designs look really nice.
I did a full Cauldryn vs Ember comparison article where I looked at the differences between the two but in short: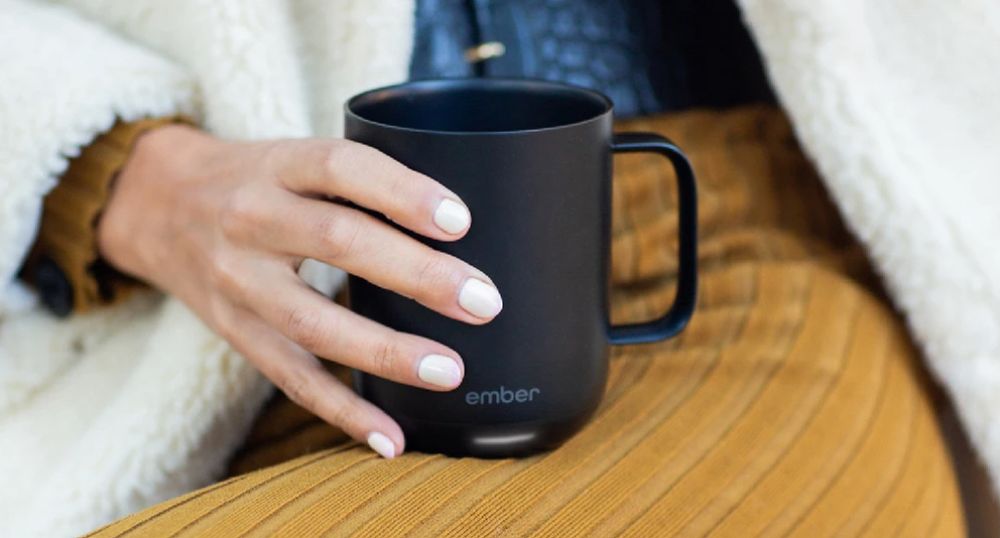 The Ember is better than the Cauldryn in that it's ceramic plated so you won't taste the stainless steel, it looks better and it's much easier to charge if you're using it somewhere where you're close to power.
The Ember isn't as good as the Cauldryn in heating ability as it can only heat up to 145ºF (63ºC) and the battery life is only 1-3 hours whereas the Cauldryn is 10 hours. The Ember also isn't vacuum insulated so it loses heat faster once the battery dies.
It's not perfect and there are some Ember mug problems but the problems are minor. It's a quality made product that is made to a high standard and a cup I would be happy to recommended.
It comes in a 10 oz open mug or a 12 oz travel mug that has a leak proof lid. You can see the latest prices of each using the Amazon link below:
See the latest price of the Ember Mug at Amazon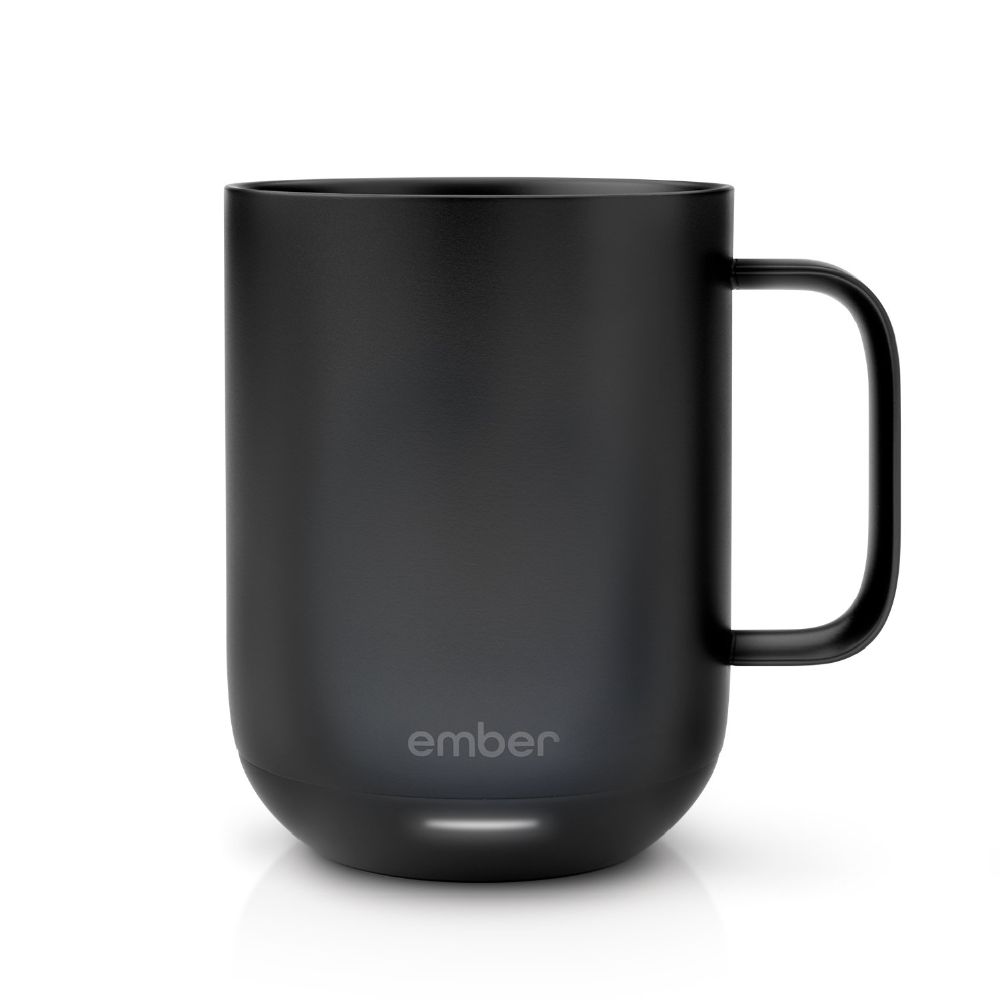 PROS:
Most beautiful battery powered mug
Comes in 2 different types and sizes
Ceramic plated so you don't taste the stainless steel
Easy charging
CONS:
Short 1-3 hour battery life
Can only heat up to 145ºF (63ºC)
Not dishwasher proof
Glowstone Mug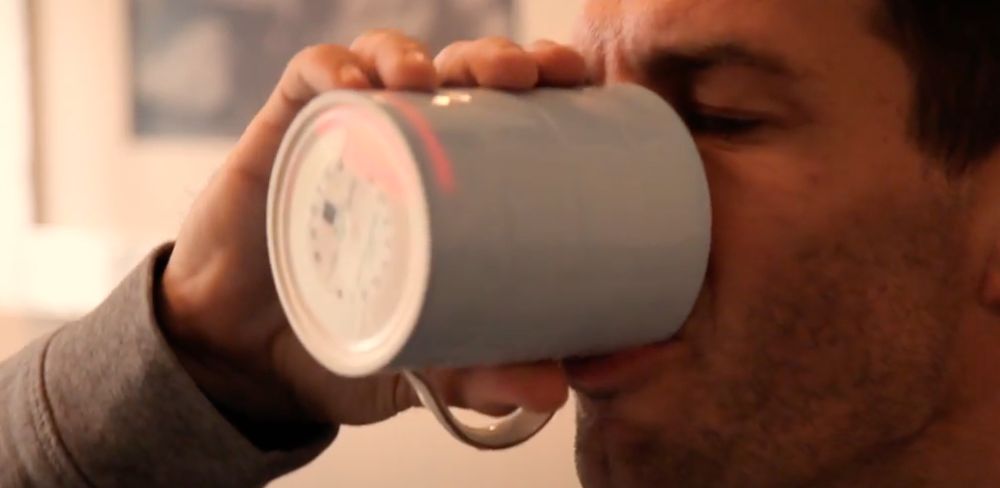 The Glowstone Mug is a relatively new comer to the battery operated heated mug and it offers something unique to the mugs already mentioned.
Rather than being made of stainless steel this mug is actually made from fine bone china.
This means the Glowstone mug looks and feels like a normal household coffee mug and it's a pleasure to drink tea or coffee out of.
It works automatically when it detects liquid and keeps it hot for about 1 hour extra.
There are no temperature settings, rather it just heats up your drink to 60-65ºC (140-149ºF) until it runs out of battery then it stops working.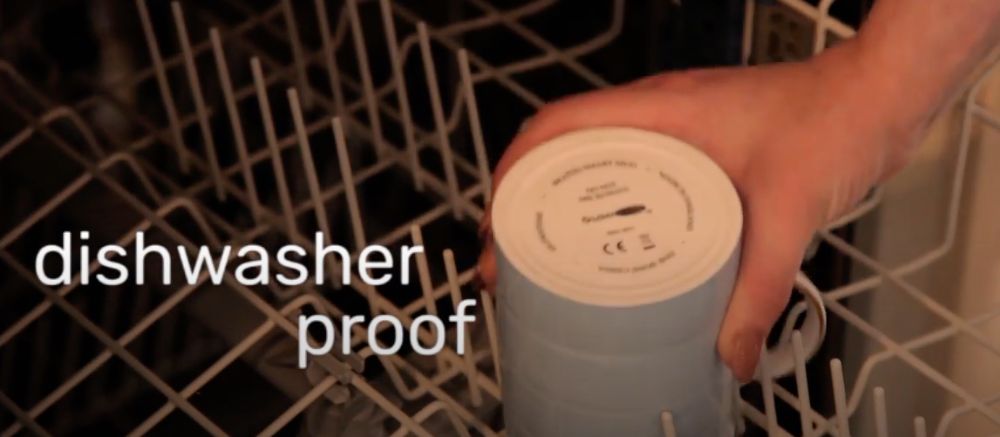 When it isn't working it's not insulated so your drink will get cold quickly.
But one of the major benefits of this mug is the fact that it uses Qi wireless charging. So if you already have a wireless phone charger you can use it for your Glowstone Mug.
The way they have done charging also means the mug is completely dishwasher proof.
It is new to the market so it's still quite expensive and I could only find it for sale through their website in the UK.
See the latest price of the Glowstone Mug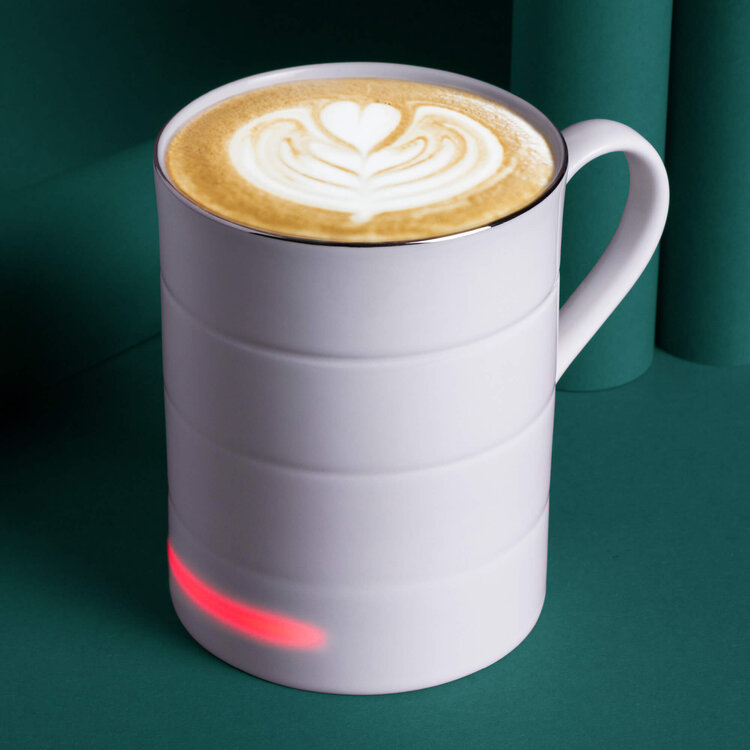 PROS:
Made from fine bone china
Wireless charging
Dishwasher safe
Looks and feels like a household mug
CONS:
Only available from a UK website
Expensive
Only 1 hour battery life
No temperature control
YeCup H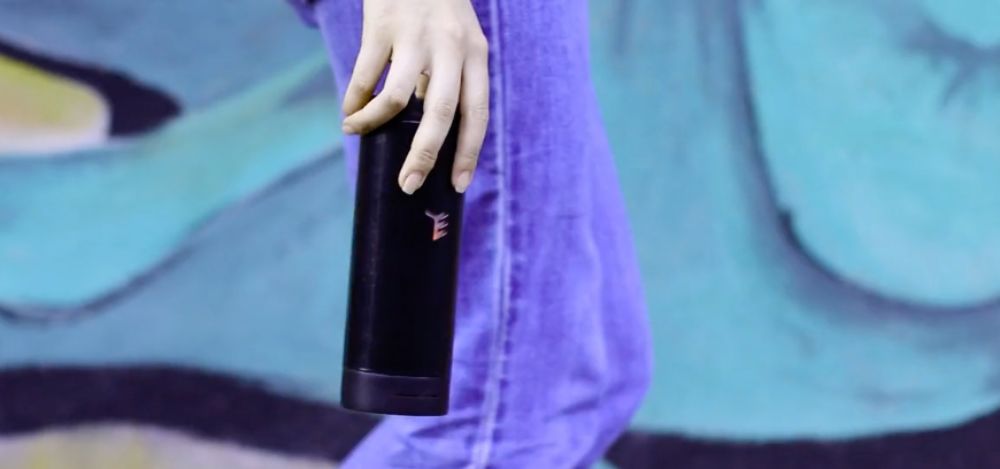 The YeCup was launched as a KickStarter campaign and became one of those products that took years to finally get into the hands of backers.
They promised to be able to both heat AND cool your drinks but after the original cups were released the cooling ability ended up being extremely poor and basically useless.
Introducting the YeCup H, a cheaper version of the original cup that only focuses on keeping drinks hot and doesn't try to keep them cold.
It's a cool cup with a trendy logo that lights up and it connects to your smartphone via bluetooth so you can set the temperature.
Unfortunately the battery life on these mugs as well as what type of insulation they use is unknown which makes them hard to recommend.
I would feel much more comfortable ordering a Cauldryn or a Ember than the YeCup, but if you're not interested in them you can give this one a try.
See the latest price of the YeCup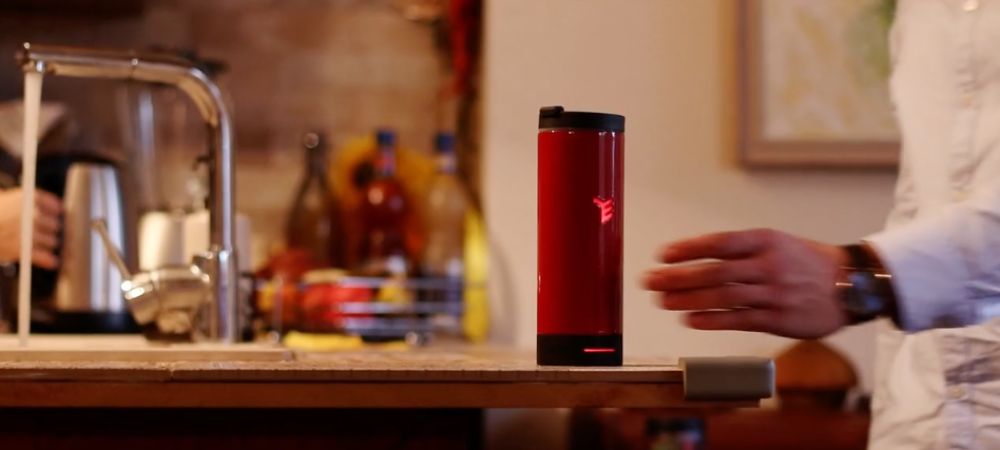 PROS:
Wireless charging
Charge your smartphone with YeCup battery
Logo lights up
CONS:
Only heats up to 70ºC (158ºF)
Unknown battery life
Forgotten Brands
The battery heated travel mug seems to be an area where brands come and go.
Cheaper alternatives or different brands launch and then disappear either due to lack of sales or maybe poor reviews or both.
Here are a couple of brands I found that looked like they launched but are now no longer available
Muggo (Ember Rip Off)
Jimi S3 Smart Heated Ceramic Mug (Ember Rip Off)
More Heated Coffee Mugs
Thos my my list of the best battery powered coffee mugs but you also have a bunch of other options for keeping coffee hot on the go.
Check out my list of the best heated coffee mugs for the car or find out which type of cup keeps coffee hot the longest.