A warm cup of coffee is certainly the best way to greet your guests especially if you're throwing a party at your place or hosting one outside.
However, you'll have to brew a large amount of coffee if there will be a lot of guests and keeping all that coffee hot can become very challenging.
So how can you keep coffee hot for a party?
Important Practical Tips For Keeping Coffee Hot For Parties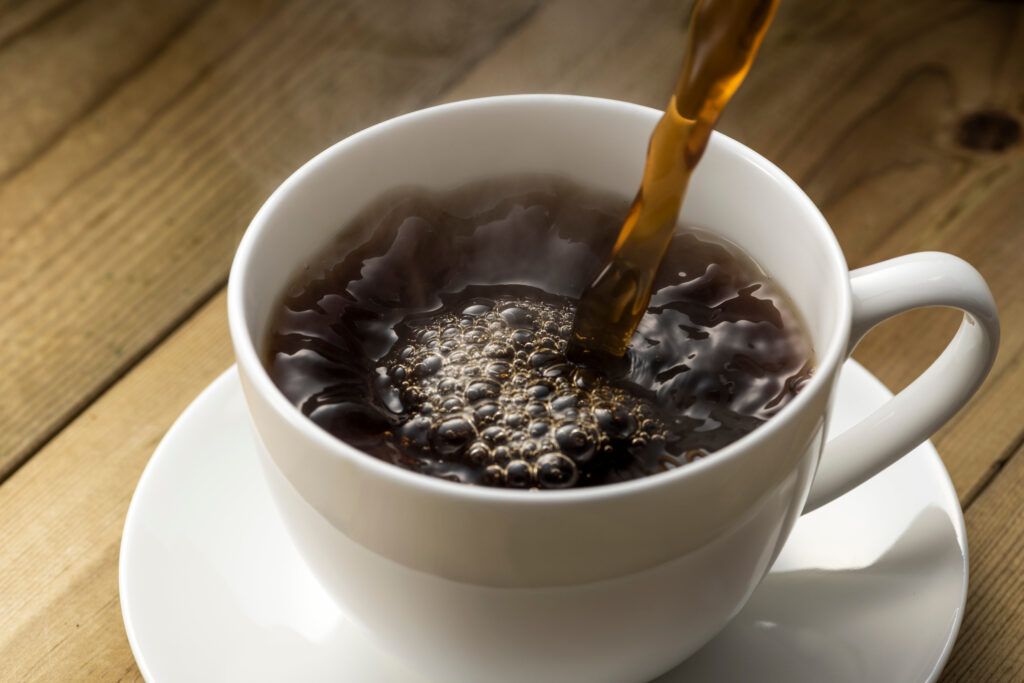 Before we have a closer look at the different ways to keep your coffee hot for your party guests there are a few really important things that you need to understand when you're trying to keep coffee hot for an extended period of time.
Understanding these things will both keep your coffee hot for longer but it will also help it to taste better for your guests as well.
Make Your Coffee As Close To Serving As Possible
Coffee doesn't like being kept hot for an extended period of time. The longer coffee is kept hot the more the flavor changes and the more your coffee is going to taste bitter and burnt (which your guests won't appreciate).
The closer to serving you can make the coffee the less time it's going to spend being on high-heat and the better it's going to taste overall.
Start With The Coffee Hotter Than You Plan To Drink It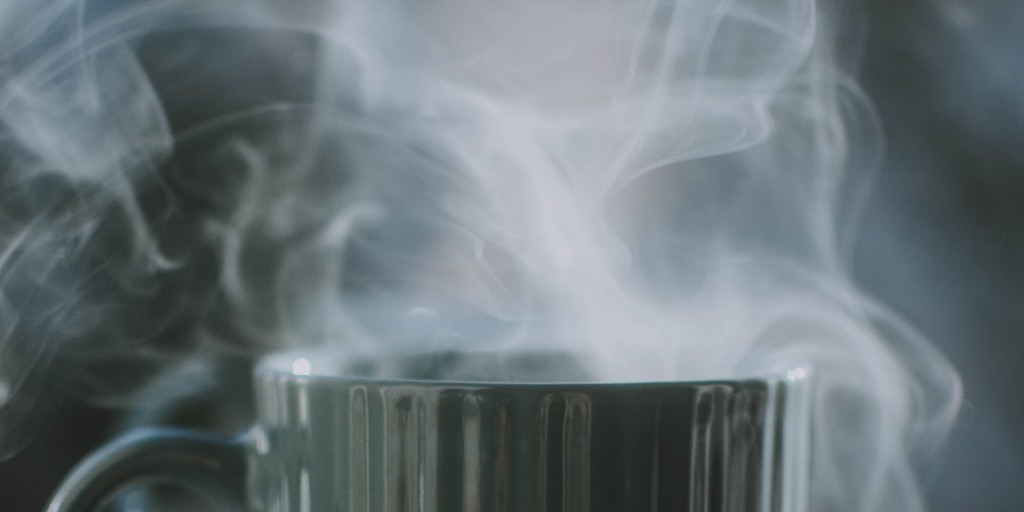 Unless you're using one of the methods below that use electricity to keep coffee at a constant temperature you'll want to make your coffee hotter than you plan to drink it.
Even if you're using vacuum insulated carafes which can keep drinks hot for hours they will cool down slightly over time.
If you've got a few hours between making the coffee and it being drunk then make the coffee hotter than you want to drink it.
Insulate, Insulate, Insulate
Unless you have something actively heating your coffee it's going to cool down pretty quickly, that is unless you insulate it to stop it losing it's heat.
The more you insulated your coffee the longer it is going to stay hot.
Vacuum insulation is the best insulation for keeping drinks hot so if you can get a vacuum insulated thermos, carafe or some other storage container this is ideal.
If you don't have access to one (and don't want to buy one) then insulate in whatever way you can. Use a cooler, wrap in aluminum foil and towels or blankets to keep it from losing it heat.
Always Trap The Steam
A lot of heat is lost from coffee in the form of steam. As steam rises it takes with it a lot of heat energy and this cools down the remaining coffee.
When trying to keep coffee hot for guess make sure that your container has a lid to trap the steam and to stop the heat from escaping.
The More Liquid You Use The Longer It Will Stay Hot
Just like how it takes a bath tub a lot longer to cool down then a small cup of hot water, the more coffee that you have the longer it is going to stay hot.
This is because the larger the quality of coffee the more overall heat capacity it will have. It takes time for all this heat to dissipate and this results in the entire batch staying hotter for longer.
Sometimes it can be a really good idea to actually make more coffee than you plan on eating for your guests just because it will help all of the coffee stay hot for longer.
This List Is Ordered With The Best/Most Practical Options First
Below is a comprehensive list of different ways to keep your coffee hot for a party.
Depending on whether your party is outside or inside, whether or not you have electricity as well as how much coffee you're trying keep hot and your budget will all affect which of these solutions is going to be best for you.
I've tried to order this list from the most common and practical solutions first and then working their way down to the more obscure are and less effective ways of keeping coffee hot for your party.
However, some of the tips towards the end of this list are very unique and cannot only be a great way to keep coffee hot for your party but can also be great conversation starters..
1. Coffee Pot
If you're hosting a party at your own house and you don't have an excessive amount of guests then a coffee pot can be the easiest and most simple solution to both making coffee when people want it and keeping coffee hot.
Most coffee makers only take around 6-12 minutes to make a full pot of coffee and they also have hot plates that will keep the coffee hot while it's waiting to be served. You can get smaller 5 cup coffee makers or larger ones that can make as many as 12 or more cups of coffee.
When guests want coffee you can put a batch on and once it's drunk it's not too difficult a process to make a second batch. This will also help the coffee stay fresh and not taste too bitter.
Coffee makers aren't expensive (if you don't have one already) and they make coffee that most of your guests will enjoy. Just make sure to get one with good reviews like this Mr Coffee 12-Cup Coffee Maker with Auto Pause at Amazon.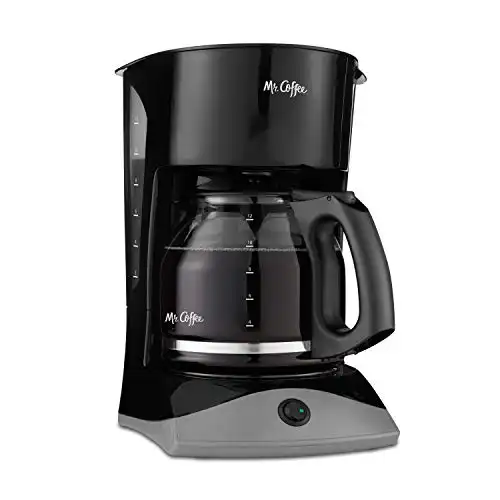 2. Use A Coffee Urn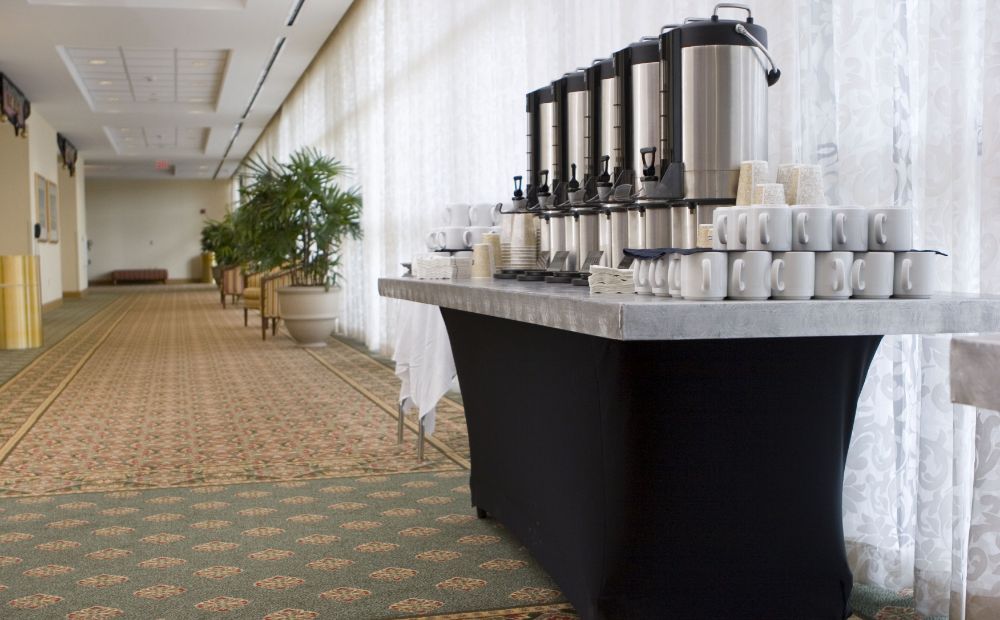 For larger parties or corporate events a large coffee urn is often the ideal solution as it can make more than enough coffee for all your guests and it can keep it hot for an extended period of time.
Coffee urns will brew coffee and then keep it at the ideal temperature. They usually feature one hand dispensing so guests can serve themselves and they only take about half an hour or so to brew a full batch of coffee.
Some coffee urns can be expensive so renting them might be an alternative option. But there are a variety of affordable options out there that renting seems counter intuitive unless you're serving hundreds of people who all want multiple cups of coffee.
This Hamilton Beach Coffee Urn from Amazon has raving reviews and can make up to 45 cups on coffee in just 30 minutes. More than enough coffee for most small-medium sized parties or gatherings.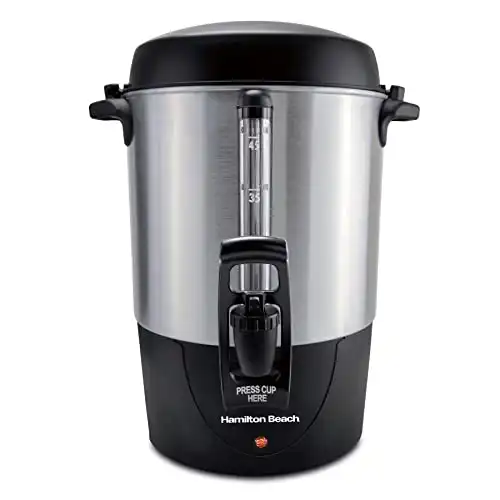 Hamilton Beach 45-Cup Coffee Urn and Hot Beverage Dispenser
Brew plenty of coffee for large crowds with this best-selling coffee urn. Makes up to 45 cups of coffee in just 28 minutes and keeps your coffee hot (without overheating or burning) until it's poured. Single hand dispensing, dual heaters and ready light and an easy-view water level window makes this one of the best and easiest to use coffee urns on the market.
Buy Now at Amazon
3. Use An Insulated Thermos
For small parties or picnics often and insulated thermos is all you really need and most of us have a thermos or two lying around that we use for soups or hot drinks during winter events.
I personally have this Stanley Classic Thermos and it does a great job. Mine is the 1.5-Quarts in size and can hold somewhere between 5-8 cups of coffee depending on how big the cups of coffee are.
It'll keep coffee hot for multiple hours at a time and when I'm having a small party with just my immediate family or a small group of friends this is a great way to serve hot coffee to the entire group.

4. Use an Insulated Carafe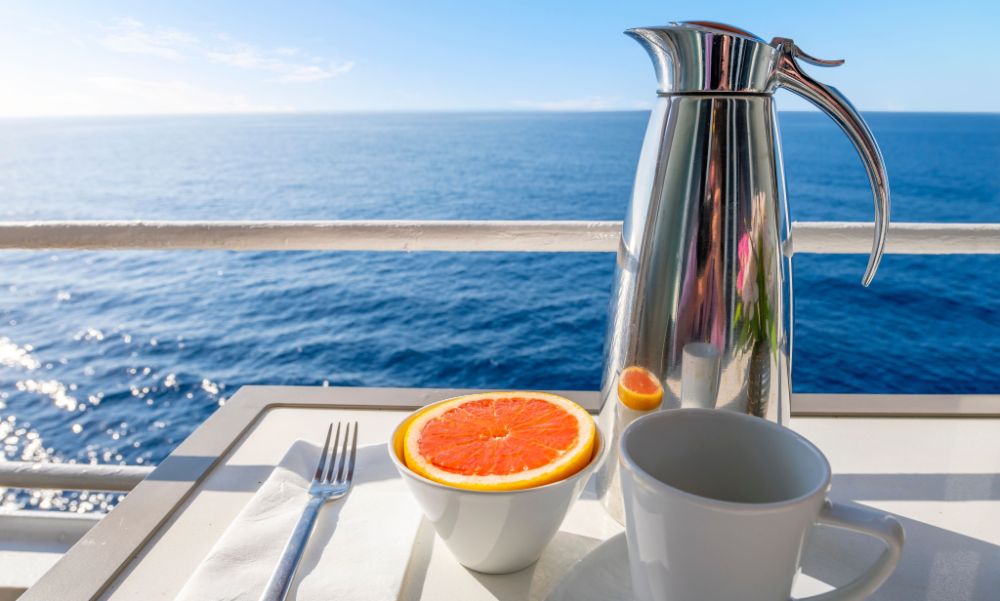 A carafe is a great way to serve coffee at a party and a thermal carafe (or vacuum insulated carafe) will not only allow your guests to pour themselves coffee easily but will keep the coffee hot for hours.
A thermal carafe will easily keep more than a dozen cups of coffee hot for about 2 to 3 hours. Preheat your carafe by pouring boiling water in it and then discard and fill with hot coffee. A good carafe can keep your coffee hot for quite a long time.
Long enough that it's still hot by the end of the party.
They are usually super affordable too making them a great option for someone not wanting to waste money on their party. The Cresimo 68 oz Thermal Coffee Carafe at Amazon is my favorite affordable choice and it has over 10,000 positive reviews.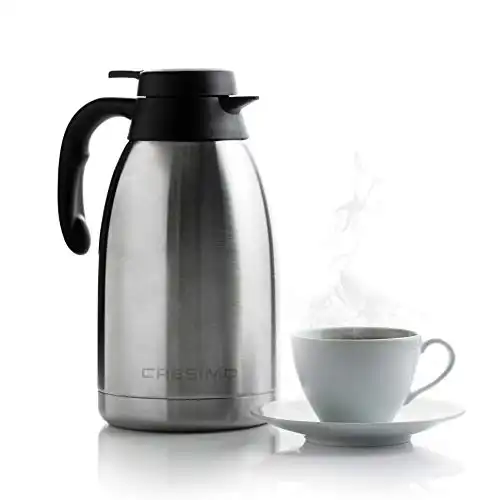 5. Use an Insulated Pump Carafe
The next step up from the insulated carafe is the vacuum-insulated pump carafe.
These usually come in larger sizes of around 100 oz (3 liters) which allows you to serve up to 15-18 cups of coffee at a time.
The vacuum-insulation combined with the large quantity of coffee means the coffee will stay hot for 4-6+ hours, more than long enough for most parties.
The pump action makes it easy for guests to serve themselves without spilling coffee everywhere or burning themselves. You'd think something like this would be expensive but they are actually quite affordable and well worth the investment for medium sized parties.
The Cresimo Airpot coffee pump carafe at Amazon is one of the highest rated pump carafes and it's also one of the most popular. It's sold for a great price and has a fold down carry handle making it easy to move to wherever the party is happening.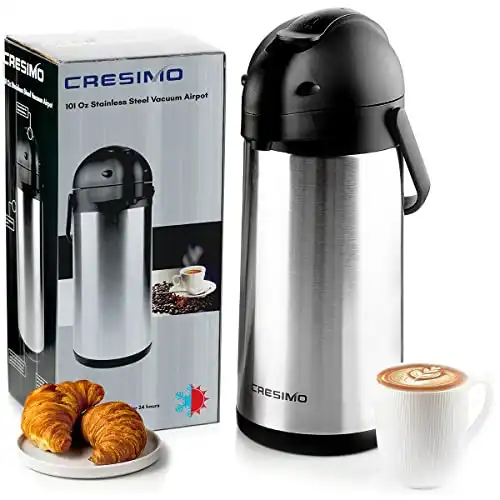 Cresimo Thermal Insulated Coffee Pump Carafe (101 oz)
Made from durable vacuum-insulated 18/8 stainless steel this carafe can keep drinks piping hot for up to 12 hours and is simple and easy to clean.
Easy to use pump action spout allows guests to serve themselves with no risk of buring and it can hold up to 17 x 6oz cups of coffee.
Buy Now at Amazon
6. Use Any Insulated Water Bottle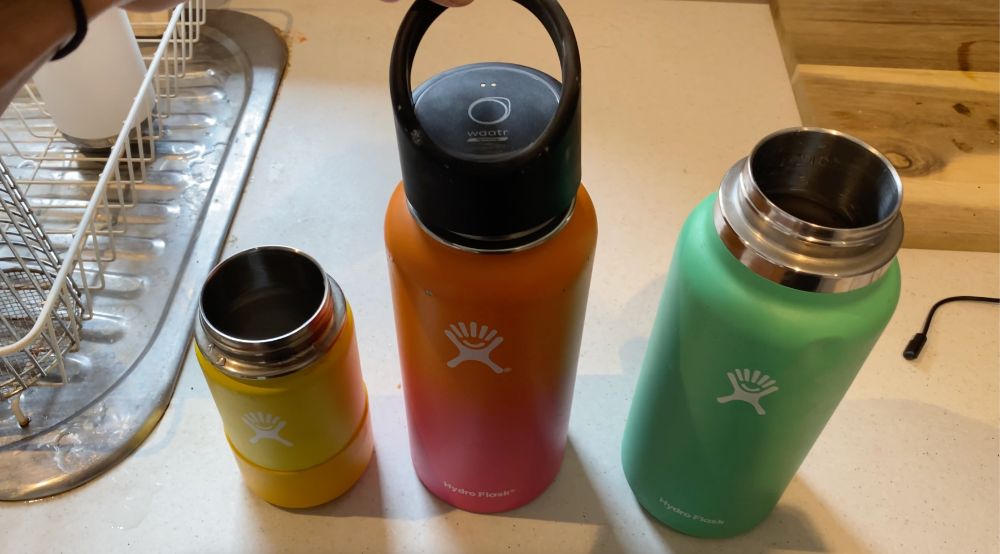 If you don't have a Thermos then chances are you do have one or two vacuum insulated water bottles lying around. They might be expensive brands like Hydro Flask or Yeti or they could just be simple no name brands, they all work just as well.
I've got a few different 32 oz bottles and each can hold around 5-6 cups of coffee each and can keep them hot for a few hours at least.
For smaller parties filling up a couple of water bottles with coffee is a good enough solution to serve my guests coffee. I just often need to put a sticker or label on the outside of them so guests know that there is coffee inside.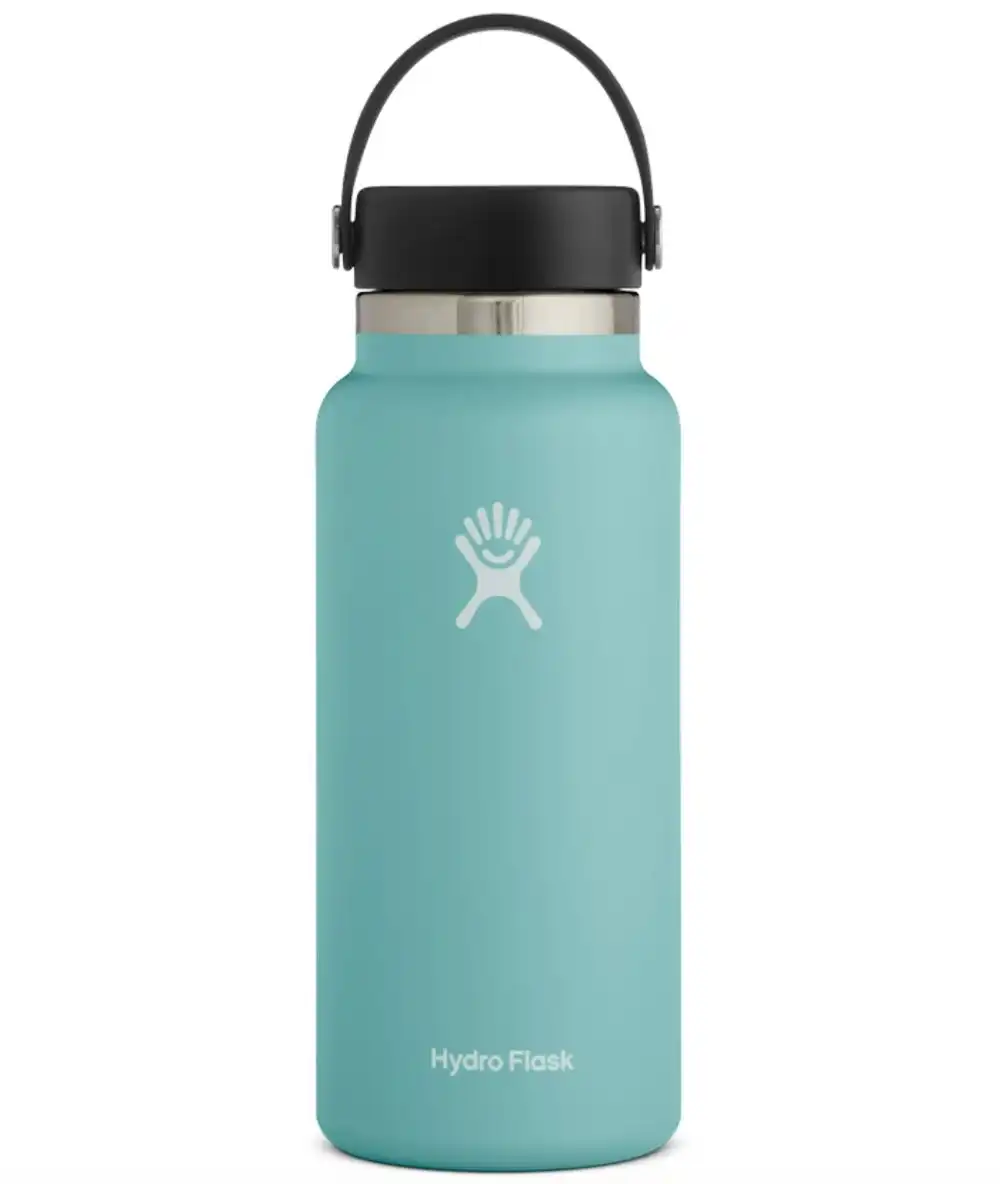 7. Use A Portable Gas Stove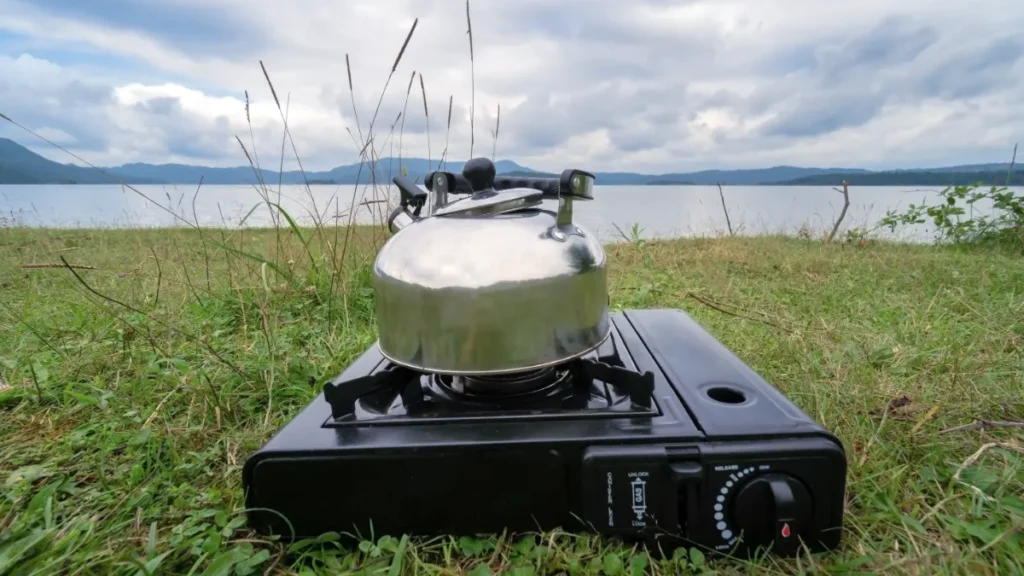 If your party is outside somewhere where you don't have access to electricity, then making coffee on a portable stove can actually be a relatively simple and easy option.
Rather than pre-making coffee and trying to keep it hot for hours at a time (which can ruin the taste and make the coffee better) you can use a portable camping stove and a coffee maker to brew and make coffee right before you serve it to your guess.
For this you'll need to have a coffee maker that works on a stove and also you'll likely get smaller quantities of coffee from this method compared to making large batches of coffee offsite and keeping it hot.
Alternatively, you can use this method to warm up pre-made coffee that you've kept cold until serving or you can use it to boil water to serve to guests with some sort of instant coffee.
I have a Coleman butane stove from my days doing van life which works great. But I really like this Gas One Camping Stove at Amazon because you can use either propane or butane gas with it making it very versatile. It's very cost effective and given it works with the 2 different types of fuel it's very convenient.
8. Use A Slow Cooker (or Rice Cooker) + Ladle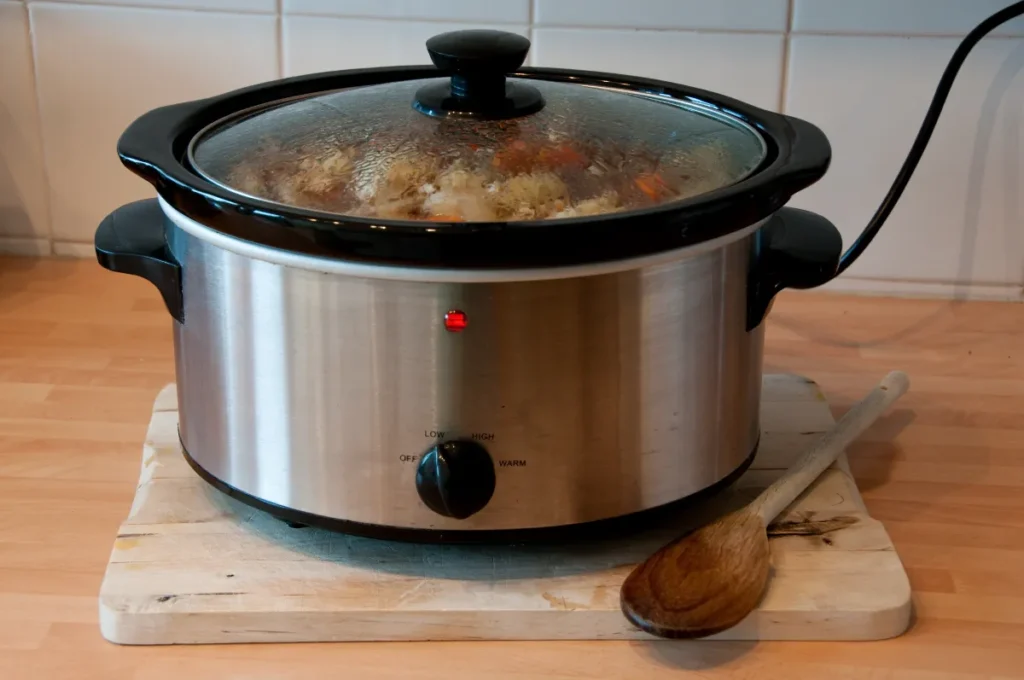 Slow cookers (or rice cookers) aren't just for cooking food. They can also be used to keep drinks hot and to keep coffee hot for an extended period of time.
If you're having a party somewhere and you have access to electricity but you don't have some sort of coffee machine then this can be a good way to keep large batches of coffee warm for your guests.
The cooking setting can be used to boiling water and really bring up the temperature or the "keep warm" feature can keep coffee at the perfect drinking temperature (around 60ºC/140ºF). This is actually one of the best ways to keep milk hot for hot chocolate bars or if you want hot milk for latte style coffees.
You will need a ladle in order to be able to serve coffee, and it's a bit strange to get coffee served from a ladle, but it does get the job done if you don't have any other options.
9. Keep Pre-Made Coffee In A Cooler (With Hot Water Bottles)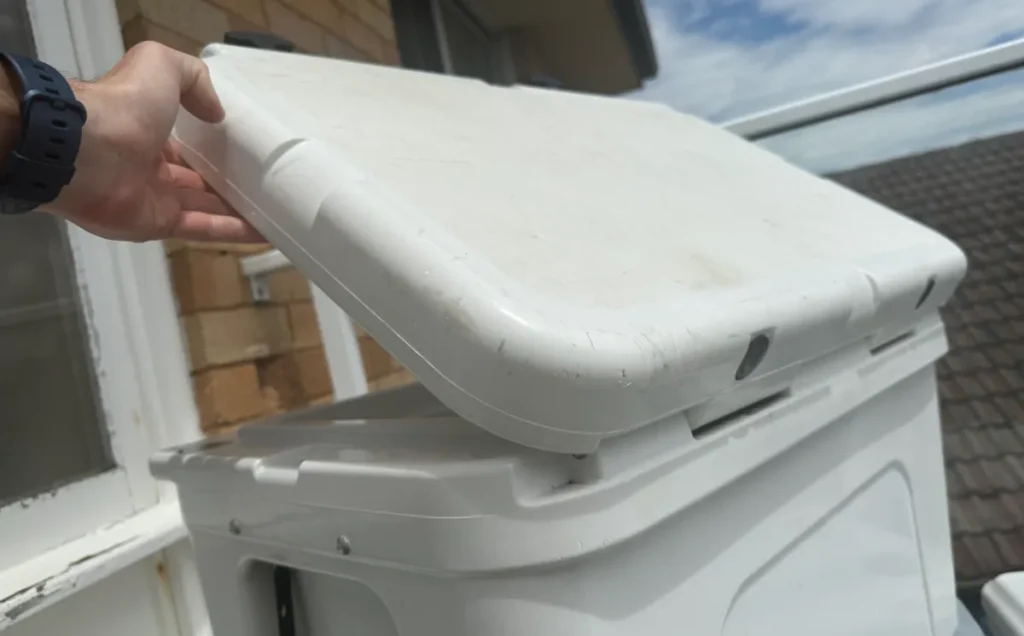 If you don't have any vacuum insulated containers to store your coffee in (or you do and you just want to keep your coffee hot for longer) then storing your coffee inside a cooler can be a great way to keep it hot for longer.
Well coolers are usually used to keep items cold, they can also be used to keep items hot for extended periods of time. The insulation can trap heat in as well as keep heat out.
If you do use a cooler to keep your coffee hot I also suggest supplementing it with hot water bottles filled with boiling water. The extra heat capacity will help to keep your coffee much hotter than it otherwise would.
If you have a lot of empty space in your cooler than you want to feel this empty space with towels or blankets to further insulate your coffee and keep it hot. If there is a lot of empty space in your cooler than your coffee will cool down rather quickly.
10. Wrap Coffee Container In Foil and Blankets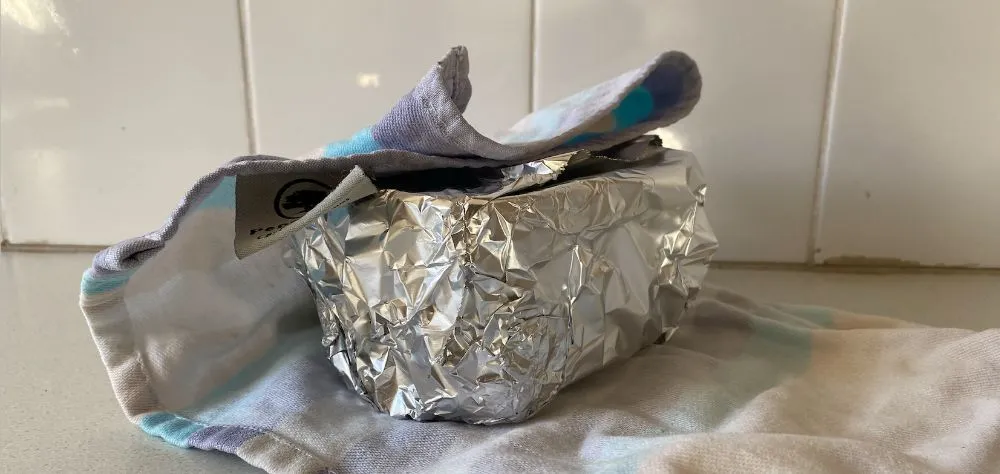 A simple and easy way to keep coffee hot for longer (if you don't have an insulated container) is to wrap your coffee in aluminum foil and a towel or blanket.
The aluminum foil will reflect back the heat radiation coming from your coffee helping it to stay hot longer and the towel or blanket will further insulate against heat loss.
Using this technique you can keep coffee hot for a couple of hours.
11. Electric Kettle Plus Instant Coffee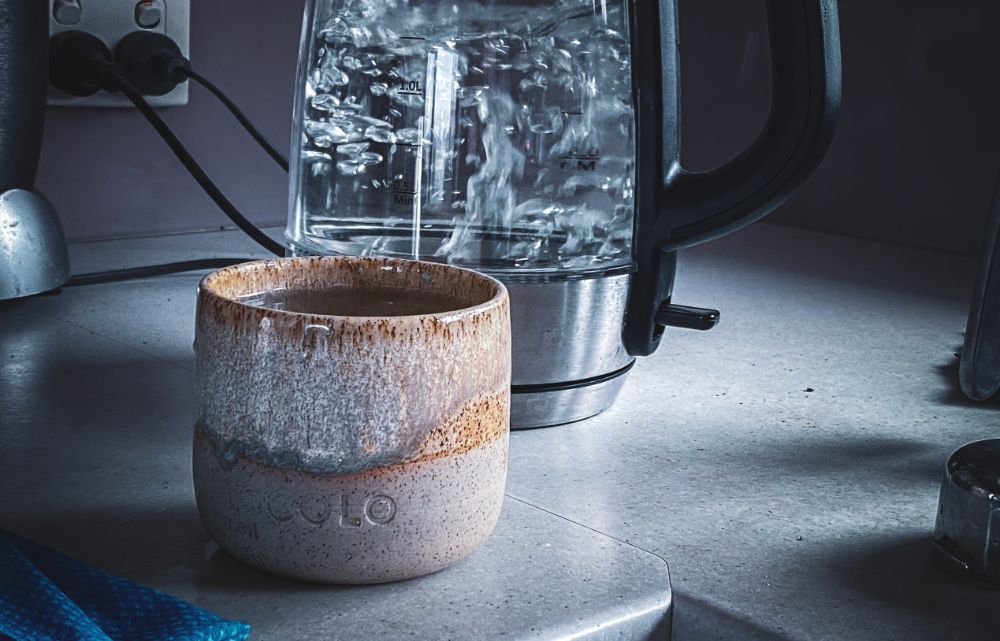 Rather than trying to make coffee in large batches and keep it hot for your guests a simple solution is simply to boil the kettle and allow guests to serve themselves instant coffee.
It's not going to be the best tasting coffee in the world but for many guests it will be good enough.
12. Use An Immersion Heater
An immersion heater can also be used to warm up your coffee slowly to avoid that burnt taste. You can store your coffee in any container and immerse the heater inside it.
Try to cover the container as much as possible only leaving that area open where the heater is immersed. This will stop the heat from getting out through evaporation.
If you're using an immersion heater you will need access to electricity and these products can be quite expensive to purchase.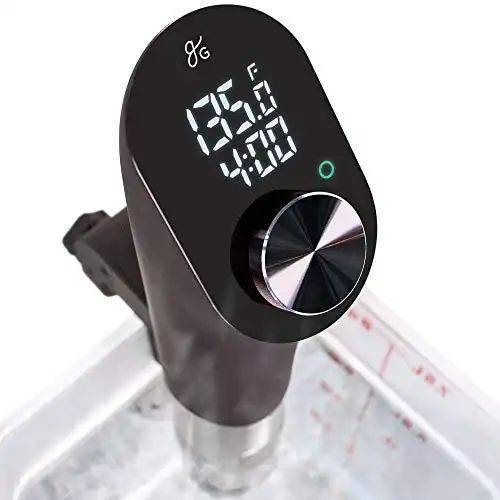 13. Use a Thermal Cooler (Camp Crock) and Ladle
Many of us have camp crocks/thermal cookers which are just like a giant insulated thermos.
If you want to keep a lot of coffee hot for a party and you want to save yourself buying a carafe then a camp crock can do the job.
I personally have a 3-Quart Stanley Camp Crock which I use for meals for the kids sometimes and this can hold anywhere from 12-18 cups of coffee.
The large size and vacuum insulation means the coffee will stay hot for hours and hours but you will need a ladle in order to serve the coffee to guests.
Again, a bit of a weird option. But it can definitely work and save you buying something extra.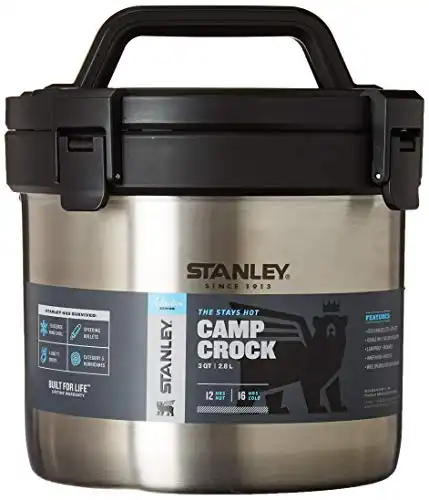 14. Rent or Buy a Samovar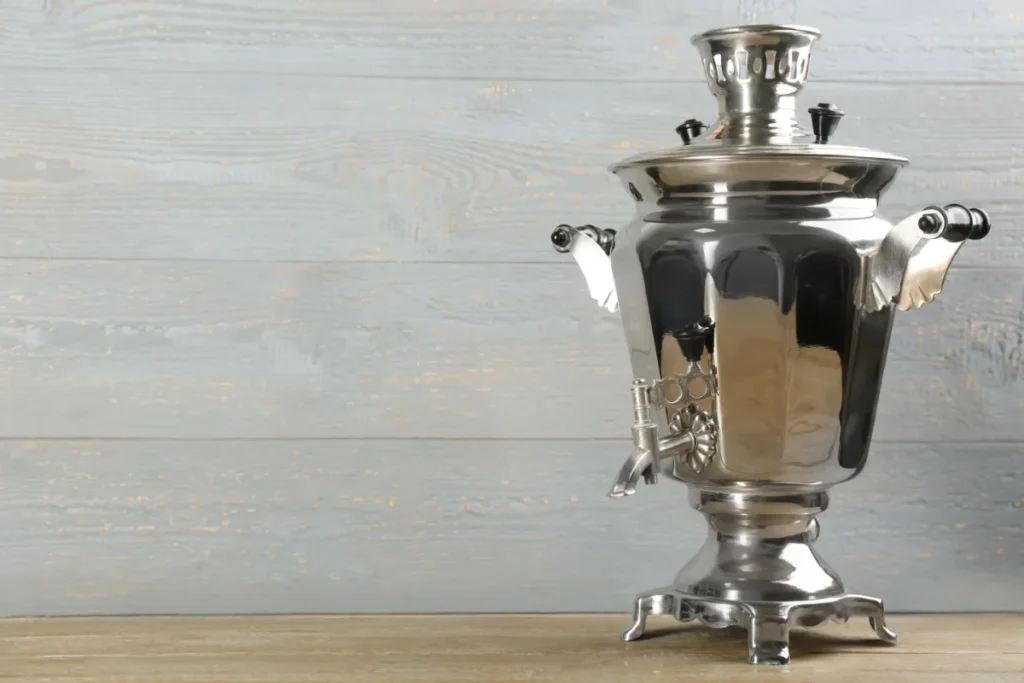 This is not only a great way to keep coffee hot but it's also a great conversation starter.
A samovar is a traditional Russian tea maker and usually they feature a center compartment that you fill with hot coals. The heat from the coals is used to boil water and make tea, but you could also use it to make coffee or keep coffee hot as well.
It's definitely a really cool way to serve hot water or hot coffee and you can also get electric versions like this Samovar from Saki. Electric versions are great as they have a keep warm function which can allow you to keep coffee warm, but not excessively hot.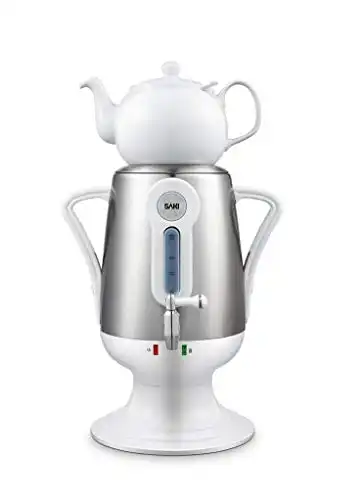 15. Set Up A Fire Pit and Make Coffee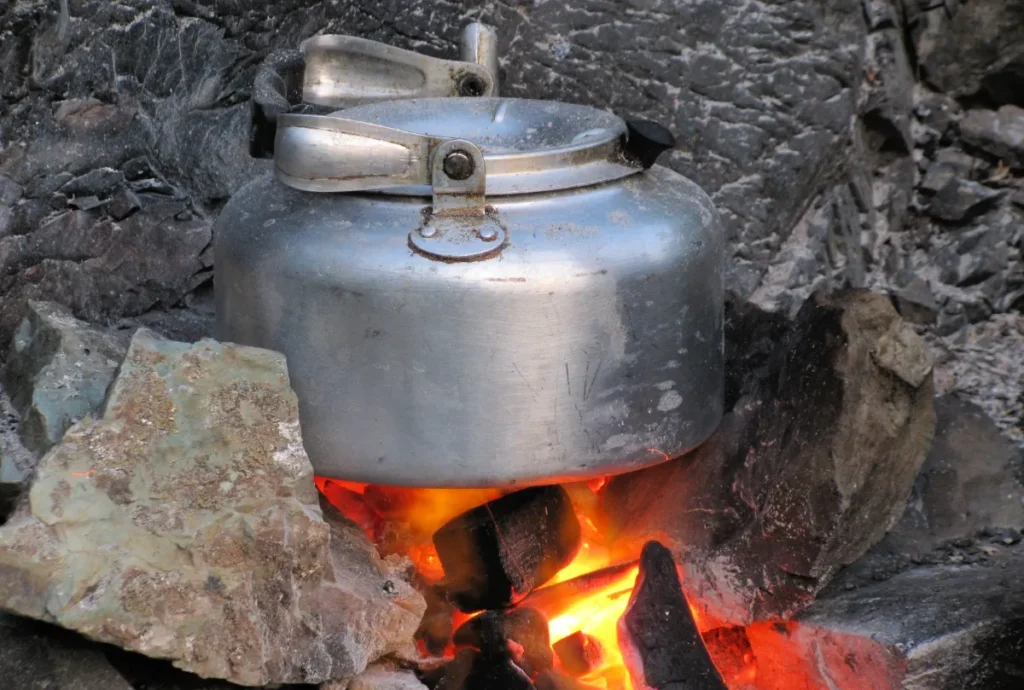 If you're setting up an outdoor fire for your party, then you can use it as a way to make coffee or keep coffee hot.
This can be a tricky way to make coffee because it's difficult to control the temperature, but it can also be a really fun and wholesome way to make and serve coffee to your guests.
Ideally you want to let your fire burn down to coles and then set a great on top of it. You can then boil a kettle to make coffee or you can heat water in a dutch over and then submerge a stainless steel bottle with coffee it in in the boiling water and this will keep the coffee hot without diluting it.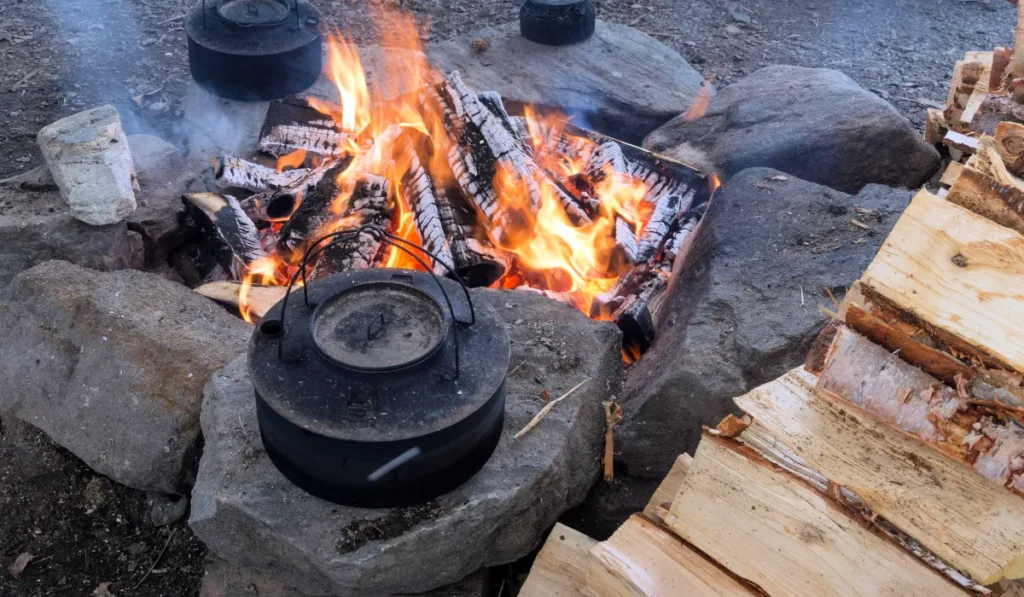 If your fire is going to be raging throughout the entire party then you can put a stainless steel coffee container on the ground near the fire in the fire will help it stay warm.