Whether it's for your kid's school lunch, packing leftovers for work, or having a warm meal with some friends, it's always a struggle on how to keep lunch warm.
While a cold lunch isn't the end of the world, it does take away from the experience of the yumminess that is the food you prepare in advance.
I've rounded up some of the best ways I like to keep my food warm for kid's lunches, commutes to work, bushwalks and hikes or nights at the climbing gym with my kids.
Ideas range from things you may already have in your home to some pretty fancy gadgets that can not only keep food warm but actually cook your food for you on the go.
You may already know some of these methods, but others are pretty creative ways of ensuring that your belly is full of warm and tasty food.
NOTE: Avoid food poisoning by packing foods that can be eaten warm, cold, or at room temperature and keeps foods over 140ºF/60ºC for as long as possible. Once it drops below that temperature you should consume that food within 2 hours to avoid bacterial growth which can spoil the food or even make you sick.
While methods like aluminum foil, a thermos, and hot packs can help with warmth, they can't create the hot environment that certain foods need so make sure to pre-heat your food as hot as possible when trying to keep it warm.
1. Thermos/Vacuum Insulated Container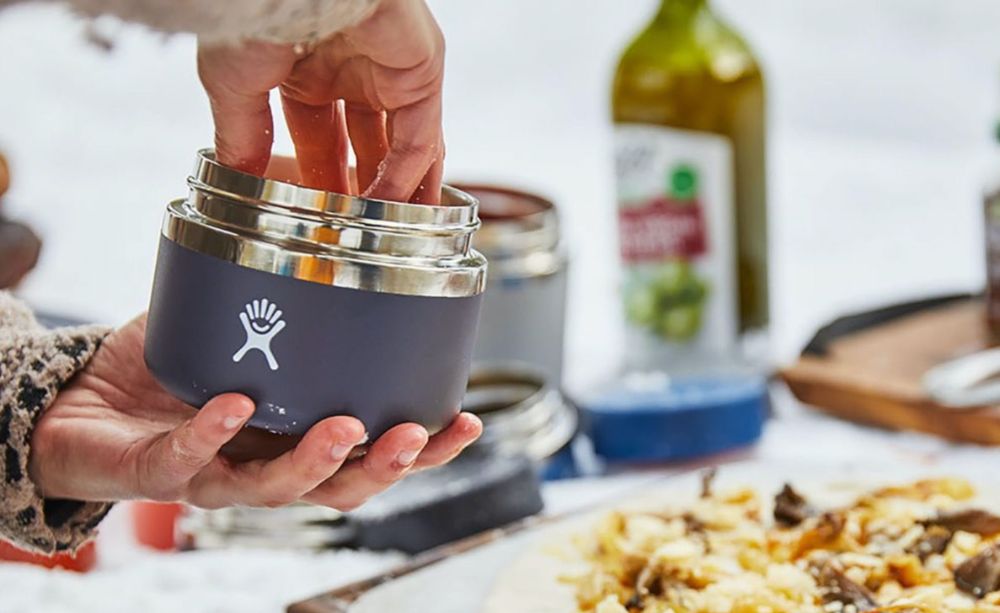 A thermos or any vacuum insulated container is one of the absolute best ways to keep your lunch warm. This is because a vacuum is the best insulator out there for keeping things hot or cold.
These containers are made from dual-wall stainless steel which have a vacuum in between the walls to insulate your food from getting cold.
These work more effectively than any other method on this list so if you can get one I absolutely recommend it.
The downsides of these containers is they tend to be on the smaller size (you can get large ones but they are either super large or hard to find) and the openings of them tend to be quite small limiting the types of food you can store in them.
They are also all made from cylinders and I am yet to see a square or rectangular shaped one which would be ideal for a lot of different hot foods.
I've tried a variety of different brands and my favorite is the Hydro Flask Insulated Food Jar because it has a very wide opening which makes it easier to fill with food and easier to eat the food. My kids use it regularly for school, especially for hot lunches in the winter time.
2. Insulated Lunch Box or Cooler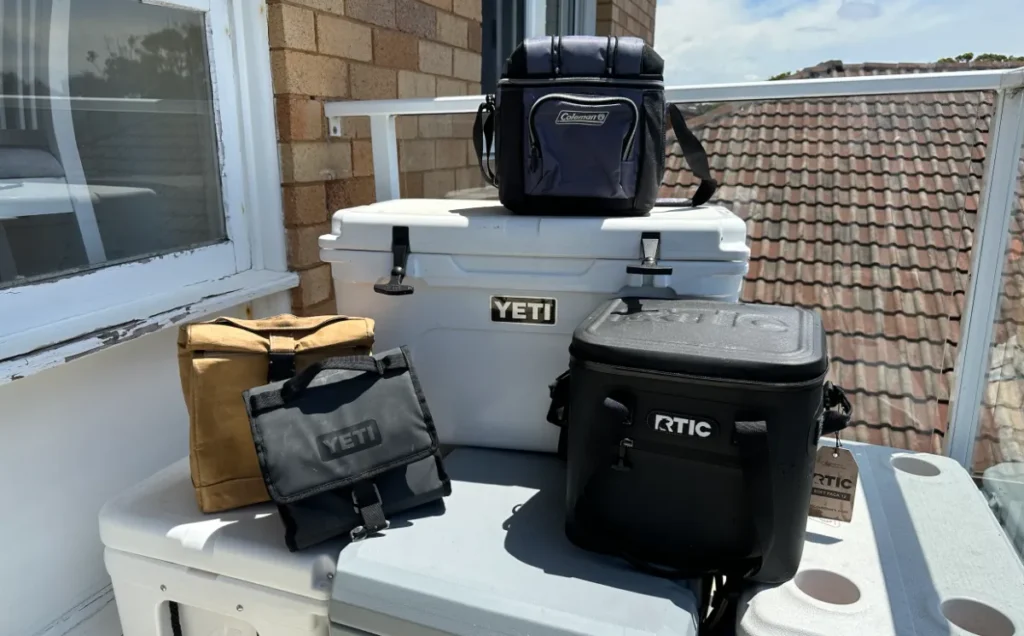 The options are endless when it comes to insulated lunch boxes!
They have insulated lining with special sections for additional heat packs or water bottles. Many of them come with multiple compartments and more.
For school my kids use fairly cheap insulated lunch boxes with thin foam insulation and a foil lining which works ok (but not great) and for keeping food warm for a couple of hours.
But (not shock here) the more you spend the better insulation you get and the longer your lunch bag will keep your lunch warm.
I've found that the absolute best lunch bag for keeping food hot is the Yeti DayTrip Lunch Bag. It's extremely expensive for a lunch bag (it costs nearly $100) but honestly, it's absolutely worth it. Never have I bought a product and been more impressed with how well it performs.
It keeps items frozen for almost an entire day (even in summer) and it keeps food piping hot until lunchtime, especially if you add some hot water bottles (a tip I discuss a bit later). I highly recommend this product but if you can't afford it then all you have to do is find the one that fits your budget and needs.
3. Aluminum Foil and Towels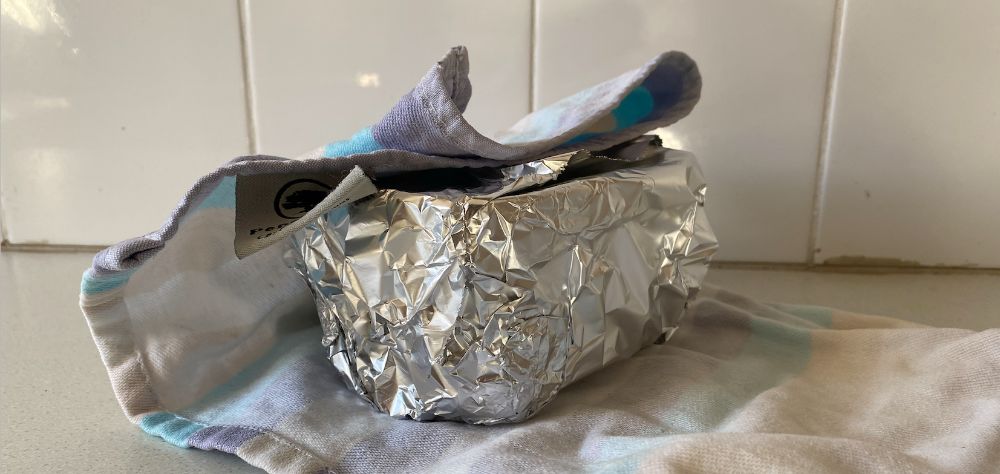 One of the most cost-effective ways to keep your lunch warm is wrapping it up in aluminum foil and a tea towel, blanket or sweater.
Aluminum foil has reflective properties that keep the food's heat intact by reflecting its generated thermal energy. This helps retain the food's moisture and flavor. 
Take it up a notch by wrapping the foil in a tea towel, blanket or sweater to add extra insulating layers, retaining heat when packing your lunch box.
If you don't own anything like a thermos or insulating lunch box then this is going to be the best option. It's very cost effective and it works great.
4. Choose High 'Heat Capacity' Foods
when choosing the foods that you wanna keep hot for lunch it's important to pick foods that have a high heat capacity. This means that the foods can hold a lot of heat energy and this will help them to stay hot for longer.
We have all experienced making toast only for the toast to get extremely cold extremely quickly. This is because bread is extremely lightweight and doesn't contain much moisture so it has a very low heat capacity and loses its heat quickly.
On the other hand something like soup, which is made almost entirely of water, has a very high heat capacity and can stay hot for a lot longer than bread can.
Generally speaking the more water content a meal contains the more heat capacity it has. So choose items like soups, meat, or pasta with a wet sauce (lots of sauce) if you want your lunch to stay hot for longer.
5. Hot Water Bottles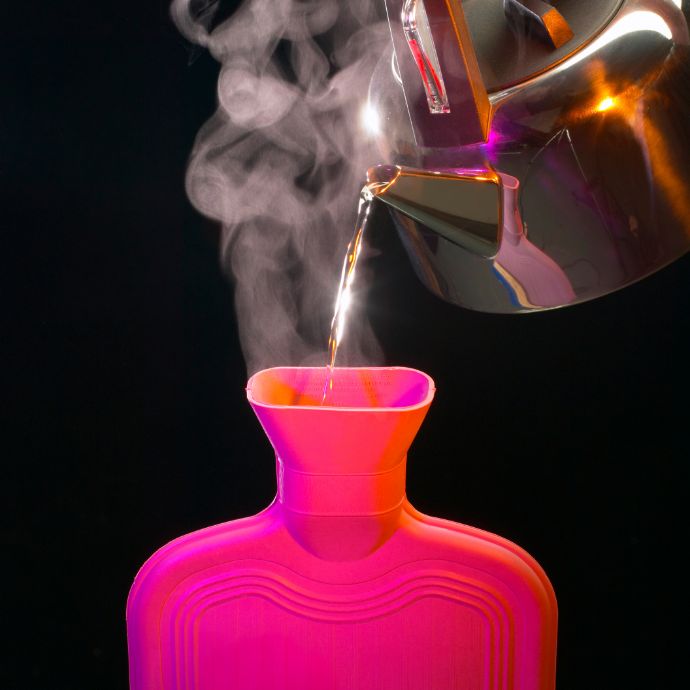 You usually think of hot water bottles when someone is feeling ill, but these also make great lunch warmers! They're usually made up of rubber or thermoplastic material to store the water in
However, you can also use stainless steel water bottles or some plastic water bottles to keep your food warm.
Nalgene water bottles can handle boiling water and can be used to add heat capacity to your lunch box and will keep your food warm much like how an ice pack works to keep food cold.
I suggest filling the hot water bottle with boiling water to get the maximum heating benefit. Just be careful as this can wear the product over time and you don't want to burn yourself (or wet your entire lunch and bag).
Double-check that it's not a double-insulated bottle as these will keep the heat inside the bottle and the outside of the bottle will stay relatively cool – making it impossible to keep your lunch warm.
6. Separate Hot and Cold Items
Whenever you are trying to keep lunch warm you want to make sure that warm and cold foods are in separate containers and separate them by using a physical divider or keeping them in entirely different lunch boxes and as far away from each other as possible. 
You can use items such as napkins, tea towels, or utensils to add a slight division between the containers. This ensures that the temperatures of the containers stay as controlled as possible and don't cancel each other out.
7. Insulated Thermal Bags
Remember when you wrapped your food in foil and a towel? Insulated thermal bags do the same job but easier! 
The bag's foil-like inner layer retains heat by reflecting your food's radiated thermal energy and they are usually made of plastic or cardboard which can also help to insulate the food from losing heat.
The great thing about these bags is that they're pretty cheap, they are often waterproof and you can rinse and reuse them multiple times. To make them even more effective wrap your thermal bag in a tea towel, blanket or sweater to retain even more heat.
8. Wrap in A Puffer Jacket or Blanket
There is a reason those light puffer jackets keep us nice and toasty on a cold day. They have layers of insulation made up of soft down, air pockets or synthetic materials that trap the warmth from your body inside the jacket.
You can that same method to wrap your food containers in your puffer to trap that heat.
Generally speaking, the better a jacket is at keeping you warm the better it will be and keeping your food warm as well. A good jacket, sweater or blanket can keep your food warm a lot longer than aluminum foil and a tea towel.
9. Hot Water and Making On-Site
If a warm cup of soup or noodles is on the agenda, bring your hot water in a stainless steel bottle and make it on-site.
Ensure you preheat your stainless steel bottle by adding boiling water to it and letting it sit for about 2-5 minutes. This will warm up the metal and make sure it doesn't strip away any of its heat.
Discard the water, add fresh boiling water, and seal it immediately. Your water will be hot for hours!
10. Instant Hand Warmers
Instant hand warmers are not something you would think of when it comes to hot lunches and they aren't THE BEST option out there. Hot water bottles are generally better and longer lasting.
However, you must admit that they get the job done when your fingers need a good heat source.
I'd advise starting with a hot water bottle to keep your food hot but if you're out for a while then activate and pop a few of these in your lunch bag when you're on the go.
Give them a good shake to prolong some of that heat. When one is done, throw that one away and shake up a new one.
11. Pre-Heat Your Container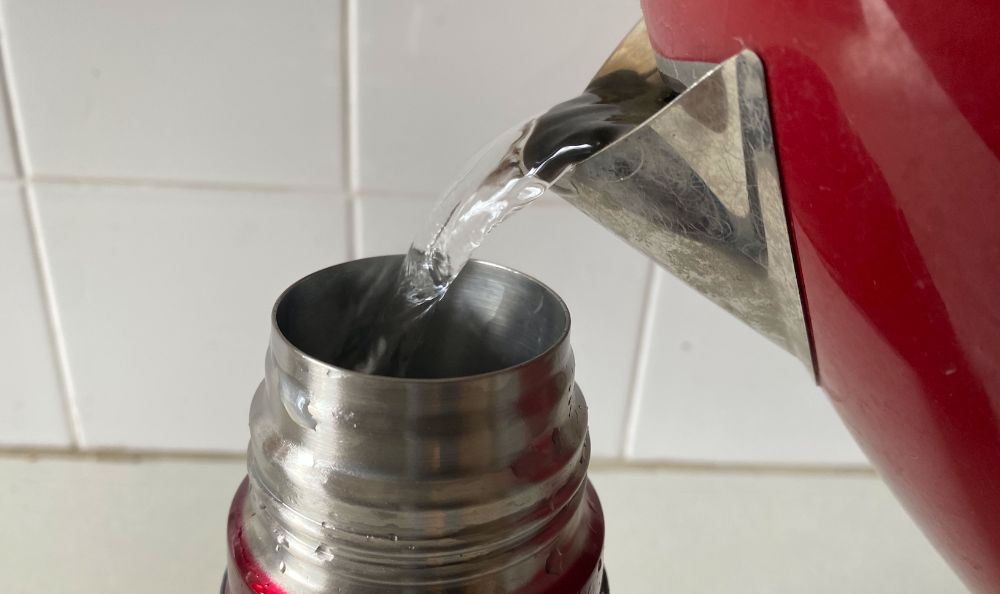 Another way to keep your lunch warm is by adding boiling water to your stainless steel or glass container before adding your hot food.
Add the boiling water to your container, seal it, and let it sit for 30-60 seconds to heat up your container.
Once you're ready to pack your lunch, empty the water, add a napkin to get the moisture out, and pack in your food. Then insulate in the ways we discussed above to keep your lunch hot for as long as possible.
12. Make A Portable Heat Box
If you're going to a group event and don't mind getting a little creative, try making your own portable heat box!
Line a cooler with foil-wrapped cardboard. Heat up some foiled-wrapped heat bricks in the oven at 500ºF/260ºC, and place them at the bottom of the cooler. Make sure you have a space between the cooler and the hot bricks or they'll melt the plastic.
Top it off with one more foil-lined piece of cardboard and TA-DAA! 
You've got your portable heat box that will keep your food warm for hours.
13. Electric Lunch Box
If you're willing to spend some money and have a good source of electricity, an electric lunch box is a way to go.
These electric lunch boxes are making a wave due to their ability to reheat and, in some cases, even cook certain foods!
They come at a higher cost but make reheating food easily accessible anywhere with electricity running, including your car.
All you have to do when you're ready to eat is plug it in, push the button, and in a matter of time, you'll have some hot food waiting for you!
Remember, it's all about safety first. Usually, you can only consume foods within 2 hours at room temperature. Food left at room temperature for over 2 hours increases the risk of food poisoning. But trying one or a combination of these methods guarantees a warm lunch and a satisfied belly.