I LOVE LOVE LOVE hot chocolate and there are a lot of different tutorials online about how to set up a cute hot chocolate bar for gatherings, parties and even weddings.
Loads of information on the different sweets too add and how to make it cute, but little to no information on exactly how to keep the milk warm so they guests can have access to nice, warm, uncurdled milk to make their hot chocolate.
It can be difficult to keep milk warm, especially if you're leaving your chocolate bar unattended for a long period of time (and even more so if there are kids using it).
Luckily there are quite a few ways you can keep the milk (or pre-made hot chocolate mix) warm for your next hot chocolate bar.
The most common way to keep milk warm for a hot chocolate bar is with a slow cooker/crockpot. If you're going to be outdoors without electricity then some sort of thermos or vacuum-insulated container will work great or you can use a chafing dish which used a open flame to keep the milk warm.
There are a lot of different options out there and some are better than others for a hot chocolate bar.
If you constantly expose the milk to high temperatures or keep it at a high temperature, it can change its color and texture. It can begin to curdle which can change the flavor and give a gross appearance even though the milk still remains safe to consume.
How To Keep Milk Safe To Drink And Prevent Curdling
No matter how pasteurized or boiled your milk is there will always be a little amount of lactobacilli bacteria present in it.
These lactobacilli thrive and multiply rapidly within the temperature range of 40ºF (4.4ºC) and 140ºF (60ºC) also called "The danger zone."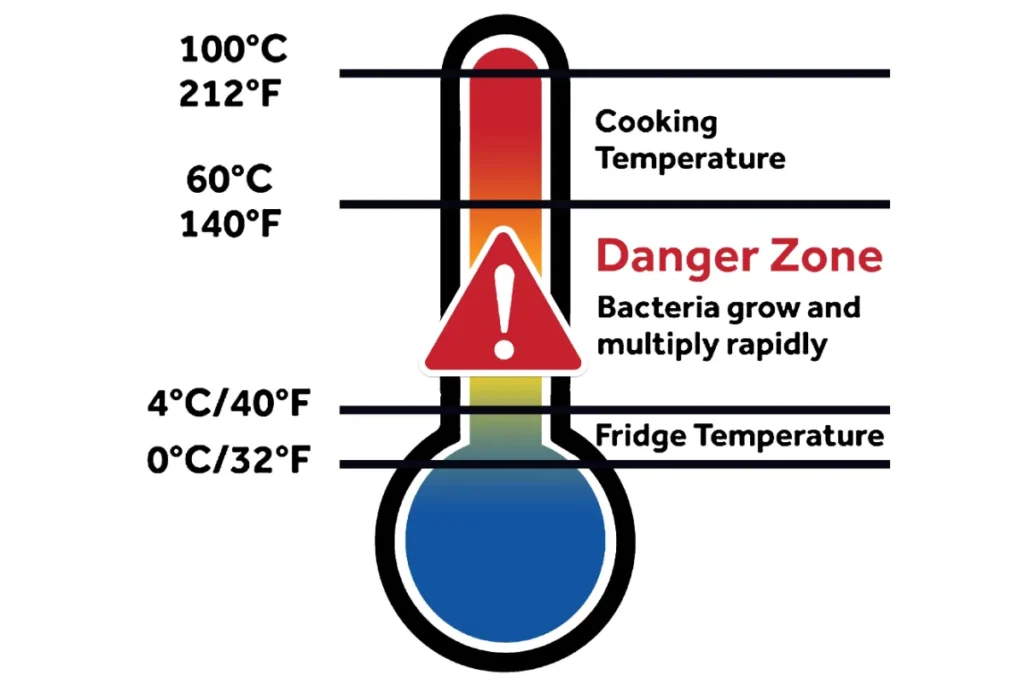 For a hot chocolate bar you will have to focus on keeping your milk over 140ºF (60ºC) because cold milk has no use in hot chocolate.
As soon as the temperature falls to the danger zone you will have to consume the milk within 1 to 2 hours before it spoils.
Ideally you want to keep your milk at around 140-160ºF (60-70ºC). Once milk goes over 148ºF (64.5ºC) it undergoes significant biochemical changes that will cause a deterioration to its flavor (source).
You want it hot enough that bacteria won't multiply but not so hot that the flavor of the milk will get ruined.
Heat Your Milk Just Before Serving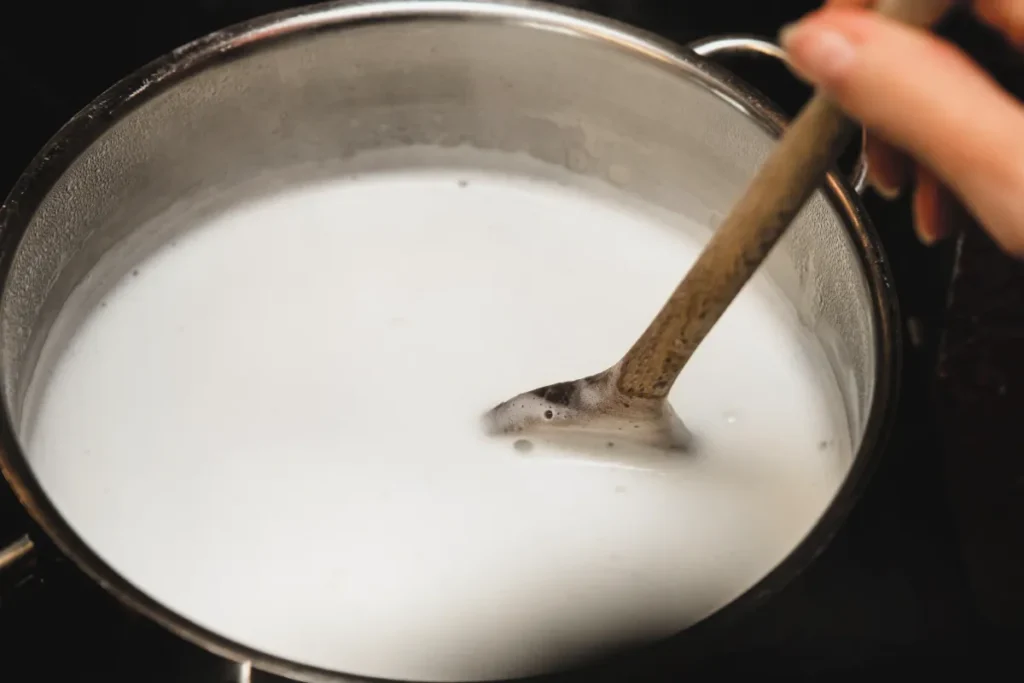 Depending on the type of hot chocolate bar you are running, its location and who you have to actually heat the hot chocolate it can be difficult to heat the milk right before serving it.
However, you should aim to warm up the milk as close to consumption as possible.
This is because milk that stays hot for long periods of time begins to change in flavor and texture and is not as nice as milk that was just recently warmed up.
An hour or two before serving is usually ideal, but if you go much longer than that or heat it up too hot then it can get a bit of a burned flavor
1. Use A Powered Crockpot and Ladle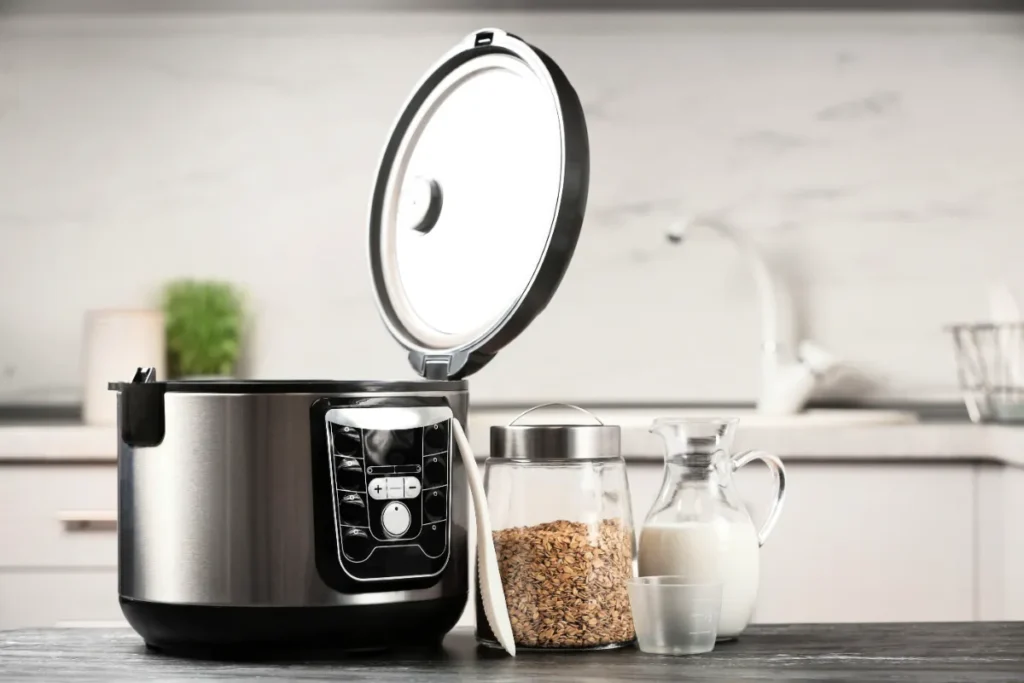 One of the simplest and most popular ways of keeping milk warm for a hot chocolate bar is to use a crock pot on slow cooker.
You'll need an electrical outlet nearby for this to work, so it won't be suitable for some outdoor environments or picnic setups and you'll also need a ladle in order to make serving the milk simple.
What makes this the best option is that it will actively warm the milk and you can keep it at exactly the desired temperature. You can warm your milk right before serving so it's not spending an excessive amount of time on high heat which can negatively affect taste and texture.
For safety reasons you want to keep the milk above 140ºF/60ºC however you don't want to go much hotter than this as it'll affect the taste and texture of the milk.
For low-temperature pasteurization they keep milk at 145ºF/63ºC for 30 minutes and this retains taste and texture.
However, even around this temperature the constant heating can result in your milk turning brown and developing a distinctive flavor. This is called the Maillard reaction so the sooner you use the milk the better.
2. Use A Portable Camping Stove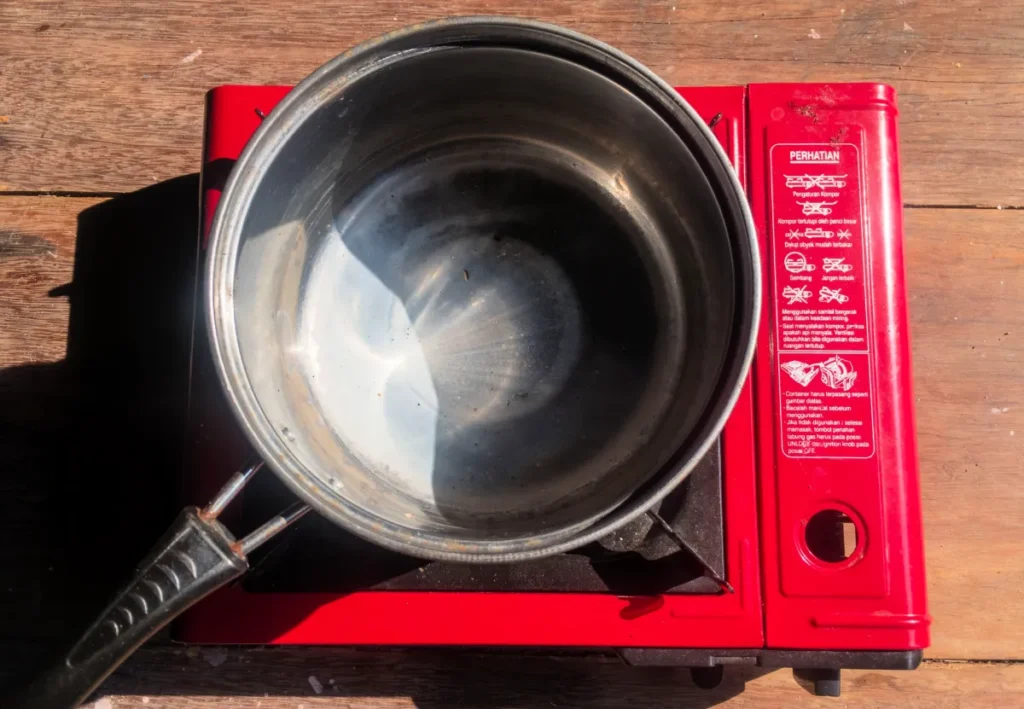 For outdoor events or areas where you don't have access to electricity for a crock pot then an portable camping stove can be a great option.
You'll need someone to watch over the milk and ideally you'll want to use a thermometer to make sure the milk doesn't get too hot and start to burn but this can be an excellent portable way to warm milk for your hot chocolate bar wherever you are.
A ladle will also be required to serve milk to guests otherwise things will get really messy.
If you want to avoid having someone tending to the milk constantly (plus avoiding having an open flame longer than you need to) then using a portable camping stove to warm up your milk right before serving and then placing it into some of the vacuum insulated flasks below allows guests to serve themselves with little risk of burning.
The Gas One propane and butane portable stove is a great option as it can work on both types of fuel giving you flexibility.
3. Insulated Thermos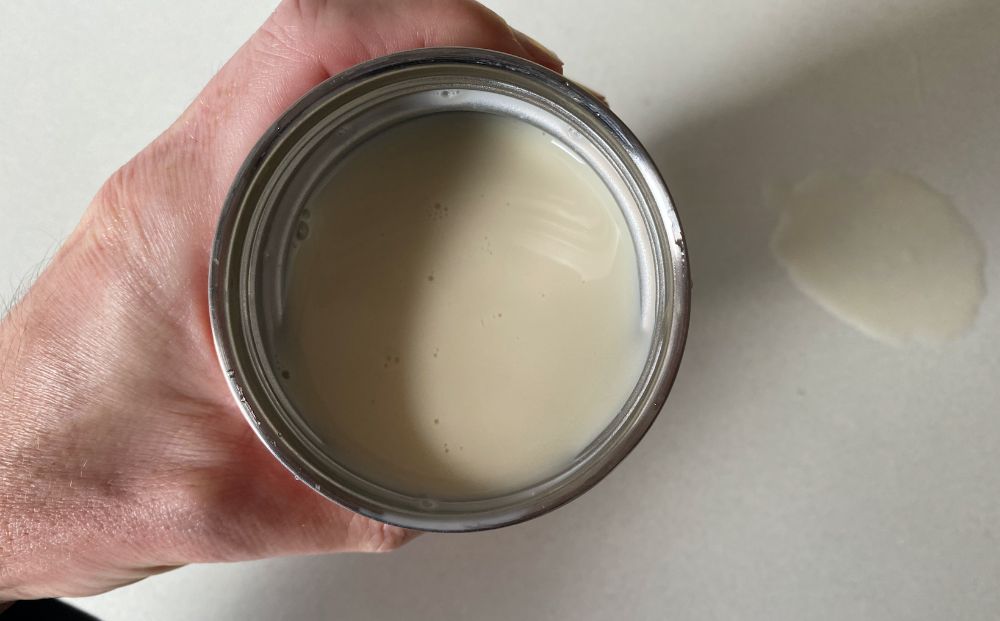 For single uses or smaller event where you just want to keep milk warm for yourself and a few guests then a simple insulated thermos is a great option.
Many of us have these around our house and the vacuum insulation works wonders for keeping milk hot for a few hours.
Depending on the size of your thermos and what your milk/water ratio is for your hot chocolate you could get a few cups of hot chocolate out of a thermos or even 10-12+ cups if you've got a bigger thermos or are using less milk.
You just need to make sure that the milk stays above 140ºF (60ºC) or else its better to not use a thermos as bacteria can quickly grow in the milk and potentially make you sick.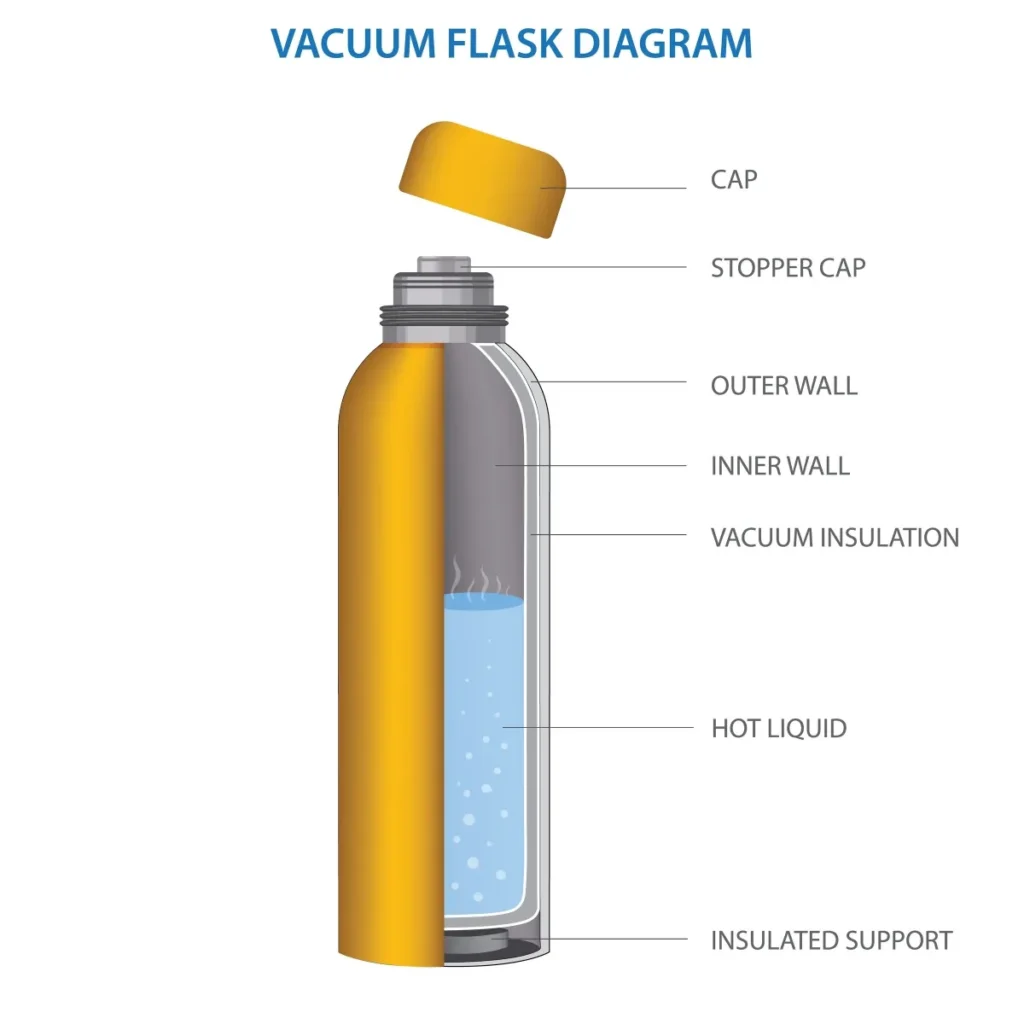 Thermoses use dual walls with vacuum insulation between the walls. This vacuum drastically slows down heat transfer and so your milk will stay warm for hours.
The temperature will gradually cool down but you'll have a couple of hours to enjoy the warm milk at the hot chocolate bar before it goes below the 140ºF/60ºC point.
For best results you should pre-heat your thermos flask by filling it up with boiling water for 1-2 minutes first to pre-heat it. Now remove the water and store your warm milk in it. This will prolong the duration the milk stays warm as the walls of the thermos won't be stealing any heat.
It's important to note though, the hotter you make the milk and the longer you store it in the thermos the more the taste and texture will begin to change (and not in a good way).
So the closer to consumption that you heat the milk the better.

4. Use An Insulated Carafe Flask
Like an insulated thermos an insulated carafe flask uses dual wall vacuum insulation to keep your milk warm for hours at a time.
I put thermos flask at #3 on the list as most of us have one lying around the house and they work great for smaller gatherings.
However, if you have a larger gathering or a corporate gathering or party where you want your hot chocolate bar to be a little more presentable then an insulated carafe provides the same level of insulation but in a larger container and one that is designed for guests to easily serve themselves.
The large handle and pouring spout makes it easy for guests to pour milk into their own cup without spill and the large size means your milk will stay warmer for longer than in a smaller personal thermos.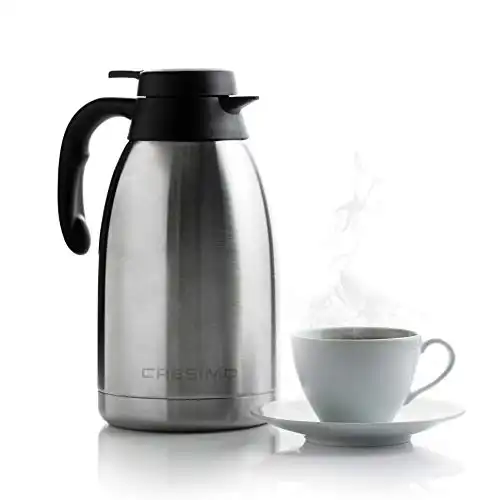 5. Use A Rice Cooker (on Warm) and Ladle
If you're like me then you're more likely to have a rice cooker than a crock pot and these can work just as well for keeping milk warm for a hot chocolate bar.
Simple rice cookers usually have 2 settings – cook and warm.
The cook setting will usually run around boiling temperature 212ºF/100ºC which is going to ruin the taste and texture of your milk. But the warm setting is usually designed to work around 150ºF/65ºC which is a good temperature to store milk at.
It's hot enough that bacteria won't multiply quickly but not so hot it'll ruin the milk quickly.
Ideally use a thermometer to check your milk as different rice cookers work at different temperatures.
You can set the rice cooker to "cook" setting to warm up the milk faster but monitor its temperature and stir often. Once it hits 140ºF/60ºC you want to move it to the warm setting straight away.
6. Use a Thermal Cooker (Camp Crock) and Ladle
A thermal cooker or camp crock is basically a giant insulated thermos. It uses vacuum insulate to keep it's content hot (or cold) and they usually have leak proof lids which will stop your milk from spilling.
You can pre-heat your milk and fill up your camp crock and it'll stay hot for hours at a time.
They comes in a variety of sizes but most a quite large, allowing you to store about a gallon of milk at a time.
You'll want to have a ladle with your camp crock for easy serving.
I personally own and love the Stanley Adventure Camp Crock. It works great, is fairly affordable and the lid locks down tight making it leak proof.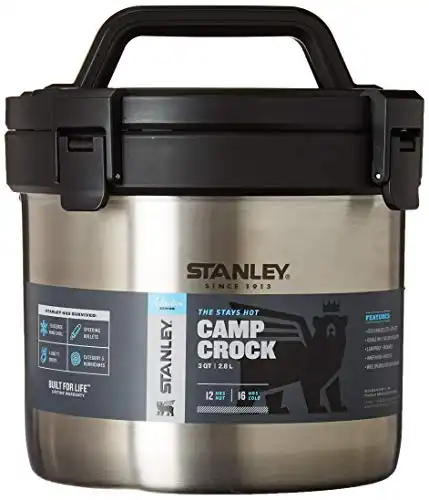 7. Use an Immersion Heater
An immersion heater is a device that you place in your pot and it'll keep water (or in this case milk) and an exact temperature for as long as you want.
The great thing about these is you can set an exact temperature, so you don't overheat your milk, and you can use any steel pot you have to keep the milk warm in.
The downside of these products is they can be quite expensive as usually they are designed to be used in kitchens. You'll also need access to electricity for these to work so for outdoor events without power you'll need to consider another option.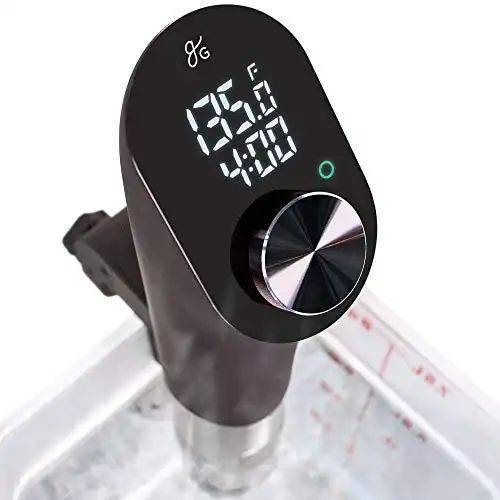 8. Use An Insulated Pump Carafe
Insulated pump carafes are a great way to store boiling water, which you might need at your hot chocolate bar.
However, they can also be used to store warm milk as well and guests can easily serve themselves with very little risk of spilling/burning.
The downside of pump carafes compared to regular carafes (and why I've placed it so low on this list) is the fact that they can be very difficult to clean when you use milk in them.
Using them with water is fine but when you use milk in them bacteria can grow quickly and they can be difficult to clean. Still, they are a great option if you don't mind putting in the work after your hot chocolate party is finished.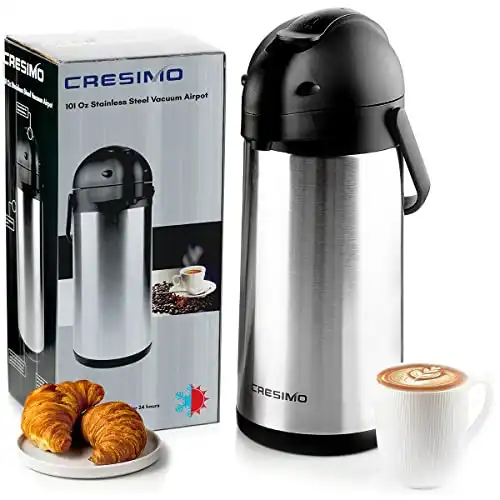 Cresimo Thermal Insulated Coffee Pump Carafe (101 oz)
Made from durable vacuum-insulated 18/8 stainless steel this carafe can keep drinks piping hot for up to 12 hours and is simple and easy to clean.
Easy to use pump action spout allows guests to serve themselves with no risk of buring and it can hold up to 17 x 6oz cups of coffee.
Buy Now at Amazon
9. Use Tealights and a Teapot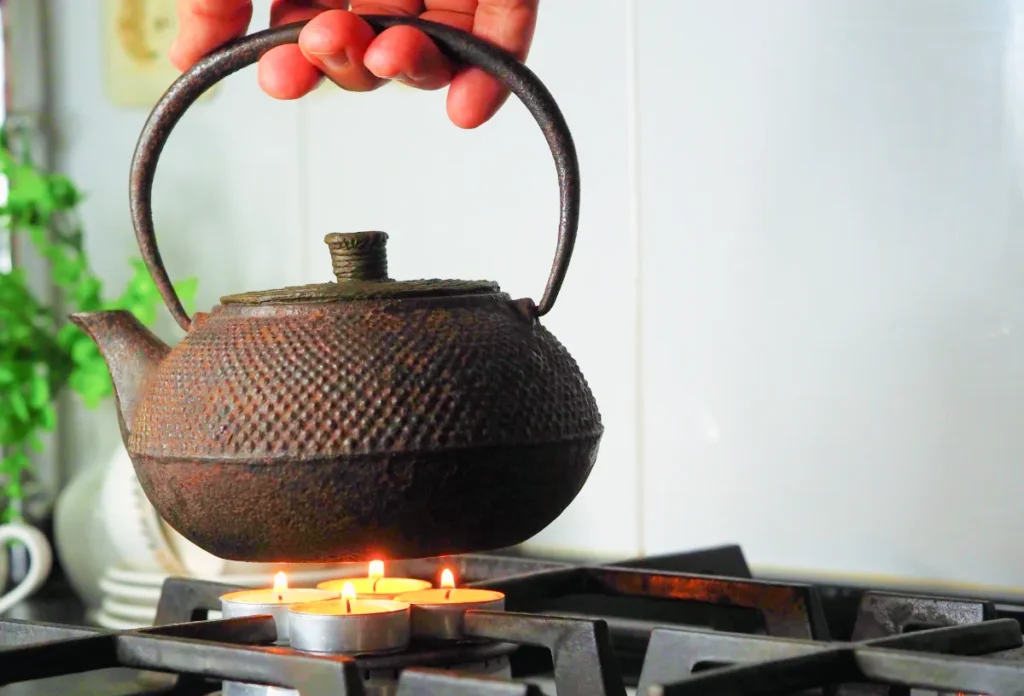 For a powerless (and adorable) way to keep milk warm for your hot chocolate bar you can use some tealights and a teapot to keep milk warm.
These work surprisingly well to warm up drinks and to keep drinks warm.
You may want to pre-heat your milk first and then store in the teapot allowing guests to serve themselves.
Just make sure guests are aware that the teapot is hot and they may want to use a teatowel to grab it so they don't burn themselves.
10. Chafing Dishes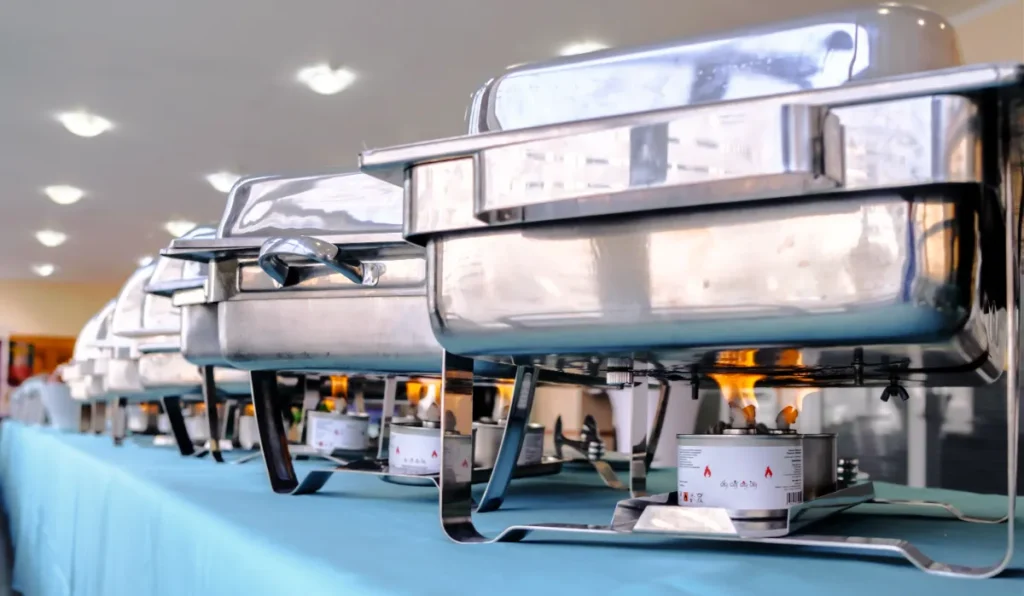 Chafing dishes are another great way to keep milk warm for a hot chocolate bar. Whether you're outside or inside these can work to keep large quantities of milk warm for an extended period of time.
Large stainless steel containers allow you to store enough milk for all your guests and they easy to use fuel canisters make heating (and keeping things warm) and absolute breeze.
You'll need a ladle to serve guests and it can be difficult to finely tune the temperature of the milk but with a thermometer and someone checking in every now and then you can make sure your milk doesn't burn fairly easily.
This round chafing dish at Amazon is super affordable and a great size and shape for a hot chocolate bar.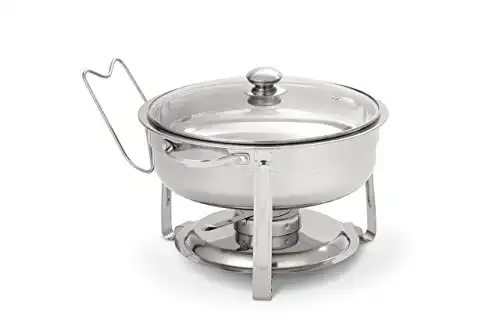 11. Keep Milk Warm In A Cooler (with Hot Water Bottles)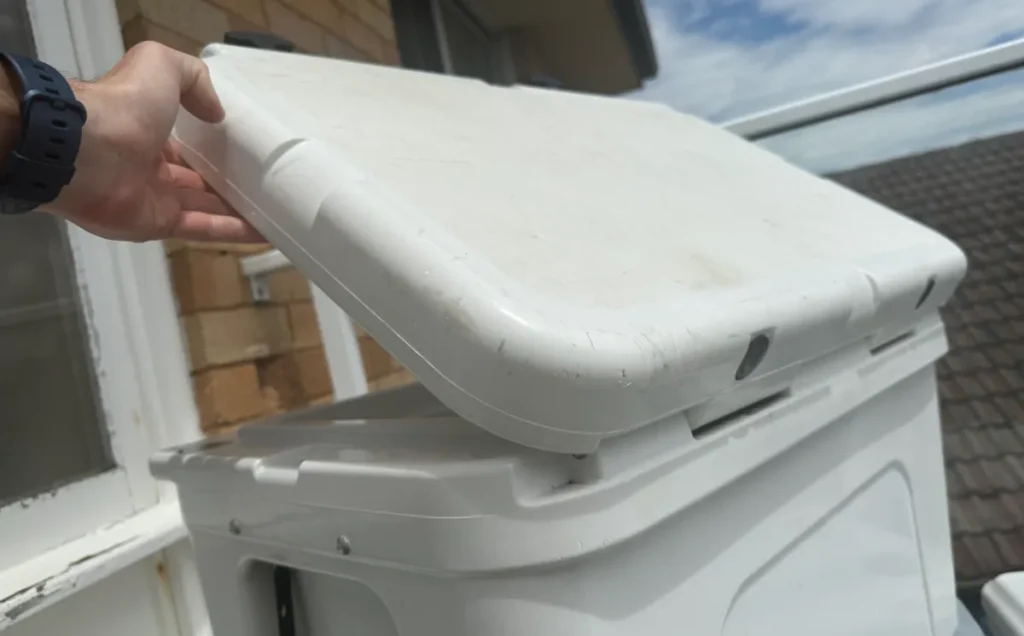 Coolers are not only made to store cold items like ice cream. High-quality coolers come with amazing insulation that also works to keep things hot for extended periods of time.
Yes you could store milk directly in the cooler itself, but very few guests want to drink milk that has been sloshing around inside a cooler.
Instead store your warm milk in a glass, ceramic or stainless steel container (I personally avoid plastic) and them place these containers in the cooler.
You'll want to supplement the containers of milk with some hot water bottles filled with boiling water and place them next to the milk to keep it warm.
If your cooler is large and has a lot of empty space then you'll want to fill up all of the empty space with towels and blankets, otherwise your milk will get cold fast.
When it's time for guests to have their hot chocolate they can grab a container out of the cooler and the milk will still be toasty warm.
12. Rent or Buy a Samovar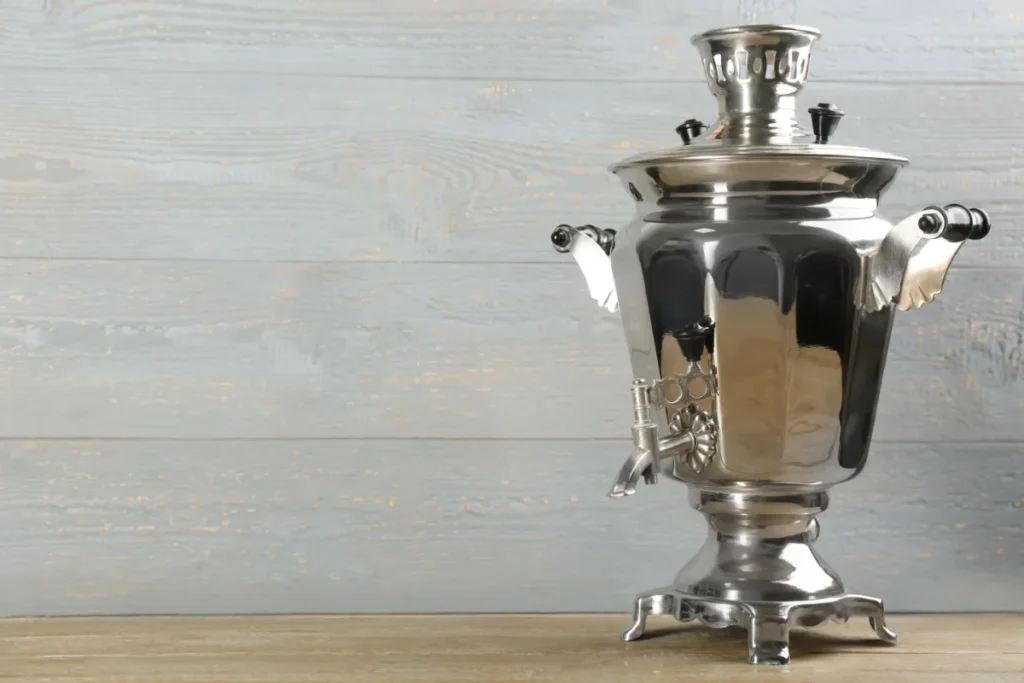 For the extra WOW factor you can rent or buy a Samovar to keep both water and milk hot for a hot chocolate bar.
Samovars are traditional Russian tea makers and feature a center compartment when you place hot coals that boils the water in the Samovar.
A teapot is then placed on top of the Samovar and the extra heat from the coals helps to keep the teapot warm.
It's definitely a very funky way to serve hot water and warm milk for a hot chocolate bar and now you can get electric versions like this Samovar from Saki which has a keep warm function allowing you to keep your water or milk as the exact temperature you want.