Polar Camel tumblers look similar to Yeti tumblers and they are commonly sold with custom laser engraving or custom printing options making them a unique choice of tumbler.
But when looking at Polar Camel vs Yeti which tumbler performs better and which tumbler offers better value for money?
When compared to the Yeti Tumbler, a similar sized Polar Camel will hold ice nearly as long. Both hold ice for hours and also keep drinks hot for hours. Polar Camel are cheaper with engraving options but Yeti tumblers are higher quality and have a better warranty.
In this article we'll take a look at the two different brands and how they compare in look, performance, durability and value for money.
Pricing: Which Is Better Value?
Let's start with pricing, because for a lot of people this is going to be a big factor when it comes to deciding whether to get a Polar Camel or a Yeti tumbler.
Usually with tumbler brands you can easily compare pricing on Amazon or on the company's website. However, with Polar Camel it seems that the company themselves don't sell directly to consumers.
They seem to be sold in bulk to companies who focus on laser engraving logos or images onto them and doing custom prints and designs.
For this reason the price of Polar Camel tumblers varies dramatically. I've seen a 30 oz tumbler sell for as little as $7.99 with no engraving to as much as $29.99 with a custom print on it.
$7.99 makes this one of the cheapest insulated tumblers on the market but $29.99 makes it extremely similar in price to the Yeti.
See the latest price of Polar Camel tumblers at BulkTumblers.com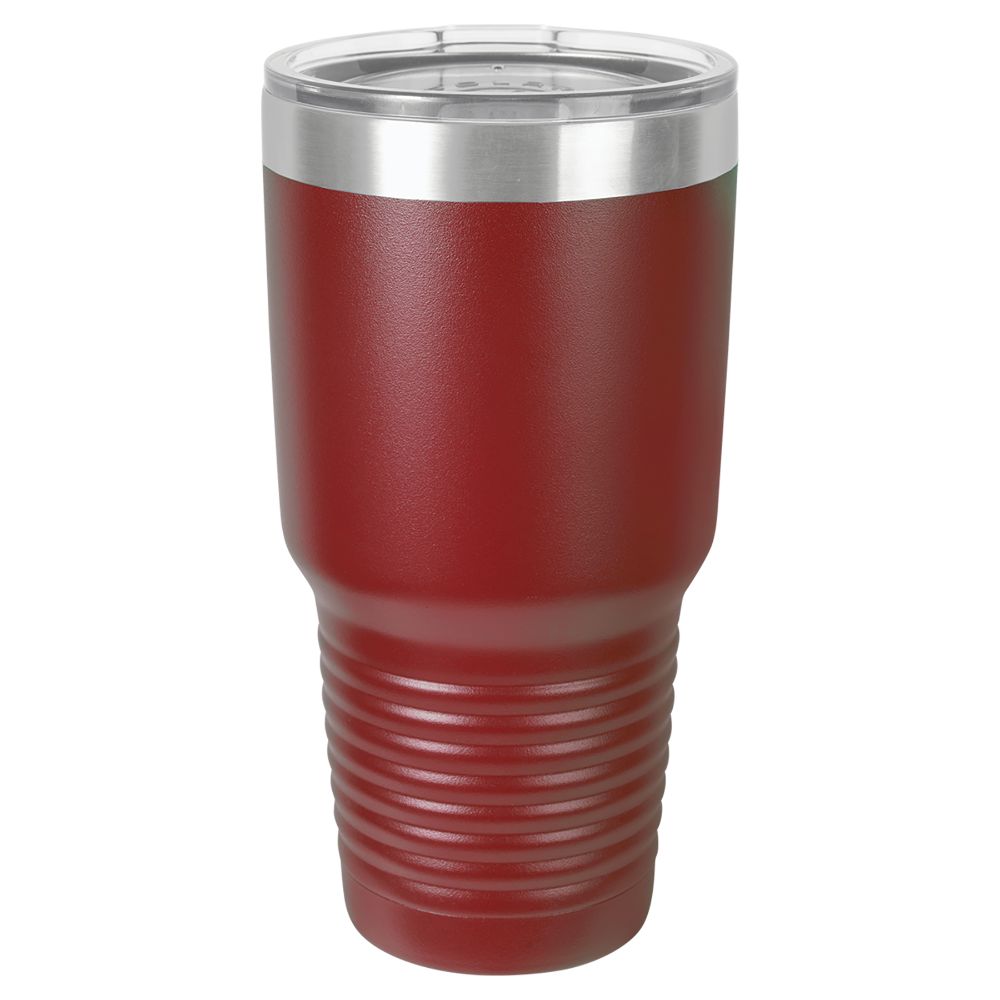 See the latest prices of Yeti tumblers at Yeti.com
(or compare to prices of Yeti tumblers at Amazon)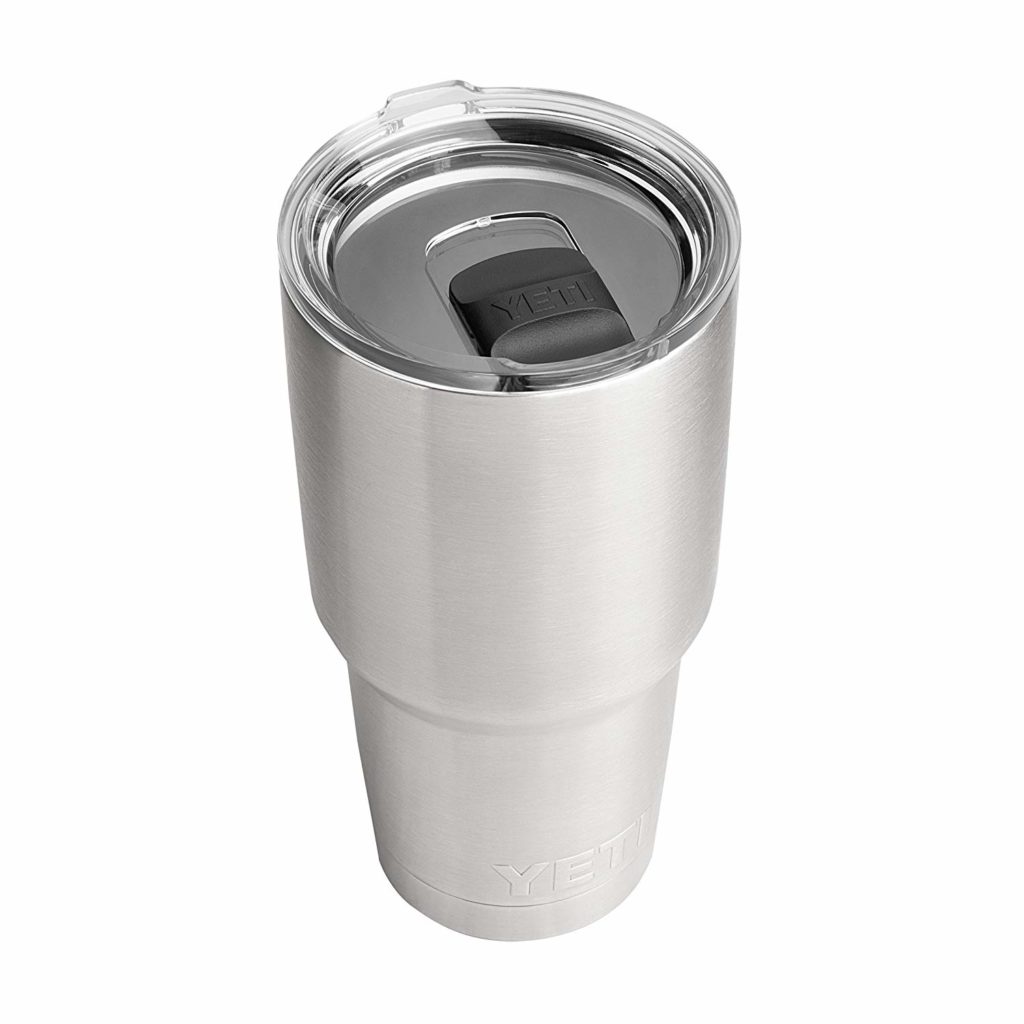 Performance: Which Works Better?
If purchased without an engraving Polar Camel tumblers are WAY cheaper than Yeti tumblers. But when it comes to performance how do they stack up?
Are Polar Camel cups able to keep ice as long as Yeti tumblers or are they just cheap imitations that don't even work very well?
When compared to Yeti tumblers, a similar sized Polar Camel will hold ice nearly as long. Yeti tumblers perform better but only by a slight margin.
Below you can see a video comparison between a Polar Camel and a Yeti. Each started with the same amount of ice and you can clearly see the Yeti performed better, but the difference was minor.
The difference is so small that you're unlikely to notice it during day-to-day use.
Both tumblers will hold ice for hours at a time and both will keep drinks hot for hours as well.
The difference in performance isn't equal to the difference in price.
Durability
While ice retention performance was similar with these two brands one of the areas that the Yeti tumbler really shines is in durability.
Yeti tumblers are one of the most durable tumblers on the market.
They are rigorously tested, they are strong enough to be completely dishwasher safe and they are backed by a 5 year warranty.
I own MANY different brands of tumblers and insulated water bottles and time and time again the Yeti tumblers feel more durable than the others.
I'm unsure if they use thicker stainless steel or what but they just feel more durable than anything else.
It would take years and lots of tests to know if Polar Camel are as durable as the Yeti.
Chances are they would be just as good and you wouldn't have any issues. But I couldn't find any details as to the warranty they offer or whether or not they are dishwasher safe (I'm assuming they aren't).
Features: What's The Difference Between Polar Camel and Yeti Tumblers?
Next let's have a look at the different features of the two brands.
Does Yeti have such amazing features that it's worth the extra cost?
Custom Engraving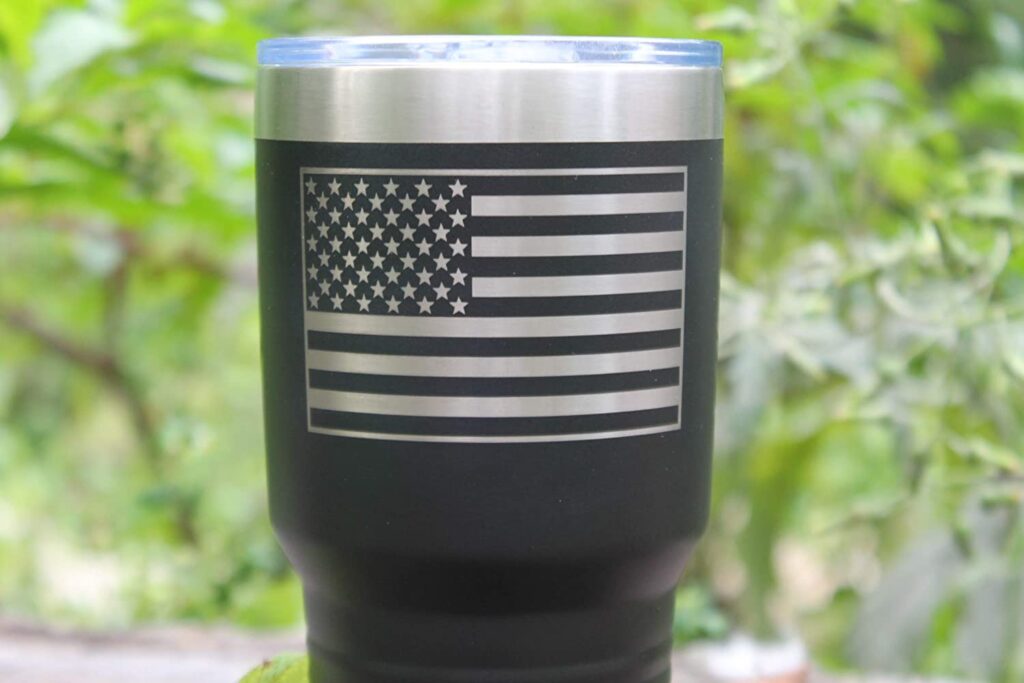 I think the biggest reason to get a Polar Camel tumbler cup (other than the price) is the fact that a lot of places offer customer laser engraving onto these cups.
This is more durable than just a printed on label and it exposes the stainless steel underneath.
You could get your name on it, could get your company logo or maybe even make up a design of your own. Having something custom can really make your tumbler stand out and make it more enjoyable to drink out of.
However, in saying that Yeti do offer custom engraving too through their website.
It costs just $5 to get some custom text engraved into the side, $5 extra to get a monogram or you can get your own logo or design engraved into a Yeti cup for a $10 setup fee plus $5 per side of the cup you want to engrave.
See the latest prices of Yeti tumblers at Yeti.com
(or compare to prices of Yeti tumblers at Amazon)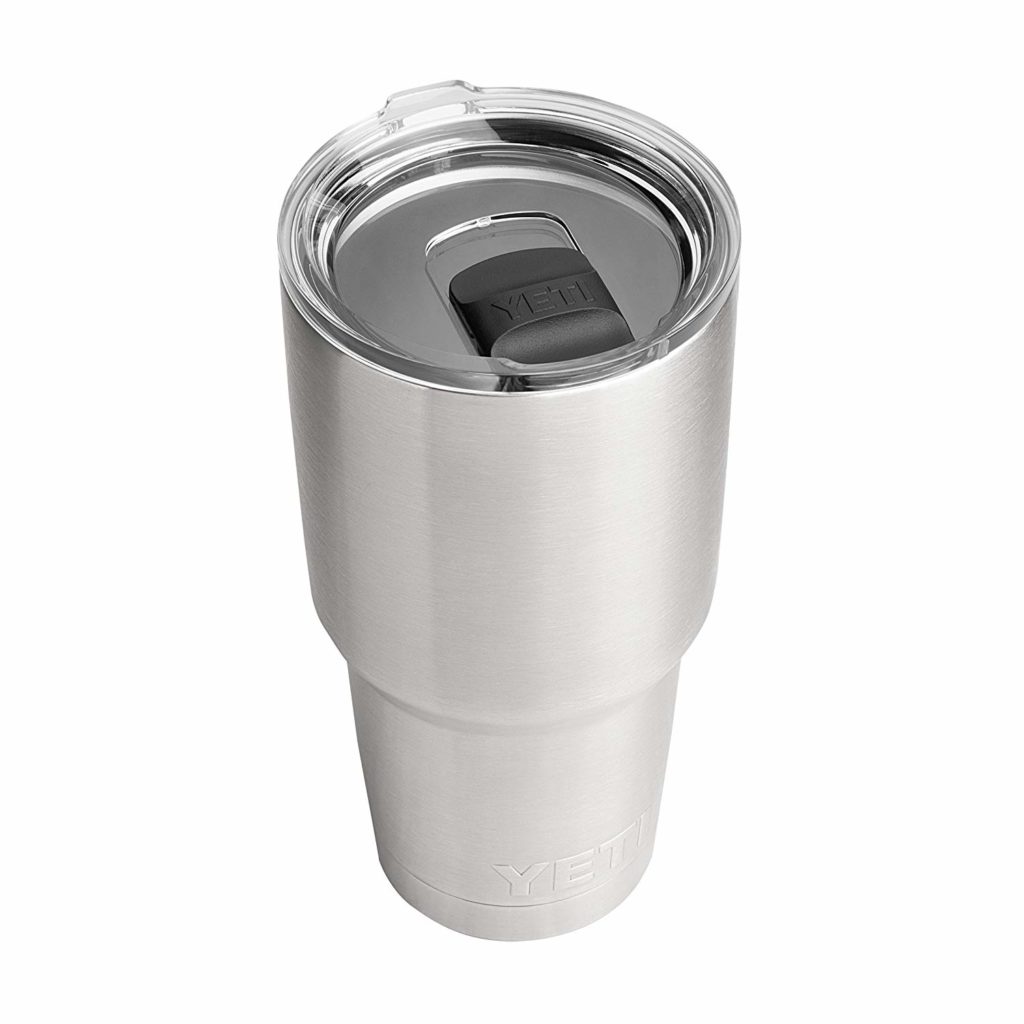 Tumbler Size and Shape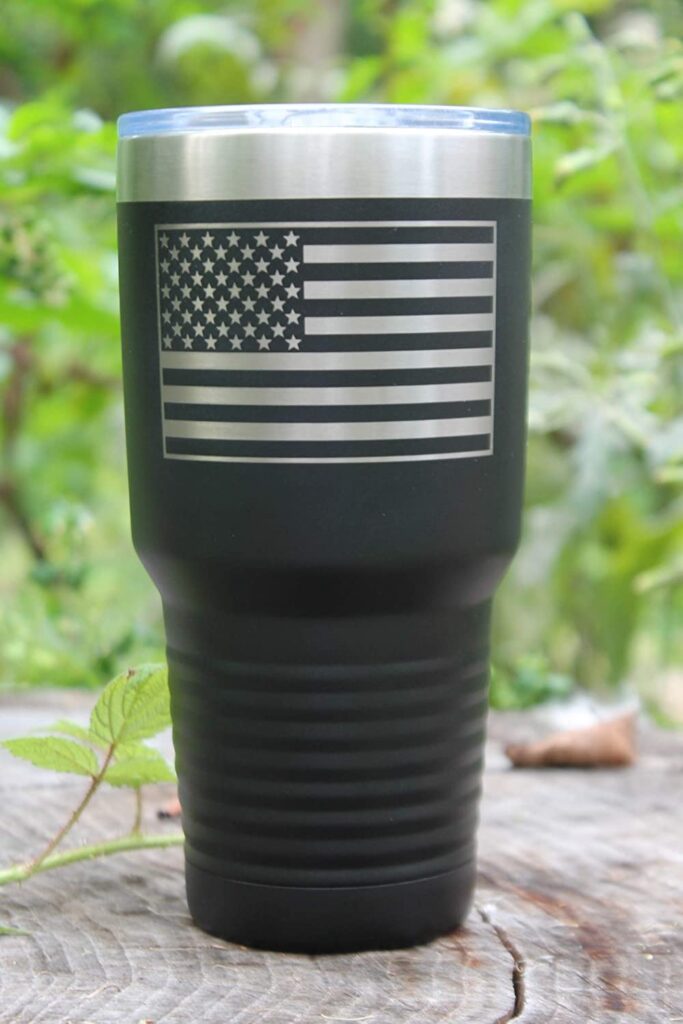 The Polar Camel is extremely similar to the Yeti in sizes and design with the only real major difference being the ridges or bumps on the lower half on the Polar Camel tumbler.
On a Yeti this is just smooth, but on a Polar Camel it's got those grooves which makes it easier to grip but also stands out as a unique design.
You may love one design or the other. Personally I'm a bigger fan of the Yeti smooth design but that's just me.
Lid Options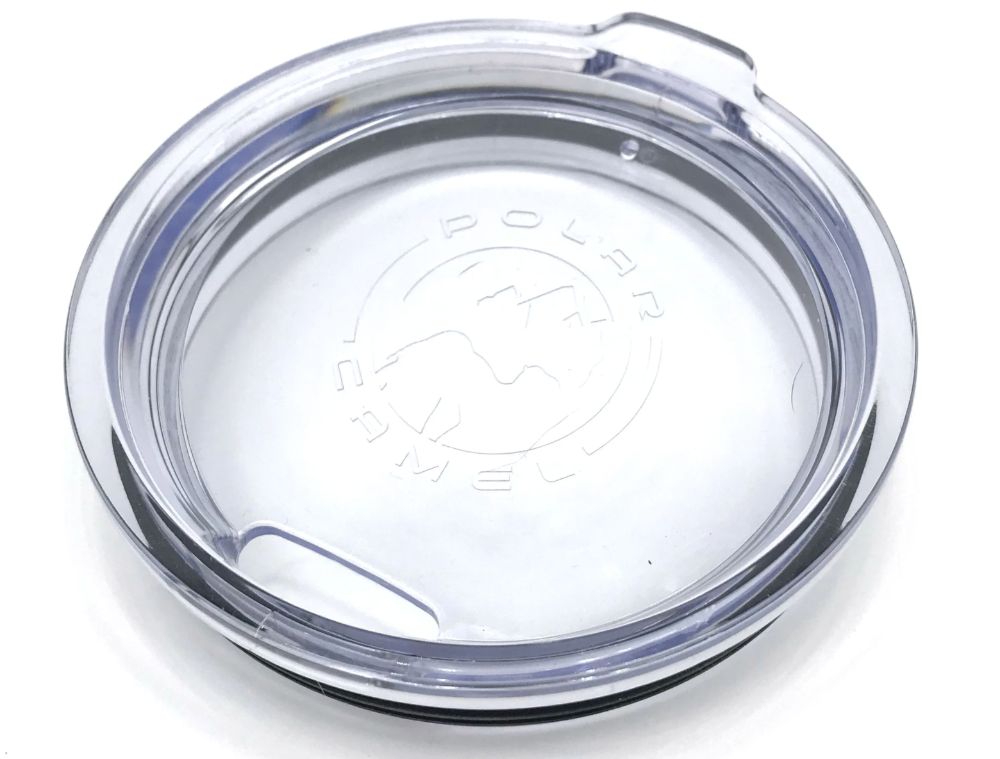 Yeti tumblers come with a MagSlider lid which has a little magnetic slider that covers the drink spout.
Polar Camel tumblers usually come with a plastic lid that has a permanently open drink spout. However, you can get different lids for it and the Yeti lids do fit into the Polar Camel tumblers.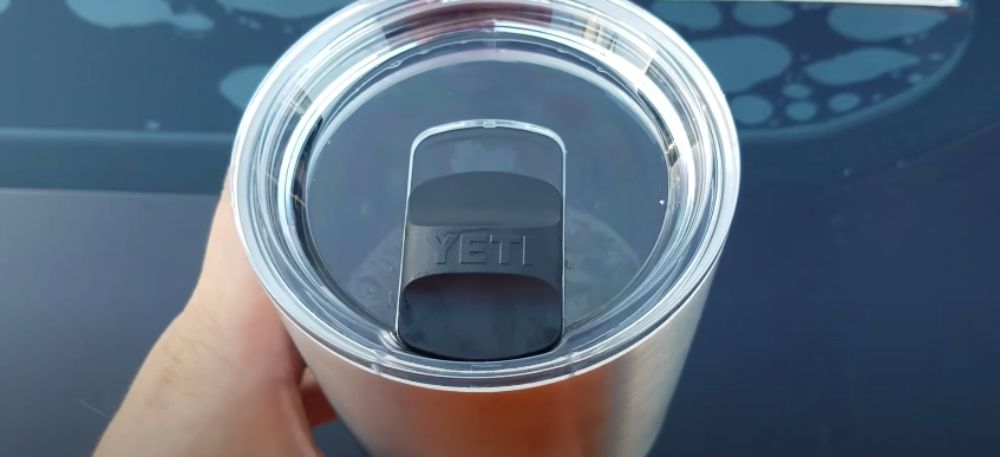 The Yeti MagSlider lid is NOT leak proof, it is only splash proof. So don't expect to be able to throw a Yeti tumbler into your bag or leave it rolling around on the floor of your car. If you do everything will get wet.
Click here if you want to get a completely leak proof insulated tumbler.
Dishwasher Safe
The Yeti Tumbler is 100% dishwasher safe.
Polar Camel don't say anything about whether or not their tumbler is dishwasher safe so I'm going to assume it isn't.
Warranty
Yeti tumbler cups are backed by a 5 year limited warranty which means if you have any issues you are able to get a replacement free of charge.
This includes if your Yeti cup stops working because the insulation is damaged or lost.
Again, Polar Camel say nothing about their warranty and I don't even know if they have one.
Branding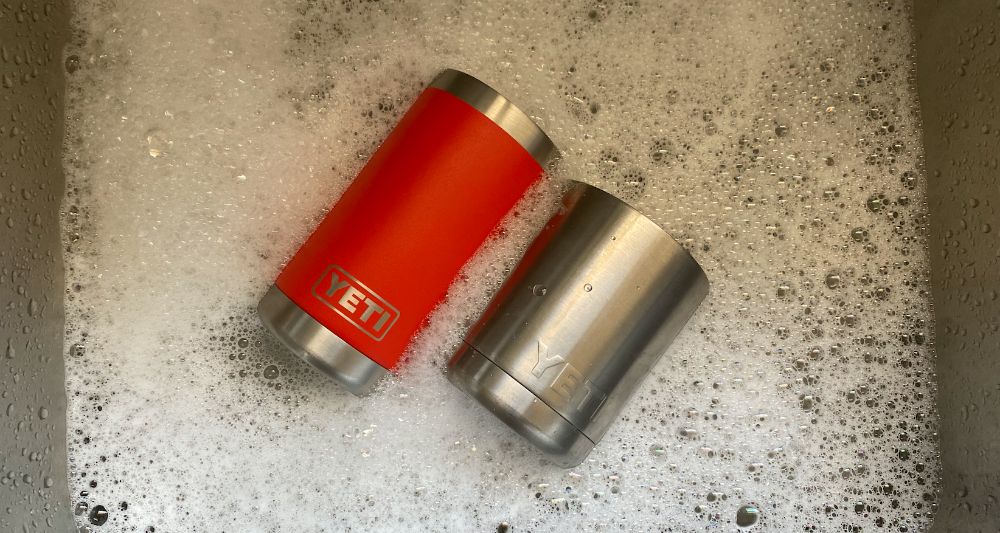 Polar Camel cups have zero branding on them other than the Polar Camel logo that is molded into the plastic lid.
This makes a Polar Camel perfect for getting your own company logo engraved into the tumbler.
You don't need to show off any brand other than your own.
Yeti tumblers on the other hand have a Yeti logo either embossed or printed onto the cups.
For those wanting to show off the fact they have money to burn on Yeti products this may be a positive. Yeti is a status symbol so it makes sense to want to show it off.
Who Is Polar Camel?

Before buying from a company I like to learn a little bit about them and who they are.
Honestly, I couldn't find any information at all about Polar Camel drinkware.
It seems like they are simply a company that imports cheap insulated tumblers and then on sells them to companies who want to offer custom engraved tumblers.
Who Is Yeti?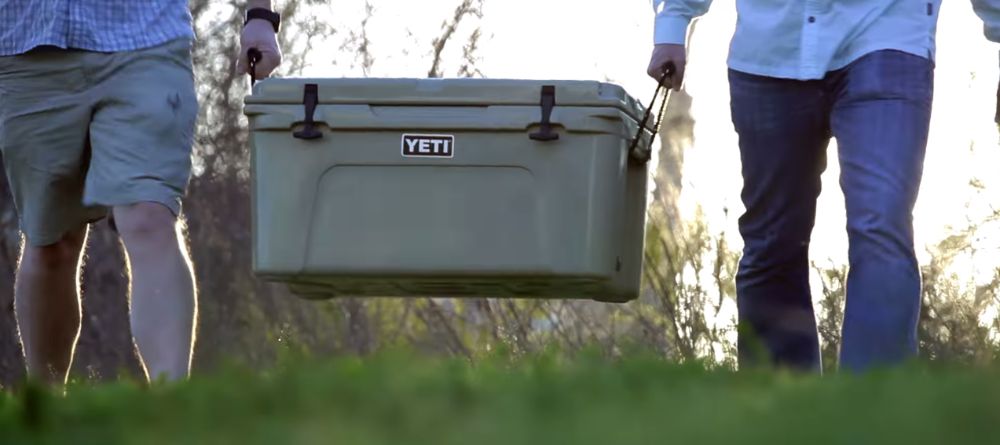 On the other hand, there's an extremely high chance that you've heard of the brand Yeti before.
Yeah we are well known for making high end coolers and being one of the most popular and successful cooler companies in the world.
From the hard sided coolers, to the soft sided coolers, and now the tumblers and drinkware – Yeti have built a reputation for building extremely high-quality products that sell for an even higher price.
Yeti builds great products and have quickly established themselves as a popular lifestyle brand.
Click here to learn more about how Yeti got started
Reasons To Buy a Polar Camel Tumbler
I would recommend people purchase a Polar Camel tumbler if they are looking to buy one of the cheapest tumblers on the market.
I would also recommend them to someone who wants to get an engraving on their tumbler and doesn't want any branding or logo on it other than their own.
Polar Camel tumblers seem to perform well at an affordable price.
See the latest price of Polar Camel tumblers at BulkTumblers.com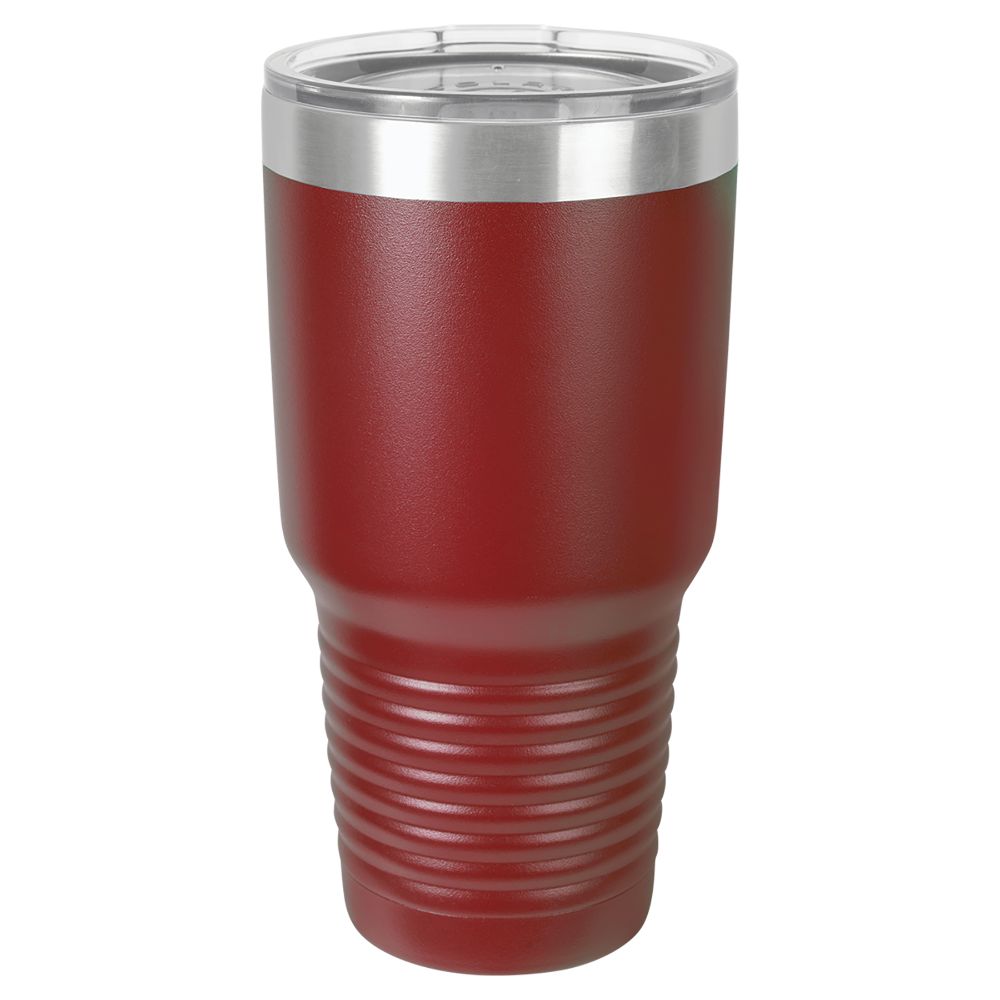 Reasons To Buy a Yeti Tumbler
I would recommend the Yeti to anyone where budget or price isn't an issue.
If you've got the money and don't mind spending it then go for the Yeti.
For me I prefer to buy high quality and just buy once.
With Yeti I know I'm getting a high-quality product that is extremely unlikely to break. I know it's going to be built well, look great and last me years.
See the latest prices of Yeti tumblers at Yeti.com
(or compare to prices of Yeti tumblers at Amazon)