Yeti coolers was launched back in 2006 by brothers Roy and Ryan Seiders, however the coolers didn't look like they did today.
Yeti Coolers originally launched with a line of coolers they called the "Sherpa". They sold these until they released the Tundra series of coolers which is still the main coolers that Yeti are known for today.
I wanted to take a moment to go back in time at the beginning of this now massive company. I want to share what Yeti coolers originally looked like and the features they had so you can see how the company started out.
I don't want the story of Yeti's beginning to be lost to time so this is my little part of preserving this interesting history of a company that was started in a shed and grew to be worth billions.
Original Yeti Coolers in 2006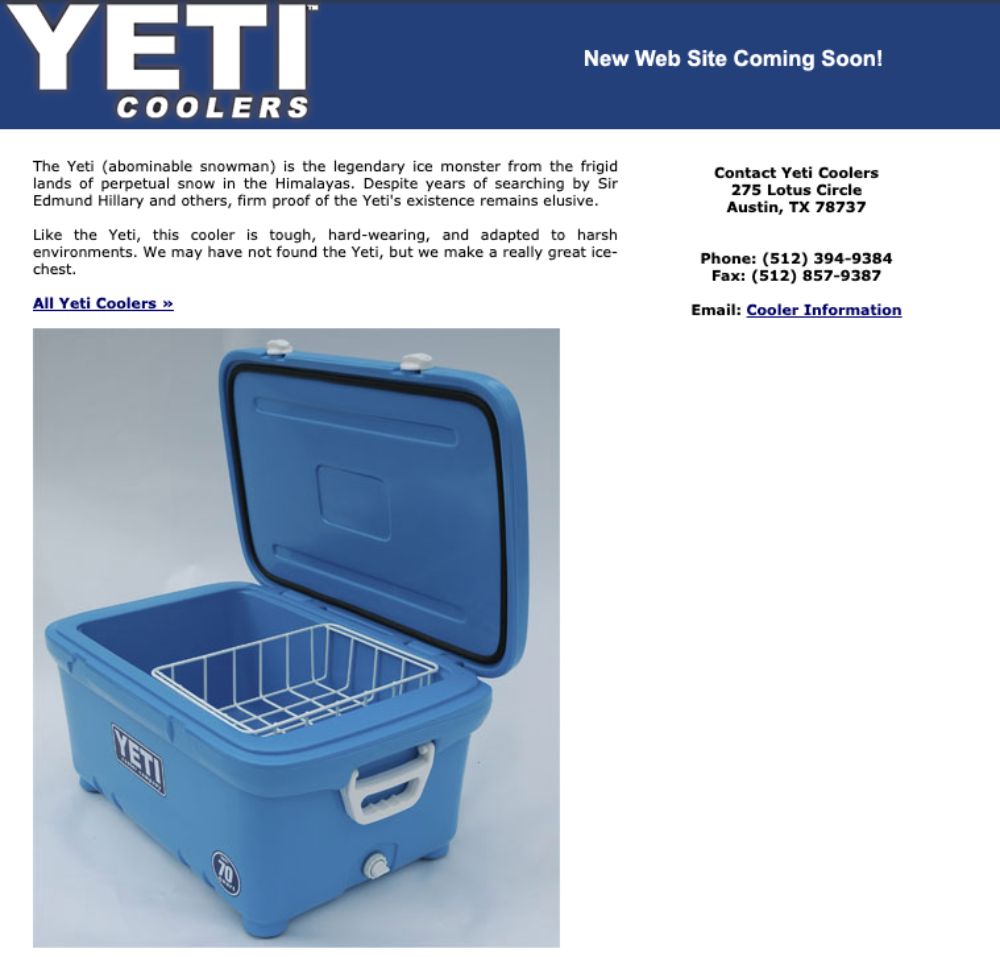 I couldn't find any articles or many details about Yeti coolers from 2006 when they started.
As you can imagine the company was basically unknown in the beginning so there were no major press releases about their products. It was just 2 brothers, a bunch of coolers and a website.
I used the Way Back Machine to look at their website from 2006 and see what the original coolers looked like.
Yeti Sherpa Coolers 2006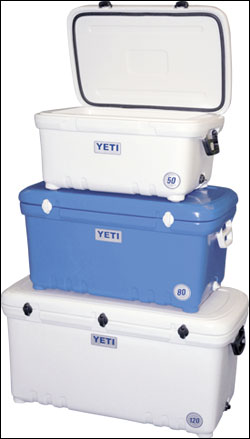 Yeti's original brand of cooler was the Yeti Sherpa cooler which was sold from 2006-2008 before it was retired and replaced by the Tundra series of coolers.
It is likely that these coolers weren't designed by Roy and Ryan Seiders but were probably a white-labeled cooler based on another companies design.
Between 2002-2006 Roy Seiders ran a company selling custom boats, but he also imported and sold roto-molded coolers made by a Taiwan manufacturer.
The Yeti Sherpa coolers were roto-molded but lacked some of the durability of the newer Tundra coolers.
Instead of the T-Rex rubber latches they have plastic turn lock latches. The side handles are also made of plastic, not the durable and strong nylon rope handles they have today.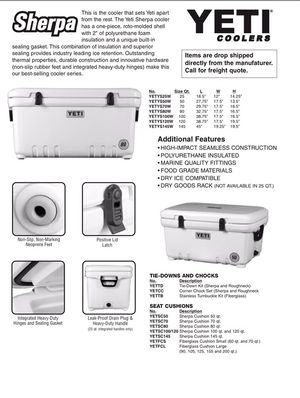 Yeti Sherpa were sold in the following sizes and for the following prices (according to the WebArchive):
25-Quart – $119.99
50-Quart – $179.99
70-Quart – $209.99
80-Quart – $224.99
100-Quart – $259.99
120-Quart – $279.99
145-Quart – $319.99
The Yeti website originally talked about the following features of the Sherpa cooler:
High-Impact Seamless Construction
Polyurethane Insulated
Marine Quality Fittings
Food Grade Materials
O-Ring Sealing Gasket
Dry Ice Compatible
Positive Lid Latching System
Non-Slip, Non-Marking Neoprene Feet
Integrated Heavy-Duty Hinges and Handles
Guaranteed Leak-Proof Drain Plug
Dry-Goods Rack
Yeti Fiberglass Coolers 2006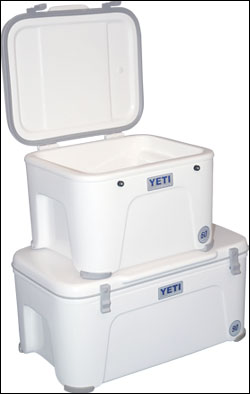 There isn't a great deal of details about the Yeti fiberglass coolers. I presume they aren't as strong and durable as the Yeti coolers we know today but they did feature the same polyurethane insulation that Yeti coolers today have.
Yeti Fiberglass coolers were sold in the following sizes and for the following prices (according to the WebArchive):
60-Quart – $299.99
70-Quart – $349.99
80-Quart – $399.99
105-Quart – $449.99
125-Quart – $499.99
155-Quart – $549.99
200-Quart – $599.99
330-Quart – $899.99
Yeti Lunch-Mate Coolers 2006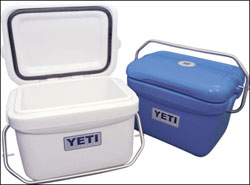 The Yeti Lunch-Mate was the smallest cooler Yeti sold and was replaced by the Yeti Roadie in 2008/2009.
The Lunch mate was 16-Quart in capacity and sold for $69.99.
It features a similar metal handle to the Roadie cooler (but with no padded grip) and interestingly there is no latch at all on this cooler to keep the lid down but rather the handle when lifted up clicks into place holding the lid down.
Yeti Combo Cooler 2006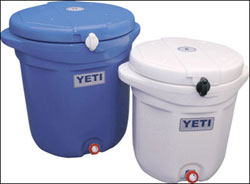 The Yeti Combo cooler was a combination roto-molded cooler and drink dispenser.
The combo-cooler was sold in 2 sizes:
6-Gallon – $99.99
13-Gallon – $159.99
They got rid of this cooler and didn't bring out another combination cooler until the launch of the Yeti Silo in 2018. Read my Yeti Silo review.
User Submitted Original Yeti Coolers Still Out There
If you've got an original Yeti cooler then send me an email: [email protected] and I'll post it here for everyone to see:
Yeti Sherpa 25-Quart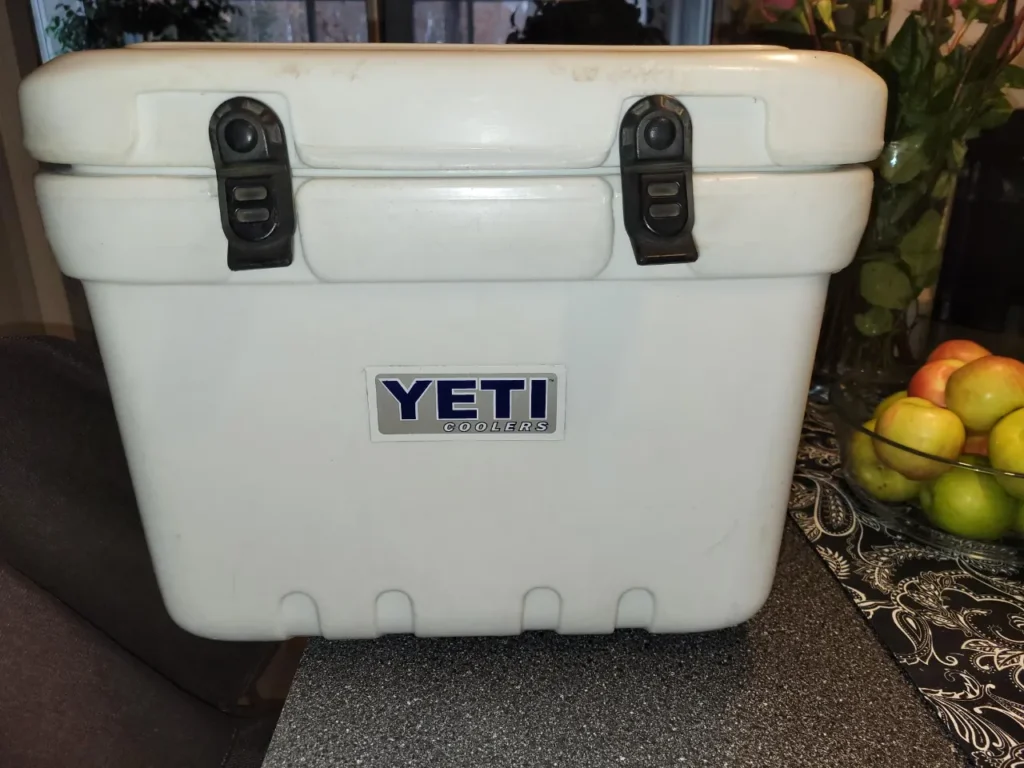 Above is a good look at one of the original Yeti 25-Quart Sherpa coolers from 2006 with the turn down latches.
Yeti 200-Quart Fiberglass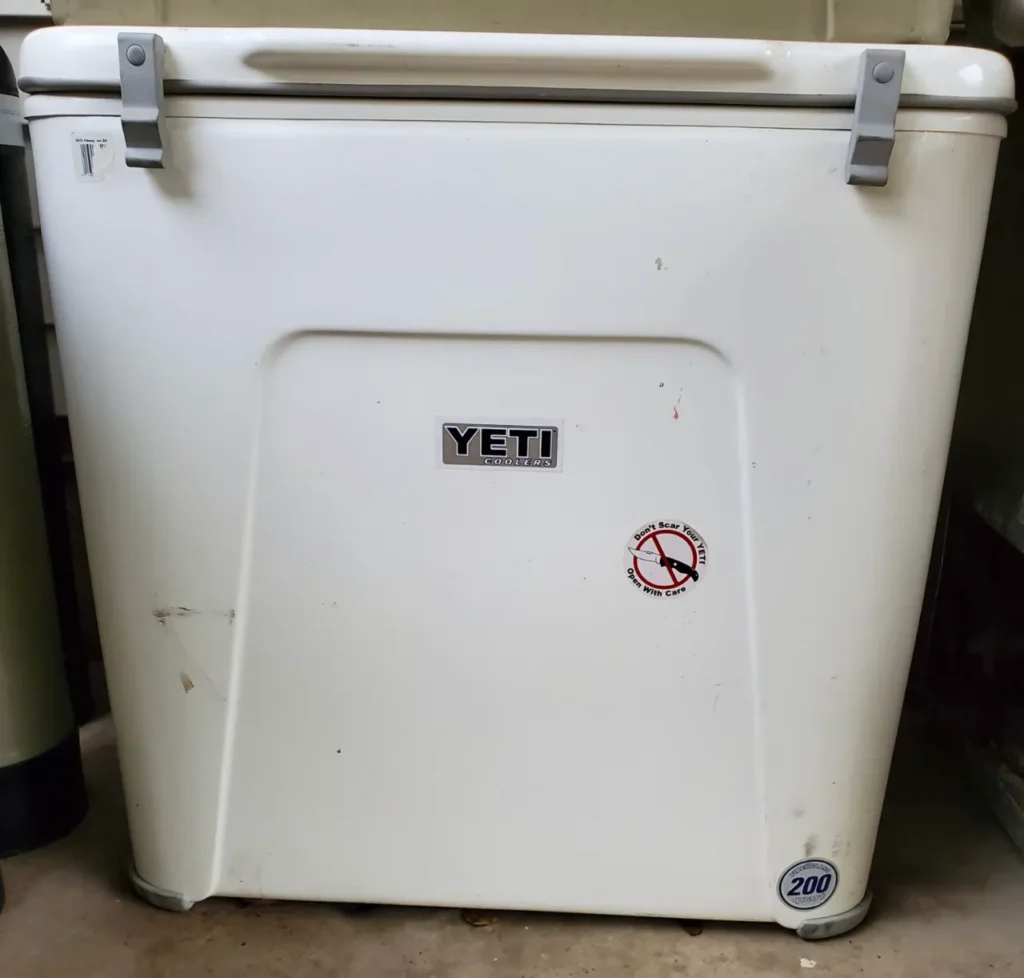 Talk about old school! This 200-Quart Yeti Fiberglass cooler is so cool to see. Apparently originally purchase from someone who was good friends with the brothers who started Yeti. Great to see friends supporting friends and I bet back then they couldn't have even fathomed that the company would go onto to be a multi-billion dollar company.
I got this from a friend of mine that use to own Ciscos bakery in Austin,Tx. He was good friends with the brothers and bought it straight from them. I have never seen one like it. It was sitting in his shed and has never been used.

Larry S
Yeti Sherpa 120 Quart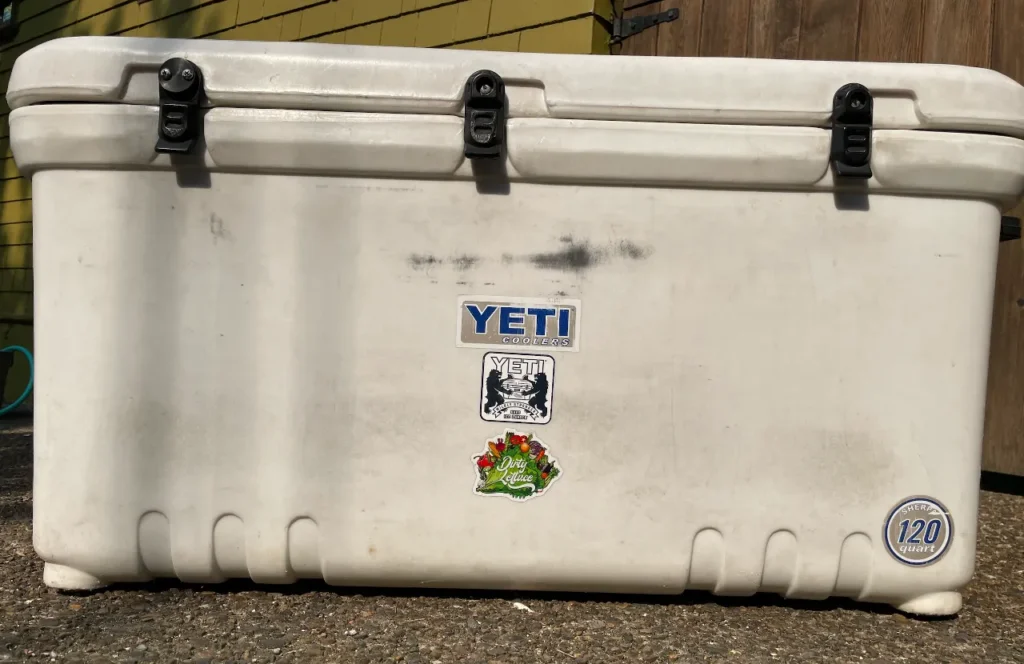 This cooler is going on 20 years old now! It really proves that Yeti coolers last a long time.
Sadly the lid has slightly warped up at the sides and I highly doubt Yeti has any replacement parts for this one.
Thanks Mark for the share. This is a true gem of a cooler and you're lucky to have it.
Original Yeti Cooler Lunch Mate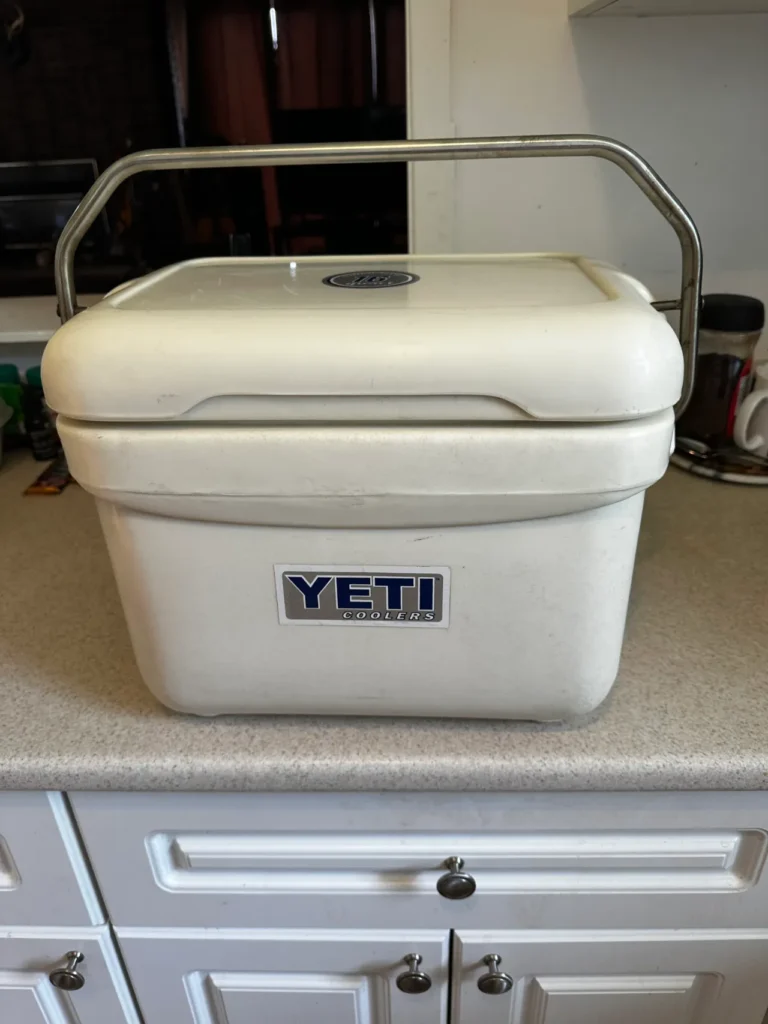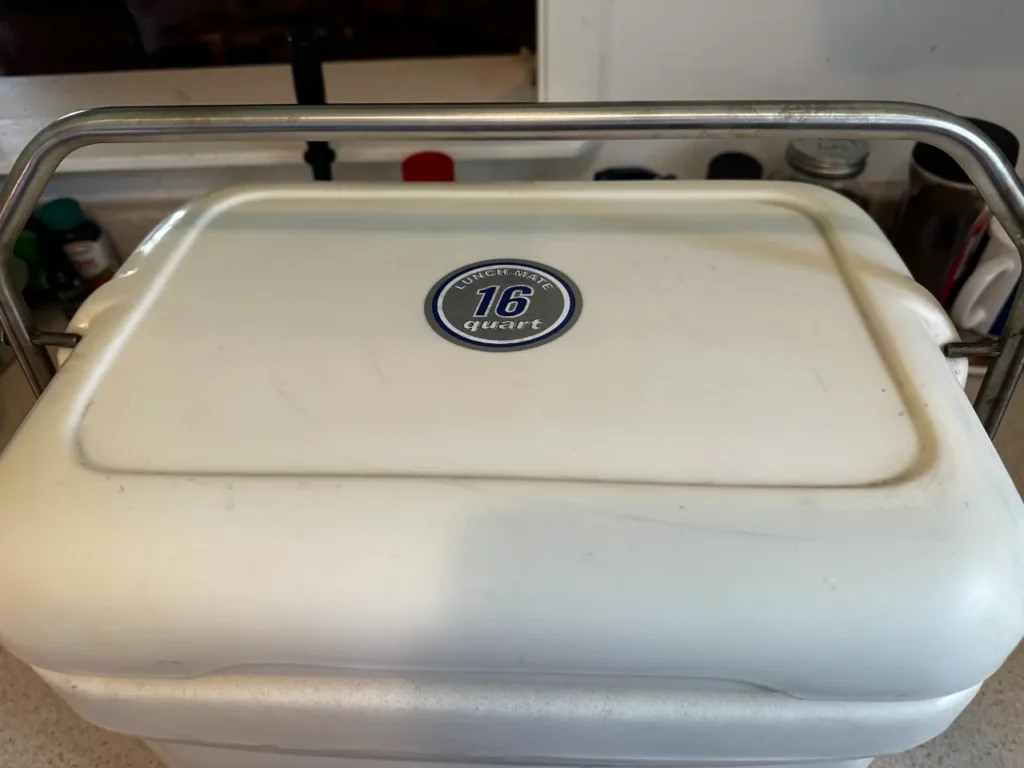 This cooler comes from Melissa and is one of the original Yeti Lunch Mate coolers – the precursor to the Roadie Cooler.
I don't know how much this would be worth today but my guess is a collector might pay a pretty penny for this one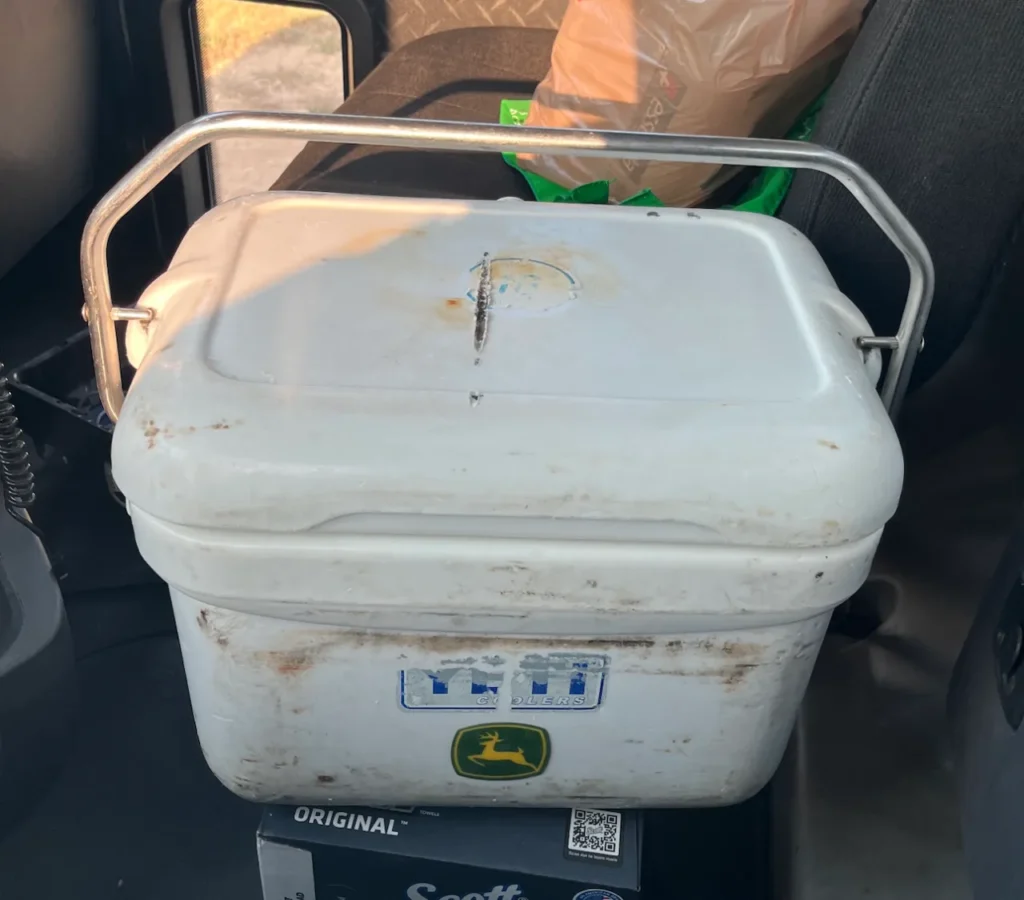 Nicholas from Mississippi send in these photos of his original Lunch Mate.
It certainly looks like it's been through quite a lot but is still holding up strong…even with someone taking a saw to the lid or melting it in some way.
Proof that Yeti coolers really can last a lifetime of use.
Can You Still Buy Original Yeti Coolers?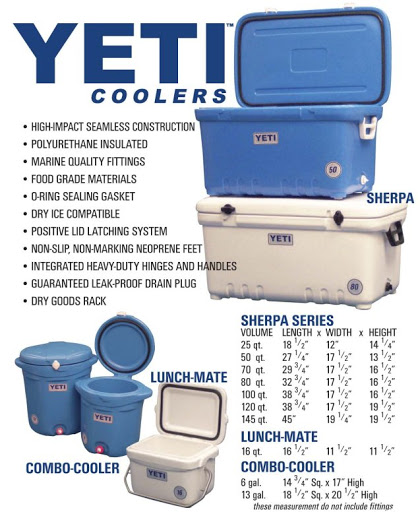 I would love to own an original Yeti cooler just so I could own a part of this history and share it on this website or on my YouTube channel.
Unfortunately searches for Yeti Sherpa or even Vintage Yeti Coolers on both Ebay and Amazon show no results.
Remember the company was tiny back then and it was likely only a few thousand of these coolers were ever sold before they were discontinued.
So good luck finding one to buy.
Even if you could they would likely be super rare and thus super expensive.
Who Owns The First Prototype Yeti Tundra Cooler?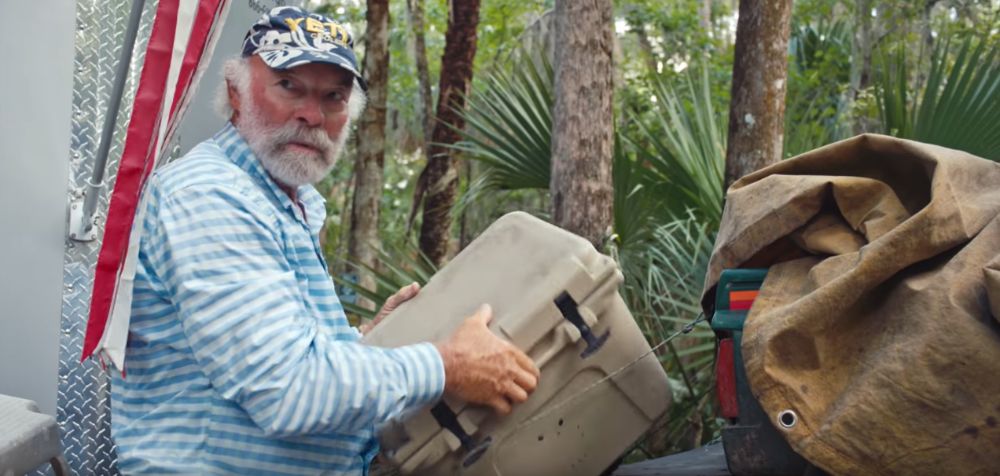 Flip Pallot was a friend and inspirational figure to Roy and Ryan Seider who founded Yeti coolers.
Flip was the first ambassador for the brand and apparently received the first prototype cooler from the brothers.
The story goes is that they would make new products and give them to Flip to get his feedback and see if he liked it. Eventually they formed a business relationship and he became an ambassador for the brand.
He still owns the first prototype of the Yeti Tundra to this day, making that cooler over 12 years old.